These Raspberry Cheesecake Brownies are two desserts destined to be together. With a tart raspberry filling, silky cheesecake, and a rich, fudgy brownie base, you won't be able to stop at one!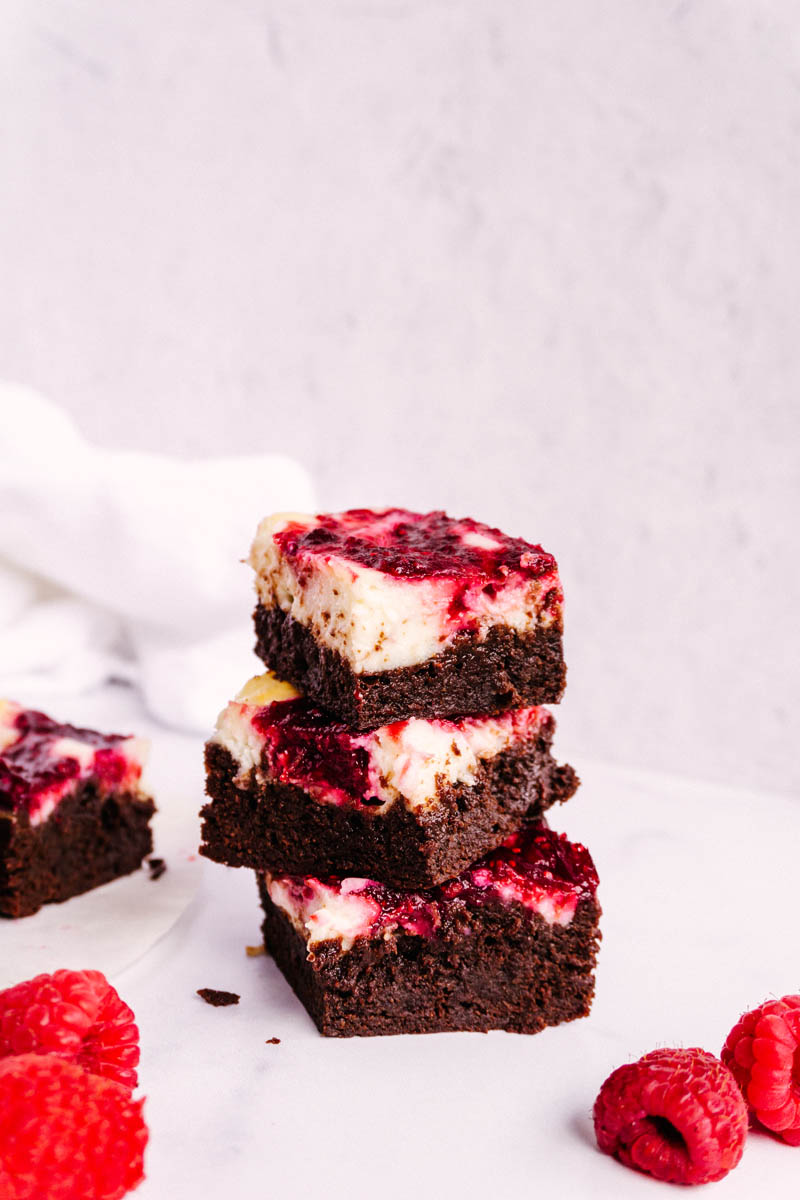 The Raspberry Cheesecake Brownie Recipe – An Idea I Just Had to Try
I could probably eat a brownie every day of life. One day, I was binge-watching a baking show and one of the contestants made Raspberry Cheesecake Brownies. Although hers were a total flop, I couldn't stop thinking about them. I probably thought about this idea for three weeks before I decided to come up with a plan and try it.
I started with one of Missy's tried-and-true brownie bases, the Outstanding Brownie. My first attempt included chocolate chips, but I felt like they detracted from the creamy cheesecake layer, so I omitted them. Feel free to add them if you'd like!
I also ended up doubling my original amount of cheesecake. The brownie to cheesecake ratio I've developed is simply perfect. It captures the best of both worlds. No need to choose between making brownies and cheesecake when you can have them both, making a brownie raspberry cheesecake!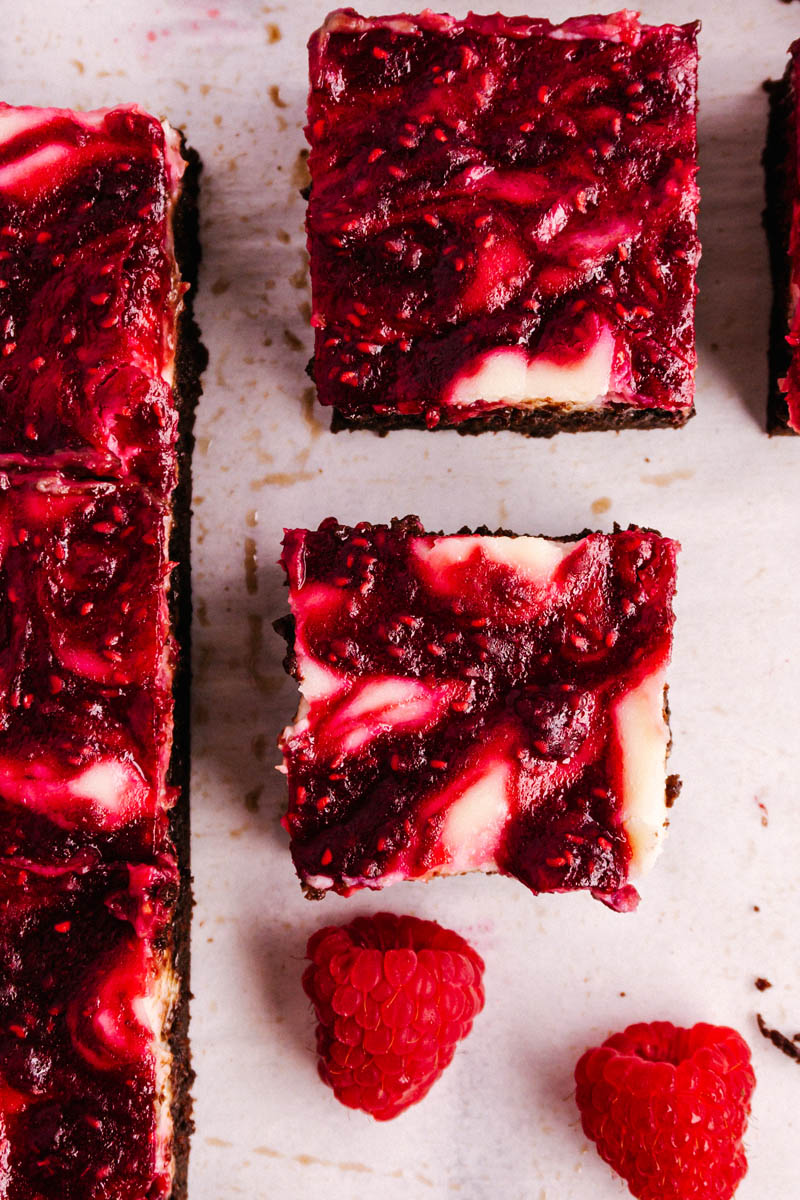 Important Ingredients
Salted Butter – adds flavor to the fudgy brownie batter
Cocoa Powder – use either natural or Dutch-processed cocoa. I used Hershey's natural cocoa powder. 
Cream Cheese – use block cream cheese to achieve the perfect silky smooth texture for the raspberry cream cheese brownies.
Vanilla Extract – I like to use a good vanilla extract for this, especially in the Cream Cheese Layer, to round out the raspberry and chocolate flavors.
Frozen Raspberries – an essential component to a good raspberry brownie cheesecake recipe. These will break down during cooking and turn into a tart, fruity filling that preserves the flavor of a fresh raspberry without becoming overly sweet.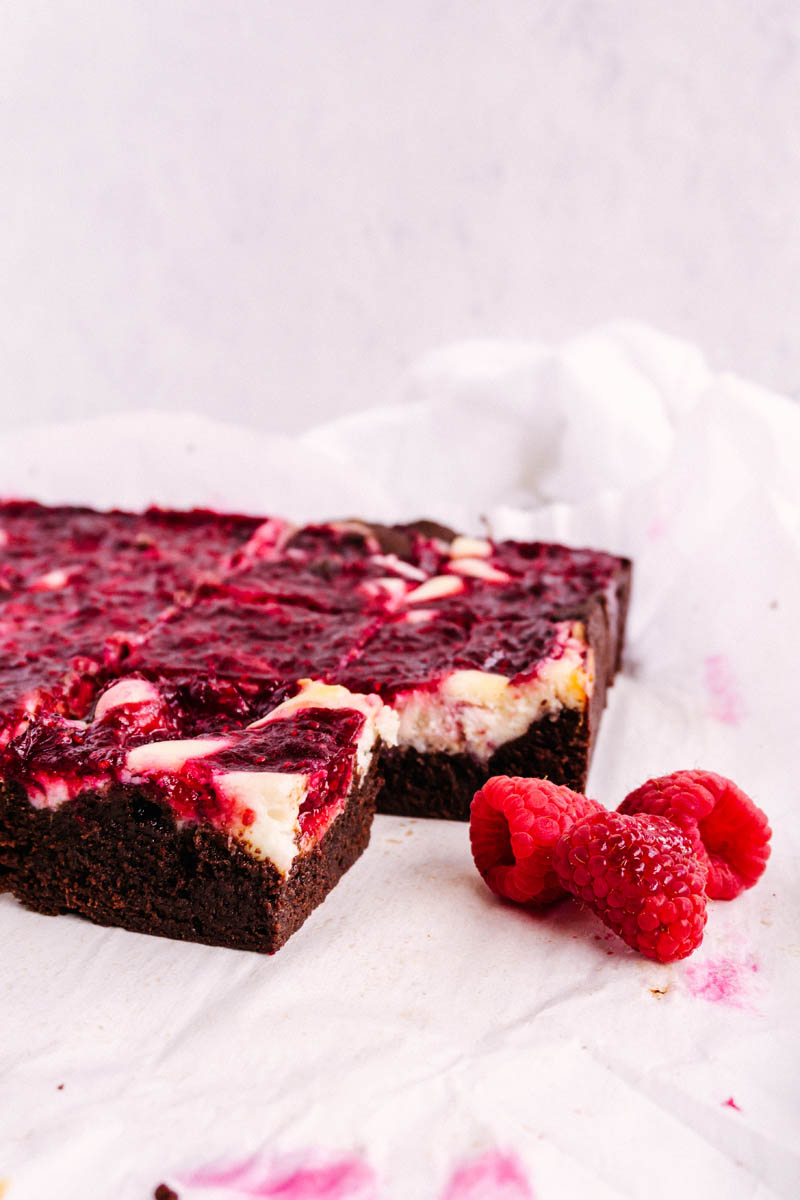 About Each Layer
Raspberry Filling: this raspberry filling is deceptively easy to make and so delicious. It preserves the tart, sweet raspberry flavor of fresh raspberries. It helps us create the perfect raspberry swirl brownies. Any leftover filling can be frozen and used later in our Sweet Raspberry Twists or Raspberry Trifle. Or serve it over ice cream!
Brownie Batter: fudgy and rich, this is the perfect base for silky cream cheese and tart, sweet raspberries. The perfect homemade brownie mix!
Cream Cheese Layer: with only three ingredients, this is probably the easiest cheesecake you've ever made. It bakes up soft and creamy and is totally irresistible.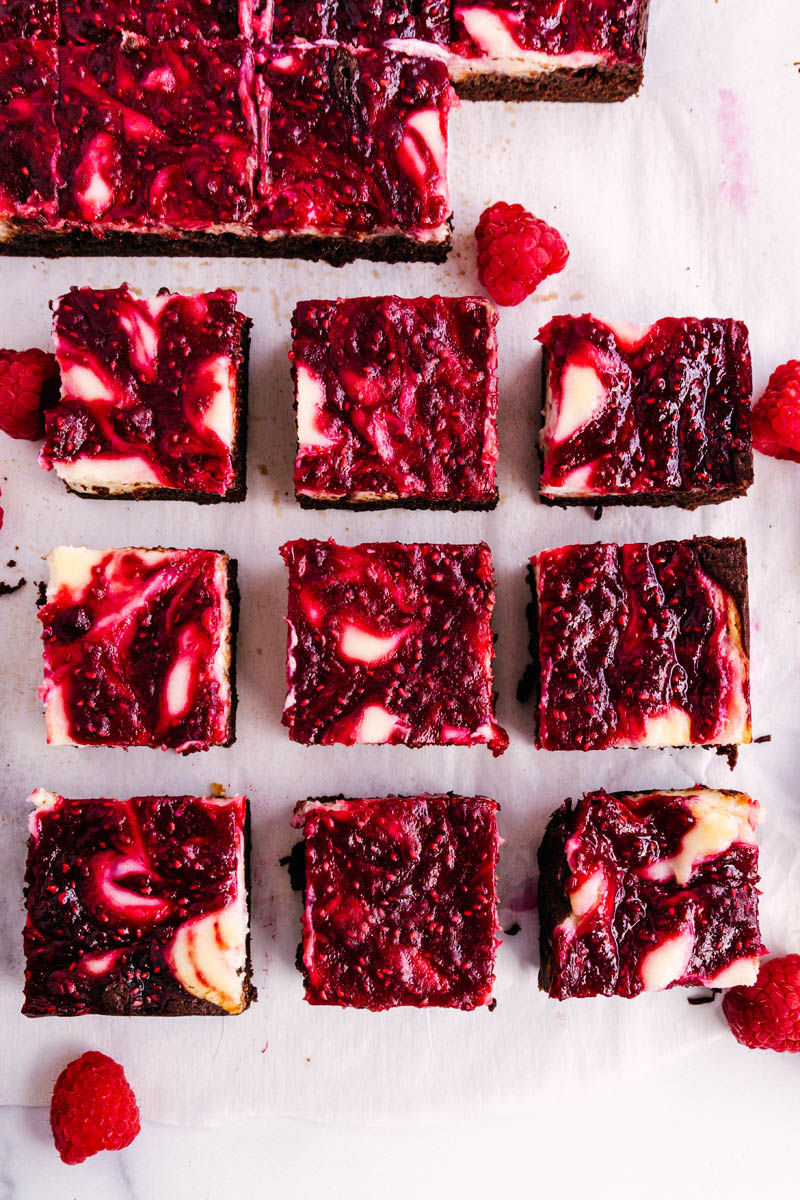 How to Successfully Assemble Raspberry Cheesecake Brownies
Prepare the pan by lining it with parchment paper and lightly spraying it with cooking spray. This ensures that the brownies won't stick to the pan after cooking.
 Spread the brownie batter in the pan. It doesn't need to be perfect, but it is easier to swirl the cheesecake and raspberry filling in if the top is level. 
Dollop the cheesecake over the brownie batter. Big messy dollops are fine. Then, spoon the raspberry filling over the whole thing. The cheesecake mixture doesn't need to look pretty at this point.
Use a chopstick or a knife to swirl the cheesecake and raspberry filling slightly into the brownie batter. Swirl it just enough to make it look pretty and swirled, but don't overmix. 
Bake the brownies until the edges are set and the top has just a slight wobble in the middle. 
Cool completely at room temperature, so the cheese mixture with raspberry jam can settle and become the perfect brownie bars!
I already can't wait to make these raspberry cheesecake brownies again. They're fudgy, creamy, fruity, and the perfect treat for any time. Enjoy baking our delicious raspberry cheesecake brownies recipe!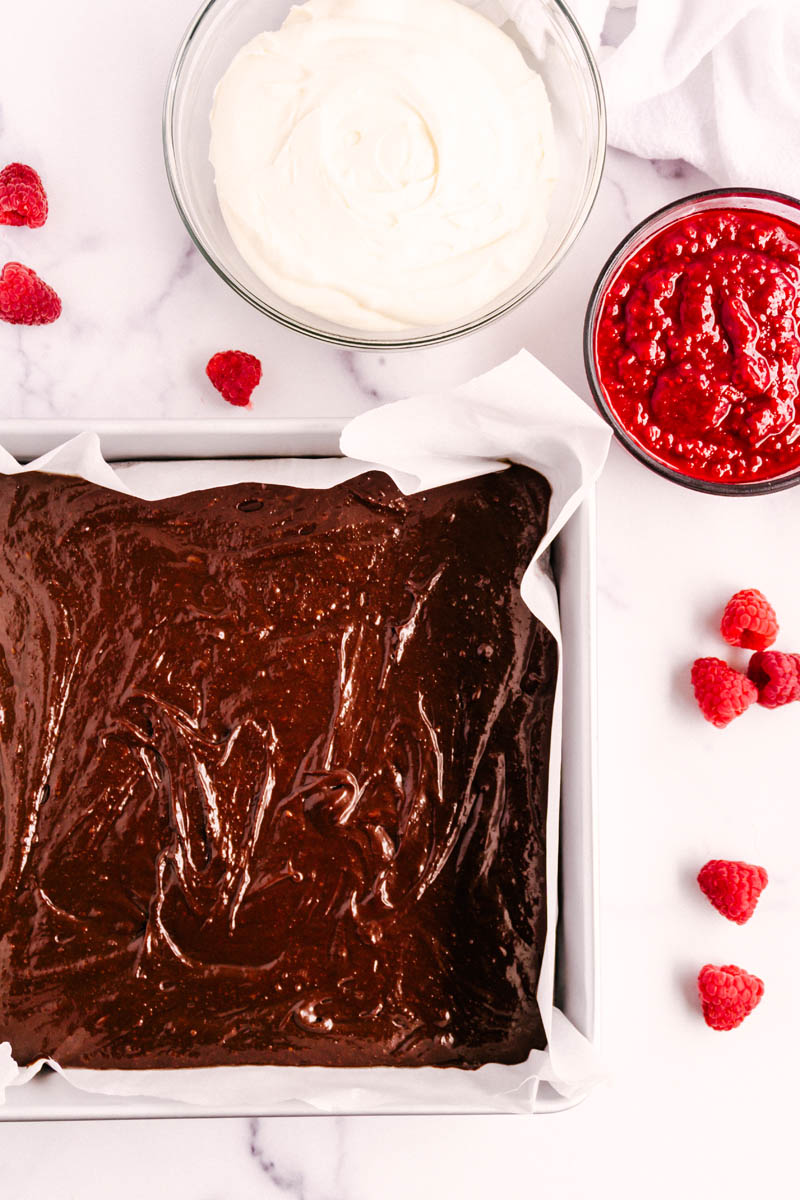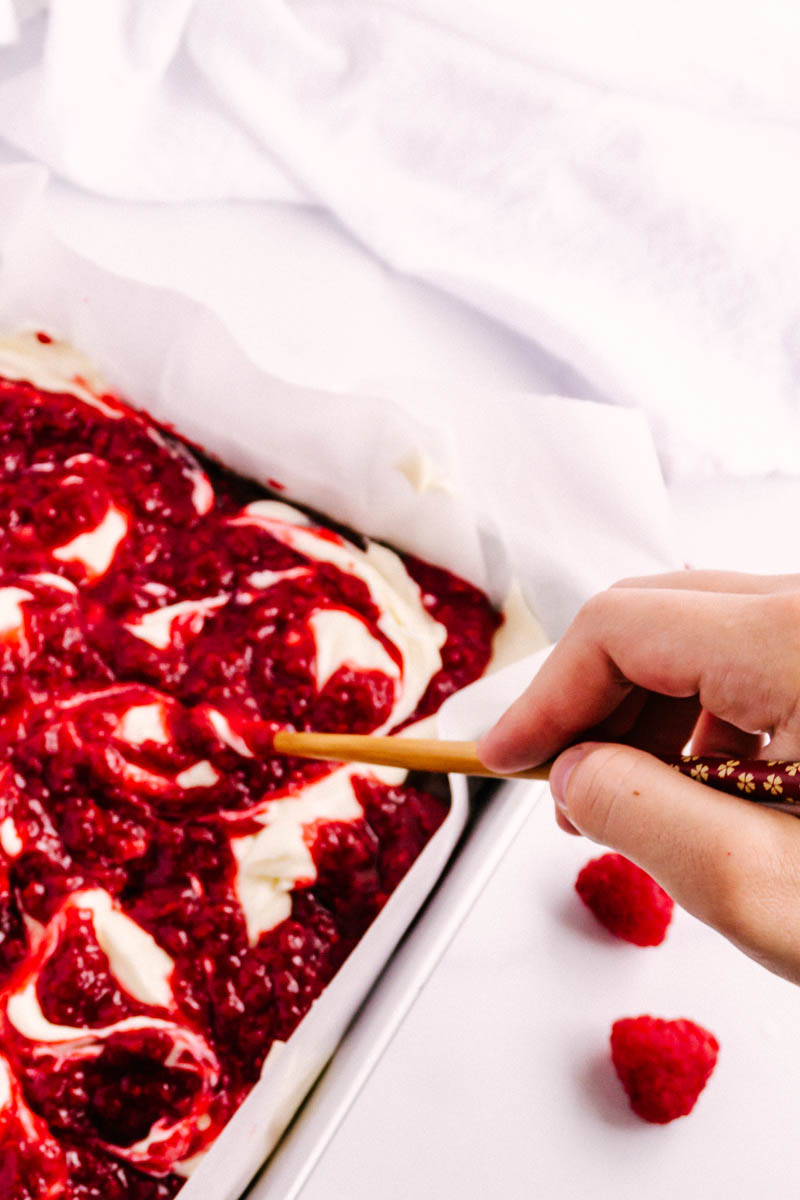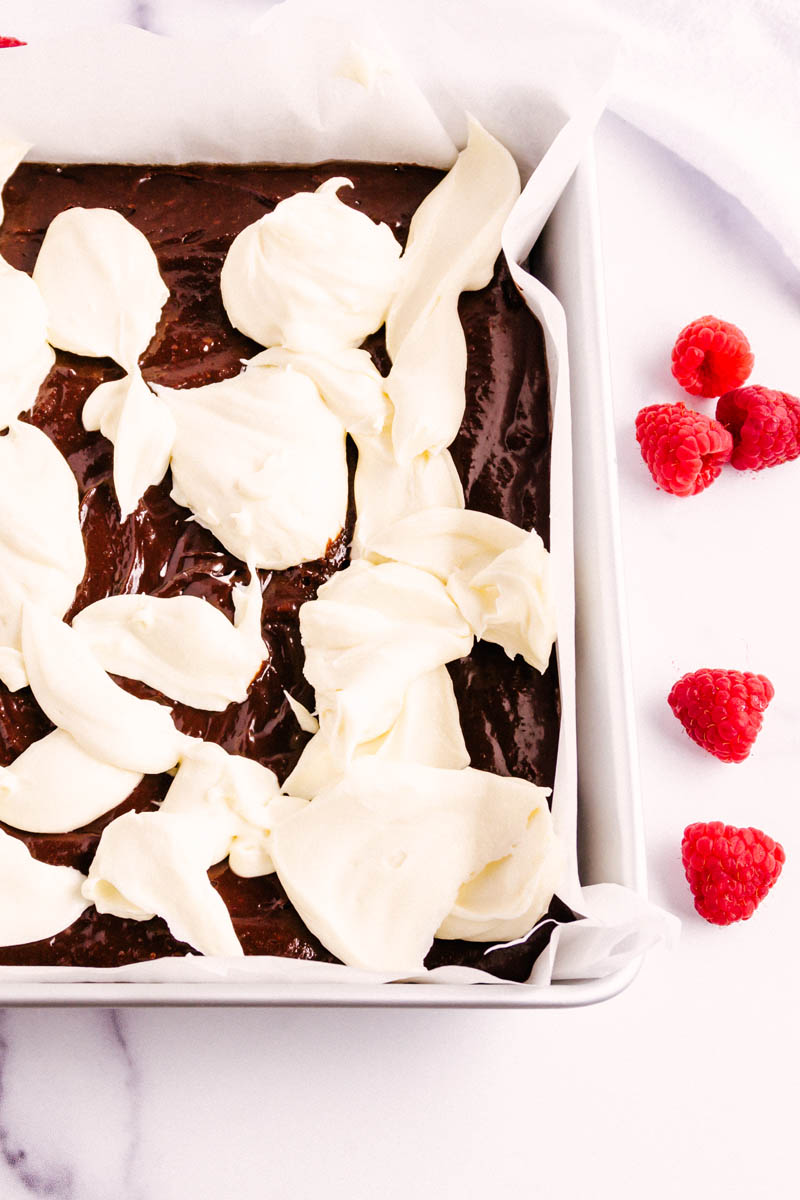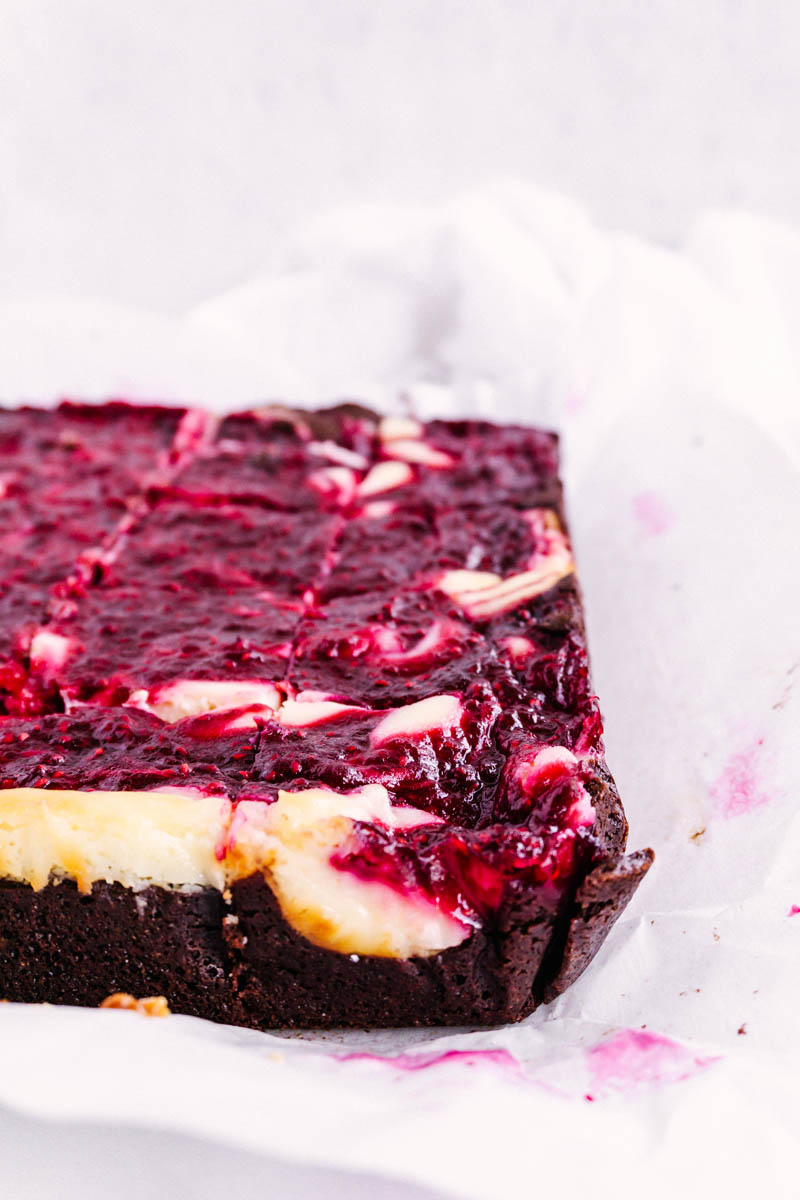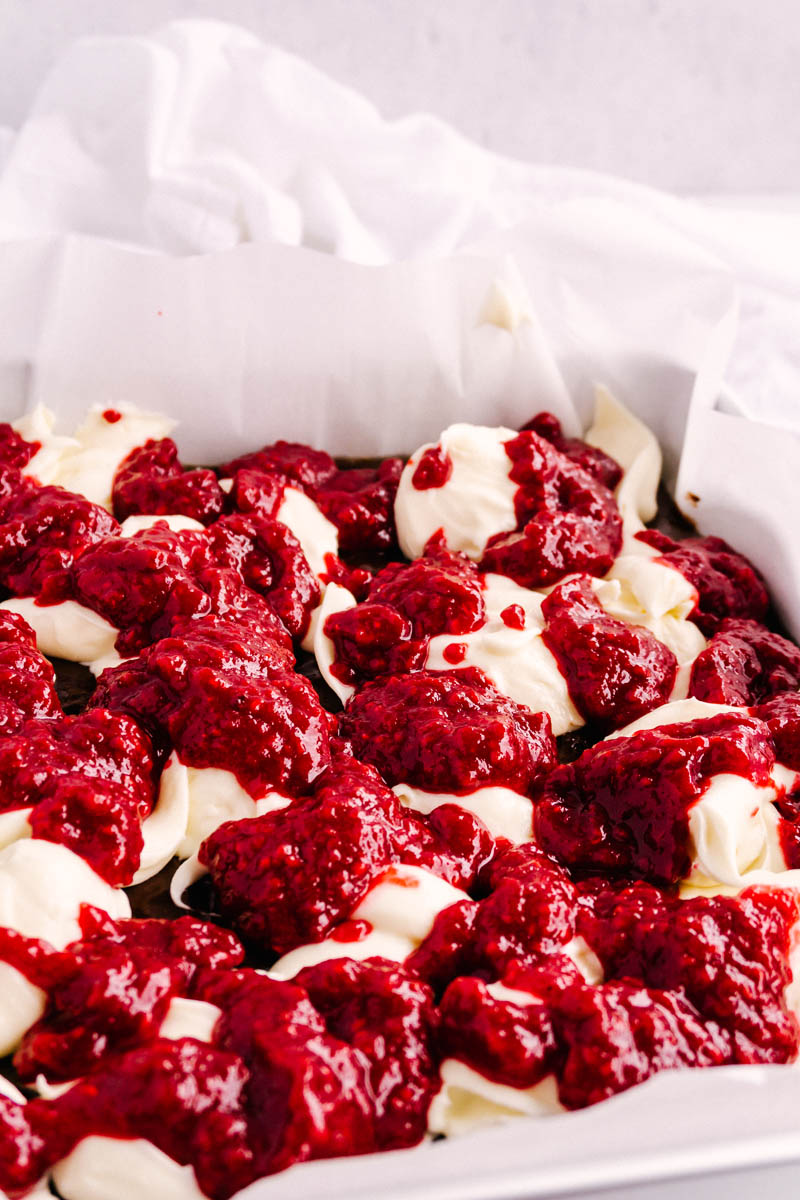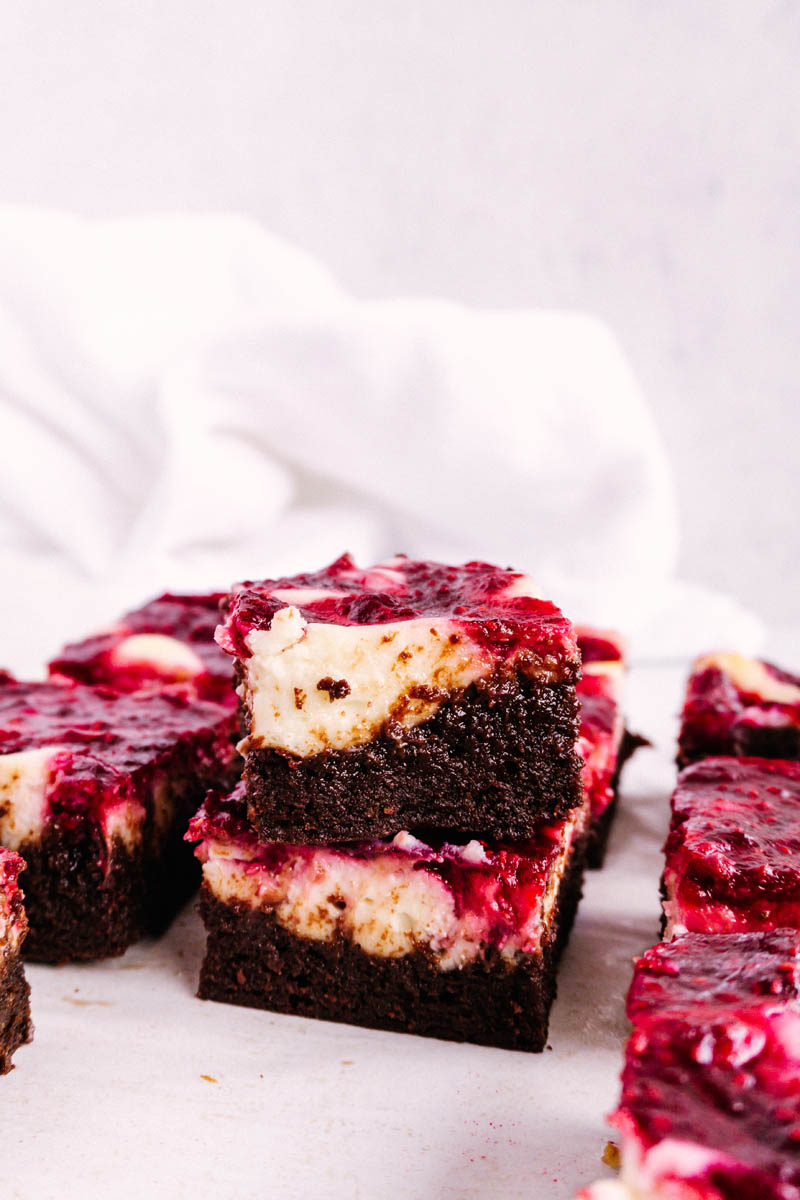 Looking for more delicious brownie recipes? Try these: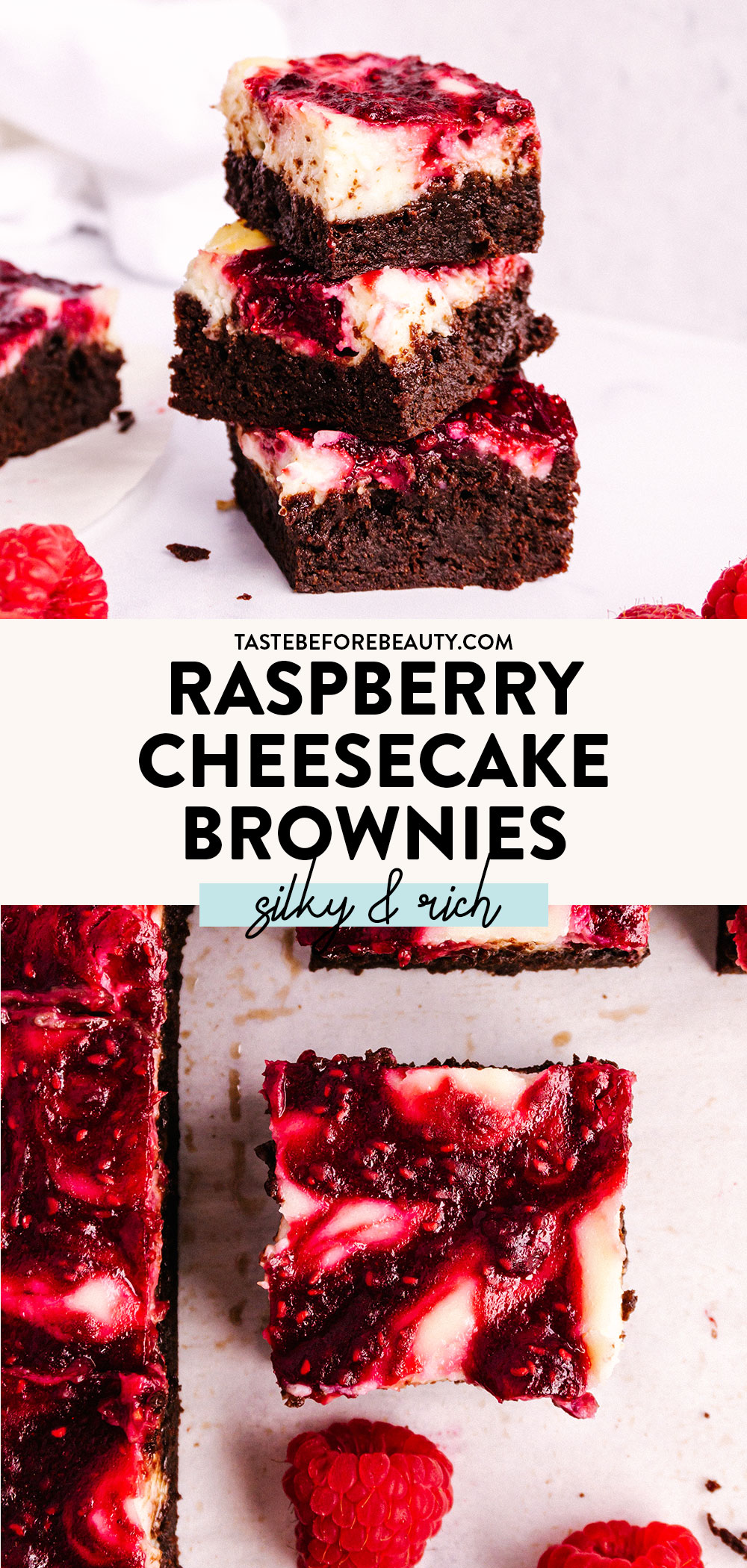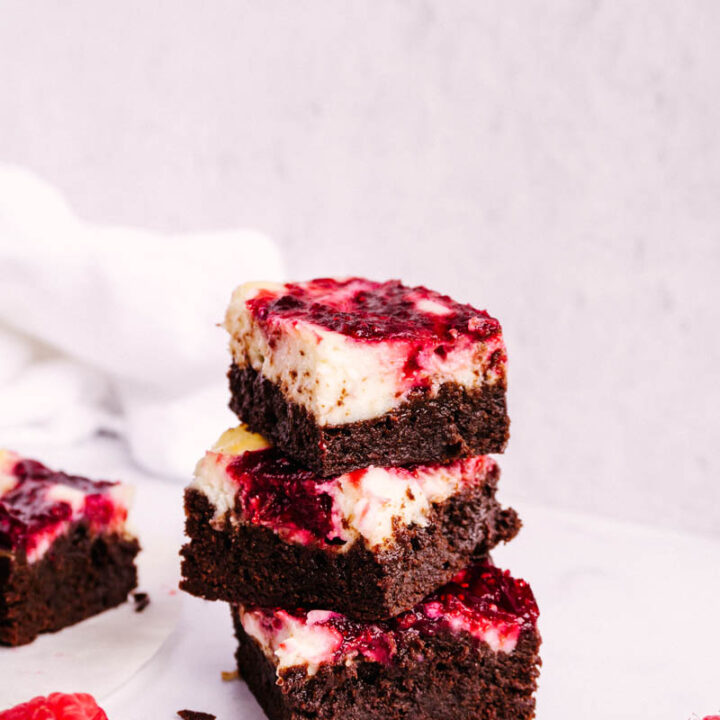 Raspberry Cheesecake Brownies
Total Time:
4 hours
10 minutes
These Raspberry Cheesecake Brownies are two desserts destined to be together. With a bright raspberry filling, silky cheesecake, and a rich, fudgy brownie base, you won't be able to stop at one!
Ingredients
Raspberry Filling
1 (12 oz) bag frozen raspberries, thawed, divided
3 T (0.9 oz) cornstarch
1 T lemon juice
½ C + 2 T (4.4 oz) granulated sugar
Brownie Batter
½ C (4 oz) salted butter, melted
½ C (5 oz) light brown sugar, packed
¼ C (2 oz) granulated sugar
½ C (3.8 oz) vegetable oil
1 ½ C (8 oz) powdered sugar
1 C (3.6 oz) cocoa powder
4 large eggs
1 tsp vanilla extract
1 tsp salt
1 C + 2 T (5.5 oz) all purpose flour
Cheesecake Layer
2 C (16 oz) cream cheese
½ C (3.5 oz) granulated sugar
1 tsp vanilla extract
Instructions
Make Raspberry Filling.
Thaw raspberries. Reserve 3 T of juice to mix with cornstarch.
Using a fine sieve, strain half of the raspberries to remove seeds. Be sure to push as much raspberry meat through the sieve as possible.
Mix the sieved berries with the remaining berries and any remaining juice.
In a small saucepan, add reserved 3 T raspberry juice, lemon juice, cornstarch, and sugar. Bring to a boil, stirring continuously.
Once boiling, add berries and bring to a simmer. Simmer for one minute while continuing to stir. Remove from heat.
Place in a bowl and cover. Refrigerate until cooled completely, 2-3 hours or overnight.
Make Brownie Batter.
In a large mixing bowl, add melted butter, brown sugar, and granulated sugar. Mix together for a minute to help dissolve the sugars.
Add vegetable oil, powdered sugar, and cocoa powder. Mix until all lumps of powdered sugar and cocoa are incorporated.
Then add eggs, vanilla, and salt. Mix thoroughly then stir in flour.
Make Cream Cheese Layer.
In a mixing bowl, add cream cheese. Using a hand mixer, beat until completely smooth and soft.
Add sugar and vanilla. Mix to combine.
Assemble.
Preheat oven to 350*F. Line a 10x10 pan with parchment paper and lightly spray with cooking spray.
Pour brownie batter into prepared pan.
Dollop cream cheese over brownie batter.
Spoon about 1-1 ½ cups of raspberry filling over cream cheese layer.
Swirl cream cheese and raspberry filling into brownie batter to make a swirl pattern. Do not overmix.
Bake for 40-45 minutes until edges are done and the center has a slight wobble. Let cool before cutting.
Notes
The raspberry filling can be made in advance. Refrigerate or freeze until ready to use. Let thaw before spooning over brownie batter.