Pure bliss for the Peanut Butter Chocolate lover. You'll need a large jar of peanut butter for this recipe. It's worth every ounce!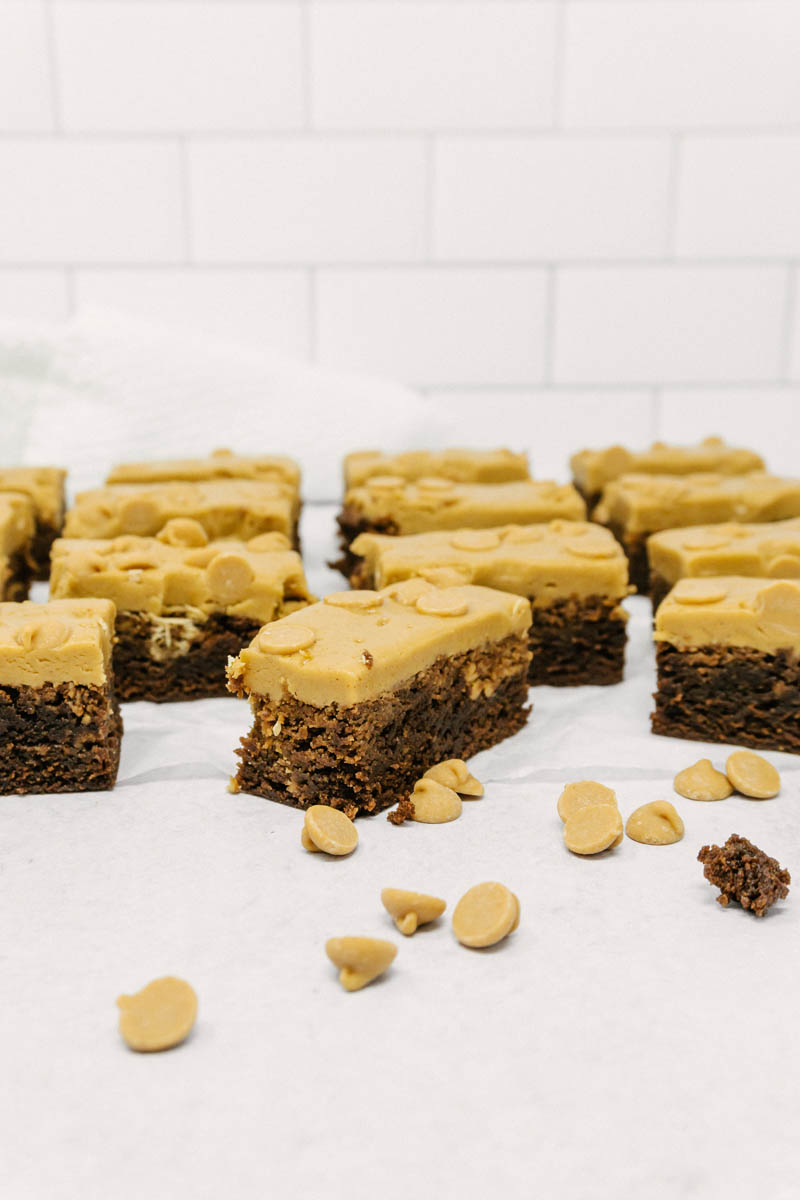 Peanut butter and brownies seem like a no brainer. The trick is to let the peanut butter AND the chocolate brownie shine. You would think this was easy, but it's not. How do you combine the chewiness of a perfect brownie with the creaminess of a spoonful of peanut butter?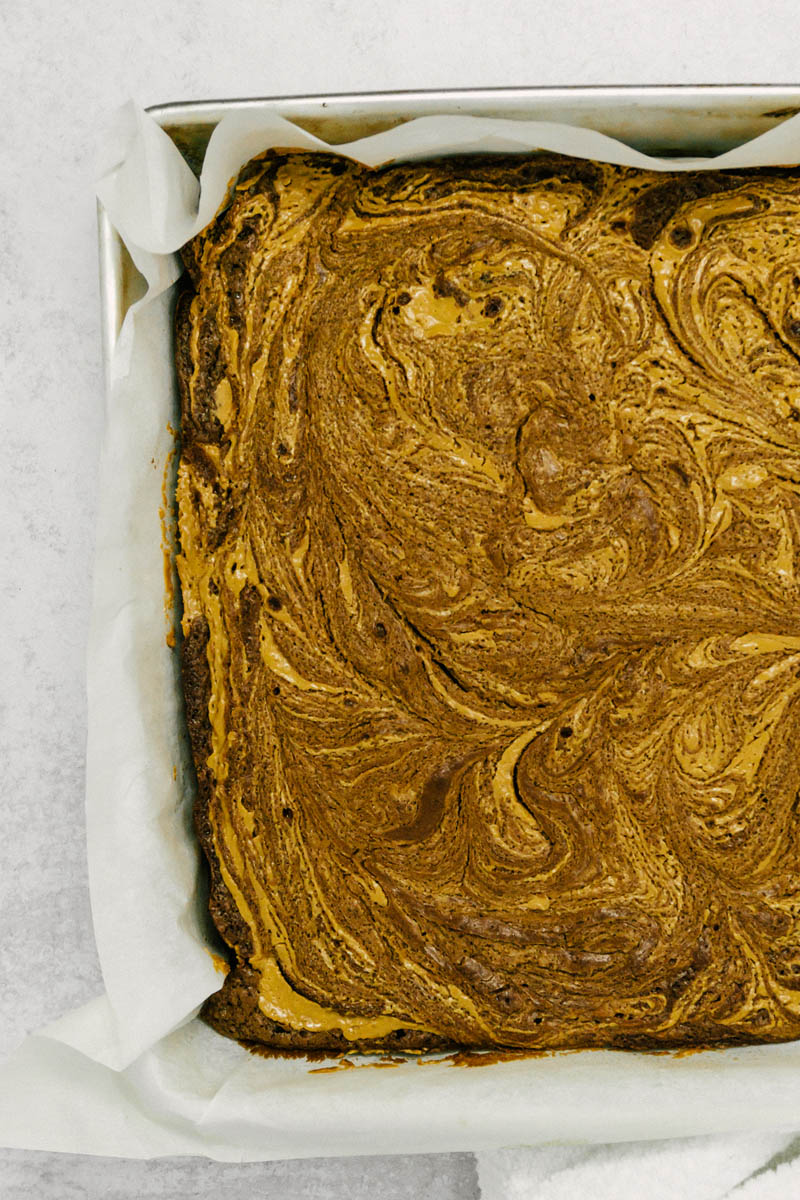 Local Inspiration for the Peanut Butter Brownies
I live close to Hershey, Pennsylvania, home of the Reese's Peanut Butter Cup. This perfectly balanced chocolate and peanut butter candy has inspired me before (like with the Pennsylvania Tango Cookie) and it inspired me here too.
Many people in the area love chocolate peanut butter treats, and it's no wonder. Driving through downtown Hershey, you can smell the roasting cocoa beans every morning. I found many peanut butter treats were too sweet for my liking though.
Although the peanut butter cup is a wonderful candy, I wanted chocolate and peanut butter in the form of a stable, irresistible brownie. I wanted it to be easily transferable to a church youth event and easy to pick up from a dessert table.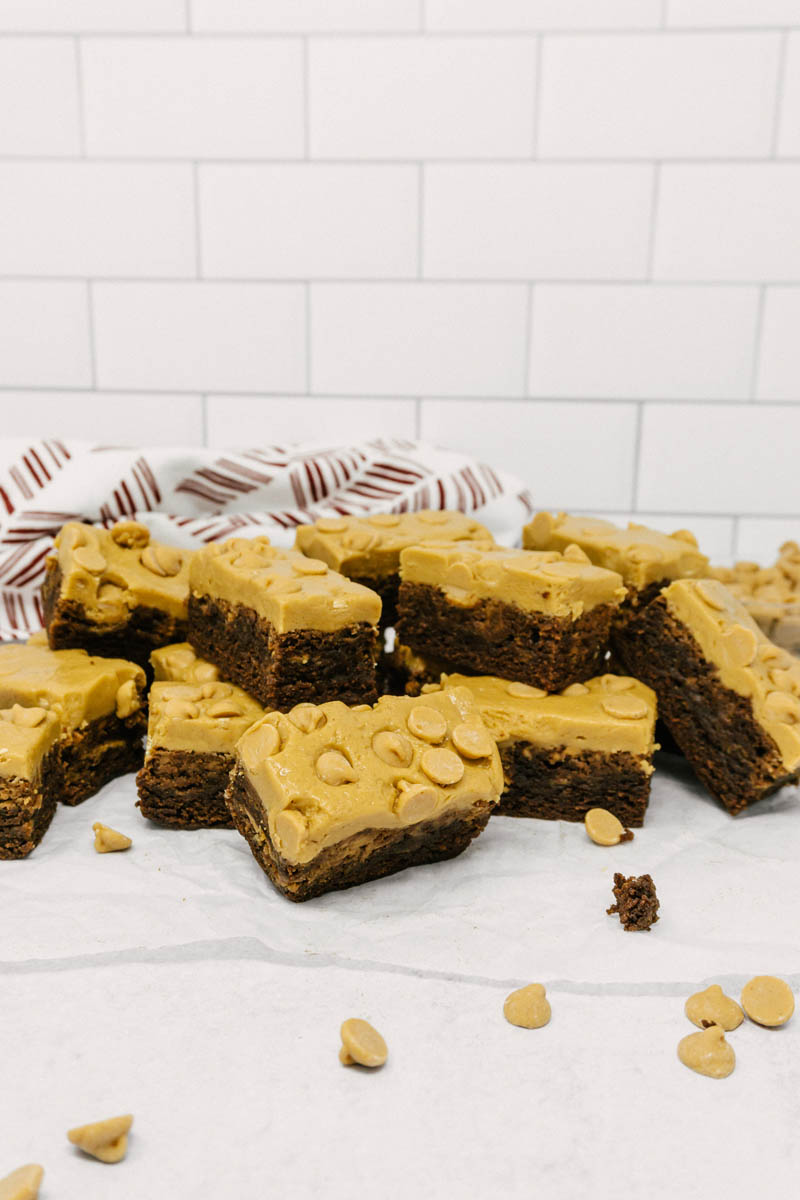 More Peanut Butter, Please!
Sometimes we throw peanut butter at a chocolate recipe and hope for the best, to disastrous results. One flavor outshines the other, or it's too rich. They need to be in perfect harmony to create the perfect treat.
To solve a common problem of the peanut butter layer being too sweet, I simply added more peanut butter to the mixture. It gives a true peanut butter taste without overwhelming you.
Now that I had the perfect topping, I felt like the brownie needed an additional kick of smooth peanut butter flavor to make it cohesive with the topping. Using peanut butter chips would add a texture I didn't want. On a whim, I melted some creamy peanut butter and swirled it through the top of the batter. Not only does it look beautiful, it tastes great!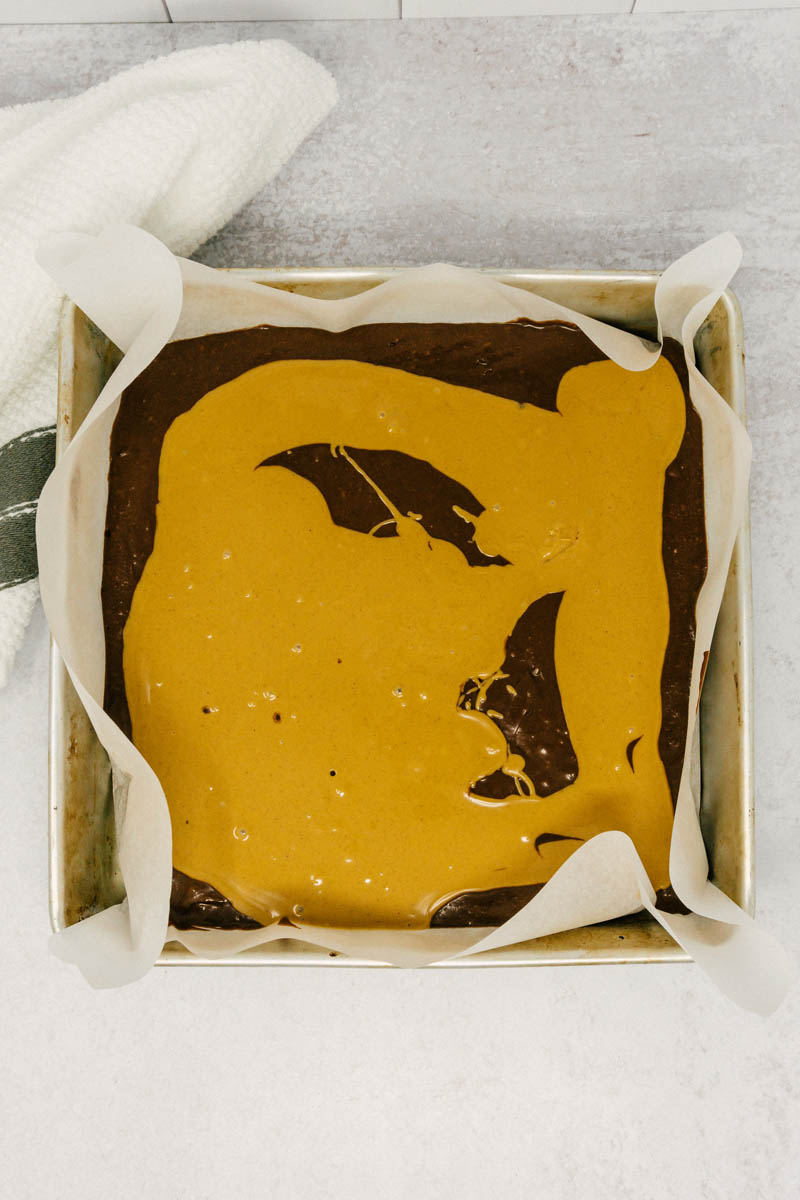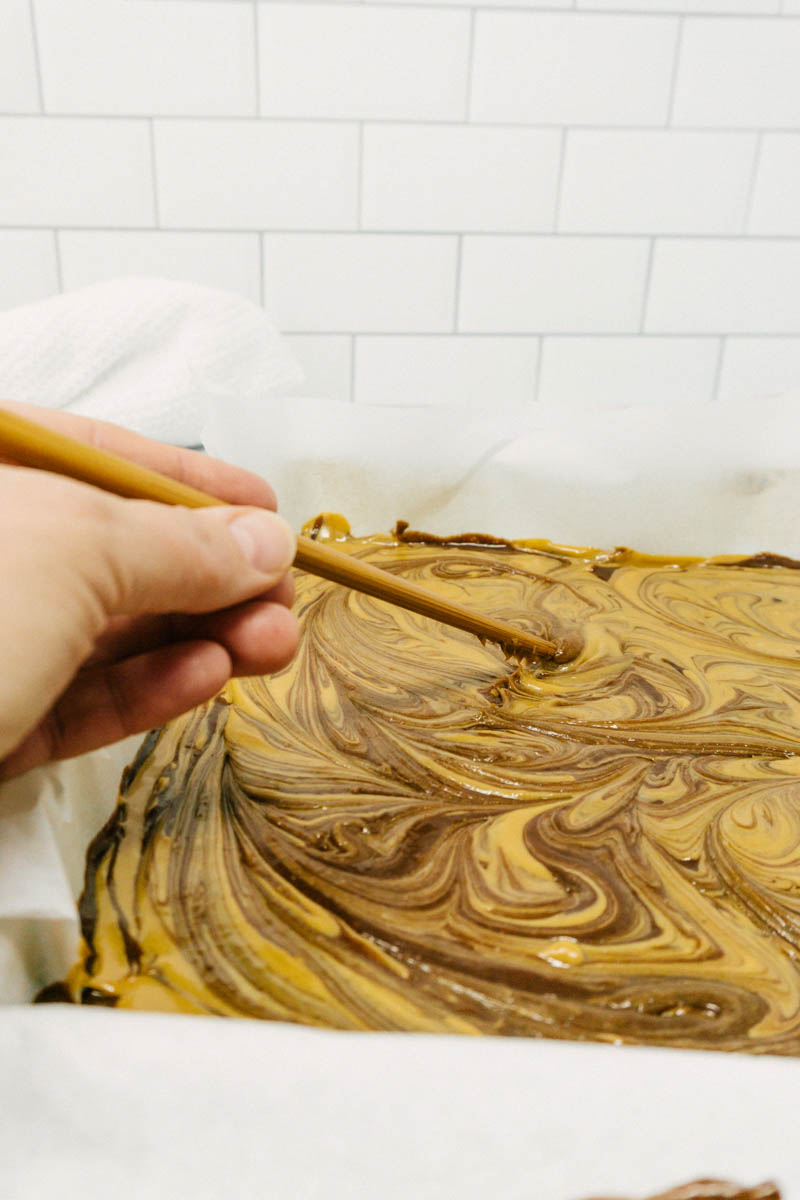 Recipe Tips
The peanut butter topping is thick, almost like edible peanut butter playdough. It slices nicely and blends well with the brownie. If you want a smooth top, use a piece of wax paper to lay over top and then smooth out the peanut butter layer with your hand.
The peanut butter chips on top are just for fun. You could leave them off, but I think they add visual appeal. You could also use shaved chocolate or mini chocolate chips.
This brownie is best served in small portions. It packs a punch of peanut butter and chocolate flavor. You don't need much to satisfy that craving. These freeze well if you want to save some for later.
An "ode" is an elaborate poem meant to praise something. I would say these Peanut Butter Brownies are my lyrical recipe effort to the peanut butter and chocolate brownie pairing. Let me know what you think of it in the comments, and don't forget to leave a review!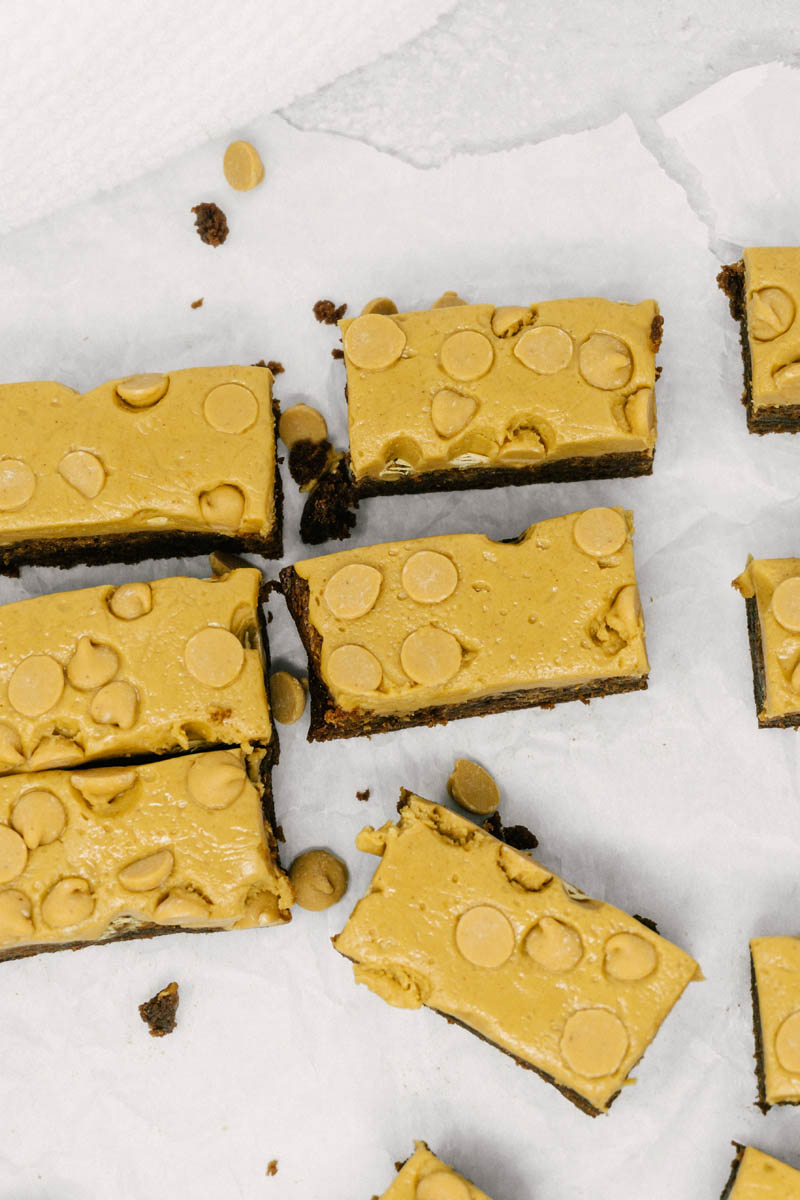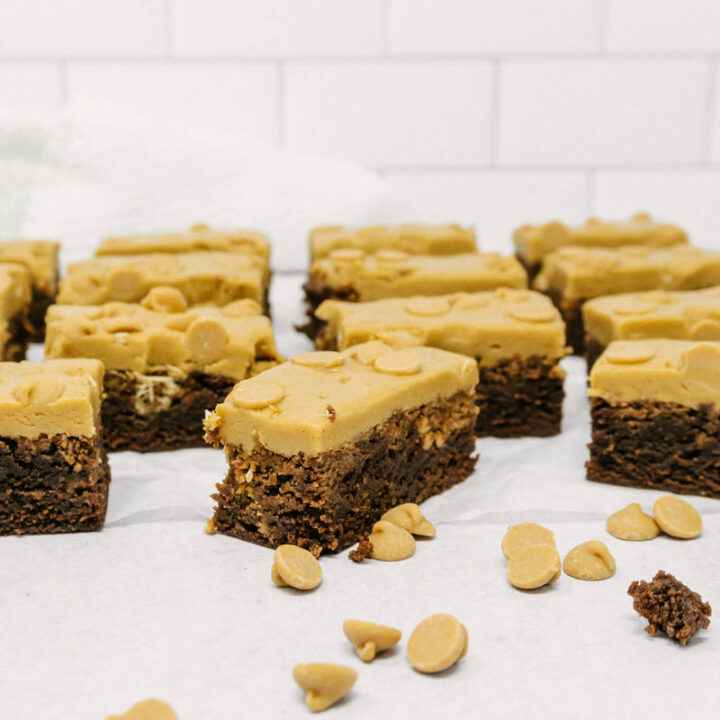 Peanut Butter Brownies
Yield:
one 10x10 pan, 32 servings
Additional Time:
20 minutes
Total Time:
1 hour
5 minutes
Pure bliss for the Peanut Butter Chocolate lover. You'll need a large jar of peanut butter for this recipe. It's worth every ounce!
Ingredients
Brownie Batter
½ C (4 oz) salted butter, melted
½ C (3.8 oz) vegetable oil
1 ¾ C (7 oz) powdered sugar
1 C minus 2 T (7 oz) light brown sugar
½ C (1.8 oz) cocoa powder
4 large eggs
1 tsp vanilla
1 tsp salt
1 C minus 2 T (4 oz) all-purpose flour
1 C (9.5 oz) creamy peanut butter, melted
Peanut Butter Topping
6 T (3 oz) stick margarine
2 C (9 oz) powdered sugar
1 ¾ C (16.5 oz) creamy peanut butter
⅔ C (4 oz) peanut butter baking chips (optional)
Instructions
Make the Brownies.
Preheat oven to 350*F.
Line the bottom and sides of 10x10 or 9x13 cake pan with parchment paper.
In a medium bowl, mix butter, oil, sugars, and cocoa. Add eggs, vanilla, salt, and flour and mix until combined. Pour into prepared pan.
Melt 1 C (9.5 oz) of creamy peanut butter. Pour over brownie batter and swirl through with a knife or chopstick.
Bake for 25 minutes. Let cool completely.
Make the Peanut Butter Topping.
Using a stand mixer, mix margarine, peanut butter, and powdered sugar until completely combined. It will be very thick.
Press onto the top of the brownie. Use a plastic gloved hand to spread evenly over brownie.
Top with peanut butter baking chips and press in lightly.
Cut into 32 rectangular bars.
Notes
Be sure to use stick margarine, not tub margarine, for the peanut butter topping. 
To smooth the peanut butter topping, lay a piece of wax paper over the top and use your hand to smooth any ridges out.
These bars should be served in small portions. I serve them in white cupcake liners on a tray.