These Sweet Raspberry Twist Rolls are soft, sweet, and have the perfect amount of raspberry filling to bread ratio. The twist adds a unique look which I must say, makes them taste even better.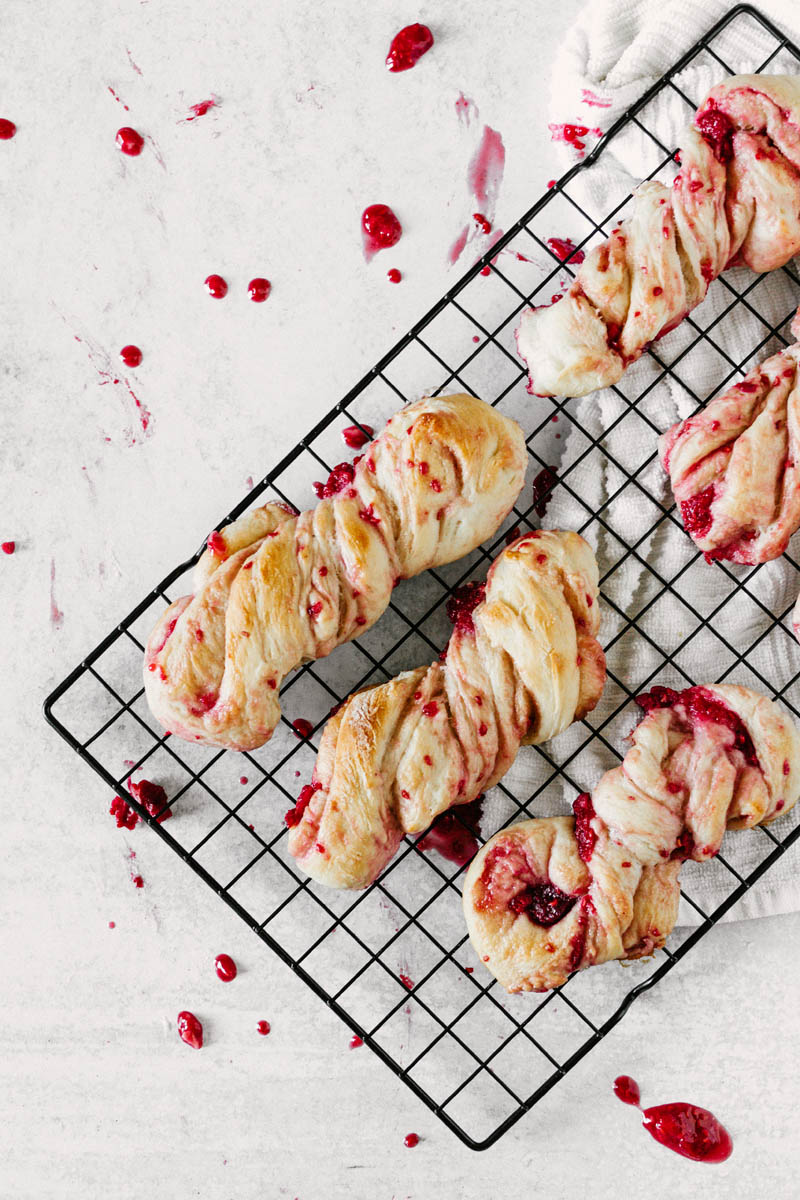 Craving Sweetness
Every so often you just have a sweet craving to kick, and these Sweet Raspberry Twists do the job. Lately, I have been craving any type of treat with fruit in it. I mean, our Cinnamon Rolls are delicious, but I wanted something fruity with the same idea and texture of a cinnamon roll.
After rummaging through my fridge and pantry, I realized I had tons of frozen fruit that I used for smoothies. The frozen raspberries just stared at me and I knew from that moment on, these Sweet Raspberry Twists were meant to be a thing.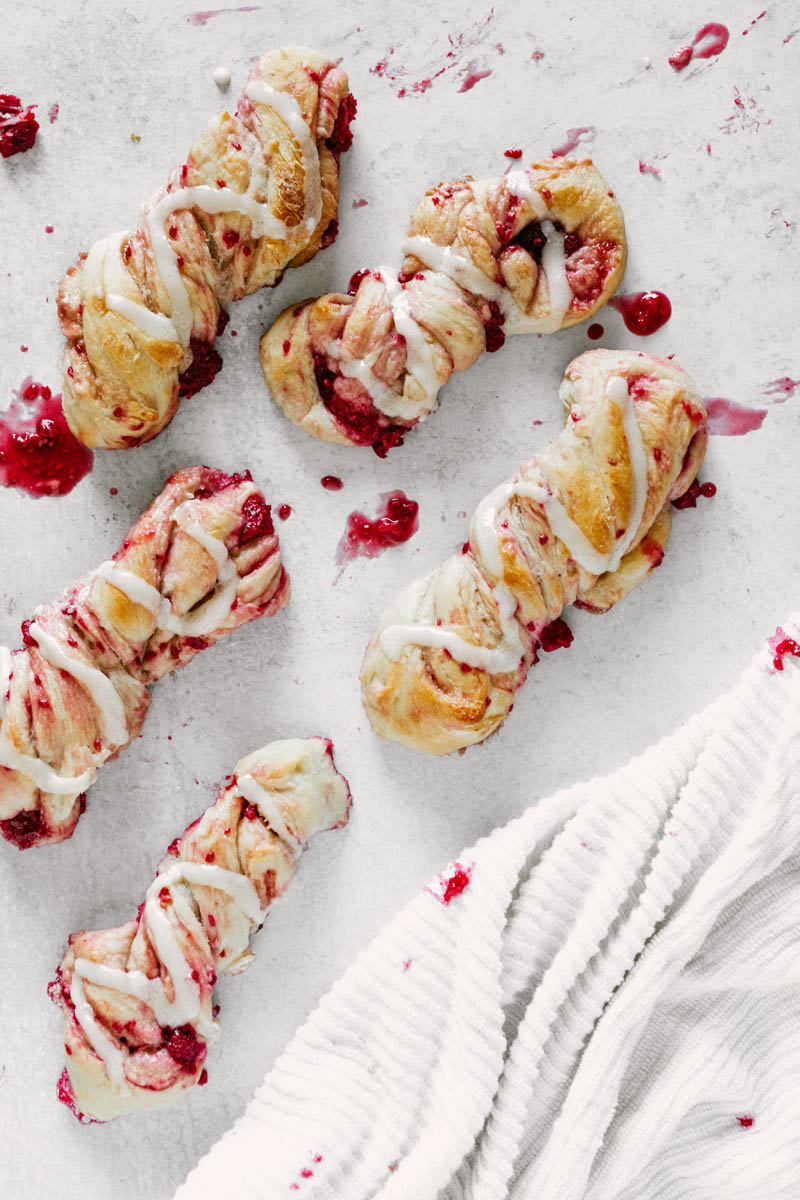 The Great Sweet Raspberry Twist Disaster
After coming up with the recipe for these raspberry twists, I thought it was perfect. I would use delicious fresh raspberries and it would definitely be easy to clean up. Well, oh my, it was NOT. I originally included a cream cheese frosting and then layered on top was a fresh raspberry mixture. It did not work out.
The ratio of dough to filling was completely off. The raspberry filling dripped all over the place, the cream cheese frosting clumped up, and it looked like a crime scene all over my counter and floor. It was quite a disaster. Hoping the kitchen would clean the mess up itself, I was disappointed when it didn't.
After that mess, I wasn't sure what to do. But I went back to the frozen raspberry 'Aha' moment and consulted with Mom. I thought swapping fresh raspberries for frozen and cooking the filling in advance would do the job. I was right, and the recipe is now easy to work with and tastes delicious!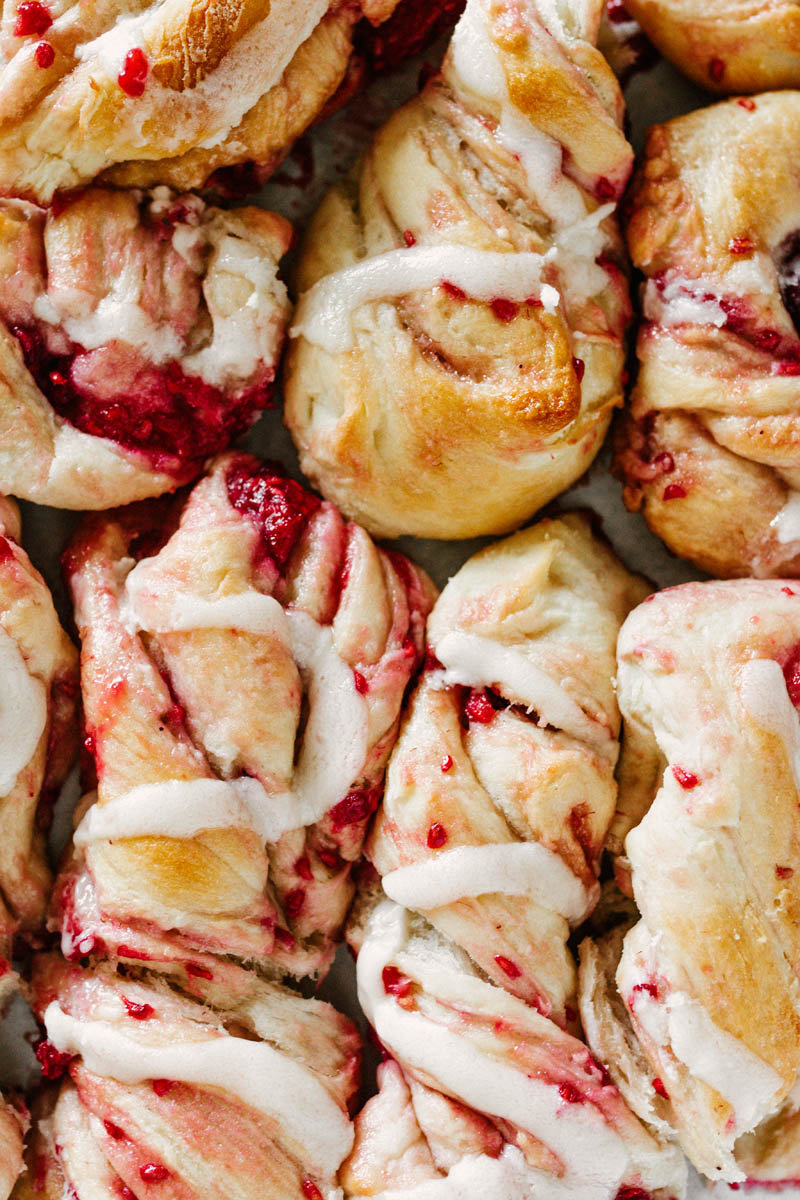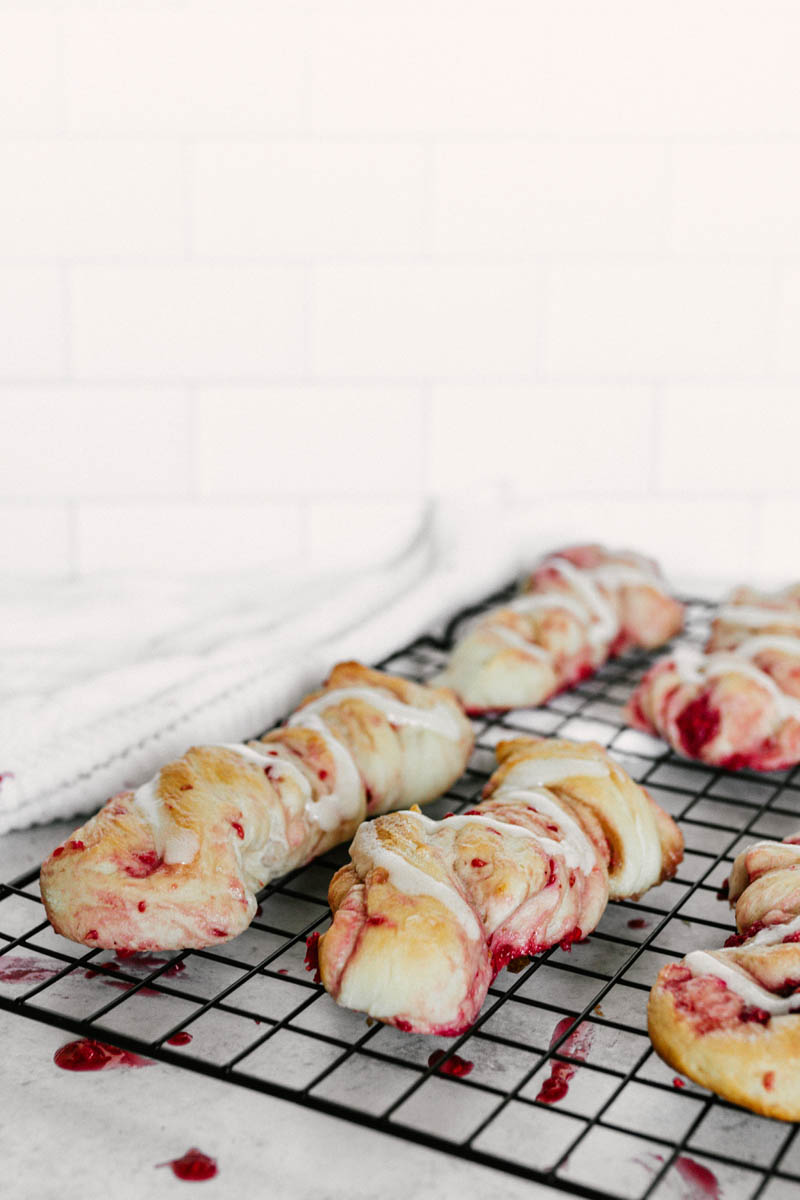 A 'Berry' Good Treat
These raspberry twists will have you coming back for more. I thought about adding a butter layer like in a traditional cinnamon roll, but that didn't taste great. I sprinkled on a bit of brown sugar instead and it added great flavor and helped keep the filling inside the twist.
By adding the pipeable buttercream on top of the twists while they are warm, the buttercream melts into an irresistible glaze. They taste great even without the frosting but it adds the perfect sweetness to complete the treat.
A relative of mine that tries raspberry treats in every bakery he visits said that this was the best raspberry twist he'd ever tasted in his life!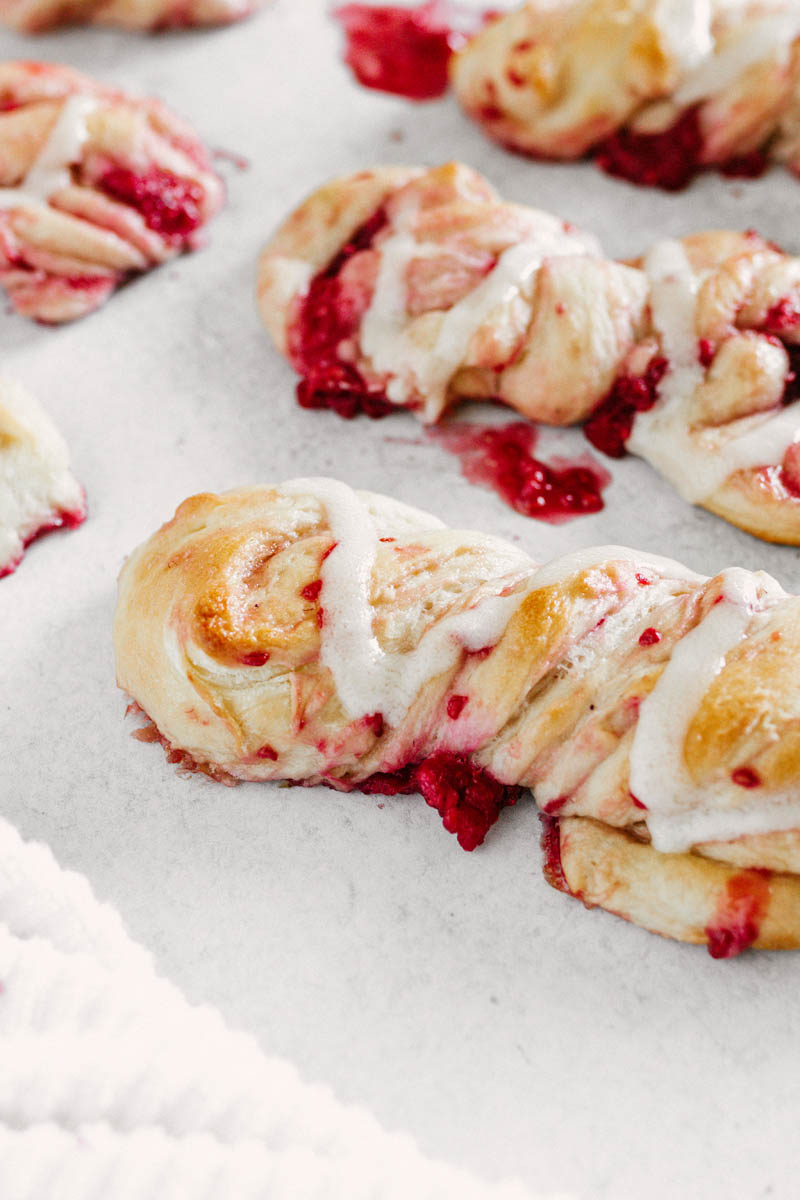 Raspberry Twist Tips
Make sure the frozen raspberries are completely thawed out before starting. If you're like me, you might forget to pull items out of the freezer ahead of time. Frozen raspberries can be thawed in your microwave. Add the frozen berries to a microwave-safe bowl and microwave for 30 seconds on the defrost setting or until they are thawed and juicy. In my microwave, it takes about 45 seconds in total to completely thaw them. Each microwave is different though, but it will quickly do the trick.
Make sure to leave a 1-inch space around the edges of the dough when you add the filling so it has space to spread. It may leak out a bit when you roll and twist the dough so try to handle it carefully. I like to shape them on a piece of parchment taped to the counter or a large silicone baking mat. This helps keep your counters from getting dyed bright red from the sweet raspberry filling.
If you want the buttercream frosting to keep its shape, wait until the raspberry twist has cooled to spread or drizzle on top. To give it the glazed look, pipe the buttercream frosting on the twists immediately after they are pulled out of the oven.
We hope you enjoy these Sweet Raspberry Twists as much as we do! Don't forget to comment below if you have any questions or comments and leave a rating if you'd like, too! Have fun baking!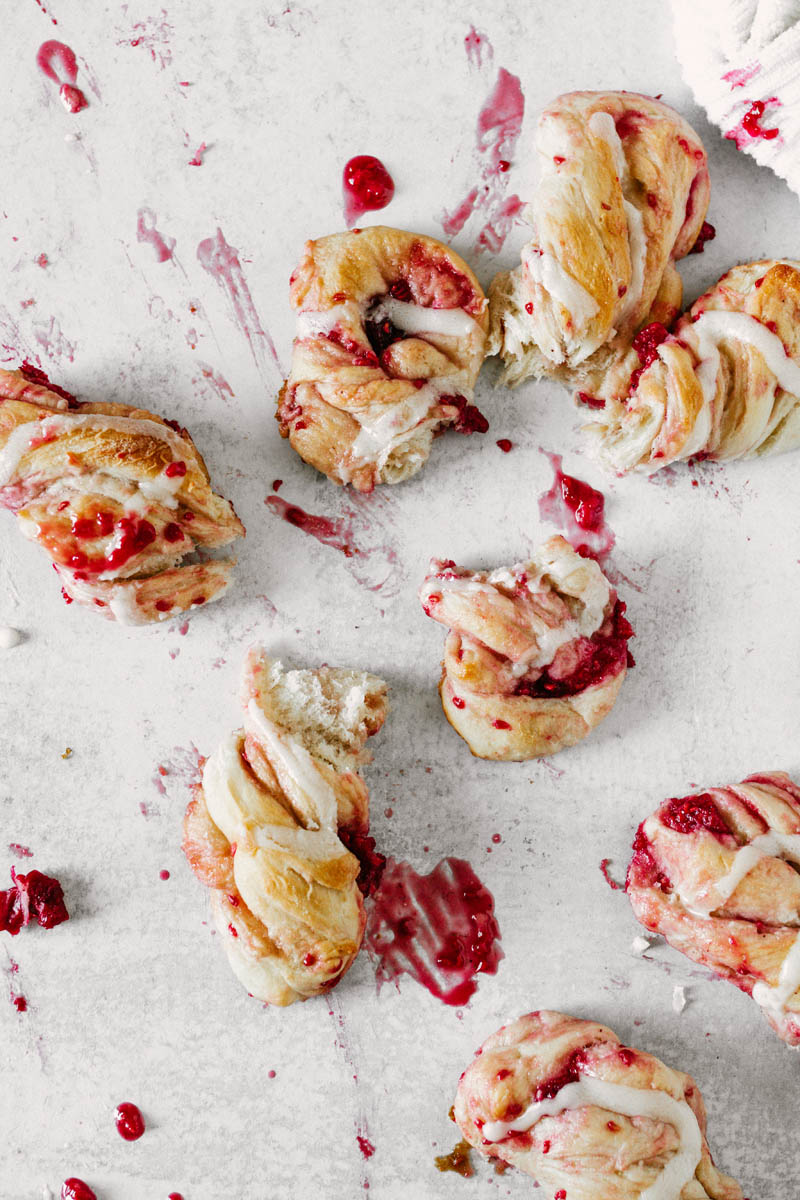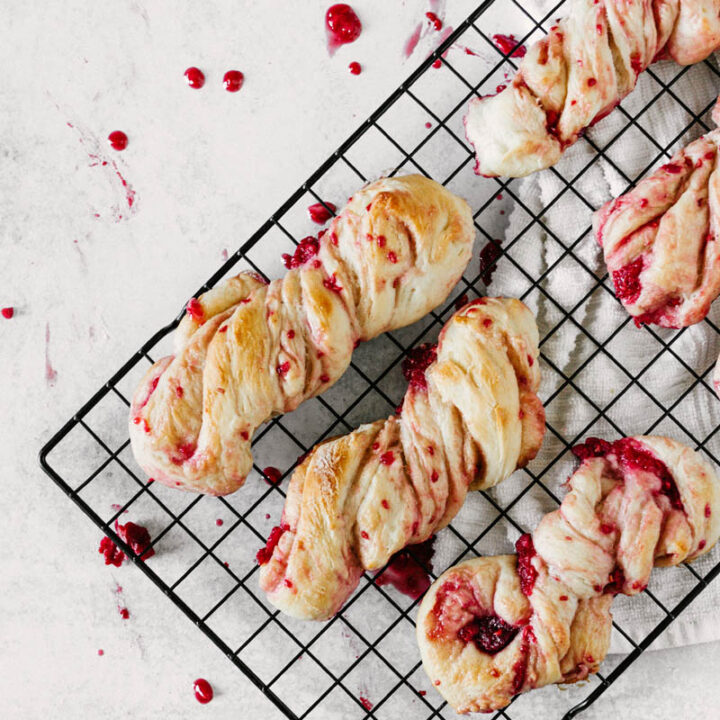 Sweet Raspberry Twists
Additional Time:
3 hours
45 minutes
These Sweet Raspberry Twists are soft, sweet, and have the perfect amount of raspberry filling. The twist adds a unique look which makes them taste even better.
Ingredients
Roll Dough
1 ¾ C (14 oz) milk, warmed to 120-130*F
4 ¾ C (21.2 oz) all-purpose flour
⅓ C (2.5 oz) white sugar
1 ½ tsp salt
1 T + 1 ½ tsp yeast, instant active dry
1 ½ tsp vanilla
1 T lemon juice
6 T (3 oz) salted butter, softened
Raspberry Filling
1 (12 oz) bag frozen raspberries, thawed, divided
3 T (0.9 oz) cornstarch
1 T lemon juice
½ C + 2 T (4.4 oz) white sugar
Vanilla Buttercream Frosting
1 C (8 oz) salted butter
3 ½ C (16 oz) powdered sugar
1 tsp vanilla
2-3 T milk
Instructions
Make the Raspberry Filling.
Thaw raspberries. Reserve 3 T of juice to mix with cornstarch.
Using a fine sieve, strain half of the raspberries to remove seeds. Be sure to push as much raspberry meat through the sieve as possible.
Mix the sieved berries with the remaining berries and any remaining juice.
In a small saucepan, add reserved 3 T raspberry juice, lemon juice, cornstarch, and sugar. Bring to a boil, stirring continuously.
Once boiling, add berries and bring to a simmer. Simmer for one minute while continuing to stir. Remove from heat.
Place in a bowl and cover. Refrigerate until cooled completely, 2-3 hours or overnight.
Make the Vanilla Buttercream Frosting.
Beat softened butter and powdered sugar together until dry but combined.
Add vanilla and milk and beat until smooth. Set aside in a cool place until ready to use.
Make the Roll Dough.
Preheat oven to 350*F. Line baking sheets with parchment paper (see notes for cinnamon roll-look directions).
In a small saucepan on the stove, heat milk to 120-130*F.
In stand mixer bowl, mix flour, sugar, salt, and instant active dry yeast. Add softened butter, warm milk, vanilla, and lemon juice. Mix until combined.
Mix dough for 5 minutes to knead. Dough will be soft.
Transfer dough to an oiled bowl. Cover loosely and let rest for 15 minutes.
Assemble Sweet Raspberry Twists.
Flour countertop. Carefully transfer dough to countertop and press into a 14x18 rectangle.
Spread Raspberry Filling over the dough. Leave a 1-inch border around the edge. Sprinkle ½ C brown sugar evenly over raspberry filling.
Roll up dough starting on the long side. About 4 inches from the end, pick up the edge and bring it to the top of the roll. Pinch the seam to seal. Using a sharp knife, cut into 18 equal slices.
To form a twist, pick up each slice and twist in opposite directions 2-3 times. Place on parchment-lined baking sheet. Repeat with remaining slices.
Let rest in warm location for 15-25 minutes. Bake for 15 minutes or until golden brown. Let cool for 5-10 minutes then spread Vanilla Buttercream Frosting. Frosting will melt slightly.
Store in a sealed container. Can freeze for up to 3 months. Warm slightly in the microwave before serving.
Notes
To make into traditional cinnamon roll shape: Prepare one 9x13 pan and one 6x6 pan by spraying with cooking spray. Follow directions above but do not twist slices. Place in pan and let rest 15-25 minutes. Bake until golden brown and center is cooked through.
Pick Your Favorite Pin and Save It for Later!