A rich fudgy brownie with mint chips and a beautiful mint drizzle. The perfectly balanced brownie treat!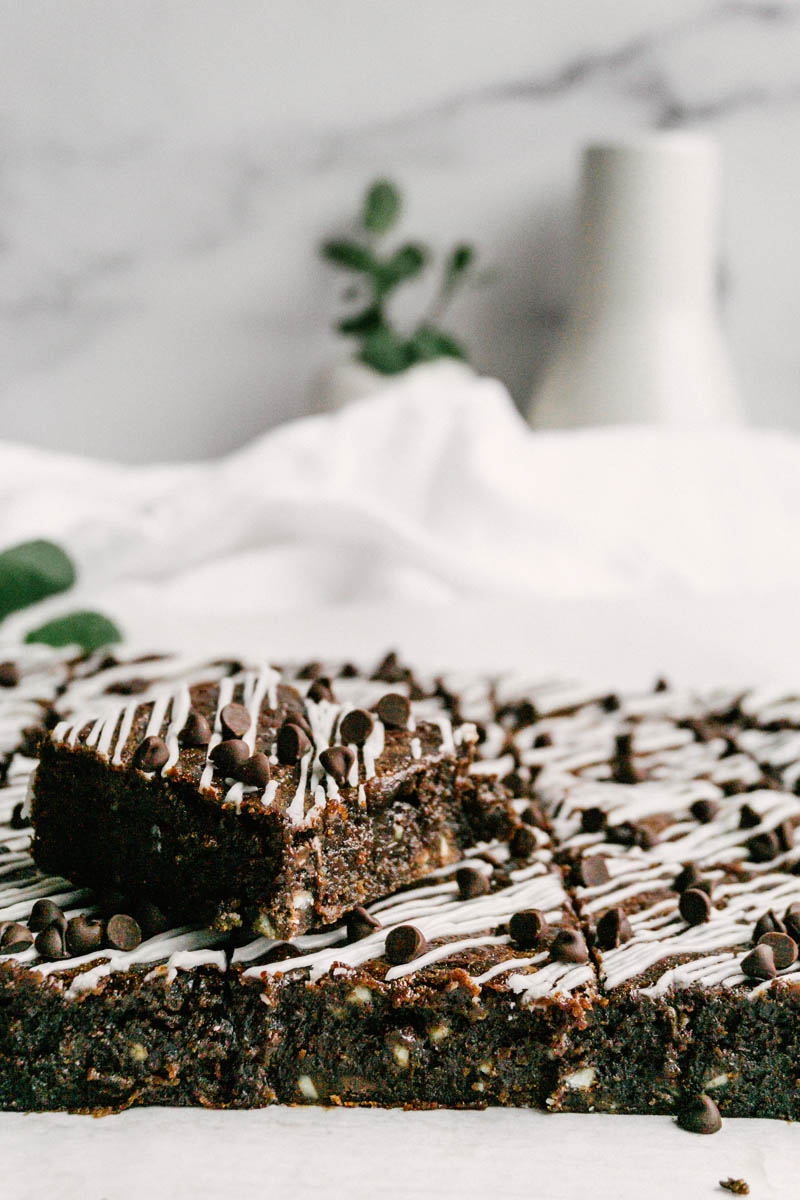 During my time in college at Brigham Young University (BYU), everyone was wild about mint brownies. They were so good. They had a rich brownie with a mint topping and a chocolate frosting. Now that I've moved across the country, it's kind of hard to get authentic BYU mint brownies.
The Perfect Mint Flavor
Mint is a hard flavor to get right. Use too much and it tastes like toothpaste, use too little and it tastes like… well nothing. With so many different kinds of mint out there, it's hard to know which kind to use and which will taste best.
Mint is incorporated into the actual brownie batter in the form of Andes Mint Baking Chips. They deliver a beautiful, smooth mint flavor. These brownies still needed a little something on top to amp up the flavor a bit more and clue you into what lies inside. Enter a simple mint drizzle. With just a hint of mint extract, it adds to the experience without overpowering the fudgy brownie flavor.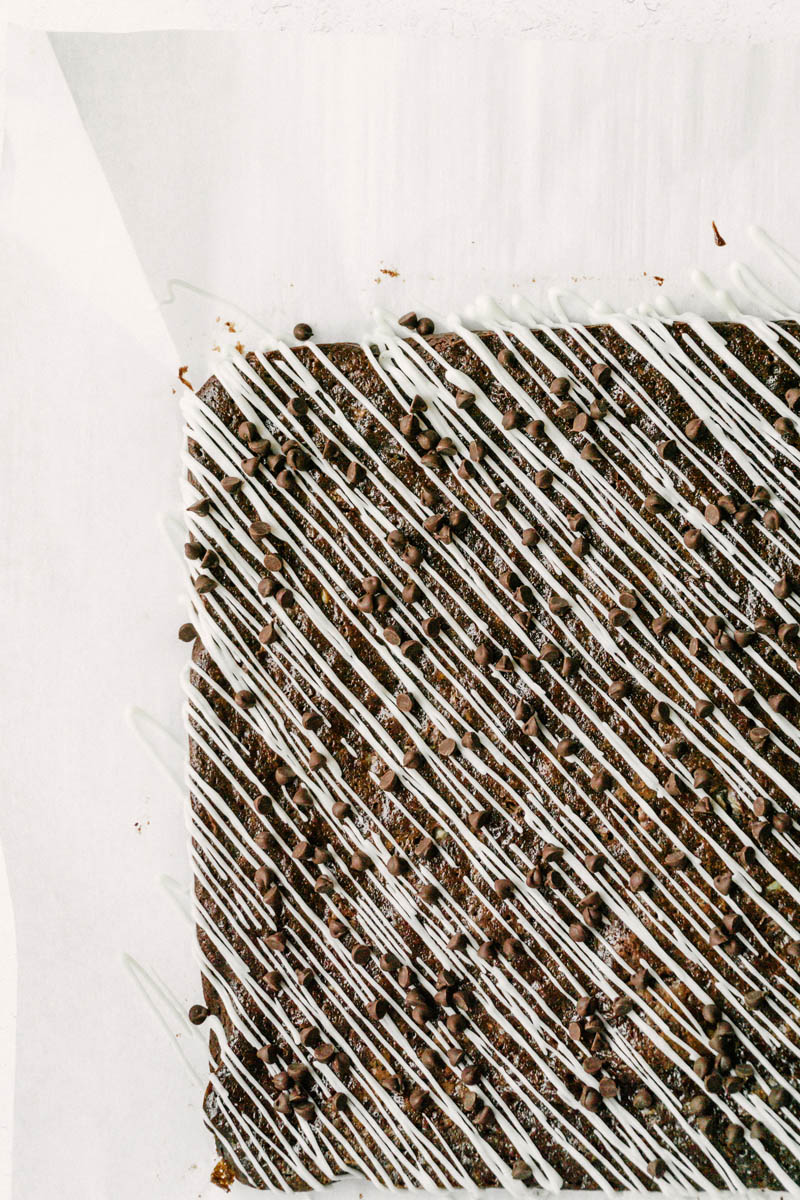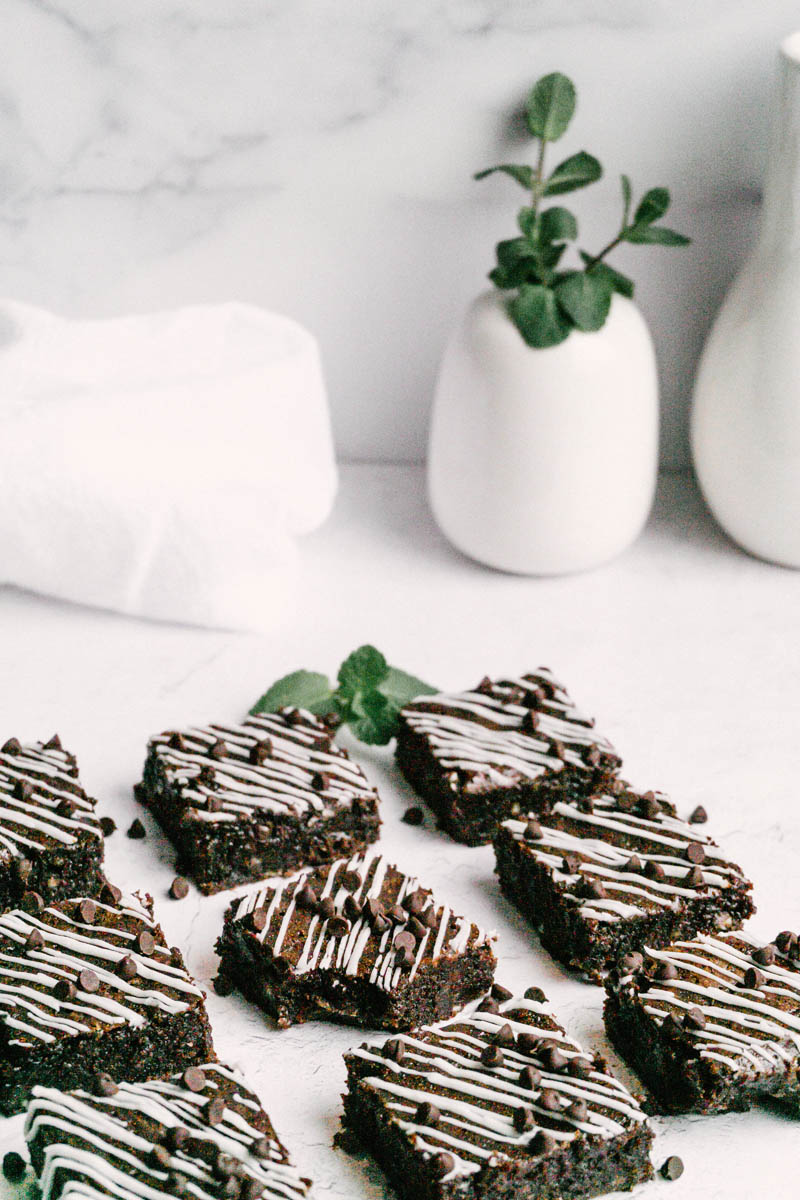 Fudgy Mint Brownie Baking Tips
Making these brownies is super easy. Start with a basic chocolate brownie batter and add Andes Mint Baking Chips for a burst of smooth, creamy mint flavor. Once you've poured the batter into your prepared pan, swirl some chocolate syrup through the top for a beautiful, shiny top and extra fudginess. It will look beautiful coming out of the oven and you will hardly be able to stop yourself from sneaking a taste.
Spraying the parchment paper isn't necessary but it guarantees a clean release. Using parchment paper also isn't necessary but it saves washing the pan.
Adding a simple minty drizzle to the top adds just a hint of cool mint flavor. I like to use Watkin's Pure Mint Extract. If you want to dye it a pale green, start small. Wilton Leaf Green Icing Color gives the perfect hue of green, plus gel food coloring is easier to control. Use a toothpick to add the smallest bit of dye and mix. Remember, you can always add more but you can't take it back out.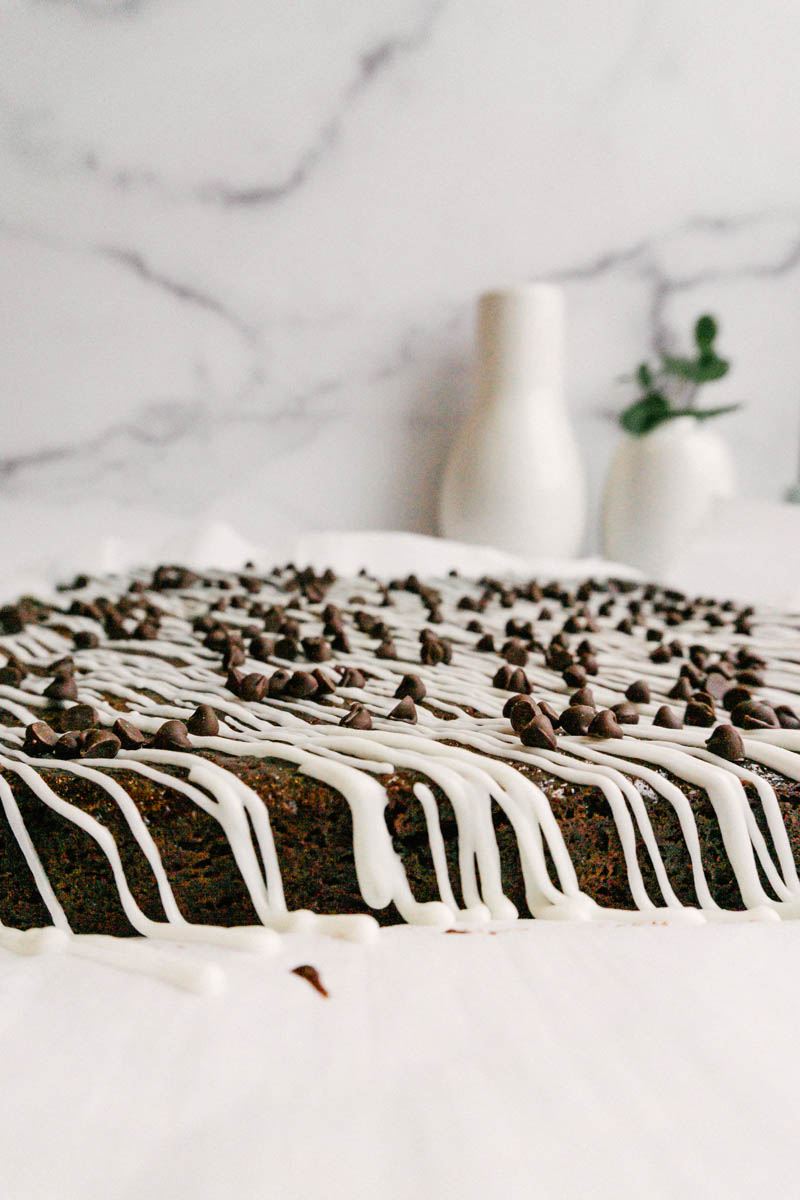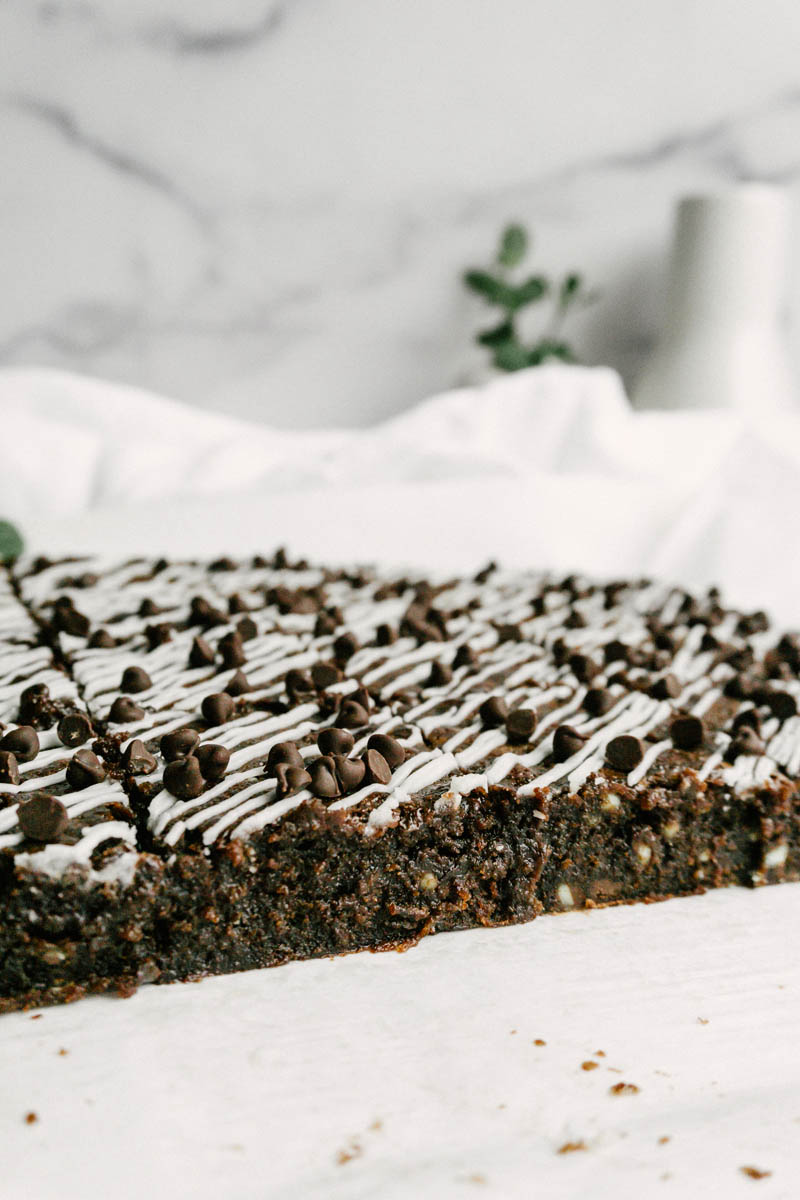 So Good it's "Mint" To Be
I was skeptical when I first tried these. They are missing some of the main elements of the mint brownies I was used to and I just wasn't sure I would like them. One bite was all it took to convert me. Seriously, I'll never go back to the layered brownies I used to love.
These are sophisticated, beautiful, and the taste is absolutely to die for. They are moist and fudgy in a way that so many brownies fail to be. I took an entire platter of these to a small gathering with a few friends. There were none left by the time I went home.
Let me know in the comments what you think of these simple, Fudgy Mint Brownies!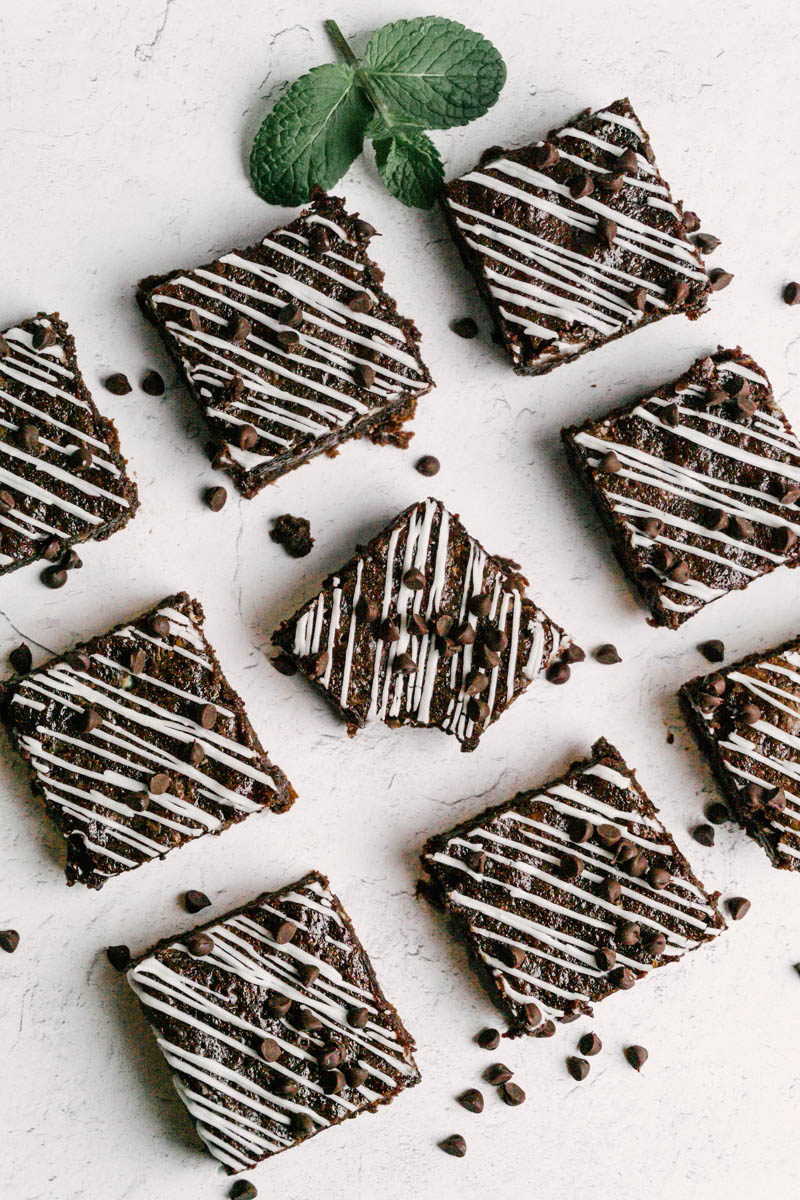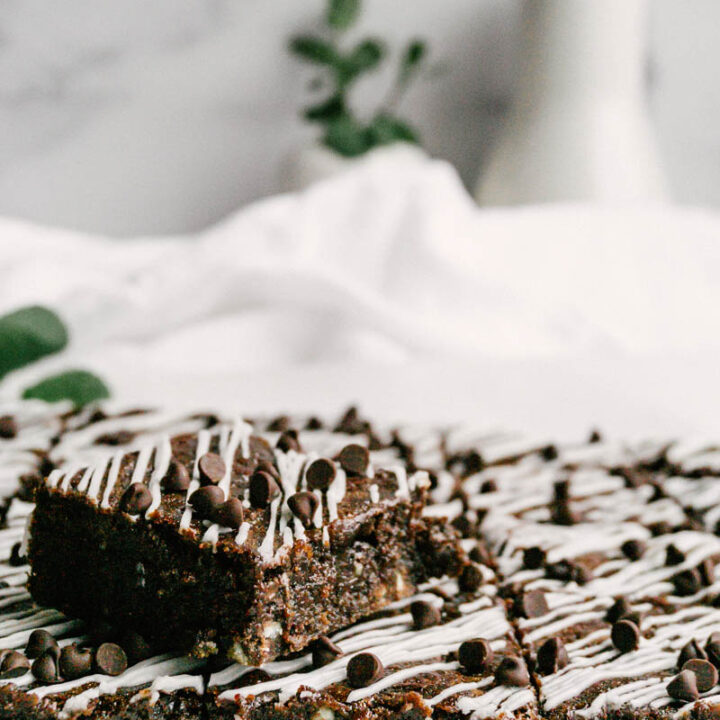 Fudgy Mint Brownie
Total Time:
1 hour
50 minutes
A rich fudgy brownie with mint chips and a beautiful mint drizzle. The perfectly balanced brownie treat!
Ingredients
Brownie Batter
½ C (4 oz) salted butter, melted
½ C (3.8 oz) vegetable oil
1 ¾ C (7 oz) powdered sugar
1 scant C (7 oz) brown sugar
½ C (1.8 oz) cocoa powder
4 large eggs
1 tsp vanilla
1 tsp salt
1 C - 2 T (4 oz) all-purpose flour
1 ¾ C (10 oz) Andes Mint Baking Chips
½ C (5 oz) chocolate syrup (reserved)
Mint Drizzle
1 T (0.5oz) salted butter, melted
½ C C (2.25 oz) powdered sugar, sifted
⅛ tsp mint extract
2 tsp milk
For Topping
½ C (3 oz) mini semi-sweet  chocolate chips
Instructions
Make the Mint Brownie batter.
Preheat oven to 350*F. Line bottom and sides of 9x13 or 10x10 pan with parchment paper. Spray lightly with vegetable cooking spray.
Mix the melted butter, vegetable oil, powdered sugar, brown sugar, and cocoa together.
Add the eggs and vanilla.
Add in the salt, flour, and Andes Mint Baking Chips. Mix gently until combined.
Pour batter into prepared pan.
Pour the reserved chocolate syrup over the batter. Use a butter knife or chopstick to make a swirl pattern.
Bake for 25-30 minutes. Remove from oven and let cool.
Make Mint Drizzle.
Mix melted butter, sifted powdered sugar, and mint extract together. Add milk slowly, making sure to stir out any powdered sugar lumps.
Drizzle the top of the brownie with a piping bag or fork. Sprinkle immediately with mini chocolate chips.
Notes
Swirl the chocolate syrup just enough to make a swirl pattern on the top of the brownie batter. No need to mix it thoroughly.
Pick Your Favorite Pin and Save It for Later!