They're not called "Outstanding Brownies" for nothing! A crinkly top hides a fudgy interior packed with rich cocoa and melty chocolate chips. You'll definitely need a glass of milk with these.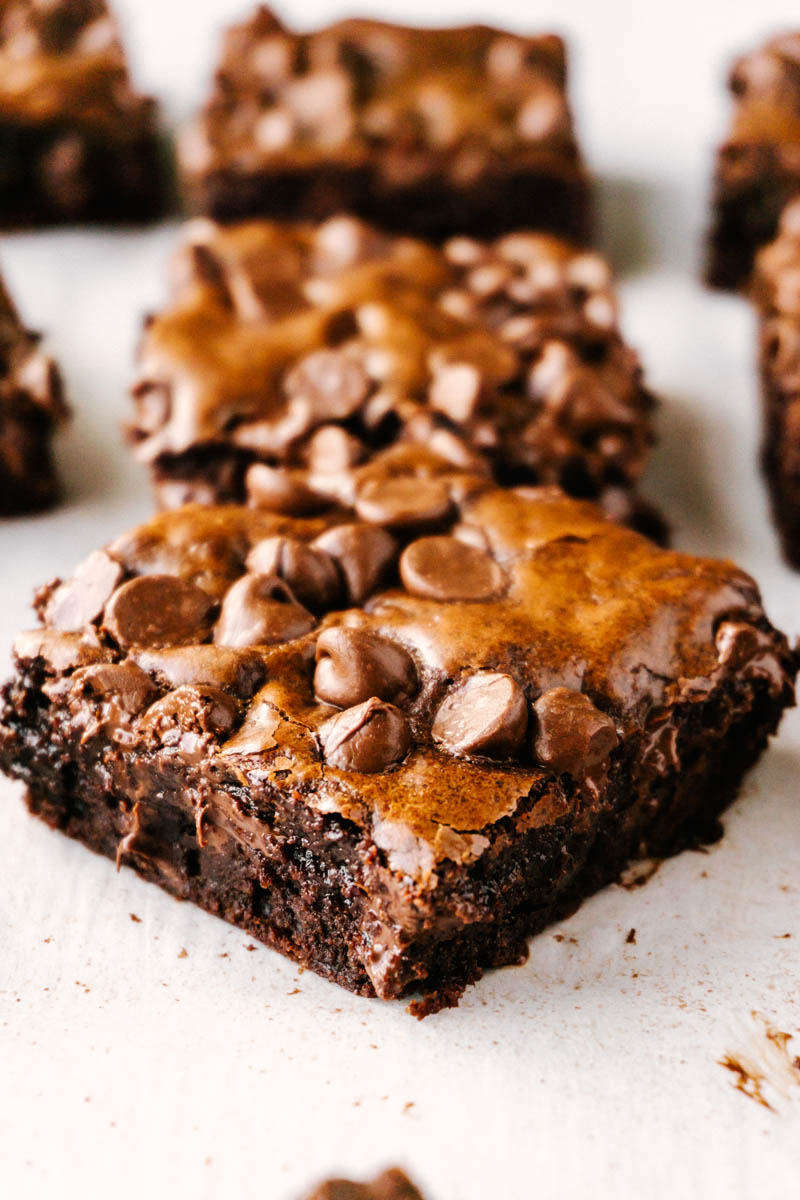 Subtle Changes Matter
I have made many brownies. Not every brownie handles mix-ins, like chocolate chips, or a frosting on top, or is able to be a stand-alone brownie. Brownie recipes are generally simple and always a favorite for bakers of any skill and experience level.
But, due to their simplicity, brownies can easily be overbaked, overmixed, and underwhelmed by an improper balance of ingredients. I have spent many years of hard work developing a variety of brownie batters for every occasion. Just a few subtle changes make for a stellar brownie. These Outstanding Brownies are a shining star.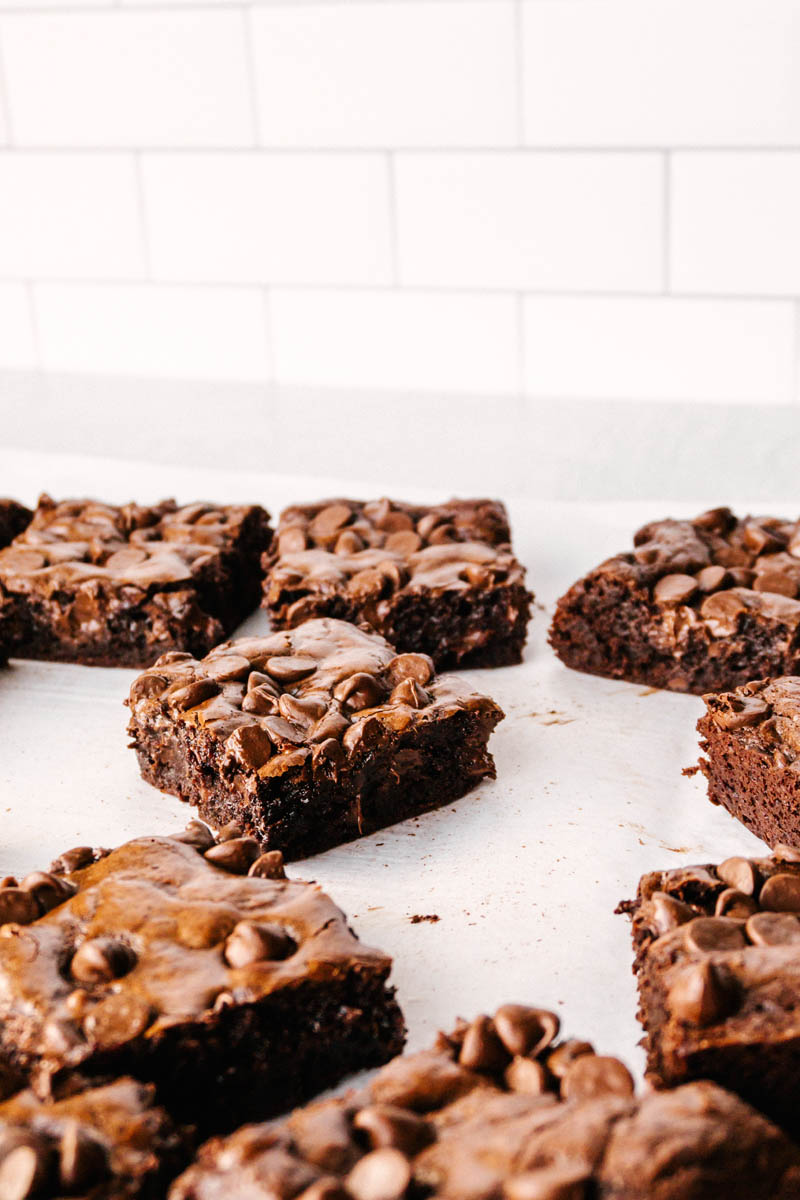 A Brownie For Every Occasion
If you want a moist brownie that begs to be topped with marshmallows and frosting, try this Frosted Marshmallow Brownie. If you're craving the irresistible pairing of chocolate and mint, try these Fudgy Mint Brownies. If you want a beautiful, crackly top homemade brownie, you are in the right place!
Looking to take these Outstanding Brownies to the next level? Kenzie recently created a Raspberry Cheesecake Brownie that will knock your socks off!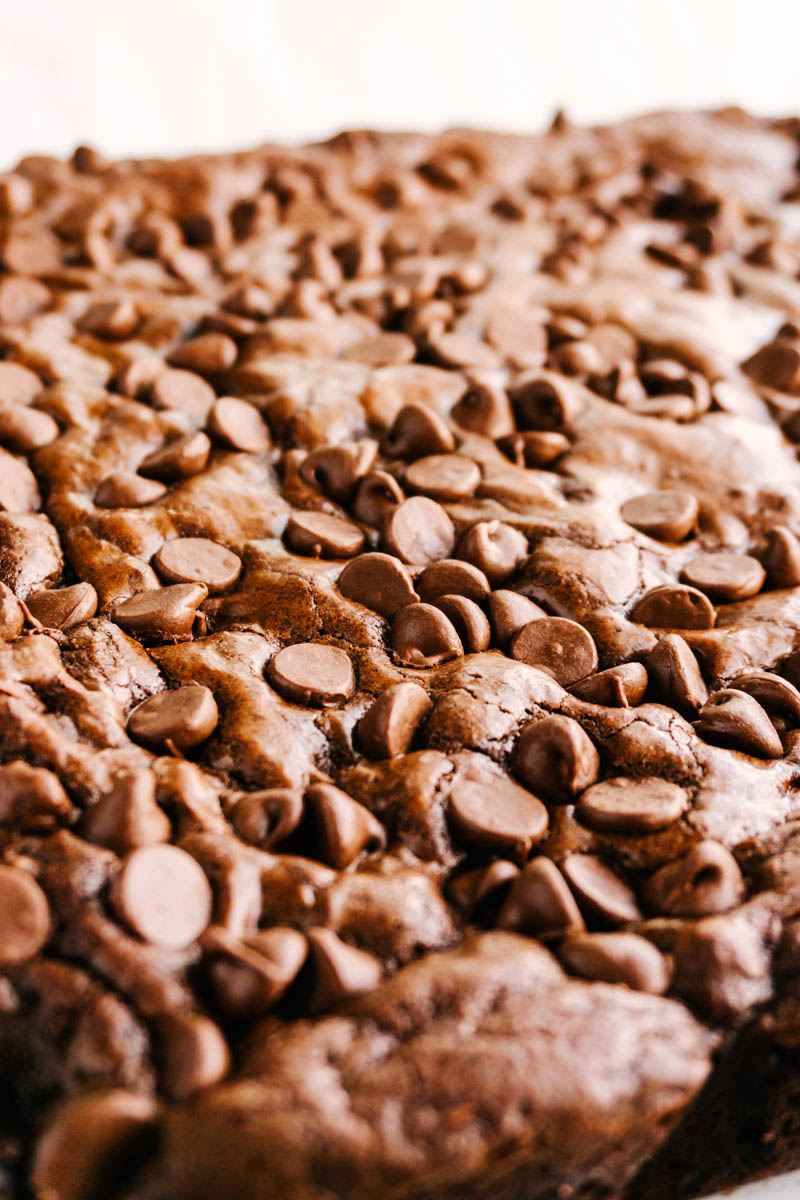 Better Than Boxed
All of the testing I have done on brownies has been fun. It doesn't take expensive melted chocolate to make a great brownie. It's easier to make using regular cocoa and cheaper, too. These are just as easy as a boxed brownie mix but so much better tasting. All you need is one mixing bowl and a sturdy spoon. Learning to use the right recipe with the right ingredients will get your chewy, fudgy brownie recipes to match your craving needs.
I would happily bring any (and every) brownie recipe on Taste Before Beauty to any event. Serve them in a white cupcake liner and they become gourmet. Making them all would make a great brownie table at a wedding – yes, they are that delicious!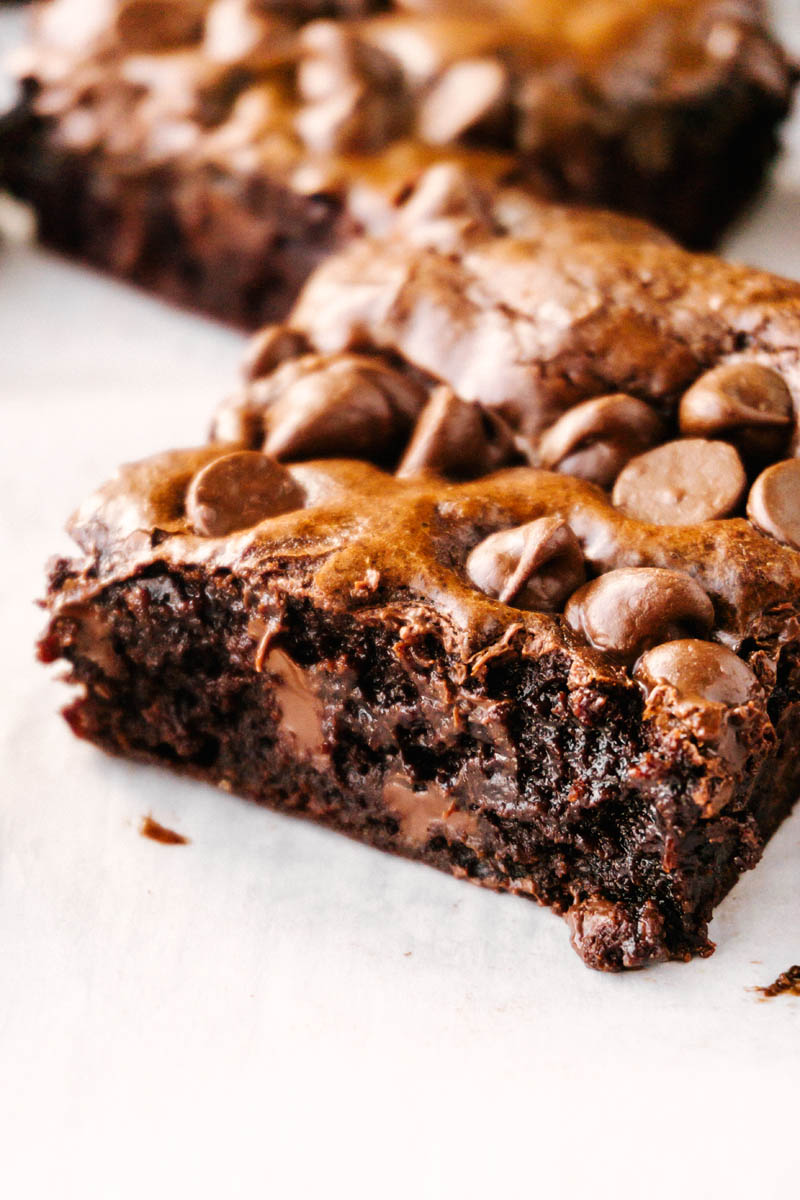 Recipe Ingredients
Butter – Adds warmth to the brownie flavor.
Vegetable Oil – Keeps the cookie fudgy and chewy. Using only butter would lend to a more cake-like texture.
Cocoa – The star of the show. It has amazing thickening powers and with the right balance, you don't need much flour.
White and Brown Sugar – White sugar helps the brownie spread and dissolve in the butter for a shiny finish. Brown sugar deepens the flavor of the brownie.
Powdered Sugar – Has a tendency to become a thickening agent. Including this type of sugar helps the crackle top and decreases the amount of flour needed to really increase that chocolate flavor.
This brownie doesn't need much – the chocolate chips make it complete and then some. It's great alone or in a brownie sundae!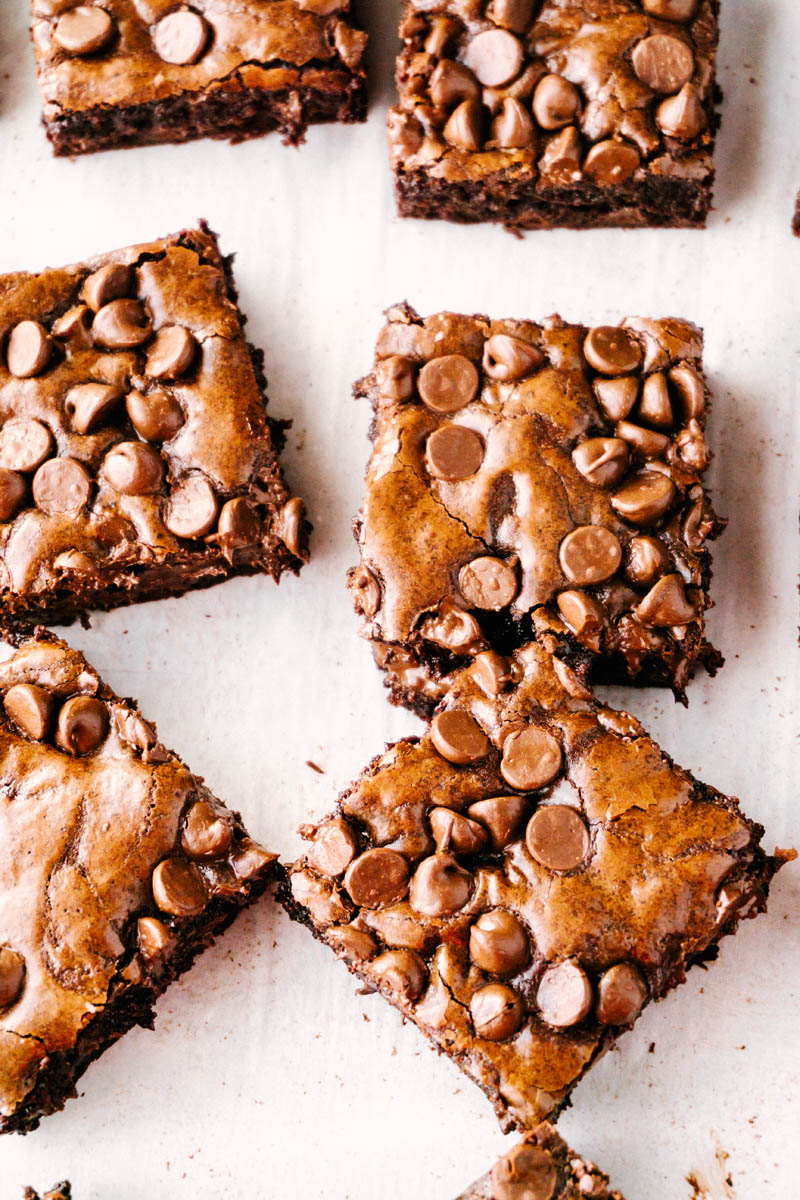 Looking for more delicious brownie recipes? Try these: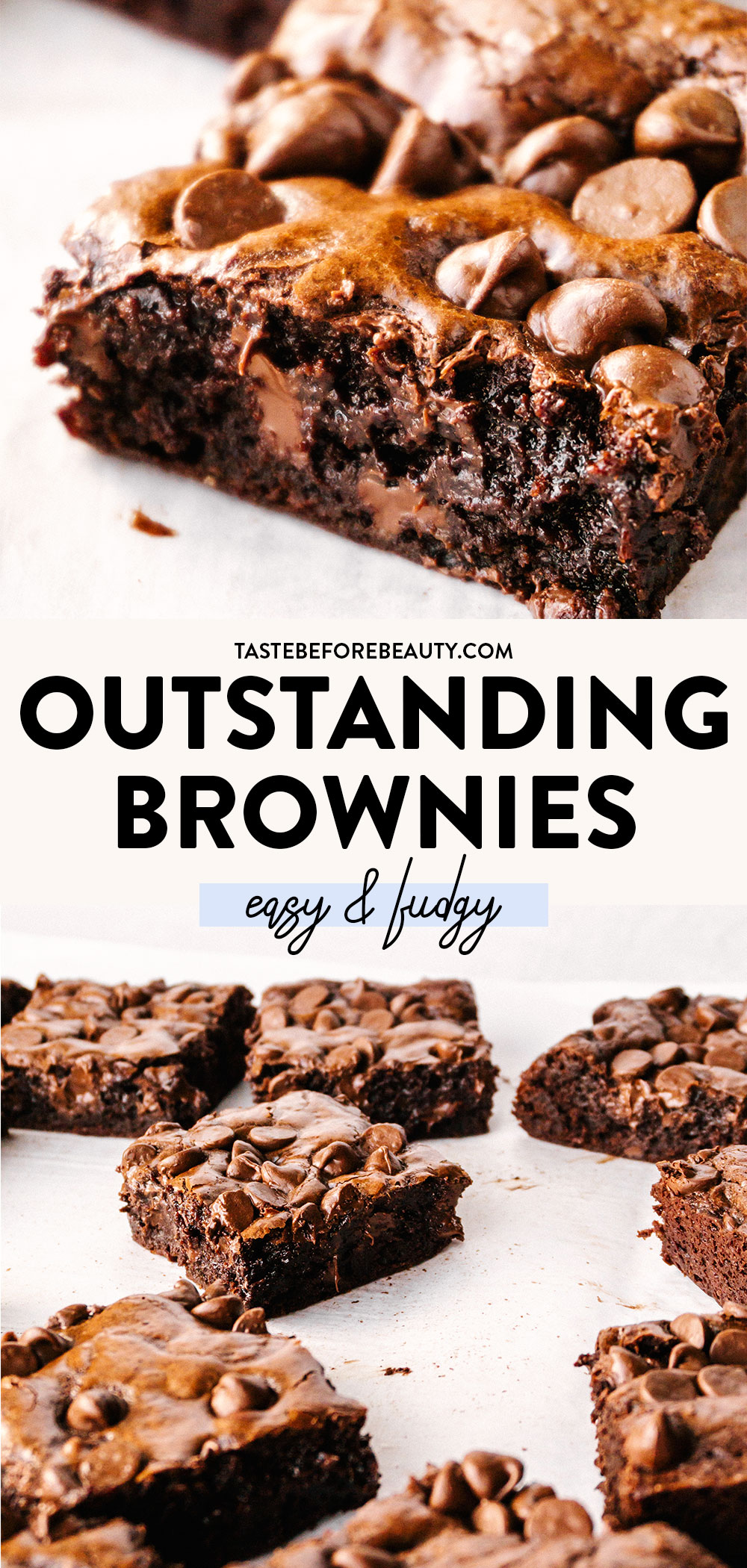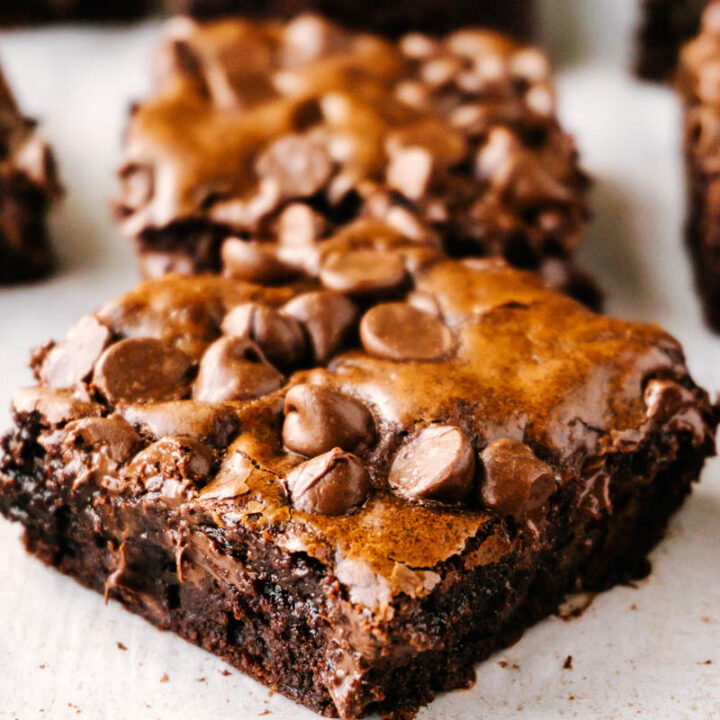 Outstanding Brownies
Additional Time:
30 minutes
Total Time:
1 hour
15 minutes
They're not called the "Outstanding Brownies" for nothing! A crinkly top hides a fudgy interior packed with rich cocoa and melty chocolate chips. You'll definitely need a glass of milk with these.
Ingredients
½ C (4 oz) salted butter, melted
½ C (3.8 oz) vegetable oil
1 ½ C (8 oz) powdered sugar
½ + 2 T (5 oz) brown sugar
¼ C + 2 tsp (2 oz) white sugar
1 C (3.6 oz) cocoa
4 large eggs
1 tsp vanilla
1 tsp salt
1 tsp baking powder
1 C + 2 T (5.5 oz) all-purpose flour
2 C (12 oz) semi-sweet chocolate chips, divided
Instructions
Preheat oven to 350*F.
Line 10x10 or 9x13 pan with parchment paper and lightly spray with nonstick cooking spray.
Melt butter. Add white and brown sugars, and stir for 2 minutes to help dissolve the sugars a bit. This is important for the crackly top finish.
Add oil, powdered sugar, and cocoa. Stir until combined.
Add eggs, vanilla, and salt. Stir until combined.
Add flour, baking powder, and 1 ¼ C (8 oz) semi-sweet chocolate chips to the wet ingredients. Stir until all is combined.
Pour into prepared 10x10 or 9x13 pan. Sprinkle reserved ¾ C (4 oz) chocolate chips over the top.
Bake for 25-30 minutes or until brownie is set.
Remove from oven and let cool completely. Cut to serve.
Notes
The sugars are not fully dissolved when stirred into the butter and oil, but it starts the process. Stirring the white and brown sugar into the butter is an important step for that crackle finish.
I prefer imitation vanilla in a brownie. The cocoa takes center stage and imitation vanilla acts in a supporting role to round out the flavor of the dessert.