These cinnamon rolls are perfect for when you need a sweet weekend treat. This small batch size makes a half dozen cinnamon rolls, perfect for a cozy Saturday morning brunch.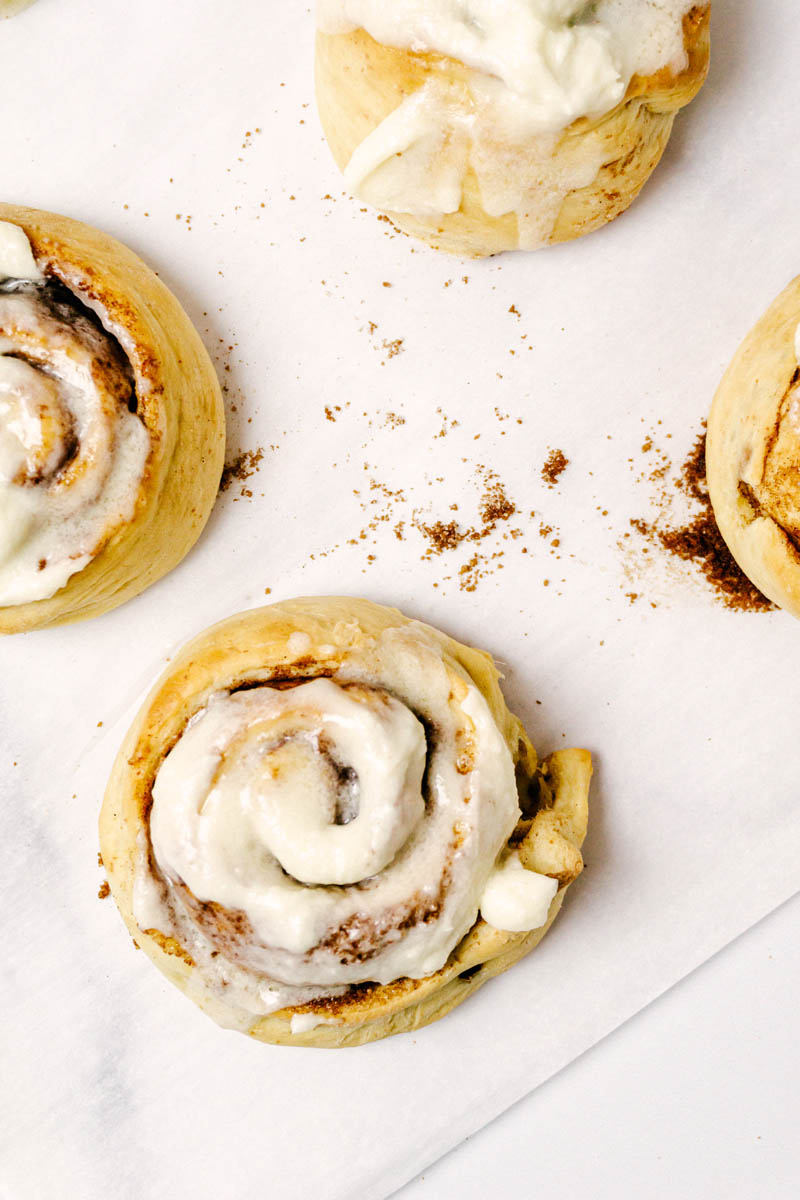 Easy Small Batch Cinnamon Rolls
This cinnamon roll recipe came from Missy's grandmother and our whole family loves them. But the original recipe makes a LOT of cinnamon rolls, which is fine when you're feeding a whole family…and your neighbors' families. When it's just you and your partner or a small family, three dozen is a bit much.
Enter these small-batch cinnamon rolls! This recipe makes just a half dozen, which is the perfect amount to make any occasion feel special. Because the batch is small, all you need is a few small mixing bowls and a wooden spoon. No mixer needed!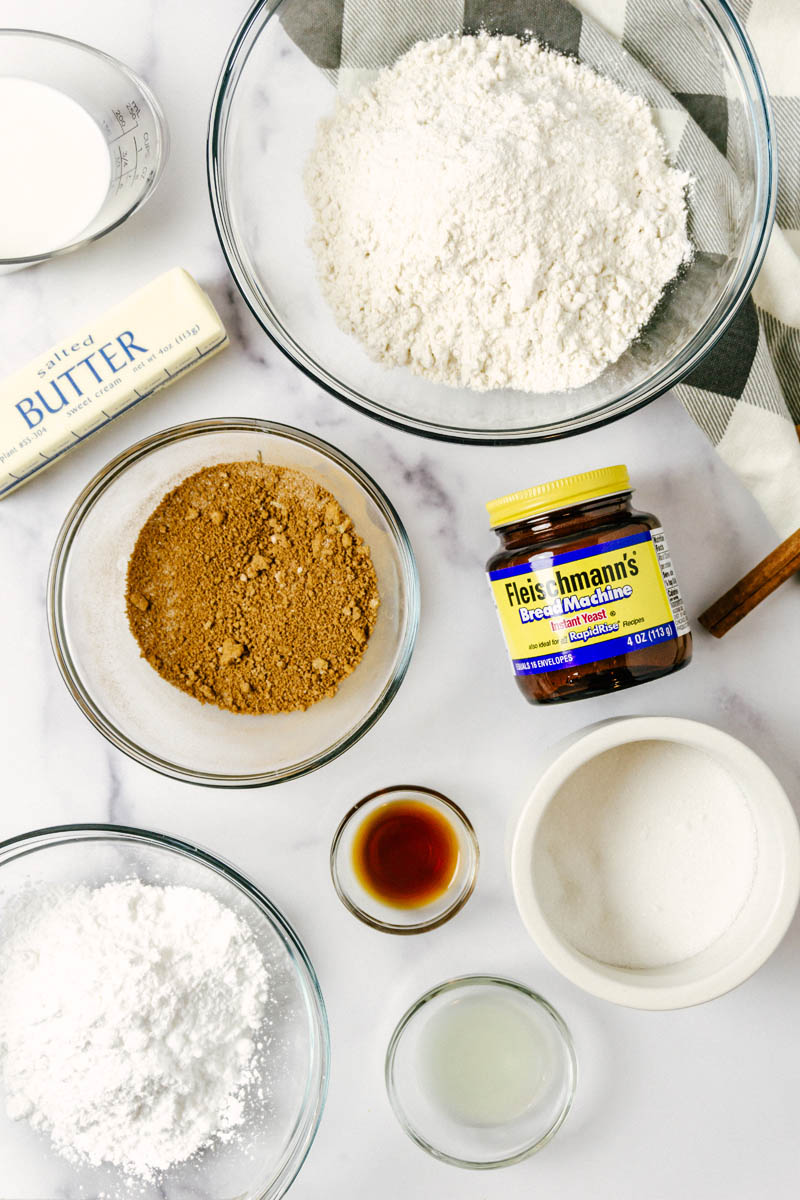 Ingredient Notes
Butter – I use salted butter. It adds that salt boost that brings out all of the flavors in these buttery cinnamon rolls.
Granulated sugar – Adds lovely sweetness and softness to the rolls, plus paired with brown sugar and cinnamon it creates a sweet filling.
Vanilla extract – I use real vanilla extract. It fragrances the dough with its warm scent and adds the perfect cozy flavor to the vanilla buttercream frosting.
Lemon juice – A dash of acidity balances the richness of this recipe.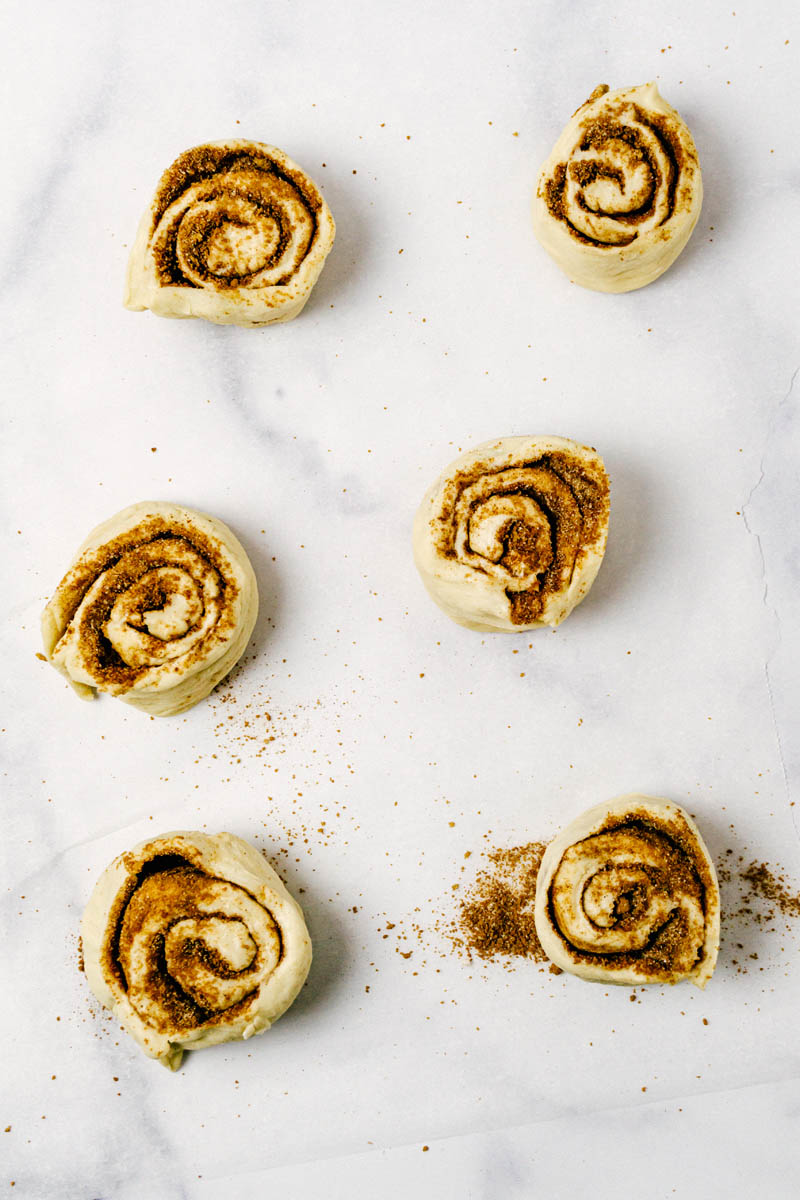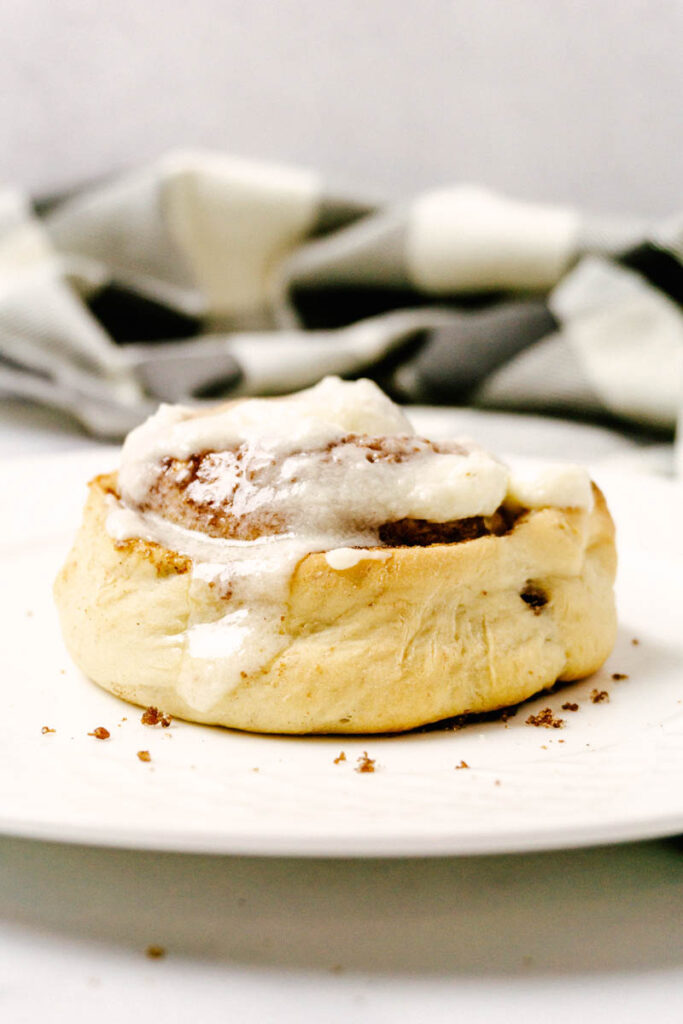 Some Baking Tips
How do you know when the cinnamon rolls are done?
They will turn a light golden brown on the outside and your home will be filled with a sweet cinnamon smell.
How do I keep the cinnamon rolls from unrolling?
Tuck the ends of the cinnamon rolls in before baking. This will help keep them from unrolling as they bake. 
These small batch cinnamon rolls are easy and delicious and come together quickly. I can't wait to make these again for a sweet Saturday surprise for my family.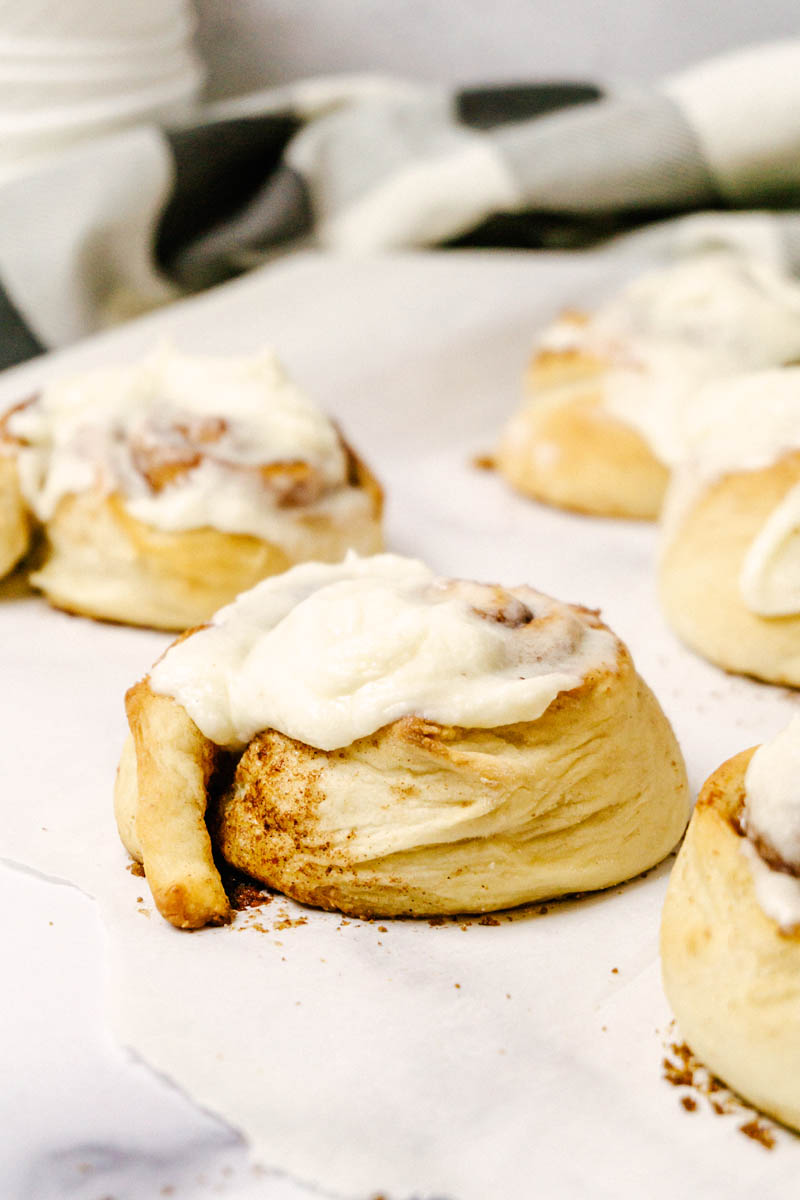 Looking for more brunch recipes? Try these: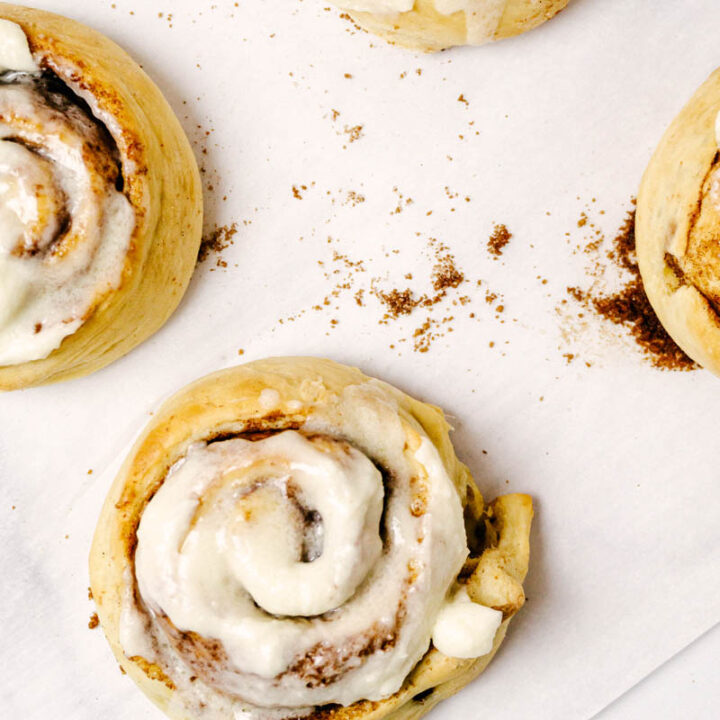 Small Batch Cinnamon Rolls
Additional Time:
30 minutes
These cinnamon rolls are perfect for when you need a sweet weekend treat. This small batch size makes a half dozen cinnamon rolls, perfect for a cozy Saturday morning brunch.
Ingredients
Cinnamon Roll Dough
½ C (4.6 oz) milk, warmed to 120-130*F
1 ½ C (7 oz) all-purpose flour
2 T granulated sugar
½ tsp fine salt
1 ½ tsp instant yeast
½ tsp vanilla extract
1 tsp lemon juice
2 T (1 oz) salted butter, room temperature
Cinnamon Filling
1 T + 1 ½ tsp granulated sugar
2 T light brown sugar
2 tsp ground cinnamon
2 T (1 oz) butter
Vanilla Buttercream Frosting
2 T + 2 tsp (1.3 oz) salted butter, room temperature
½ C (2.6 oz) heaping powdered sugar
⅛ tsp vanilla extract
1 ½ tsp milk, room temperature
Instructions
Preheat oven to 375*F. Line a cookie sheet with parchment paper.
In a small pot on the stove, heat milk to 120-130*F.
In a mixing bowl, mix flour, sugar, salt, and instant yeast. Add softened butter and then pour in warm milk, vanilla extract, and lemon juice. Mix until combined.
Use a wooden spoon to knead dough for 3-5 minutes. Cover loosely and let rest for 15 minutes. Dough will be soft.
Meanwhile, mix filling ingredients: stir together brown sugar, granulated sugar, and cinnamon. Set aside.
Lightly flour the countertop. Press dough into a 9x12 rectangle. Top with filling ingredients. Roll up, starting on the short side, and pinch the seam to seal. Using a sharp knife, cut into 6 pieces.
Place cinnamon rolls a few inches apart on a cookie sheet with the swirl facing up. Let rise for 15 minutes.
Bake at 375*F for 15 minutes until light golden brown.
While cinnamon rolls bake, make the frosting: mix powdered sugar and softened butter together until smooth. Add vanilla and milk and stir until creamy and smooth. Set aside.
Once the rolls are baked, let them cool for 5-10 minutes then frost with vanilla buttercream frosting.
Store in an airtight container. Cinnamon rolls will last a few days at room temperature or can be frozen for up to 3 months.
Notes
These freeze well. Individually wrap baked and cooled cinnamon rolls and place in a ziplock bag. To defrost, let come to room temperature on the counter then microwave for 10 seconds to warm.