Homemade orange cardamom granola is full of oats, nuts, and seeds. Sweet and crunchy, this is sure to become your new favorite!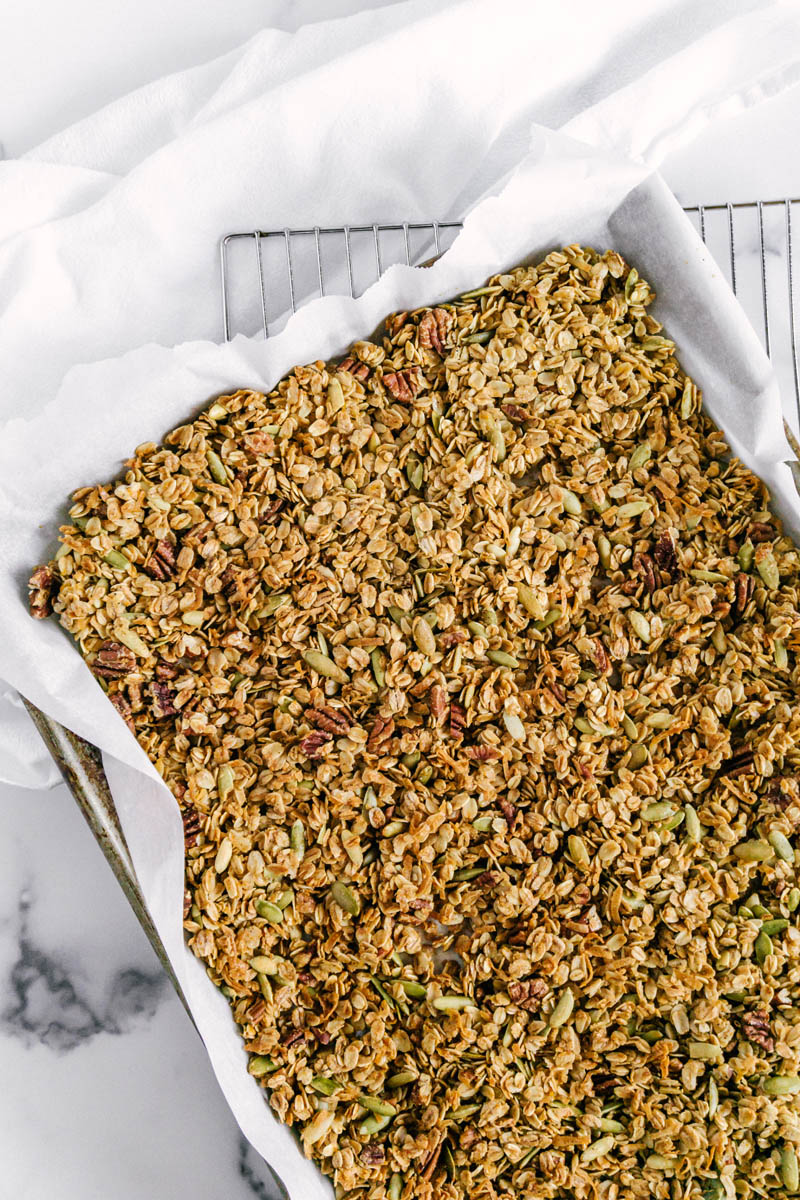 A Sweet Combination
A friend of mine introduced me to the simple joy of making my own granola a few years back. All I can say is that it kind of changed my life. I always wanted to like granola but store-bought granola can be so bland.
This orange cardamom granola is anything but bland. Citrusy, spiced, and crunchy, just like the best granola should be. It's become my go-to breakfast and snack. Good on yogurt parfaits with fruit or on its own with some milk, this is a winning combination.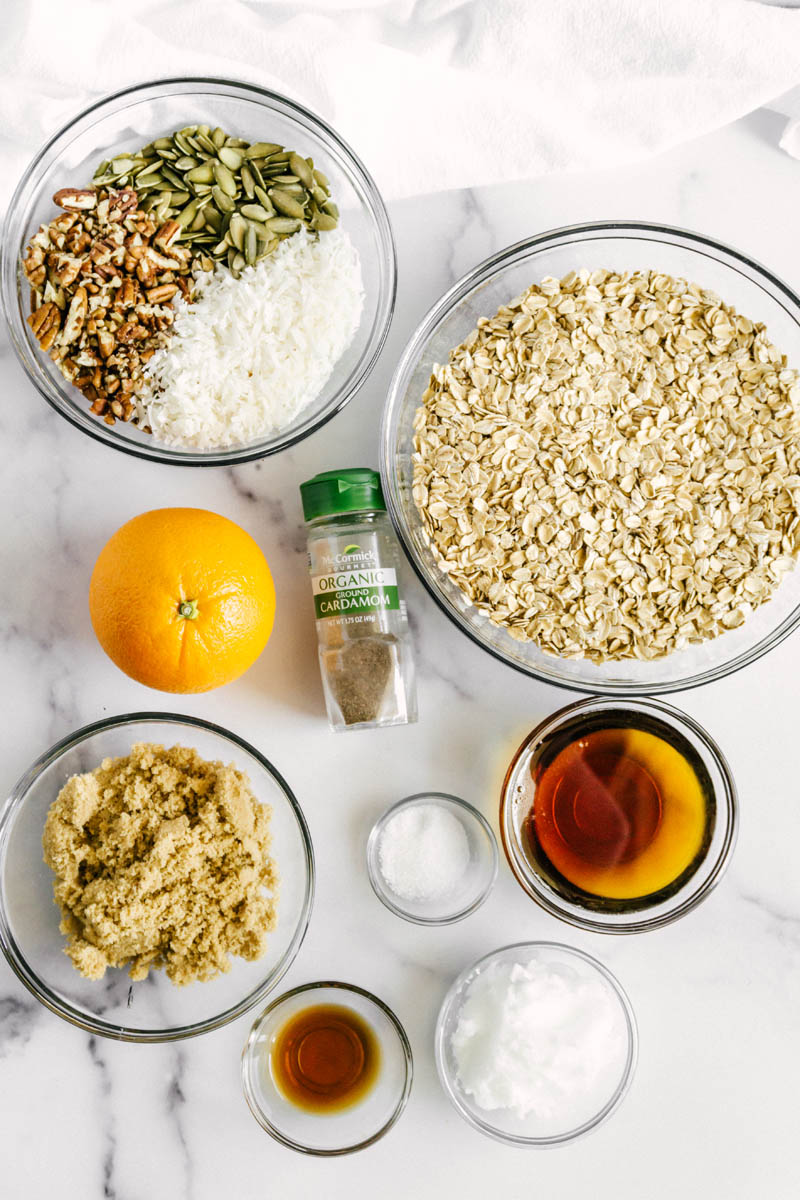 Orange Cardamom Granola Recipe Ingredients
Old-fashioned oats – regular oats form the base of this recipe and are toasty and filling.
Pecans – the buttery flavor of pecans works beautifully, but feel free to substitute your favorite nut. Almonds work great.
Pepitas – I use raw, unsalted pepitas, also called pumpkin seeds.
Maple syrup – lightly sweet and delicious. Make sure to use real maple syrup, not artificial pancake syrup.
Orange zest – floral and bright, orange zest adds a burst of sunshine to the granola.
Cardamom – adds a complex, spicy flavor that goes perfectly with the orange zest.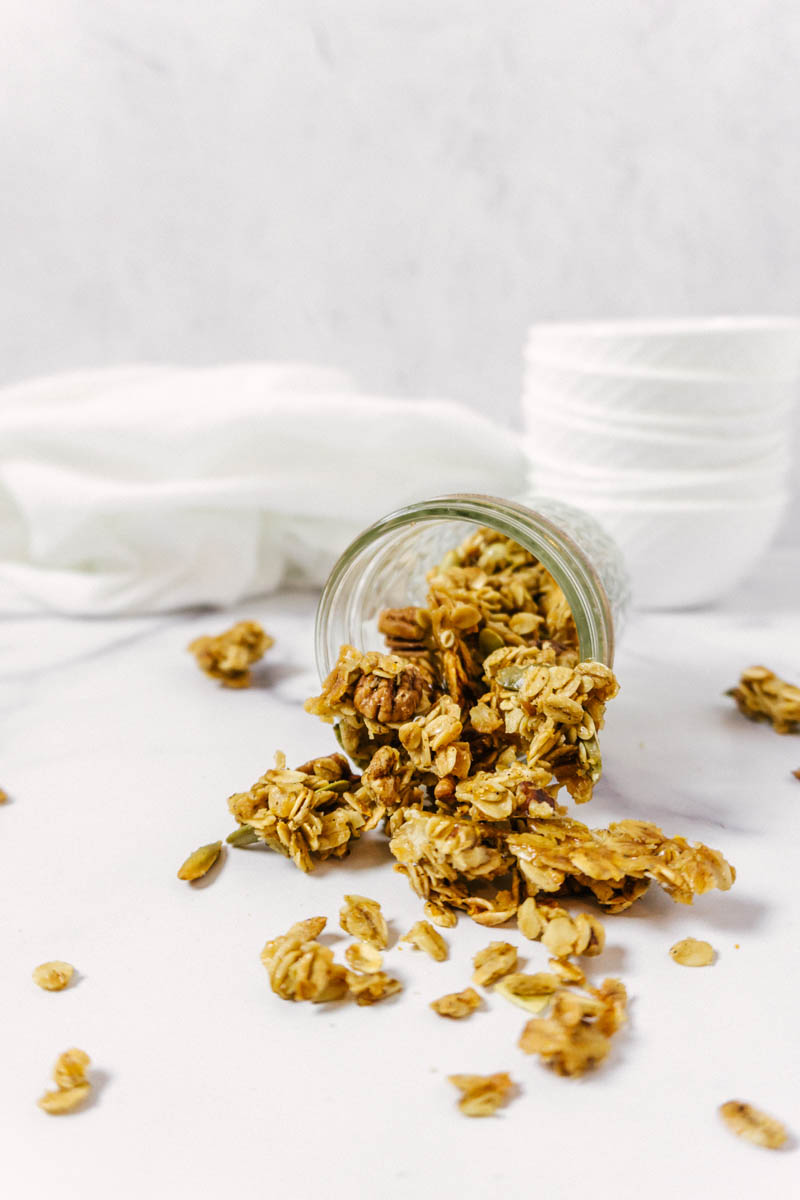 Tips for Making Orange Cardamom Granola
What does cardamom taste like?
Cardamom has a complex flavor. It is herbal, citrusy, and spicy. It pairs perfectly with the orange zest in this granola recipe. 
What can I substitute for cardamom?
You can substitute an equal amount of cinnamon if you don't have cardamom. 
How do I know when the granola is done baking?
It should be nice and golden brown, with a toasty smell. Stirring several times during baking ensures that all of the mixture gets cooked evenly. If it is underbaked, the granola will be unpleasantly chewy. Sometimes, I take a small bit of granola and place it in the freezer for a minute or two to test if it is fully baked and crispy.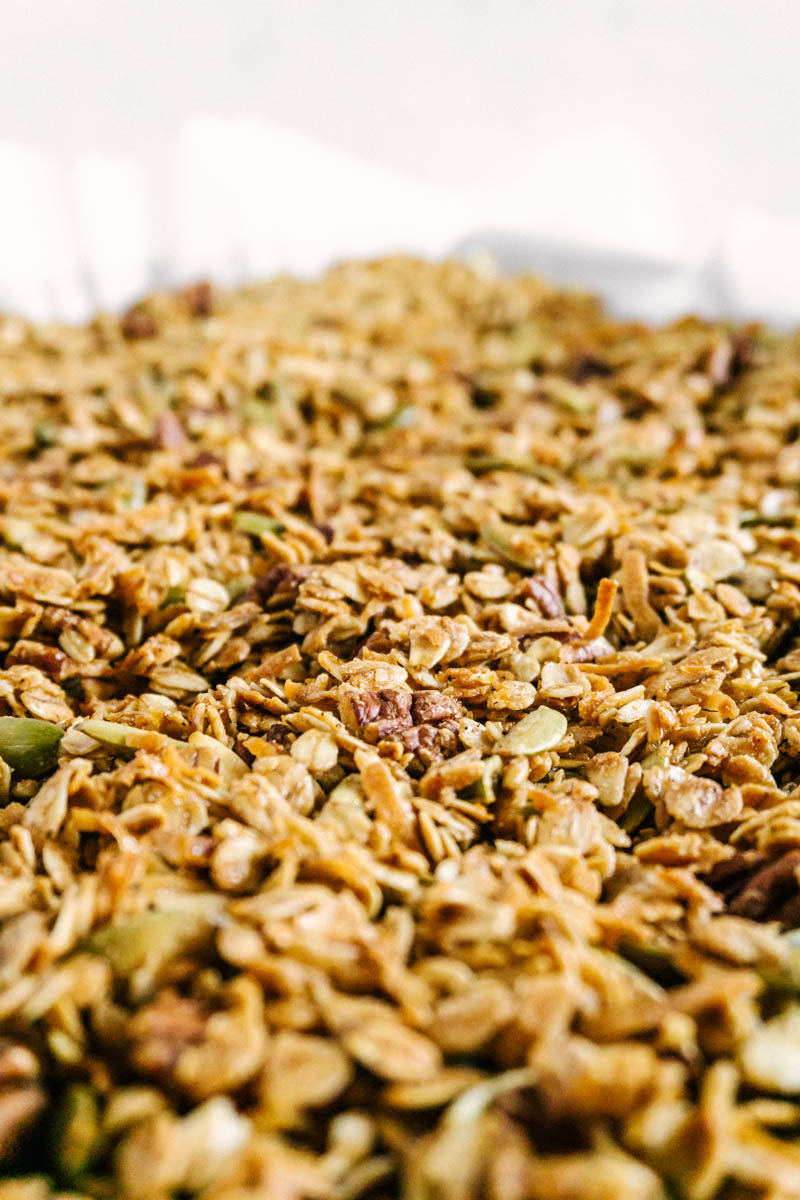 This orange cardamom granola is so delightful and crunchy. Eat it on yogurt, with milk, or by the handful. You'll never go back to store-bought granola after a bite of this flavorful, delicious, wholesome granola!
Looking for more delicious breakfast & brunch recipes? Try these: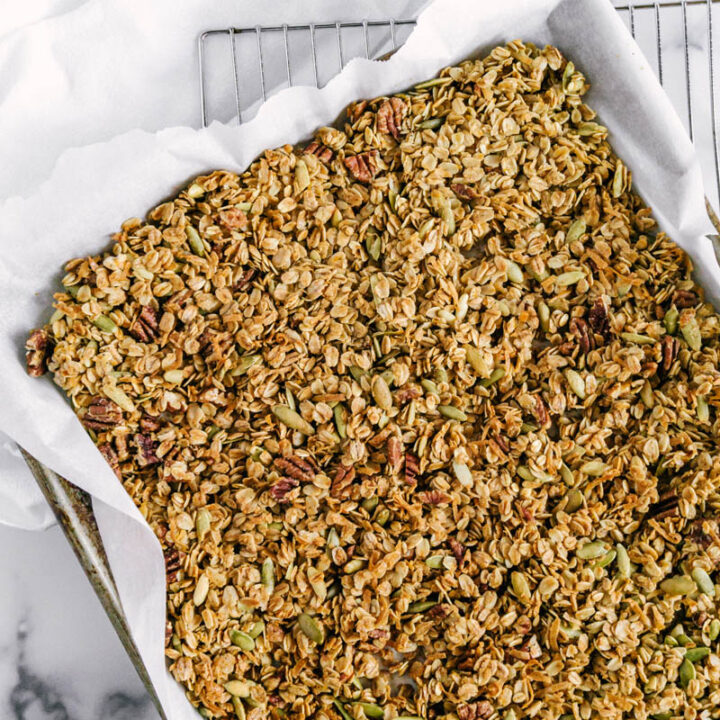 Orange Cardamom Granola
Total Time:
1 hour
40 minutes
Homemade orange cardamom granola is full of oats, nuts, and seeds. Sweet and crunchy, this is sure to become your new favorite!
Ingredients
3 ½ C (12.5 oz) old-fashioned rolled oats
½ C (2 oz) coconut flakes
½ C (2 oz) pecans, chopped
½ C (2.5 oz) pepitas (pumpkin seeds)
¼ C (2 oz) coconut oil
½ C (6.4 oz) real maple syrup
½ C (4 oz) light brown sugar
1 ½ tsp orange zest, from one orange
1 tsp ground cardamom
¾ tsp salt
1 tsp vanilla extract
Instructions
Preheat the oven to 325*F. Line a baking sheet with parchment paper and set aside.
Combine oats, coconut flakes, chopped pecans, and pepitas in a large mixing bowl.
Add the maple syrup, brown sugar, and coconut oil to a small saucepan. Place over medium-low heat on the stove and heat until coconut oil is melted and brown sugar has dissolved. Remove the syrup mixture from the heat and stir in orange zest, cardamom, salt, and vanilla extract.
Pour the syrup mixture over the oats and stir to coat everything evenly.
Transfer the granola to the prepared sheet pan. Spread into an even layer and bake for 25-30 minutes at 325*F. Stir the granola about every 10 minutes to ensure even baking.
Once the granola is golden brown, remove it from the oven. DO NOT stir again. Let granola cool completely and then break into chunks. Store in an airtight container.