These French Waffles are crisp and light and will surprise you with every bite. They will have you believing you are on a French veranda eating breakfast with your love.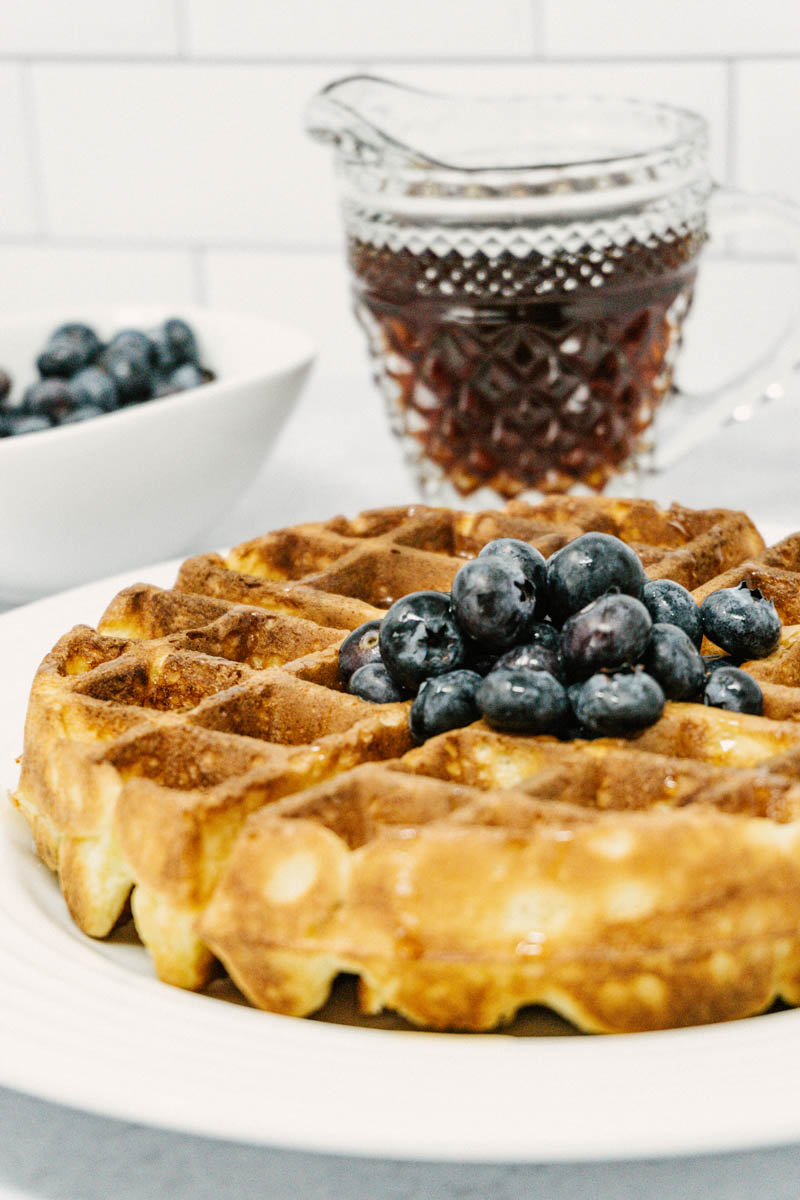 Throw out everything you know about waffles. These French Waffles use a completely different method and are cooked for longer than traditional waffles. They will change your whole view on waffles.
Recipe Inspiration
I found the idea for this recipe in Le Cordon Bleu Professional Baking book 3rd edition by Wayne Gisslen. This cookbook is a wonderful foundation for baked goods, techniques, and procedures. I find myself referring to it often, especially when studying new recipes and techniques.
While perusing one day, I saw a recipe for "Gaufres" (French Waffles) that required making a dough similar to Pâte à Choux for the base of the waffle batter. While the technique may not be strictly traditional French, we love waffles and I was intrigued.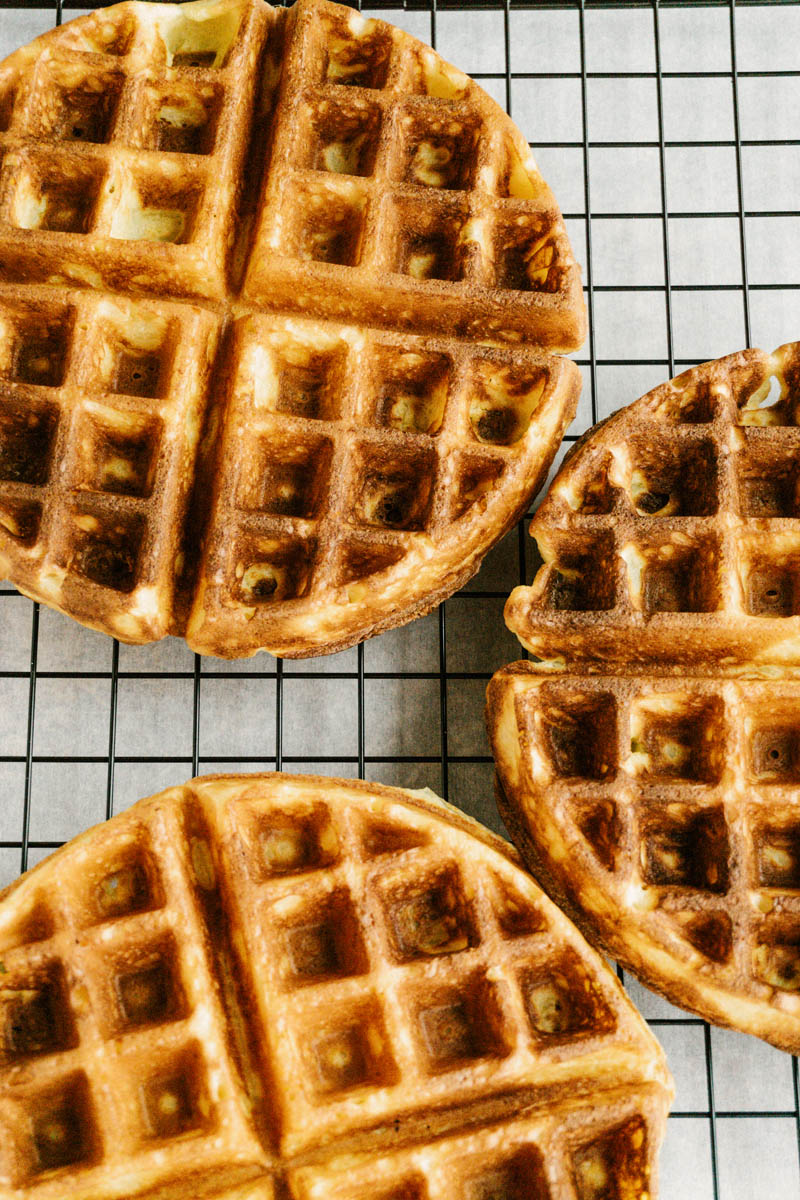 Recipe Tips
These French Waffles start as a Pâte à Choux. After the dough cools, you add eight eggs plus two egg whites. Even though these waffles have a much higher egg content than traditional waffles, they don't taste "eggy". Adding extra egg whites is a trick I learned in making Cream Puffs to make them extra crisp. You can use the extra yolks to make #1 Chocolate Chip Cookies later (wink).
When you cook these French Waffles, they will need to cook for longer than you think. I like to take them to a deep mahogany brown to allow the inside to fully cook through. Although it looks darker than you might be used to, I promise the flavor is nothing less than amazing.
The dough will be a bit thicker than regular waffles but will cook up light and crispy. Don't be surprised when it lifts the waffle iron lid and puffs up. I use about ¾ C batter per waffle and use a frosting spreader to spread it evenly before closing the top to cook.
Store any leftover waffles in the refrigerator. Pop them back in the waffle iron or toaster to reheat and serve as normal.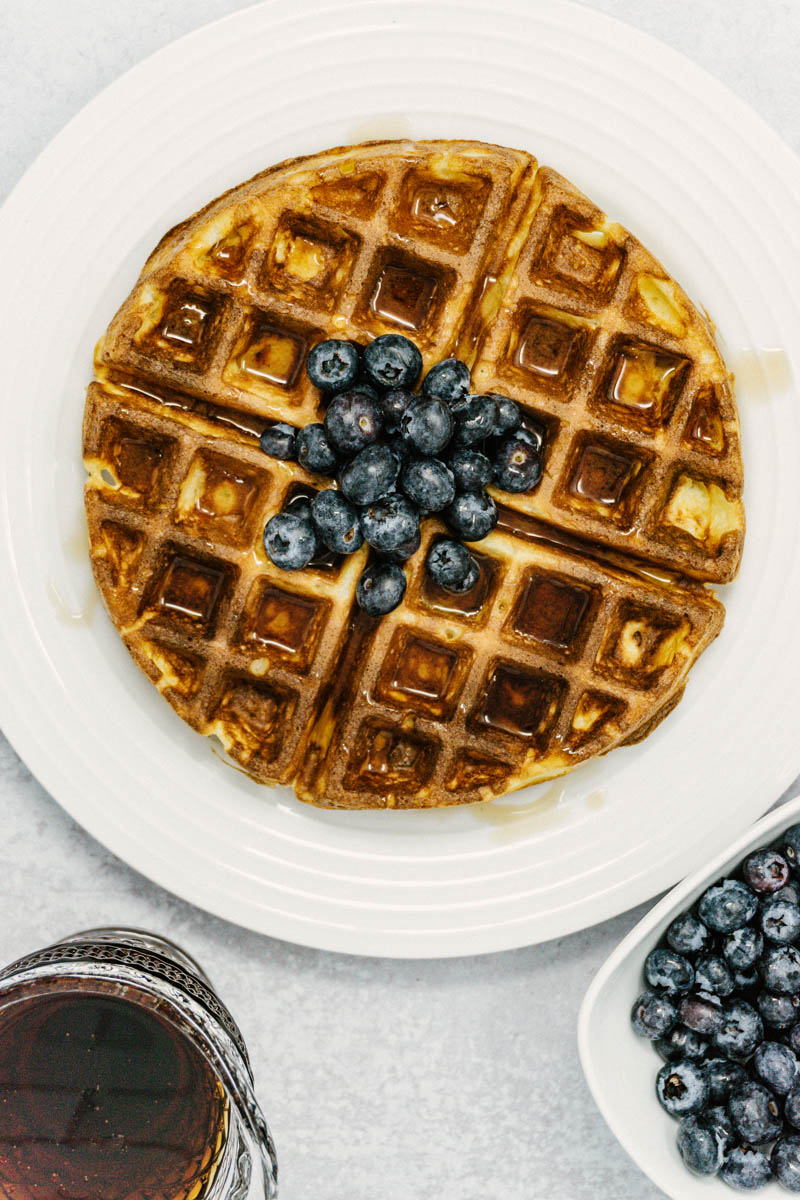 The Perfect Waffle
These waffles are light and crispy and don't sit heavy in the stomach. My husband and I love that we feel good after eating them. Because these French Waffles contain butter in the dough, they don't need extra butter on top. They also don't absorb the syrup like traditional waffles do, so you end up consuming less sugar with them. It's an all around healthier swap.
I'm really looking forward to using this French Waffles recipe as a base for flavored waffles. I want to try an eggnog waffle for Christmas-time and maybe a chocolate waffle. Who doesn't need more chocolate waffles in their life?
I hope you love these as much as I do. It's the only waffle recipe I use anymore, and that's saying something. Let me know in the comments what you think!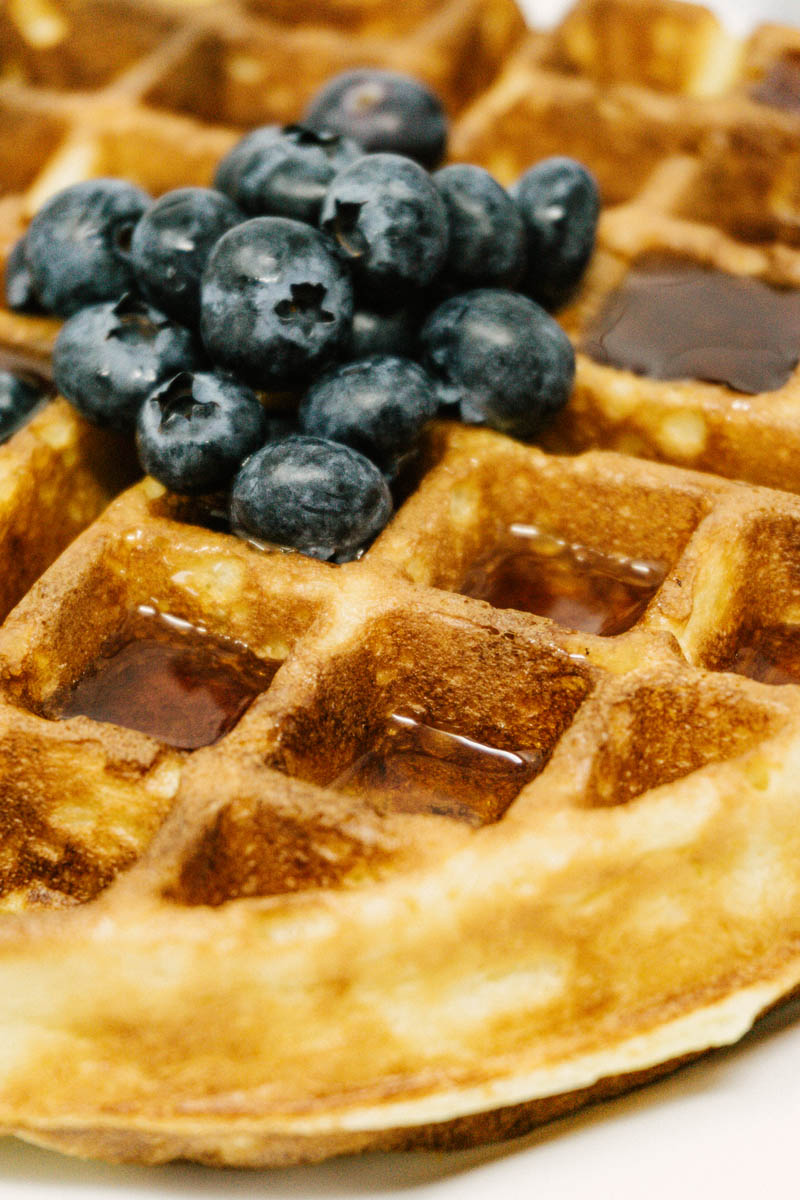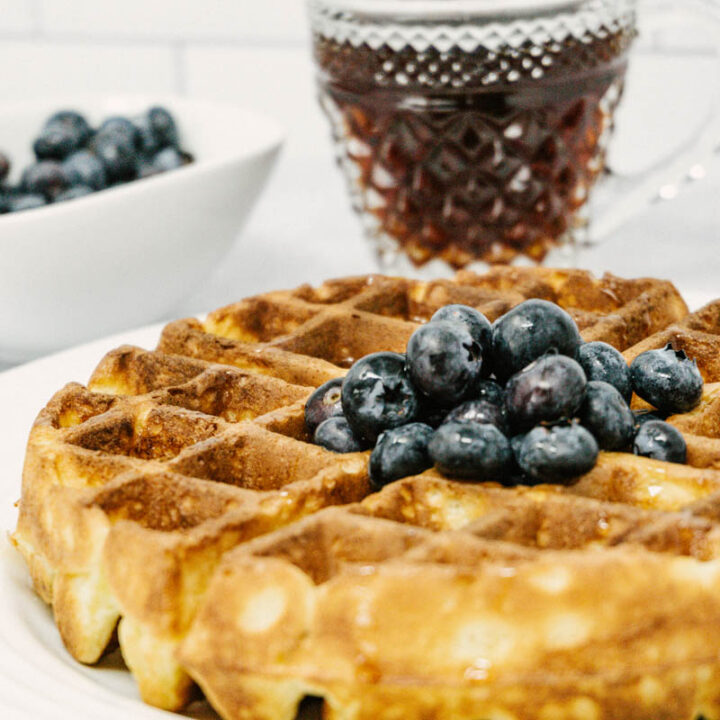 French Waffles
Yield:
8-10 (7-inch) waffles
Additional Time:
40 minutes
Total Time:
1 hour
5 minutes
These French Waffles are crisp and light and will surprise you with every bite. They will have you believing you are on a French veranda eating breakfast with your love.
Ingredients
2 ½ C (20 oz) milk, divided
6 T (3 oz) butter
1 tsp salt
2 C (9 oz) all-purpose flour
8 large eggs
2 egg whites
⅞ C (8 oz) heavy cream
1 T vanilla
Instructions
Combine 2 C (16 oz) milk, butter, and salt in a saucepan and bring to boil.
Add the flour all at once and stir vigorously. Continue to stir until it forms a smooth dough ball and then take off heat.
Let the dough cool for 5 minutes.
Then add the eggs and egg whites to the dough ball, one at a time, mixing thoroughly each time.
Scrape the pot and slowly add the cream, 1/2 C (4 oz) milk, and vanilla. The batter may be slightly lumpy.
For a Belgian Waffle Maker: spread about ¾ C of batter onto preheated waffle iron. Use an icing spatula to spread batter to the edges then close. Cook waffle for about 5 minutes or until it is a mahogany color.
Notes
I like to use a hand mixer and mix everything in one pot to limit the number of dishes I have to clean, but you can also use a stand mixer. 
If you have a different kind of waffle maker, adjust the amount and cooking time according to your needs.
These will need to cook darker than normal waffles to achieve a crispy outside and cooked insides. Don't worry, they won't taste burnt.
Pick Your Favorite Pin and Save It for Later!