These Lemon Greek Yogurt Donuts are a fun twist on a traditional sour cream donut. They are perfectly sweet with a burst of bright lemon flavor. These are a light, refreshing treat to eat hot out of the pan any time of year.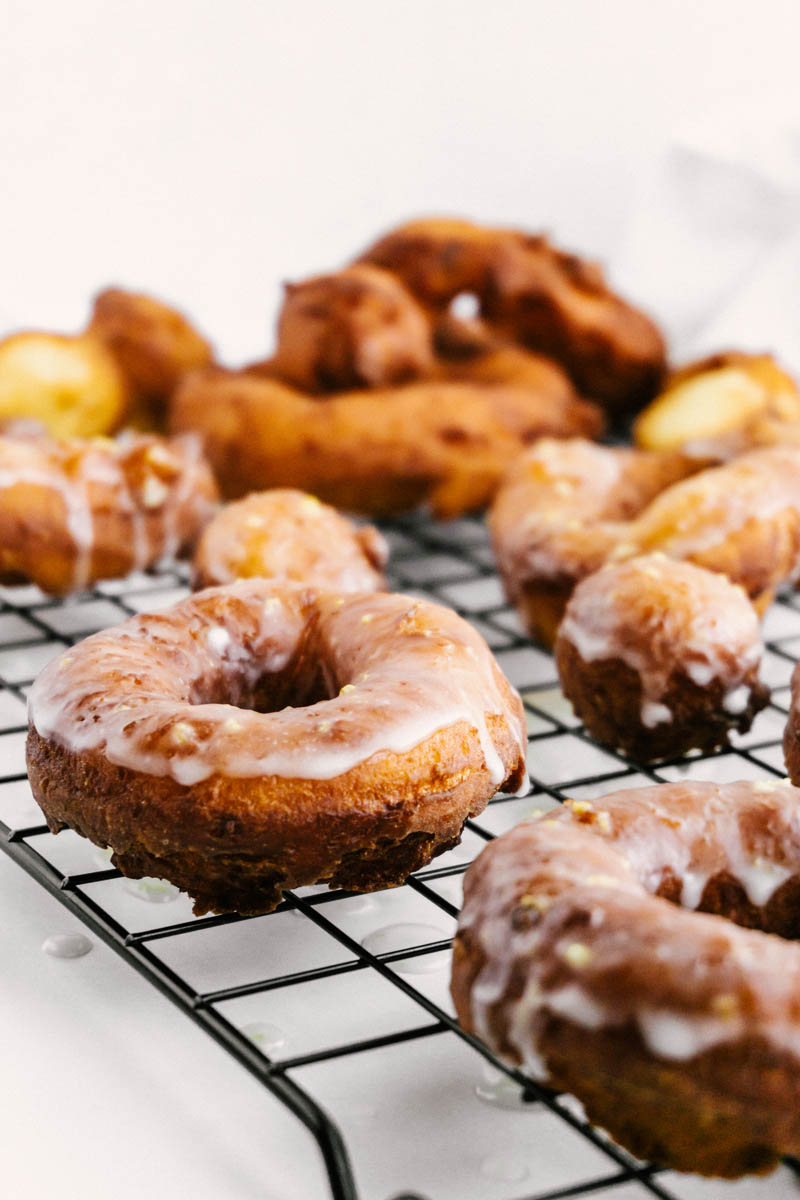 I'll be the first to admit that these aren't going to win any sort of beauty contest. The dough is a bit sticky and I always have trouble getting enough flour on my surface. I honestly think it's just more fun to have ugly donuts because the glaze sticks better in the craggy edges.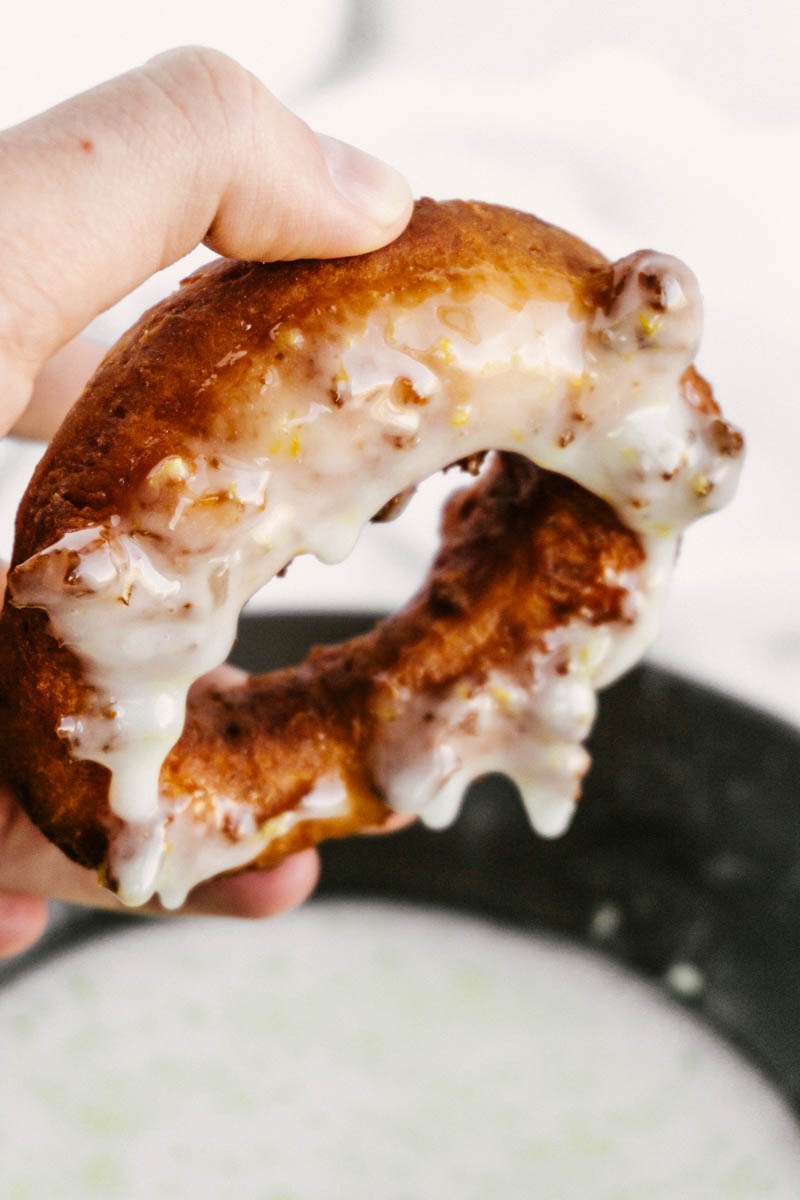 The Lemon Greek Yogurt Donut Origin Story
Sour cream donuts are pretty traditional. I have to admit though, I'm a huge fan of Greek yogurt. I swap it out in most recipes that call for sour cream. Also, my daughter is in that picky toddler stage where she has just a handful of foods that are "safe." If we serve a meal, such as tacos, that would usually have sour cream with it I serve Greek yogurt instead so Maren has a safe food to eat for that meal. All that is to say I always have a lot of plain Greek yogurt on hand.
These are loosely adapted from Bon Appetit's Lemony Glazed Cake Donuts. They too swap traditional sour cream for plain Greek yogurt. They're probably my favorite donuts I've ever had, so I wanted to create my own. My recipe includes whole eggs instead of just the yolks. I hate wasting food so this seemed like a simple solution.

I also love the lemony brightness in the glaze and amped that up in these Lemon Greek Yogurt Donuts by adding a full lemon worth of zest to the donut dough and using lemon zest and juice in the glaze.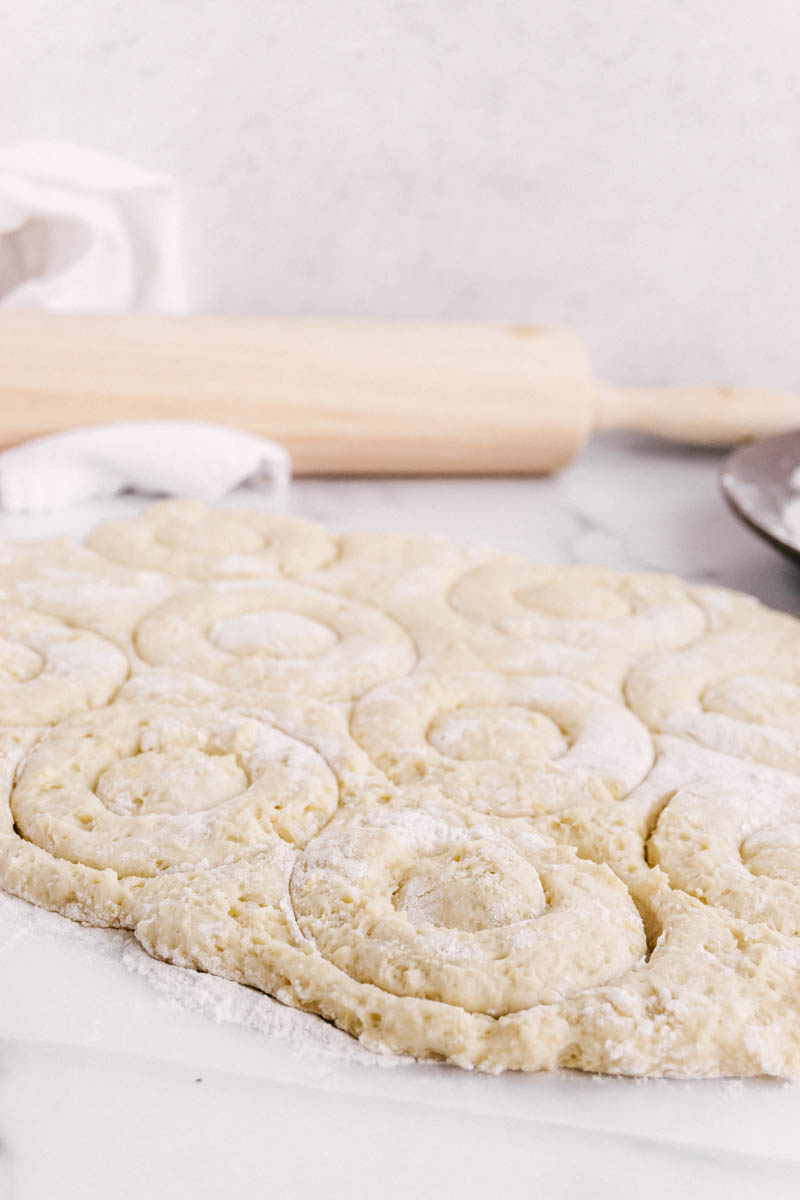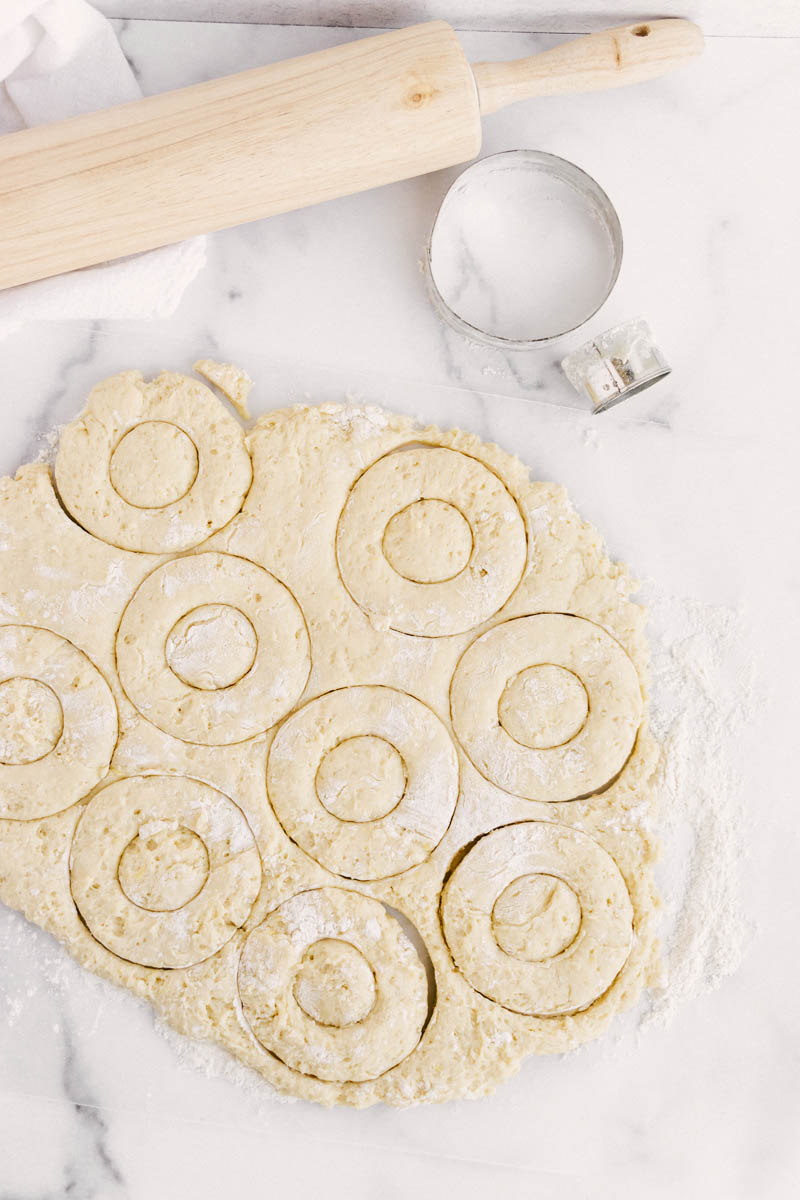 Recipe Tips
When you make these, and believe me you definitely want to, you might notice the flour amount is actually a range. Just feel out what feels best for your dough that day. Mine was pretty sticky and you want that to keep these donuts as light as possible. The flour just needs to be gently folded in until no lumps of flour remain. Avoid kneading the dough as much as possible.
Be sure to flour your surface well before rolling these out. The dough is sticky and will be hard to handle if there isn't enough flour. I use a pastry brush to brush off the extra flour before dropping each donut into the hot oil.
A good digital thermometer is key to frying these perfectly. I use our grill thermometer (like this one) because I don't want to buy an oil thermometer and we try to keep our kitchen tools simple and minimal. If you've got a candy thermometer, that would work well too. Once the oil heats up to 350*F, adjust the heat and how quickly the donuts are added to the oil to keep the temperature consistent.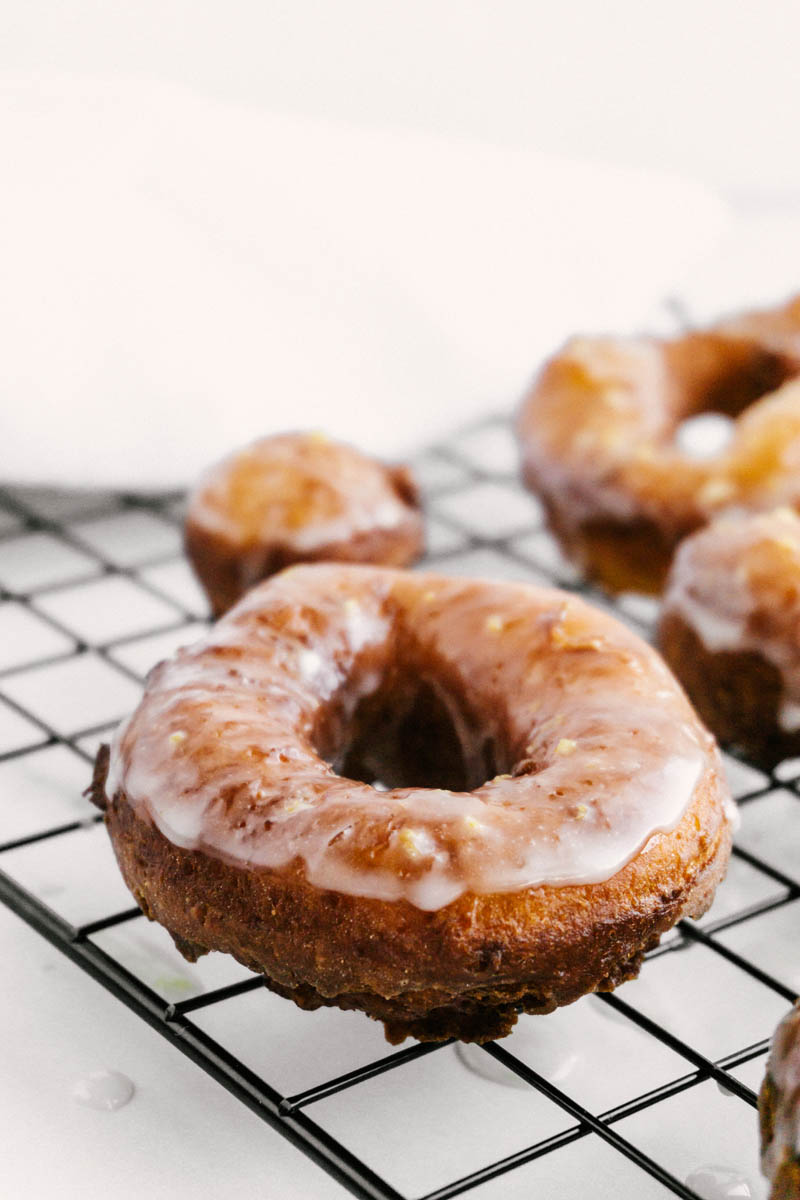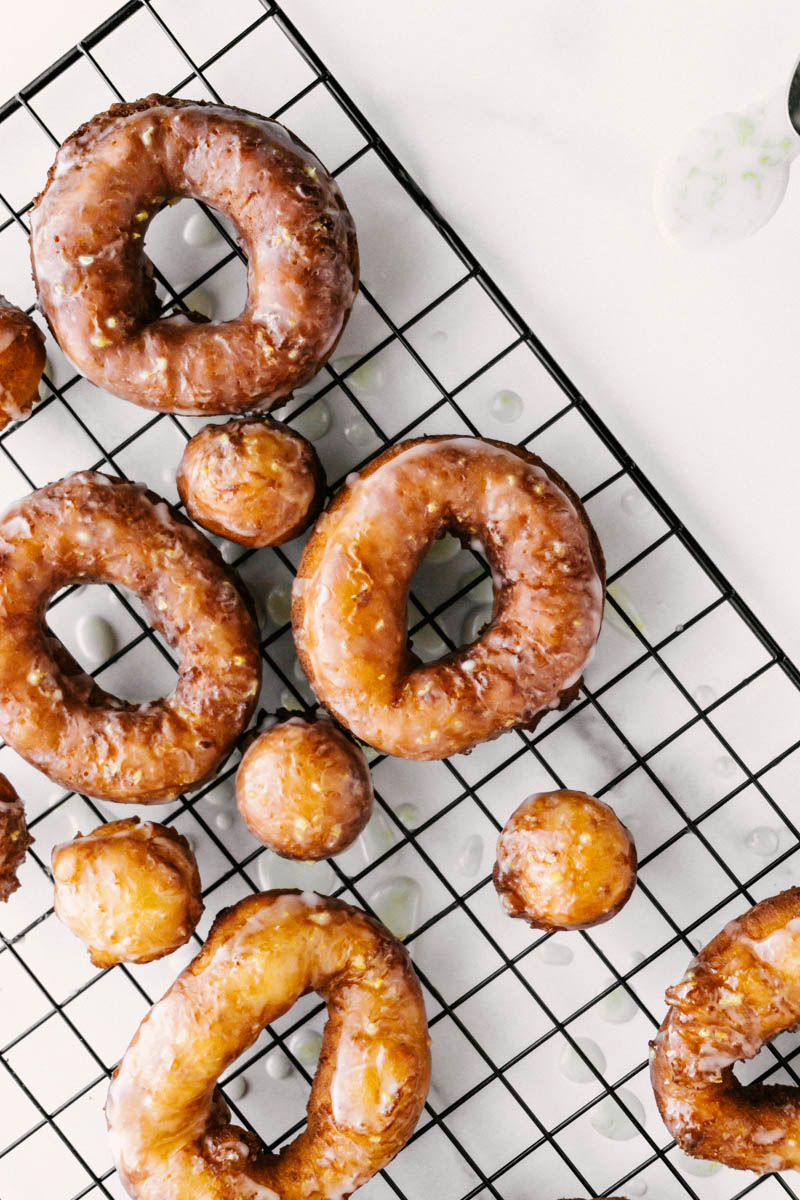 The Best Donut Experience
If you want to have the absolute best experience eating these Lemon Greek Yogurt Donuts, here's how. After frying them to crispy golden perfection, let them cool just enough that you can touch them. Dip them in that sweet, lemony glaze and then eat while the glaze is still dripping off. It's a little messy but it's the best way. And in my professional opinion the donut holes taste the best. In fact, the next time I make these, I'll probably skip the donuts and just make a whole bunch of donut holes.
Also, these are way better fresh than leftover so go crazy! Eat the whole batch before they even cool off! It's worth it.
If you're looking for more delicious brunch recipes, we recommend our Soft Buttery Cinnamon Rolls. These Sweet Raspberry Twists are a delicious, fruity twist on a classic!
Let me know how these go for you. Leave a comment or a review and if you take any pictures, tag us on Facebook, Instagram, or Pinterest @tastebeforebeauty. We love to hear from you!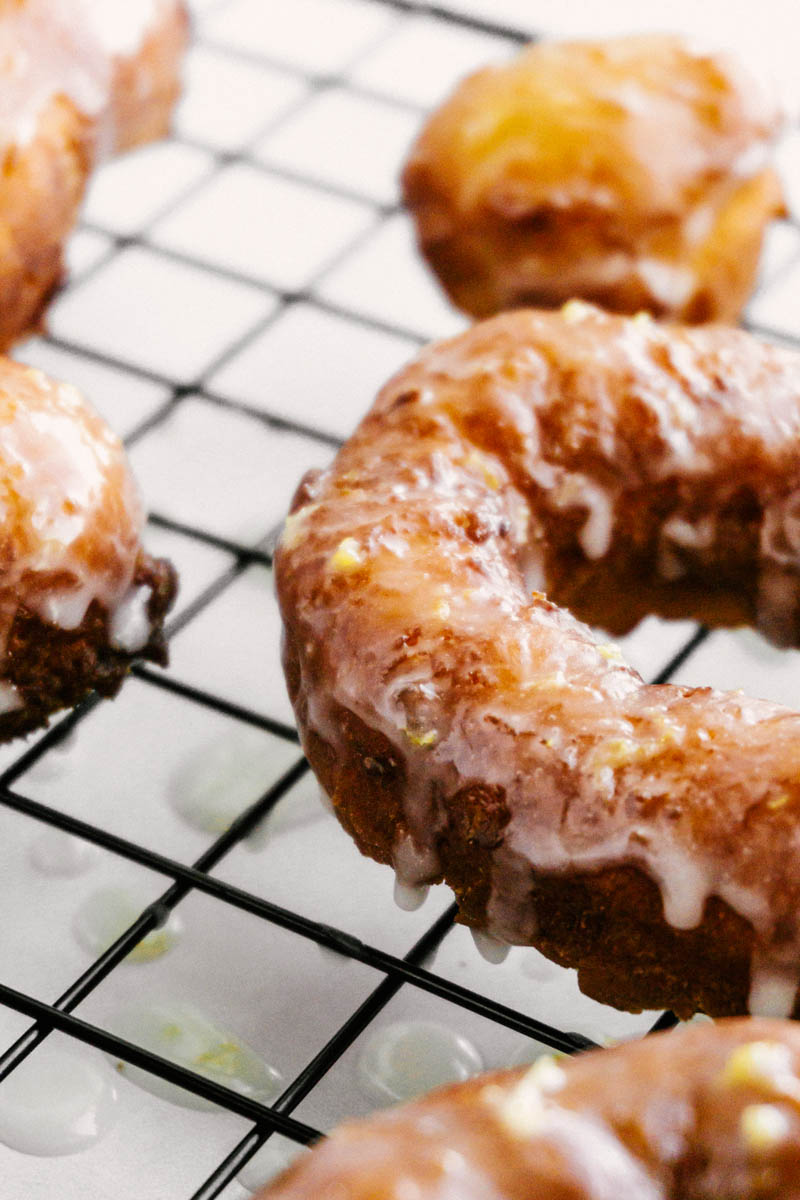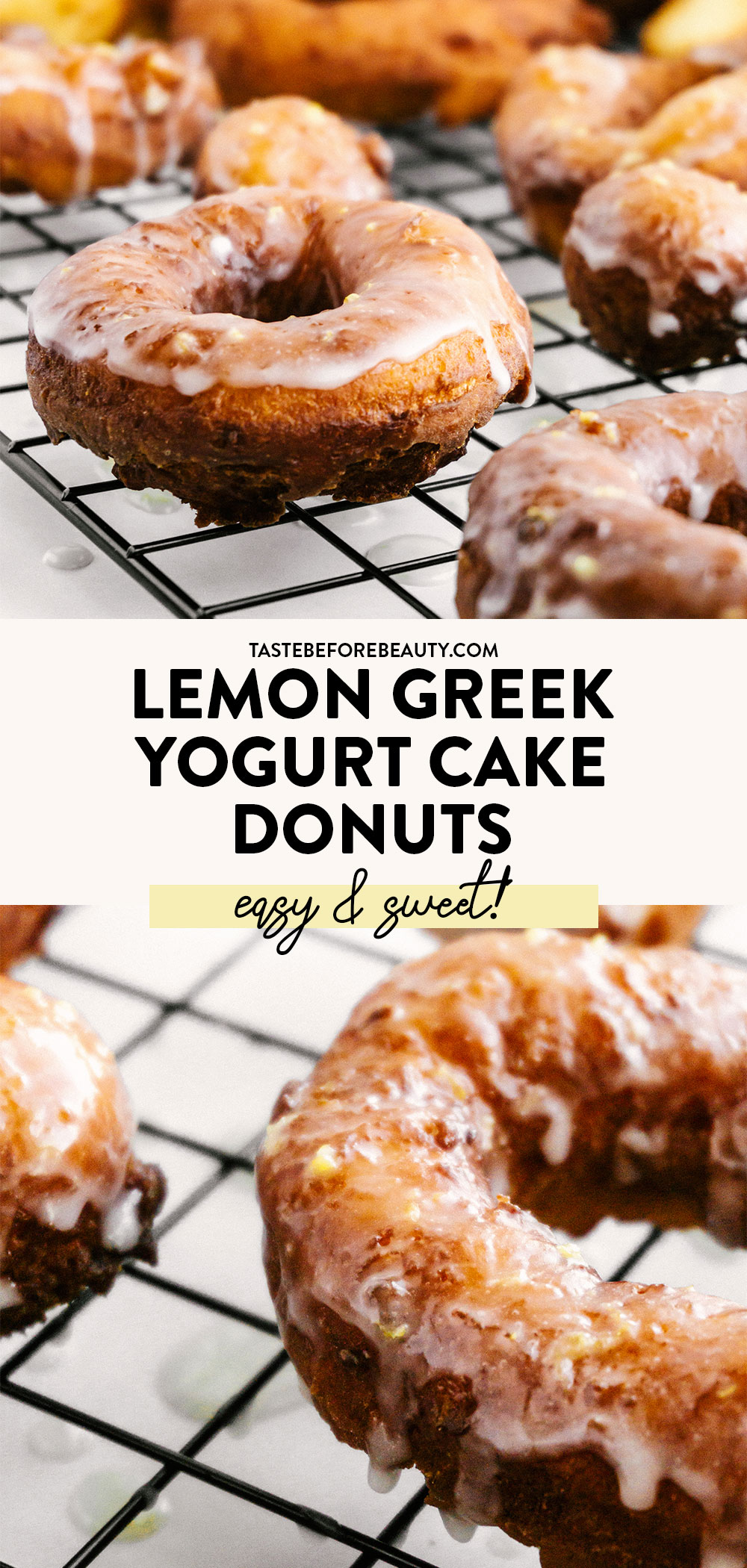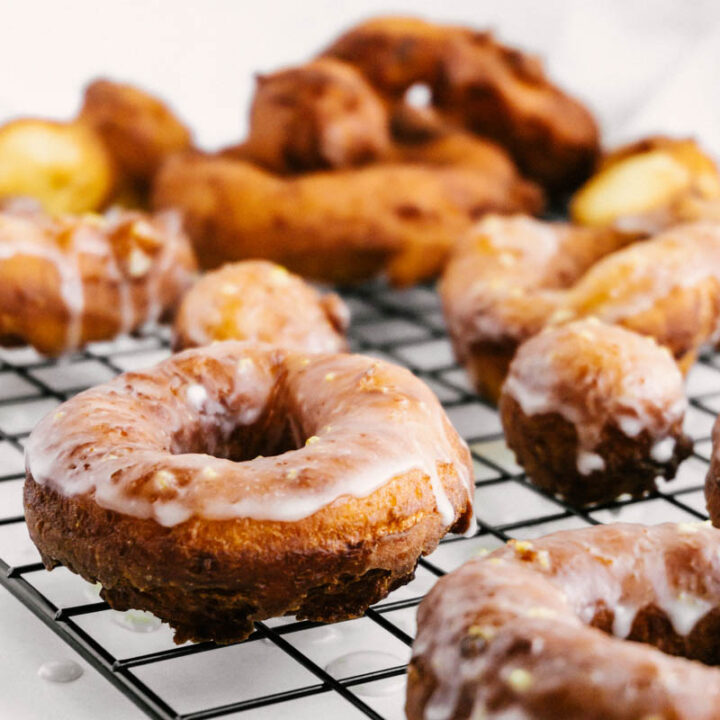 Lemon Greek Yogurt Cake Donuts
Yield:
8 donuts + 15 donut holes
Additional Time:
10 minutes
These Lemon Greek Yogurt Donuts are a fun twist on a traditional sour cream donut. They are perfectly sweet with a burst of bright lemon flavor. These are a light, refreshing treat to eat hot out of the pan any time of year.
Ingredients
Greek Yogurt Cake Donuts
2 whole eggs
1 C (10 oz) whole milk Greek yogurt
½ C (3.5 oz) granulated sugar
2 T (1 oz) salted butter, melted and cooled
1 tsp vanilla
Zest of lemon
2 ½ tsp baking powder
2-2 ½ (9-11.25 oz) all-purpose flour
½ tsp salt
Vegetable oil for frying
Lemon Glaze
1 C (4 oz) powdered sugar
Zest of half a lemon
¼ C fresh squeezed lemon juice
Instructions
Make the Greek Yogurt Cake Donuts.
In a mixing bowl, whisk together the flour, baking powder, and salt.
In a separate bowl, whisk together the yogurt, eggs, sugar, vanilla, lemon zest, and melted butter. Make sure to get any lumps of Greek yogurt fully mixed in.
Carefully fold the dry ingredients into the wet, mixing just until combined. Don't overmix or the donuts will be tough.
Flour the counter well, then turn donut dough out. Dust the top with more flour then roll to ½ inch thick. Use a circle cutter to cut out donuts. Use a smaller cutter for the middles. Brush off the excess flour.
Fill a large pot with vegetable oil about 1 ½ inches deep. Heat over medium-high heat until thermometer registers 350*F. Carefully drop donuts into the hot oil and fry until golden brown, turning only once, about 1-2 minutes per side. Donut holes will cook faster. Transfer to a wire rack to let cool briefly.
Make the Lemon Glaze.
Combine the powdered sugar, lemon zest, and lemon juice in a small bowl. Whisk together until smooth.
After donuts have cooled briefly, dip in glaze, letting the excess drip off before replacing on wire rack. Eat while still warm.
Notes
Dip the circle cutters in flour to keep them from sticking to the dough. Make sure your surface is very well floured. You can brush off the excess flour before frying.