Buttery, cinnamony, and pillowy soft, these are what Weekend Brunch Dreams are made of. I admit it, I always eat too many of these the day I make them! But who wouldn't?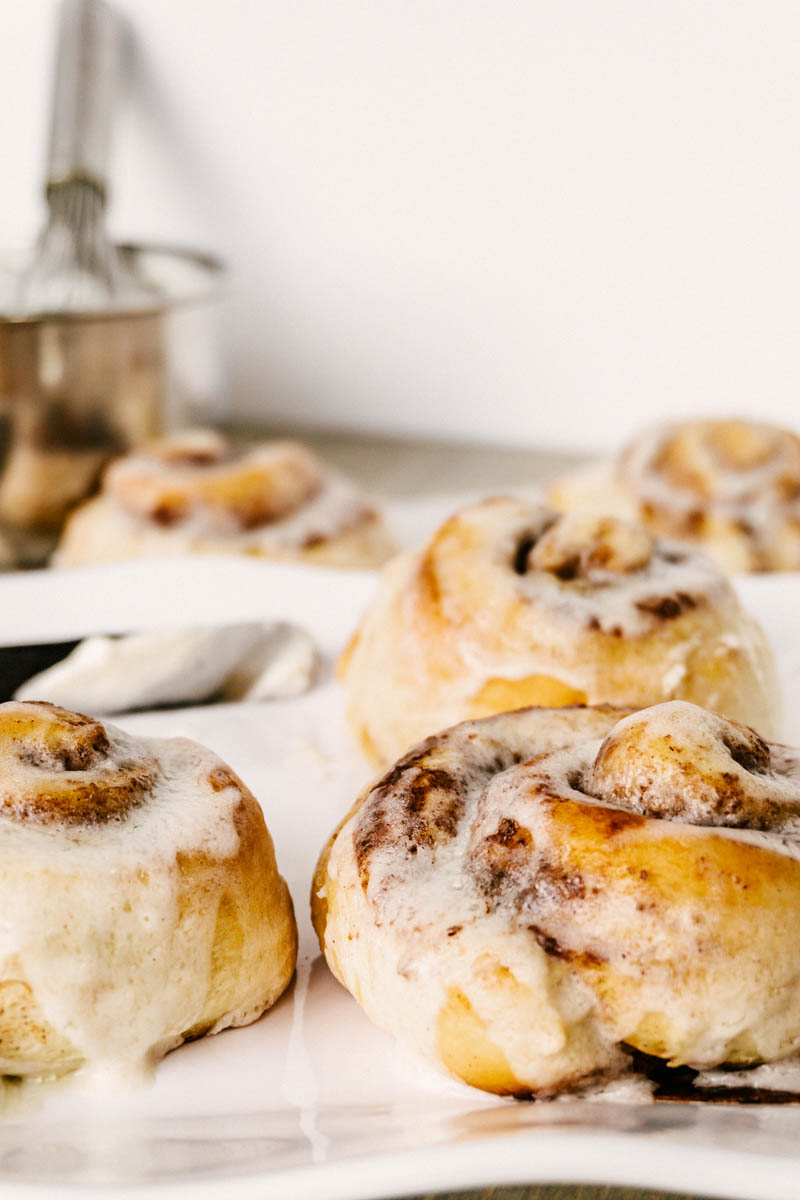 This cinnamon roll recipe is truly special to me. My husband's grandmother was a cinnamon roll expert and taught me how to make these many years ago.
My husband landed a six-week internship in Washington, D.C. with a congressman. We stayed with his grandmother during this time in Bethesda, Maryland. We were broke, had a toddler, and my husband needed the car for work every day. Without money or transportation, I spent lots of time learning from Grandma's recipes.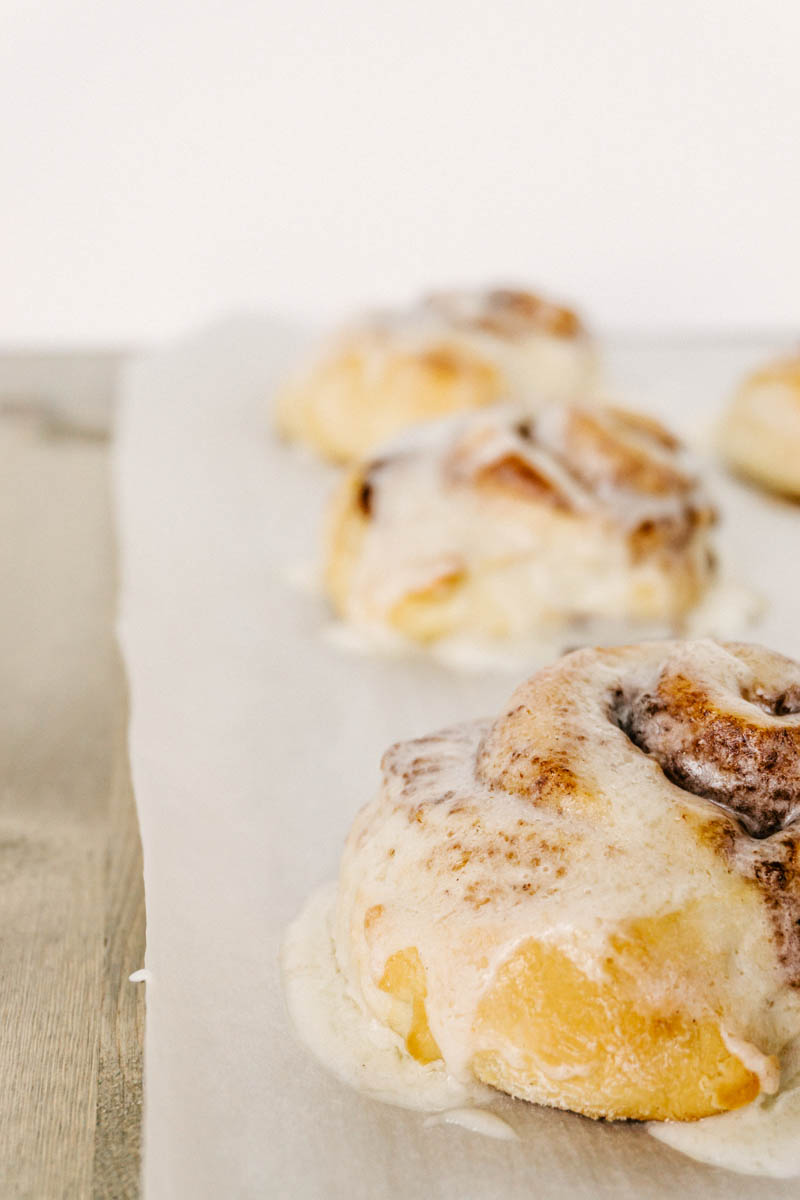 Grandma had spent many years perfecting her cinnamon roll technique. She taught me how to carefully roll them out and cut them gently so they retained their beautiful cinnamon spiral.
Years later, I was on a mission to create the perfect cinnamon roll of my own. With only memories of those delicious cinnamon rolls and not the actual recipe, I had a difficult task ahead. I wanted to honor Grandma's techniques and knowledge, combined with the memories of the super fluffy cinnamon rolls I had eaten as a teen at an Idaho mall.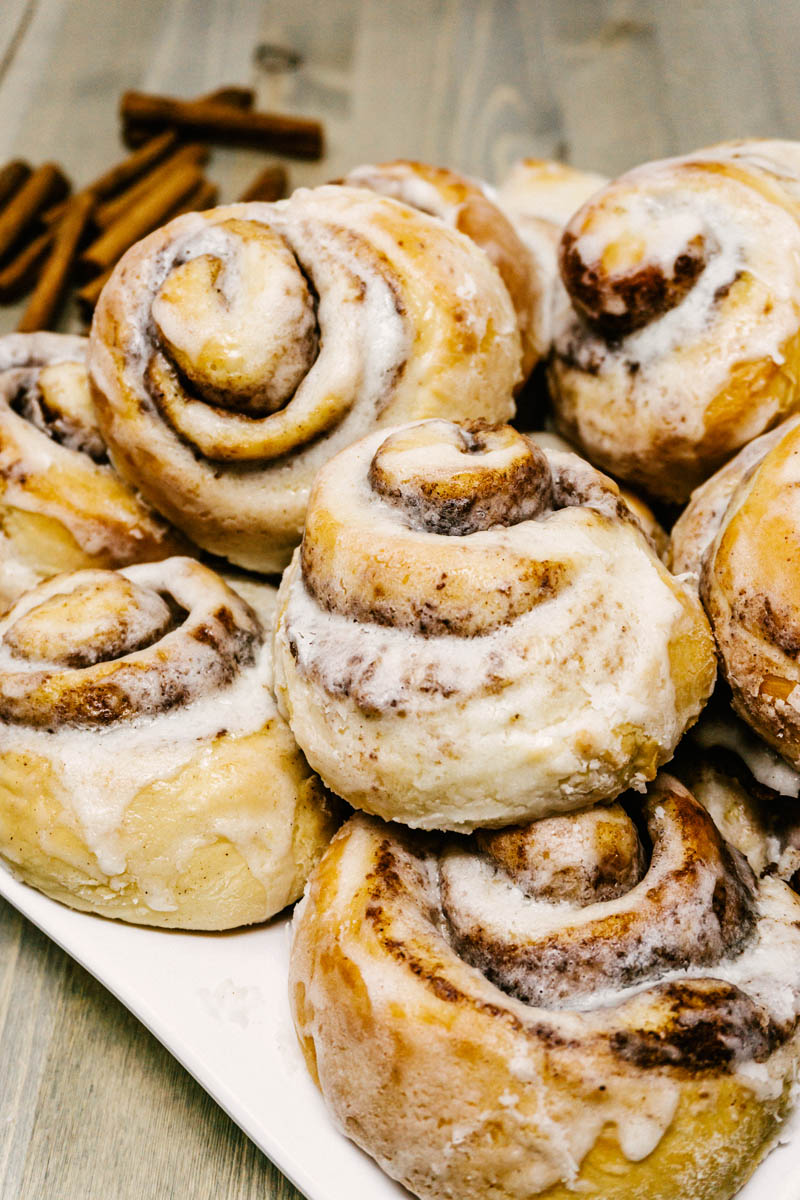 It took years to arrive at the final cinnamon roll recipe. The perfect amount of sugar gave the right amount of sweetness, without melting out and pooling under the cinnamon roll. The roll itself needed to be luscious and soft, tasting just as good as it looks.
I hope I have given a proper nod to what my husband's grandmother taught me. I hope this is a cinnamon roll you are proud to share with neighbors, friends, and family. Cinnamon rolls are supposed to remind us of home so welcome home, friend, welcome home!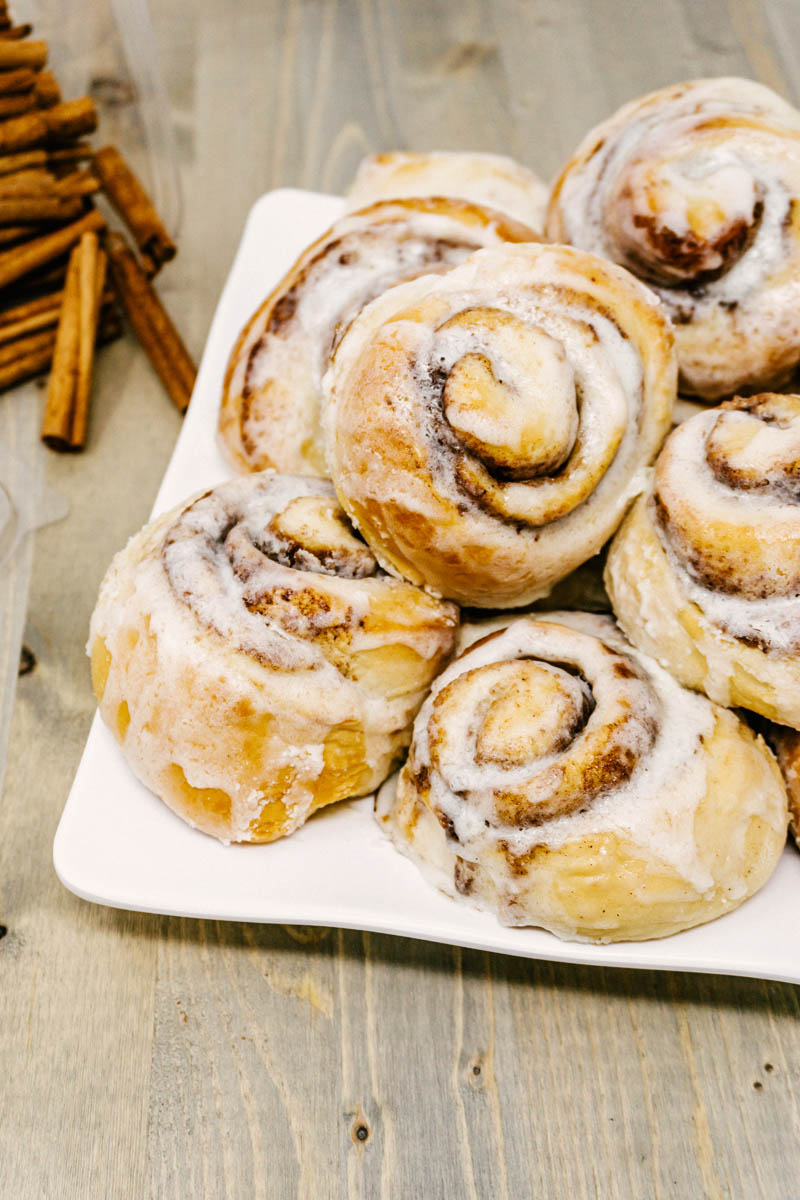 Products I Love to Use When Making these Cinnamon Rolls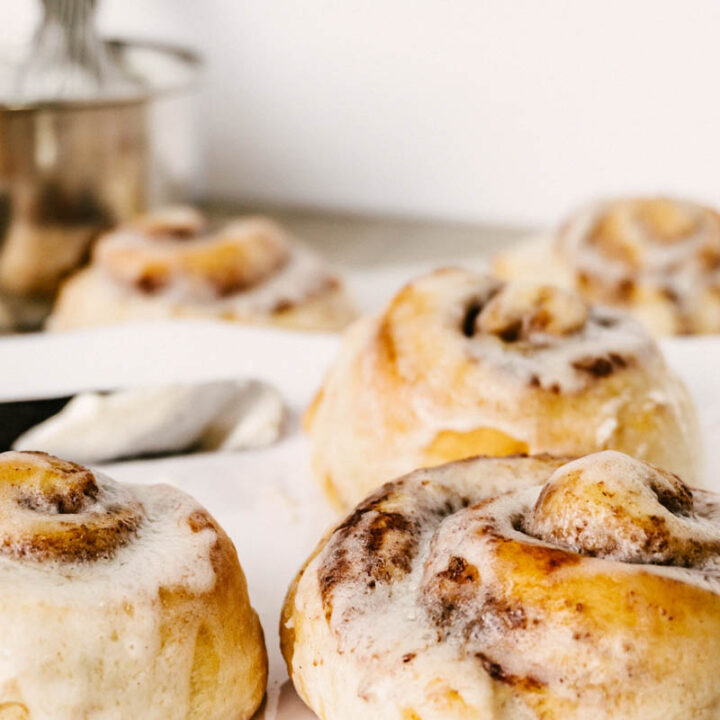 Cinnamon Rolls
Buttery, cinnamony, and pillowy soft, these are what Weekend Brunch Dreams are made of. I admit it, I always eat too many of these the day I make them! But who wouldn't?
Ingredients
Cinnamon Roll Dough
3 ½ C (28 oz) milk, warmed to 120-130*F
9 ½ C (42.5 oz) all-purpose flour
⅔ C (5 oz) white sugar
1 T salt
3 Tablespoons yeast, instant active dry
1 T vanilla
2 T lemon juice
¾ C (6 oz) softened salted butter
Cinnamon Filling - per large dough piece
3 T (1.3 oz) white sugar
⅓ C (2.5 oz) brown sugar
1 ½ T ground cinnamon
¼ C (2 oz) margarine or butter
Vanilla Buttercream Frosting
1 C (8 oz) salted butter
3 ½ C (16 oz) powdered sugar
1 tsp vanilla
2-3 T milk
Instructions
Make Cinnamon Rolls.
Preheat oven to 375*F. Line cookie sheets with parchment paper.
In a pot on the stove, heat milk to 120-130*F.
In stand mixer bowl, mix flour, sugar, salt, and instant active dry yeast. Add softened butter and then pour in 120-130*F milk, then add vanilla and lemon juice. Mix until combined. Knead dough in a stand mixer for 5 minutes. Cover loosely and let rest for 15 minutes. Dough will be soft.
Lightly flour the countertop. Separate dough into 2.5 balls. On lightly floured countertop, roll or press out the larger dough balls to a 12x18 rectangle and the smaller dough ball press into a 6x9 rectangle. Top EACH large rectangle with ¼ C softened margarine or butter, ⅓ C brown sugar, and 3 T white sugar and sprinkle generously with cinnamon. Cut filling measurements in half for the 6x9 rectangle.
Roll up, starting on the long side, and pinch seam to seal. Using a sharp knife, cut larger rolls into 12 pieces and smaller roll into 6 pieces.
Place dough 3 inches apart on a cookie sheet with the swirl facing up. Let rest for 15 minutes. Bake for 15 minutes till light golden brown.
Make Vanilla Buttercream Frosting.
Soften the butter, but do not melt. Beat butter in mixer until smooth and silky.
Add powdered sugar. Beat until combined and uniformly dry textured. Scrape bowl.
Add vanilla and 2 T of milk. Beat until frosting is light, creamy, and soft. If frosting is too thick, add up to 1-2 additional tablespoons of milk.
Frost Cinnamon Rolls.
Let cinnamon rolls cool for 5-10 minutes then frost with vanilla buttercream frosting.
Store covered in plastic wrap.
Notes
The dough will be very soft when kneading. It will continue to hydrate as it rests. Resist the urge to add extra flour or you may end up with dry rolls.
If you prefer cream cheese frosting, click here.
These freeze well. Individually wrap baked and cooled cinnamon rolls and place in a zip-top plastic bag. To defrost, let come to room temperature on the counter then microwave for 10 seconds to warm.
Pick Your Favorite Pin and Save It for Later!