Wanna peach of this? Of course you do! Whether the warm peaches covered in a buttery soft cobbler topping evoke nostalgic memories of summer camps or bad fireside date nights, this Peach Cobbler is sure to create happy memories going forward.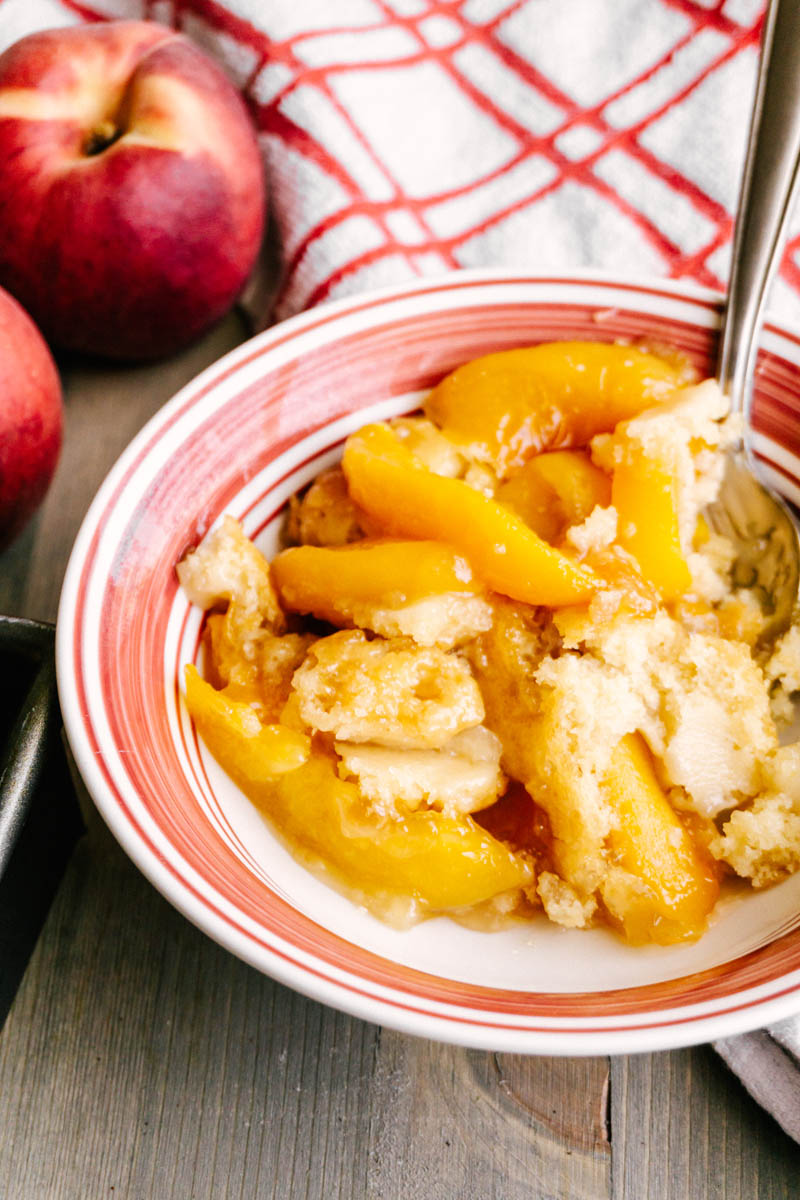 What is a Cobbler Anyway?
No, it's not the noise a turkey makes! But the name originates from the "cobble"-like way the biscuit topping looks when the peach cobbler is finished baking. It isn't a perfectly smooth topping; rather, it has a rough finish to it, similar to the top of our S'mores Bars.
Most peach cobblers have a thick biscuit-like dough you drop onto the peaches and bake, but our recipe is different in the most perfect way. The cobbler dough is a thin batter consistency and pours easily out of the bowl. It makes it very clean and easy to drop onto the peach mixture and you don't even have to spread it around with a spatula. The batter cooks up and expands to fill the top of your pan, producing a very moist, soft, sweet topping that is a perfect complement to the peachy mixture.
To make it even tastier, the whole cobbler is topped with brown sugar, caramelizing the top of the cobbler in the most incredible way.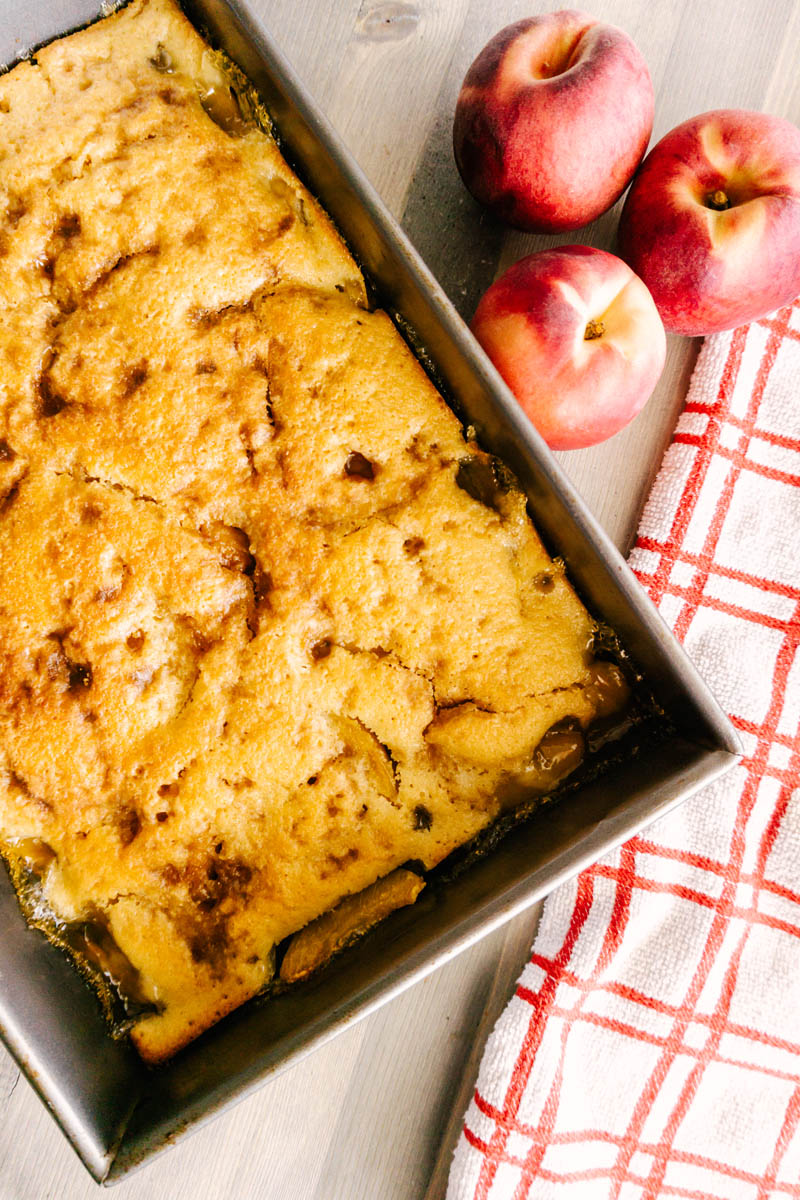 The Problem with Liquid
I have always had problems with peach cobblers being runny and wet after baking. It would turn into a bowl of peaches with a puddle of liquid on the bottom. That is not appetizing to me. So this Peach Cobbler recipe includes cornstarch to thicken up the peach mixtures so it is not runny. It is also essential to let the peach cobbler cool after baking to allow the cornstarch to continue thickening up the sauce. After that, you will have an incredible peach cobbler to eat with family and friends for whatever occasion you desire.
Recipe Ingredients
Rumford Baking Powder – I prefer aluminum-free baking powder like Rumford brand baking powder when I bake biscuits, cobblers, and Scones. 
Watkins Baking Vanilla – one of my favorite types of vanilla to use in many of my recipes. 
Watkins Almond Extract – adds the right flavoring to complement the sweet peachy mixture and soft cobbler topping. 
Dole Frozen Sliced Peaches – will either come in a 32 oz bag, or you'll need to buy two 16 oz bags, both leaving you with a little extra to throw in a smoothie another day. 
Argo Cornstarch – helps to thicken the sauce the peaches are cooked in, so you don't end up with a runny, wet, peach cobbler.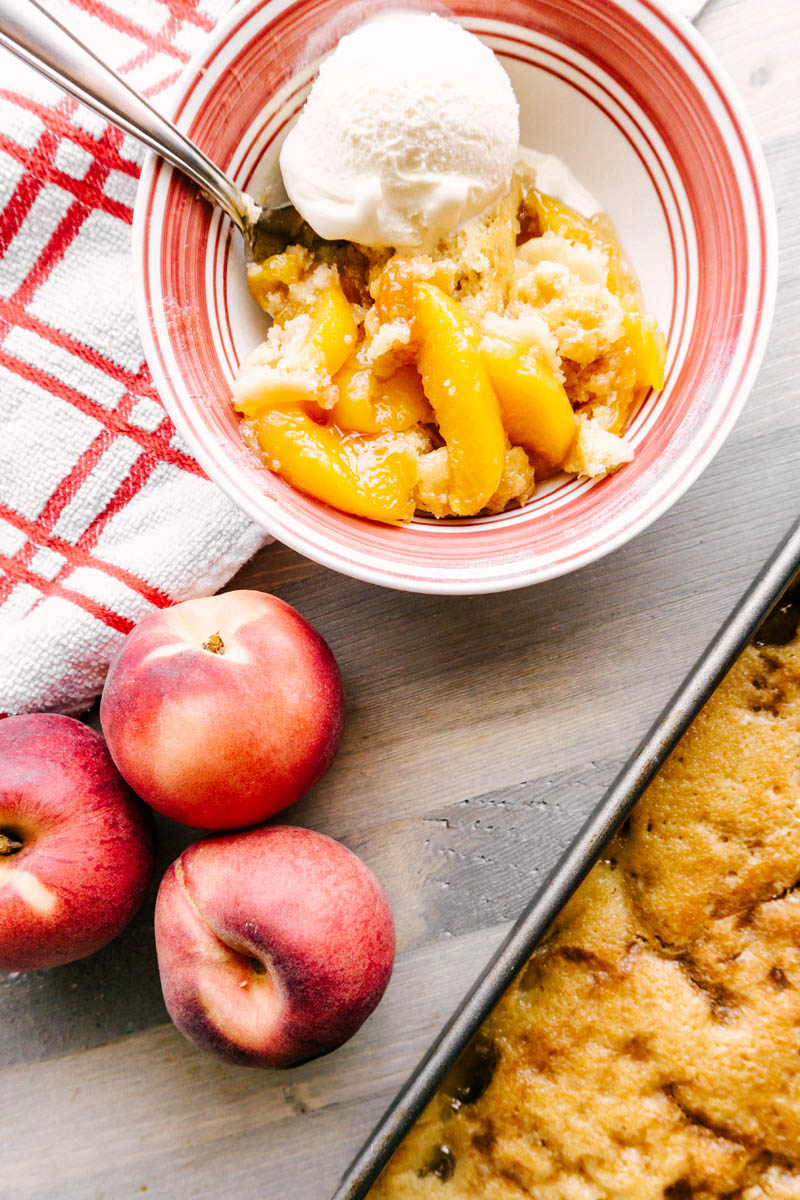 More Details About the Components
Peach Mixture Tips

The cornstarch in the peach mixture is there to thicken up the peach sauce. Stir the mixture for 3 minutes as it lightly boils, but know that the mixture won't thicken up immediately. It will thicken up as it cooks in the oven and as it cools. 
 When the peaches are precooked it provides a consistent texture and even flavor. And, if the peaches are warm, it speeds up the baking time. Be sure to watch the oven carefully so as not to overcook your peach cobbler. 
This peach mixture can be made a few hours to a few days in advance. Just refrigerate until ready to pour into a pan and top with the cobbler topping.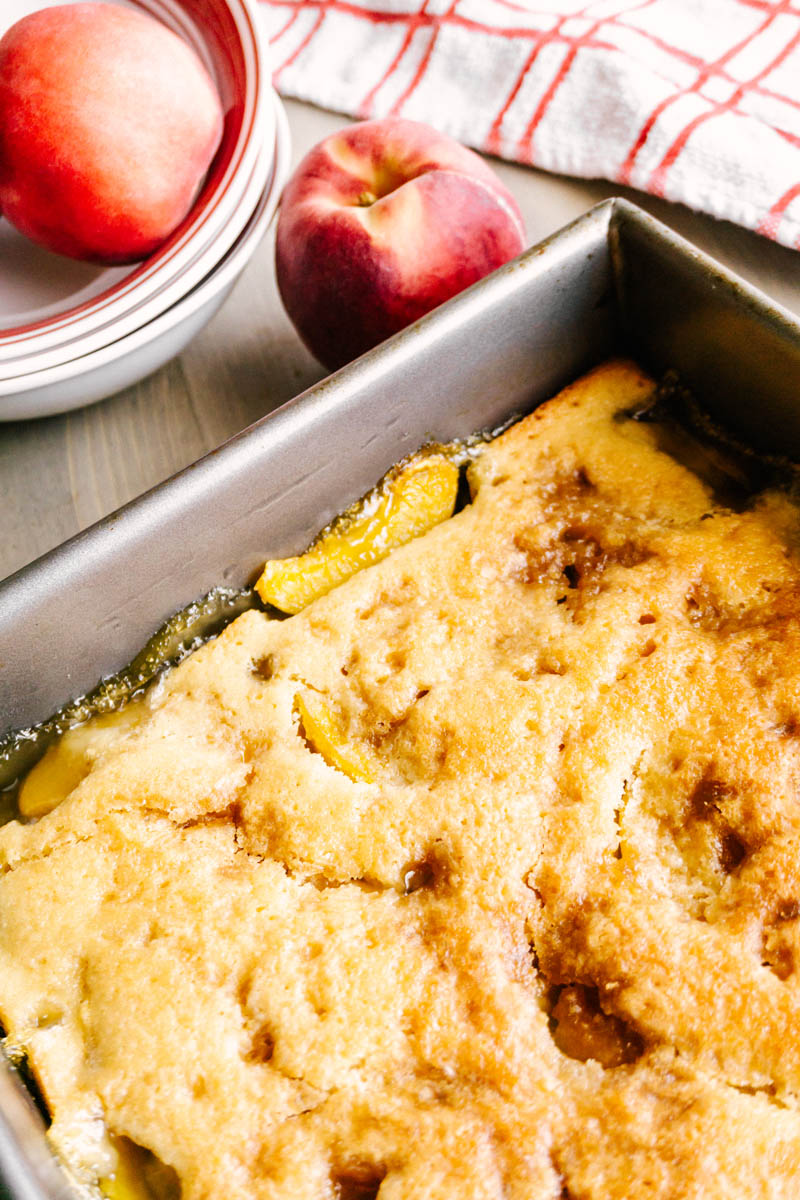 Assembly Tips
How to grease your pan with butter– don't melt a whole stick of butter and spread it around your pan. Just unwrap the end of a stick of butter and rub it all over the pan.
Pan size – You don't have to use a 9×13 pan for this recipe, but find something similar. Cooking times will vary by a few minutes depending on if the pan is bigger or smaller. A bigger pan warrants a shorter cooking time, a smaller pan requires a few minutes longer.
Cobbler batter- This cobbler batter is very runny. I like to pour it onto the peaches straight from the bowl I mixed it in. Try to pour it as evenly as possible over the peaches. It doesn't have to look perfect, nor do you have to spread it around with a spatula. When done pouring, top the entire thing with the ¼ C (2 oz) brown sugar and pop in the oven.
We hope you're feeling peachy while you make this and while you eat it! A big scoop of ice cream to go alongside your warm peach cobbler makes it even better.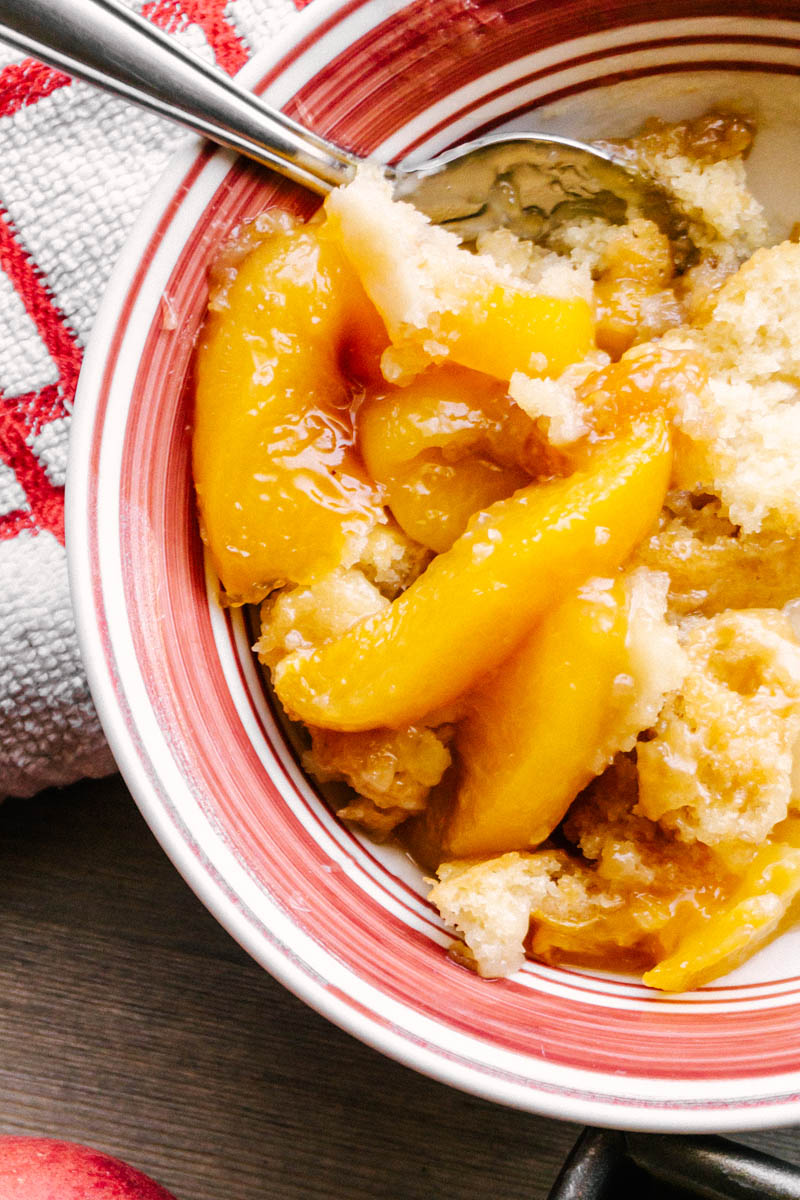 Looking for more delicious fruity recipes? Try these: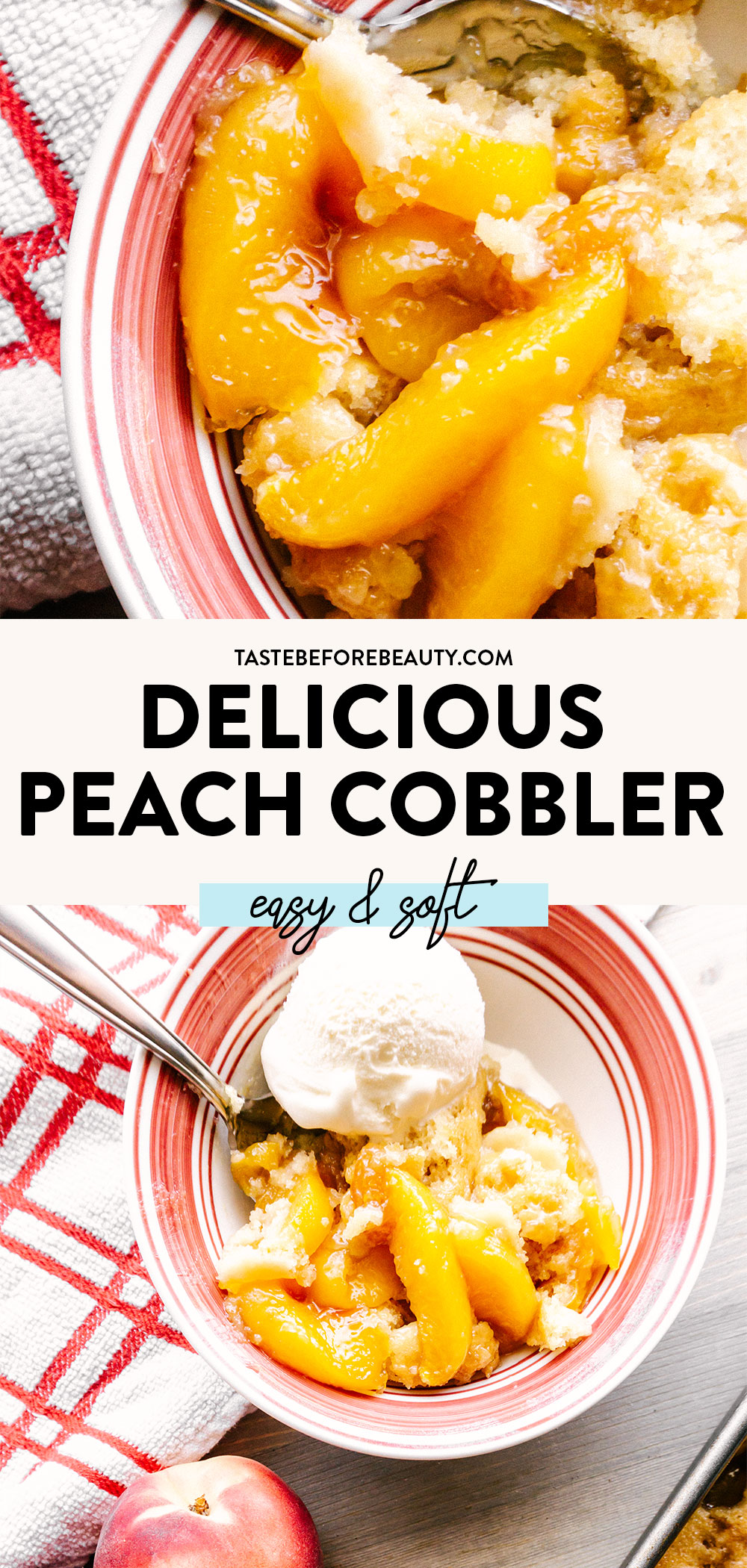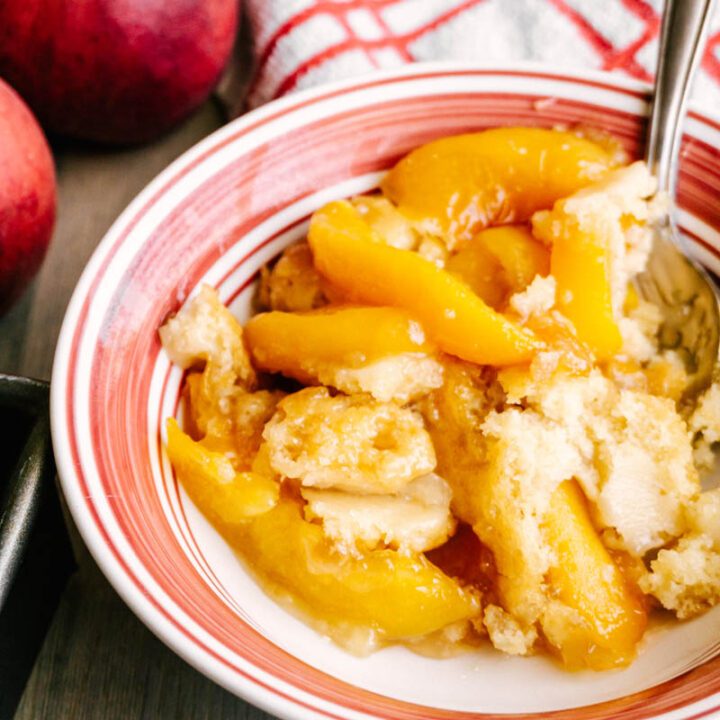 Peach Cobbler
Additional Time:
20 minutes
Total Time:
1 hour
35 minutes
Wanna peach of this? Of course you do! Whether the warm peaches covered in a buttery soft cobbler topping evoke nostalgic memories of summer camps or bad fireside date nights, this Peach Cobbler is sure to create happy memories going forward.
Ingredients
Peach Layer
4 ¼ C (22 oz) frozen or fresh peaches, peeled and sliced
1 C (7 oz) white sugar
⅓ C (2.6 oz) water
3 T (0.7 oz) cornstarch
⅛ tsp almond extract
2 T lemon juice
Cobbler Topping
2 T melted butter
½ C (3.5 oz) white sugar
½ C (4 oz) brown sugar, divided
1 egg
½ C buttermilk
½ tsp vanilla
1 tsp aluminum-free baking powder
¼ tsp salt
⅞ C (4 oz) all-purpose flour
Instructions
Make Peach Mixture
Peel and slice fresh peaches. If using frozen, set aside.
In a pot, add sugar, water, cornstarch, almond extract, and lemon juice. Whisk together then bring to a boil.
Once boiling, add peaches all at once and bring to a gentle boil. Simmer for 3 minutes until thickened, stirring gently the whole time.
Remove peaches from heat and set aside to cool.
Make Cobbler Topping
In a bowl, melt butter. Then add white sugar and ¼ C (2 oz) brown sugar. Mix until combined.
Add egg, vanilla, and buttermilk. Mix until combined.
Then add salt, baking powder, and flour all at once and stir until combined. It will be runny.
Assemble.
Preheat the oven to 350*F
Line a 9x13 pan, or equivalent, with butter.
Pour prepared peach mixture into buttered 9x13 dish, and then pour cobbler batter evenly over peaches.
Sprinkle the reserved ¼ C (2 oz) brown sugar over batter.
Bake for 35-45 minutes until golden brown.
Let cool for 10-20 minutes to allow everything to thicken up, and then serve warm or cold, with or without vanilla ice cream.
Notes
Don't have buttermilk? Put 1 ½ tsp of lemon juice in a ½ C measuring cup, and then add enough milk to fill the measuring cup. 
If at a high altitude only use ½ tsp baking powder.