This Blueberry Almond Bread is loaded with nutty toasted almond flavor, juicy blueberries, and a sweet almond glaze. With so much to love, the antioxidants are an extra sweet bonus!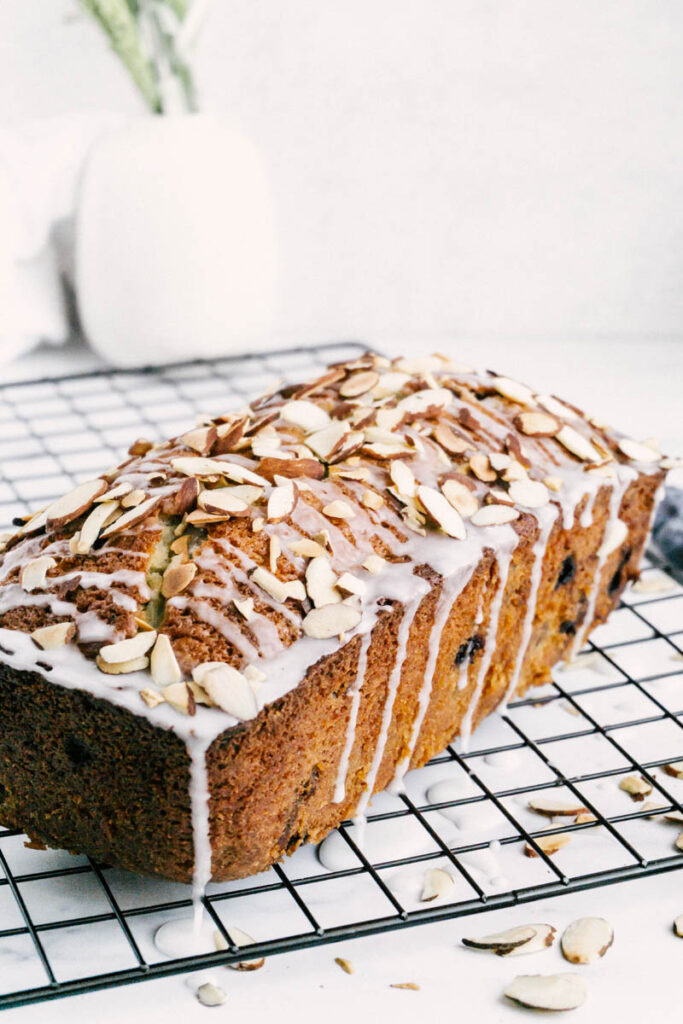 Is it Bread or Cake?
If I'm going to eat a slice of homemade bread, I want it to taste good and be worth the effort of making it. The same goes for quick bread. Some of my quick bread recipes aren't beautiful, so please remember my mantra and this website's name – Taste Before Beauty!
I love those giant blueberry muffins from wholesale club stores that almost taste like cake! I prefer fruity quick bread to be on the sweet side. Kenzie works to balance me a bit and has a great healthier Chocolate Chip Banana Bread and Camry keeps us eating balanced with secret vegetables in her favorite Easy Zucchini Bread. If you're like me, know that this Blueberry Almond Bread is sweet and moist, and practically like cake. I always eat more than one slice.
The development of this Blueberry Almond Bread came about when I discovered a lack of good, sweet quick bread recipes in my recipe box. I needed some quick and easy recipes that I feel comfortable taking for an event, brunch, or a Christmas treat platter. A lot of quick bread recipes I had tried before that time lacked flavor and left me stranded on the dry, flavorless island of sadness.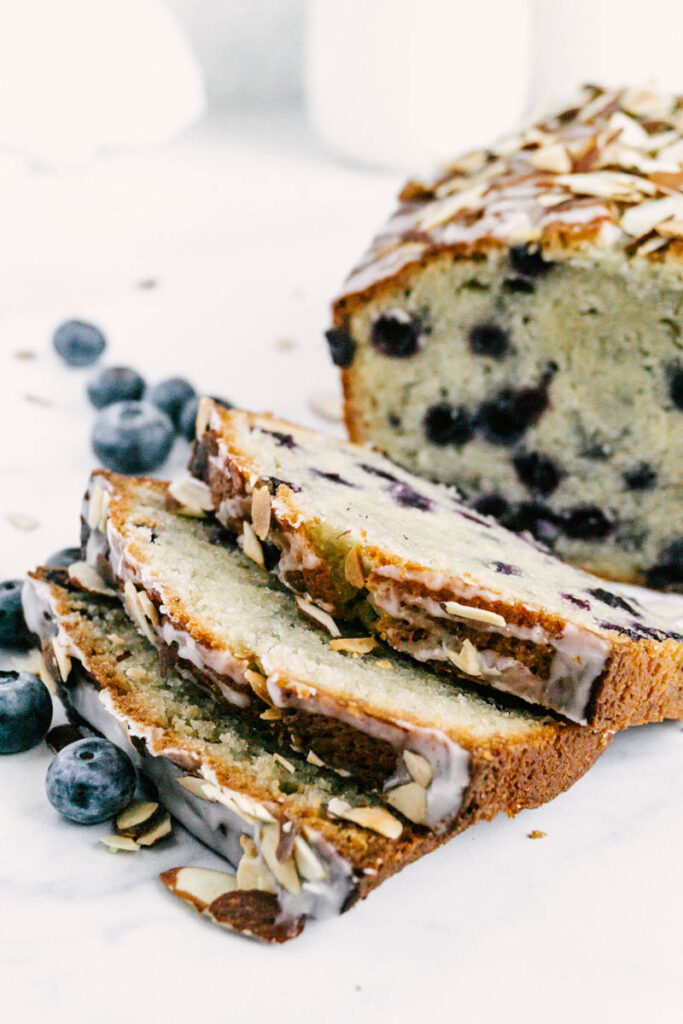 Blueberry Almond Bread Creation
When I was determined to do or die and get some quality quick bread recipes (Missy style) into my repertoire, I spent a couple of weeks just focusing on research, tests, and ideas. I studied and worked until I came up with a variety of flavors, textures, and the right appearance that I would be pleased to put together on a serving tray and deliver to friends and neighbors. These loaves of bread are sweet, full of flavor, and perfectly moist. Stay tuned for them in future posts.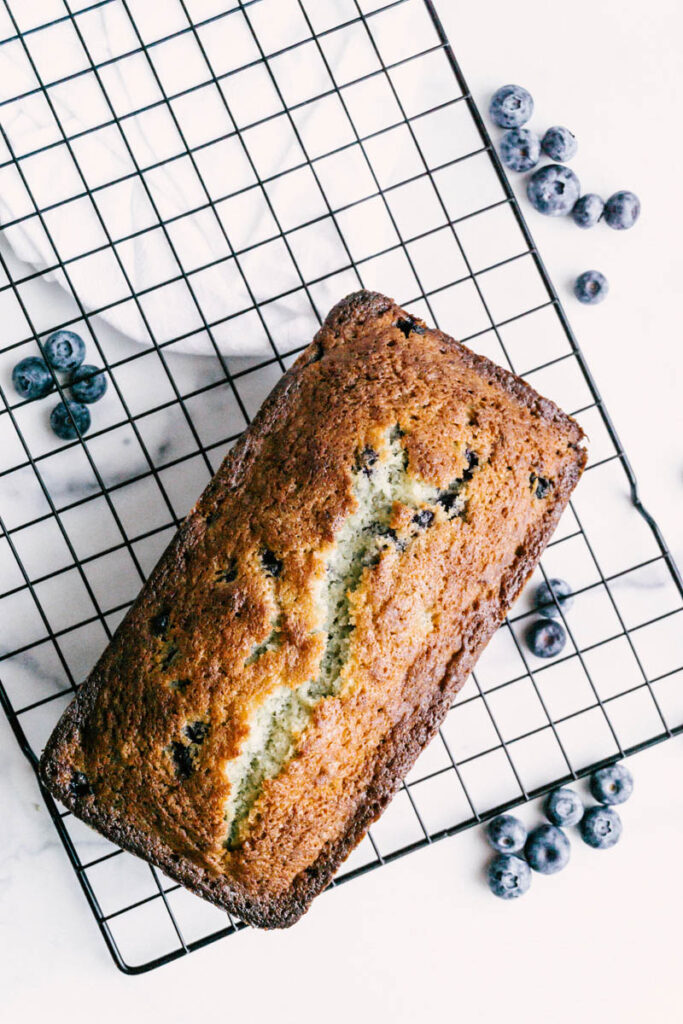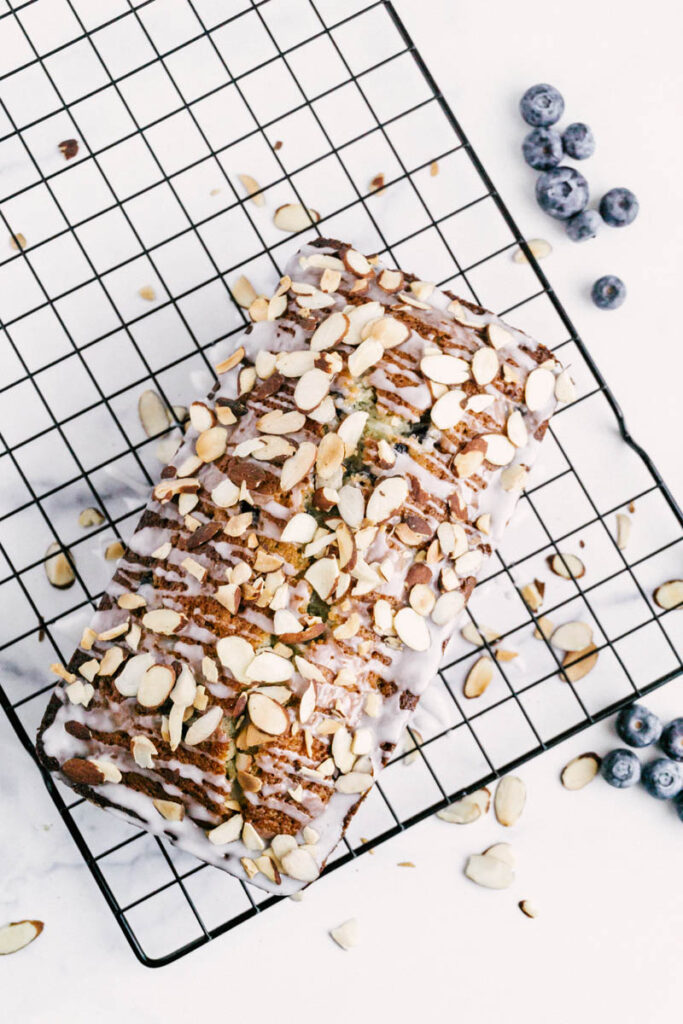 The Ultimate Test – The Neighbors Who Never Crossed the Street
I shared my adventures with my mother one day over a long-distance phone call. When I visited her that fall, she asked me to please make her a big batch of Blueberry Almond Bread. She wanted a stash for her freezer so she could pull them out as needed, cut them up, and deliver them to neighbors during the holidays.
My mother had a few neighbors across the street who were not exactly cordial and never crossed the street. Blueberry Almond Bread in hand, she crossed the street that Christmas and took them a platter of delicious bread. The neighbors loved this sweet, moist bread and commented on it frequently over the years since. All the people who never "crossed the street" became friends with my mother and would ask, "When are you going to make us more of that bread?"
Recently, my mother sold her home and moved away. The friends that never-crossed-the-street crossed the street to tell her they were sorry she was moving away.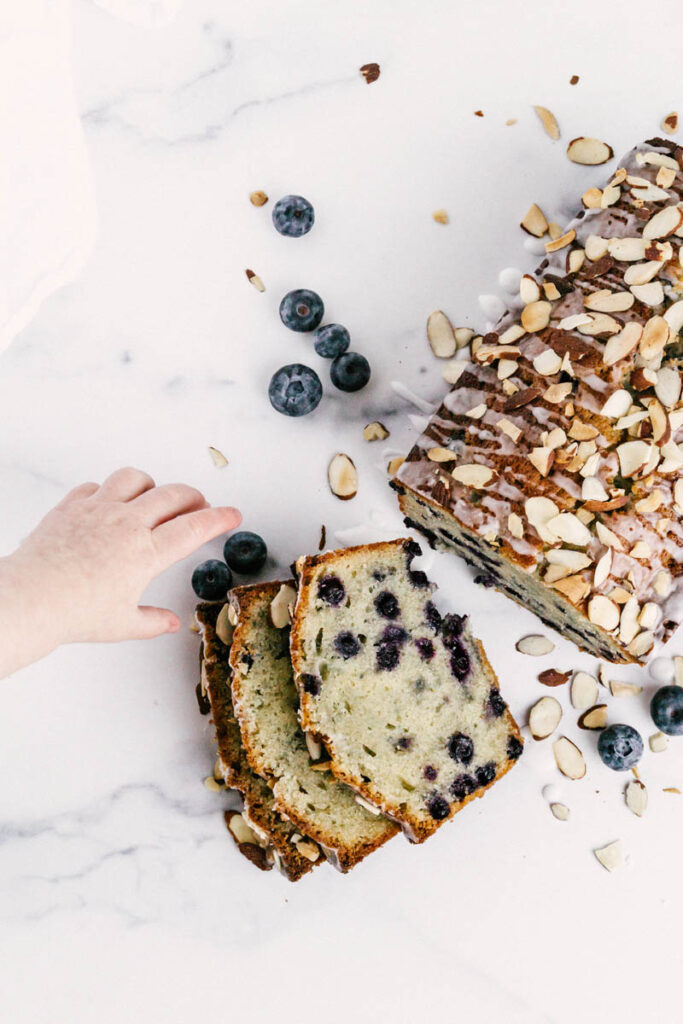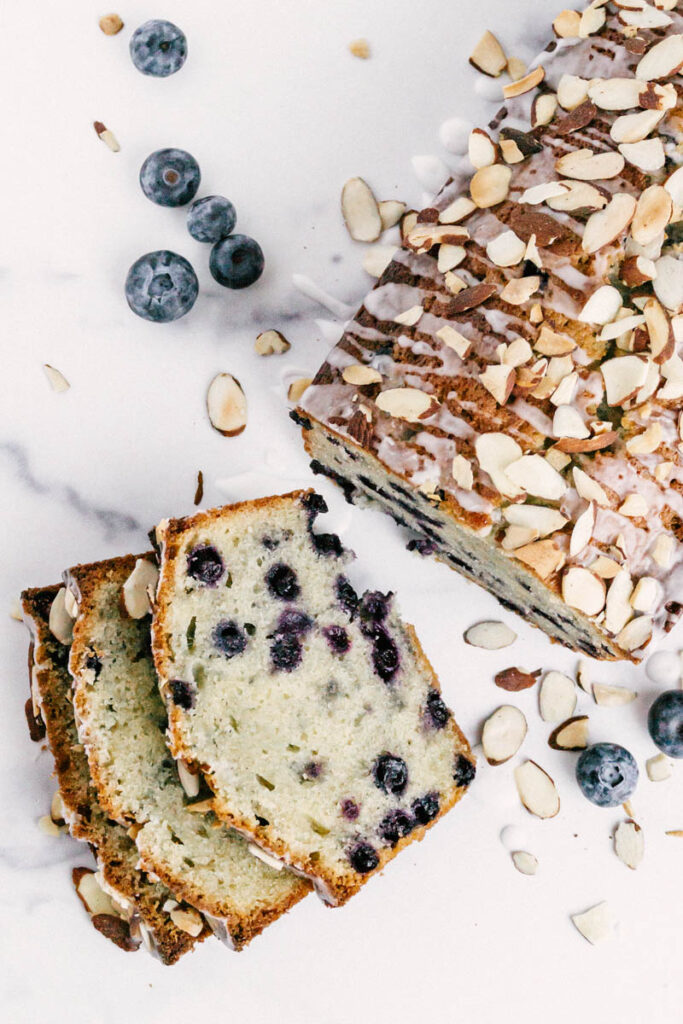 Gathering At The Table
If you are here at Taste Before Beauty, you already know the value of good food in comforting the soul. Let us know what you think of this quick and easy Blueberry Almond Bread. Leave a comment or a review below!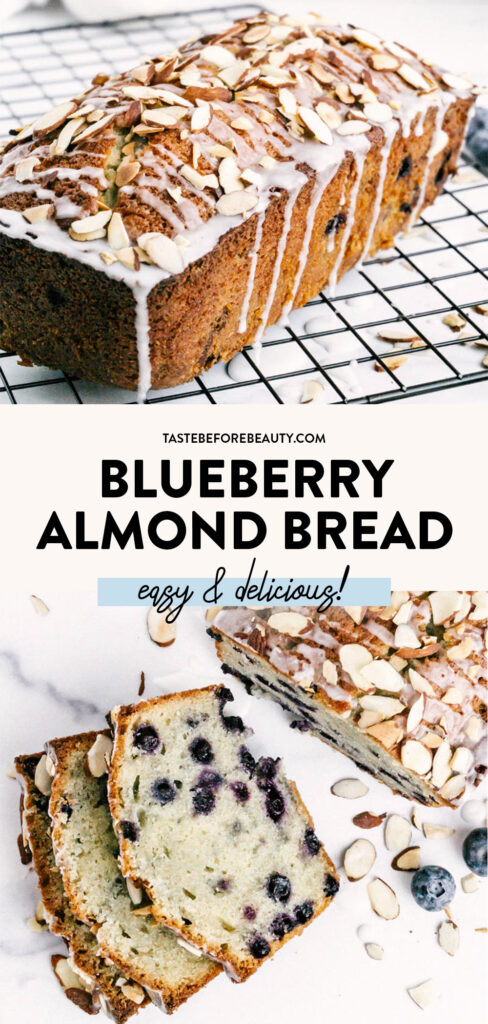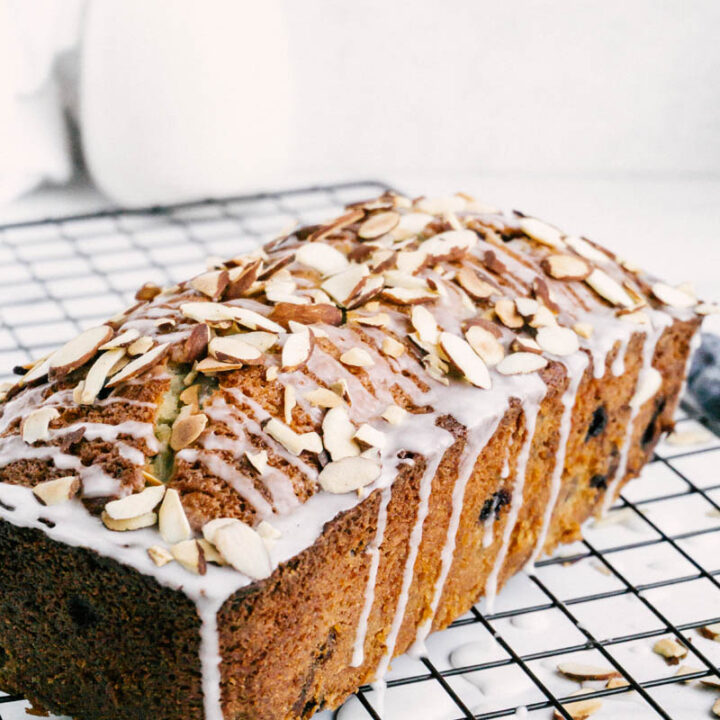 Blueberry Almond Bread
Yield:
one 8 ½" x 4 ½" loaf
Cook Time:
1 hour
20 minutes
Additional Time:
30 minutes
Total Time:
2 hours
10 minutes
This Blueberry Almond Bread is loaded with nutty toasted almond flavor, juicy blueberries, and a sweet almond glaze. With so much to love, the antioxidants are an extra sweet bonus!
Ingredients
Blueberry Almond Bread
1/2 C (4 oz) salted butter, softened
1 ¼ C (8.75 oz) granulated sugar
1 tsp almond extract
1 ½ tsp vanilla
3 eggs
¼ C (2 oz) milk
1 tsp baking powder
½ tsp salt
2 C (9 oz) all-purpose flour
1 C (4 oz) frozen wild blueberries
Sweet Almond Glaze
½ C (2 oz) powdered sugar
½ tsp almond extract
2 tsp water
¼ C sliced almonds, toasted
Instructions
Make Blueberry Almond Bread.
Preheat the oven to 350*F. Oil and flour an 8 ½" x 4 ½" loaf pan.
Using a stand mixer, cream together softened butter and sugar. Add vanilla, almond extract and eggs, one at a time. Mix thoroughly. Add the milk, mix again. Add the dry ingredients and mix until just barely combined.
Using a rubber spatula, gently fold the frozen blueberries in.
Pour batter into prepared loaf pan. Bake for 65-80 minutes or until internal temperature reaches 205*F.
Let cool for 5-10 minutes in pan then remove and let cool for 30-60 minutes on a cooling rack.
Make Almond Glaze.
In a small bowl, add powdered sugar and almond extract. Slowly add in water, stirring to get rid of any powdered sugar lumps.
Toast sliced almonds in a dry pan, stirring occasionally, until golden and fragrant.
Once Blueberry Almond Bread has cooled for 30 minutes, drizzle Almond Glaze on top. Sprinkle with toasted sliced almonds.
Notes
The wild blueberries need to be completely frozen when added to the batter or they smoosh and bleed color everywhere. I keep them in the freezer until I'm ready to add them. Some color bleeding is normal, but overmixing will make it worse. Just mix them until they're distributed.