You'll go bananas for these easy delicious Frozen Chocolate Covered Bananas. With no baking and minimal prep, these are the perfect summer treat!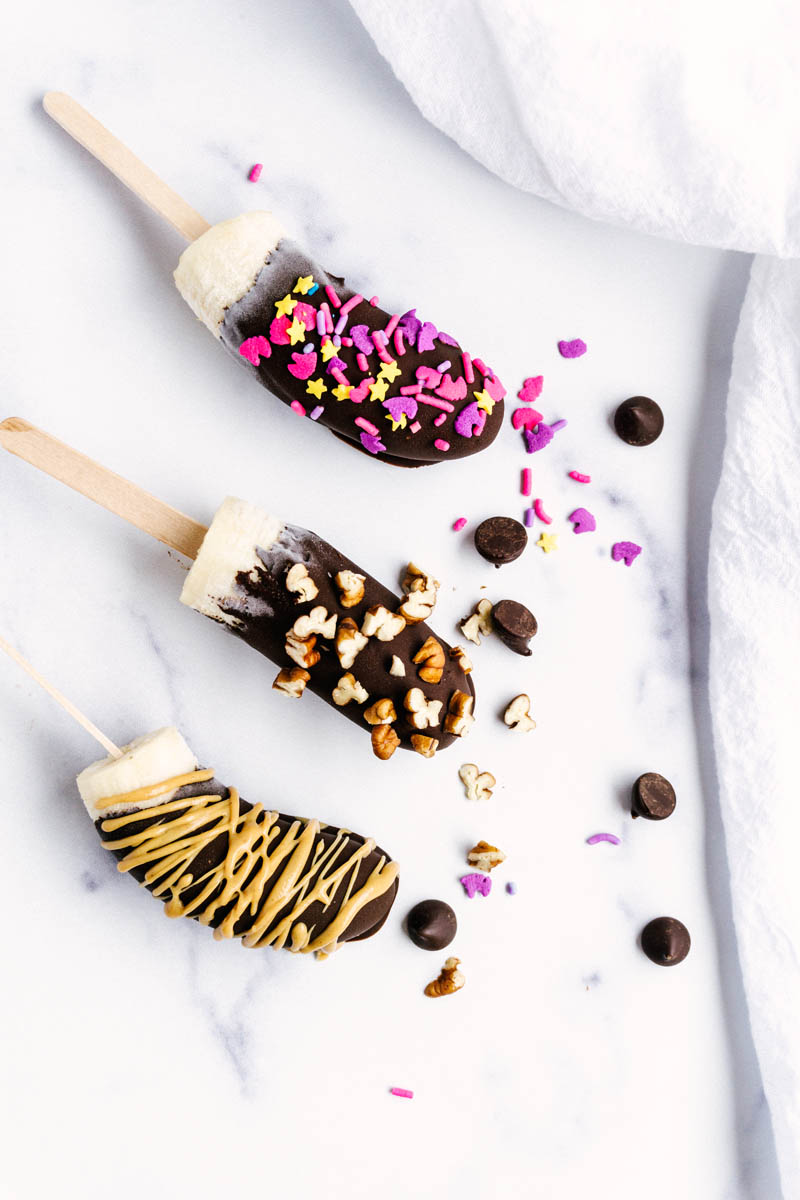 The Perfect Frozen Summer Treat
Looking for the perfect, cold treat for those hot summer days? You've found it! These Frozen Chocolate Covered Bananas are super easy and refreshing. With only a few minutes of actual prep work involved, these are quicker and easier than a trip to the store to buy those popsicles that come in the plastic tubes. Plus they taste way better!
The last time I had a frozen chocolate-covered banana was in 2007 when my family took a trip to Disney World. The temperatures warmed up here in Pennsylvania last weekend and I got a craving for one. With continuing travel restrictions due to the pandemic, I knew I would have to make them at home.
Fortunately, these come together fast. The hardest part is waiting for them to freeze, but even then you're less than two hours from a delicious frozen treat. And since the main part of it is banana, you can feel good about your mid-afternoon snack.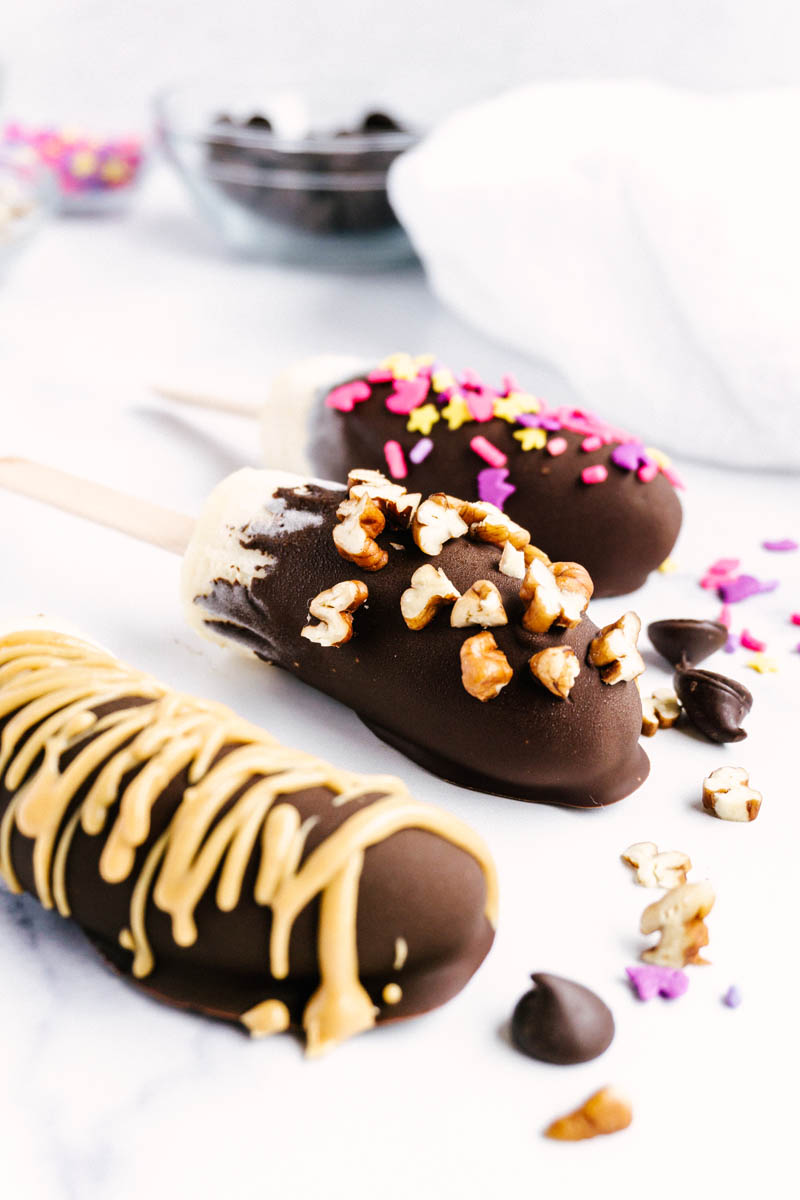 About the Ingredients
Bananas – I like to use ripe bananas with a few spots on them. They're nice & sweet and make an ice cream bar-like treat.
Chocolate Chips – chocolate chips melt nicely and I always have lots around. I prefer dark chocolate. You can use any chocolate chips or chopped chocolate you like. 
Coconut Oil – helps the chocolate melt and coat the frozen bananas smoothly. 
Toppings: I used unicorn sprinkles, finely chopped pecans, and peanut butter. Other ideas could include mini M&Ms, chopped peanuts, chocolate chips, mini marshmallows, white chocolate drizzle, flaky sea salt, coconut flakes, crushed Oreos, or freeze-dried raspberries. They also might be super delicious with cookie dough topping from these Cookie Dough Brownies!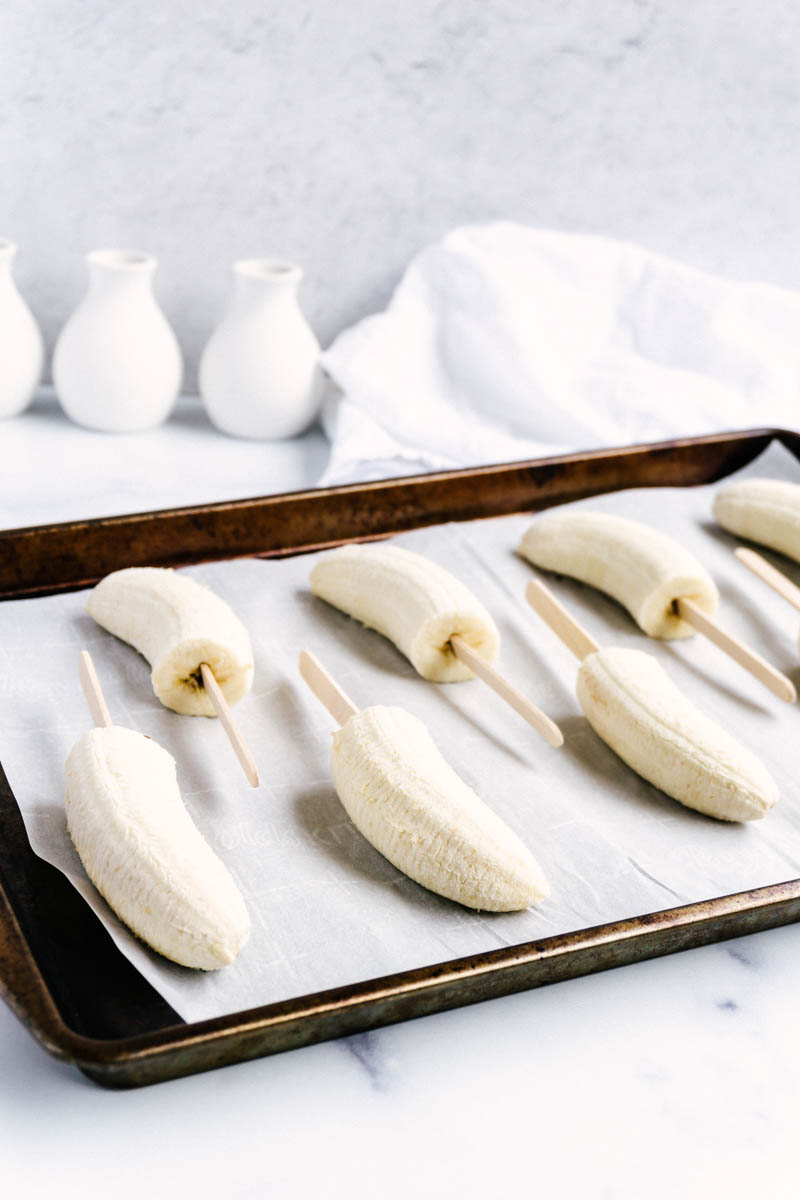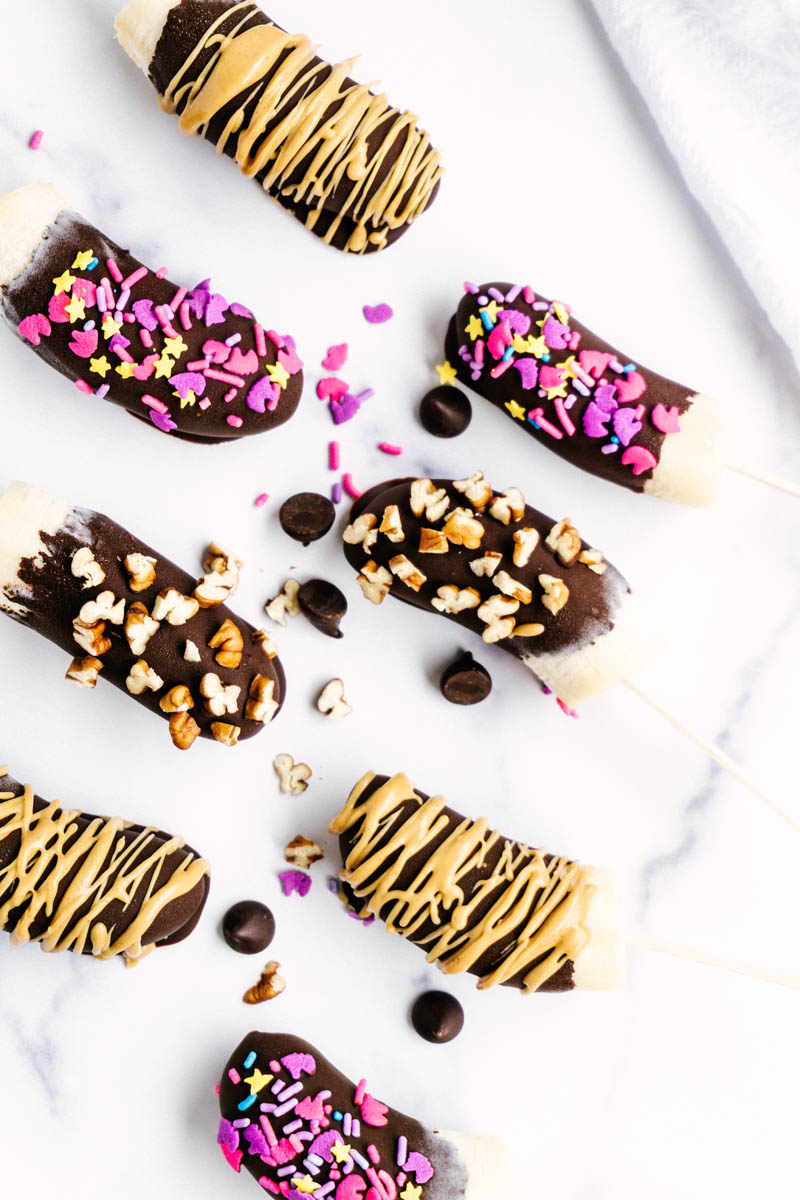 Frozen Chocolate Covered Bananas Assembly Tips
Prepare the bananas: Peel each banana and cut it in half. Place a popsicle stick far enough into each banana half that it stays on, but not so far that it pokes out the other end.
Dip bananas in chocolate: After melting the chocolate and coconut oil, dip each banana into the chocolate. It works best to use a tall, skinny container like a glass. I do just one banana at a time because the chocolate sets up so fast.
Decorate: Immediately after dipping each banana in chocolate, sprinkle with whatever toppings you'd like. The chocolate hardens fast so move quickly!
Drizzle: If you want to use a drizzle, like peanut butter, freeze the chocolate-dipped bananas for 15 minutes or so first so the drizzle doesn't just blend into the chocolate.
Freeze: After decorating, place the bananas back in the freezer for 20-30 minutes to firm the chocolate up. I like to eat these completely frozen, straight from the freezer. My husband likes them after they've thawed for just a few minutes and have a soft, nice cream texture.
However you choose to top these, they are guaranteed to be delicious and the perfect cold treat on a hot day. Enjoy!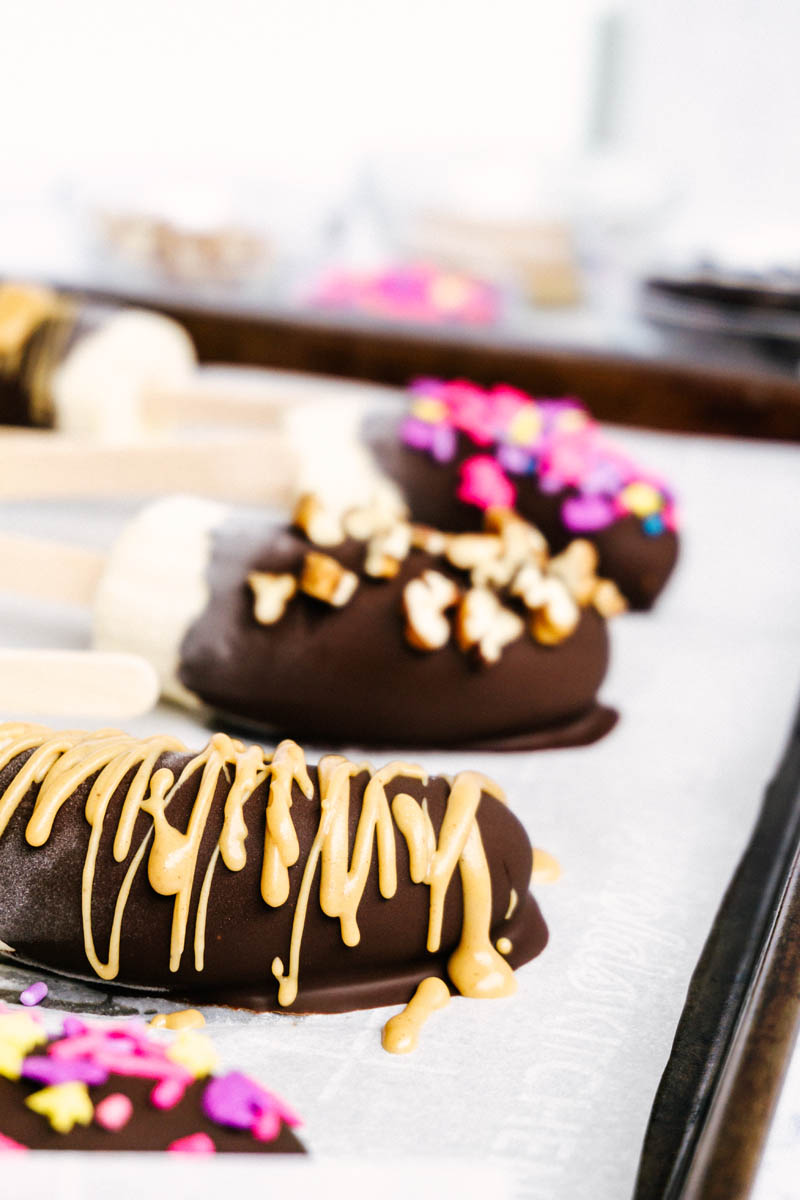 Looking for more delicious summer recipes? Try these: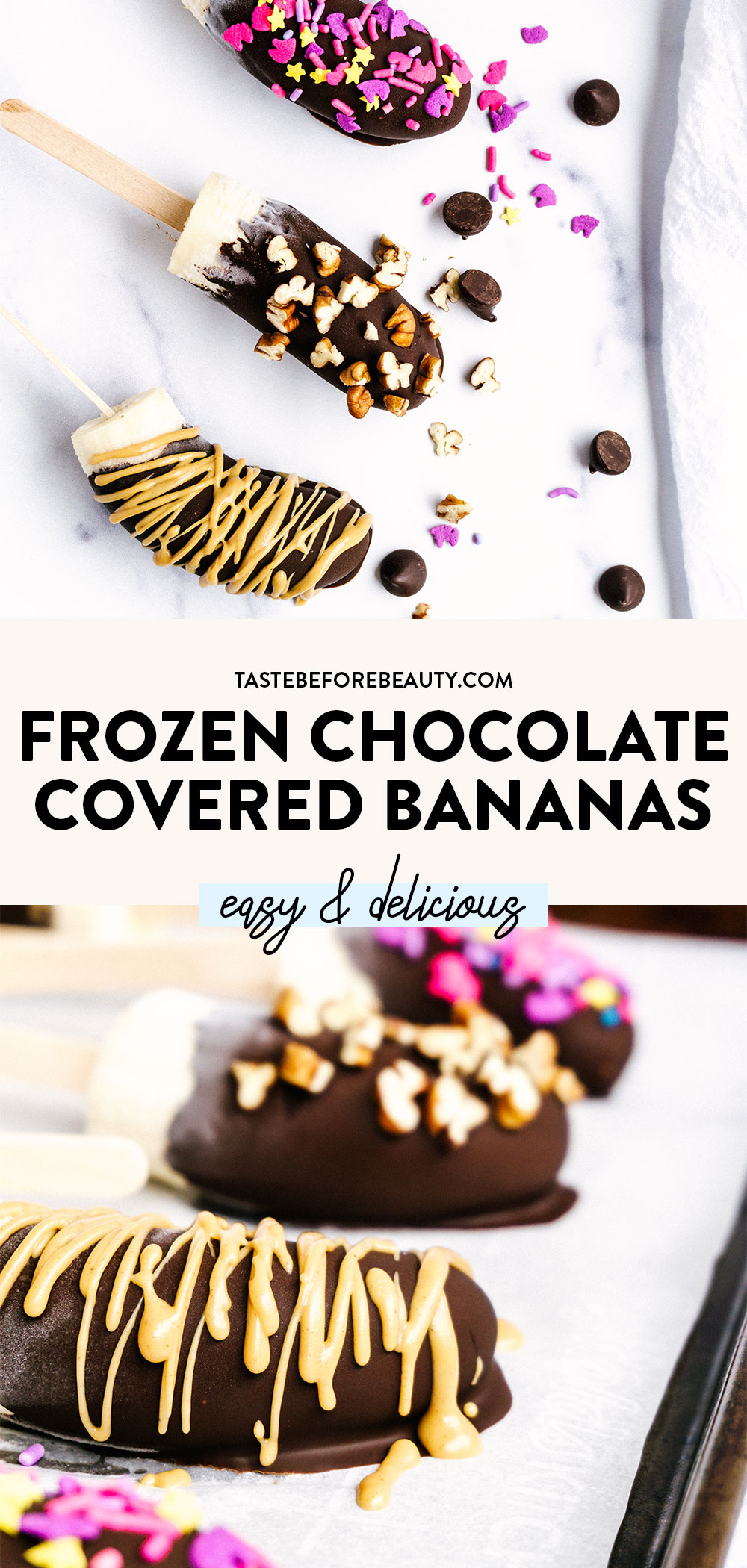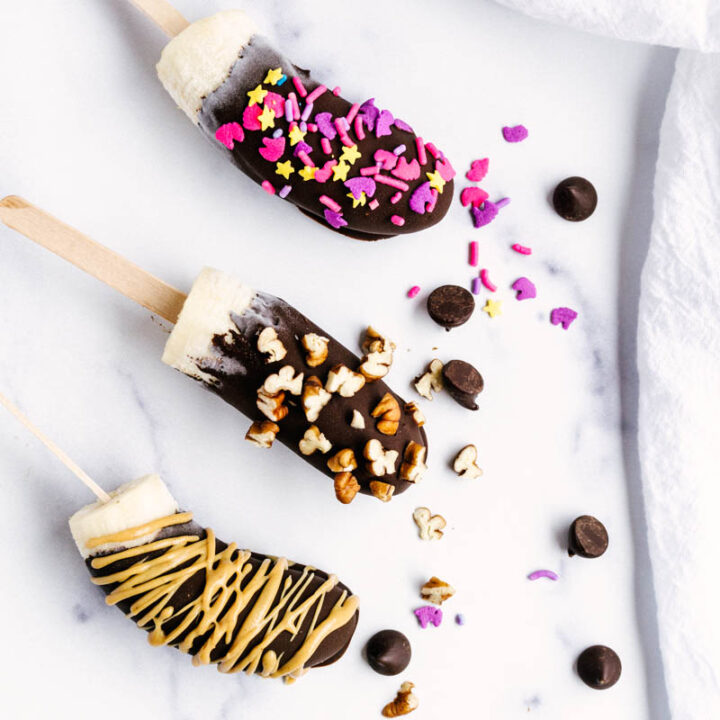 Frozen Chocolate Covered Bananas
Additional Time:
1 hour
30 minutes
Total Time:
1 hour
45 minutes
You'll go bananas for these easy delicious Frozen Chocolate Covered Bananas. With no baking and minimal prep, these are the perfect summer treat!
Ingredients
Frozen Bananas
Chocolate Coating
1 C (6 oz) dark chocolate chips or chopped chocolate bar
1 T coconut oil
Toppings
Sprinkles
Chopped pecans
Peanut butter
Instructions
Cut & freeze the bananas.
Peel bananas. Cut in half and insert a popsicle stick a few inches into each half. Place on a wax paper-lined cookie sheet.
Repeat with the rest of the bananas. Freeze for at least one hour.
Dip bananas in chocolate & decorate.
Combine chocolate and coconut oil in a microwave-safe bowl. Melt in 15-second bursts until melted and smooth.
Dip frozen bananas in melted chocolate. Place back on cookie sheet and immediately top with desired toppings.
Freeze chocolate-covered bananas for another 20-30 minutes.
Serve frozen. Store in freezer in an airtight container for up to a week.
Notes
If adding peanut butter or other drizzles, freeze chocolate-covered bananas for 15-20 minutes before drizzling, then freeze for another 20-30 minutes before serving.