Call the pizza guy! Oh wait, that's you! With your choice of fruit and a sweet yet light crust, this Fruit Pizza is waiting to be delivered to your mouth.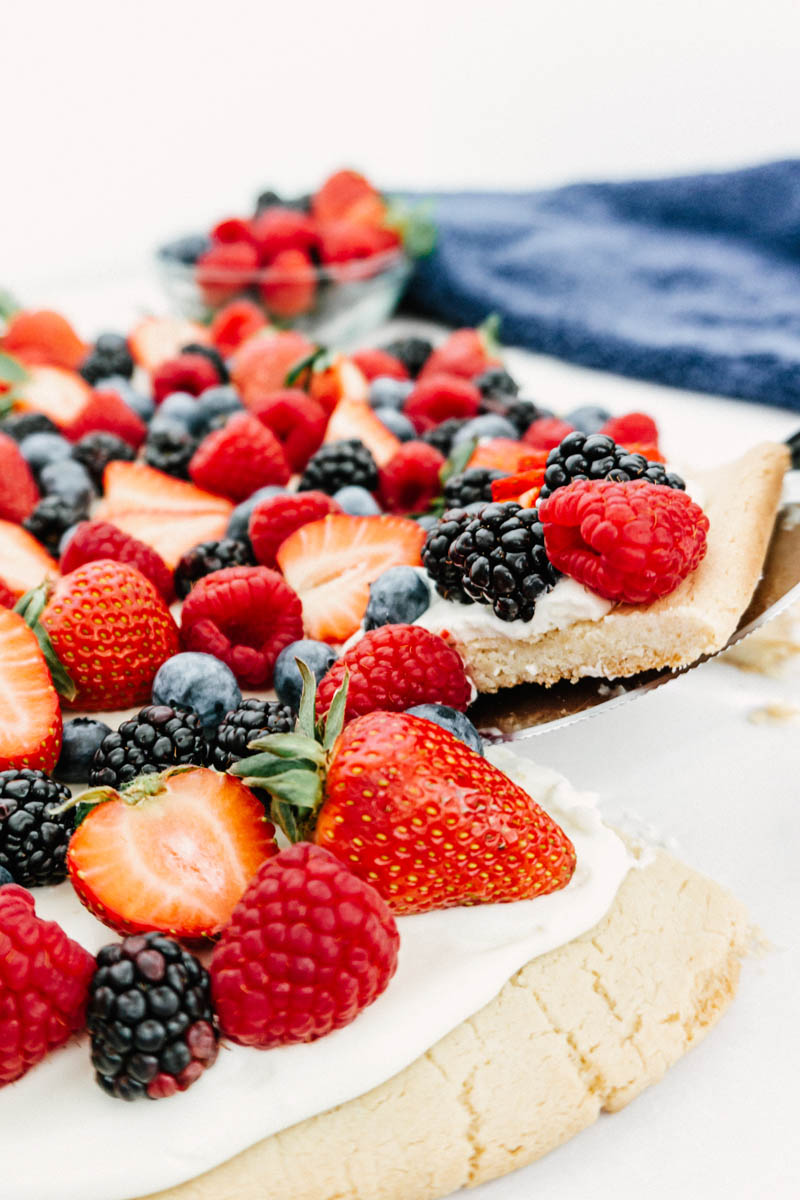 Fruit pizza is at the top of my list of favorite desserts, alongside Angel Food Cake, Pumpkin Rolls, and Fudgy Mint Brownies! However, I had a hard time wanting to create my own fruit pizza from scratch because using the store-bought sugar cookie dough crust is so easy. I also didn't want my fruit pizza to taste the same as every other recipe out there. 
So, with the help of Melissa, the baking connoisseur, we created a light, but sweet cookie crust that compliments the Cream Cheese Whipped Cream and berries on top perfectly. It goes together so well that you will probably eat the whole thing in two days… that's embarrassing to admit.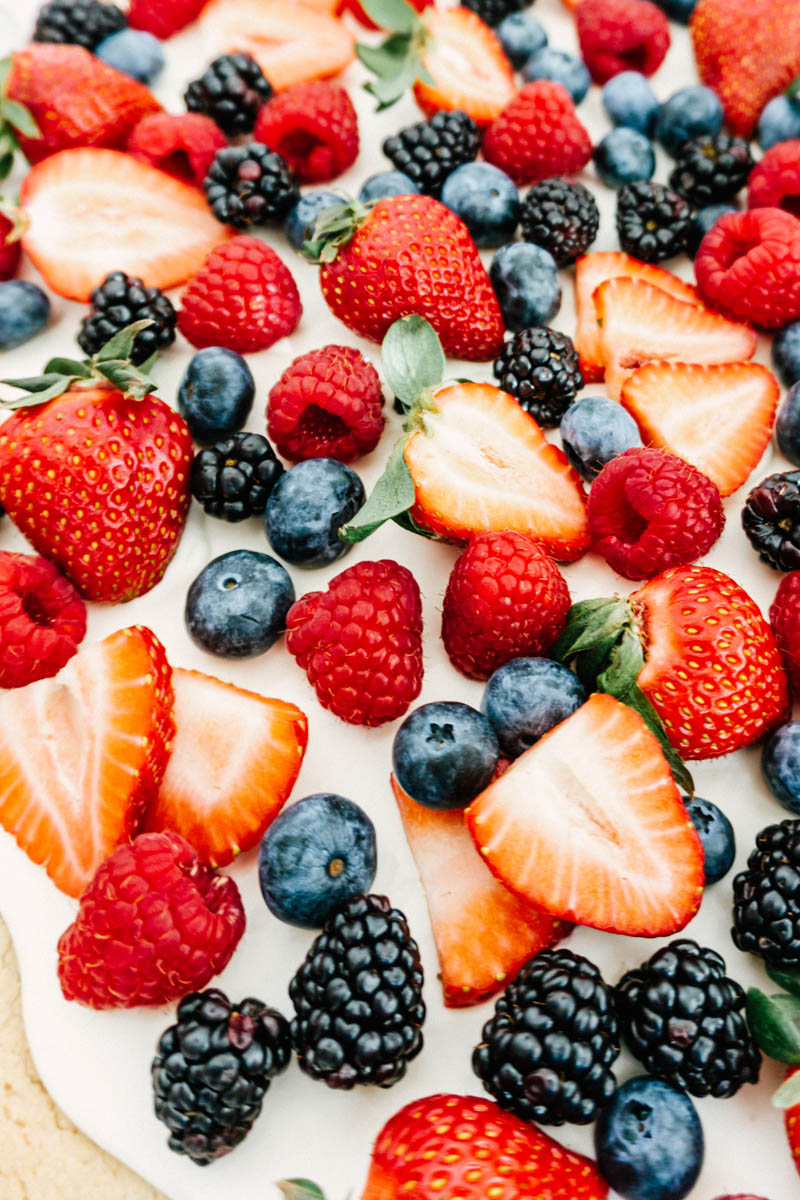 Creating The Perfect Fruit Pizza Crust
Believe it or not, creating the perfect cookie crust is tricky! You have to balance the amount of butter with the flour. Adding too much sugar makes the dough grainy and unpleasant but too much flour makes it dry and flavorless. Balancing the rising agents is tricky because you want a crust that is light but doesn't spread too much or brown too quickly.
After numerous attempts and adjustments, we finally created the perfect crust. It tastes sweet, but light, is soft, and achieves a beautiful golden color while in the oven. Just test it for yourself!
The cookie crust is a soft dough, so pressing it out into your 12-inch circle with your hands works best, but a rolling pin is fine too. Just put a piece of wax paper on top of the dough to prevent it from sticking to the rolling pin and ruining the shape of your fruit pizza.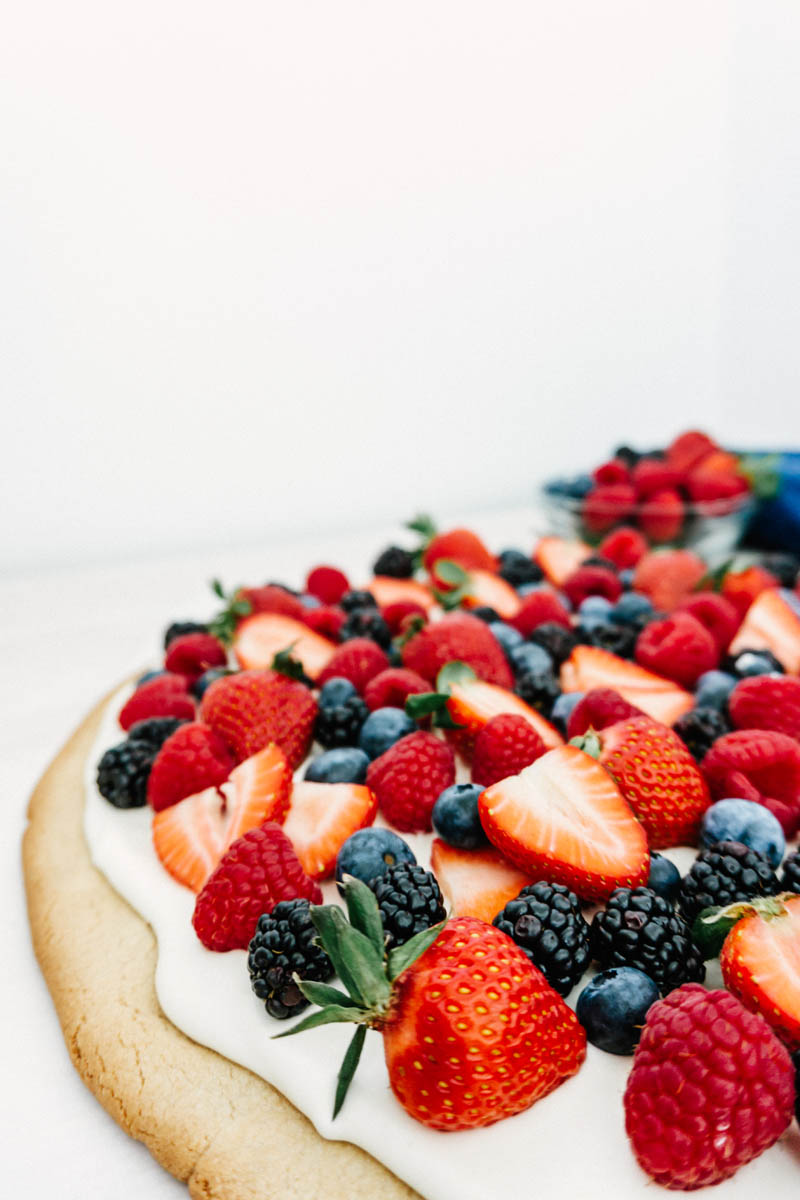 Picking the Right Fruit
Fruit pizza is often loaded with all kinds of fruits, from strawberries, to kiwis, to mandarin oranges, and apples. However, using fruits that are more tart, like berries, works best to counteract the sweetness in the cookie crust and Cream Cheese Whipped Cream. There is something about those tart, powerful berry flavors working together that taste incredible, compared to your average, throw whatever fruit is in the fridge on the fruit pizza.
However, if all you've got is what's in your fridge, they also taste great. We've tried this fruit pizza with a variety of different fruits and they all taste delicious.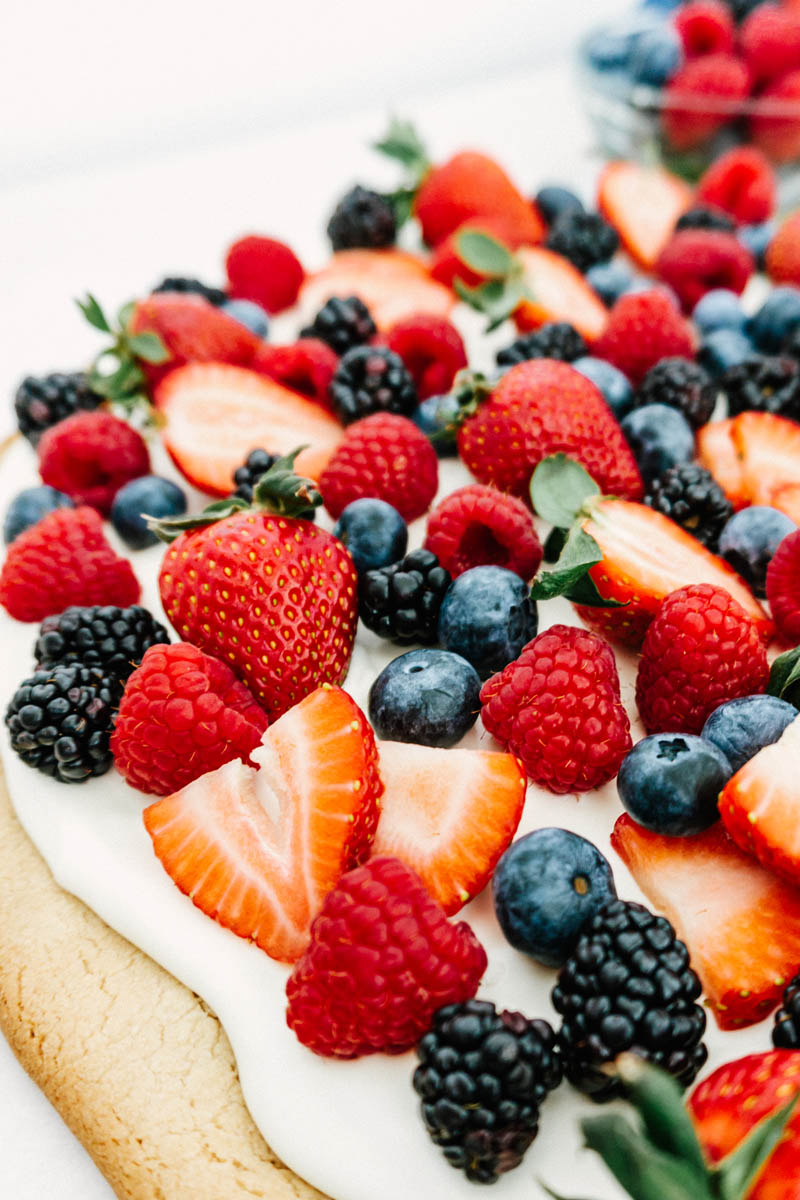 Decorating Your Fruit Pizza
This fruit pizza is extra fun because you can shape it any way you want and with whatever color of fruit you want. For Easter, I shaped the cookie crust into an egg shape and decorated the top like an Easter egg. For 4th of July you could create a flag fruit pizza, or for Christmas a tree shaped fruit pizza! This is such a fun dessert to create together with your family for any occasion.
However you decorate this, we'd love to see your photos. Tag us on Facebook, Instagram, or Pinterest @tastebeforebeauty. Don't forget to leave a comment and a review below too!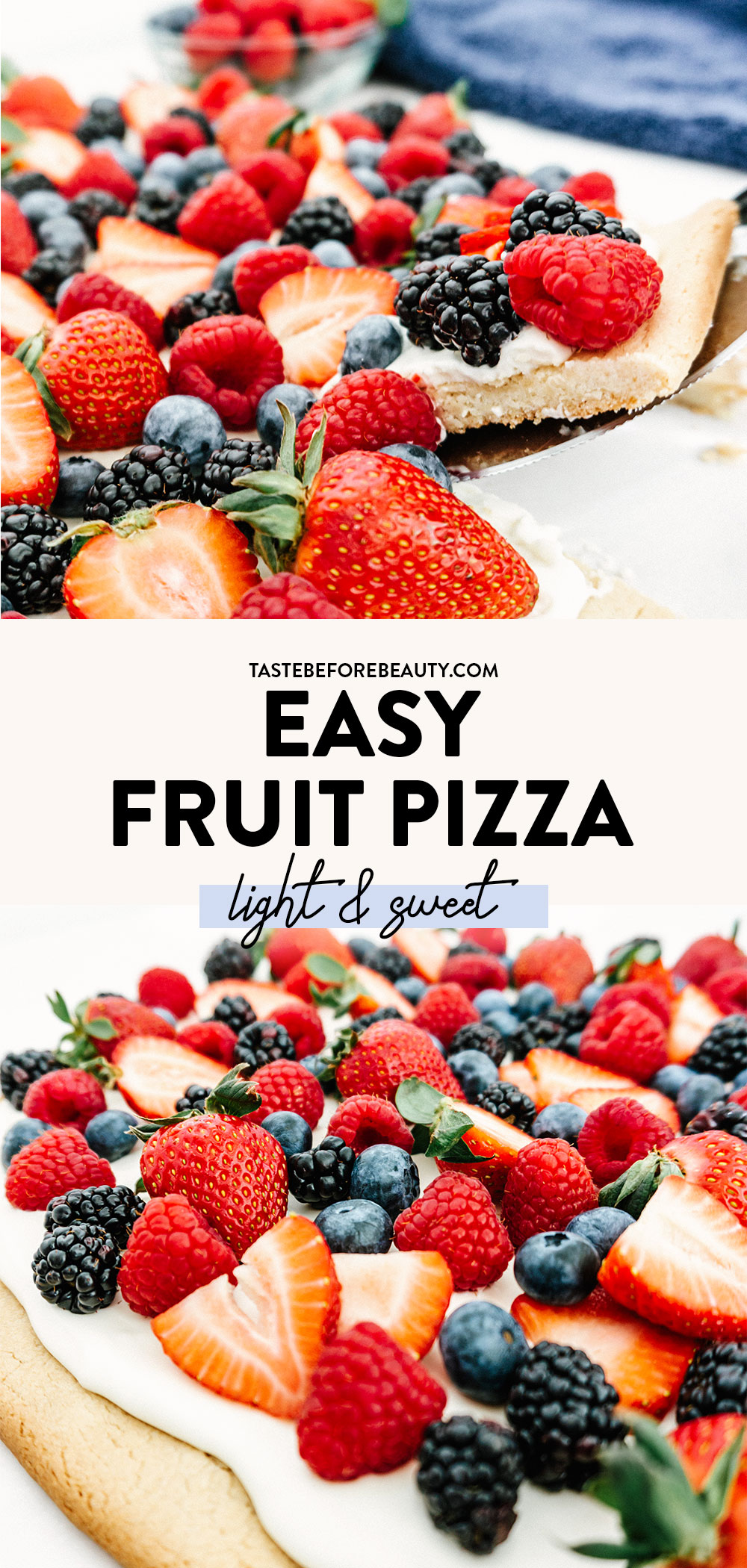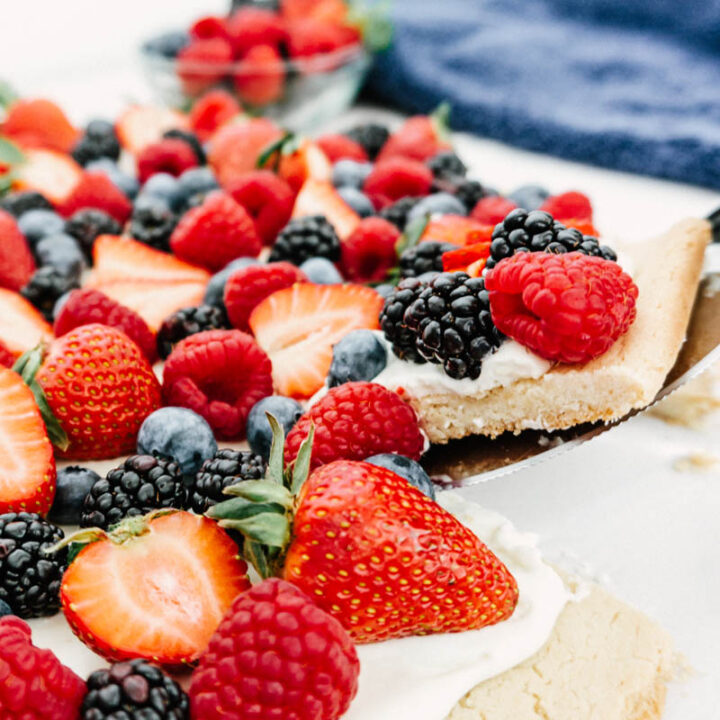 Fruit Pizza
Yield:
one 12-inch fruit pizza
Additional Time:
15 minutes
Call the pizza guy! Oh wait, that's you! With your choice of fruit and a sweet yet light crust, this Fruit Pizza is waiting to be delivered to your mouth.
Ingredients
Cookie Crust
½ C (4 oz) salted butter, softened
1 C (7 oz) white sugar
1 T light corn syrup
1 large egg
1 tsp vanilla
2 tsp lemon juice
1 ⅔ C (7.5 oz) all-purpose flour
¼ tsp salt
½ tsp baking powder
Cream Cheese Whipped Cream
½ C (4 oz) cream cheese
2 T white sugar
½ tsp vanilla
¾ C (6 oz) heavy cream, cold
Fruit
16 oz Strawberries
12 oz Raspberries
16 oz Blueberries
Instructions
Make Cookie Pizza Crust
Preheat oven to 375*F. Line a cookie sheet with parchment paper.
Cream together softened butter and sugar. Add corn syrup, egg, vanilla, and lemon juice. Mix well. Then add flour, salt, and baking powder. Mix until fully combined.
Turn out dough onto a piece of parchment paper. Using your hands press dough into a 12-inch circle, or use a rolling pin with a piece of wax paper on top of the dough to prevent sticking.
Bake for 10-12 minutes, until the edges are golden and the center is cooked. Let cool completely before decorating.
Make Cream Cheese Whipped Cream.
In a medium-sized bowl, beat cream cheese until smooth.
Add sugar and vanilla and mix. Scrape the bowl (don't skip!).
Add heavy cream and mix for 30 seconds. Stop, scrape bowl, beat another 30 seconds, then stop and scrape bowl again.
Whip on high speed until soft peaks form.
Assemble Fruit Pizza
After the cookie crust has cooled, frost with cream cheese whipped cream, then top with your choice of fruits. Berries taste best with this cookie crust but use whatever fruits you desire. Chill until ready to serve.
Notes
When making the cream cheese whipped cream, scrape the bowl at least 2-3 times before the cream begins to thicken. This will help incorporate the cream cheese evenly. Failing to scrape the bowl may result in unsightly chunks of cream cheese in the final product.
When rolling out the crust, I like to draw a 12-inch circle on my parchment paper so I maintain that circle shape. You can use a rolling pin with this dough, but be sure to put a piece of wax paper on top of the dough so it doesn't stick to the rolling pin.