Crispy meringue layered with cream cheese whipped cream, more crispy meringue, another layer of whipped cream, and any fruit you like. Delicious and sweet, light and refined.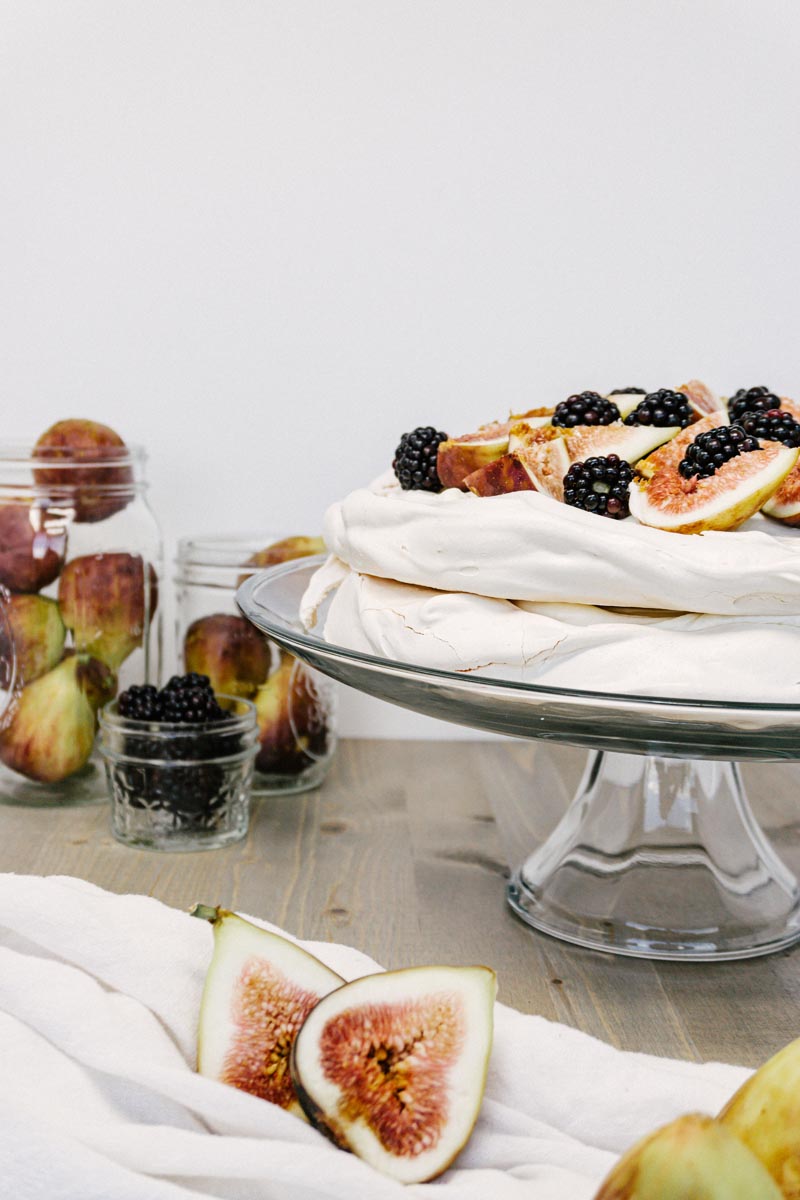 Meringues sound harder to make than they actually are and much more delectable and heavenly than you might imagine. Why we all don't consume more crispy meringue, with all the possible filling varieties, is beyond me.
Crispy meringue is sweet and, with the addition of fruit and cream, becomes a fresh and light pavlova. I like to save egg whites from other baking projects to make pavlova with whatever fruit we've got left in the fridge. You could pipe the meringues into any shape that suits you and fill with any fillings. I've even piped it into a pie plate and then filled with chocolate pudding for a fun twist on a crust-less chocolate pie.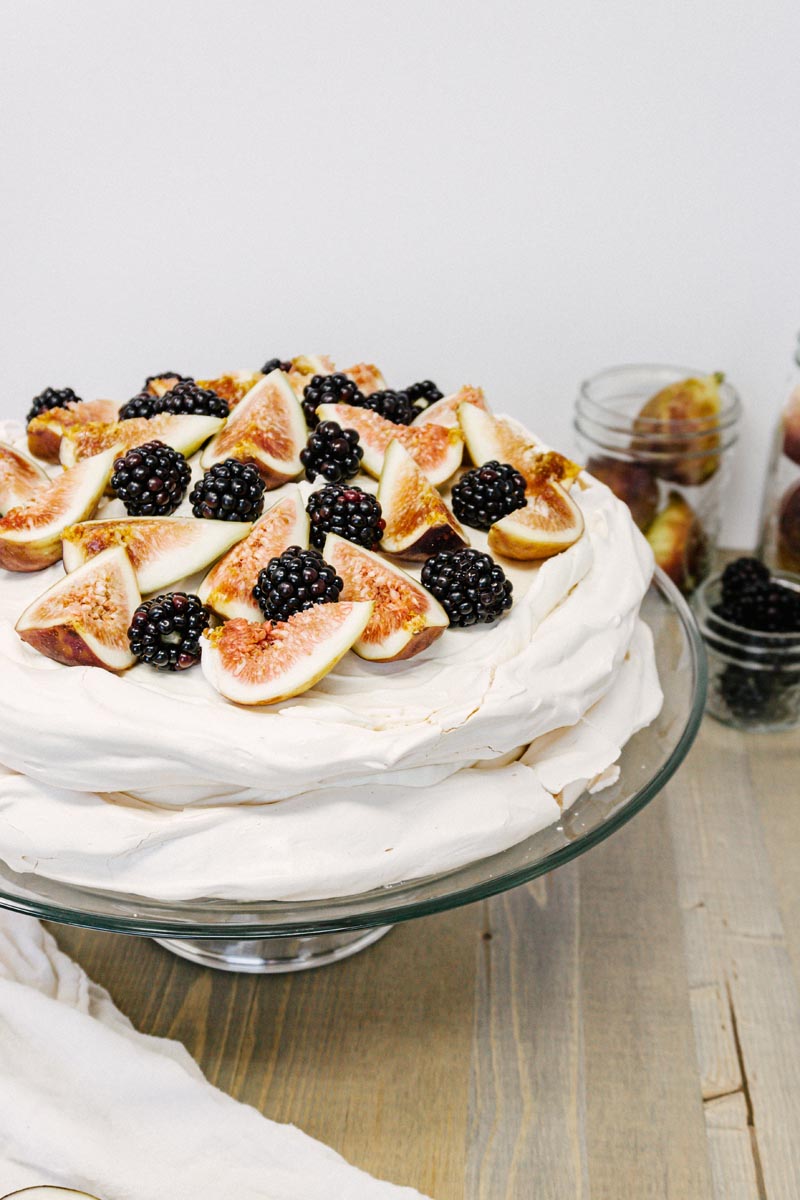 The biggest obstacle to making meringue is the mistake of using equipment that might have remnants of oils left from previous baking projects. I recommend using metal bowls, as plastic bowls are more likely to have traces of oil stuck to them. Any trace of oil can disrupt the airy structure of the beaten egg whites and all of your efforts will, quite literally, fall flat. I wash all my equipment and dry it, even if it's clean before I make meringues. Additionally, be careful not to get any egg yolk in the separated whites, as the yolk contains fats that will affect your meringue structure. As long as your equipment is clean and your eggs are properly separated, the only real work is beating the egg whites.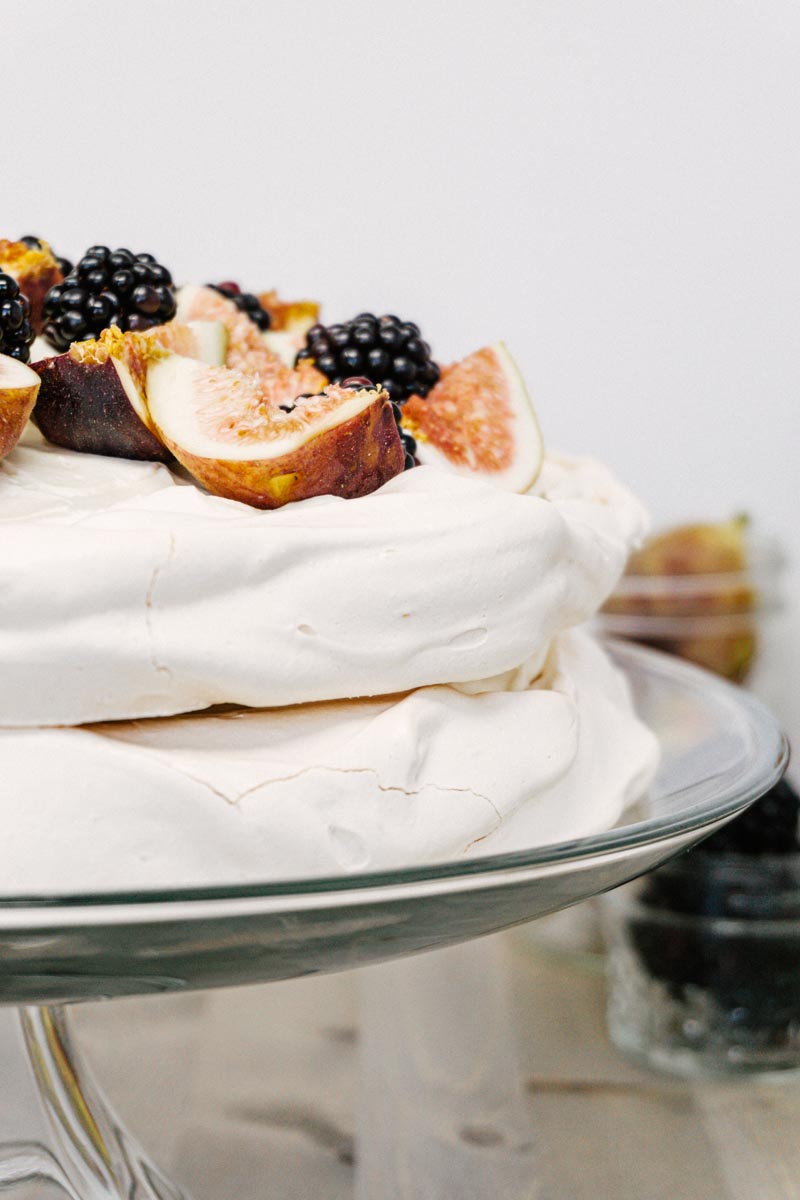 Perfect, fluffy, white, uncracked meringues are a thing of beauty. But here at Taste Before Beauty, we realize that things can taste just as delicious, even if they've lost a few points for style. Don't fret too much if your piping skills are a flop, if your meringue takes on a slight bit of browning in the oven, or if it all cracks as you move it to the serving dish. We believe that taste is the most important quality and hope that you, too, give yourself this grace.
Be sure to tag us in your meringue creations on Instagram!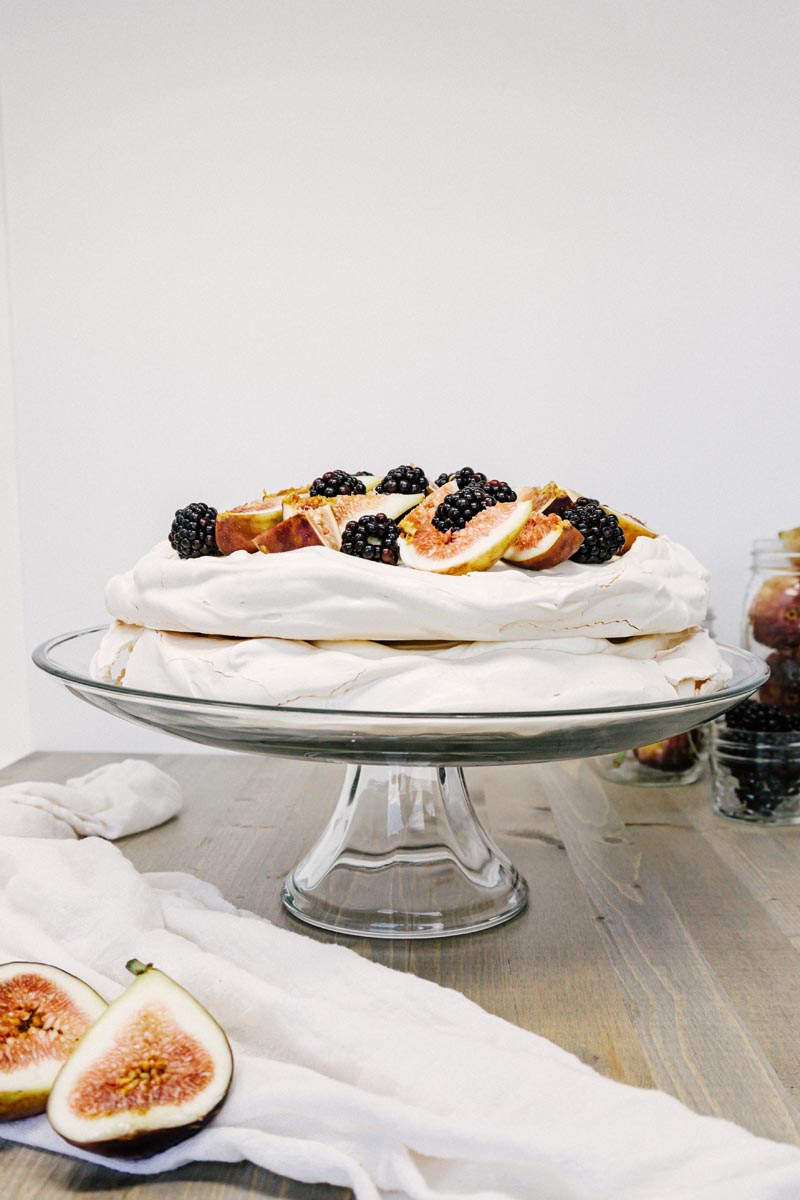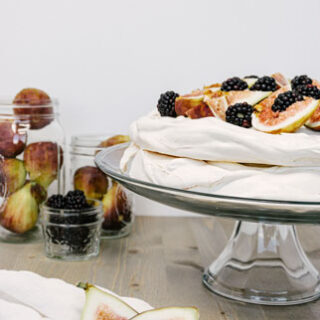 Stacked Cracked Pavlova
Crispy meringue layered with cream cheese whipped cream, more crispy meringue, then another layer of whipped cream, and any fruit you like. Delicious and sweet, light and refined. 
Ingredients
3 egg whites (room temperature)
⅛ tsp cream of tartar
¾ C (5.25 oz) superfine white sugar (if possible)
½ tsp vanilla
8 fresh figs - quartered
1 ½ C fresh blackberries
Instructions
Beat the egg whites in a metal or glass bowl that is completely free of any oil. Beat egg whites until they have stiff peaks. Add the cream of tartar and vanilla. Add 2 T of sugar at a time until meringue is glossy and sugar is dissolved (see note).
Pipe or spread the meringue in two large circles (9-10 inches) on a parchment-lined cookie sheet. Bake 275*F for 30-60 minutes until you can tap on the edge and it sounds hollow. The meringue should be lightly browned. Turn off the oven and leave it in the oven to cool for 30 minutes to avoid cracking from rapid temperature changes.
Once cool, keep meringues in a tightly covered container until you are ready to assemble. They can be stored for up to two weeks this way.
Assemble no more than an hour before serving. To serve, gently move the meringue to a serving platter. If it cracks, don't stress. That's part of the stacked, cracked appearance. Top with Cream Cheese Whipped Cream, some berries and figs, another layer of meringue, then more cream, berries, and figs.
Notes
Note: Superfine sugar is really helpful for this recipe, but you can also make it with normal white sugar. Plan on 10-15 minutes of beating time to fully dissolve the sugar into the egg white. To test if the sugar is fully dissolved, rub a small bit of meringue between your fingers. If it feels smooth, the sugar has dissolved. If it still feels grainy, keep mixing for a few more minutes.