Wow! With fresh, juicy peaches and the perfect flaky pie crust, this Peach Pie is absolutely everything you'd imagine it to be!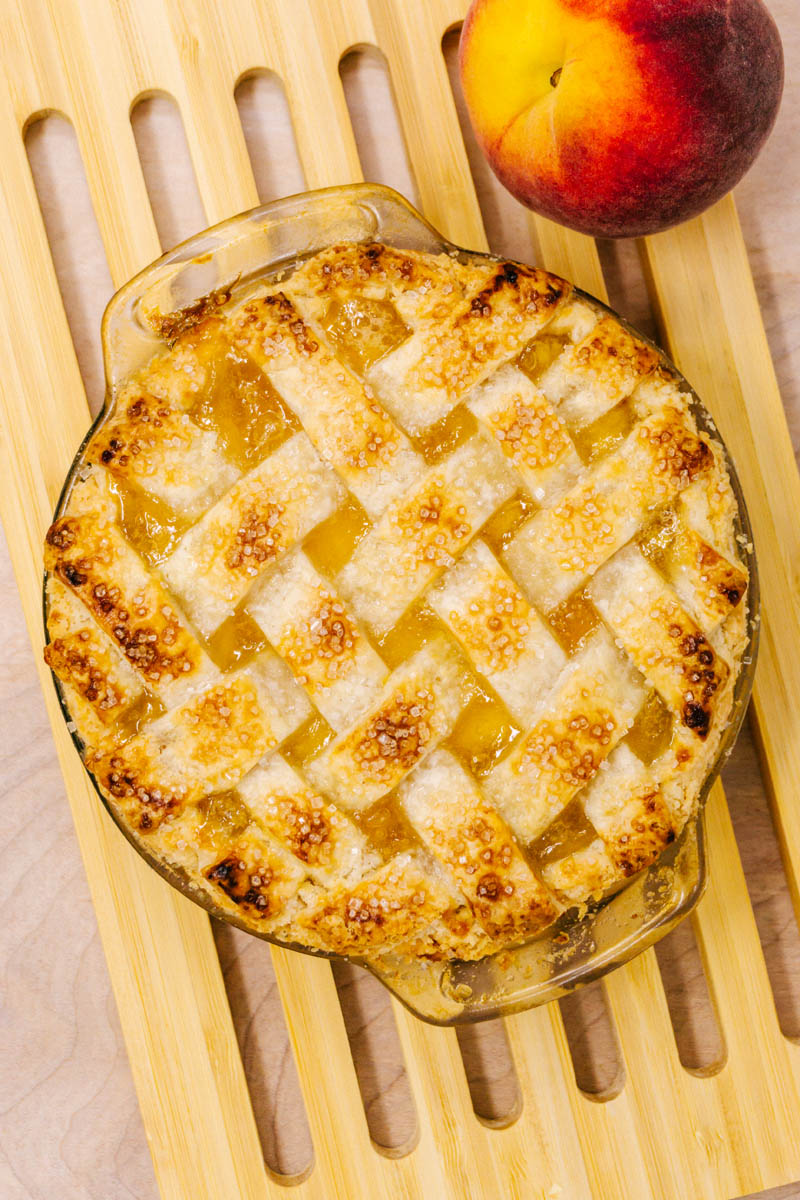 About the Perfect Peach Pie
Have you ever had a really good peach cobbler? You know, the kind made with height-of-summer peaches and the perfect balance of flavors. This Peach Pie was created to imitate the flavors of a really good summer peach cobbler in pie form.
My research for this Peach Pie was the most fruitful when I stuck to studying recipes published by those who grew the fruit. Local peach growers and extension agencies from state and local agricultural departments seem to know what they're doing when it comes to local produce. Those recipes made the best pies– the kind you imagine coming out of your grandmother's kitchen!
I use my Best Pie Crust with this Peach Pie recipe. Pie fillings need a matching pie crust. Pie crusts are not all equal, and I believe that's why many pie crusts are left for the trash. This pie crust/peach filling combo is a guaranteed blue ribbon winner!
This Peach Pie is almost guaranteed to become your new go-to pie recipe, with its juicy ripe peach filling and perfectly paired tender, flaky crust. It took us just two days to polish off the whole pie!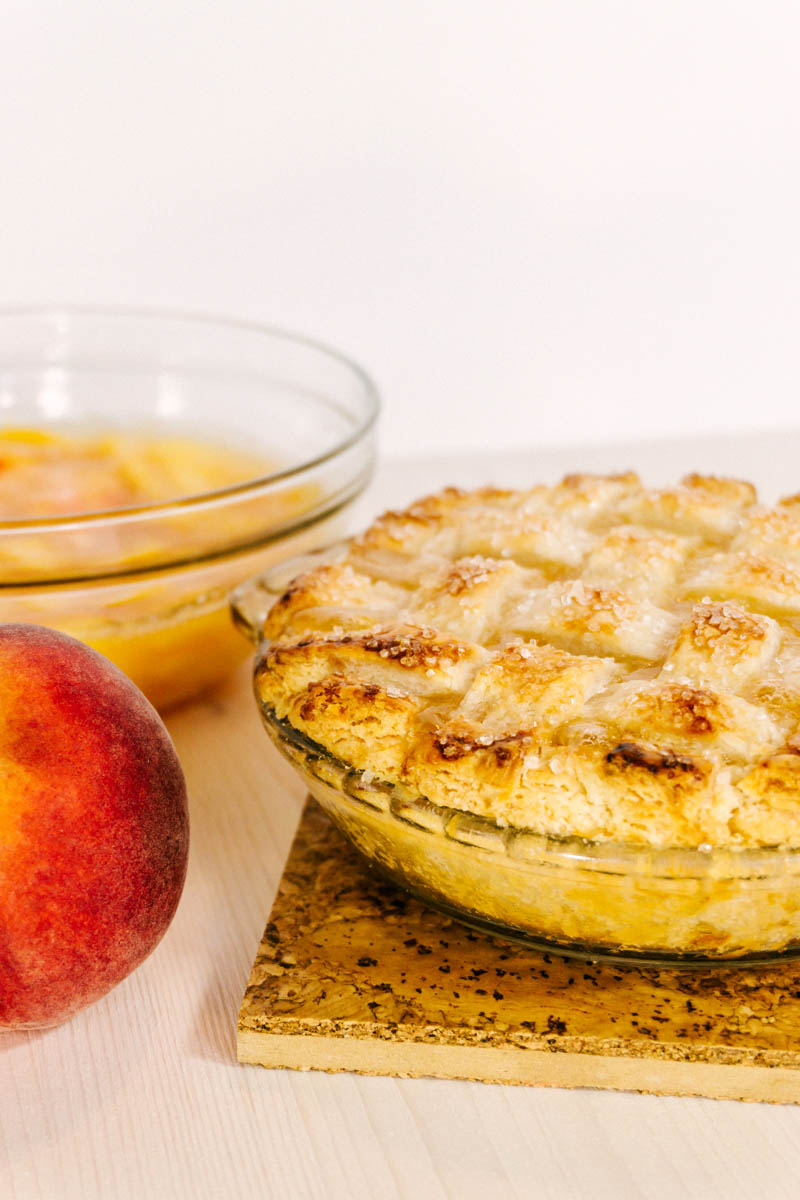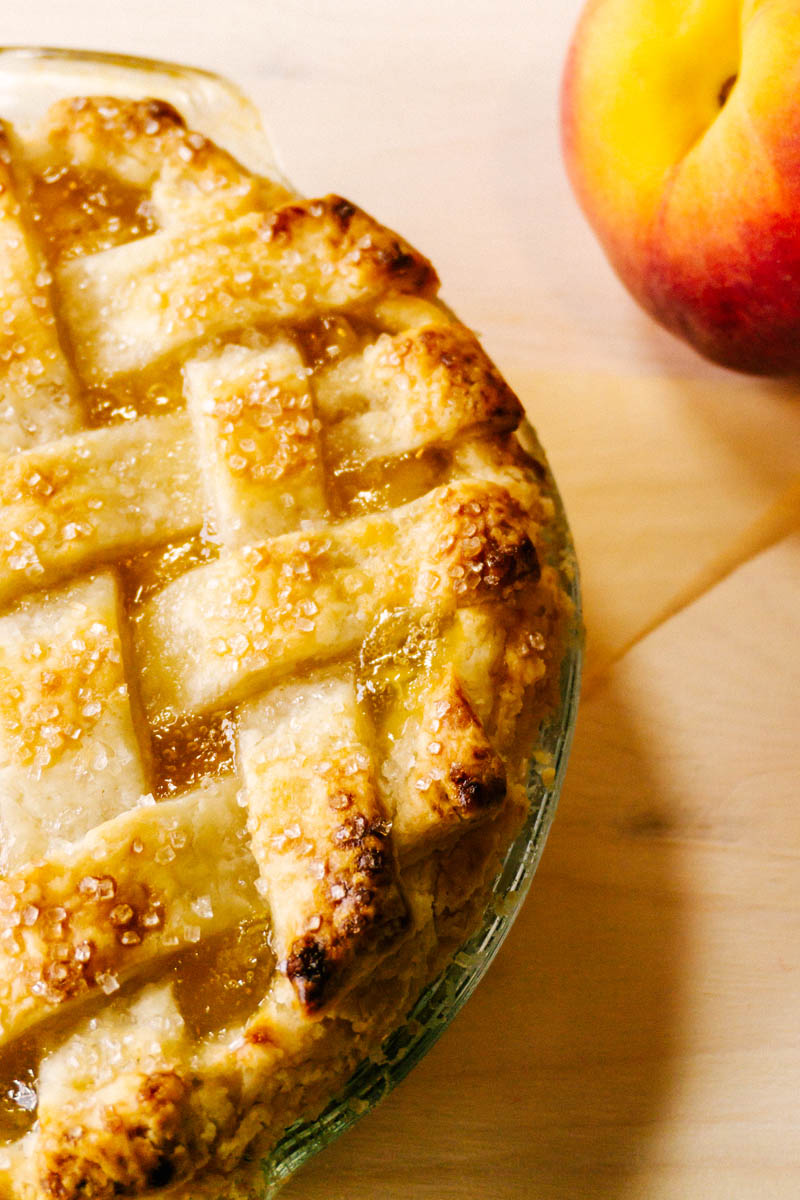 Important Ingredients
Butter – A little goes a long way in a pie crust to contribute to a delicious buttery flavor.
Peaches – I try to use all fresh peaches because they taste the best! If they aren't in season but available at the store, I buy a few and let them ripen on the counter. Then, I supplement with frozen peaches, or a mix of frozen, canned, or fresh. Frozen peaches often aren't as flavorful and may benefit from the optional cinnamon. If all you have are canned peaches drain them well and increase the cornstarch by 2 tsp.
Lemon Juice – Lemon juice brightens the peach flavor!
Almond Extract – A tiny bit of almond extract raises the bar in this Peach Pie, like a bit of vanilla does in the perfect Chocolate Chip Cookie.
Cinnamon – I don't usually use cinnamon in Peach Pie. It works best in Apple Pie but can be really helpful to amp up the flavor of frozen peaches. Use it if you like it!
Refined Coconut Oil – Refined Coconut Oil does not have a coconut smell. Make sure it is solid, not liquid, when you use it. It helps the crust to be flaky and light while letting the smell and taste of butter take center stage!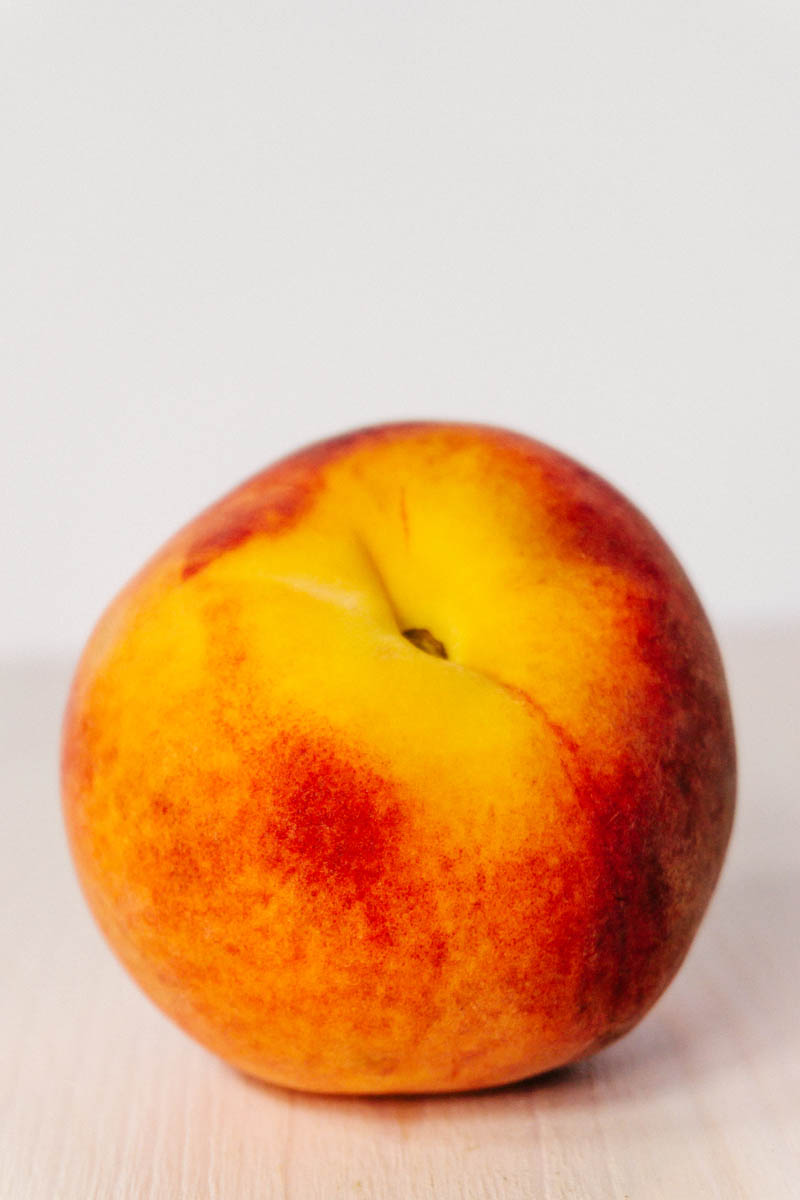 How to Make the Perfect Peach Pie
Making the Peach Filling:
Once you've peeled and sliced the peaches, you'll want to work quickly to make the filling so the peaches don't brown.
After the filling ingredients come to a boil, add the peaches and simmer until it thickens. You'll want to stir this gently but continually until it is done cooking.
Remove the peach filling from the heat and let it cool completely. Your pie crust will be easier to fill and work with the cooler the filling is. You can make it a few hours or even a day ahead of time.
Make the Pie Crust:
Make sure the butter and coconut oil are cold! Cut them into the dry ingredients with a pastry cutter until the bits of butter and oil are at least as small as peas. From this point, you'll want to mix the dough as little as possible. Coconut oil melts very easily so extra handling will create a tougher crust.
Add the liquids and then stir until the dough just starts to pull together. It's okay if it's a little shaggy and some bits of flour aren't mixed in. To make sure it has enough liquid, pinch a bit of dough in your hand. If it doesn't stick in a rough ball, add a bit more milk.
To roll the dough, I like to sandwich it between two pieces of wax paper. Start by rolling an "x" shape, then a "+" shape. Repeat until it is ⅛" thick and a little larger than your pie plate. The bits of flour should mix in during the rolling process.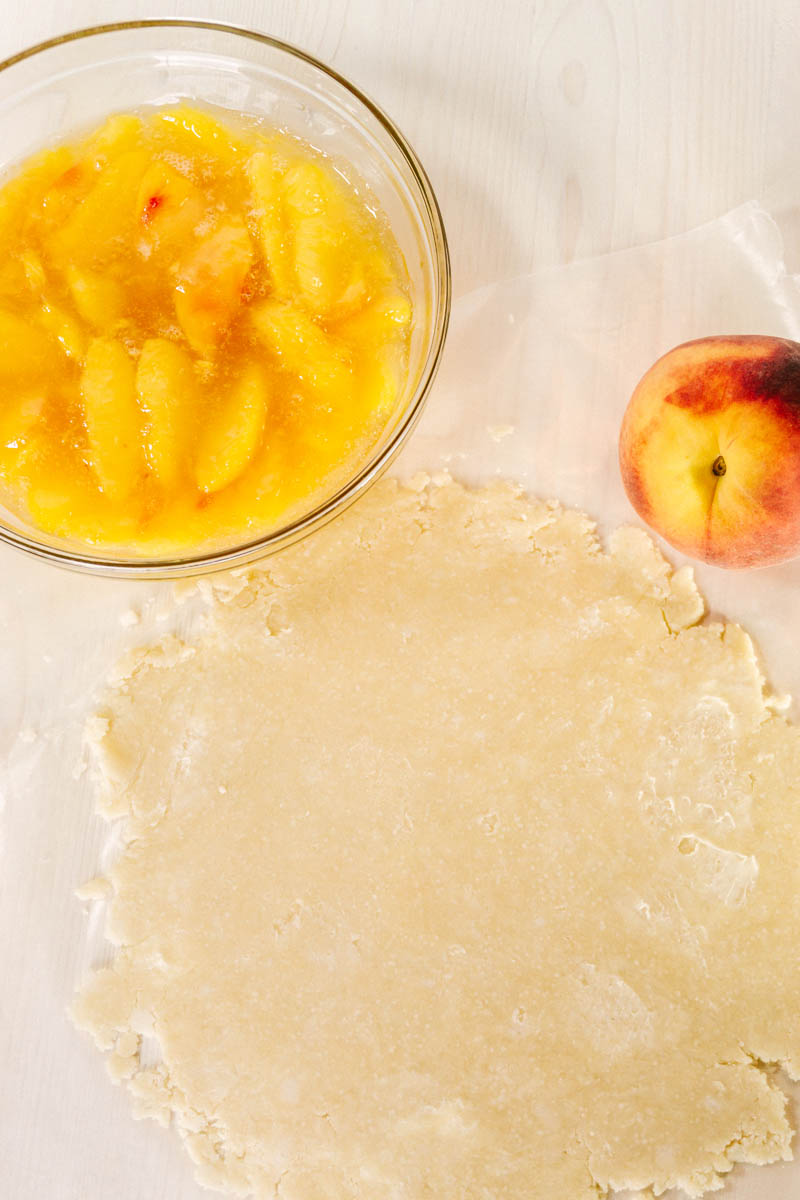 More Details on Assembly
Assembly is easiest if your peach filling is completely cooled first. If it is still slightly warm, the top crust may be difficult to adjust and the pie may bake a little quicker.
You don't have to do a lattice on top of this pie but it is so pretty with the bright yellow peaches peeking out! Add a simple egg wash and some turbinado or sparkling sugar and your Peach Pie will be beautiful no matter what.
Peach Pie screams summer and happy picnics. It also sends off secret signals year-round when you walk by it cooling on the counter that scream, "Please eat me!"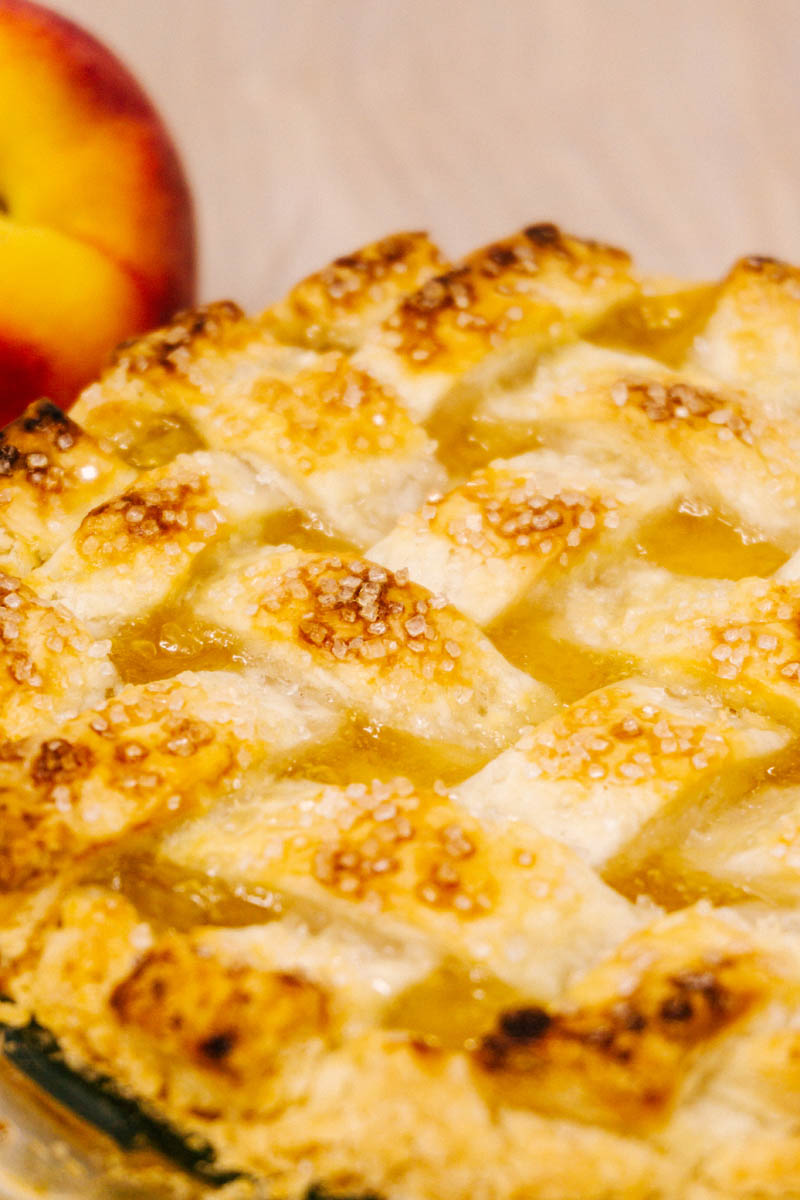 Looking for more delicious fruity recipes? Try these: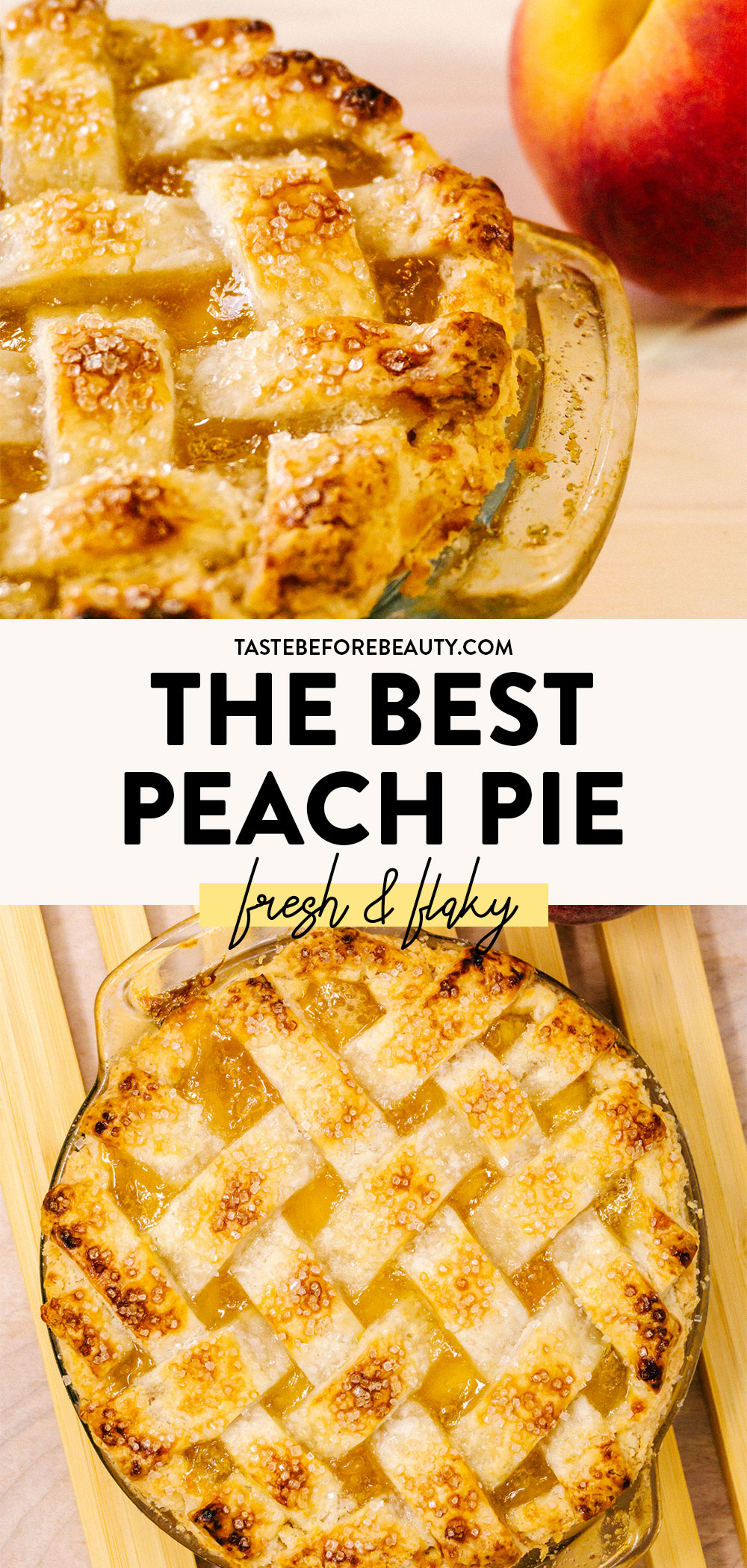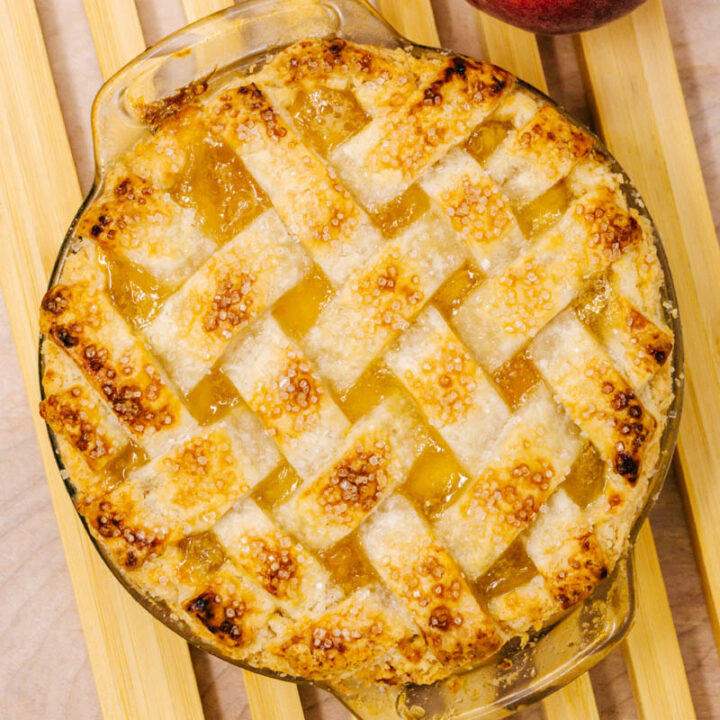 Peach Pie
Yield:
One (9-inch) pie, 8 servings
Total Time:
2 hours
10 minutes
Wow! With fresh, juicy peaches and the perfect flaky pie crust, this Peach Pie is absolutely everything you'd imagine it to be!
Ingredients
Peach Filling
3 ½ C (7-8 medium) fresh peaches, peeled and sliced
1 C (7 oz) white sugar
⅓ C (2.6 oz) water
3 T (0.7 oz) cornstarch
⅛ tsp almond extract
⅛ tsp cinnamon (optional)
2 T lemon juice
Best Pie Crust
½ C (3.5 oz) refined coconut oil, solid
7 T (3.5 oz) salted butter, cold
1 T sugar
1 tsp salt
2 ½ C minus 1 T (11 oz) all-purpose flour
1 T lemon juice
¼ C (2.2 oz) milk
Golden Sparkle Topping
1 egg yolk
1 tsp water
1 T turbinado or white sparkling sugar
Instructions
Make the Peach Pie Filling.
Peel and slice peaches.
In a pot, add sugar, water, cornstarch, almond extract, cinnamon (optional), and lemon juice. Whisk together then bring to a boil.
Once boiling, add peaches and simmer for 3 minutes until thickened, stirring gently the whole time.
Remove peaches from heat and set aside to cool completely. Can be made a few hours to a day in advance.
Make Best Pie Crust.
Mix flour, sugar, and salt. Using a pastry cutter, cut the solid refined coconut oil and butter into the flour mixture until pea-size bits or smaller.
Add lemon juice and milk. Stir together gently, until just combined. Some bits of flour will still be visible. Don't overmix. Pinch a piece of dough in your hand. If it doesn't form a misshapen ball, add 1 T more milk.
Divide dough in half. Place one half on a sheet of wax paper slightly larger than your pie plate. Place another sheet of wax paper over top. Use a rolling pin to start rolling the dough out in all directions. Roll dough out to ⅛ inch thick. This will finish mixing flour bits in without overworking dough.
Repeat with second half of dough.
Assemble the Pie.
Preheat oven to 425*F.
Remove top wax paper from one of the dough circles. Carefully turn rolled-out dough into pie plate. Gently remove second piece of wax paper. Trim crust to 1-inch wider than pie plate with a pair of scissors.
Add cooled peach filling to unbaked pie shell.
Remove the wax paper from the second dough circle. Place it on top of the filling or cut into strips and create a lattice top. Trim edge to match the bottom crust. Crimp edges.
Brush top crust with an egg yolk mixed with 1 tsp of water and sprinkle with turbinado sugar or white sparkling sugar. If not using a lattice top crust, cut vent holes before baking.
Bake for 35-45 minutes until golden brown and edges and bottom of crust are baked. If top browns before the bottom is done, cover top loosely with foil. Remove from oven and cool on a cooling rack before serving.
Notes
Make sure to completely cool the peach filling before adding to the crust. If it is slightly warm when poured into the crust, it may bake slightly faster.
I prefer to use a glass pie plate. I can easily see if the underside is golden brown and fully baked. If the top browns before the sides are done, lay a piece of foil over the top until the rest of the pie is done.