Tart, fresh cranberries nestled in a simple vanilla cake base and topped with a light, sweet cream frosting. It's easy as cake!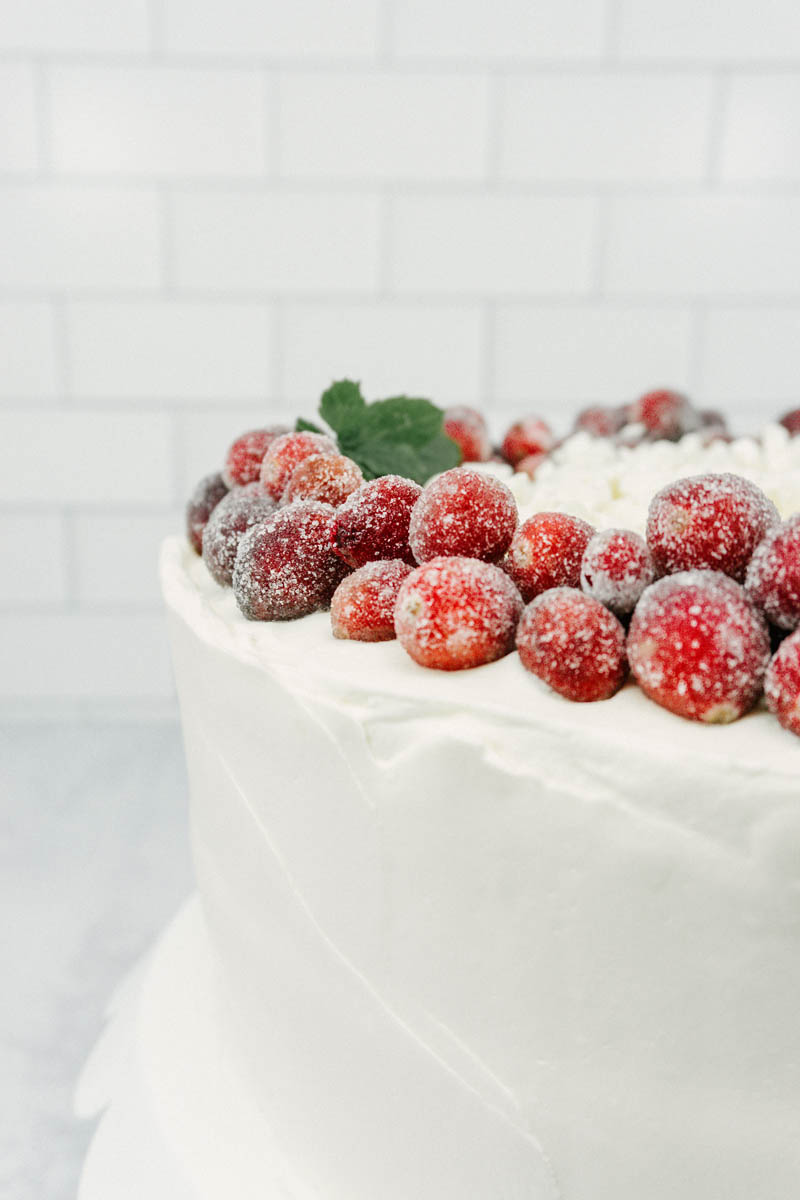 Fresh cranberries are on every endcap at the grocery store right now. Adding them to a two-layer cake sounded like a great idea. The fresh cranberries create a beautiful tart, red layer without the work of making a jam. This Tart Cranberry Cake is a bright, light tasting contrast to all of the rich holiday foods so common to this time of year.
Finding the Perfect Vanilla Cake
Much of my summer was spent in the kitchen testing French vanilla cake. Who knew how difficult it could be? My counters have been covered with various cookbooks, print-outs of recipes, and plenty of flour. Creating the perfect Chocolate Chip Cookie took me 18 years. I'm beginning to think a basic French vanilla cake might also take the same amount of time.
So, I went back to the basics for this Tart Cranberry Cake. For years, a simple boxed cake mix, doctored up with buttermilk and instant pudding mix, was my shortcut to moist, flavorful cake. It bakes up with a fine crumb every time with no fuss.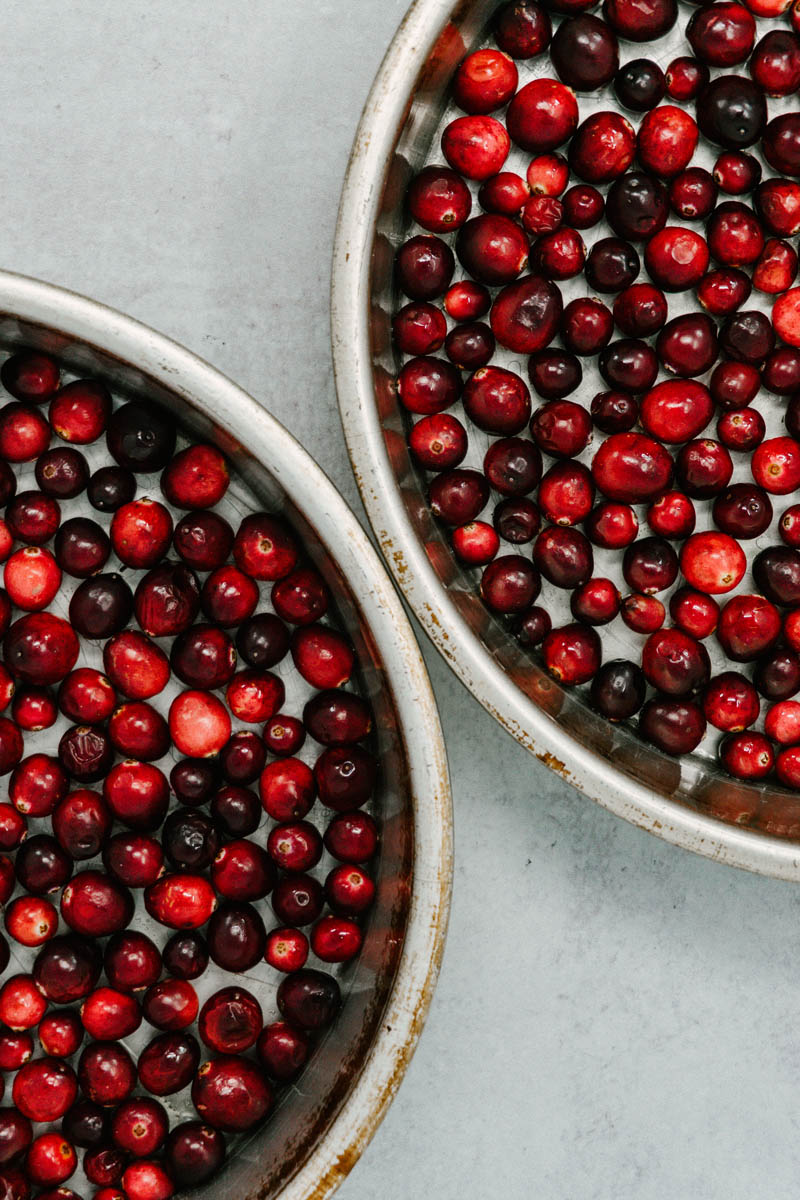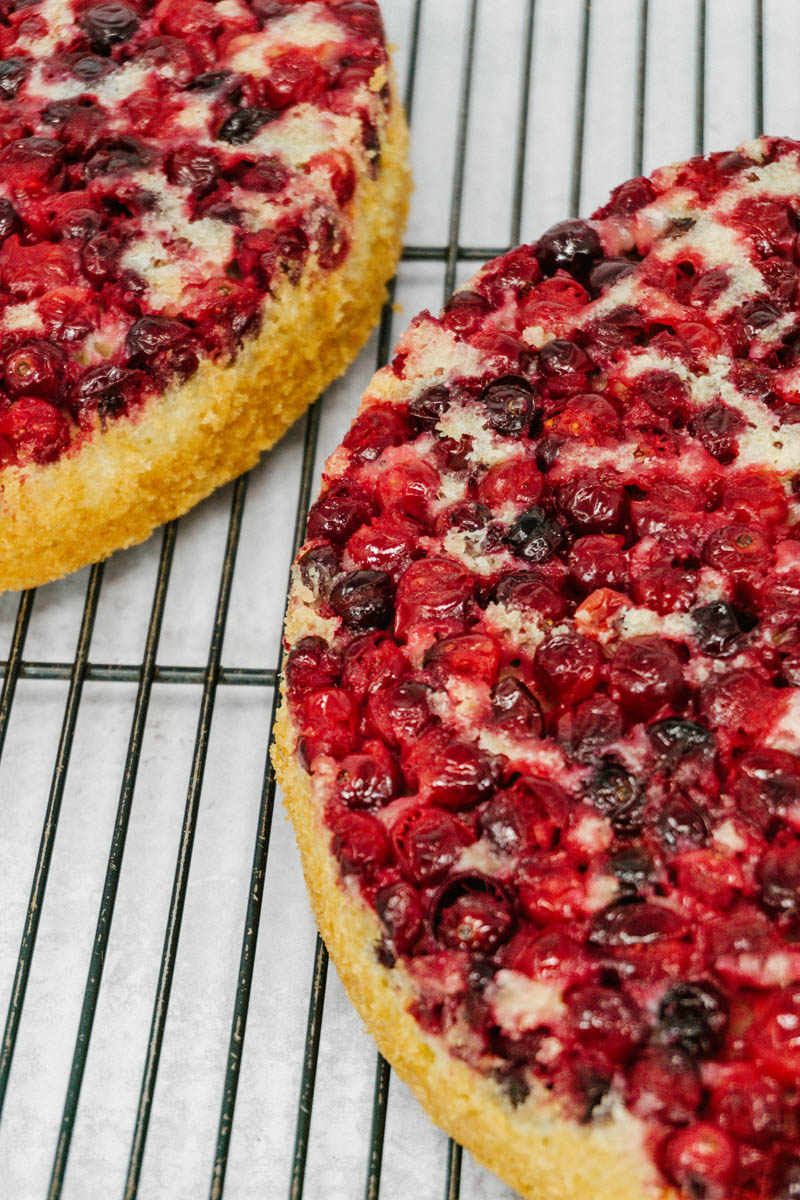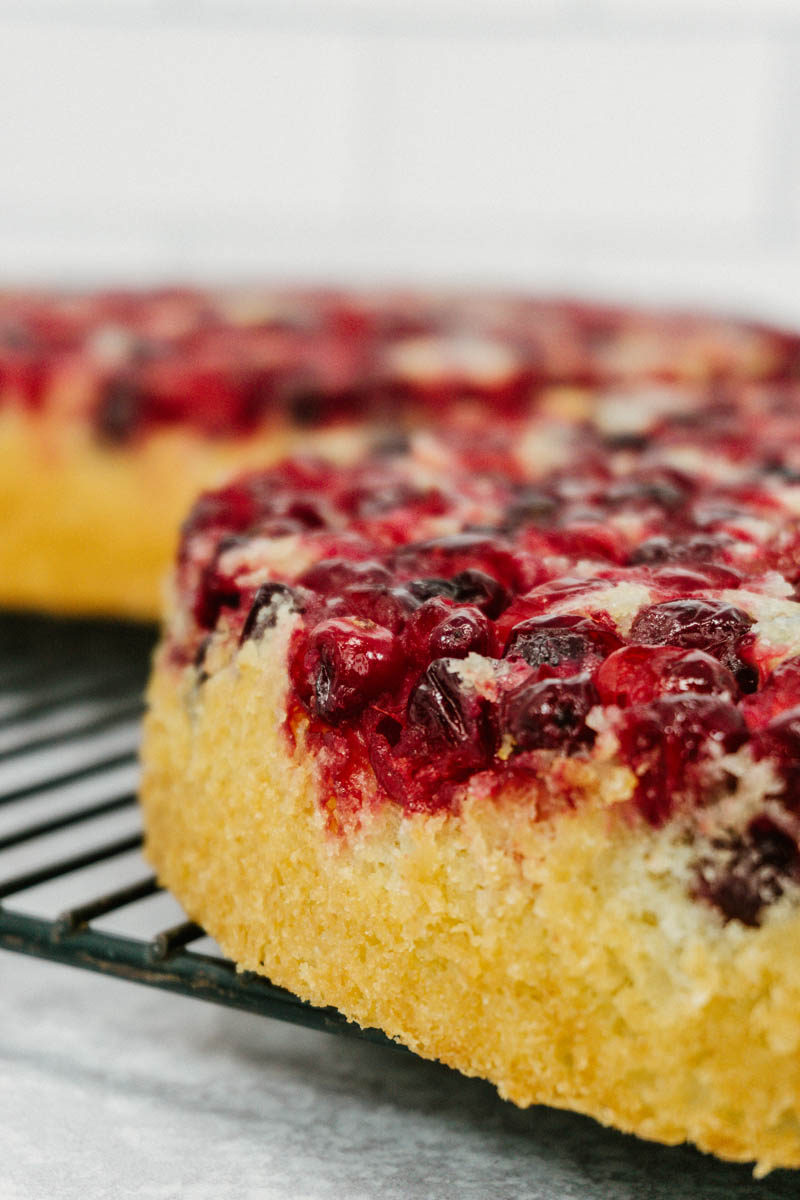 May Your Frosting Be Merry and Light
I contemplated using a Vanilla Buttercream Frosting for this cake but it added a level of richness that took away from the fresh cranberries. The cranberries are the highlight of this cake and needed to stay that way. Using my Cream Cheese Whipped Cream added to the lightness of this cake and added a subtle sweetness.
Making sugared cranberries is probably the easiest part of this recipe. Simply heat up corn syrup, coat the cranberries, and then roll in sugar. They will dry with a crunchy sugar coating and look like they took way more effort!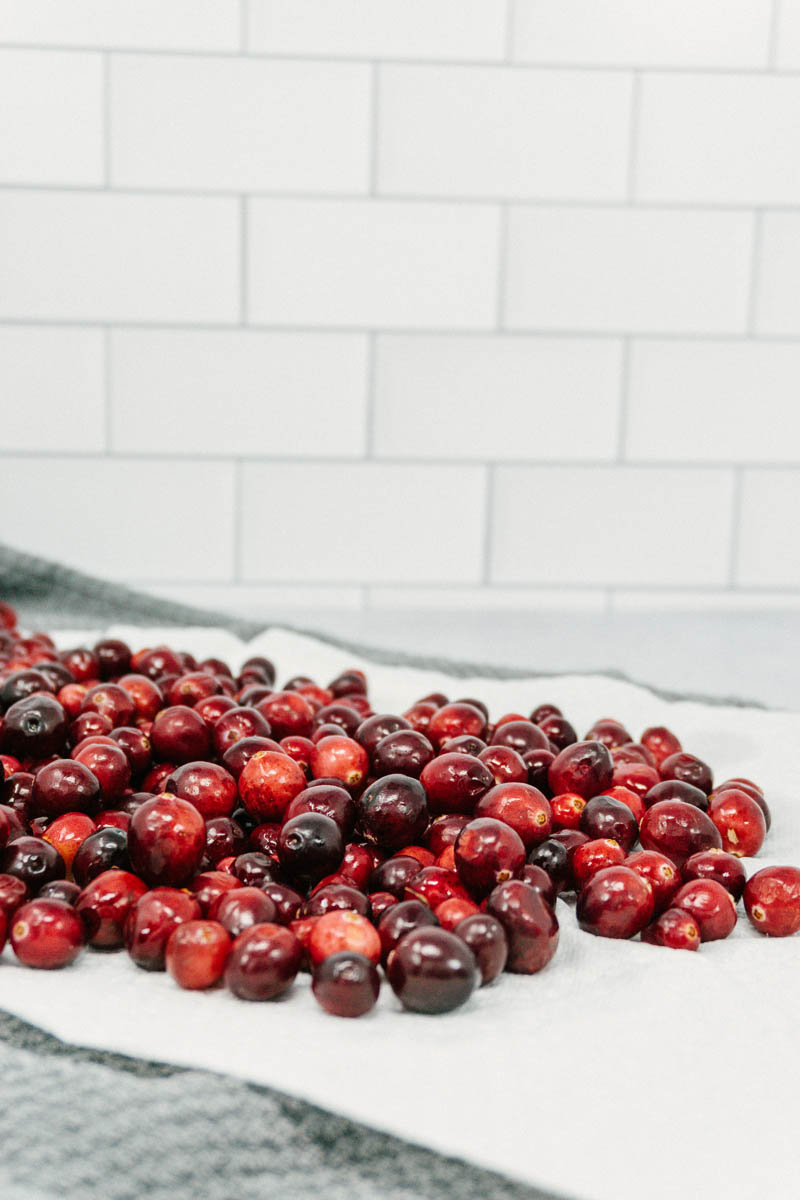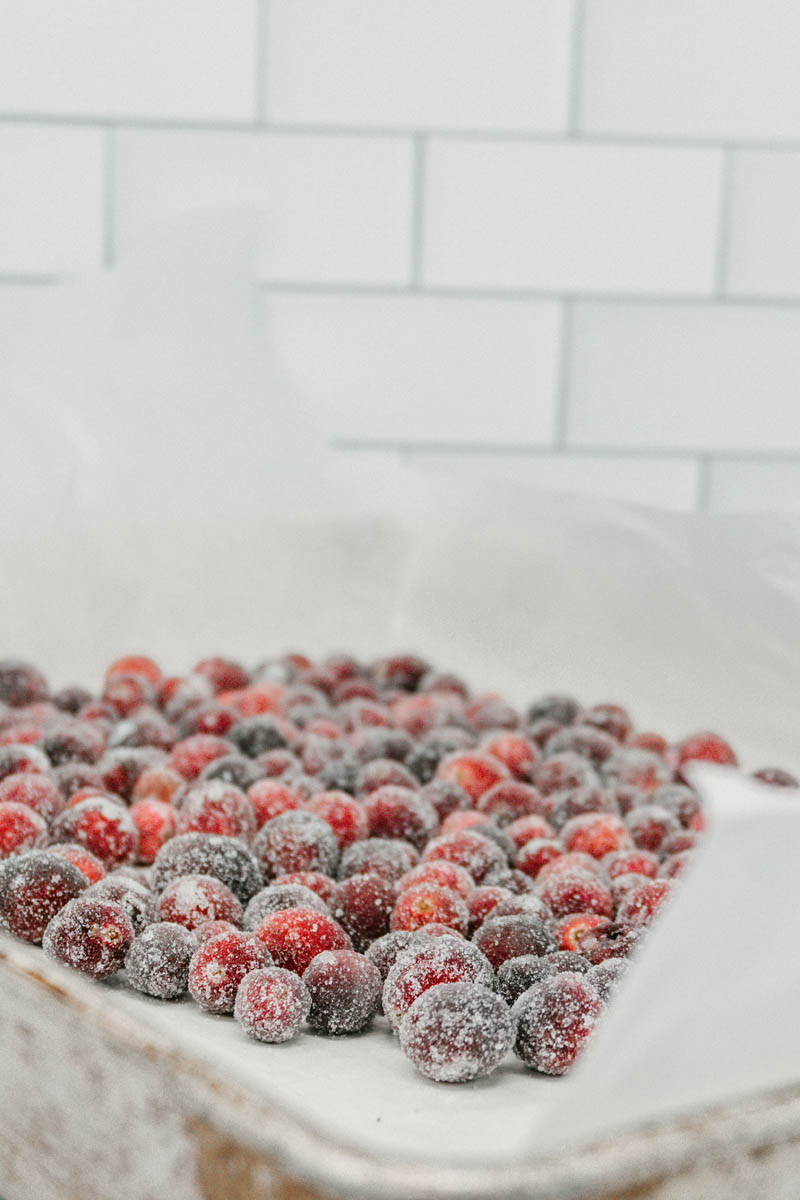 Sophisticated and Simple
Most of my desserts have been thoroughly tested for years. This one is a new creation. You'll have to let me know what you think. I did share it with a friend and got a text later that day saying, "I feel like my afternoon just got a whole lot more sophisticated."
Let us know if you feel the same way!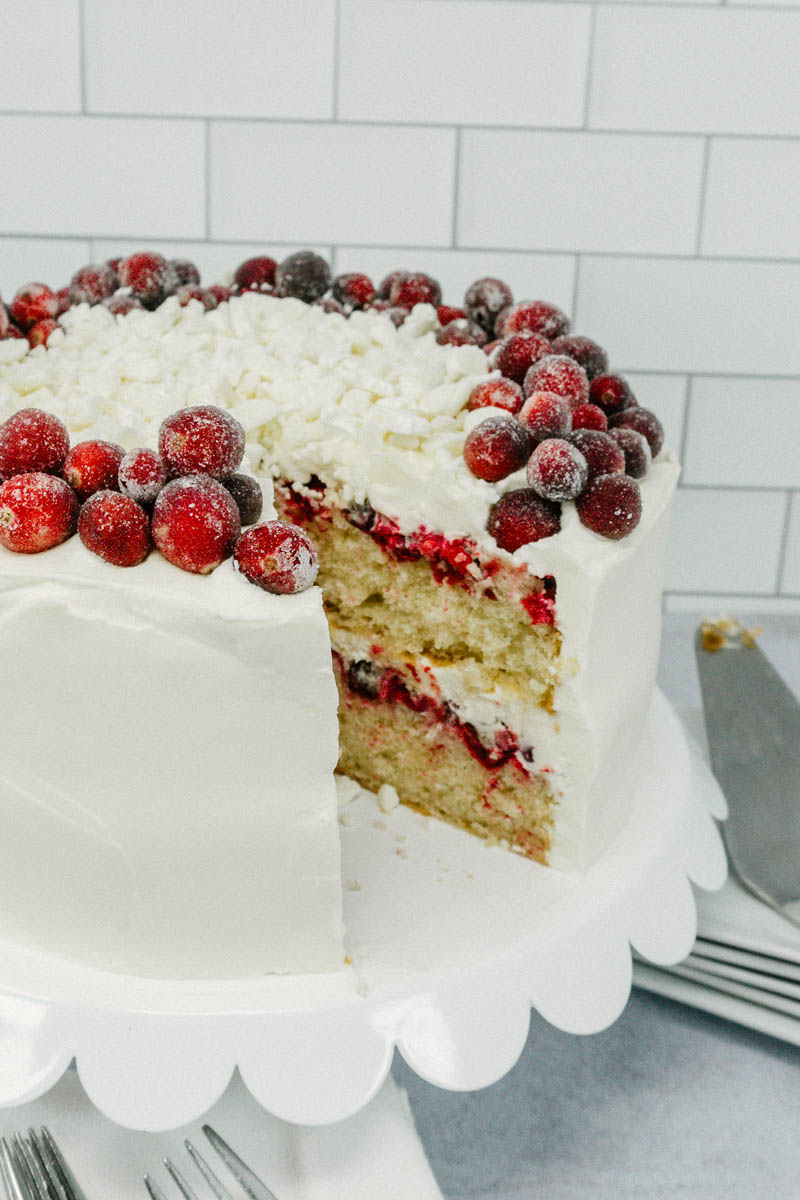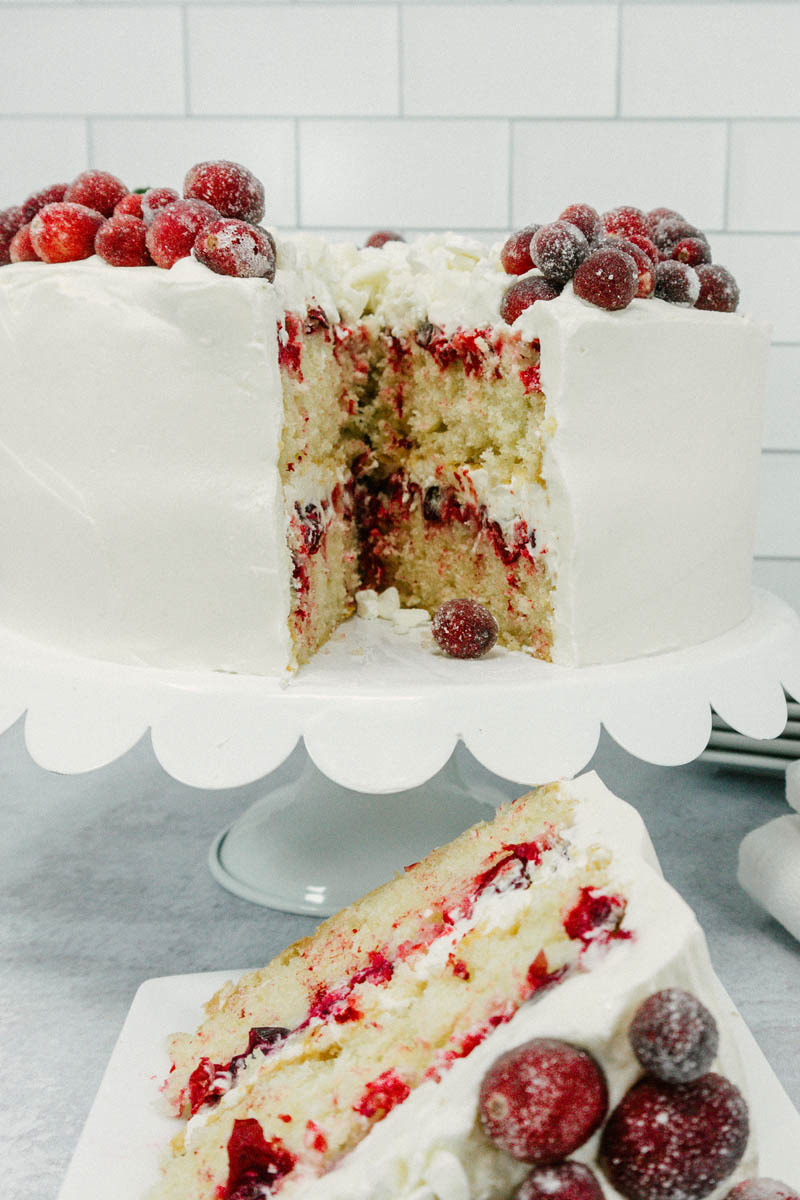 Products I Love to Use When Making the Tart Cranberry Cake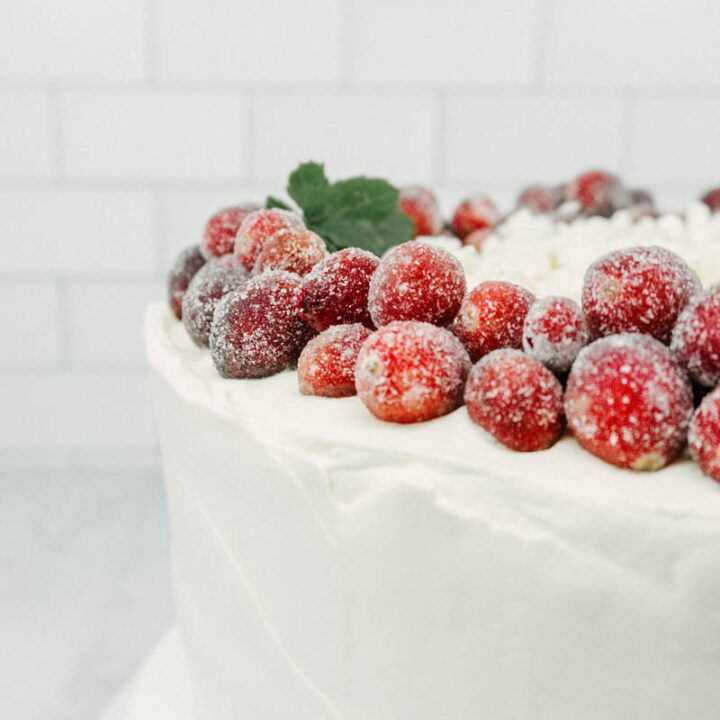 Tart Cranberry Cake
Prep Time:
1 hour
5 minutes
Additional Time:
1 hour
40 minutes
Total Time:
3 hours
15 minutes
Tart, fresh cranberries are nestled in a simple vanilla cake base and topped with a light, sweet cream frosting. It's easy as cake!
Ingredients
Sugared Cranberries
3 T Corn Syrup
2 C (8 oz) fresh cranberries, rinsed and dried
¾ C (5.25 oz) superfine or regular white sugar
French Vanilla Cake
1 Duncan Hines French vanilla cake mix
1 (3.4 oz) box of instant vanilla pudding
4 large eggs
1 ¼ C (10 oz) buttermilk, or amount of liquid called for on back of box
½ C (3.5 oz) vegetable oil
4 C (16 oz) fresh cranberries, rinsed and dried
Cream Cheese Whipped Cream
Shattered White Chocolate
¾ C (4 oz) white chocolate wafers
Instructions
Make Sugared Cranberries.
Rinse and dry the cranberries.
Line a 9 x 13 pan with parchment paper. Pour half of the sugar into the bottom.
Place corn syrup in a medium-size bowl. Microwave just until the corn syrup is hot and begins to bubble. Immediately add the cranberries. Use a spatula to stir until coated.
Pour cranberries into prepared pan and press into a single layer on top of sugar. Sprinkle remaining sugar over berries. Shake pan until cranberries are completely coated in sugar.
Let dry for 1-2 hours before using.
Make the French Vanilla Cake.
Prepare two 9-inch round cake pans by spraying with non-stick spray, lining bottom with a circle of wax paper, then spraying with non-stick spray again.
Sift the cake mix and the pudding together. Add the eggs, buttermilk, and oil. Mix according to directions on the box.
Arrange 2 C (8 oz) of cranberries in a single layer in the bottom of each cake pan.
Divide batter equally between two pans. Spread gently over the cranberries, taking care not to stir them off of the bottom.
Bake for 30 minutes or until you can touch the center of the cake and it bounces back. Let cool in the pan for 5 minutes. Turn out onto wire cooling racks and carefully peel the wax paper. Cool completely.
Click here for the recipe.
Assemble the Cake & Garnish.
Place one layer of cake, cranberry side up, on a cake stand or plate.
Carefully frost with Cream Cheese Whipped Cream, then add the second cake layer, cranberry side up. Frost the top and sides of the cake.
To make Shattered White Chocolate, put white chocolate in a plastic freezer bag and hammer into small pieces.
Garnish cake with a crown of sugared cranberries and shattered white chocolate on top of the cake.
Store cake in the refrigerator once decorated. Can be at room temperature up to two hours before serving.
Pick Your Favorite Pin and Save It for Later!