Rich coconut cake surrounded by velvety smooth coconut cream frosting. This Sweet Coconut Cake is sophisticated enough for any special occasion but simple enough for a weekday bake.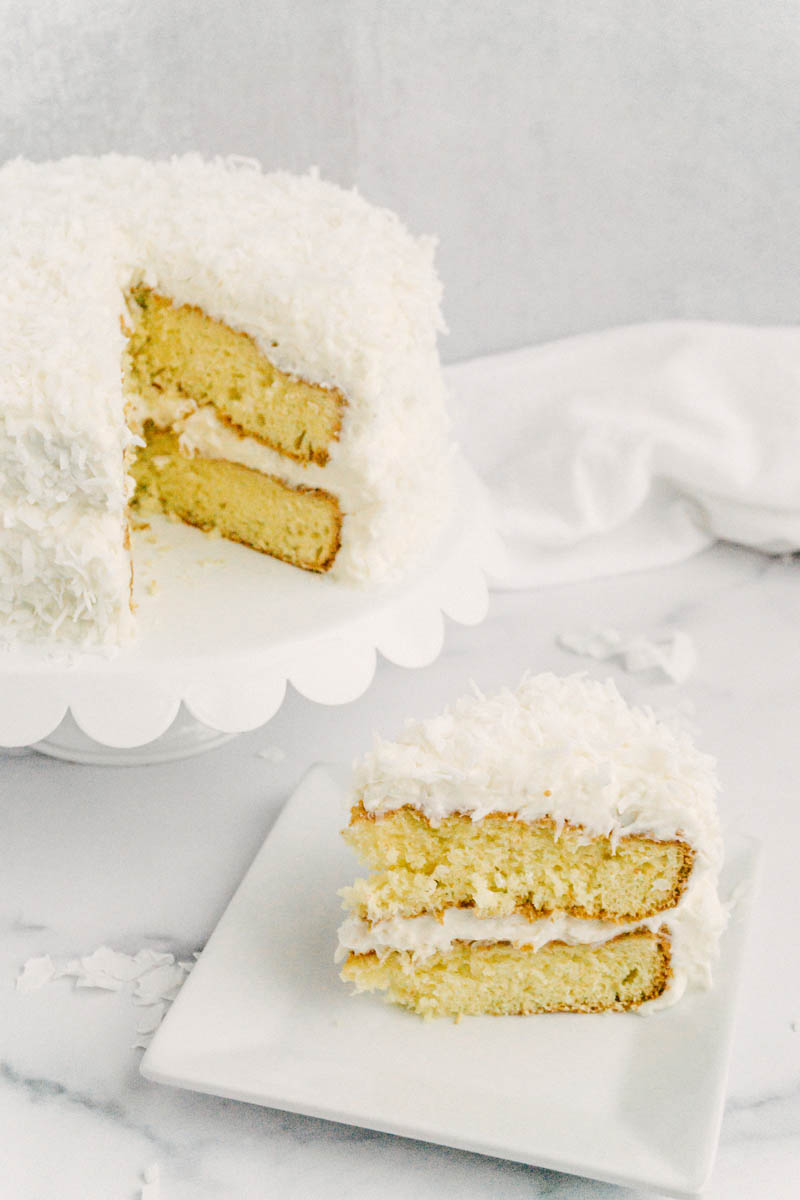 Vacation Vibes
Aidan and I took a trip to Charleston, SC for our one-year anniversary. We stayed at this cute little inn that had a fantastic restaurant downstairs. We had the best coconut cake I've ever tasted for dessert.
Missy served a similar cake at a women's church event 10 years ago. It received raving reviews but she hadn't made it since. When we started this website, I knew we needed to team up and combine our coconut cake experiences.
I crave that cake every year so it was inevitable that at some point I would either need to make a trip back to Charleston or learn how to make Coconut Cake on my own (or maybe both?).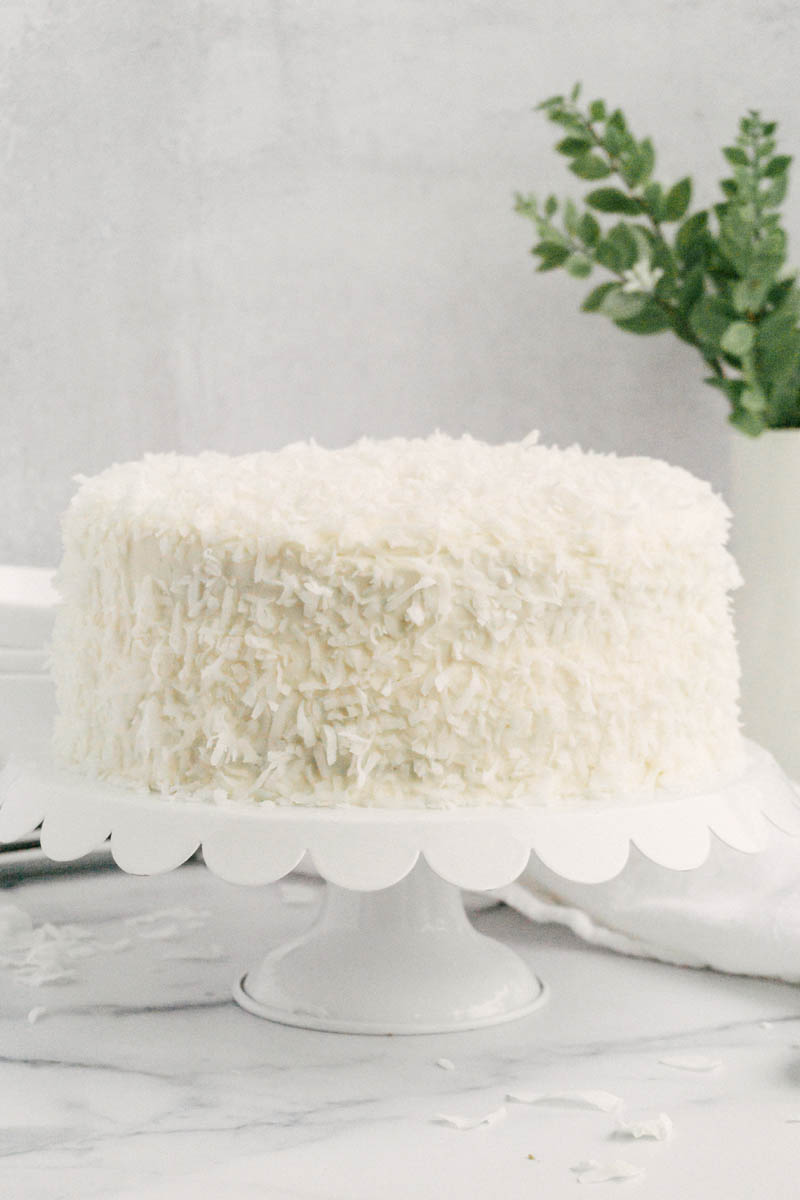 Coconut Cake Recipe Tips
Using a boxed white cake mix keeps this cake simple. I doctor it up by using whole eggs instead of the egg whites called for on the back of the box and by using full-fat coconut milk. The result is a delicious, moist, flavorful cake.
Originally, we planned on using boxed pudding mix for the Coconut Cream to keep this cake ultra simple. Unfortunately, either due to ongoing COVID-19 effects or decreasing demand, coconut pudding isn't carried in stores anymore. This gave Missy and me a chance to scheme in the kitchen and come up with a smooth, creamy homemade coconut pudding.
When you use canned coconut milk, run the can under warm water first before opening. This melts the coconut solids so they mix into a creamy liquid. When making the pudding, it is important to totally whisk in the cornstarch before turning on the heat. Otherwise, it can clump up and ruin your pudding (been there, done that).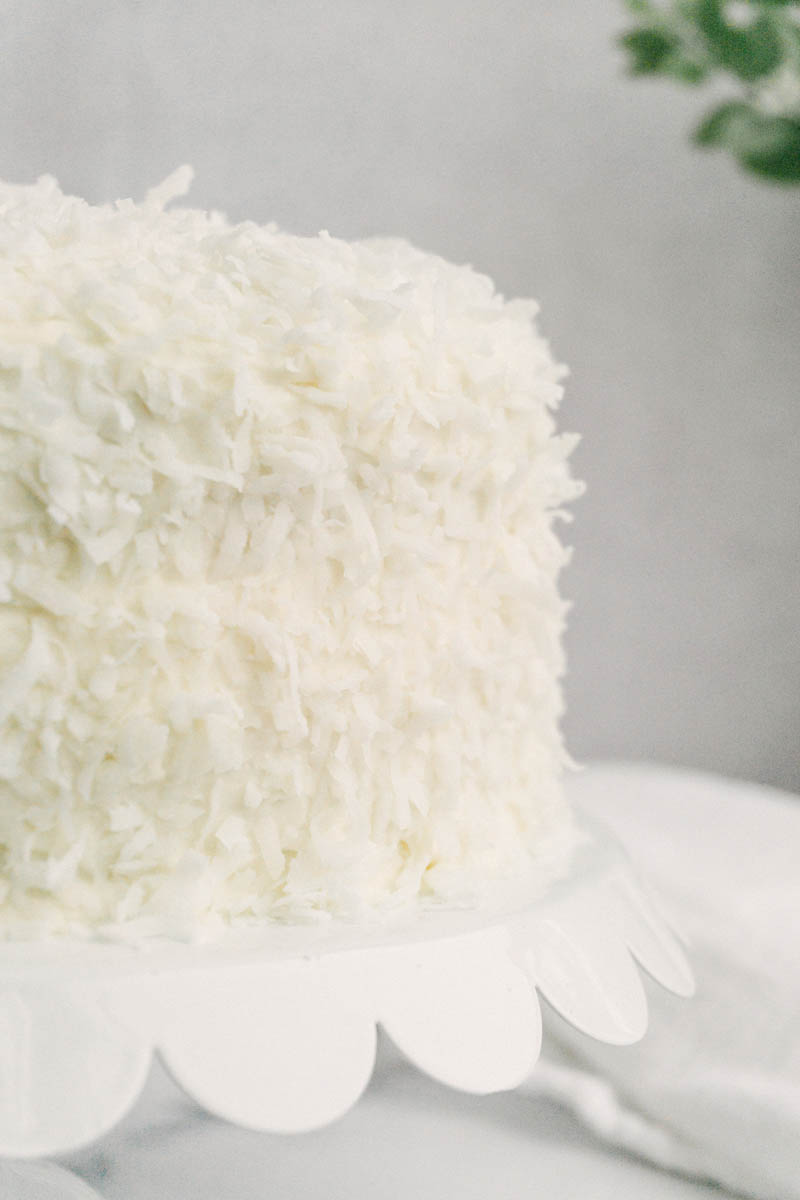 Assembling the Perfect Cake
When I assembled the cake, I placed the first cake layer upside down on a cake stand. Top it with a generous layer of coconut cream and as many coconut flakes as your heart desires. Then, add the second cake layer, also upside down to give a nice flat top. Coat the top and sides with the remaining coconut cream. Finish the cake off with more coconut flakes.
I only used about half of the amount of coconut called for, but you can use as much or as little as you'd like. You could also try toasting the coconut flakes before sprinkling them on the cake.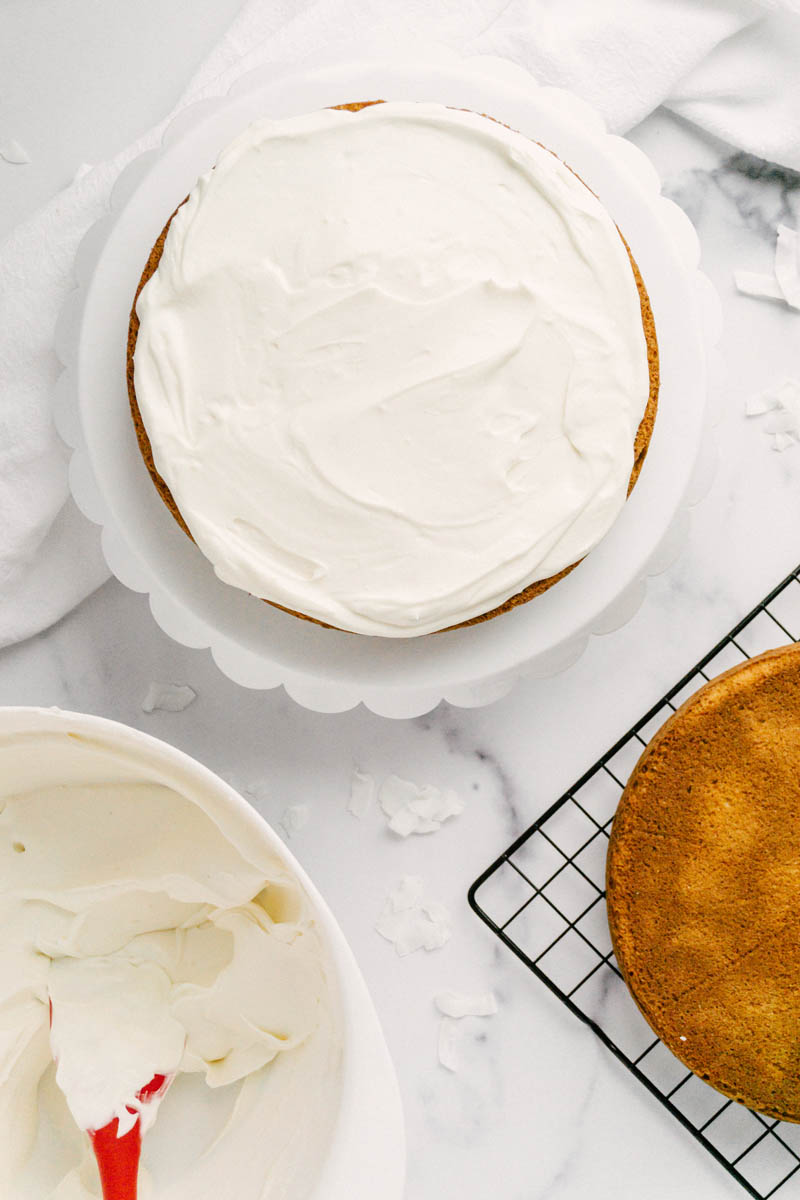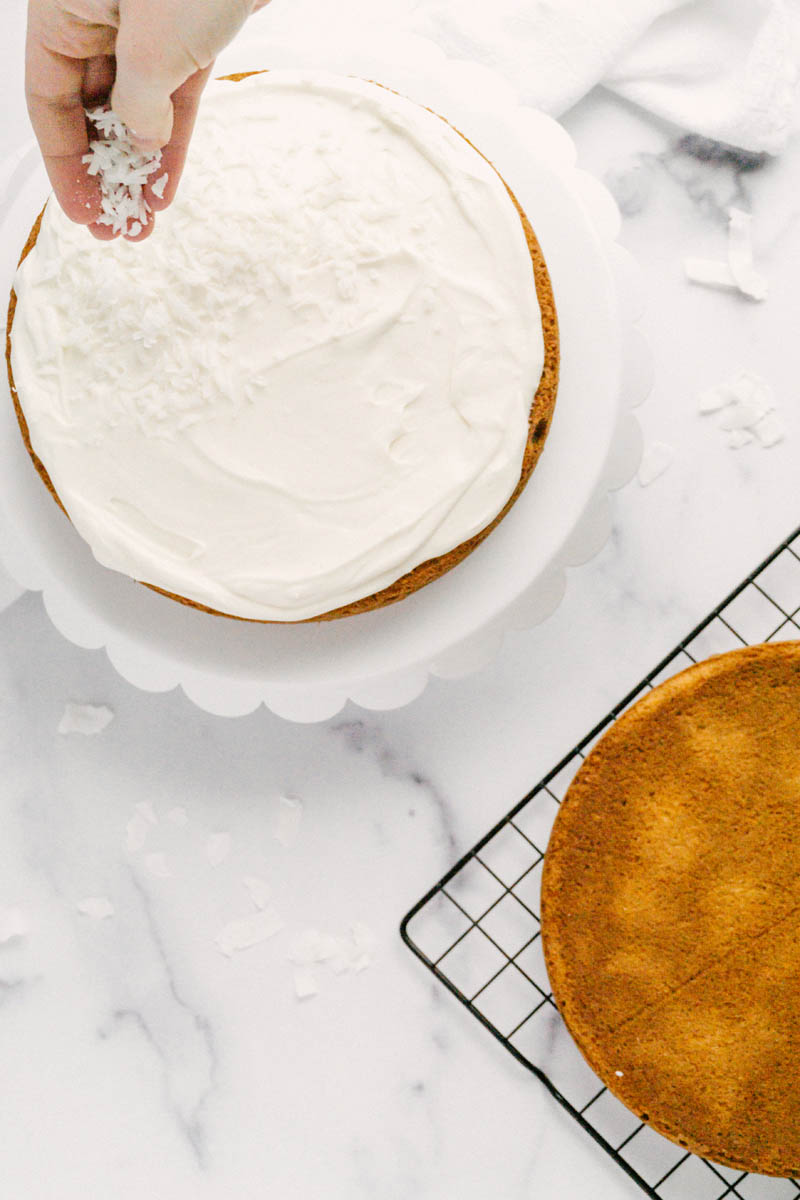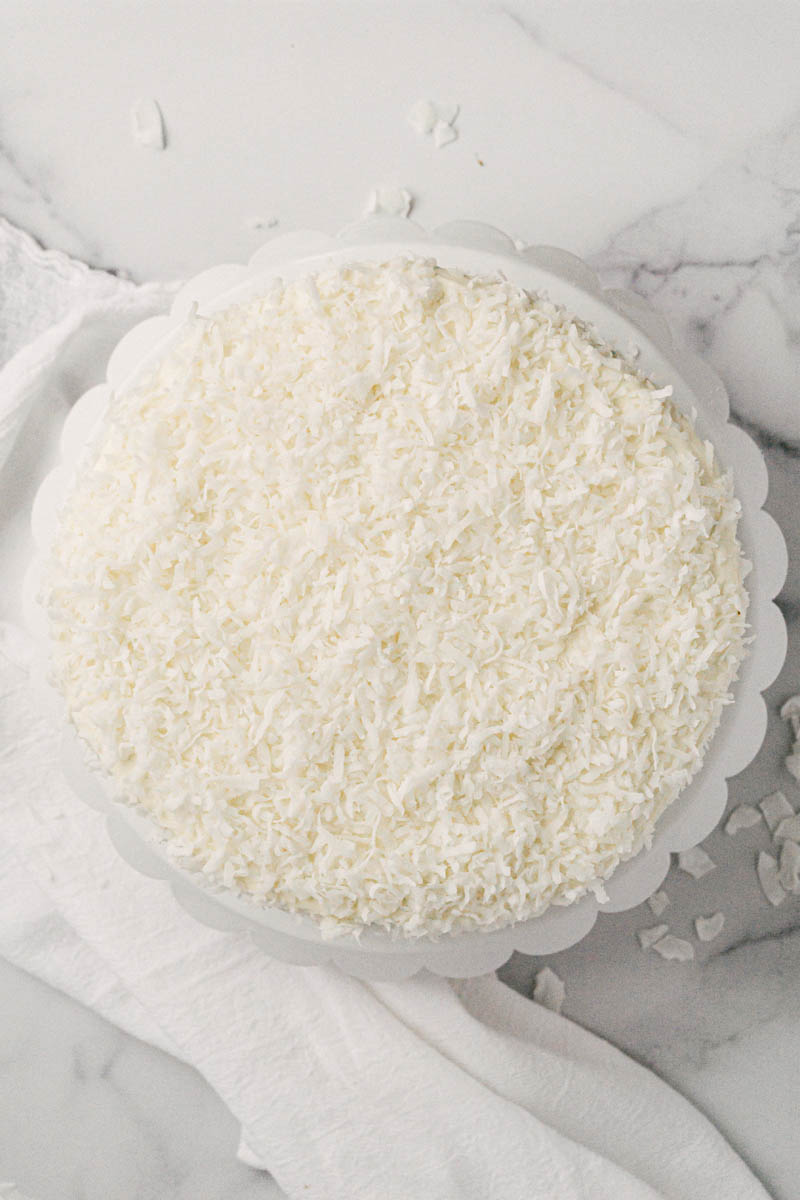 I hope you love this Sweet Coconut Cake. It brings sunshine to any gray day and is super simple to pull together. If you're in a coconut mood, try our Coconut Lime shortbread! Leave a comment letting me know how it goes for you and leave a review so others know, too!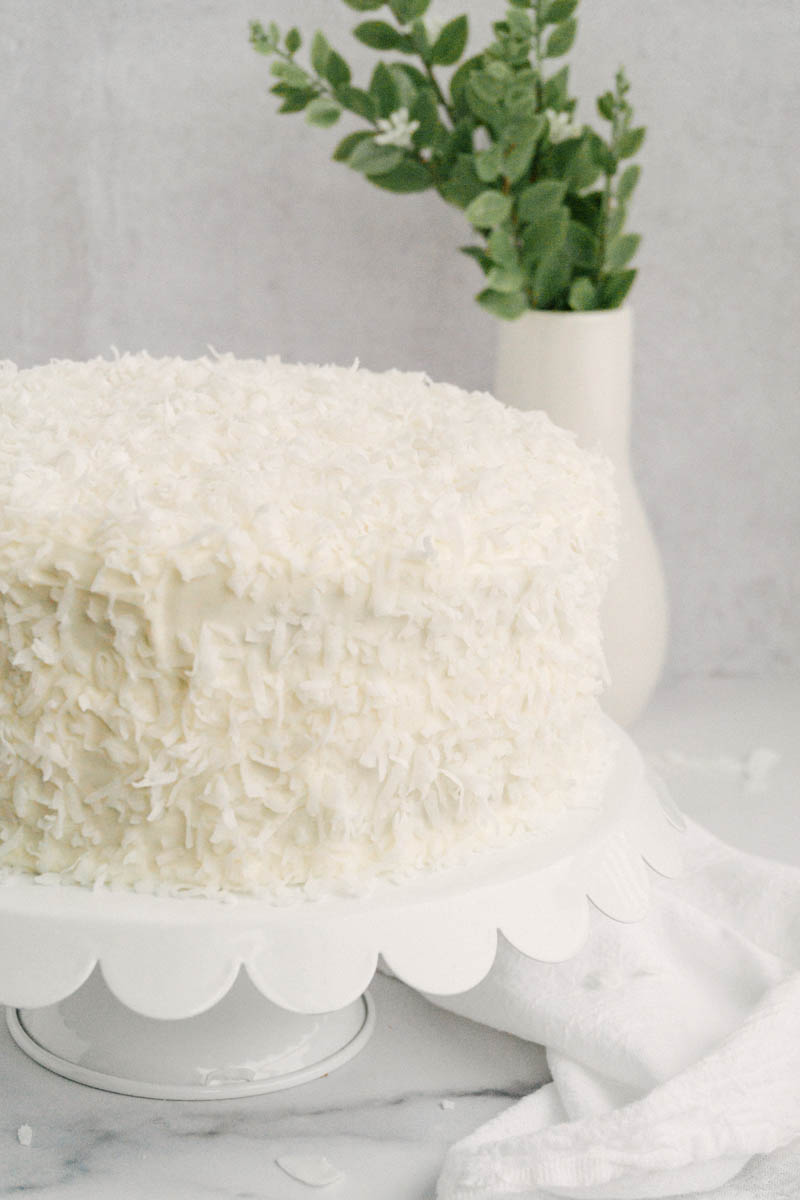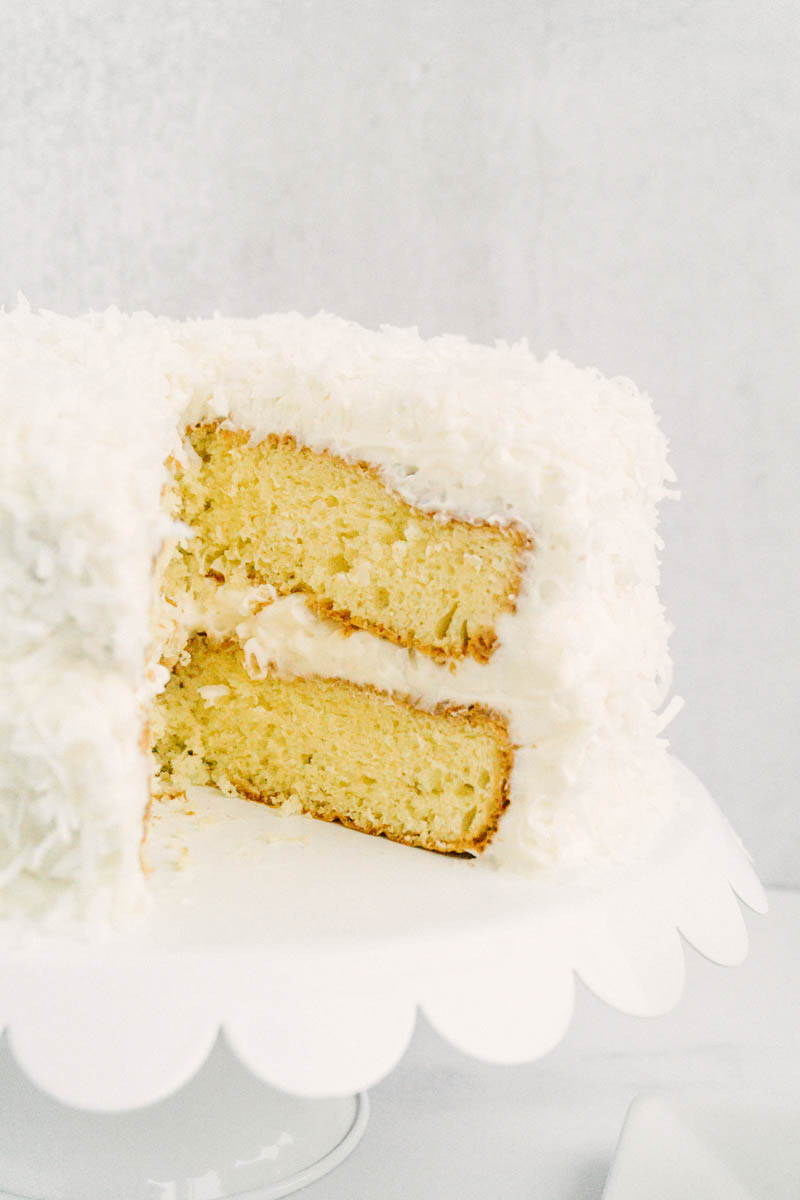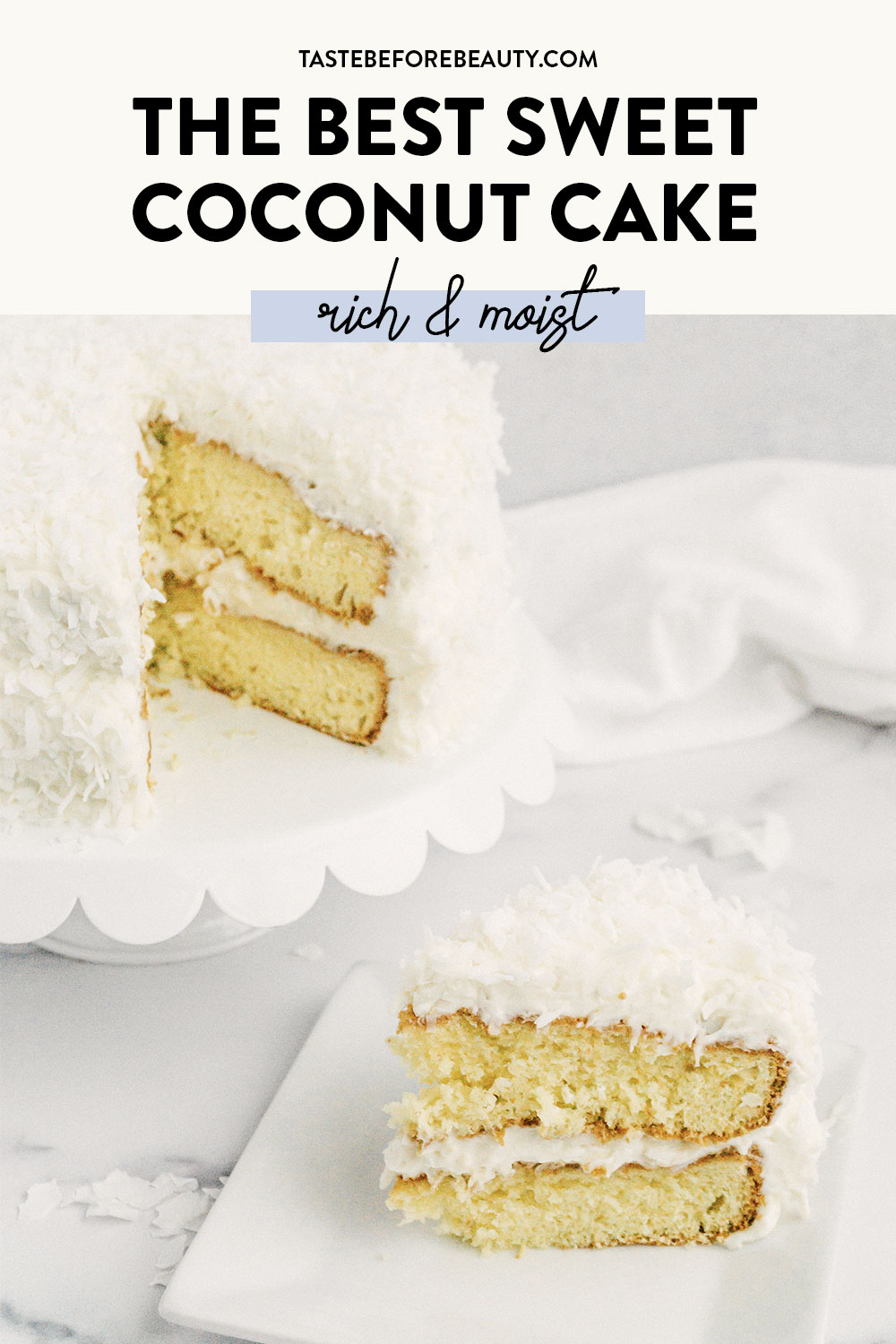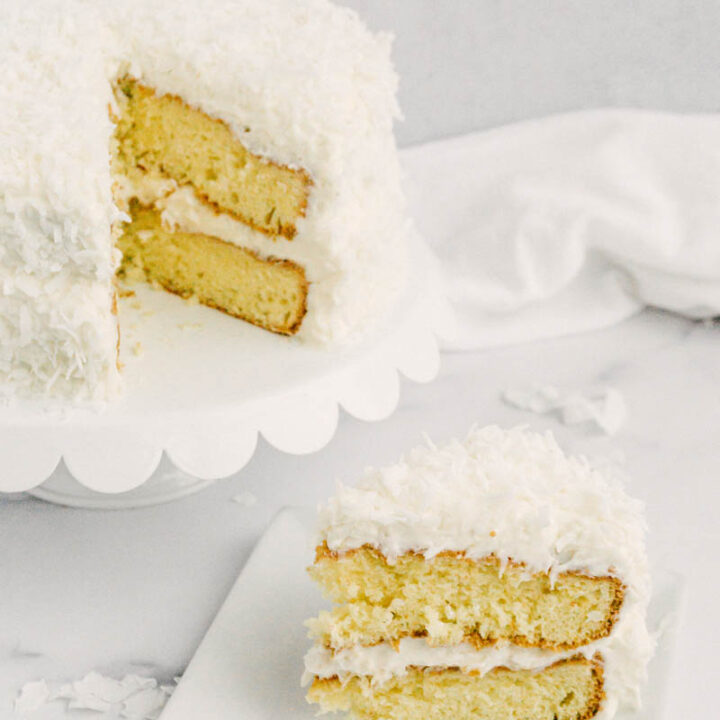 Sweet Coconut Cake
Yield:
one 2-layer cake, 16 servings
Total Time:
4 hours
25 minutes
Rich coconut cake surrounded by velvety smooth coconut cream. This Sweet Coconut Cake is sophisticated enough for any special occasion but simple enough for a weekday bake.
Ingredients
Cake
1 box Duncan Hines white cake mix
1 (3.4 oz) package instant vanilla pudding
1 C (8 oz) full-fat coconut milk
3 eggs
¼ C (2 oz) vegetable oil
Coconut Pudding
1 C (8 oz) full fat coconut milk
¼ C + 1 ½ T (2.8 oz) granulated sugar
2 T cornstarch
⅛ tsp salt
1 egg yolk
1 T salted butter
1 tsp vanilla
Cream Cheese Whipped Cream
1 (8 oz) package cream cheese
½ C (3.5 oz) granulated sugar
1 tsp vanilla
1 ¾ C (14 oz) heavy cream
Topping
1 (14 oz) bag sweetened coconut flakes
Instructions
Make the Cake.
Preheat oven to 325*F.
Prepare two 9-inch round cake pans. Spray with non-stick spray. Line bottom with a circle of wax paper, then spray with non-stick spray again.
In a large mixing bowl, sift together cake mix and instant pudding mix. Add eggs, coconut milk, and vegetable oil. Using a hand mixer, mix for two minutes to combine.
Divide batter equally between two prepared pans.
Bake for 25 minutes, until middle of cake bounces back when touched. Let cool in the pan for 5 minutes then turn out onto wire cooling racks. Carefully peel the wax paper off and cool completely.
Make the Coconut Pudding.
In a small saucepan, mix coconut milk, sugar, cornstarch, salt, egg yolk, butter, and vanilla together. Whisk to combine. Then heat over medium.
Whisk continuously until mixture just starts to bubble. Remove from heat.
Place in a bowl and cover directly with plastic wrap to keep a skin from forming on top of pudding. Place in refrigerator and cool completely.
Make the Cream Cheese Whipped Cream.
Place cream cheese in a medium-sized mixing bowl. Use a hand mixer to beat cream cheese until completely smooth. Add sugar and vanilla and beat until smooth.
Scrape the bowl (don't skip!) then add heavy cream. Mix for a bit, then stop and scrape the bowl again. Repeat once or twice, then continue to beat until stiff peaks form.
Assemble the Coconut Cake.
To make the Coconut Cream, carefully combine the whipped Cream Cheese Whipped Cream with the completely cool Coconut Pudding.
Place the first cake layer on a plate or cake stand. Add a generous amount of Coconut Cream, then a layer of coconut flakes.
Place the second cake layer on top of the first. Cover the top and sides with the remaining Coconut Cream. Coat the top and sides with coconut flakes.
Store in the refrigerator. Take out 30 minutes before serving.
Notes
To mix coconut solids into the liquid, run unopened can under warm water for a few minutes then shake. 
No need to soften the cream cheese for the coconut cream. It will whip up faster when all the ingredients are cold.