The Kids Oatmeal Cookie, made from kids. I mean for kids! Have kids that hate oatmeal? They won't after introducing them to this cookie!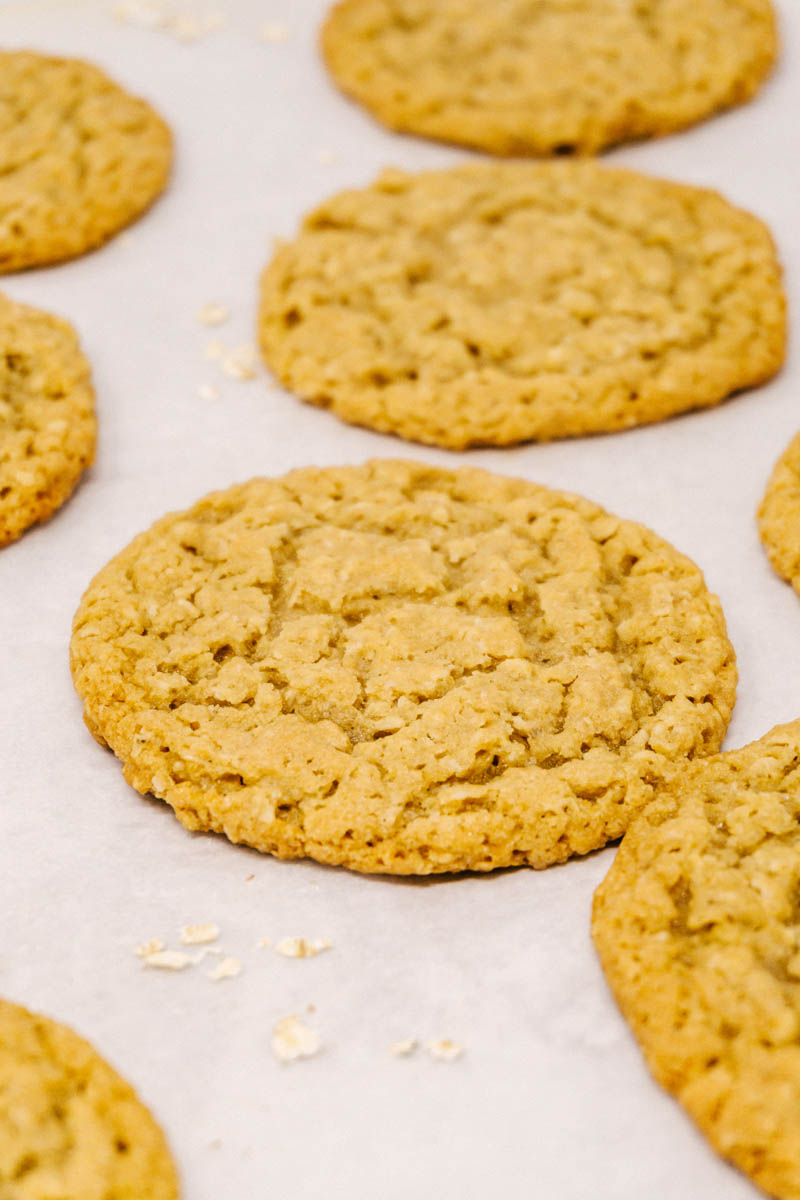 Convincing Kids to Appreciate Whole Grain Texture
When I made this cookie recently, I said to myself, "Why don't I make this way more often than I do!" I have many, many recipes I can make, and to say that about this cookie, says something.
It began when I couldn't get my kids to enjoy my Oatmeal Chocolate Chip Cookie made with old-fashioned rolled oats. At that stage, they didn't like oatmeal at all, even if it was dressed up like a chocolate chip cookie.
I thought fiber would be good for them either way. It was still a texture issue, so I had to figure out how to hide the oatmeal somewhat and make a softer, chewy cookie so it would be tempting to take another bite. Using quick cooking oats creates a softer cookie that helped my kids learn to like the chewiness of oats in an Oatmeal Cookie.
This was my happy result! It's a cookie my husband walks by the counter and can't help but grab another. There is no waiting for chocolate chips to set up like in my favorite Chocolate Chip Cookie, or even having to roll it in sugar like Snickerdoodles and Gingersnaps. This is a fast, pretty cookie to make and package for trips, picnic lunches, beach parties, or bake sales. It freezes superbly and softens even more as it thaws.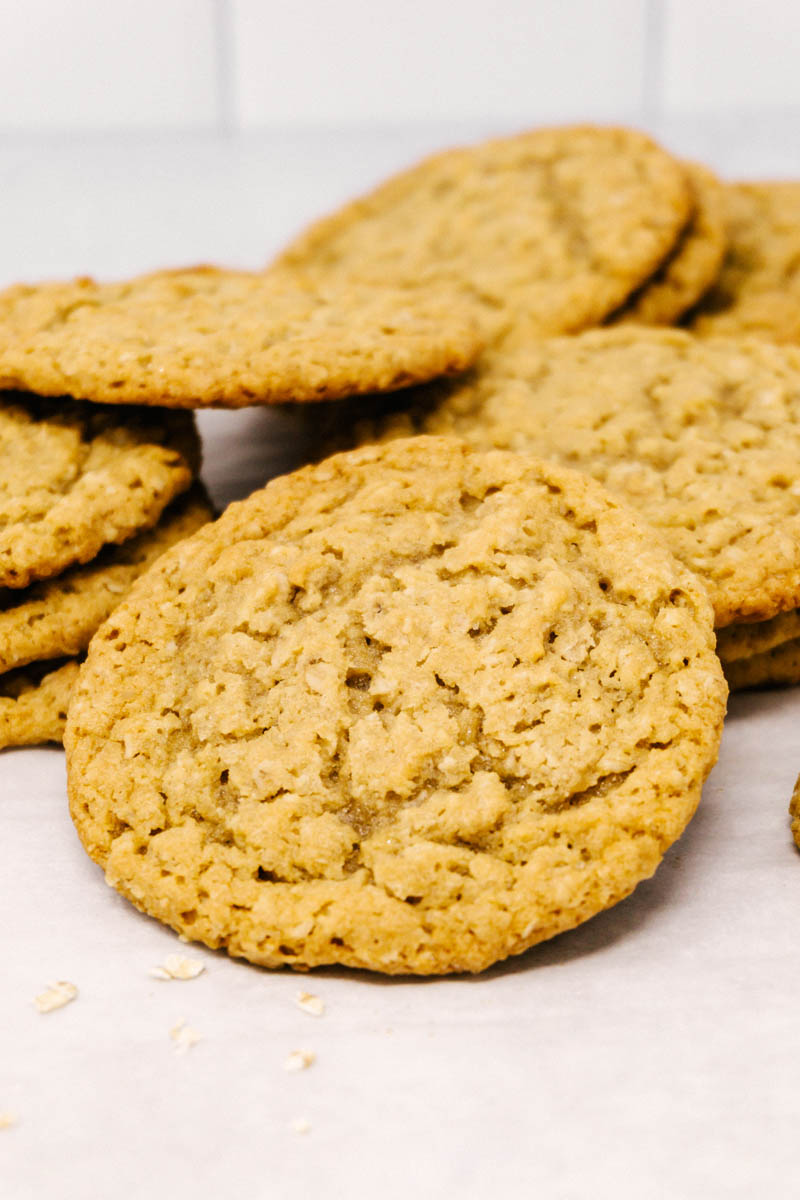 Recipe Ingredients
Quick Oats – Don't try to exchange these with regular oats. Quick oats give the cookie the best, soft texture.
All-Purpose Flour – Using all-purpose flour helps this cookie sneak into oatmeal hating mouths.
Brown Sugar – With a higher proportion of brown sugar in this recipe it gives the cookie its iconic flavor and chew.
Vanilla – helps to complement and round out all the flavors in the cookie.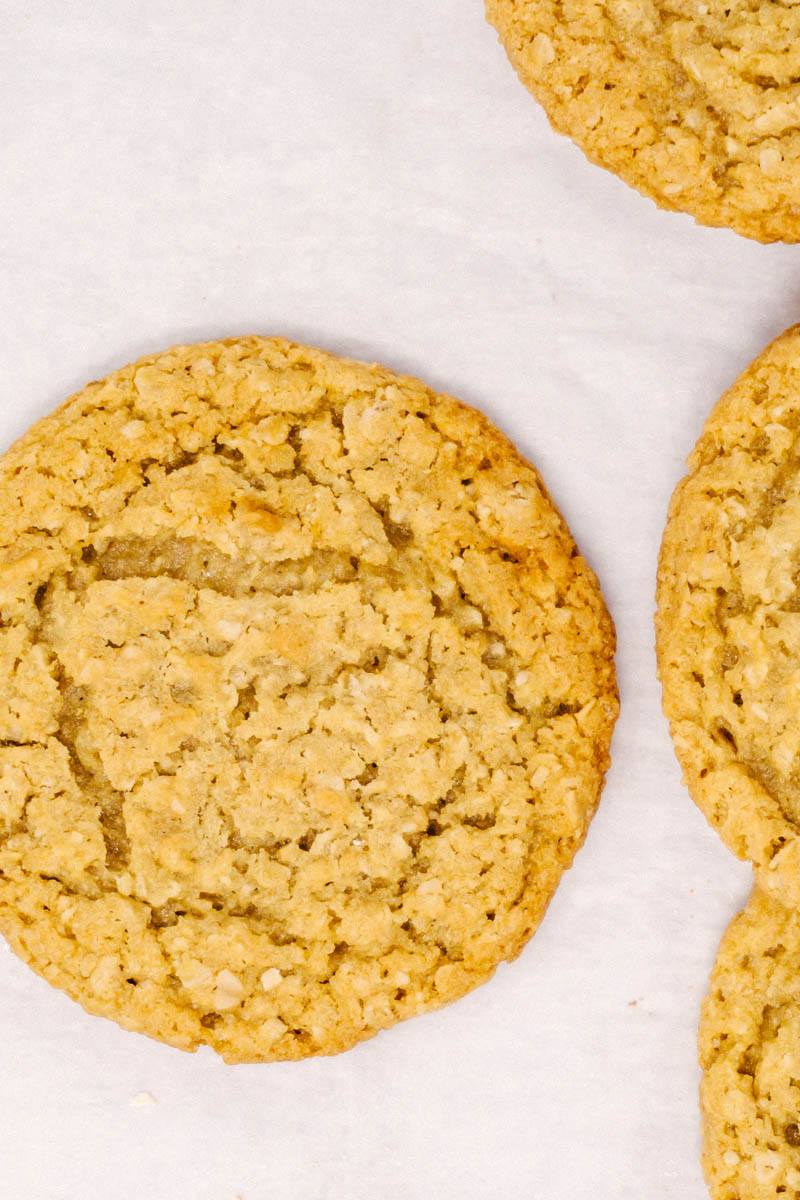 How to Make this Oatmeal Cookie
Start by creaming the butter, brown sugar, and white sugar. This helps add lightness to this Oatmeal Cookie. Then, add the eggs, water, and vanilla and mix until everything is combined.
Once you've added the dry ingredients, mix thoroughly. Make sure to scrape the bottom and sides to get everything mixed evenly.
Bake until the cookie is lightly browned. They only need to cool for a few minutes until they can be packaged for transport — or eaten!
This cookie was originally created to help my kids learn to like oatmeal, but after all these years it's still one of my favorites as an adult. Enjoy!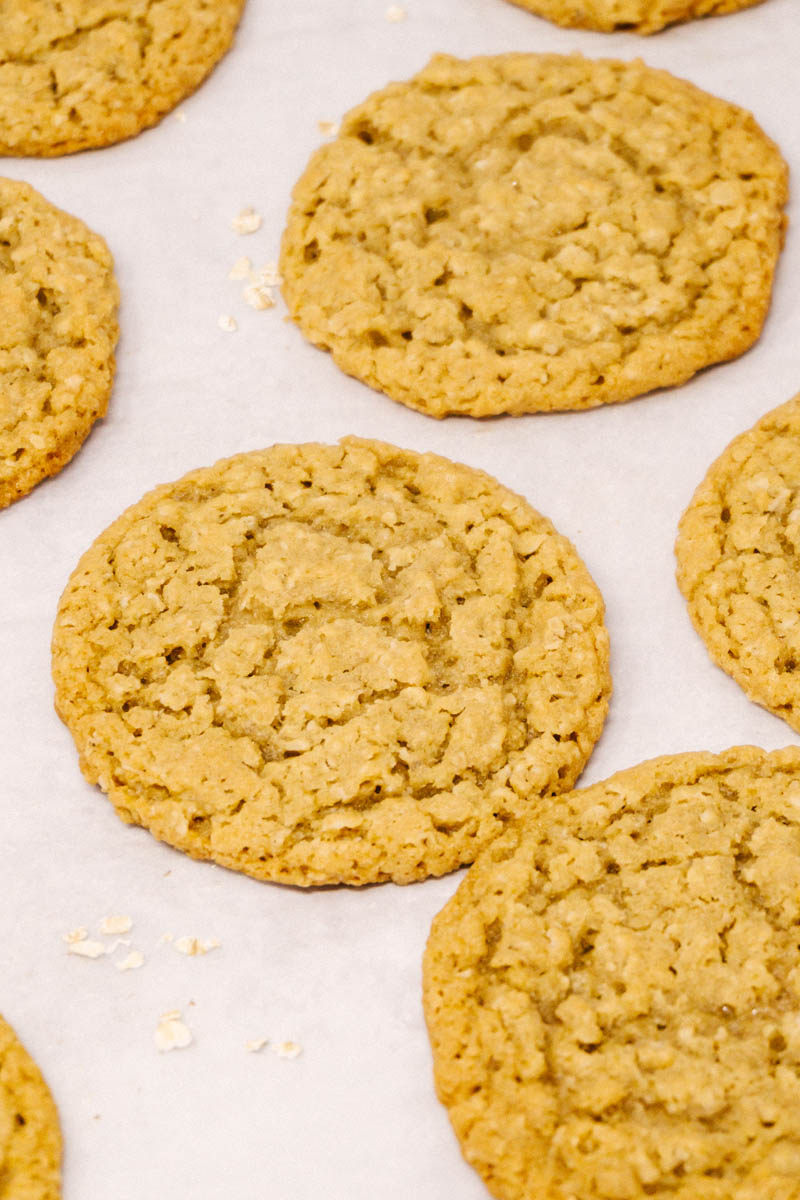 Looking for more delicious oatmeal recipes? Try these: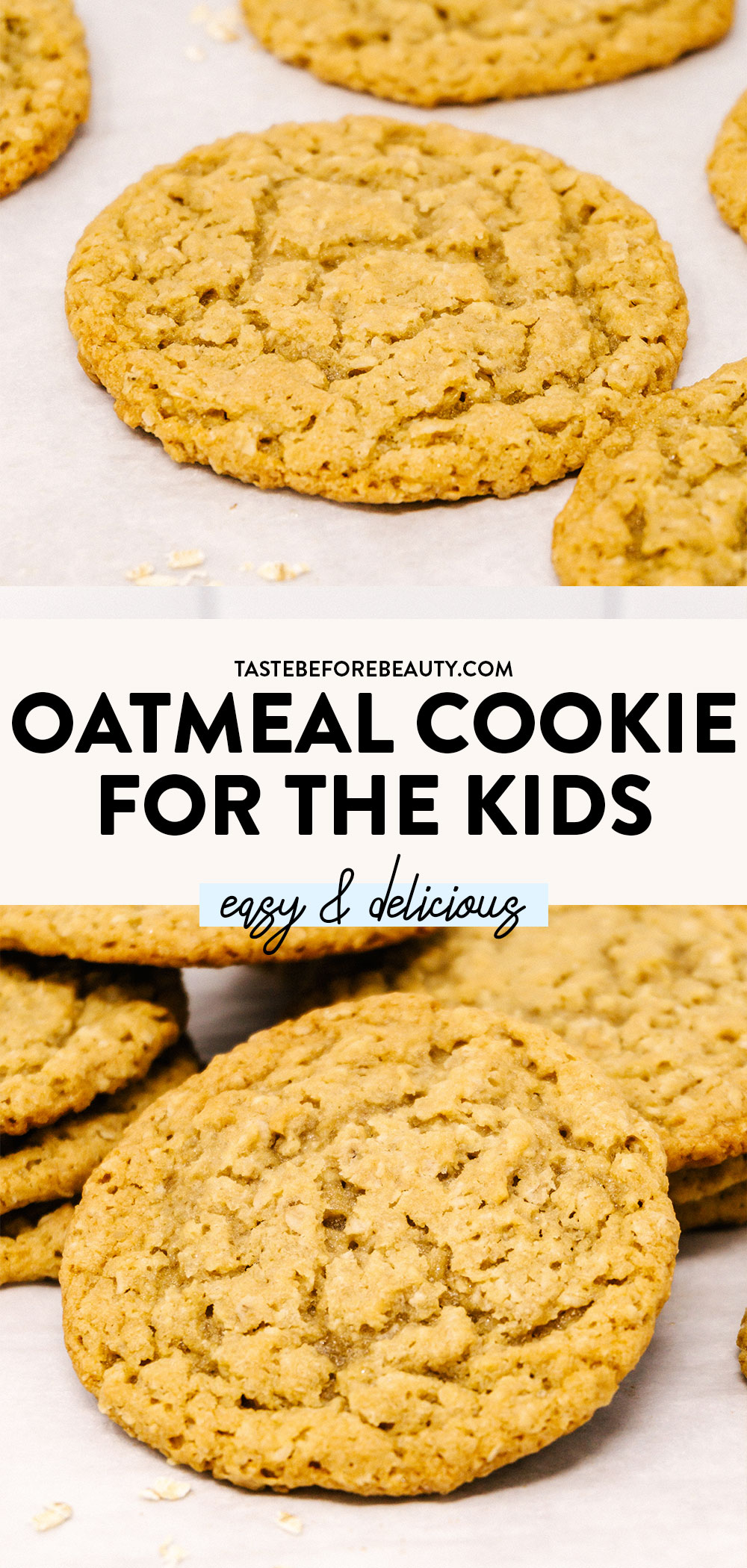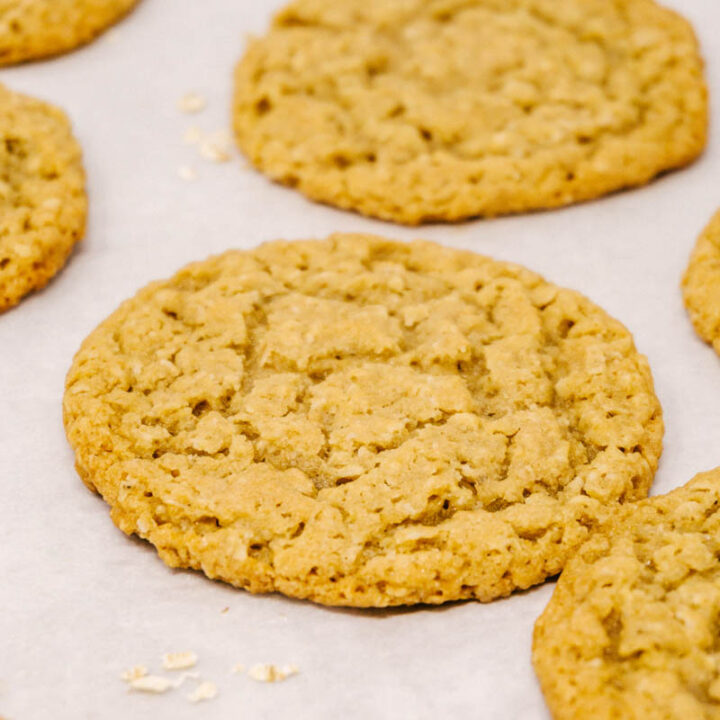 Oatmeal Cookie for the Kids
Additional Time:
10 minutes
The Kids Oatmeal Cookie, made from kids. I mean for kids! Have kids that hate oatmeal? They won't after introducing them to this cookie!
Ingredients
1 C (8 oz) salted butter, room temperature
1 ½ C (12 oz) brown sugar
½ C (3.5 oz) white sugar
1 large egg
1 tsp vanilla
3 T water
1 ¼ tsp salt
1 tsp baking soda
½ tsp baking powder
1 ¾ C (6 oz) baby flake quick oats
2 ⅔ C (12 oz) all-purpose flour
Instructions
Preheat oven to 375*F. Line 2 cookie sheets with parchment paper.
Cream sugars and butter.
Add egg, vanilla, and water. Mix until combined.
Add salt, baking soda, baking powder, flour, and oats.
Mix until well combined, scraping bowl as needed.
Use a #30 cookie dough scoop (2 T) to scoop dough onto parchment paper.
Bake 8-9 minutes at 375*F until lightly golden.
Let cool and serve.
Notes
This cookie is easy, sweet, and gently sturdy for a great airplane, lunch box, or picnic treat. These cookies also freeze well for later use.