These snickerdoodles are light, soft, and chewy inside, with just the right cinnamon to sugar ratio. With so much to love, they are sure to become a family favorite.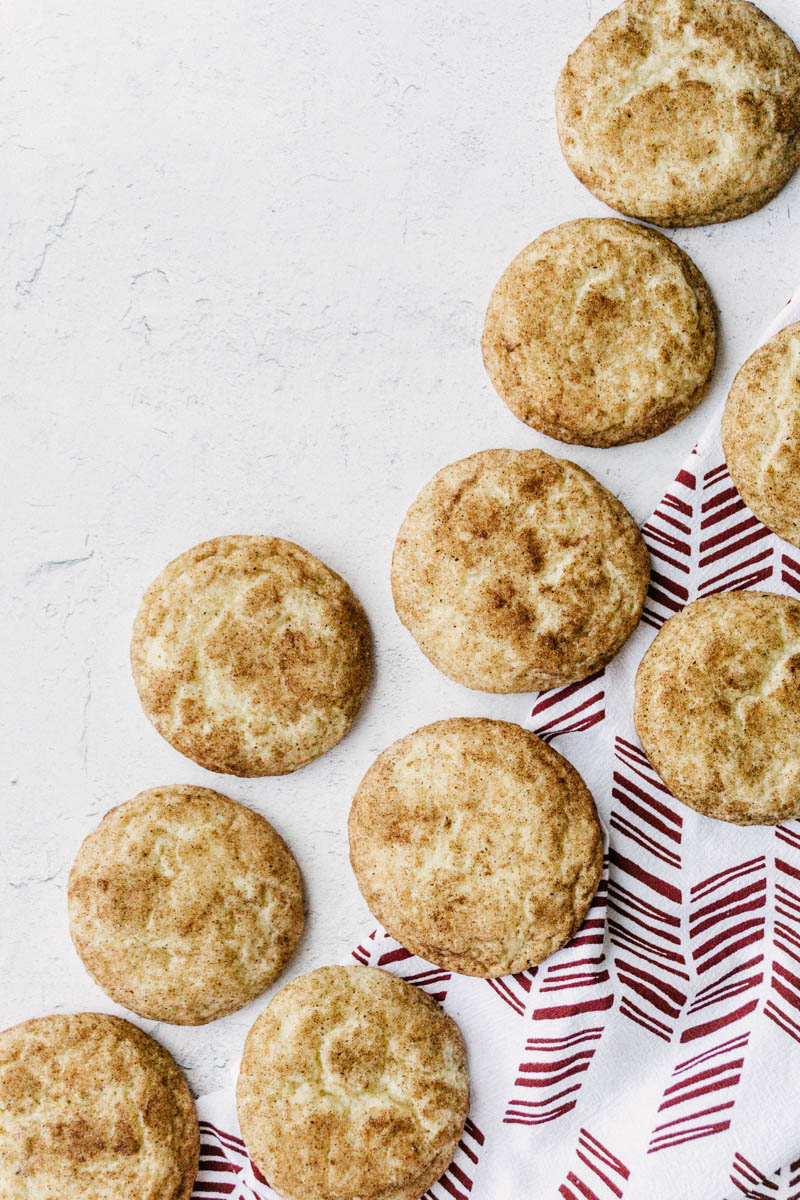 Snickerdoodles. The name itself kind of mocks you, doesn't it? My theory is because this seemingly simple cookie can trip you up in the end. It's like a baker's test to make the perfect snickerdoodle.
This cookie's magic power is two-fold. It begins with the tried-and-tested cookie base and is completed by the perfect ratio of cinnamon to sugar that coats it.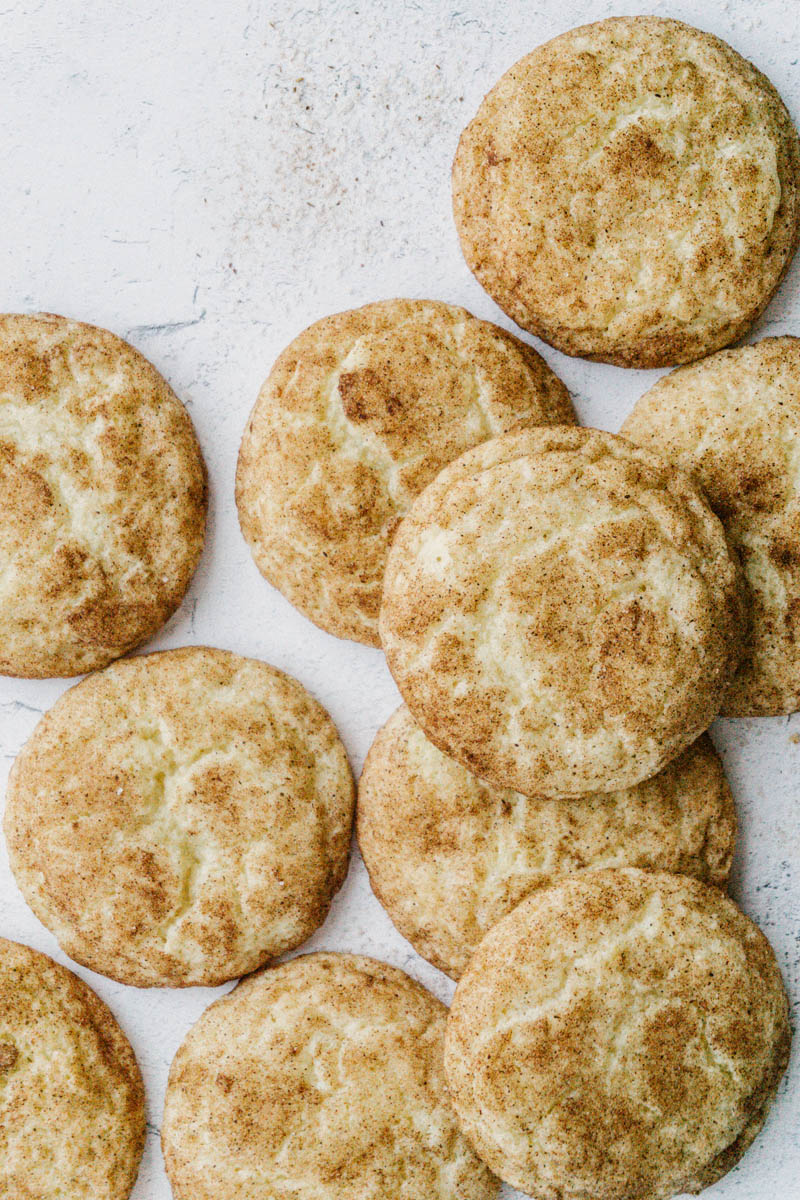 Why Margarine?
I wanted a dough rich enough to satisfy, without overpowering the cinnamon-sugar coating. I found that using all shortening wasn't flavorful enough, but that butter didn't complement the cinnamon very well. On a whim, I tried using margarine and it worked. It offers the perfect flavor while giving a pillowy-soft, yet chewy texture.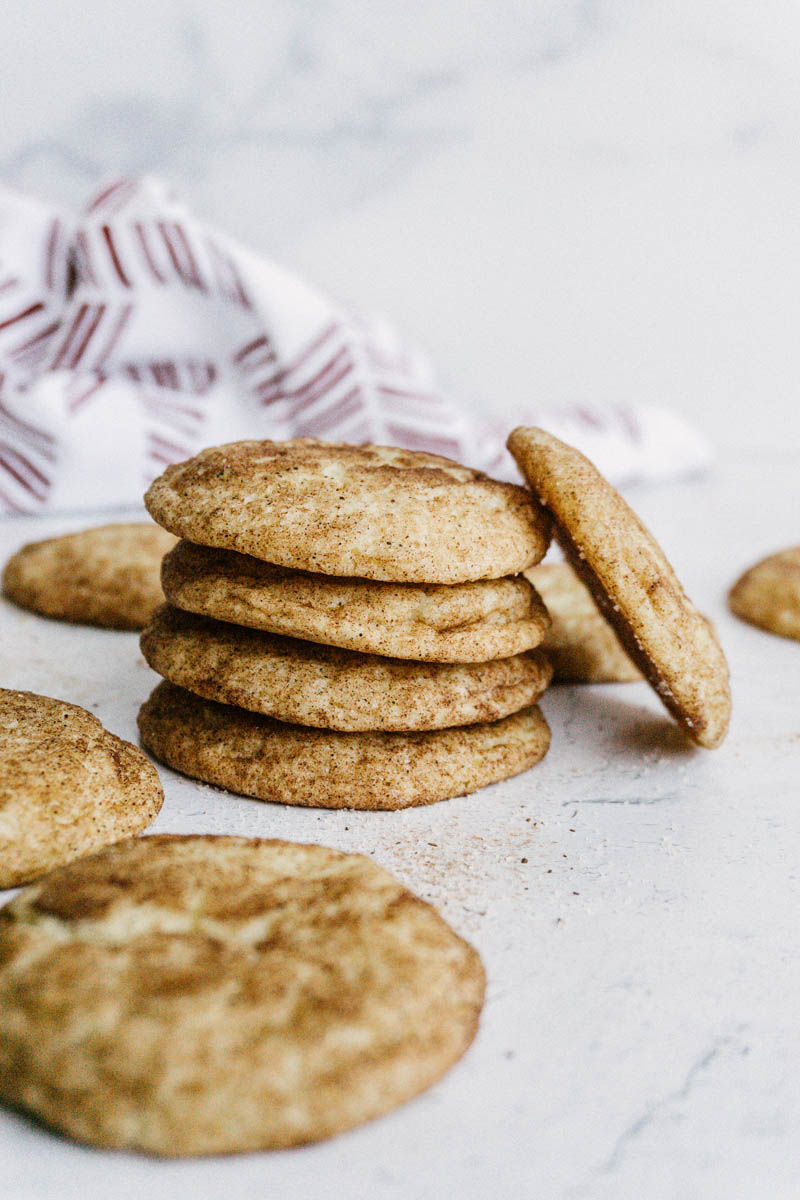 Perfect Ratios for the Snickerdoodles
The cinnamon-sugar ratio has to be perfect for these cookies. Lucky you! I've already discovered the perfect balance. I also discovered that the amount of cinnamon and sugar to cookie dough is important. For that reason, I specify to use a #40 cookie dough scoop for these, which is slightly smaller than the typical cookie dough scoop. If you don't own one, you can make dough balls that are about 1 ¾ tablespoons of dough each.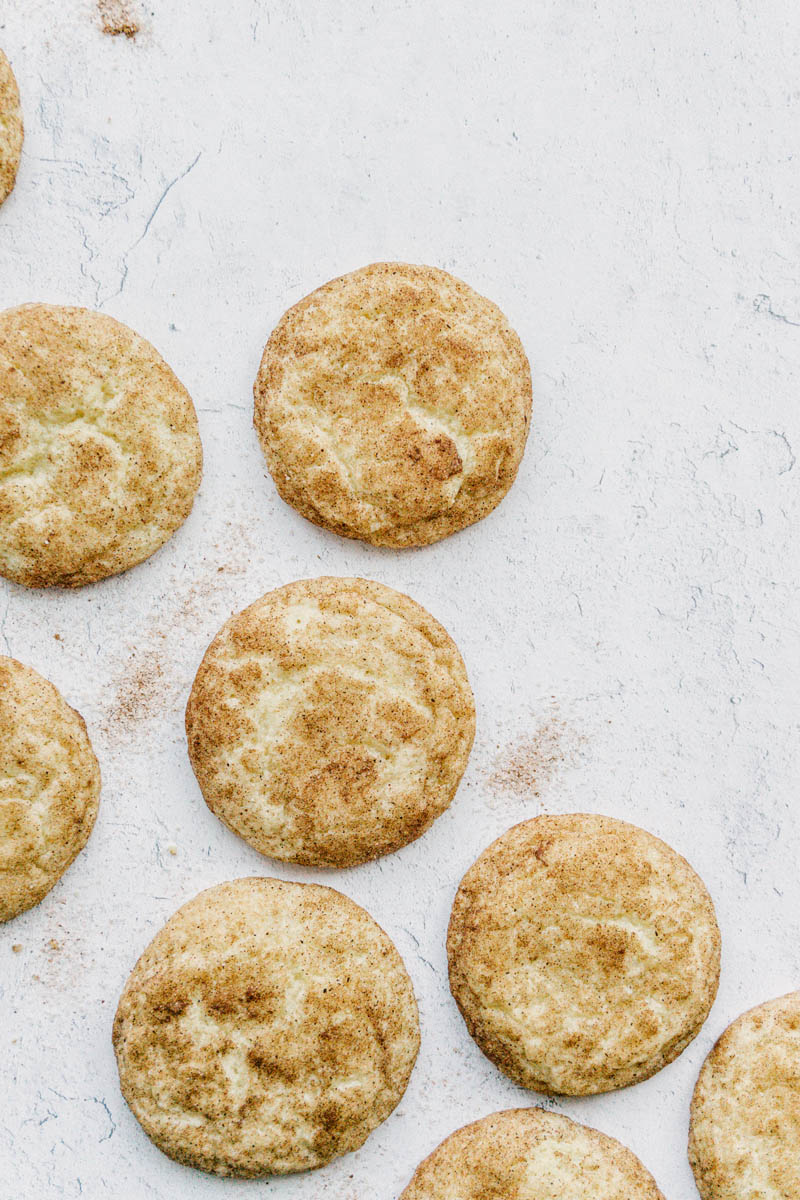 Plenty of people love to make snickerdoodles because of how easy they are, myself included. They are easy to mix, bake up quickly, cool rapidly on the counter, and require no special packaging or care for cooling chocolate. Everyone loves to eat them by the handful because of the careful balance between the acidity of the cream of tartar and the richness of the fat, the heat of the cinnamon, and the pleasant sweetness of the sugar. It's hard to stop at just one snickerdoodle!
I hope my research and extensive testing helps you on your quest for a perfect snickerdoodle. I've tried to take the complexity out to make this most enjoyable. Happy baking!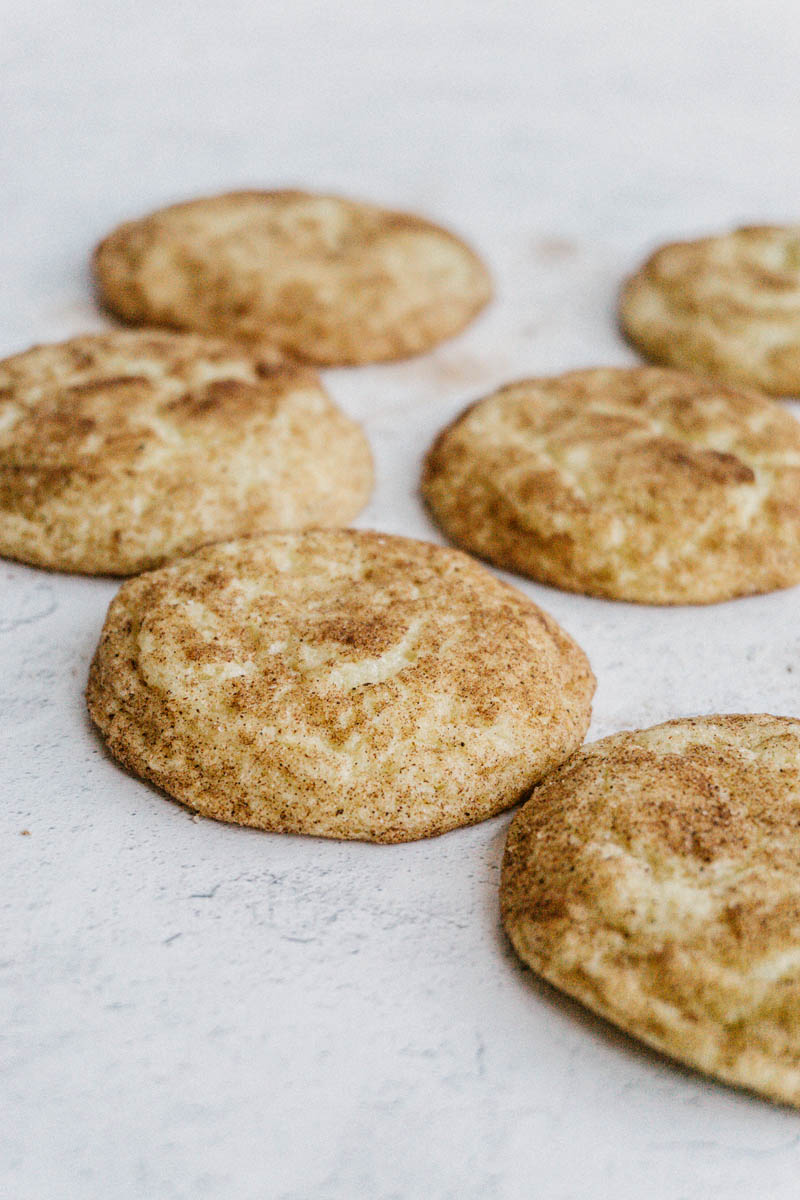 Products I Love to Use When Making These Snickerdoodles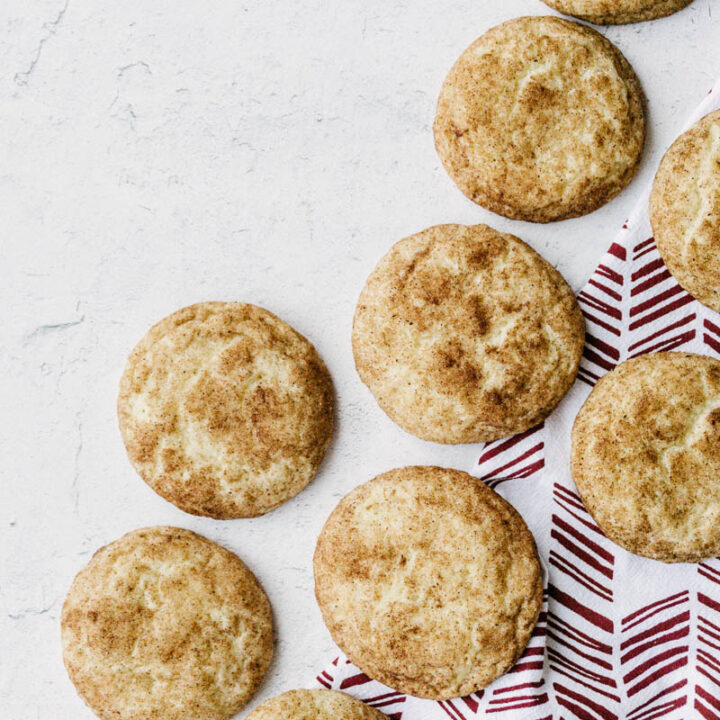 Snickerdoodle Cookie
Additional Time:
30 minutes
These are light, soft, and chewy inside, with just the right cinnamon to sugar ratio.  With so much to love, they are sure to become a family favorite.
Ingredients
Snickerdoodle Cookies
½ C (4 oz) margarine 
½ C (3.4 oz) shortening 
1 ½ C (10.5 oz) white sugar 
2 large eggs 
2 tsp vanilla 
2 tsp cream of tartar 
¼ tsp salt 
1 tsp baking soda 
2 ¾ C (12.5 oz) all-purpose flour 
Cinnamon Sugar Mixture
3 T (1.3 oz) white sugar 
1 T (0.2 oz) ground cinnamon
Instructions
Preheat oven to 400*F. Line cookie sheets with parchment paper.
Make the cinnamon-sugar mixture by combining the cinnamon and sugar in a medium bowl. Set aside.
Mix margarine, shortening, and sugar. Add eggs and vanilla. Add cream of tartar, salt, soda, and flour. Mix well.
Use #40 cookie dough scoop (1 3/4 T) and then roll the dough into round balls with your hands. Roll and bounce 2-3 balls in the cinnamon-sugar mixture in a medium-size bowl until completely coated.
Place on parchment paper-lined cookie sheets and bake 6-7 minutes. Cookies are done when the tops start just start to crack.
Notes
Often snickerdoodles are made with just shortening, or just butter. As much as I love butter, I found these cookies were best with margarine and shortening so they have a bit more moisture content and less "crisp" factor.  However, if you over bake these cookies, nothing can save the lightness and chew.
Pick Your Favorite Pin and Save It for Later!