This is not your average oatmeal cookie. Loaded with tender, wholesome oats and fragrant butterscotch chips, these butterscotch oatmeal cookies are the perfect treat for anytime of day from morning to night!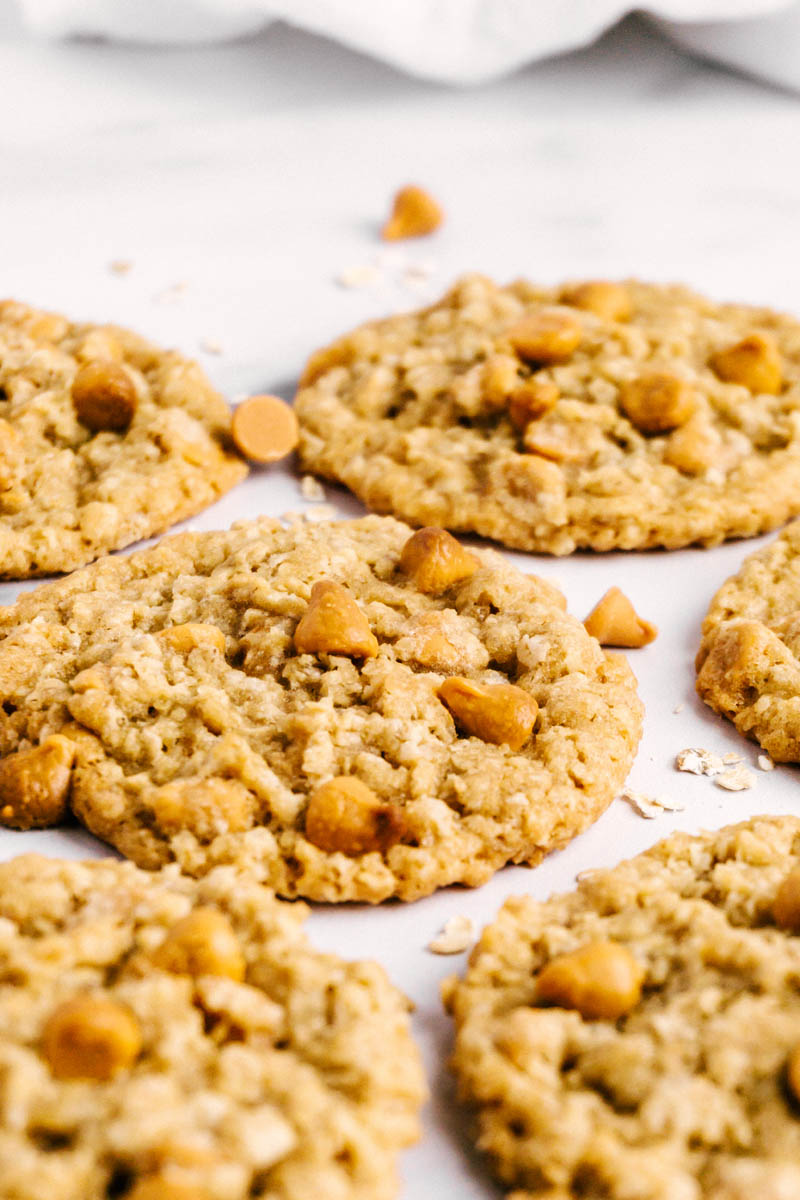 About the Butterscotch Oatmeal Cookies
These Butterscotch Oatmeal Cookies are truly something special. They seem unassuming and simple, but from the moment they start baking, your mouth will start watering. The smell coming from the oven is simply irresistible! You won't want to leave the windows open or the neighbors might come steal all of these!
Butterscotch is such an underrated, often neglected flavor. These oatmeal cookies practically beg to have extra butterscotch chips added to them. You'll definitely want to sneak a taste of the dough before you even scoop it. Once they start baking, the smell is absolutely incredible! They smell like home and happy childhood memories, all wrapped up in a tasty little cookie.
I love to use quick oats in oatmeal cookies because they bake up nice and soft. Because the oats are cut smaller in processing, you don't have to let these sit for the oats to soften. You can start eating them as soon as they're cool enough to pick up!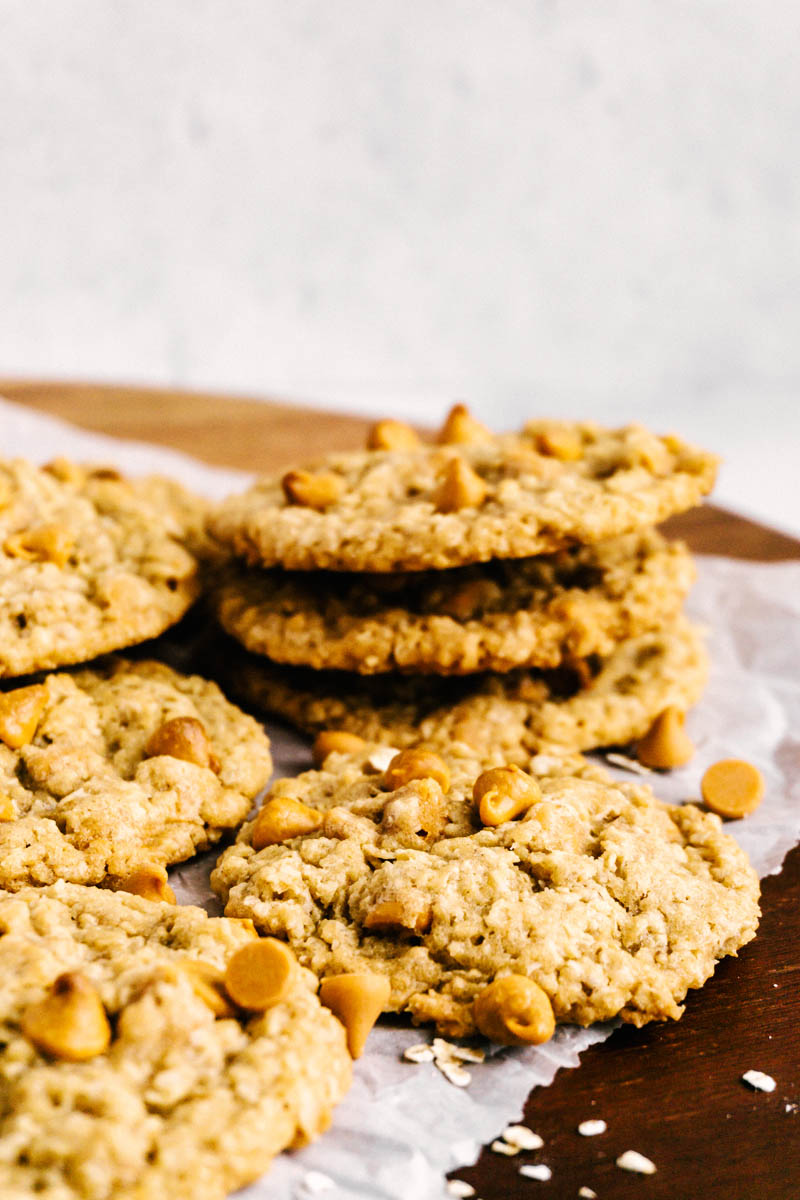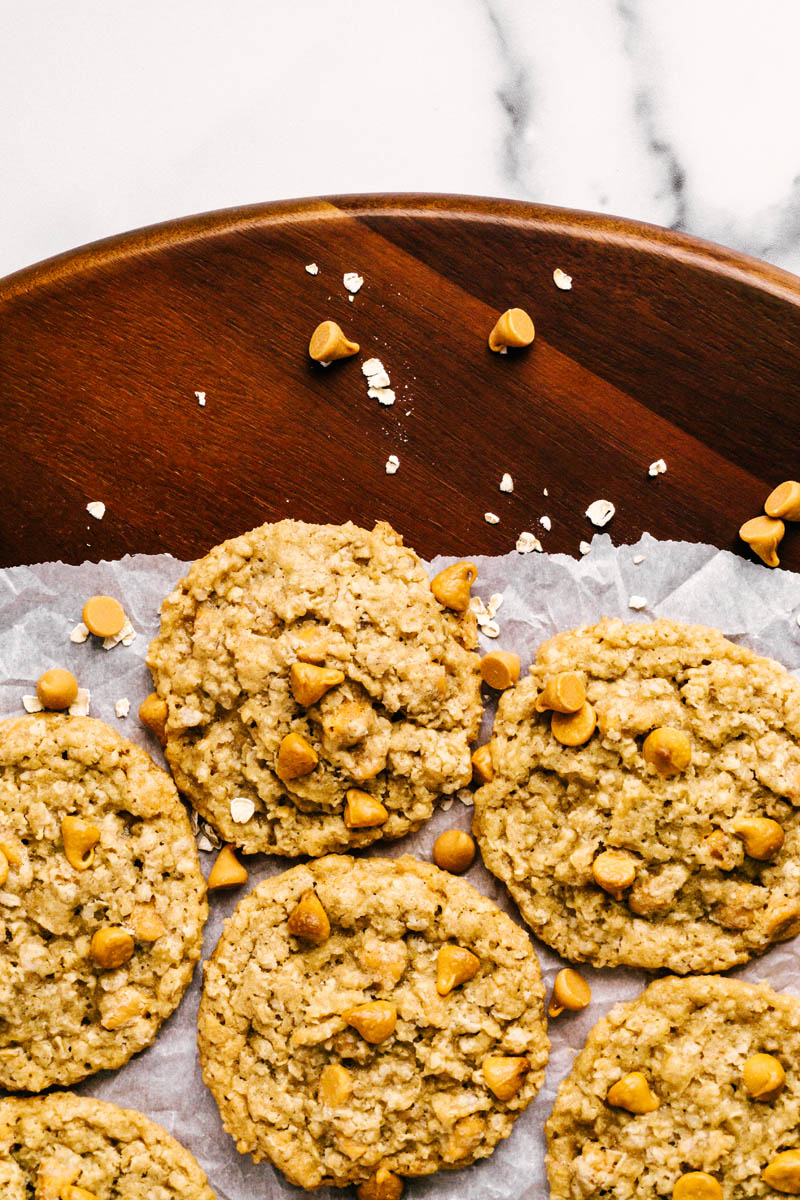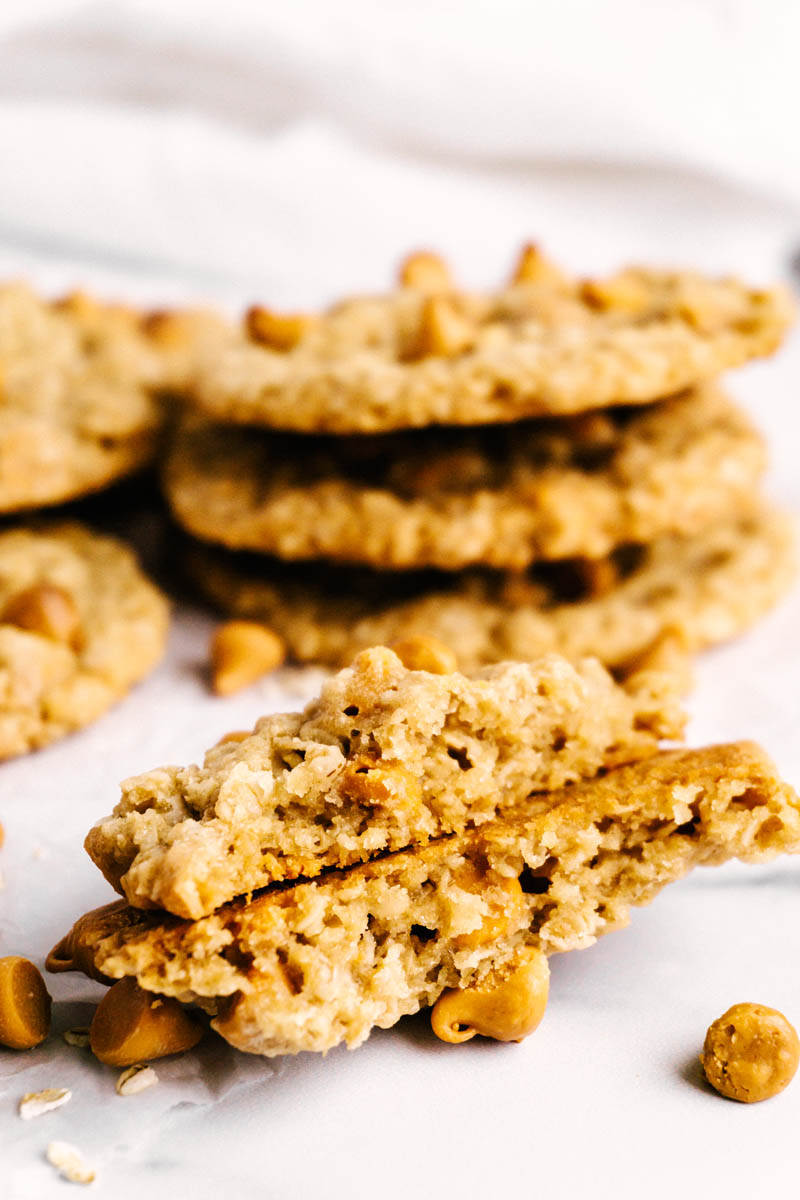 Butterscotch Oatmeal Cookies Recipe Ingredients
Salted Butter: Salted butter helps boost the flavor of these Butterscotch Cookies. If you don't have salted butter, add an extra ½ tsp salt.
Light Corn Syrup: Adds extra chewiness and helps the cookies bake up nice and soft.
Vanilla Extract: Rounds out the butterscotch flavor. My favorite vanilla to use for these cookies is Watkins Baking Vanilla.
Quick (Baby Flake) Oats: Don't confuse these with regular old-fashioned oats or packet oatmeal! Quick 1-minute oats are perfect for making a soft oatmeal cookie.
Butterscotch Chips: The star of this cookie! I use Nestle Butterscotch Morsels. Be sure to pick up two packages so you have enough to top the cookies to make them look extra tempting!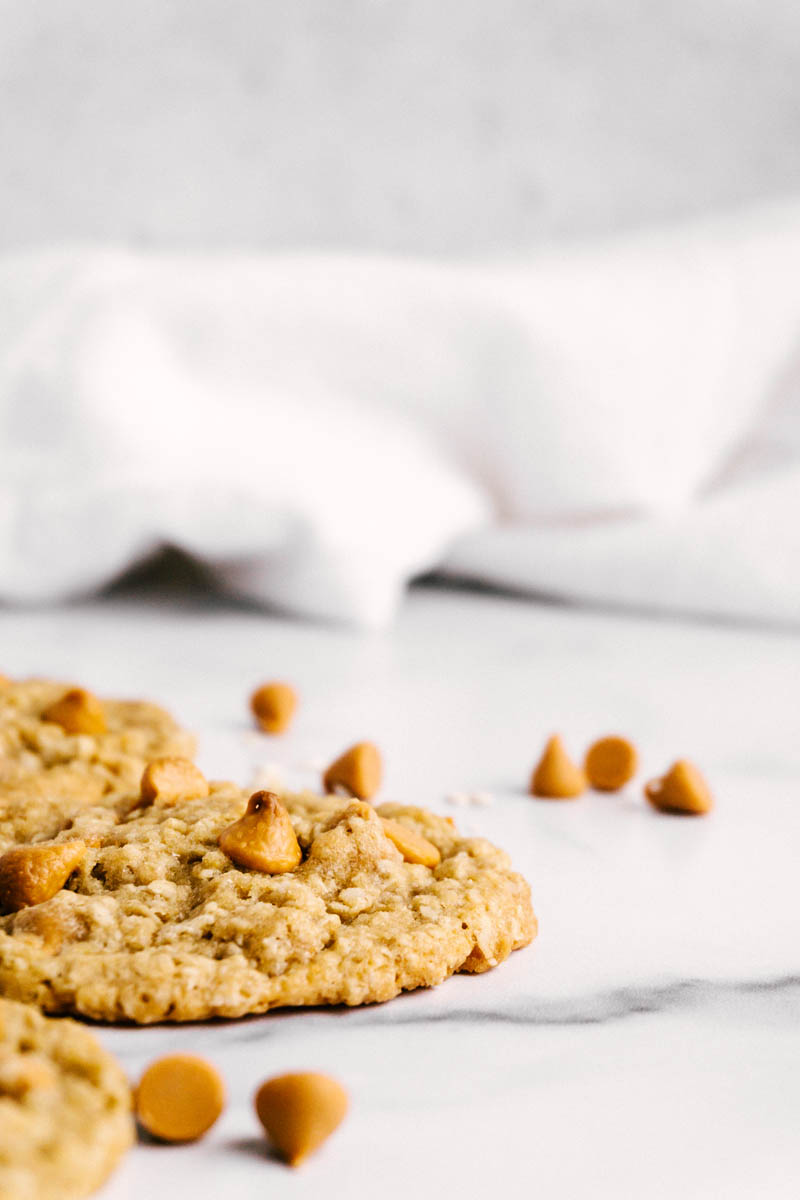 The Perfect Process
Cream the Butter and Sugars: This helps incorporate the sugar and makes the cookie bake evenly.
Add the Wet Ingredients: When you mix these, I like to stop and use a rubber spatula to scrape the sides of the bowl so everything gets mixed evenly!
Add the Dry Ingredients: Once you add the butterscotch chips, mix just until combined. You don't want to break them into tiny bits!
Topping the Cookie with Extra Chips: This makes your cookies look extra decadent and packed with Butterscotch Chips!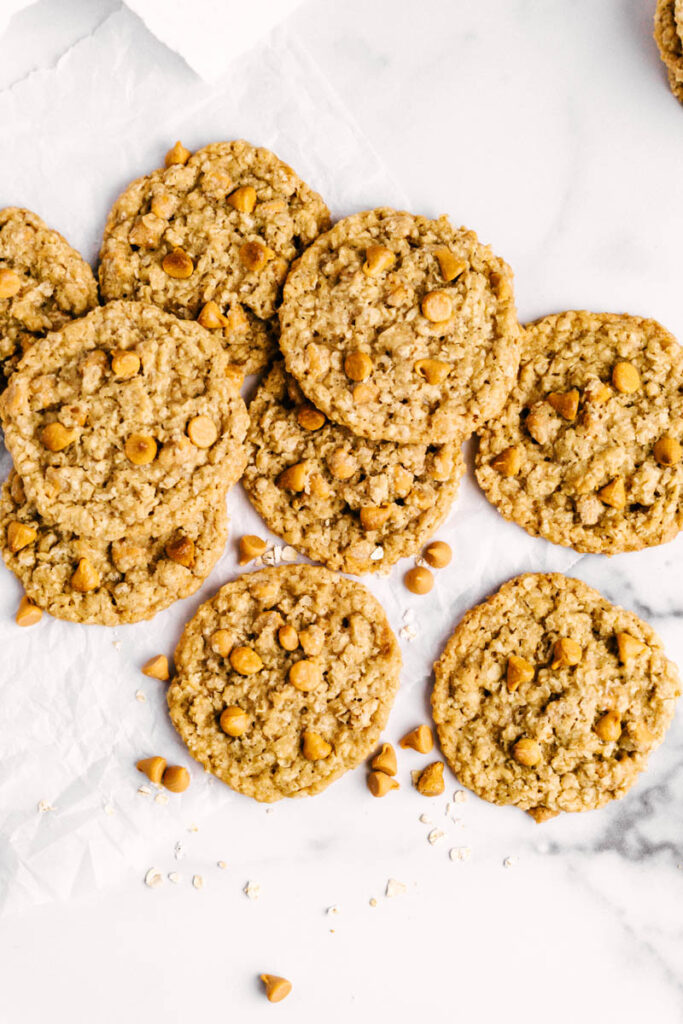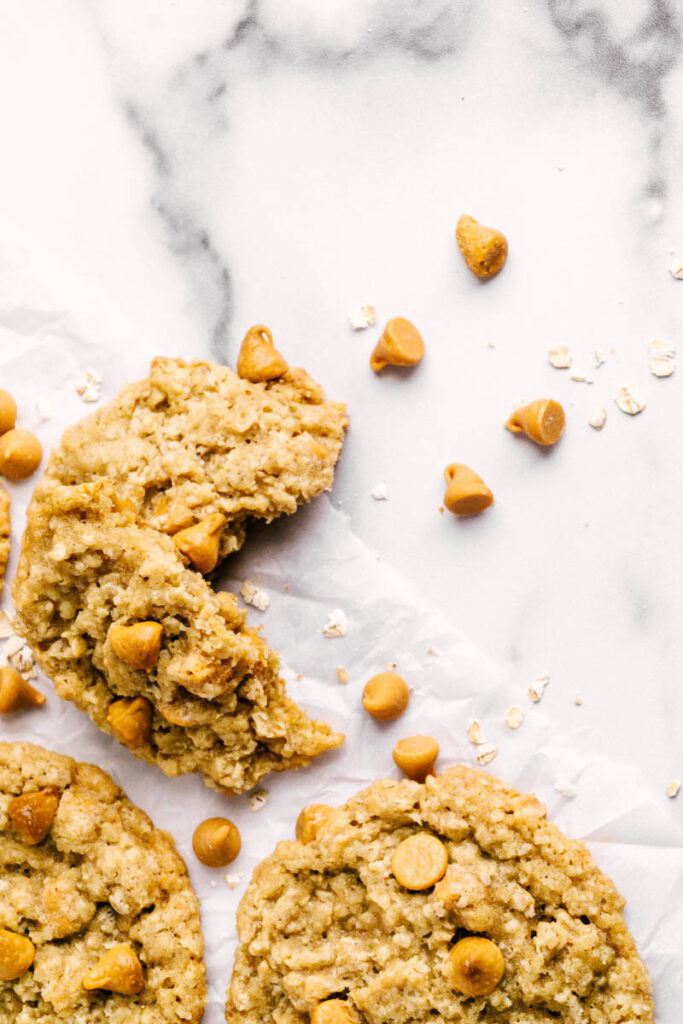 These Butterscotch Cookies smell amazing and taste even better! They are the perfect treat for anytime.
Looking for more delicious cookie recipes? Try these: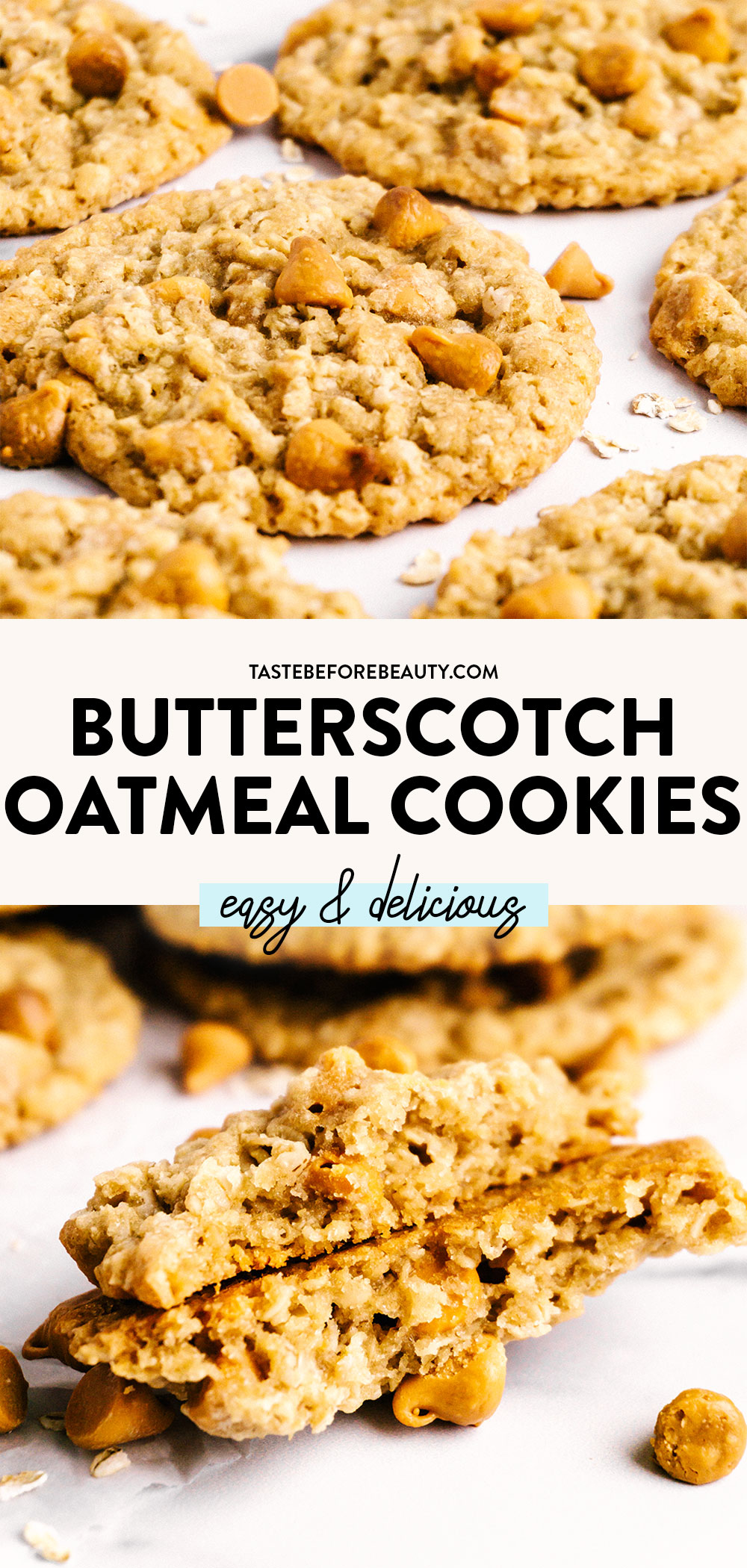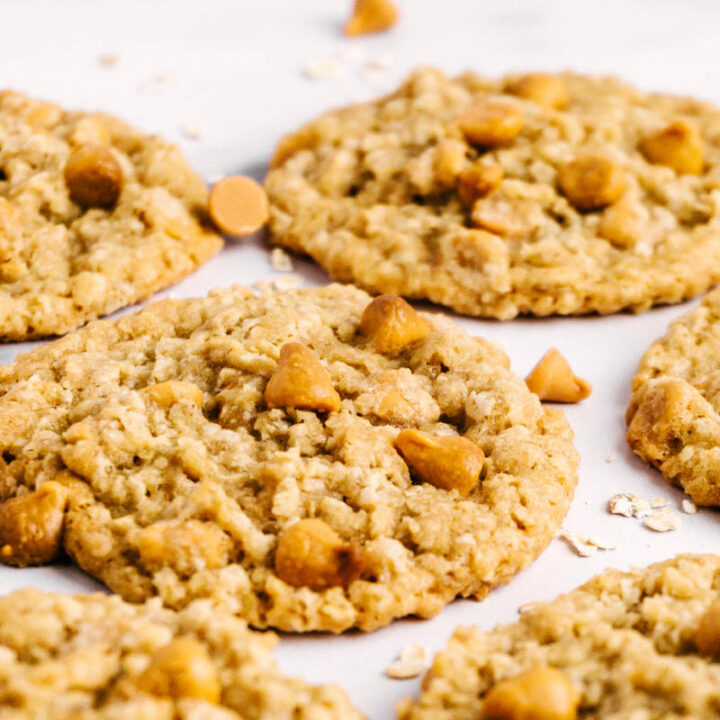 Butterscotch Oatmeal Cookies
Additional Time:
35 minutes
This is not your average oatmeal cookie. Loaded with tender, wholesome oats and fragrant butterscotch chips, it is the perfect treat for any time of day from morning to night!
Ingredients
1 C (8 oz) salted butter
1 ½ C (12 oz) light brown sugar
½ C (3.5 oz) granulated sugar
1 large egg
2 T light corn syrup
1 tsp vanilla
1 tsp salt
½ tsp baking soda
1 tsp baking powder
3 C (10.2 oz) quick-cooking (baby flake) oats
1 ½ C (6.7 oz) all-purpose flour
2 C (12 oz) butterscotch chips
Instructions
Preheat oven to 350*F. Line baking sheets with parchment paper.
Using a stand mixer, cream butter, brown sugar, and granulated sugar. Add egg, corn syrup, and vanilla and mix. Add dry ingredients, plus 1 ⅔ C (10 oz) of butterscotch chips, setting aside remaining ⅓ C (2 oz) for topping. Mix until combined.
Use a #30 cookie dough scoop to scoop dough onto prepared baking sheets. Top each dough ball with a few reserved butterscotch chips.
Bake for 9-11 minutes or until lightly browned.
Once cool, store in an airtight container at room temperature for up to 5 days. These also freeze well for up to 3-4 months.
Notes
Use plain quick-cooking oats in these cookies. Packet oatmeal is different because it has other things added to it that won't work here. The quick-cooking oats give a softer cookie than regular old-fashioned oats.