Coconut and lime pair together in this shortbread for a refreshing cookie experience. These Coconut Lime Shortbread cookies are crisp, light, and melt in your mouth.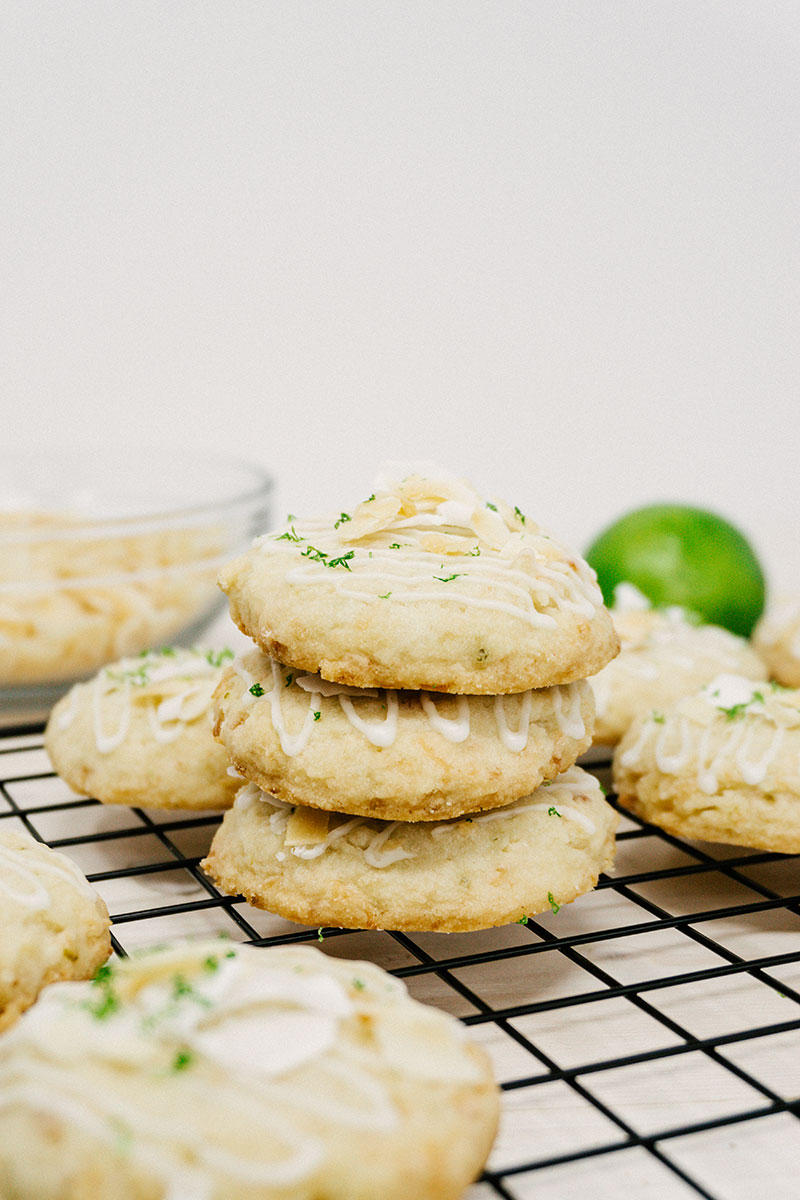 The Perfect Match – Coconut & Lime
Shortbread cookies are just so satisfying to make. The dough is simple and you can fit a lot of dough on the cookie sheet as it does not spread out much. And just as soon as they cool, they are beautifully crisp and stay that way for two weeks if properly stored in an airtight container. That alone should convince you to make this cookie.
Coconut and lime seemed like the perfect match. However, I felt they needed just a little bit more of a fresh lime kick that I couldn't seem to get from baked lime zest in a butter dough. The addition of the lime glaze lent the brightness and extra bit of sweetness I was looking for, without the use of a lime extract.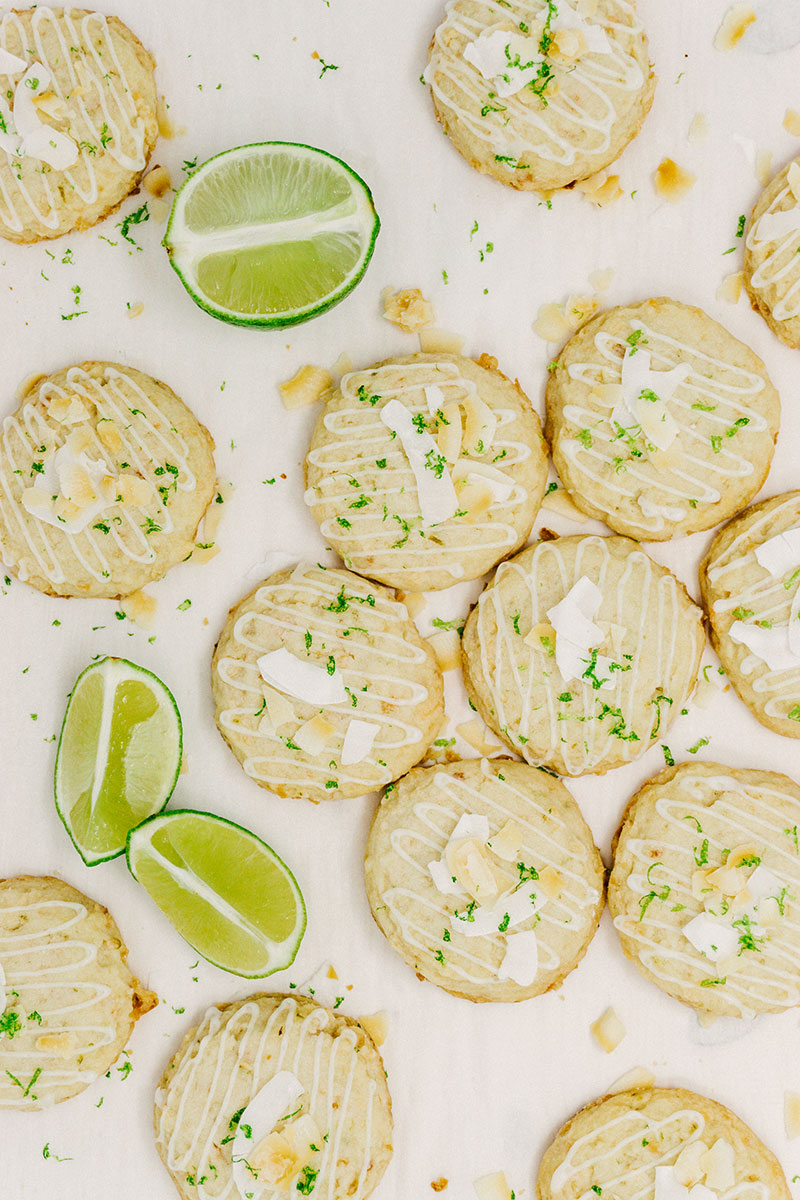 Within the Coconut Lime Shortbread
Within the dough itself, I wanted sweetness. I use sweetened coconut for that reason. It is also softer and easier to chew than unsweetened coconut.
I like to use a bit of green food dye in the lime glaze to hint that it is a lime cookie. However, I am VERY careful, using the tiniest bit at the end of a toothpick. I have overcolored the drizzle one too many times and they look rather silly. Green baked goods can appear unappetizing or childish, and this isn't a cookie that I would put on a children's fun food table, mostly because I want to save them all for myself!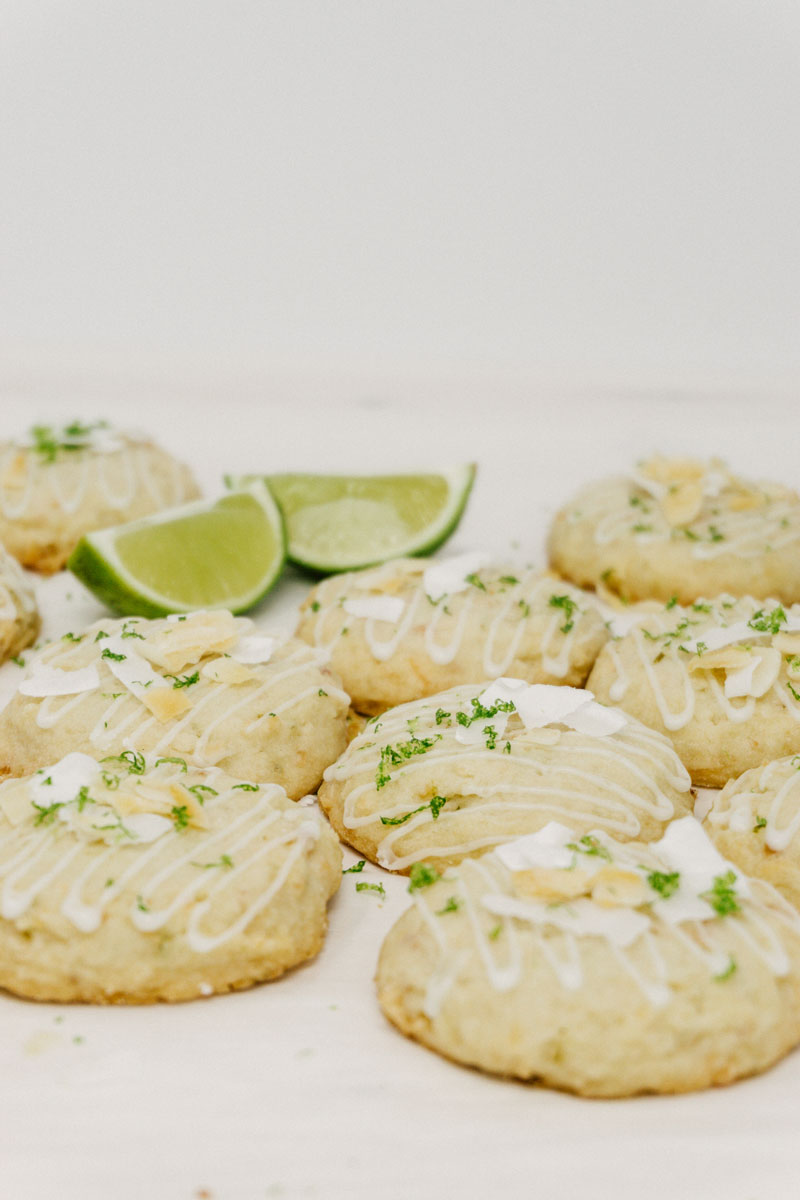 Adding lime zest and a few toasted unsweetened coconut chips on top make a really nice presentation. This is a cookie I feel happy bringing to a summer or winter holiday table spread, and it makes a great gift for a dear friend who might favor coconut.
Products I Love to Use When Making the Shortbread Cookies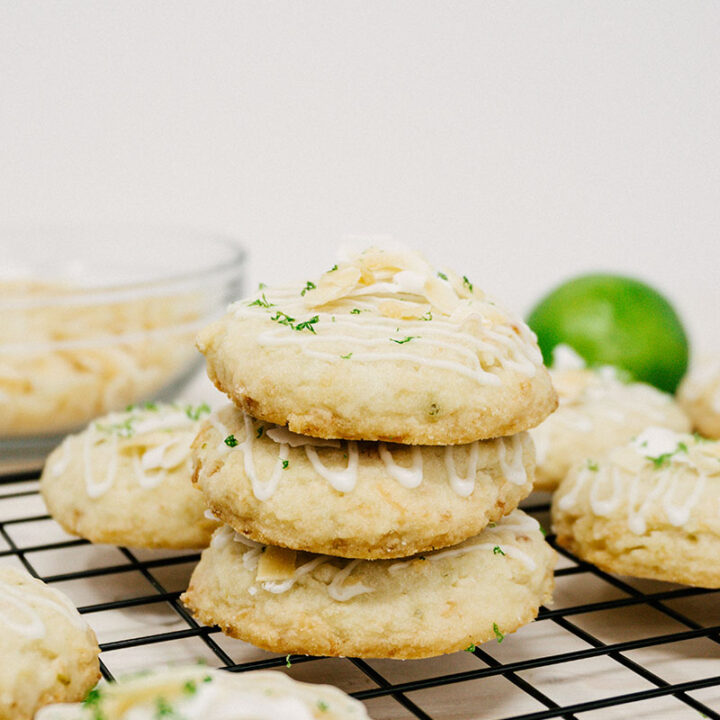 Coconut Lime Shortbread
Total Time:
1 hour
39 minutes
Coconut and lime pair together in this shortbread for a refreshing cookie experience. These cookies are crisp, light, and melt in your mouth.
Ingredients
Shortbread Cookies
1 ½ C (12 oz) salted butter, softened
1 C (4.5 oz) powdered sugar
2 tsp vanilla
1 tsp lime juice
1 T lime zest
1 ¼ C (4 oz) sweetened coconut flakes, toasted (see note)
3 C (13.5 oz) all-purpose flour
Lime Glaze
1 ¼ C (5.5 oz) powdered sugar
2 T lime juice
1 drop green food coloring (optional)
Instructions
Make the Shortbread Cookies
Preheat oven to 325*F. Line cookie sheets with parchment paper.
Whip softened butter until very light. Add powdered sugar and whip again until very light and fluffy. Add vanilla, lime juice, zest, and cooled toasted coconut. Mix in flour until combined.
Use #30 cookie dough scoop and shape dough into balls. Drop onto a parchment paper-lined cookie sheet and press dough balls down with the palm of your hand or the bottom of a measuring cup until they are ½-inch thick. Bake for 15-19 minutes or until edges of cookies lightly brown.

Make the Glaze
Make the lime glaze by mixing lime juice, powdered sugar, and food coloring together until smooth. If the glaze is too thick, add a drop of water. If too thin, add a little powdered sugar.
Once cookies have cooled, use a fork or piping bag to drizzle glaze over tops of cookies. Let cookies rest until glaze is set before storing.
Notes
To make toasted coconut: Heat oven to 350*F. Spread coconut evenly on parchment-lined cookie sheet. Bake 8-10 minutes - stirring after 4-5 minutes. Bake until it begins to brown lightly and smells nutty. Let cool completely.  Alternatively you can pile on a microwave safe plate and microwave in short bursts, stirring in between so it toasts evenly.
To dress these cookies up, use a piping bag to drizzle the glaze. Just before serving, top with a bit of fresh lime zest and toasted unsweetened coconut chips.
Pick Your Favorite Pin and Save It for Later!