Have a hungry sweet tooth? With only six ingredients and no baking required, this Oreo pie is a no-brainer!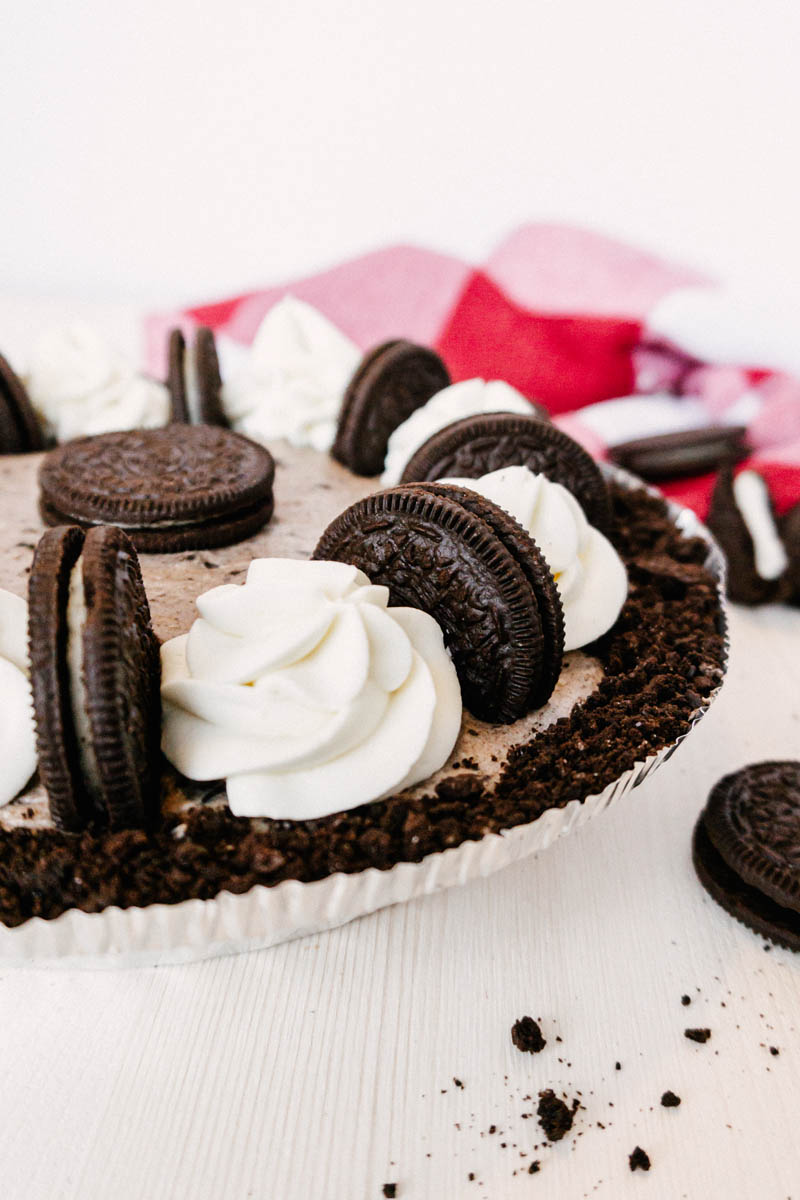 I LOVE this Oreo pie! It is a cold and creamy pie that satisfies that hungry sweet tooth. I used to request this for my birthday treat growing up, and now that I am married my husband requests it for our anniversary!
Store-Bought Oreo Crust
I don't make my Oreo pie crust from scratch. While it's easy and I can make it with any chocolate cream-filled cookie, I prefer to buy a premade Oreo pie crust. It saves time and they are readily available in the baking aisle at the grocery store. Reserve a few Oreo crumbs to place around the edge to make the crust look decadent and less "store purchased".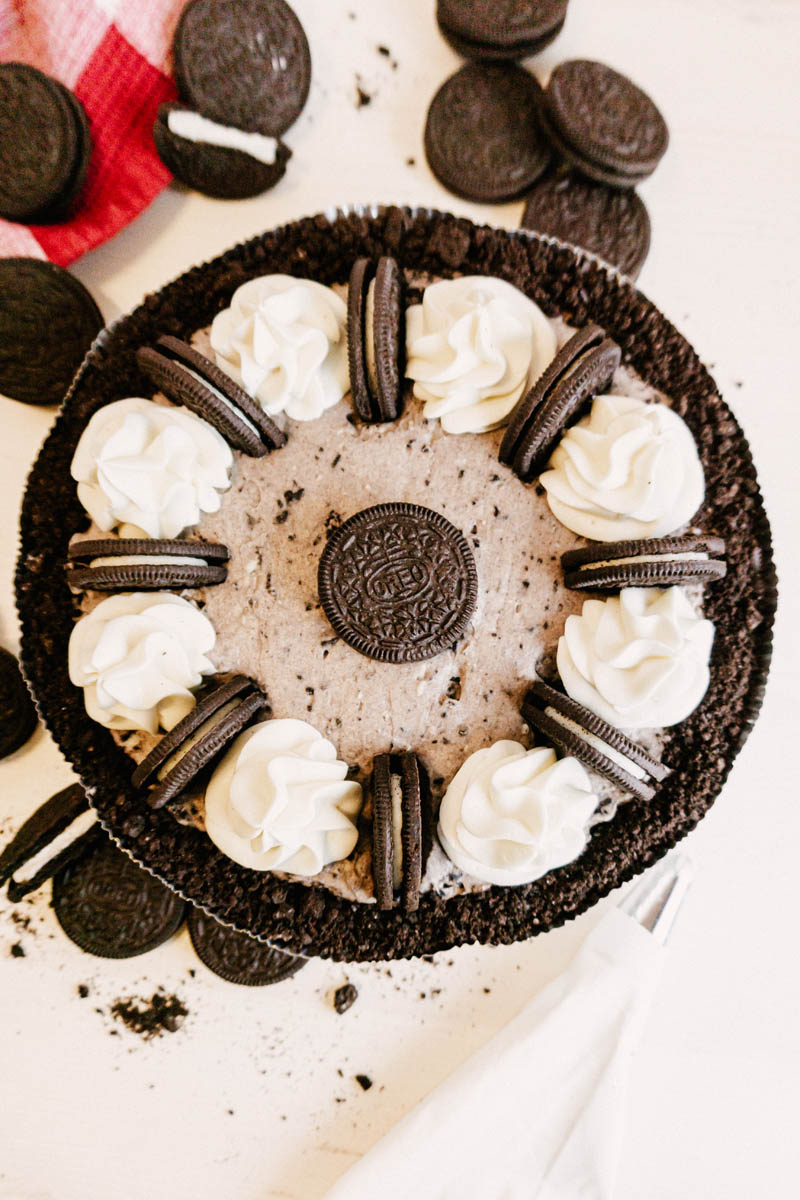 Crushing and Adding in Oreos
When crushing the Oreos that are to be mixed in with the cream make sure not to crush them into dust. If they are too fine, your pie won't have those desirable "big Oreo pieces" we all want when eating cookies and cream ice cream. I only spend 10-20 seconds crushing the cookies.
You can also adjust the number of Oreos in this pie. I have an Oreo-loving family so I load up this pie with at least 2 heaping cups of crushed cookies. However, if you'd like more cream than cookie flavor, feel free to mix in fewer cookies. Generic-brand cookies work great too if your budget is tight.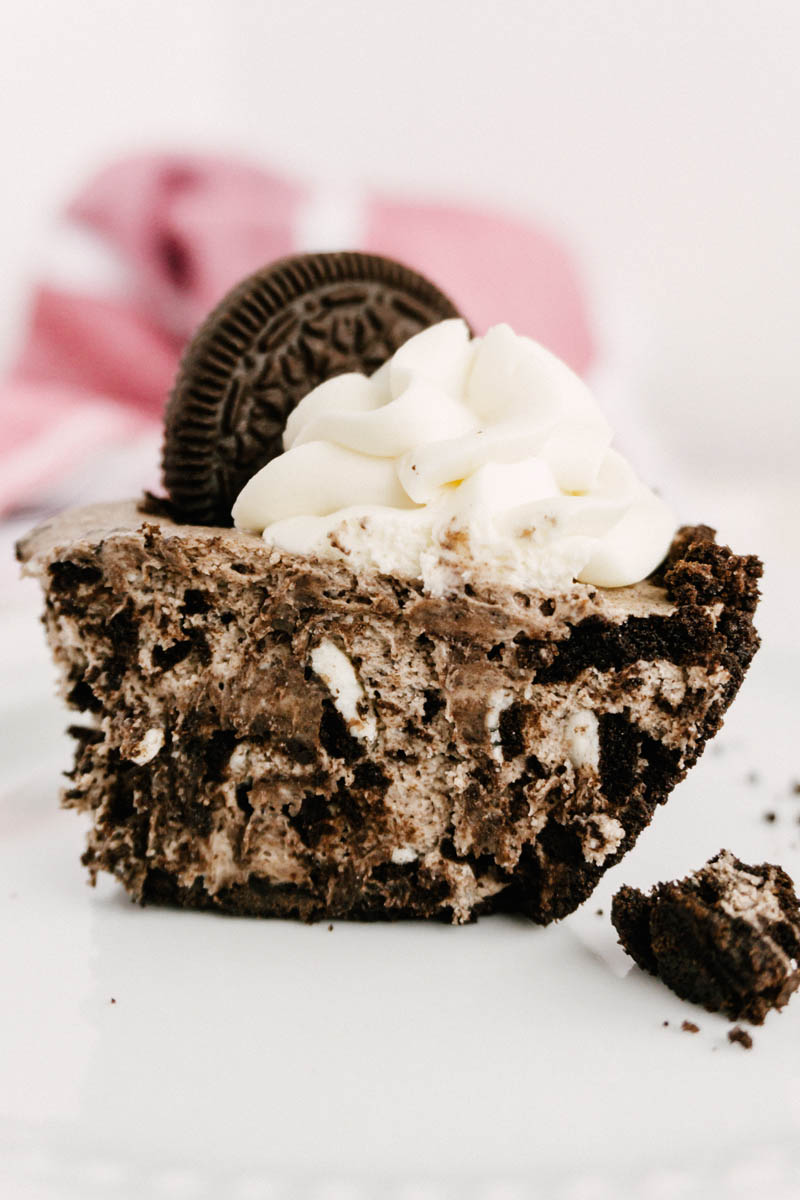 Oreo Pie Decorating Tips
The remaining cream used to decorate can be piped on, or it can be spread as an even layer over the top of the whole pie and sprinkled with extra Oreo crumbs. It is up to you how you will decorate. I don't spend very long on decorating though because I know it will be gobbled up quickly.
This might become your new favorite pie. Maybe your family members will request it for their birthdays or special occasions. It's a super sweet deal because this takes less time to make than a Rich Chocolate Cake or even a quick batch of #1 Chocolate Chip Cookies! Leave us a comment letting us know if you like to load your pie up with Oreos, and leave a rating if you'd like, too.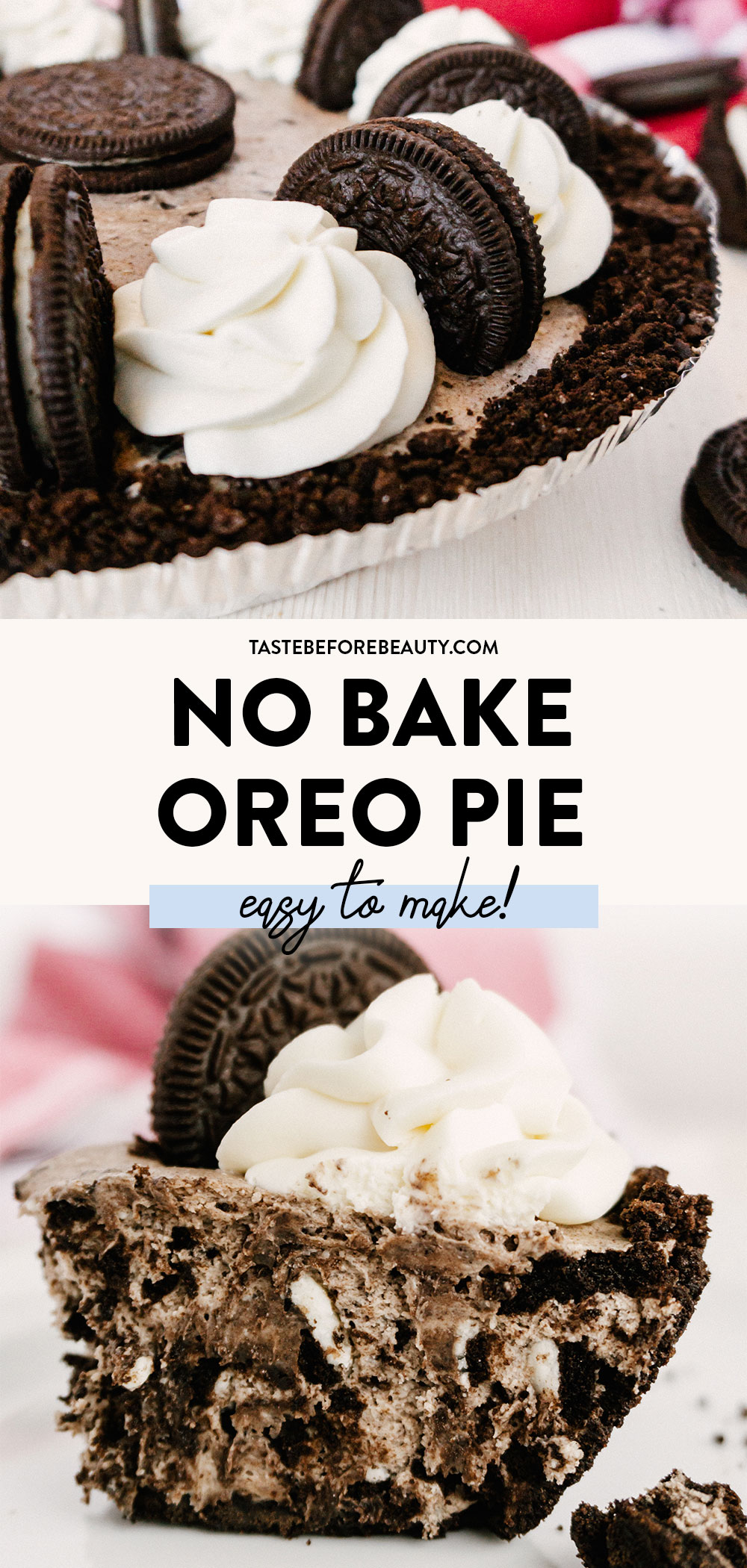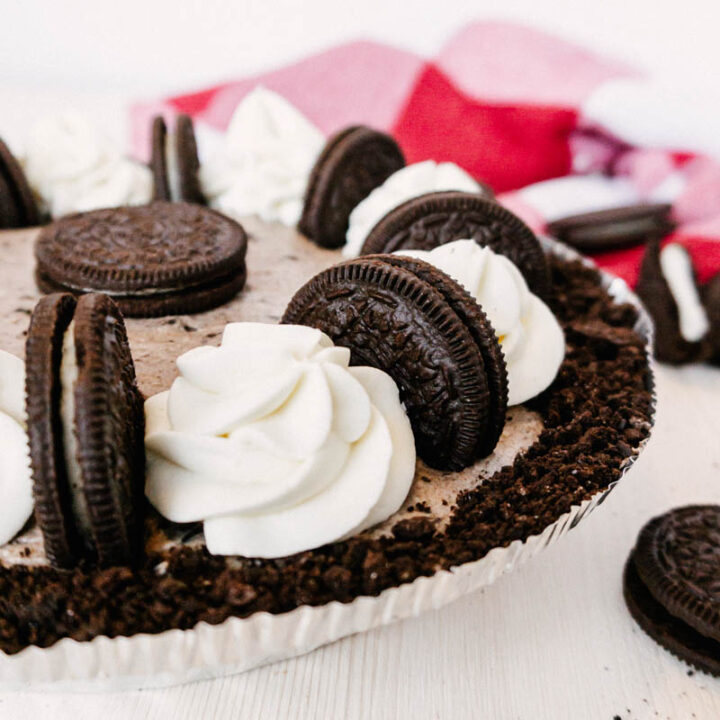 No Bake Oreo Pie
Yield:
one pie, 6-8 servings
Total Time:
6 hours
20 minutes
Have a hungry sweet tooth? With only six ingredients and no baking required, this Oreo pie is a no-brainer!
Ingredients
Oreo Cookies & Crust
12-24 Oreos, crushed
Store-bought Oreo pie crust
Cream Cheese Whipped Cream
1 (8 oz) package cream cheese
½ C (3.5 oz) white sugar
1 tsp vanilla
1 ¾ C (14 oz) heavy cream, cold
Instructions
Make the Cream Cheese Whipped Cream.
In a medium-sized bowl, beat cream cheese until smooth.
Add sugar and vanilla and mix. Scrape bowl. I can't say this enough.
Add heavy cream and mix for 30 seconds. Stop, scrape bowl, beat another 30 seconds, then stop and scrape bowl again.
Whip on high speed until stiff peaks form.
Assemble Oreo Pie.
Set aside 1 ½ C (8.3 oz) of the Cream Cheese Whipped Cream in a separate bowl. This will be used to decorate the top of the pie.
Mix 12-24 roughly crushed Oreos into the remaining cream.
Place Oreo cream into your homemade or store-bought Oreo pie shell and spread to the edges.
Using the reserved Cream Cheese Whipped Cream, decorate the top of your pie. I like to pipe around the edges and place extra Oreos on top.
Chill in the refrigerator for at least six hours, but it is best if served the next day. Keeps well in the refrigerator for 5-7 days.
Notes
Crush Oreos in a zip-top bag using a rolling pin or hammer, or even your hands.