These Frosted Pumpkin Sugar Cookies are super soft and have creamy, fluffy buttercream frosting. It's the perfect fall treat!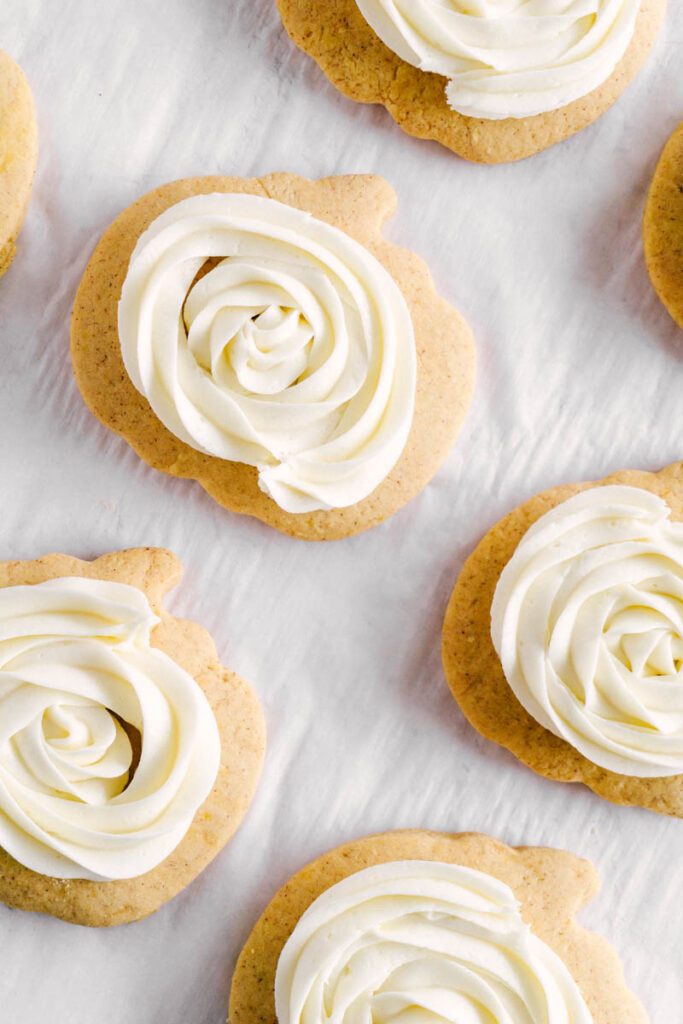 Soft, Fluffy, and Irresistible
With fall in the air, it seems like time to start baking again (I never really stopped, but you know what I mean.) After trying our Apple Cinnamon Cookies, I knew I needed more of them in my life. I played around with the recipe, adding pumpkin puree and pumpkin pie spice. Instead of a glaze, I opted for a pillowy soft Vanilla Buttercream Frosting. 
These cookies are so soft and flavorful. I couldn't help myself from sneaking a couple of plain ones while I waited for them to cool enough to frost. And then I snuck a few more after I frosted them. I was supposed to take these Frosted Pumpkin Sugar Cookies to a girls' night with some friends, but only a few made it there.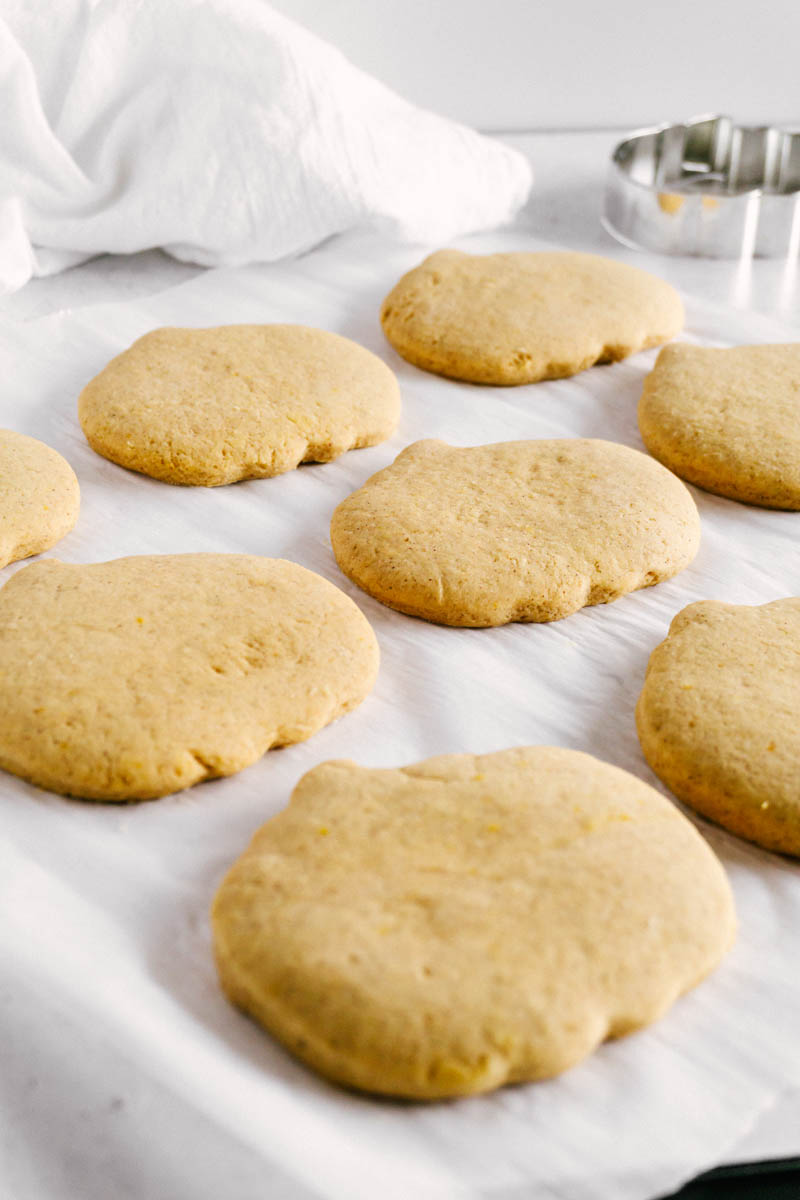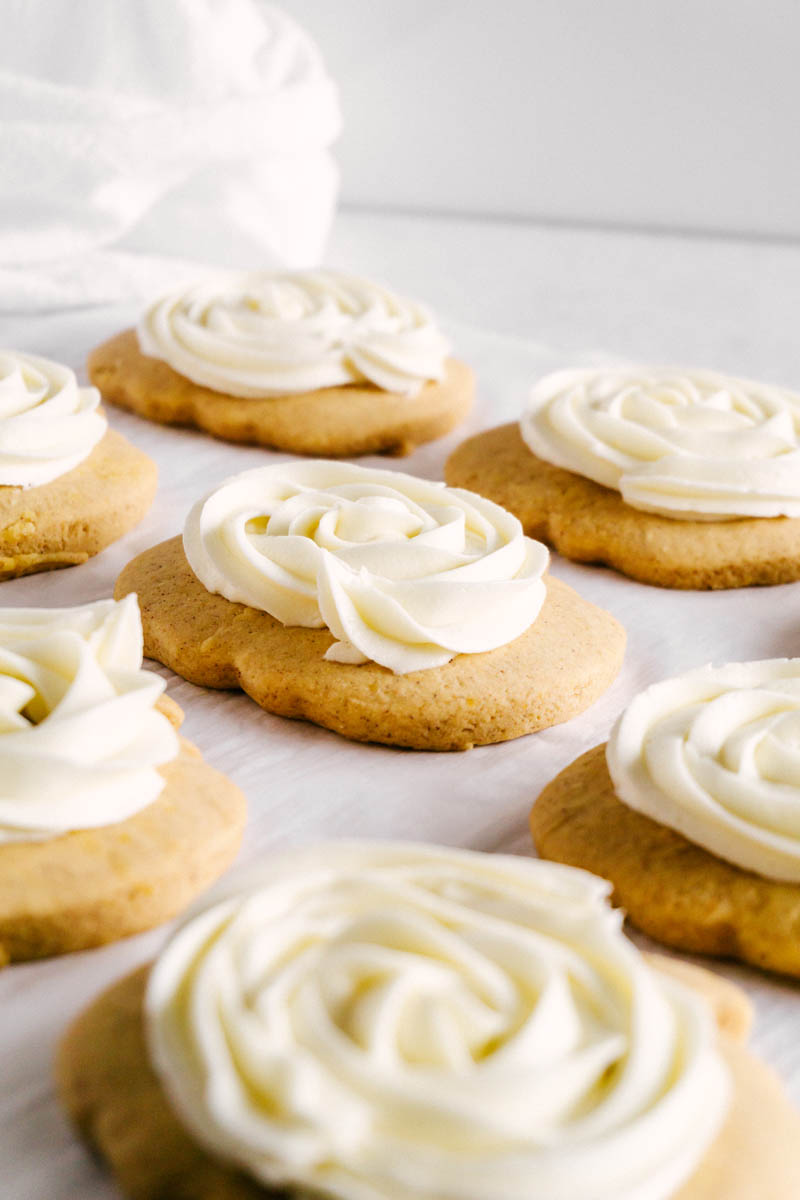 My Favorite Ingredients
Margarine – don't let this one freak you out. Margarine contributes the perfect moisture content to this cookie to keep it soft and fluffy. Make sure to use the stick kind.
Pumpkin – adds moisture and pumpkin flavor, plus helps this cookie be extra soft.
Pumpkin Pie Spice – I usually make my own spice blends, but this is one worth keeping around. It's the perfect blend of warm fall spices to complement the pumpkin.
Butter – Adds delicious moisture and flavor to the pumpkin sugar cookies, plus is the base for the best Vanilla Buttercream Frosting ever!
Vanilla – I like to use a quality vanilla extract for this recipe to help round out and complement the spice flavors. Watkins Baking Vanilla is my go-to choice for baked goods.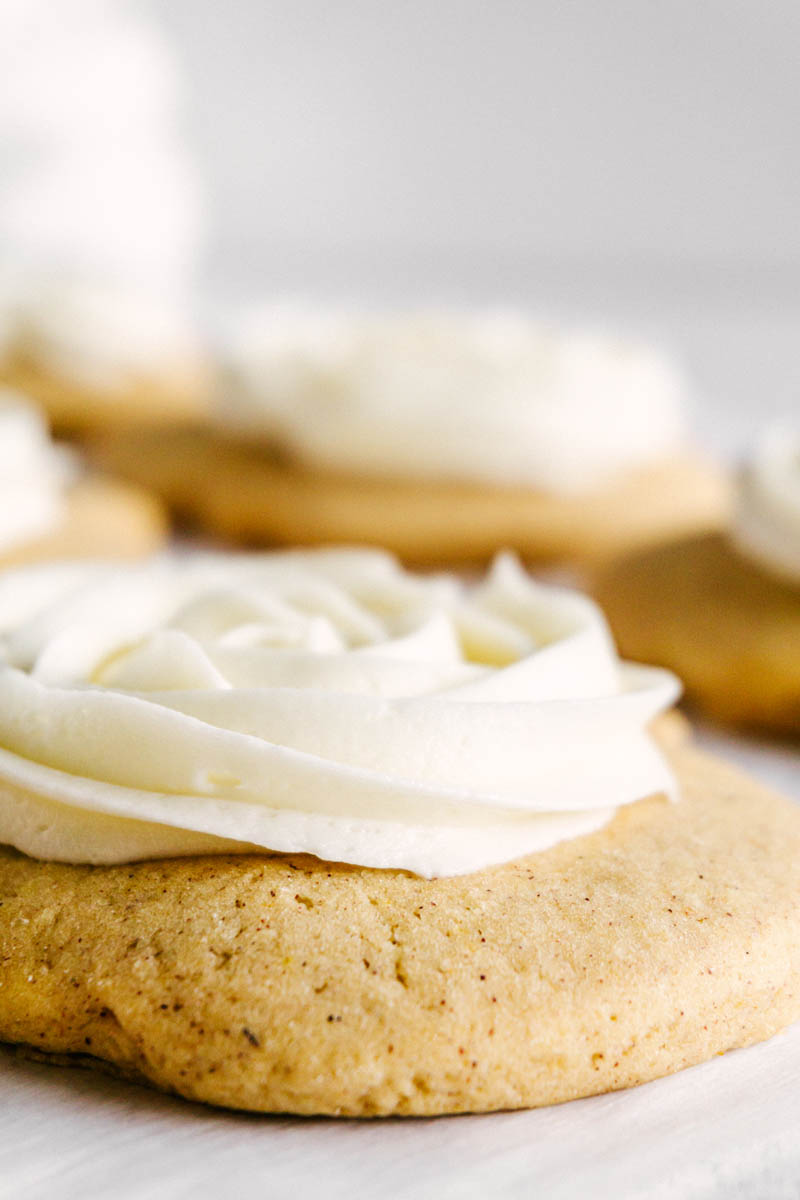 Tips for Making Frosted Pumpkin Sugar Cookies
When mixing the pumpkin sugar cookie dough, make sure the butter and margarine are softened to room temperature. If they are too cold, the pumpkin may not mix in smoothly and will make a lumpy dough. Let the dough warm up a bit if this happens.
Chilling the dough for just a few minutes before rolling the dough out helps to firm it up. This makes it easier to roll out without the dough sticking and helps them transfer to a baking sheet without losing their shape.
When making the vanilla buttercream frosting, add just a bit of milk at a time and don't overbeat. The frosting will develop large air pockets that don't look as pretty, although the taste will be unaffected.
These Frosted Pumpkin Sugar Cookies are just waiting for you to eat them with a tall glass of milk while you enjoy the changing leaves outside!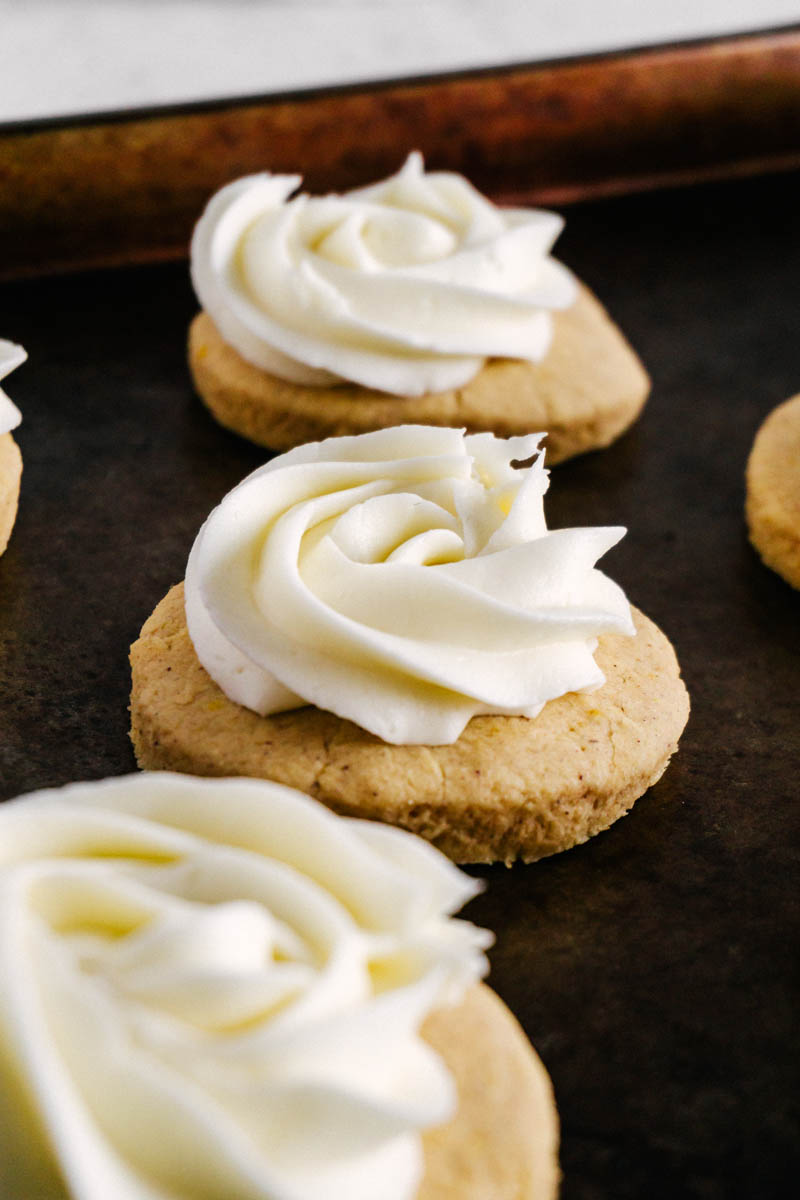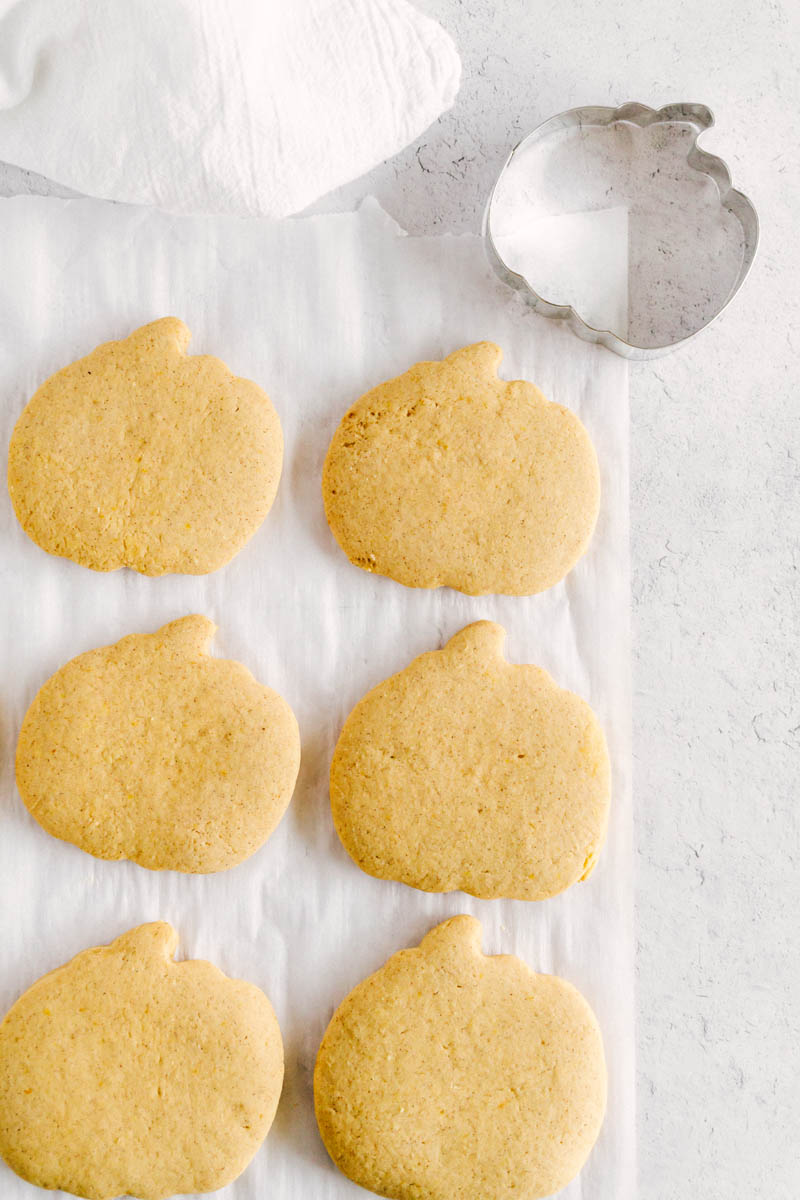 Looking for more delicious pumpkin recipes? Try these:
Pumpkin Streusel Muffins
Pumpkin Waffles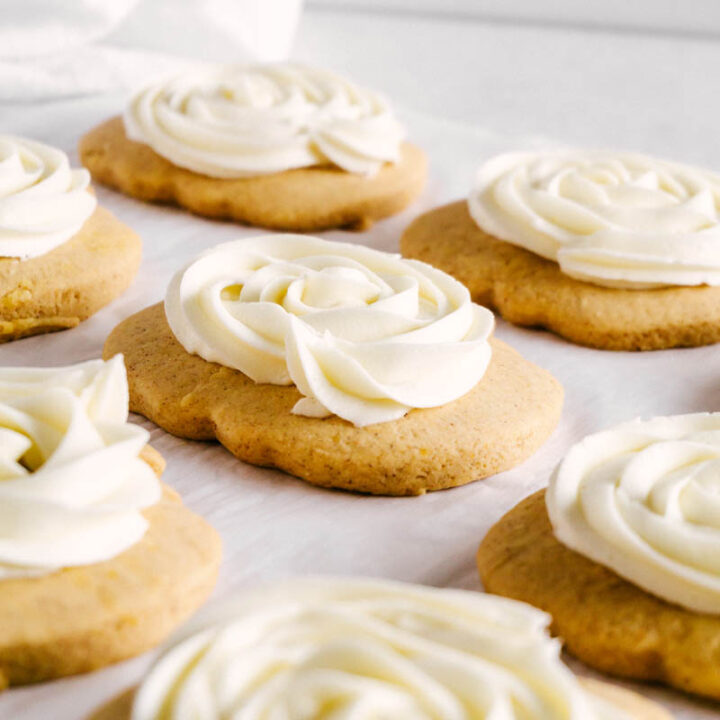 Frosted Pumpkin Sugar Cookies
Additional Time:
1 hour
30 minutes
Total Time:
2 hours
10 minutes
These Frosted Pumpkin Sugar Cookies are super soft and have creamy, fluffy buttercream frosting. It's the perfect fall treat!
Ingredients
Pumpkin Sugar Cookies
½ C (4 oz) salted butter, softened
½ C (4 oz) margarine, softened (stick not tub)
½ C + 1 T (4 oz) granulated sugar
⅓ C + 1 T (3 oz) light brown sugar
1 large egg
⅓ C (3 oz) pumpkin puree
1 ½ tsp vanilla
½ tsp salt
2 tsp baking powder
1 T pumpkin pie spice
3 ½ C (15.7 oz) all-purpose flour, plus extra for rolling out
Vanilla Buttercream Frosting
2 sticks (8 oz) salted butter
3 ½ C (16 oz) powdered sugar
1 tsp vanilla
2-4 T milk
Instructions
Make the Cookies.
Preheat oven to 350*F.
Line cookie sheets with parchment paper.
Cream butter, margarine, and sugars.
Add eggs, vanilla, and pumpkin puree. Mix well.
Add salt, baking powder, pumpkin pie spice, and flour. Mix until all combined.
Refrigerate for 5-10 minutes before rolling out to help firm the dough up.
Place dough onto generously floured counter and sprinkle a little flour on top to keep it from sticking while rolling out. Press or roll out dough to ¼ inch thick.
Cut out cookies with cookie cutter dusted well with flour. Use a thin spatula to move them to the parchment paper to bake.
Bake for 7-11 minutes, depending on the size of the cookies.
Make Vanilla Buttercream Frosting.
Soften the butter, but do not melt. Beat butter with a mixer until it is smooth.
Add powdered sugar. Beat butter and powdered sugar until combined and mixture looks dry and uniform. Scrape bowl.
Add vanilla and 2 T of milk. Beat until frosting is light, creamy, and soft.
If frosting is too thick, add 1-2 additional tablespoons of milk. Caution: overbeating will result in large air pockets that will create a less smooth finish to the buttercream.
Assemble.
After cookies have cooled, pipe or spread frosting onto each cookie. Top with sprinkles or sparkling sugar, if desired.
Notes
I used a 1M piping tip to frost these cookies.