These Apple Cinnamon Cookies are a new way to deliver a delicious apple to teachers. A squeeze of lemon is the secret to the best apple pie – and the same is true for this little gem of a creation.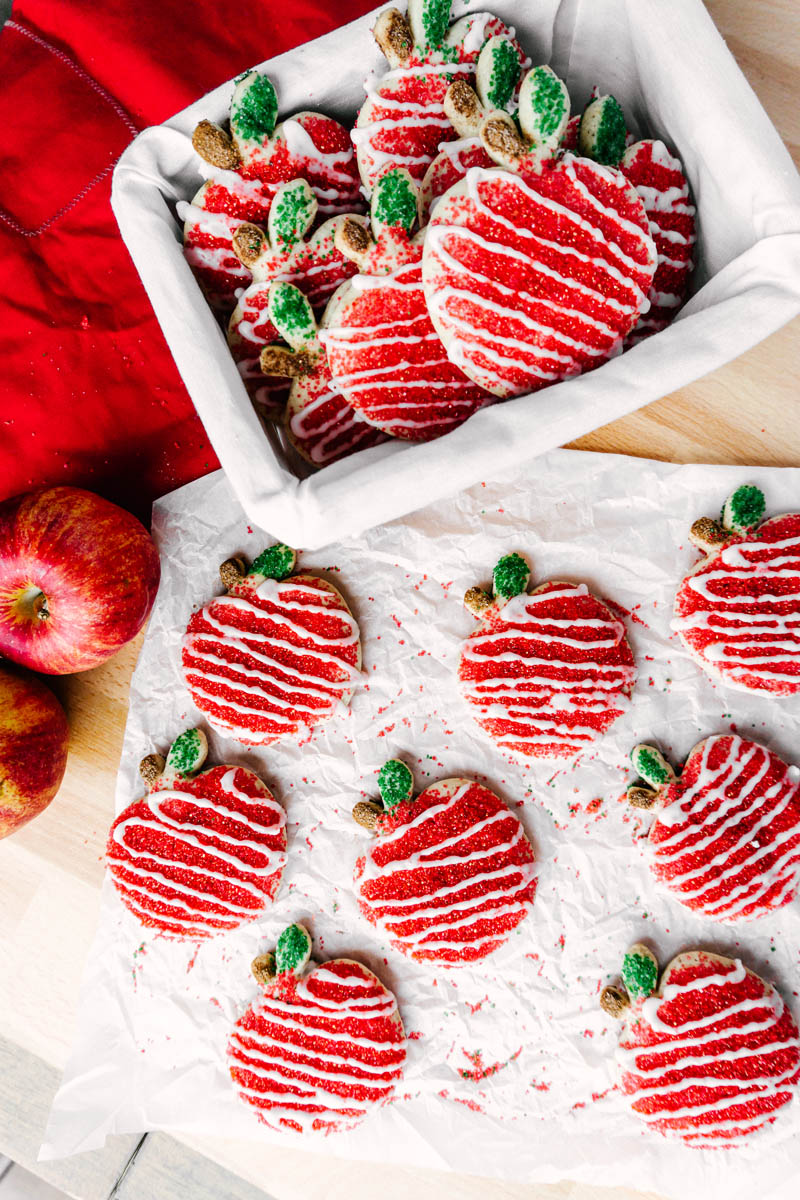 Apples Were In The Air
It was the beginning of the school year. Crisp apples were coming off of my apple trees and fall was in the air. We needed an apple in the cookie shop. After years of making applesauce and smelling those apples as we pulled them off the trees, I wanted an apple cookie that was as bright as the smell of a crisp apple and an apple pie. I thought it would be fun to send an apple-shaped cookie to school with my children for their teachers too. This Apple Cinnamon Cookie was the result.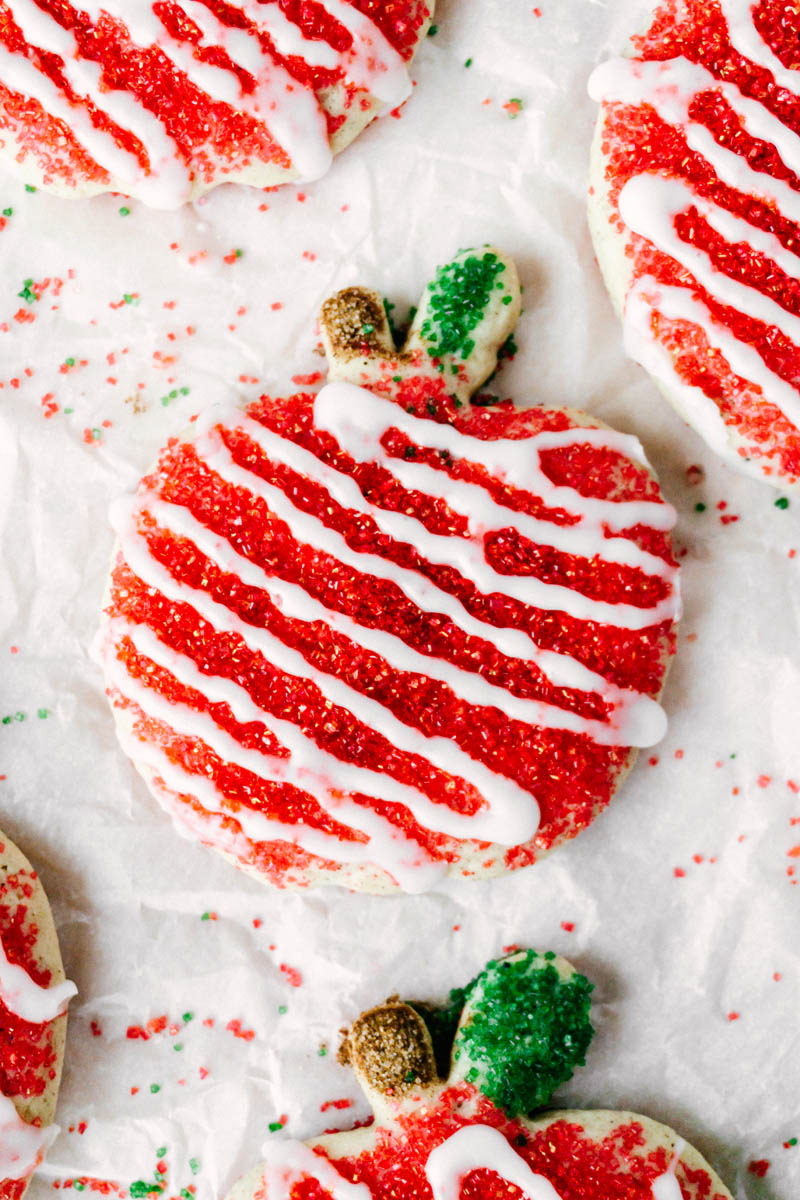 Apple's Secret Weapon
Do you know what makes a great apple pie besides the sugar, spices, apples, and butter? A squeeze of lemon! The same was true for these Apple Cinnamon Cookies. That little lemon drizzle wakes up the whole cookie. Spice can be heavy in baked goods, but lemon makes you reach for one more.

I can't help but eat too many of these when I make them. I blame it on the perfect blend of lemon and spice, plus the crunchy sugar. I've also cut these into acorn shapes and used orange sugar for the body and red for the cap. A fall leaf would also be pretty for a back-to-school bake sale.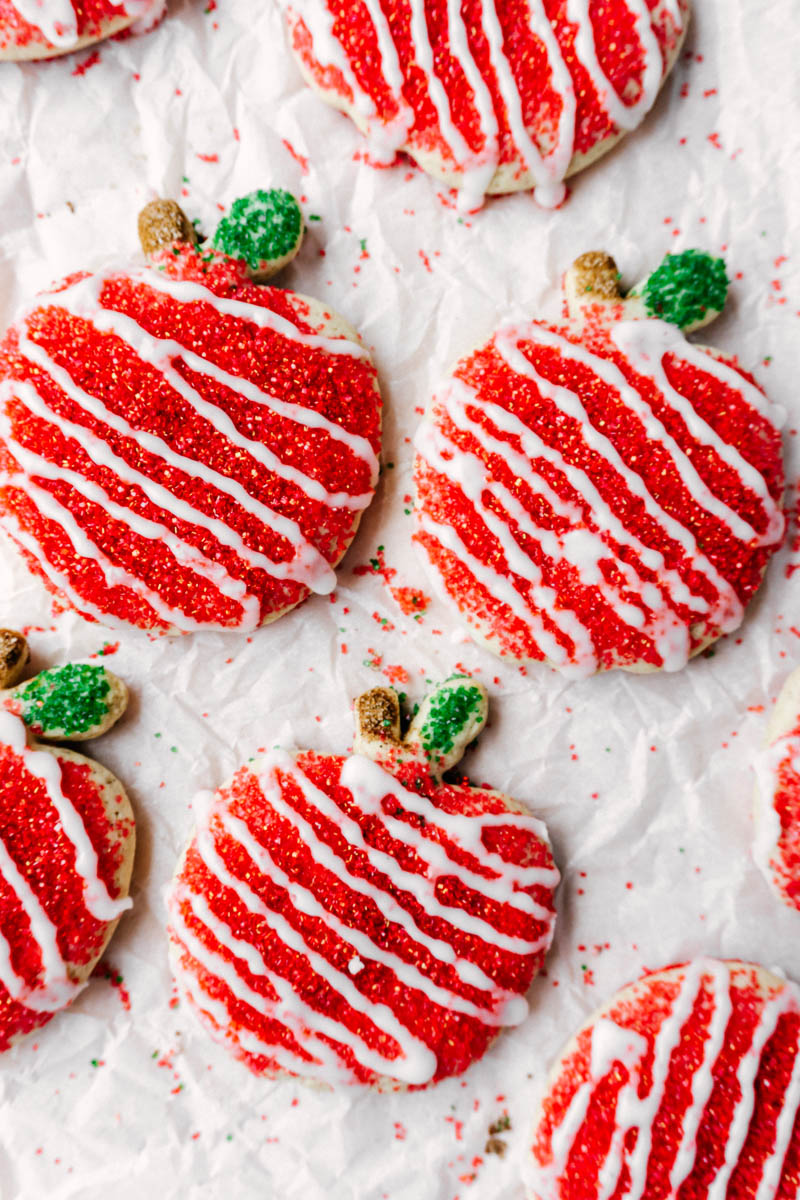 Recipe Ingredients
Applesauce – adds apple flavor and a touch of moisture.
Pumpkin Pie Spice – adds the right balance of spice, better than just using cinnamon.
Butter – adds the nice rich flavor desirable in a cookie.
Margarine – has more water than butter, but plays a better role than straight shortening. Keeps the cookie from being too crisp and shortbread-like.
Brown & White Sugar – contribute texture and sweetness without the cutout cookie spreading and losing its shape.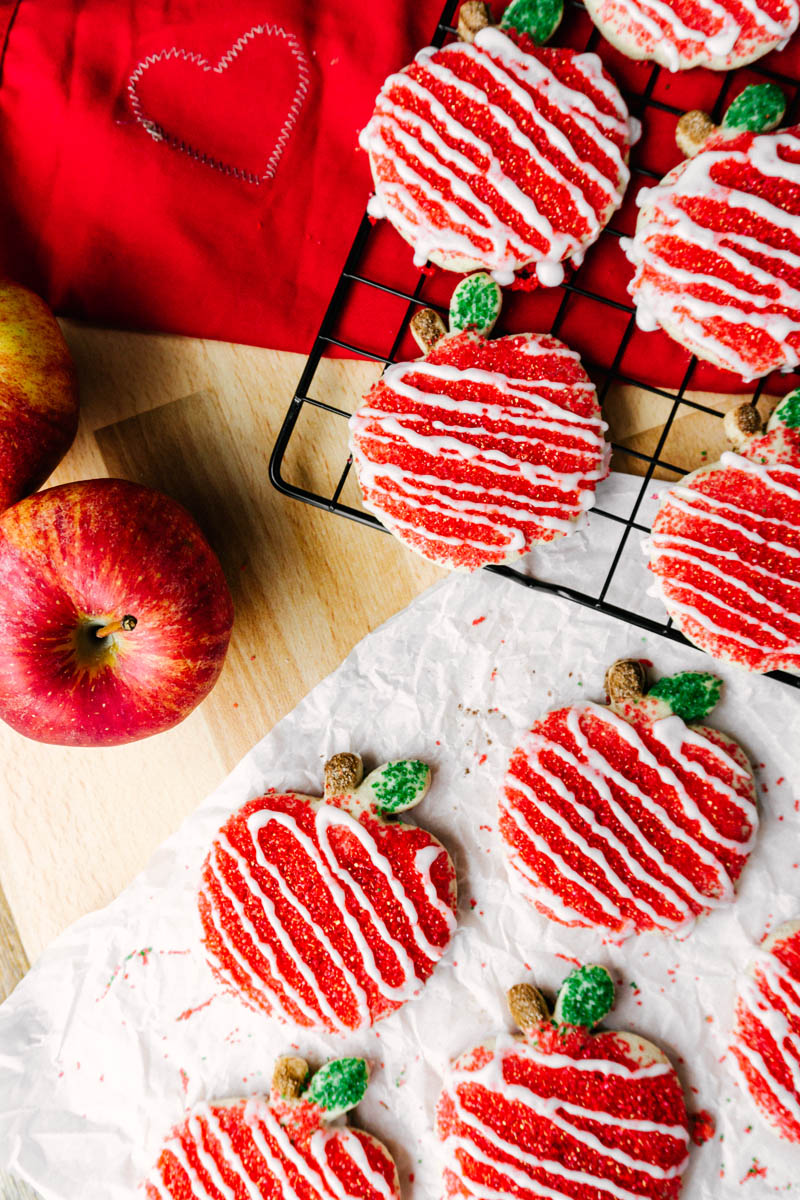 Apple Cinnamon Cookie Tips
Trust me on using both margarine and butter. This cookie is sturdy, yet crispy. Using more butter would create a fried-like texture. Margarine adds flavor and the moisture needed to make these cookies perfect.
Chilling the dough before rolling is not necessary. It is a soft dough, so dust your countertop heavily with flour and don't let it stick as you roll it out. Roll it out to ¼ inch thick.
It's easier to move the cookie to the parchment with a flat metal spatula and then add the sugar before baking. I apply the sugar with my fingers or a spoon.
Don't be afraid to sprinkle the colored sugar on heavily. If you go too light, the color won't stand out. Any extra that has not baked into the top will fall off as you move the cookie to be drizzled.
You'll be glad you made these and so will your child's teacher.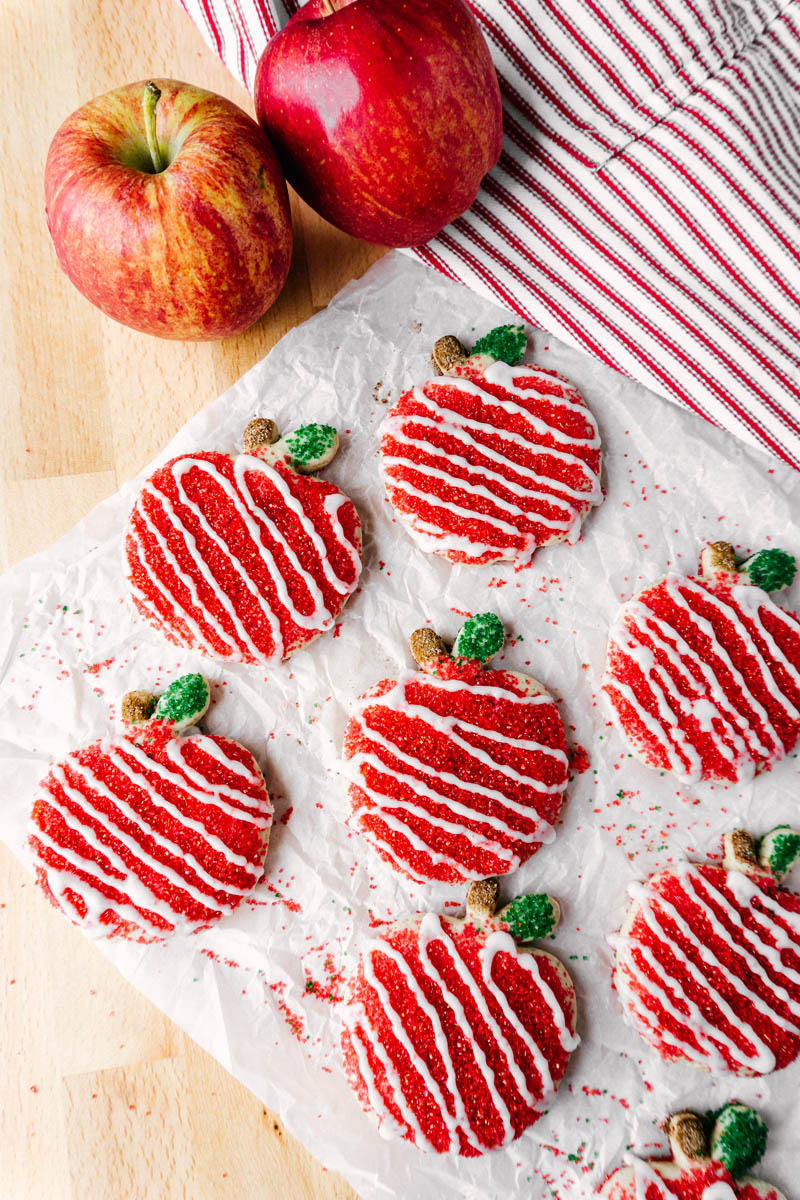 Looking for more delicious Fall Cookie recipes? Try these: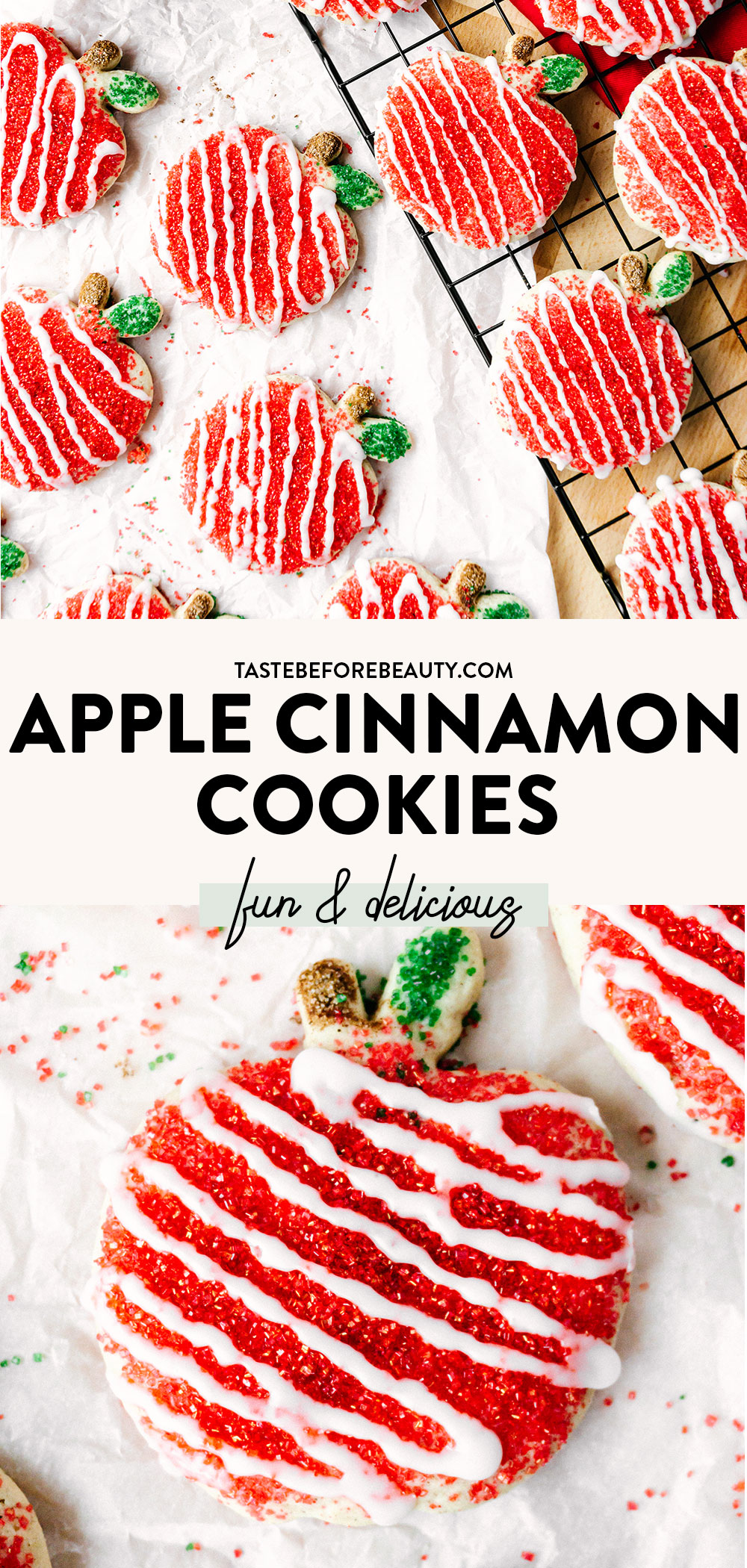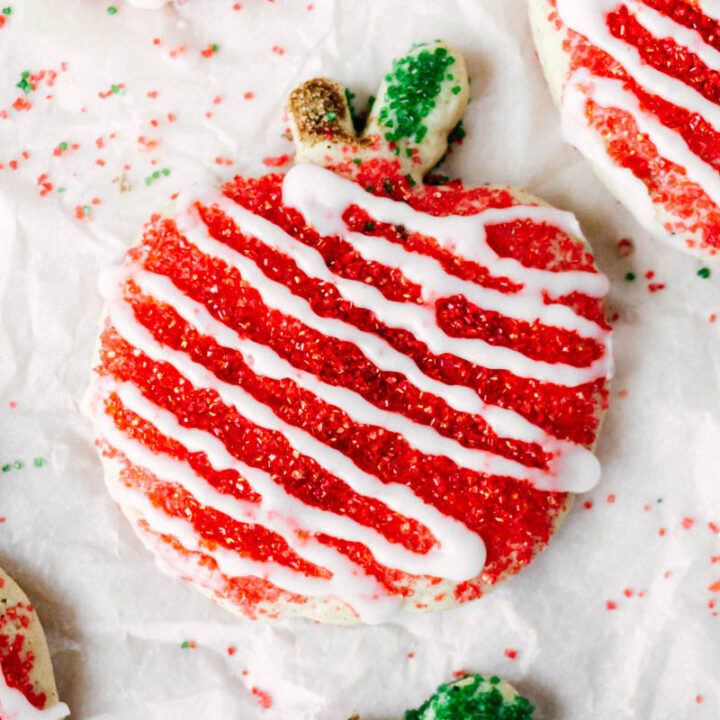 Apple Cinnamon Cookies
Additional Time:
30 minutes
Total Time:
1 hour
17 minutes
These Apple Cinnamon Cookies are a new way to deliver a delicious apple to teachers. A squeeze of lemon is the secret to the best apple pie - and the same is true for this little gem of a creation.
Ingredients
Apple Cinnamon Cookies
½ C (4 oz) salted butter
½ C (4 oz) margarine (stick not tub)
½ C + 1 T (4 oz) white sugar
⅓ C + 1 T (3 oz) brown sugar
1 large egg
⅓ C (3 oz) applesauce
1 ½ tsp vanilla
½ tsp salt
2 tsp baking powder
1 T pumpkin pie spice
3 ½ C (15.7 oz) all-purpose flour, plus extra for rolling out
½ C (3.5 oz) red colored sugar
3 T green colored sugar
1 T cinnamon & sugar
Lemon Icing
1 C (4.5 oz) powdered sugar, sifted
2 T lemon juice
2-3 T lemon juice
Instructions
Make the Cookies.
Preheat oven to 350*F.
Line cookie sheets with parchment paper.
Cream butter, margarine and sugars.
Add eggs, vanilla and applesauce. Mix well.
Add salt, baking powder, pumpkin pie spice, and flour. Mix until all combined.
This is a soft dough. Dump dough onto counter sprinkled well with flour, or rolling mat, and sprinkle a little flour on top so your fingers do not stick. Press then roll out dough to ¼ inch thick. Cut out cookies with apple cookie cutter dusted well with flour. Use a thin spatula to move them to the parchment paper to bake.
Place on parchment. Using a slightly damp finger, run your finger across the little stem and leaf section of your cookie cutter. This will help the sugar adhere to those small sections. With a tiny tip of a spoon or an ⅛ tsp measuring spoon, sprinkle the cinnamon and sugar on the stem. Sprinkle leaf with green-colored sugar. Then, sprinkle the rest of the apple heavily with red-colored sugar.
Bake 5-7 minutes until edges of cookie are lightly brown.
Make the Lemon Icing.
Mix powdered sugar with 2 T lemon juice until glaze is thick and able to be drizzled.
Once cookies are cool, drizzle with lemon icing.
Notes
Sifting the powdered sugar speeds up the mixing of the glaze. Add a little lemon juice and stir together, then add more lemon juice as needed. The glaze will set up and dry on the cookie.
I put the glaze in a plastic quart-size bag and cut a tiny hole on the corner to drizzle the glaze diagonally over the cookie.
When I make "cinnamon & sugar", I go heavy on the cinnamon. The sugar is just to help it adhere to the cookie, but you need the brown of ground cinnamon. No measurement, just eyeball it.