These cookies are packed with pumpkin, spices, and chocolate. If my husband had to choose one cookie to eat for the rest of his life these pumpkin chocolate chip cookies would be his choice!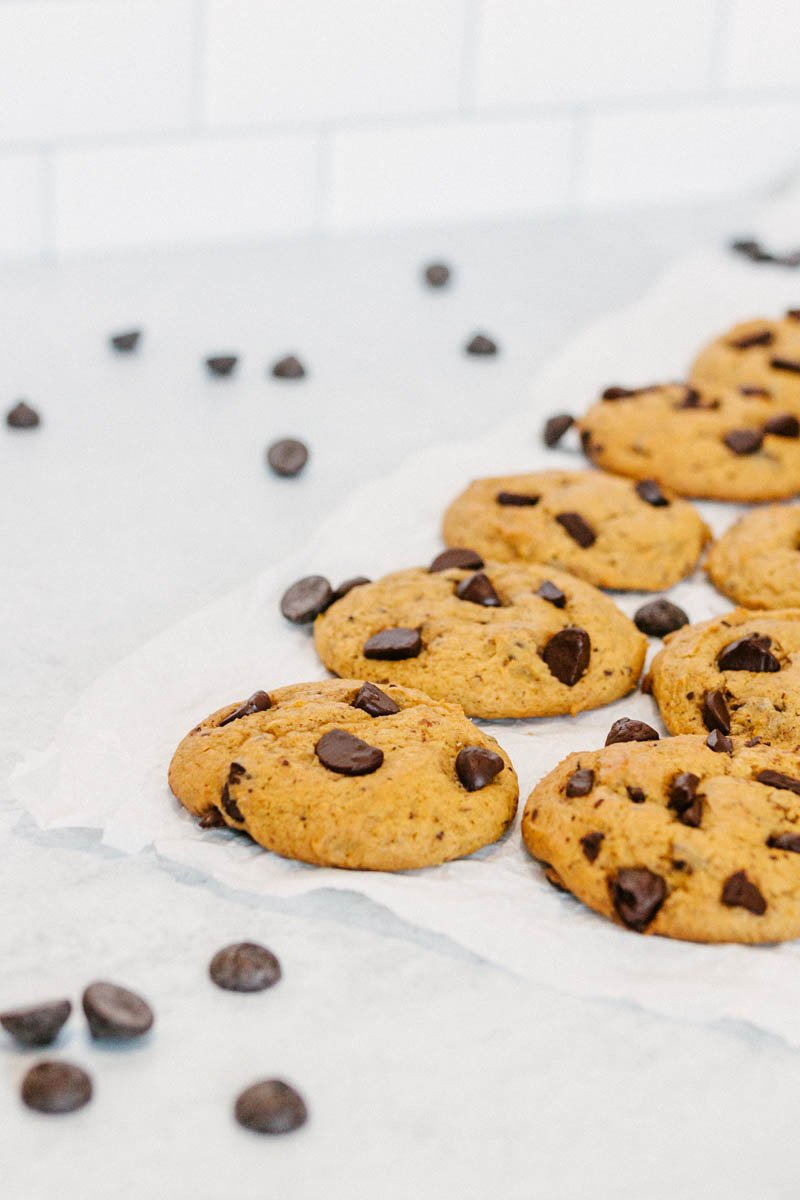 Nutmeg Confession
I have a confession. I don't usually like nutmeg in pumpkin recipes. My favorite pumpkin pie recipe is Libby's Famous Pumpkin Pie recipe, found on the canned pumpkin label. One of the reasons I love it is because it has no nutmeg. When I first tried this Pumpkin Chocolate Chip cookie recipe from my husband's family, I saw it had nutmeg in it. I was skeptical until I tried it. It adds the perfect touch.
Although I've had this recipe around for a while, it wasn't one I sold at the cookie shop. It's not a particularly pretty cookie and truthfully, it was a bit tricky to bake. Because of the pumpkin in the dough, it takes longer to bake than a traditional cookie. There is a fine line to walk between underdone and gummy, and overdone and dry. As long as you pull it out of the oven when the top is starting to lightly brown, you'll be fine.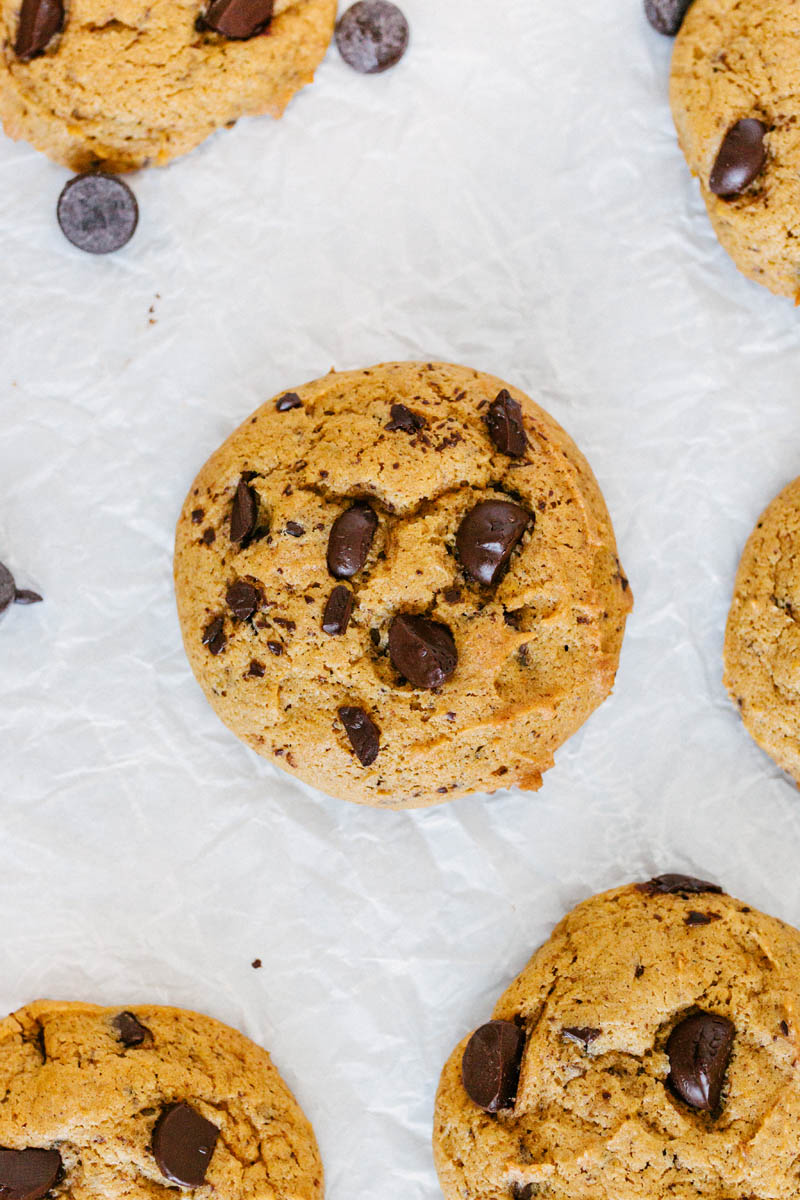 Margarine Substitute
I found using butter wasn't the best option for these pumpkin chocolate chip cookies. It made for a dry cookie, even with all of the moisture from the pumpkin. If you don't have margarine, I recommend using shortening in its place, plus a bit of extra salt, rather than butter. 
My daughter Kailey tested the pumpkin chocolate chip cookies for us when she wanted to make these but was out of Blue Bonnet margarine and had a brand-new baby to take care of. Instead of making a run to the store, she substituted shortening for the margarine and added ¼ tsp salt. Additionally, she was out of semi-sweet chocolate chips so she used chopped dark chocolate instead. They turned out wonderful. If you're a dark chocolate lover, we recommend subbing in dark chocolate for the semi-sweet chocolate chips.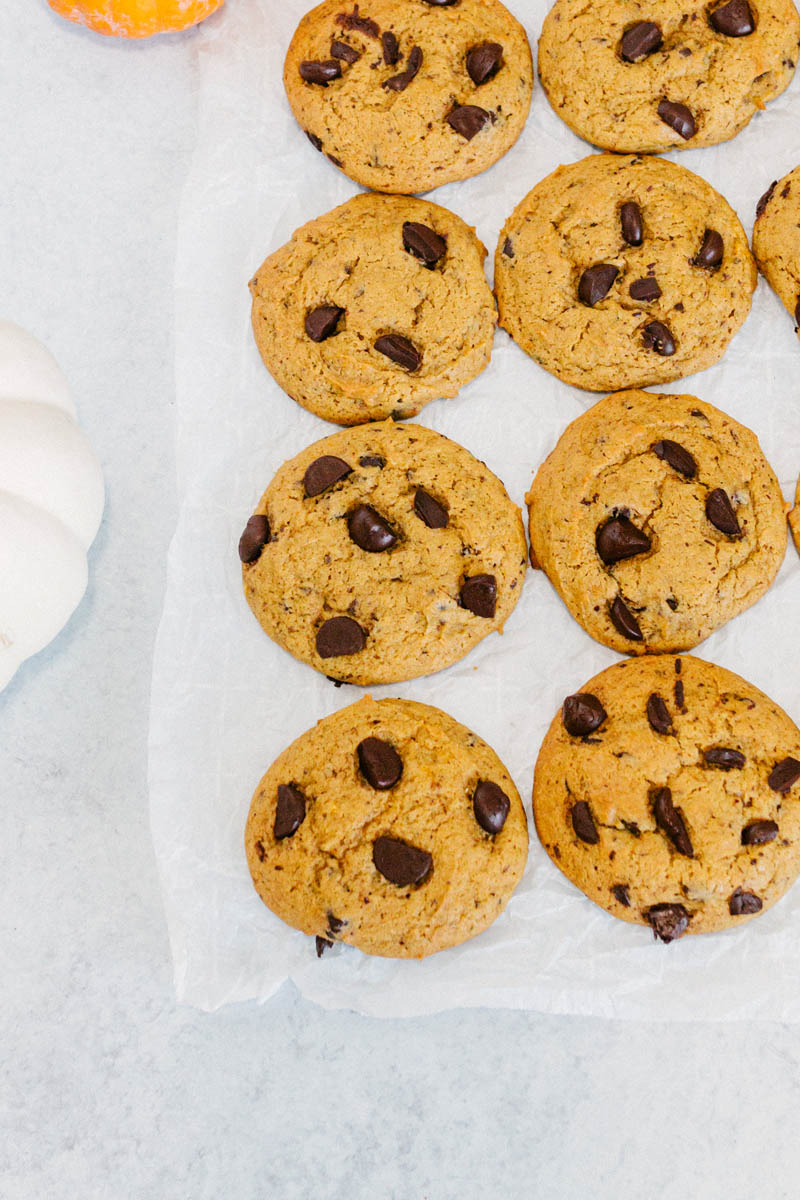 Lots of Delicious Pumpkin Chocolate Chip Cookies
This is a large batch. I got tired of opening cans of pumpkin and using only part of it, so I scaled the recipe up so it uses an entire can of pumpkin. It makes a lot of cookies and you could cut it in half. My family typically eats about ⅔ of the batch and then we freeze the rest. My son actually prefers them frozen.
If my husband had to choose one cookie to eat for the rest of his life, this would be his top choice. (His favorite ever treat is this Rocky Road Fudge.) They may not be pretty, but taste is always before beauty and everyone always reaches for another.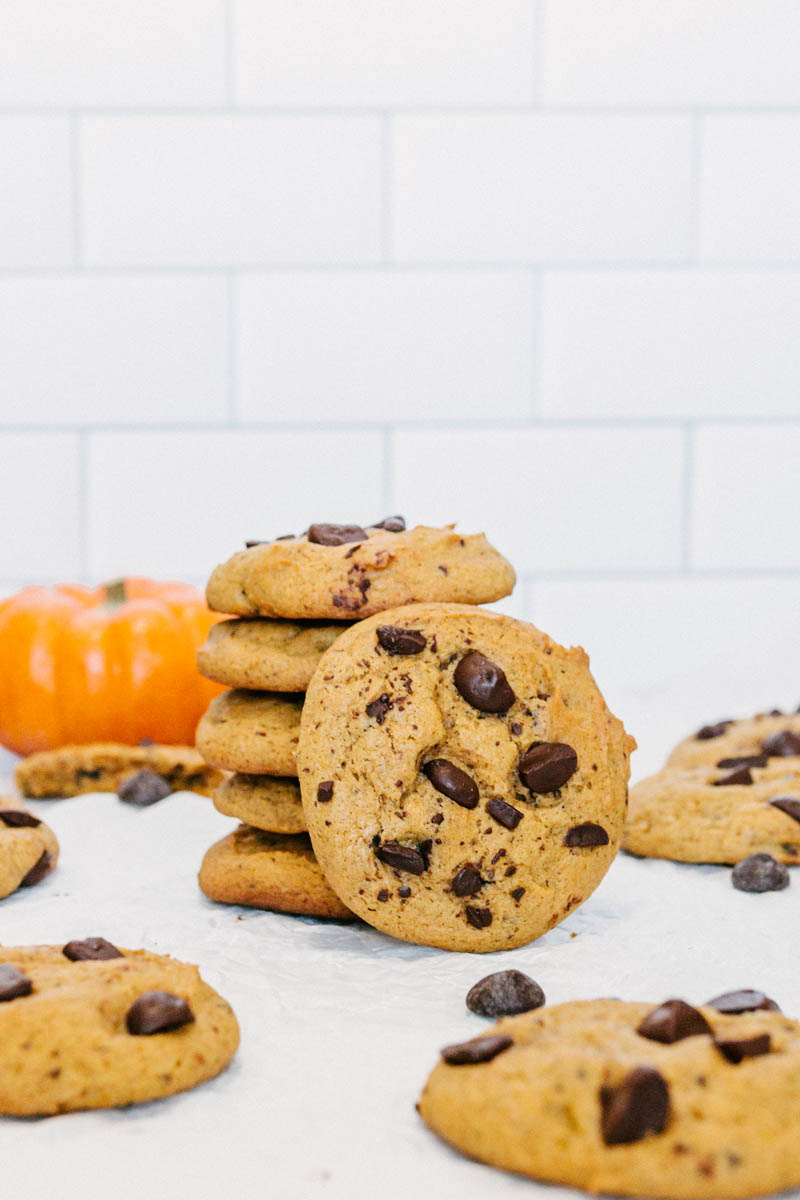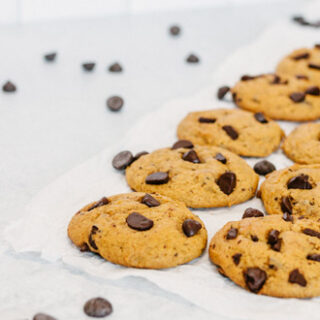 Pumpkin Chocolate Chip Cookie
Additional Time:
30 minutes
Total Time:
1 hour
1 minute
These cookies are packed with pumpkin, spices, and chocolate. If my husband had to choose one cookie to eat for the rest of his life this would be his choice!
Ingredients
½ C (4 oz) margarine
½ C (3.5 oz) shortening
3 C (21 oz) white sugar
2 large eggs
1 (15 oz) can pumpkin
2 tsp vanilla
2 tsp baking powder
2 tsp baking soda
1 tsp salt
2 tsp nutmeg
2 tsp cinnamon
5 C (22.6 oz) flour
2 C (12 oz) semi-sweet chocolate chips, divided
Instructions
Preheat oven to 375*F. Line cookie sheets with parchment paper.
Cream together margarine, shortening, and sugar. Add eggs and vanilla and beat for one minute. Add pumpkin and mix till combined.
Add dry ingredients and chocolate chips, reserving ½ C (3 oz) of chocolate chips to top the cookies before baking. Mix until well combined.
Using a #30 cookie dough scoop (2 ½ T) or a #40 cookie dough scoop (1 ¾ T), drop dough balls onto parchment-lined cookie sheets. They don't spread too far, so they only need to be a few inches apart. Top each dough ball with 4-5 chocolate chips.
Bake 375* for 9-11 minutes, or until the tops start to slightly brown.
Notes
I prefer Blue Bonnet margarine sticks for this recipe. Butter can be used in place of margarine, but the cookies will be slightly drier.