Plenty of pumpkin, perfectly balanced spices, and a light and fluffy cream cheese center make a perfect pumpkin roll that will keep you coming back for more.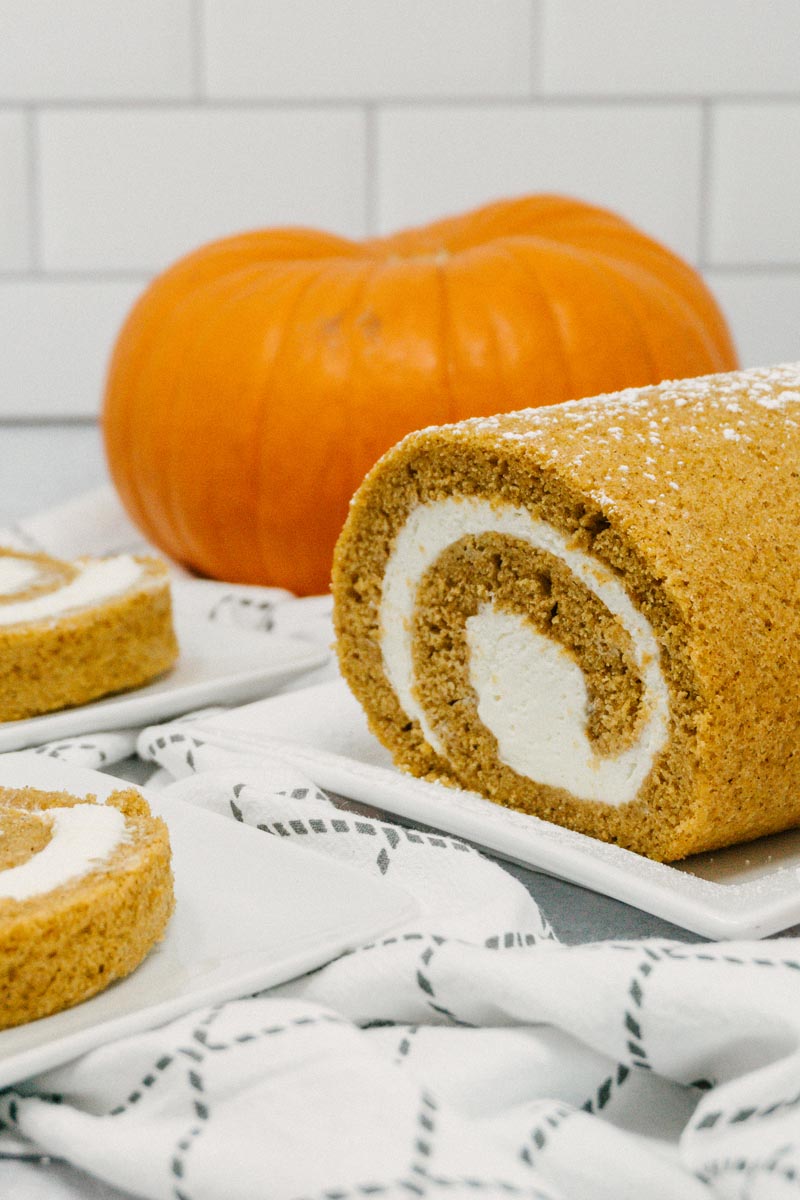 My Pumpkin Roll Love
I love pumpkin rolls. There's something so enticing about the beautiful swirl of pumpkin cake with the contrast of the cream cheese filling. I've tried many from the grocery store, but find I'm disappointed more often than not.
I was going through an old family cookbook and found my Grandma's recipe for a pumpkin roll. I took a chance on it and haven't turned back since. It is the most wonderful pumpkin roll I've ever had. The spices are balanced and the simple addition of lemon juice brightens the flavor of the whole thing. The only problem is that it was written for a jelly roll pan.
Pan and Teaspoon Measurements
I don't own a jelly roll pan, and I will probably never own a jelly roll pan. I don't believe in keeping kitchen tools around that have only one purpose. If you have the space to do so, then go for it! But I suspect most of us have small kitchens and have to carefully choose what we want to fill them with. So, I scaled this recipe up to fit a standard "half sheet" pan, also known as a cookie sheet. You may notice this recipe has some funky measurements, like ⅓ tsp. I don't own a ⅓ tsp measuring spoon (do they even exist?) so I just use a ¼ tsp measuring spoon and fill it heaping full. It's close enough to get the job done.
A lot of recipes will have you turn the pumpkin roll upside down on a flour sack towel sprinkled with powdered sugar, then roll it up in the towel. I realized in the cookie shop that I simply didn't have the space and time to do that, nor did I want to clean up the mess from it. So, I let the cake cool for 10 minutes, then sprinkle it directly with powdered sugar and roll it up in the parchment paper it was baked on. It works beautifully and saves time and effort.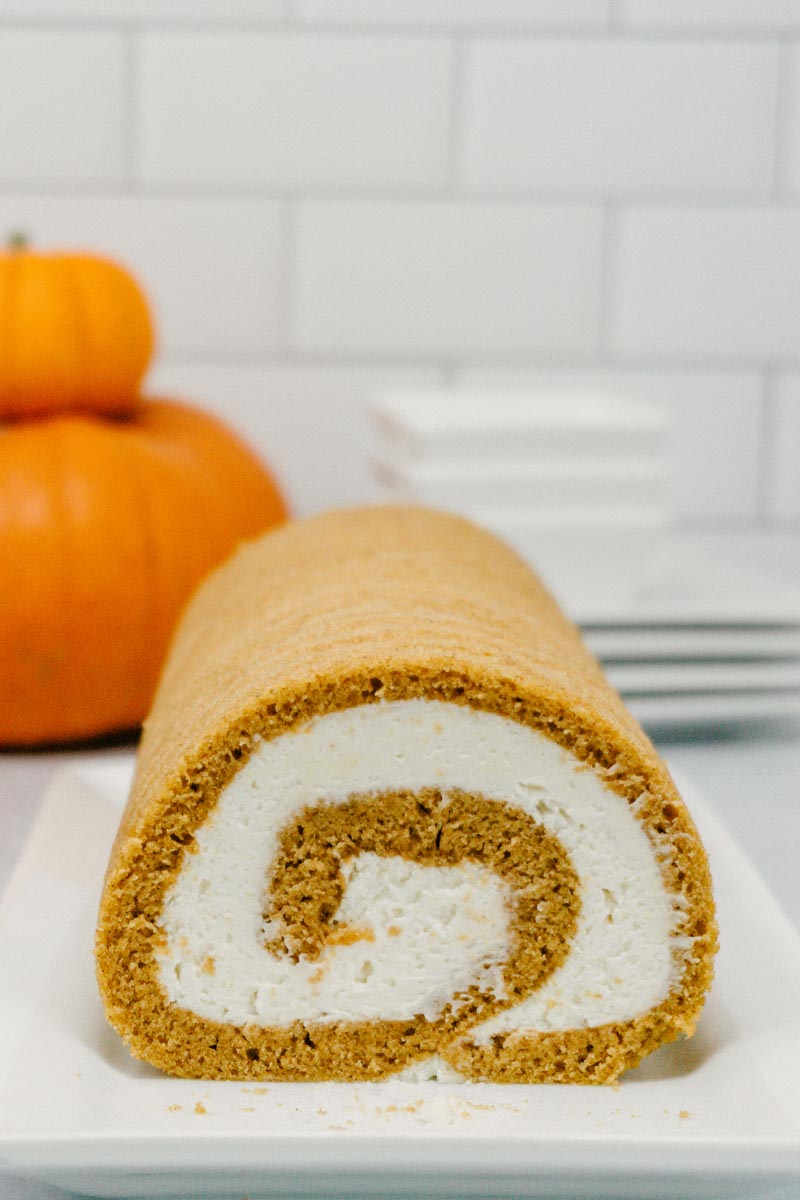 The stabilized cream cheese whipped cream I use in this pumpkin roll is the same cream filling I use for almost every dessert that calls for whipped cream. The texture is light and creamy and it lasts for days in the fridge without losing it's body. The cream cheese flavor is quite light. If you prefer a more prominent cream cheese flavor, reduce the amount of heavy cream by ½ C (4 oz). Feel free to use as much or as little of the filling as you'd like. I like my pumpkin roll loaded with cream, so I choose to use the full batch of cream cheese whipped cream. 
After making this pumpkin roll, I've never gone back to store-bought. The effort is worth the delicious results. Let us know what you think!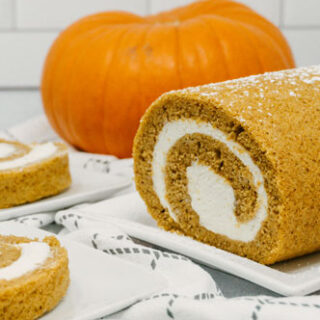 Pumpkin Roll
Additional Time:
10 minutes
Plenty of pumpkin, perfectly balanced spices, and a light and fluffy cream cheese center make a perfect pumpkin roll that will keep you coming back for more.
Ingredients
Pumpkin Cake
4 large eggs
1 ⅓ C (9.3 oz) white sugar
⅞ C (7.3 oz) canned pumpkin
1 ½ tsp lemon juice
1 C (4.6 oz) all-purpose flour (sifted)
1 ⅓ tsp baking powder
¾ tsp salt
2 ⅔ tsp ground cinnamon
Heaping ¼ tsp ground ginger
Powdered sugar for dusting
Cream Cheese Whipped Cream
1 (8 oz) package cream cheese
½ C (3.5 oz) white sugar
1 tsp vanilla
1 ¾ C (14 oz) heavy cream, cold
Instructions
Make the Pumpkin Cake.
Preheat oven to 375*F. Line a 13x18 pan with parchment paper. Spray parchment paper lightly with cooking spray.
In a medium bowl, sift flour, baking powder, salt, and spices together. Set aside.
In a separate bowl, use a hand mixer to mix eggs and sugar. Add pumpkin and lemon juice and mix. Add dry ingredients and mix until combined. Spread batter into prepared pan. Bake 375*F for 15 minutes or until center springs back to the touch.
Let cool for 15 minutes. Dust top lightly with powdered sugar. Roll cake starting at the short end of the pan, keeping the parchment paper on the cake.
Make Cream Cheese Whipped Cream.
In a medium-sized bowl, beat cream cheese until smooth.
Add sugar and vanilla and mix. Scrape bowl. I can't say this enough.
Add heavy cream and mix for 30 seconds. Stop, scrape bowl, beat another 30 seconds, then stop and scrape bowl again.
Whip on high speed until pipeable and ready to spread. Refrigerate until ready to use.
Assemble Pumpkin Roll.
Gently unroll pumpkin roll when cool and spread prepared cream cheese whipped cream, leaving ¾ inch around the edges. Reroll gently. Peel off the parchment paper as you roll. Try to keep the roll as round as possible without squeezing the filling out. Cover and refrigerate for at least 2 hours before serving.
Sprinkle with powdered sugar and slice to serve. Trim the ends if desired for a more polished look (we won't tell anyone if you eat them).
Notes
I have scaled this recipe up to fit a standard cookie sheet size, rather than the jelly roll pan my grandma used. This gave some unconventional measurements. Anywhere I call for a ⅓ tsp, you may simply use a heaping ¼ tsp.
When making the cream cheese whipped cream, scrape the bowl at least 2-3 times before the cream begins to thicken. This will help incorporate the cream cheese evenly. Failing to do so may result in unsightly chunks of cream cheese in the final product.