A perfectly spiced pumpkin cookie topped with creamy cream cheese frosting is made even better in both looks and taste by the addition of a single pecan on top.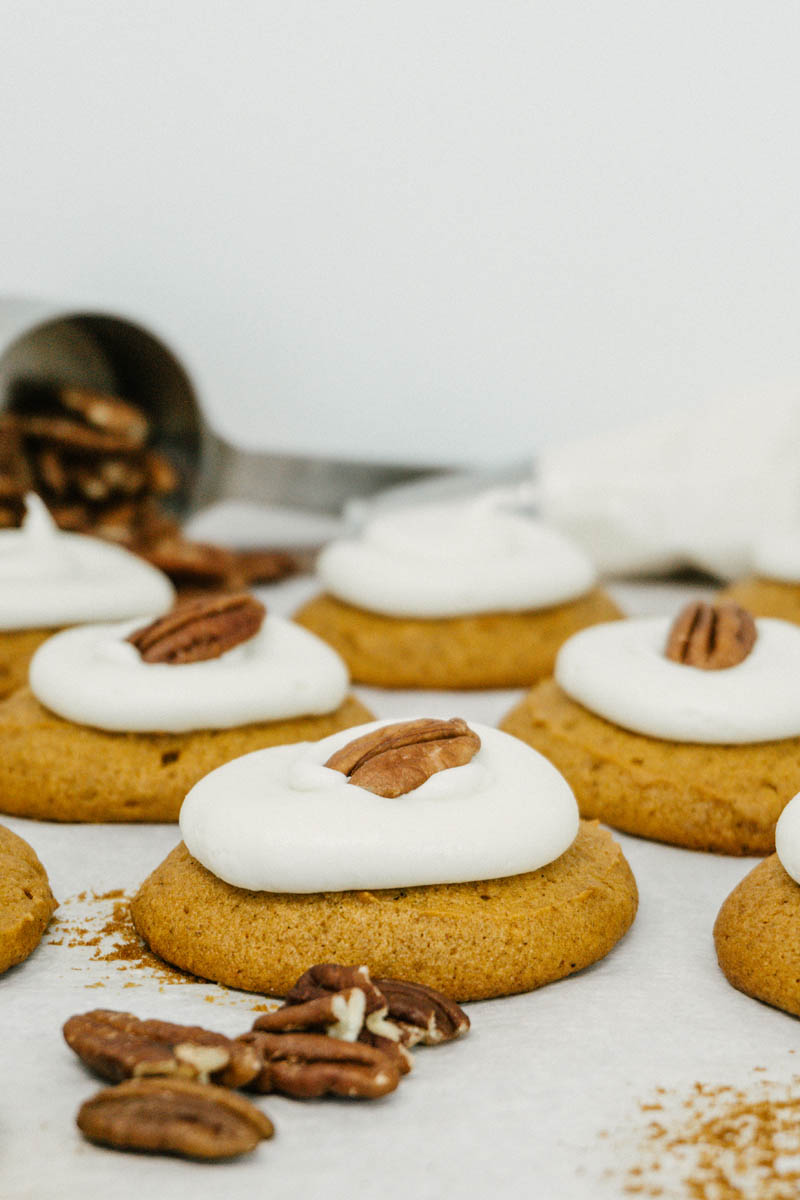 Perfect Cream Cheese Pumpkin Cookie
This pumpkin cookie is a true gem. I have to admit that I'm not usually very fond of the fall "pumpkin spice" blend. It always feels unbalanced, with too many cloves or nutmeg that overpower the pumpkin flavor. Rest assured, I've done my homework here and this cookie has the perfect blend of all of your favorite pumpkin spices. The cream cheese frosting adds the perfect amount of smooth sweetness. They're perfect. I can't turn them down! 
You may be surprised to see that I use margarine for this recipe, as well as for my Pumpkin Chocolate Chip cookie. I find that the higher moisture content of margarine is better suited to these pumpkin cookies than butter. Please be sure to use stick margarine, because it contains the correct proportion of fat to water that is ideal for baking. If all you have is butter, you can use it, but expect your cookies to be drier and less flavorful than if you used margarine.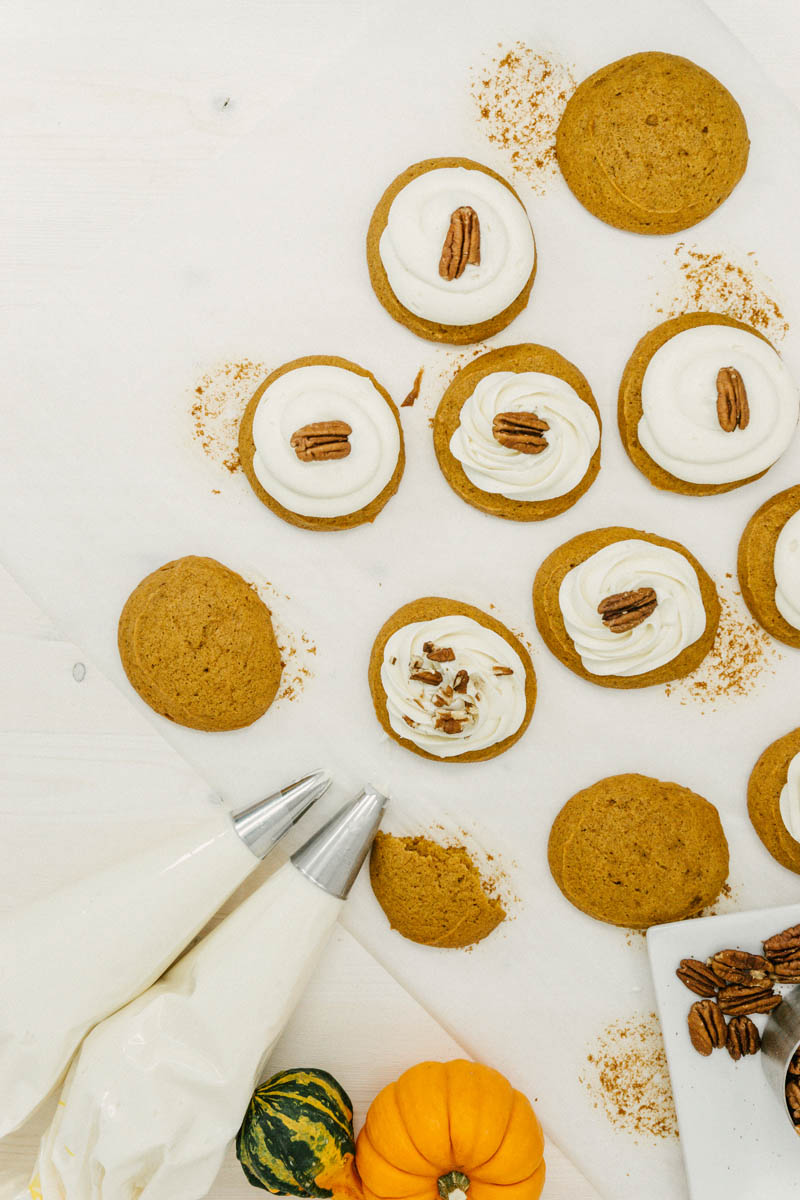 When you make these, note that the cookie dough will be a little closer to cake batter consistency than dough. It makes these cookies pillowy soft and delightful.
Cream cheese frosting is one of those things that is always delicious but isn't always beautiful. Traditional recipes are often a little runny and definitely never pipeable. I prefer the piped look for these cookies. They taste so delicious that they deserve to look just as delectable. If you make it and it seems too runny, a quick chill will set it up and you'll be good to go. This cream cheese frosting recipe is simple. I don't try to hide the cream cheese flavor behind butter or a long list of ingredients and it allows the cream cheese to shine.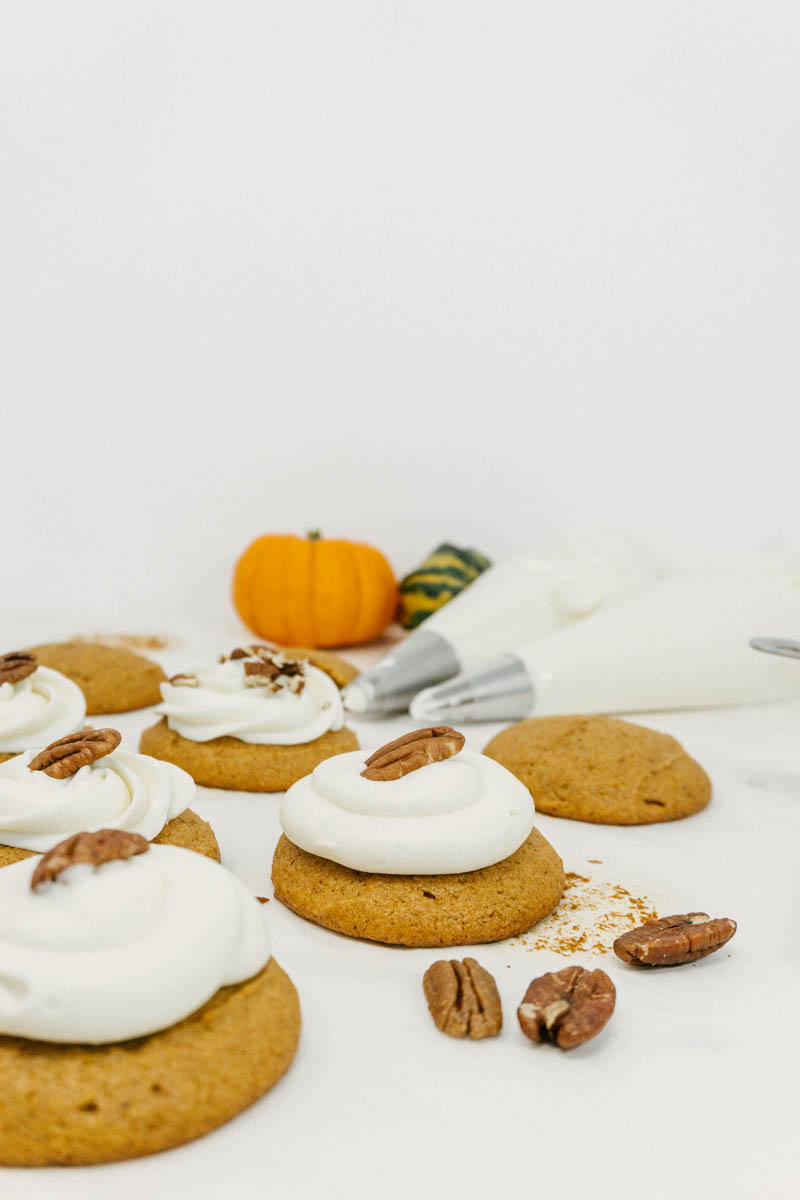 I'm dying to know what you think. Are the spices balanced perfectly? Did you love the creamy frosting? How about the pillowy soft cookie? Did the pecan on top surprise you with how perfect it made the whole thing? Comment and let me know!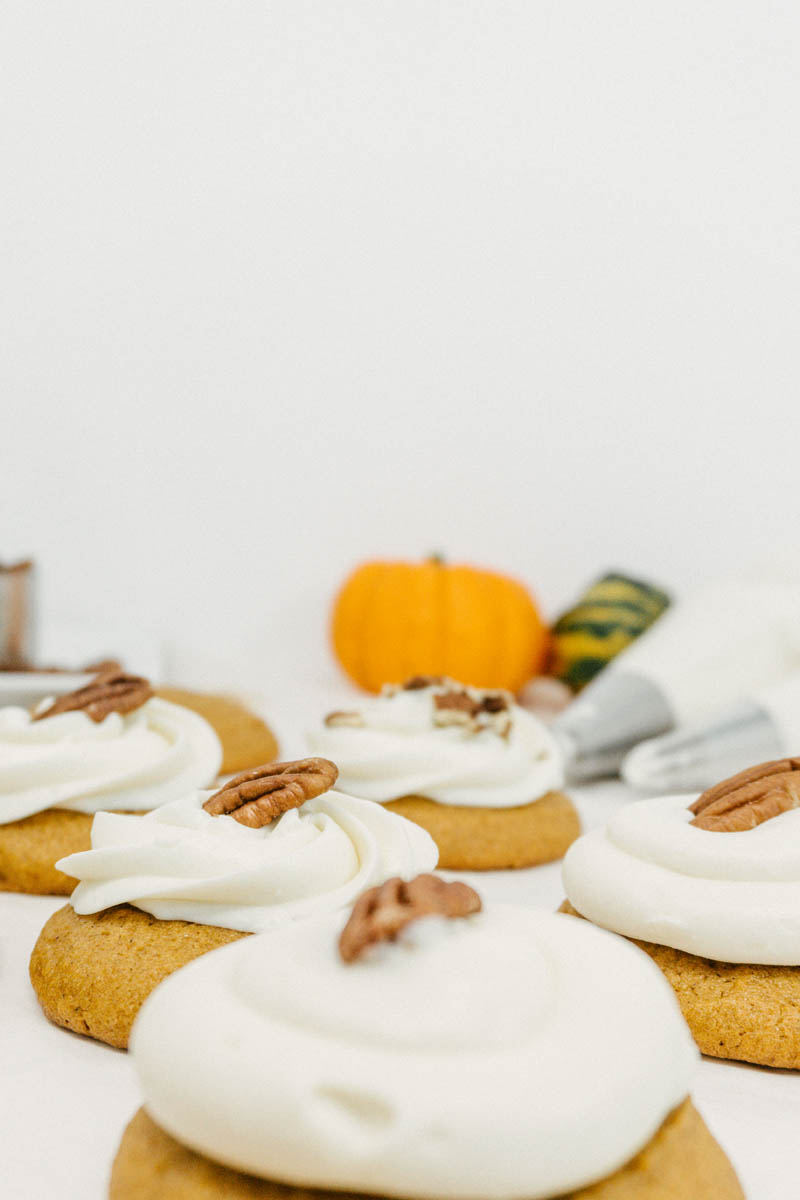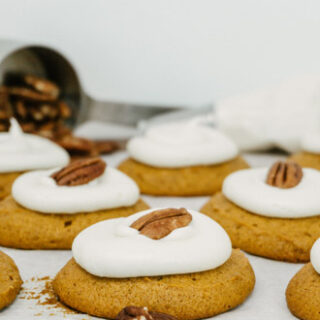 Pumpkin Cream Cheese Cookie
A perfectly spiced pumpkin cookie topped with creamy cream cheese frosting is made even better in both looks and taste by the addition of a single pecan on top.
Ingredients
Pumpkin Cookies
1 C (8 oz) margarine
1 C (8 oz) brown sugar
1 C (7 oz) white sugar
15 oz can pumpkin puree
2 large eggs
2 tsp vanilla
2 tsp cinnamon
⅛ tsp ground cloves
½ tsp nutmeg
½ tsp ground ginger
½ tsp salt
1 tsp baking soda
1 tsp baking powder
2 ¾ C (12.3 oz) all-purpose flour
Cream Cheese Frosting
1 (8 oz) cream cheese, softened
1 ¾ C (8 oz) powdered sugar
1 ⅓ C (8 oz) white chocolate wafers, melted and cooled slightly
1 ½ tsp vanilla
1 ½ tsp milk, room temperature
For Topping
½ C pecan halves (optional)
Instructions
Make Pumpkin Cookies.
Preheat oven to 350*F. Line cookie sheets with parchment paper.
Cream sugars and margarine. Add pumpkin, eggs, vanilla, and spices and mix well. Add remaining dry ingredients. Mix. Scrape bowl. Mix again until completely combined.
Using a #30 (2 ½ T) or #40 (1 ½ T) cookie dough scoop (depending on your preferred cookie size), place portioned dough a few inches apart on parchment-lined cookie sheet. Bake 12-14 minutes for #30 size and 11-13 minutes for #40 size. Bake until the edges are lightly browned and the cookie no longer looks wet and doesn't indent if you touch it.
Cool completely.
Make Cream Cheese Frosting.
Melt chocolate. Set aside to cool slightly, but not thicken. It needs to stay a bit warm.
In a separate bowl, beat softened cream cheese with ½ C (2 oz) of the powdered sugar until very smooth.
Beat in melted white chocolate.
Add remaining powdered sugar and vanilla and beat till smooth.
Add milk. Beat until light and completely smooth.
If consistency is too soft, put it in the fridge until thick enough to pipe.
Assemble Cookies.
Top the cookie with frosting and a pecan half if desired. Store in an airtight container. These cookies store well on the counter for a few days and in the fridge for a week.
Notes
Be sure to use stick margarine. The spreadable kind in the tub is watered down and will not work in this recipe. We recommend Blue Bonnet brand. 
It is very important to use room temperature cream cheese and milk for the frosting. Using cold cream cheese or milk can cause the white chocolate to cool too quickly, making the frosting chunky instead of smooth and creamy.