Toasted pecans folded into crisp, buttery shortbread cookies with vanilla and hints of maple make for a divine pecan shortbread!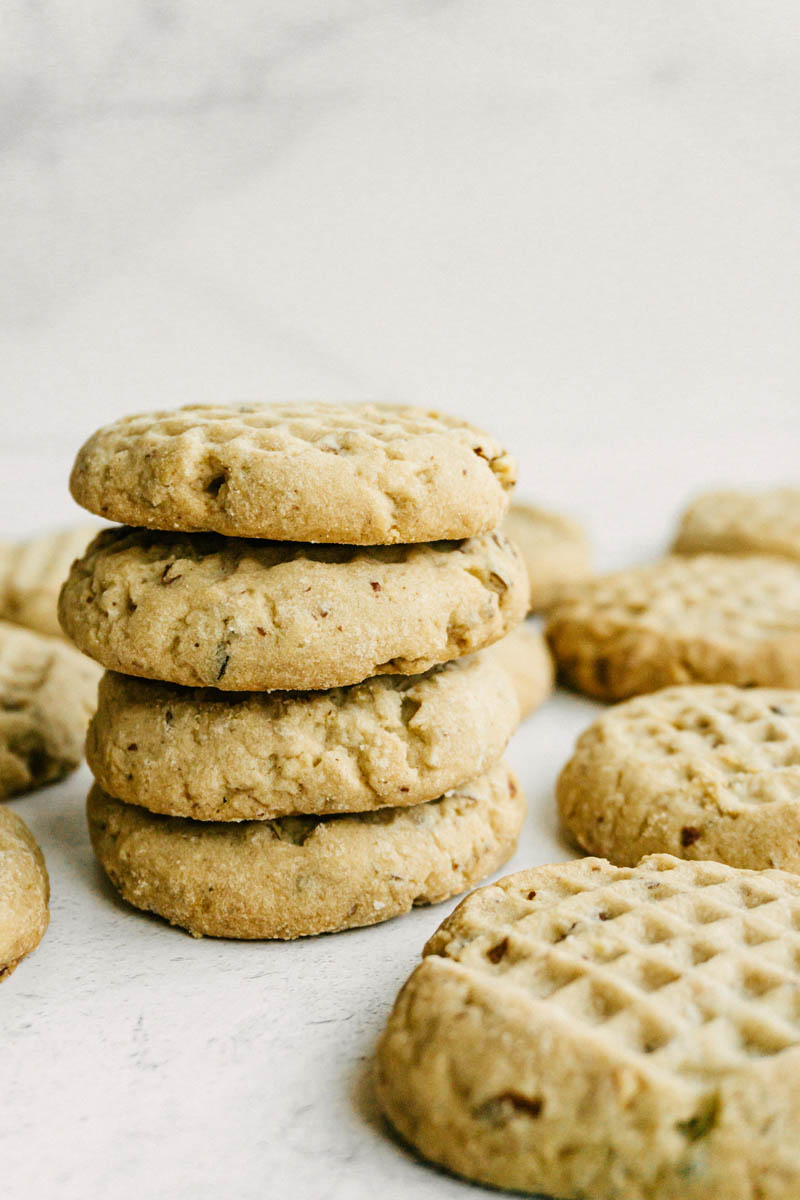 Childhood Memories
A handful of my cookie ideas come directly from childhood memories, and this pecan shortbread is one of them. I grew up in a household with seven siblings. During the warm summers, we loved to go on picnics. I still think my mom was a genius to get us out of the house and let nature pick up the lunch crumbs. As a treat, she would always bring Oreos, Nutter Butters, and Pecan Sandies. The Pecan Sandies were my favorite!
As I grew into an adult, either the recipe changed or my tastebuds lost some of their sense because these beloved childhood cookies did not taste the same. The cookie I loved as a child became the inspiration for a recipe of my own.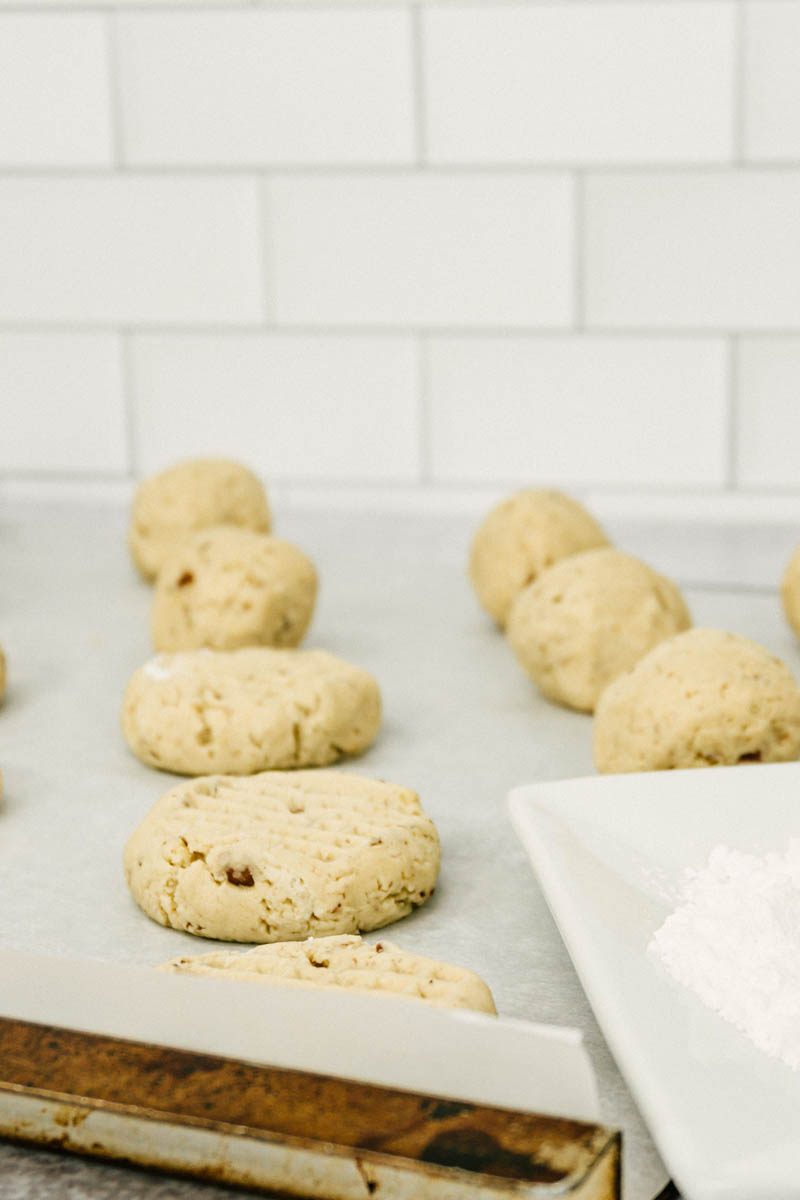 The Making of the Pecan Shortbread
I tried several pecan recipes, but they just didn't fit the bill. Browned butter added a nice flavor but made the texture too dense. So, I tried toasting the pecans. It was an easy adjustment, and it worked! To make it as simple as possible, simply put the pecans in the cold oven and turn it on to preheat. As soon as the oven is done preheating, your pecans will be toasted. Of course you can also toast them in the microwave, but it requires more stirring (plus I'm notorious about leaving things in the microwave for too long).
I have been trying to come up with a maple cookie dough that I am happy with, but it's more difficult than you'd think. The flavor hides behind all of the other ingredients in a normal cookie. In this shortbread cookie, it shines! With only a short list of ingredients, the maple flavor gets to take center stage and show off its lovely flavor, alongside the vanilla and toasted pecans.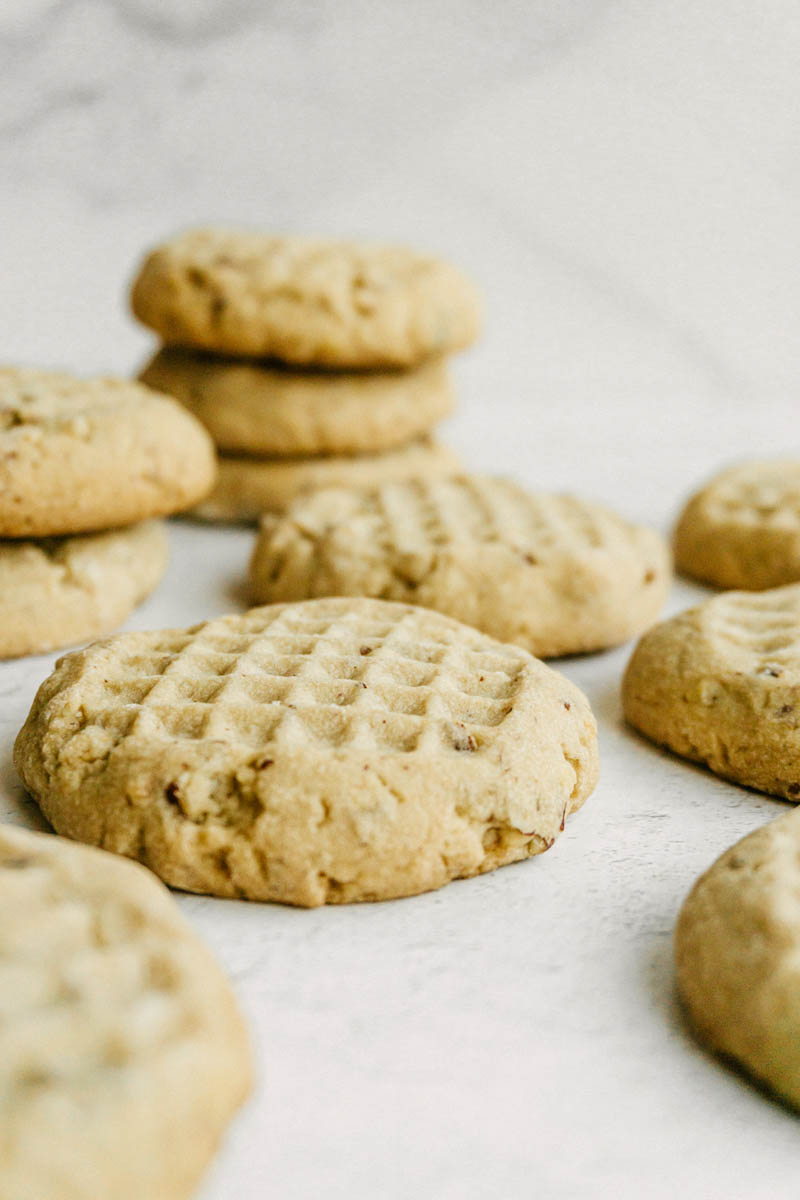 This pecan shortbread truly tastes like my memories of those summer picnics with my family. I love to eat these and reminisce on days past. I hope the pecan shortbread brings you happiness and that you feel the love I poured into them.
If you're in the mood for more than just our Pecan Shortbread, try our Coconut Lime Shortbread!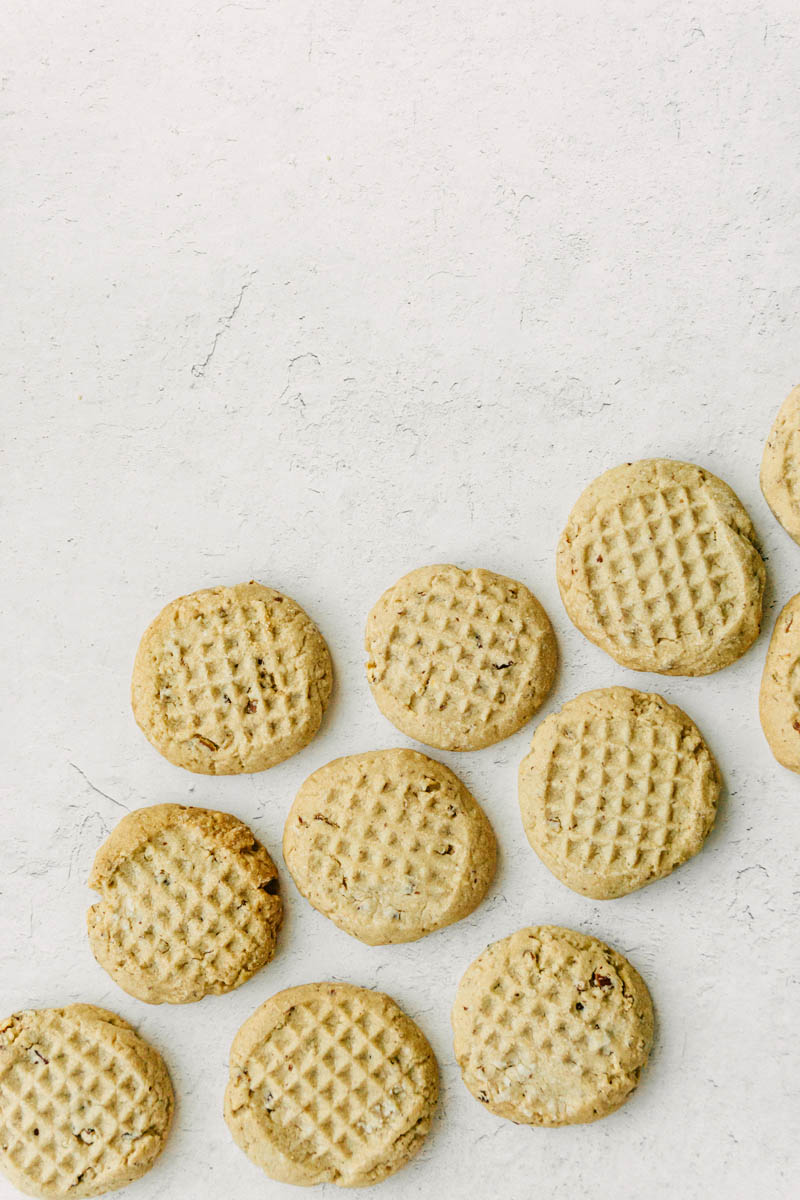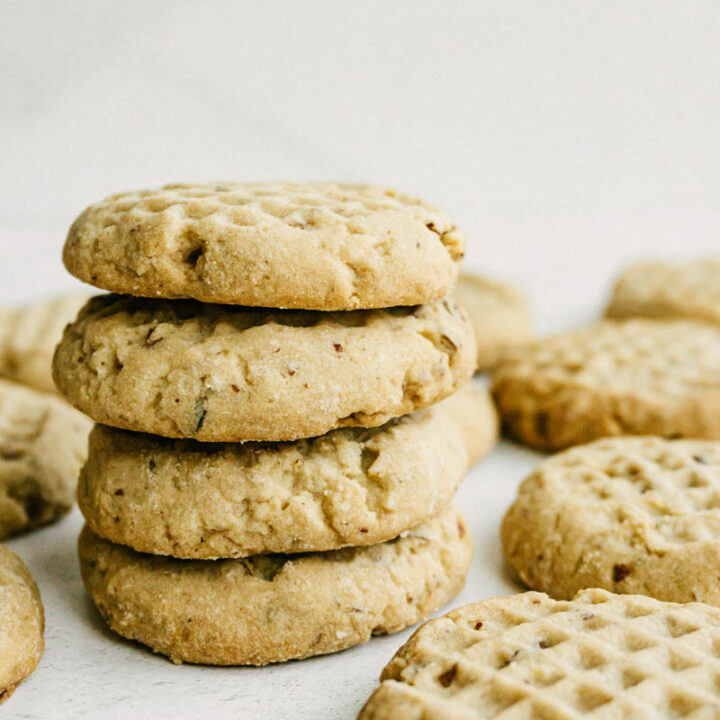 Pecan Shortbread Cookies
Toasted pecans folded into crisp, buttery shortbread cookies with vanilla and hints of maple make for a divine pecan shortbread!
Ingredients
1 1/2 C (12 oz) salted butter, softened
1 C (4.5 oz) powdered sugar
2 tsp vanilla
1 tsp maple extract
1 C (4 oz) pecans, toasted, chopped, and cooled
3 C (13.5 oz) all-purpose flour
Instructions
Place pecans in a single layer on a cookie sheet lined with parchment paper. Put in cold oven and preheat to 325*. As soon as oven is preheated, immediately pull out pecans and let cool on on the counter. Once cool, chop or smash into small pieces
In stand mixer bowl, whip softened butter for 2 minutes until smooth and silky.
Add powdered sugar and whip for 3 minutes until very light and fluffy.
Add vanilla and maple flavoring and mix until combined, scraping the bowl as needed.
Add flour and chopped pecans all at once. Mix until combined.
Use a #30 cookie dough scoop (2 ½ T) if you want 24 cookies, or use a #40 cookie dough scoop (1 ¾ T) if you want 36 cookies, and place dough balls onto a parchment-lined cookie sheet, leaving 1.5 inches between.
Quickly roll the dough balls into a smooth round ball with your hands. Using the end of a meat mallet dipped lightly in powdered sugar or with your palm, press dough balls to ½-¾ inch thick. Bake at 325*F for 18-21 minutes.
Cool and store in an airtight container for up to two weeks.
Notes
I like to use the end of a wooden meat mallet tenderizer to create a pattern in the dough. You may use any shape/texture you'd like. The palm of your hand or the bottom of a glass also work well.