Yellow Cake and Chocolate Buttercream were meant to be friends for life, but not just any recipe will do. With this recipe, you'll be fighting with your lifelong friends for the last cupcake!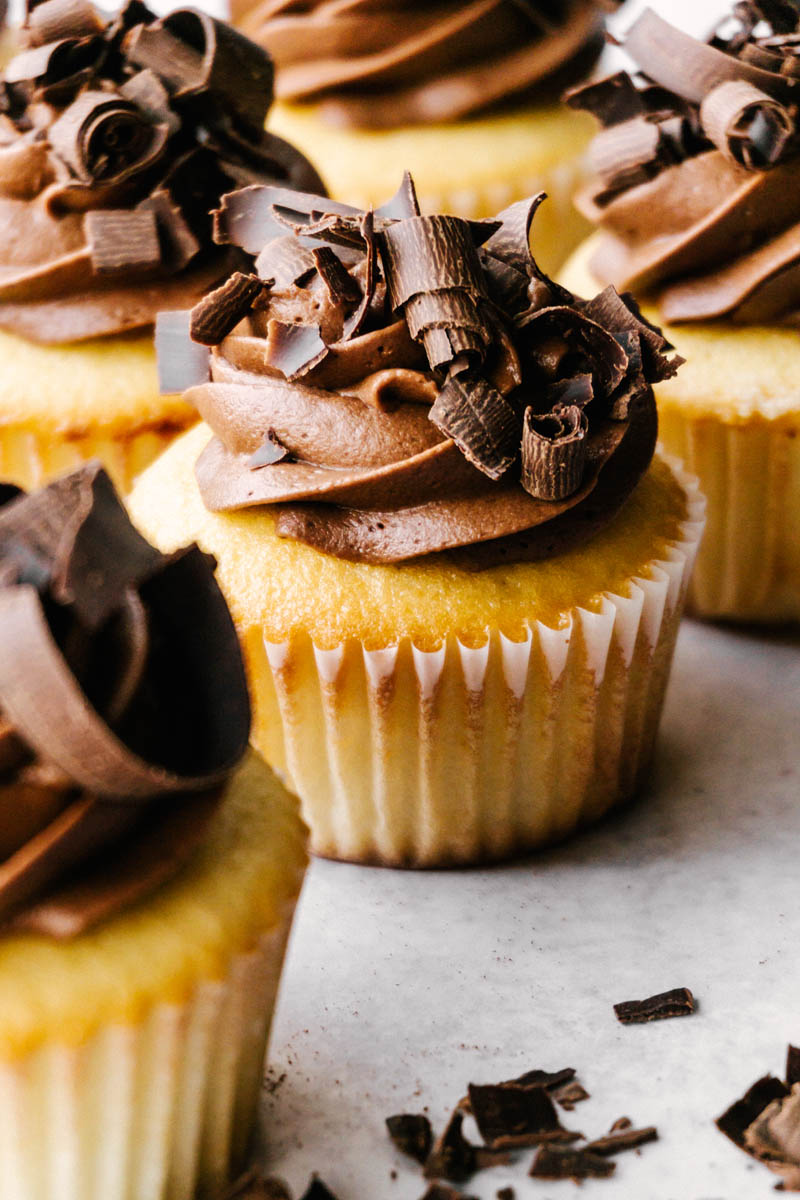 The Challenge
I looked at the yellow cake mix box with frustration. The last decade has brought change to cake mixes. Even though less mix is put in the box, the same amount of eggs and liquid are still called for, affecting the size and texture of the finished cake.
So after I decided I'd had enough, I gave the yellow cake mix an evil eye, and pulled out every cookbook I had to study "yellow cake". Days later and a freezer full of cake failures, I hit upon the right flavor and texture. This recipe was my 11th attempt.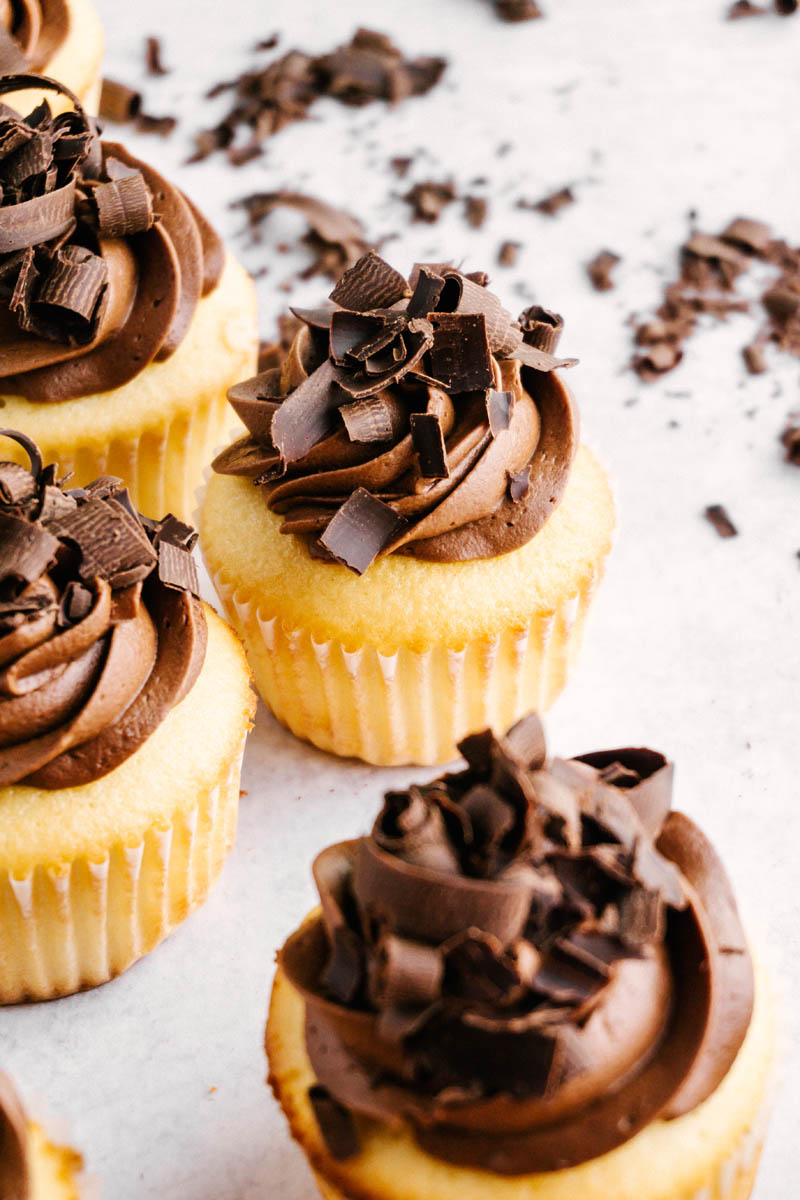 The Solutions
Cake flour, a bit of butter, brown sugar, and buttermilk, plus some quality vanilla, come together in what I would call the perfect Yellow Cake. In addition to the perfect ratio of ingredients, I also learned that the process is absolutely important. From sifting the flour three times over, to mixing for the exact amounts of time specified, it's all important to the final cake result. I know because I tested it, using the same exact ingredients but two separate methods. One turned out much better than the other.
This Yellow Cake is one of the hardest things I have ever tested. Cakes from scratch are not for the faint of heart. It's much more of a science than any other baked item I have attacked.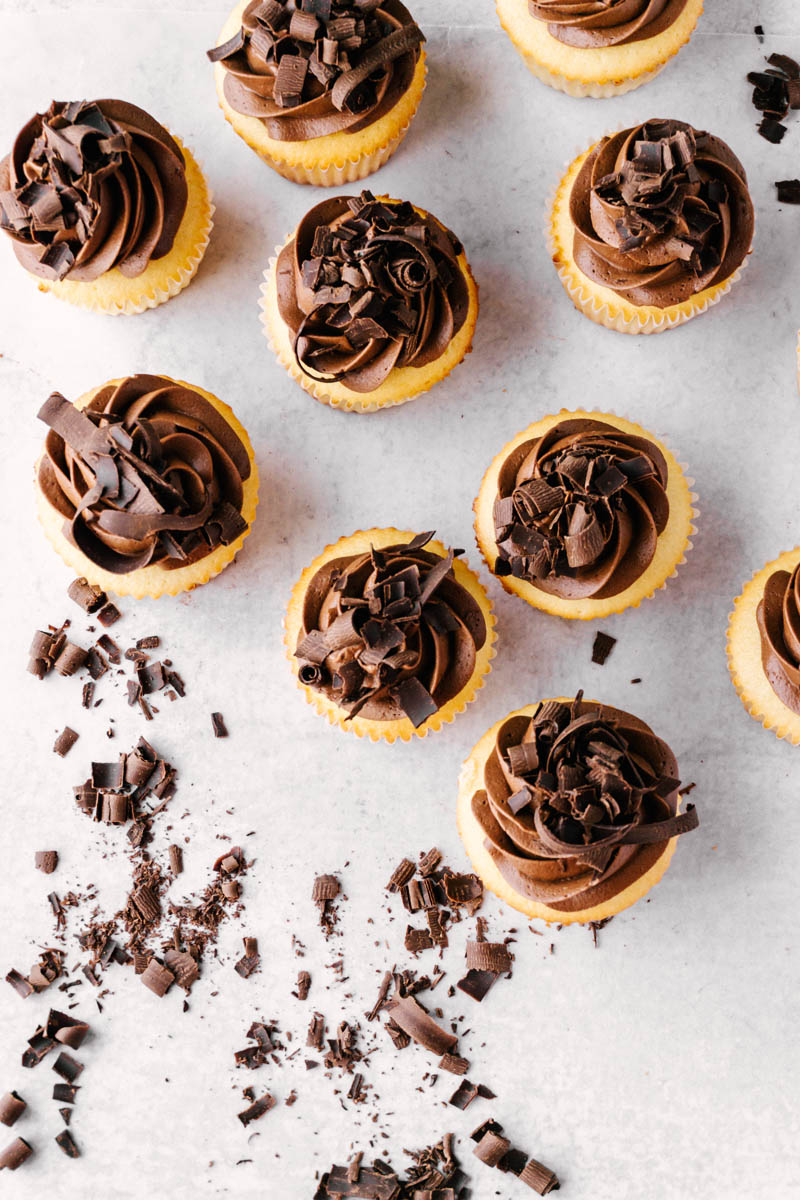 Feeling Like Star Baker?
Don't worry, you can do this. Start by making sure your ingredients are all at room temperature. Set your timers. Don't get distracted and walk away from the mixer bowl or the oven. Follow the steps and you will find success in baking these yellow cupcakes with chocolate buttercream frosting!
I learned so much about cakes in this process. The journey is worth it to find that you too can be a star baker in your own kitchen. Even if you fail, the worst thing that can happen is that you have an ugly cake to cut up and throw in a trifle bowl with cream and berries (I recommend this Raspberry Trifle). No one will complain about that!
Recipe Ingredients
Butter – brings flavor to both the cake and the frosting.
Shortening – improves the texture of the cake and gives it the perfect crumb. 
Buttermilk – adds moisture and the acid tenderizes the cake. 
Eggs – add lift and richness to the cake.
Baking Powder – the perfect amount gives the cake a beautiful rise without creating tunnels. Too much will cause multiple tunnels in the finished product as if the dough has been overbeaten.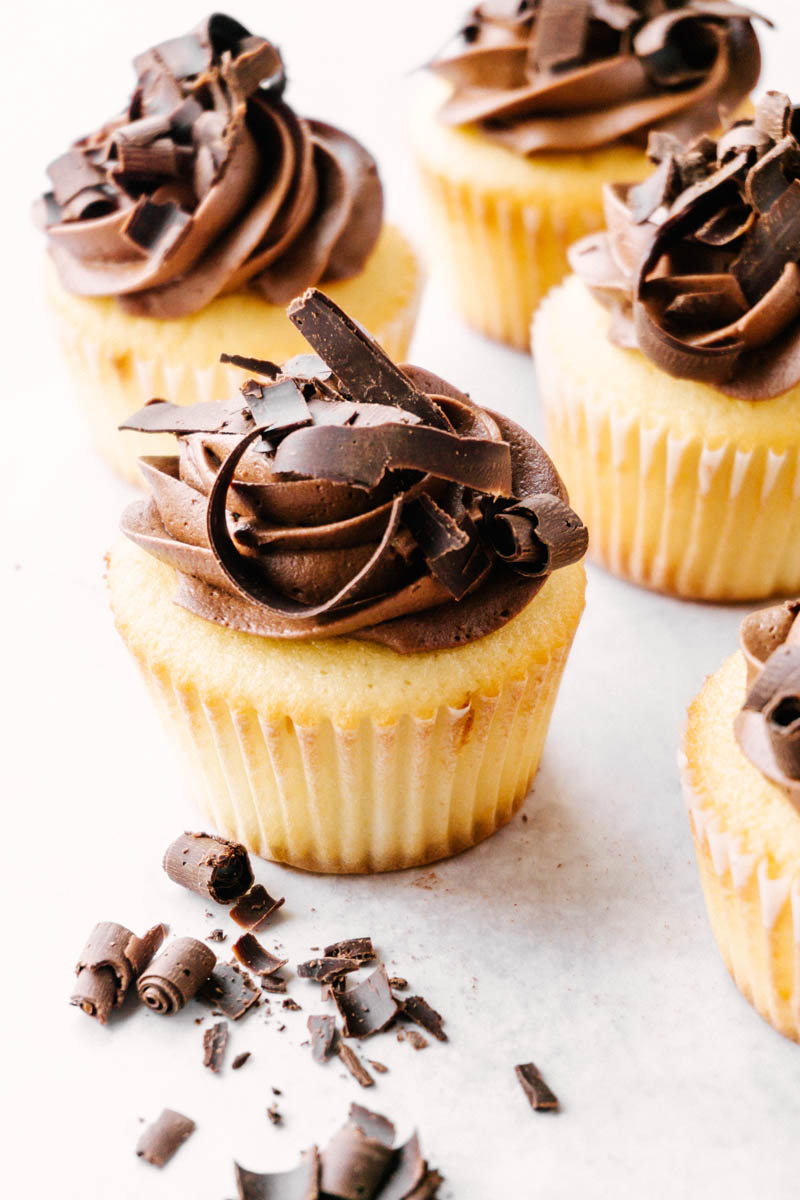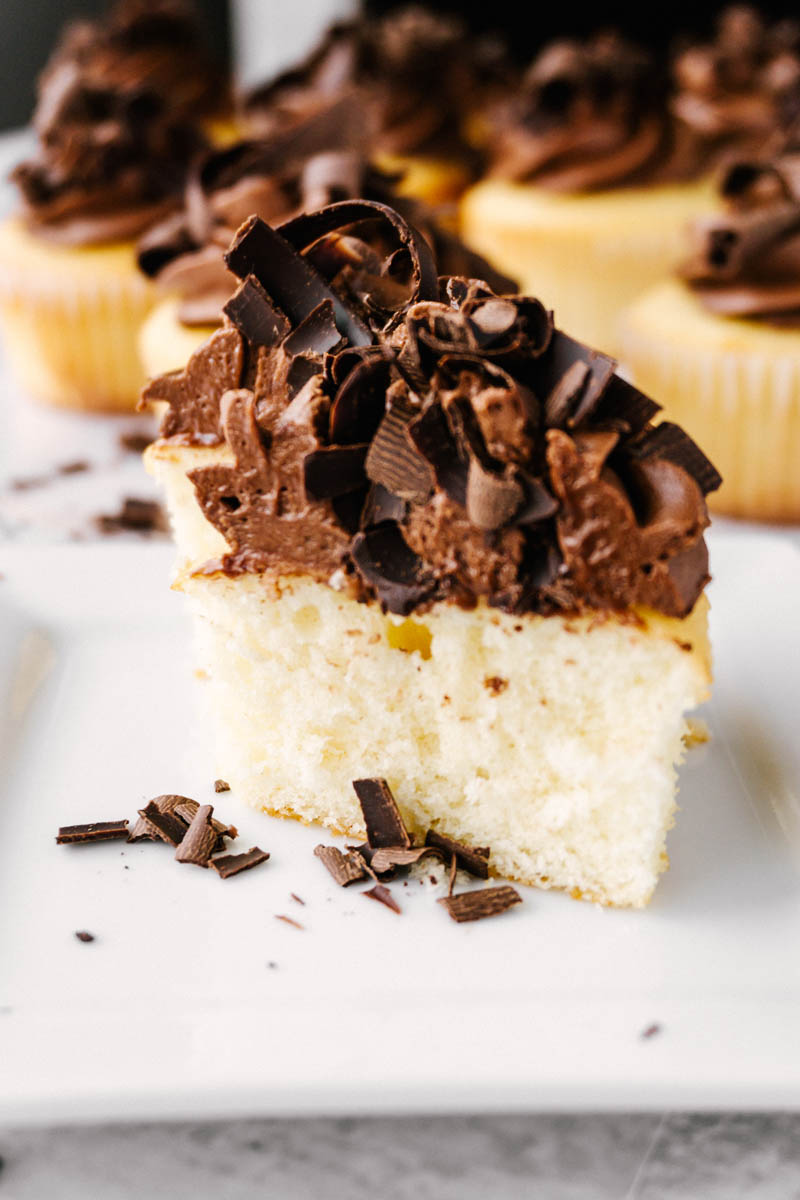 Yellow Cupcakes with Chocolate Buttercream Frosting Mixing Tips
Sifting the flour 3 times incorporates the leavening agents into the flour equally, giving an even crumb.
Room temperature eggs, butter, shortening, and buttermilk are essential to properly combine the cake batter. If you forget to put the eggs on the counter early enough to come to room temperature, set them in a bowl full of hot tap water while you assemble the other ingredients. Dry them off before cracking them open.
This batter is made with a "Two-Stage" method for the buttermilk because it is added in two steps. Adding the buttermilk too early will develop too much gluten. I think this method should be renamed Five-Stage method because of all the other additions, but that's just my opinion.
The eggs only need to be lightly beaten before adding to the milk. Add them last to avoid adding too much air. Eggs have a remarkable ability to trap air (something you definitely want in a Pavlova, but not in a Yellow Cake).
Follow the directions exactly, paying close attention to the mixing times. Before baking, tap your pans on the counter and give them a spin to make sure all the air bubbles are out of the batter. If I overbeat even 30 seconds, there will be too much air and extra "tunnels" happen. I use timers for every step of this recipe.
Let the cakes cool completely before frosting. Buttercream Frosting is made of mostly – you guessed it – butter, which will melt if placed on a hot cake.
Is a cake from scratch worth it? It depends. This one is definitely worth it.
Looking for more delicious cake recipes? Try these: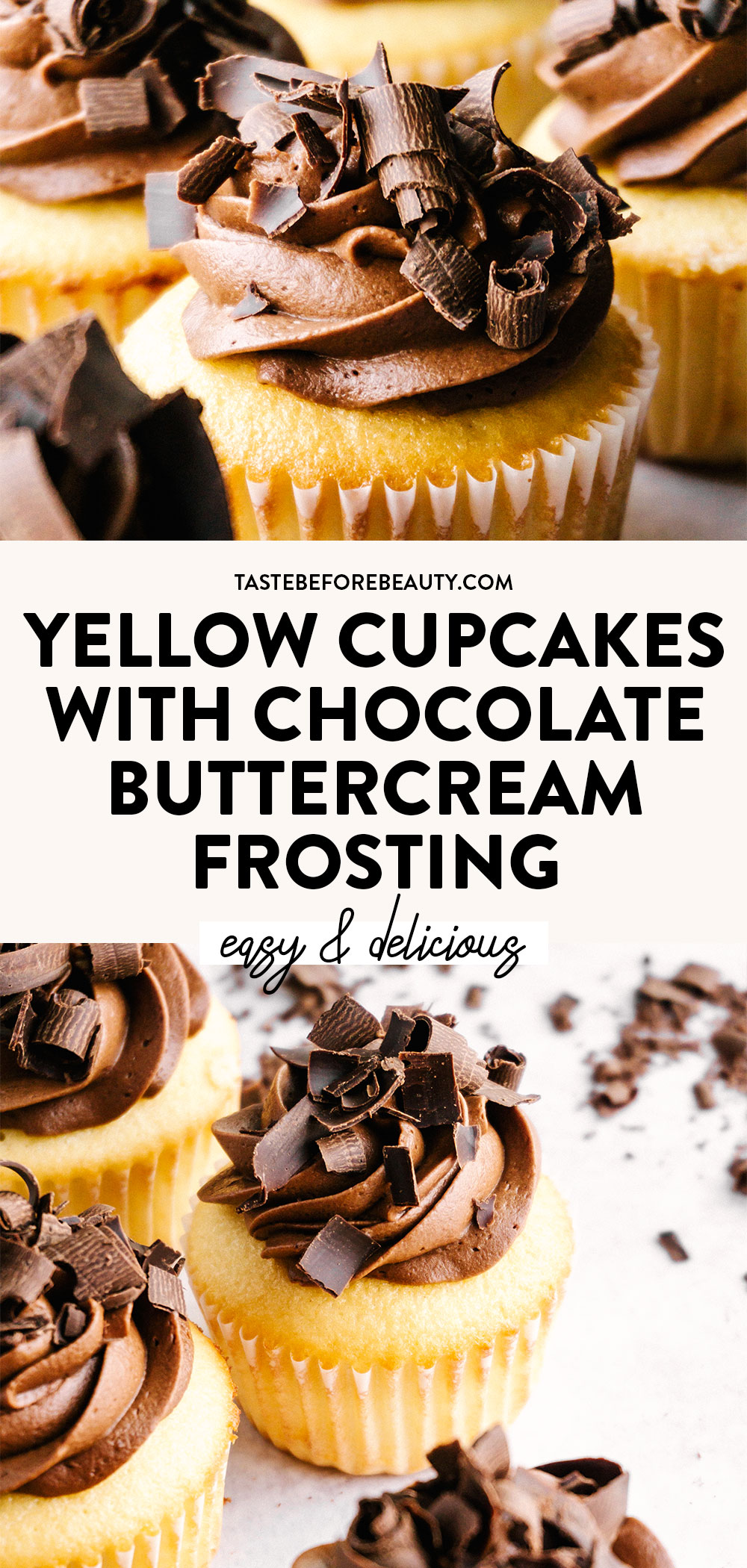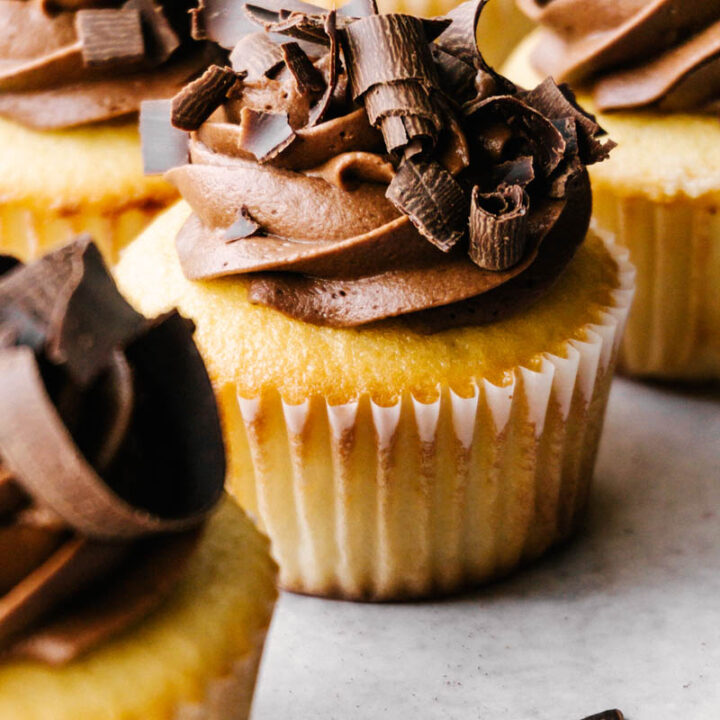 Yellow Cupcakes with Chocolate Buttercream Frosting
Yield:
32 cupcakes or 2 (9-inch) round cakes
Total Time:
1 hour
58 minutes
Yellow Cake and Chocolate Buttercream were meant to be friends for life, but not just any recipe will do. With this recipe, you'll be fighting with your lifelong friends for the last cupcake!
Ingredients
Yellow Cake Batter
3 ¼ C (13 oz) cake flour
1 ¼ tsp salt
1 T baking powder
4 T (2 oz) salted butter, slightly softened
½ C (3.5 oz) shortening
1 ½ C + 1 T (11 oz) white sugar
½ C (4 oz) brown sugar, packed
1 ½ C (12 oz) buttermilk, room temperature & divided in half
4 large eggs, room temperature, lightly beaten
1 T vanilla
Chocolate Buttercream Frosting
2 C (16 oz) salted butter, room temperature
1 C (3.6 oz) cocoa
7 C (32 oz) powdered sugar
2 tsp vanilla
7 T + 3 T milk
Garnish
3 oz dark chocolate bar shaved, optional
Chocolate pareils, optional
Instructions
Make Yellow Cake.
Preheat oven to 350*F. Line cupcake pans with cupcake liners, or grease and flour cake pans and line bottom with wax paper.
Mix cake flour, salt, and baking powder together. Sift together 3 times.
Add slightly softened butter and shortening. Mix for 2 minutes at low speed. Scrape bowl.
Add sugars and ¾ C (6 oz) buttermilk. Beat on low for 2 minutes. Scrape bowl.
Lightly beat eggs and add to remaining ¾ C (6 oz) buttermilk with the vanilla. Add in thirds to the sugar mixture. Beat for 30 seconds after each addition, scraping the bowl before adding more.
Fill cupcake liners ⅔ full with cake batter. If making a cake, divide batter equally between 9-inch round pans.
Bake cupcakes for 18 minutes or until center springs back when lightly touched. Cool completely.
Bake cakes for 25-28 minutes, or until center springs back when lightly touched. Let cool 5-10 minutes and then turn onto a cooling rack. If necessary, run a knife around the edge to release.
Make Chocolate Buttercream Frosting.
Soften the butter, but do not melt. Beat butter with a mixer until it is smooth.
Add cocoa and powdered sugar. Beat butter, cocoa, and powdered sugar until combined and mixture looks dry and uniform. Scrape bowl.
Add vanilla and 7 T of milk. Beat until frosting is light, creamy, and soft.
If frosting is too thick, add up to 3 additional tablespoons of milk. Caution: overbeating will result in large air pockets that will create a less smooth finish to the buttercream.
Assemble.
Use a carrot peeler to shave chocolate curls off of a large chocolate bar.
If frosting was made in advance, rewhip before frosting cupcakes or cake.
Place frosting in a piping bag with 2D star tip. Pipe frosting onto the center of the cupcake or spread between cake layers and on top. Garnish with chocolate shavings and sprinkles, if desired.
Notes
To make your own buttermilk, place 1 ½ T lemon juice in the measuring cup. Add milk to equal 1 ½ C. Set aside for a few minutes before using.