No need to head to your local mall to grab some soft pretzels, because these will satisfy that salty, warm, pretzel craving you're having at least once a week…or is that just me?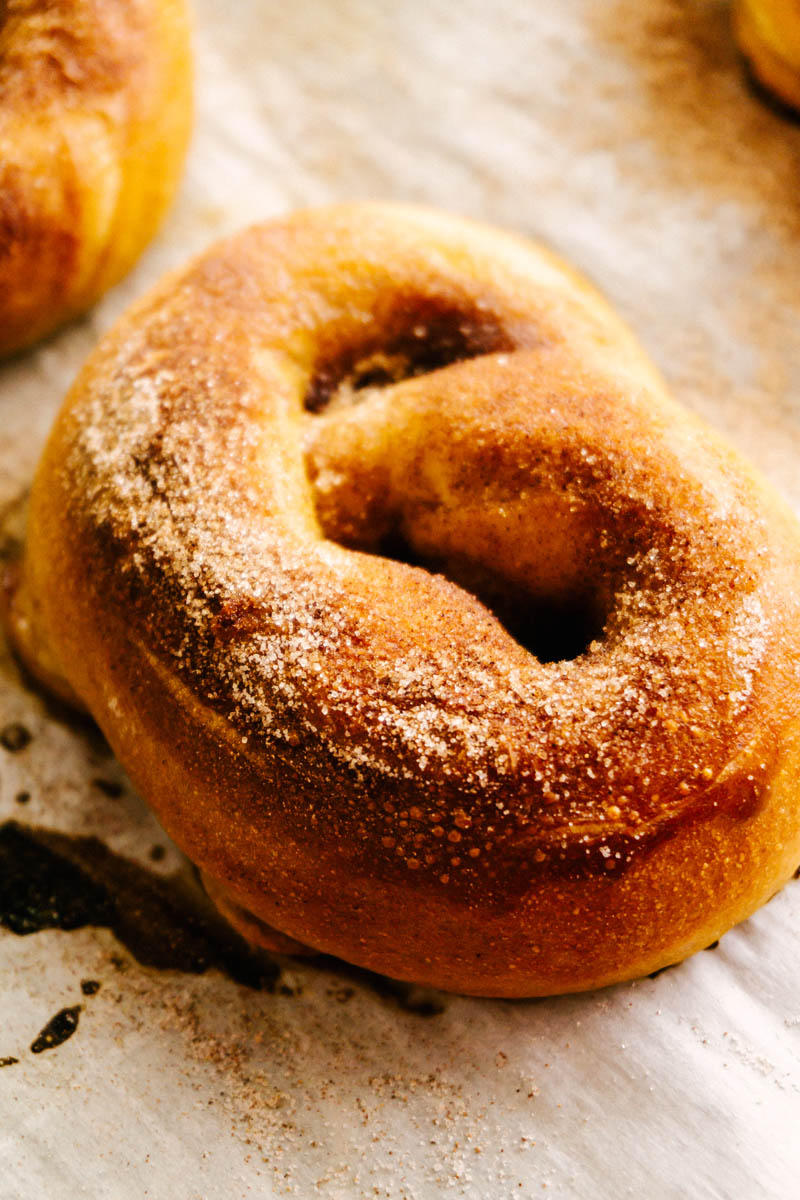 Easy Soft Pretzels Step by Step
That's right, a throwback to New Kids On The Block. This soft pretzel recipe, if taken step by step, will be so fun for you to make and even more fun for you to eat! Don't be scared of all the steps. I will walk you through it all and make it as easy as possible so you can make the best pretzel. Once these come out of the oven you will be thankful you made them.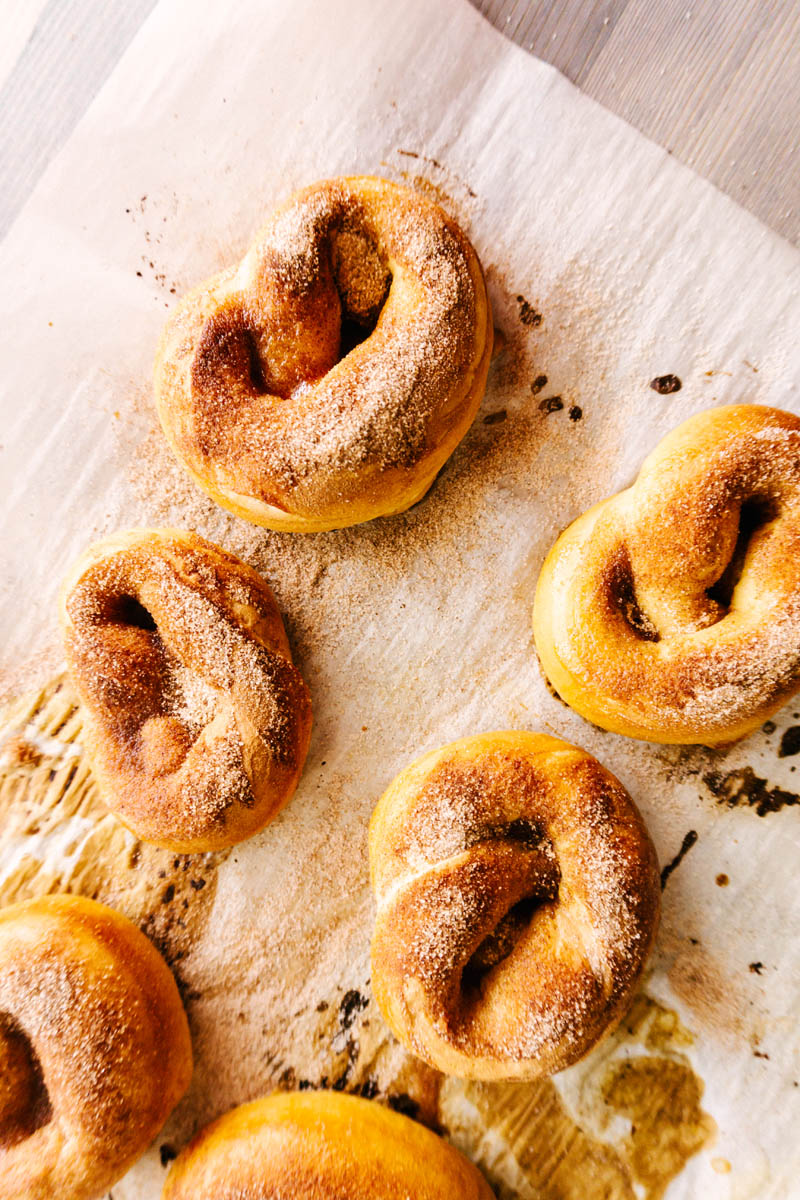 Don't have bread flour?
This soft pretzel recipe calls for bread flour, which helps incorporate more gluten into your pretzel. But, if you don't have any, no problem. Just use 4 cups of all-purpose flour. It won't make or break your pretzel. They taste just as delicious to me!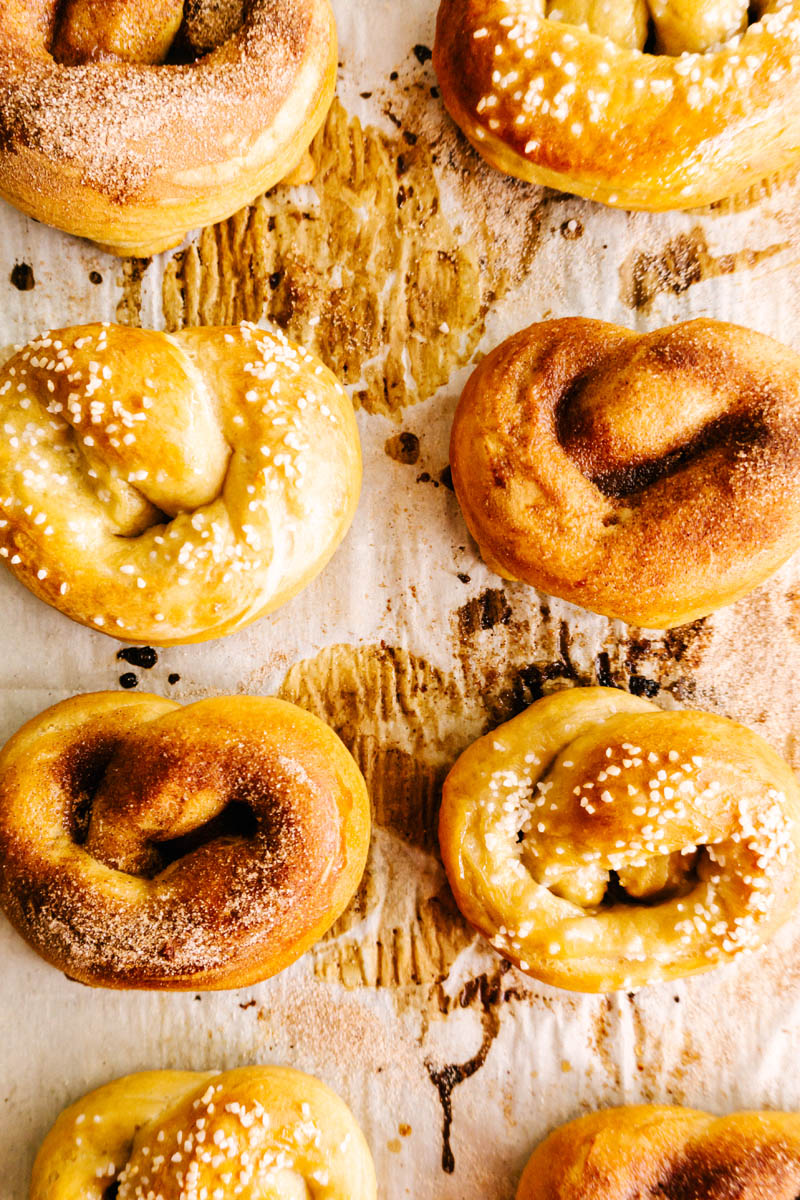 Pretzel Nuggets
You don't have to shape all of the dough into a classic pretzel shape. You can cut each foot-long strand into 4 or 5 smaller pieces to make pretzel nuggets. I usually make 8 regular salted pretzels and use the other half of the dough to make cinnamon sugar-covered pretzel nuggets.
Recipe Ingredients
Instant Dry Yeast – Instant dry yeast does not need to be dissolved in water before using in a recipe.
Bread Flour – has a higher protein content, which produces a lot of gluten, perfect for a soft and chewy pretzel.
Kosher Salt – coarse, larger granules that pack a punch of flavor are the perfect topping for your salty pretzels.
Cinnamon Sugar – mix 2  T cinnamon into ½ C white sugar and you have the perfect cinnamon to sugar ratio to sprinkle on top of your warm, buttery pretzels.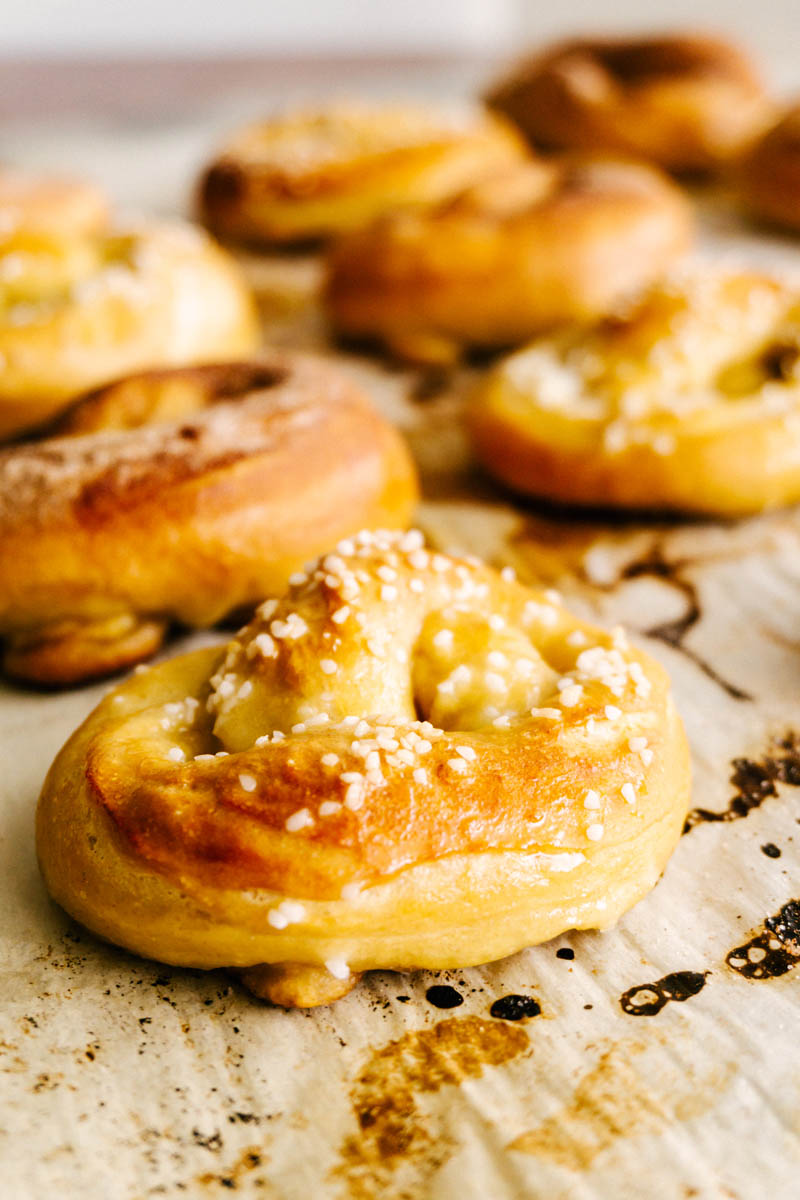 Basic Steps
Make the dough and let rise.
Shape dough into pretzel shapes.
Place shaped pretzels into boiling soda solution.
Top with egg wash and salt (or no salt if using cinnamon sugar).
Let rise for 15 minutes and then bake.
Brush baked pretzels with butter and top with cinnamon sugar (if using).
Enjoy your warm pretzel.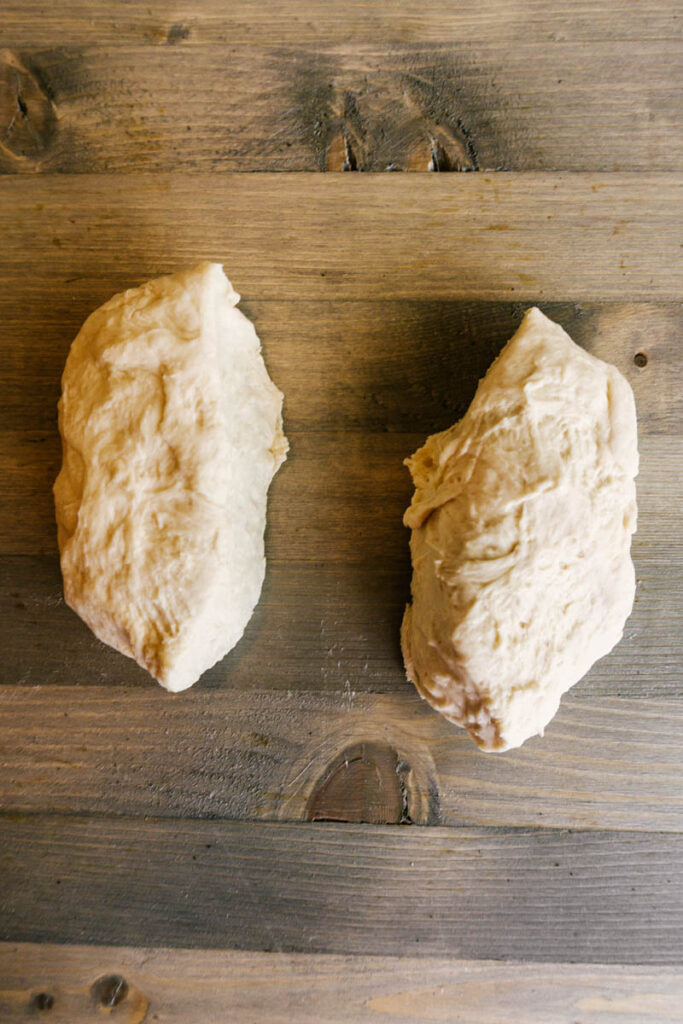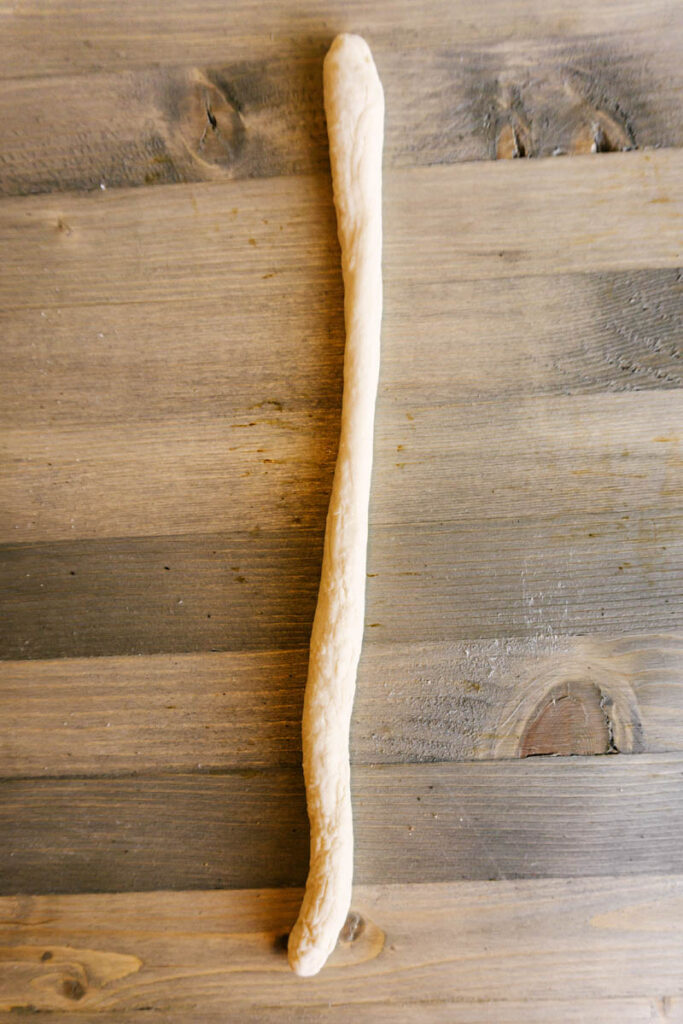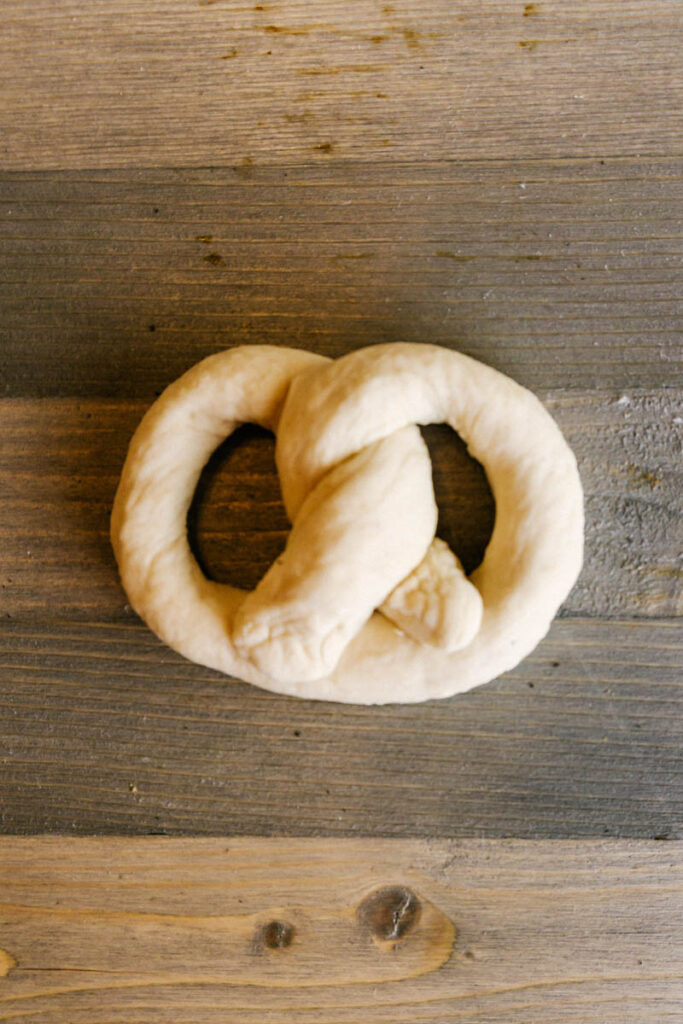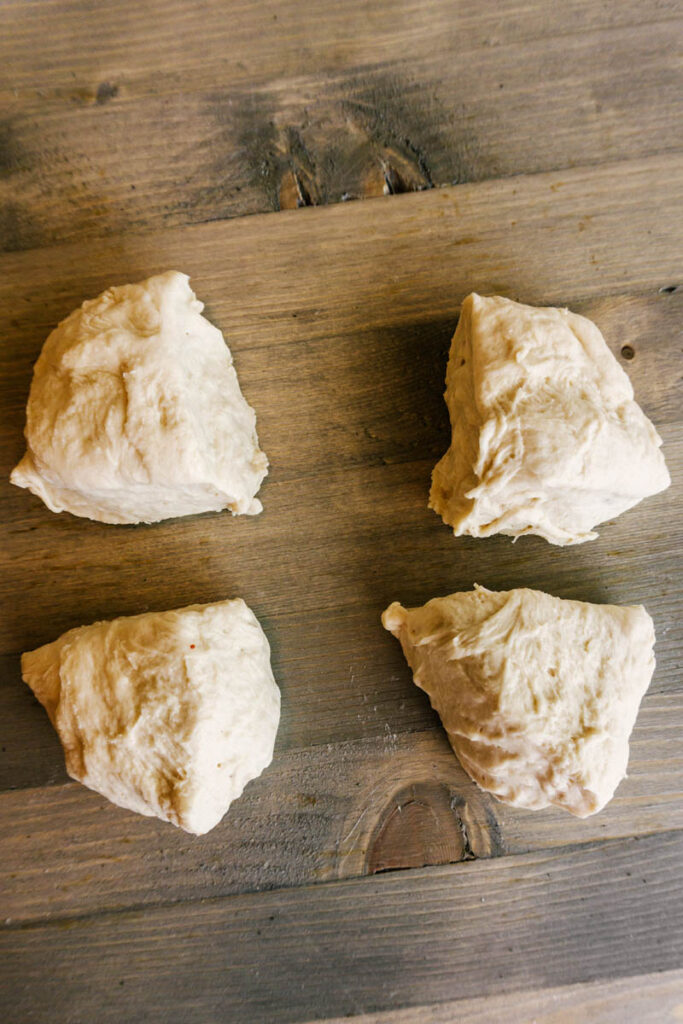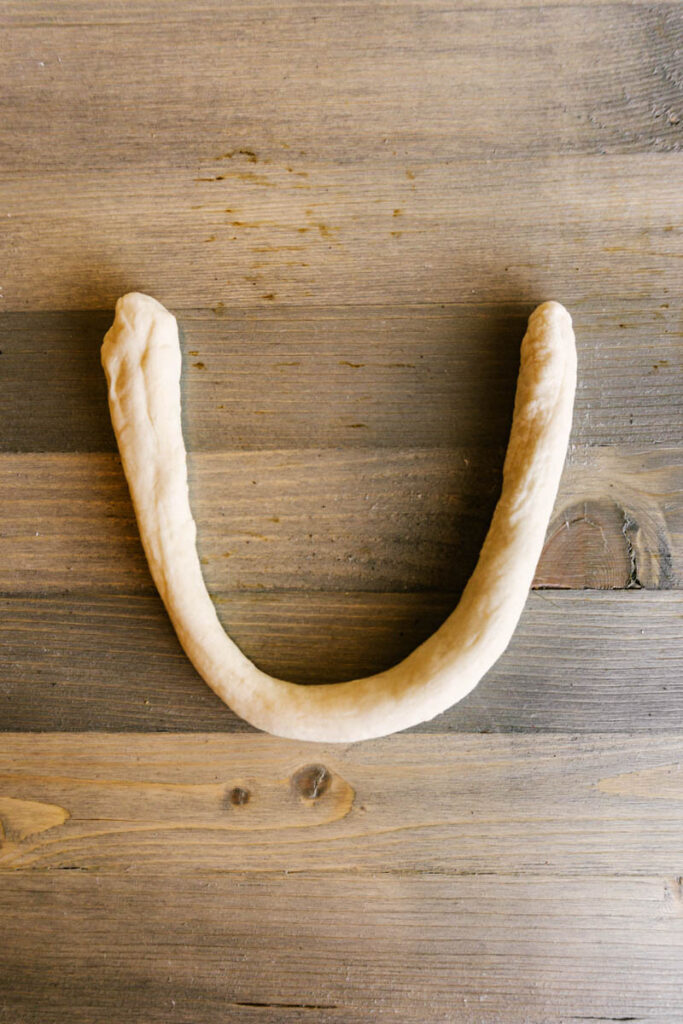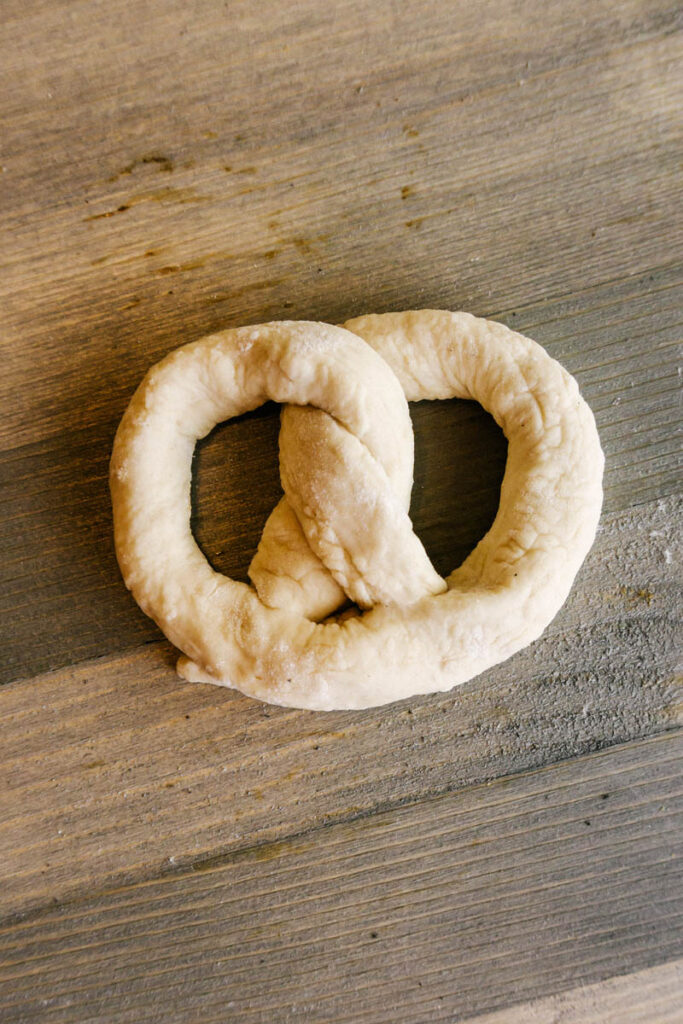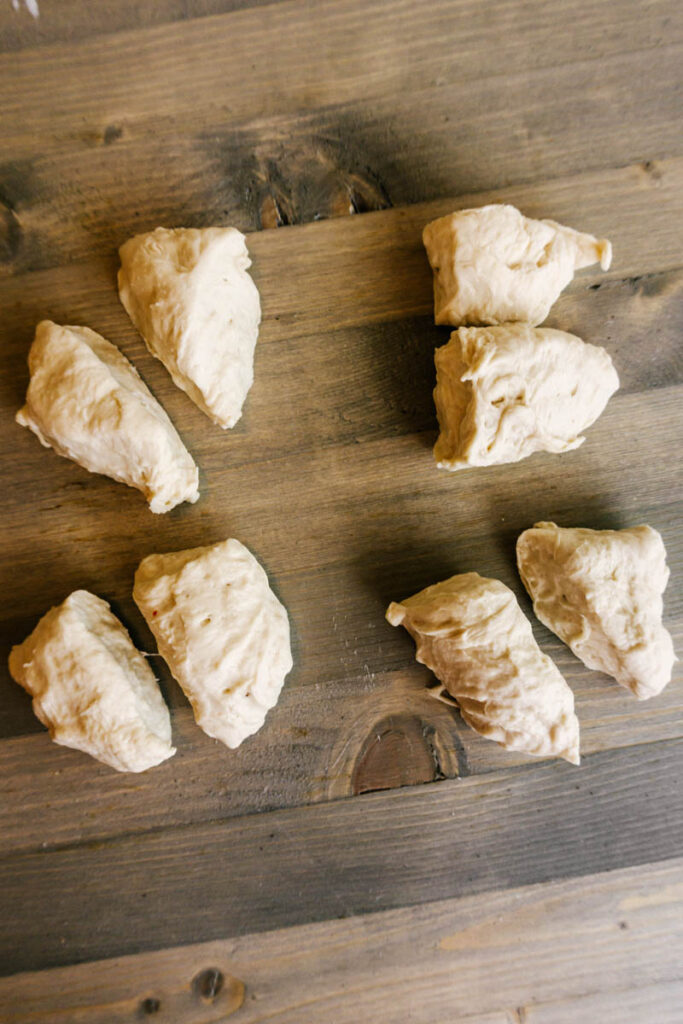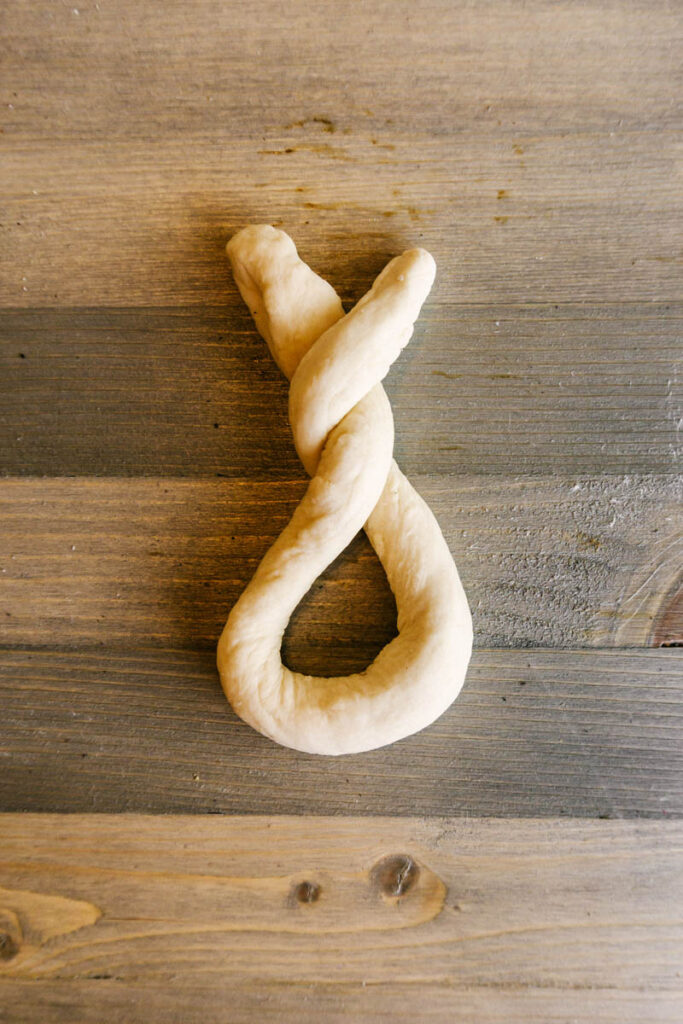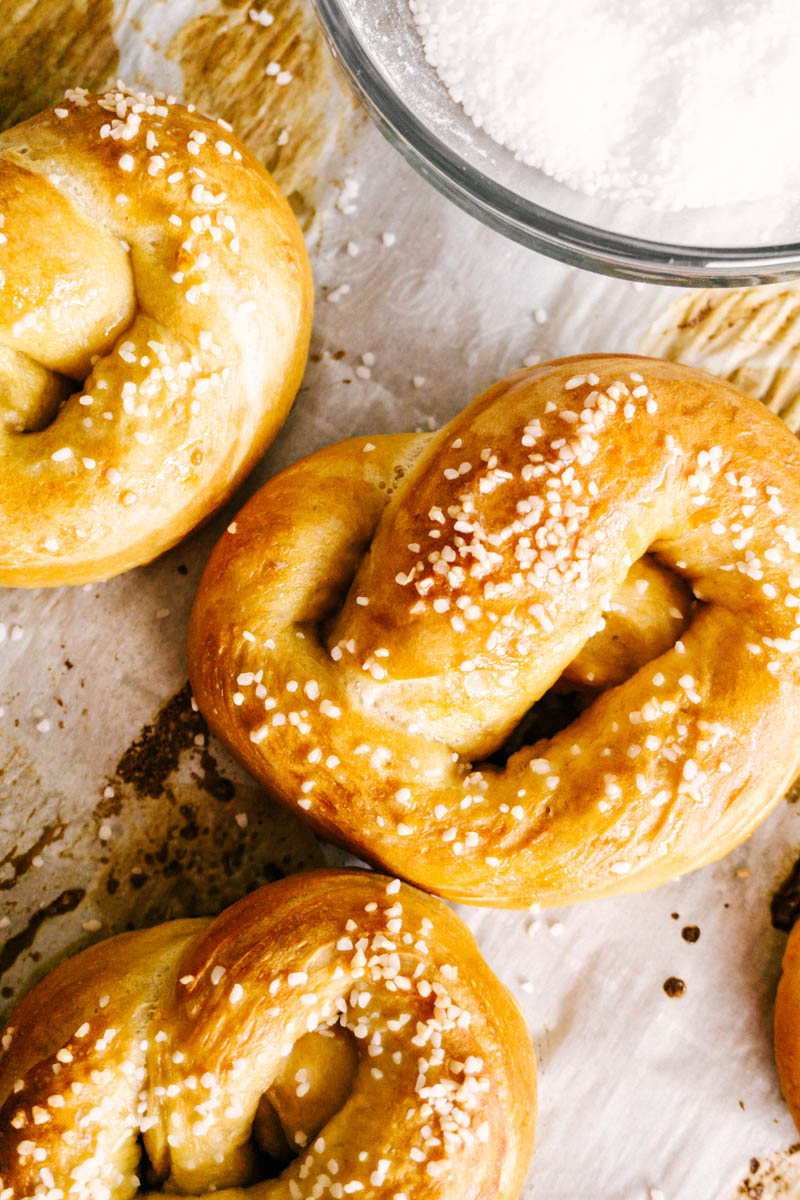 More Assembly Instructions
Pretzel Dough: This pretzel dough is very simple to make. All the ingredients go into one bowl and you only have to mix it for 2 or 3 minutes before it all combines and is ready to rise. Once it has risen for 30 minutes it needs to be punched down gently to get rid of gas bubbles and to spread the moisture around. It is not a sticky dough, so you shouldn't need extra flour to roll out the dough.
Boiling Soda Solution: The soda solution is necessary to give the pretzel that beautiful golden color and crispy crust with a nice chew. Without it, your pretzel won't have that "soft pretzel" look.
Egg Wash: The egg wash helps your pretzel take on an extra shiny golden color, and helps the salt stick to the pretzel while baking. Only use a small amount of egg wash on each pretzel or you'll end up with a puddle of scrambled eggs baked onto the bottom of your pretzel.
Cinnamon Sugar: Cinnamon sugar is made with 2 T cinnamon and ½ C white sugar. If you want cinnamon sugar-covered pretzels, brush the baked pretzel with melted butter and then toss or sprinkle the cinnamon sugar on.
Big pretzels, pretzel nuggets, salt, cinnamon sugar, it's up to you and we hope you enjoy this tasty soft pretzel recipe.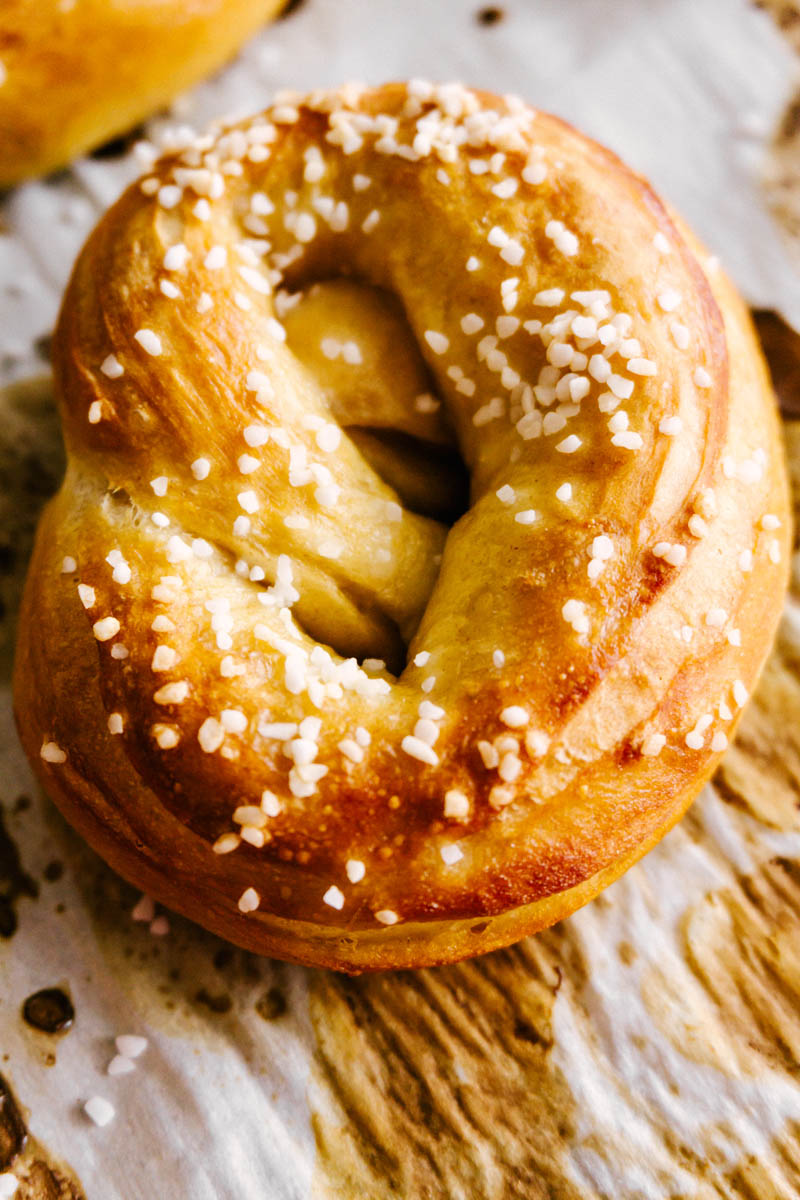 Looking for more delicious bread recipes? Try these: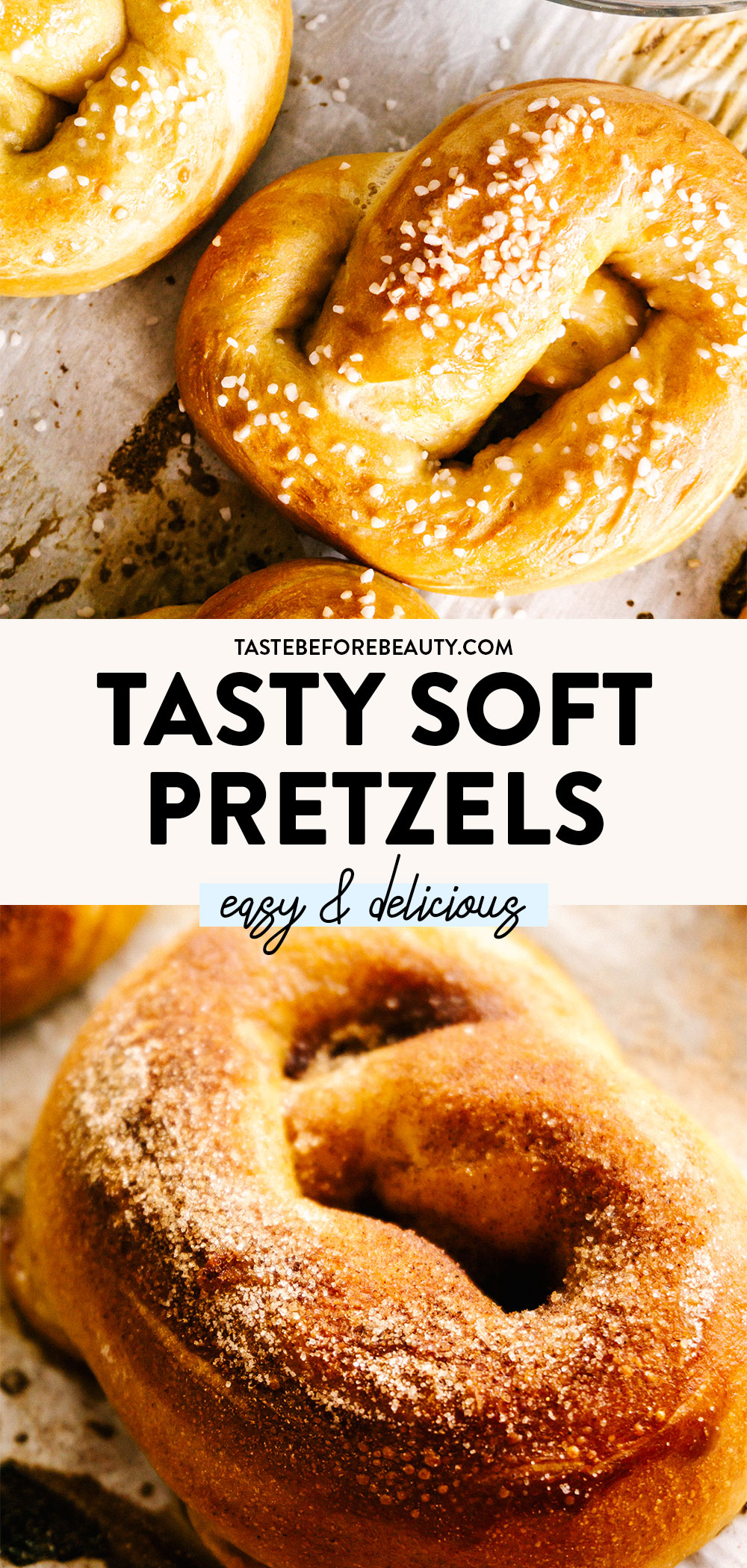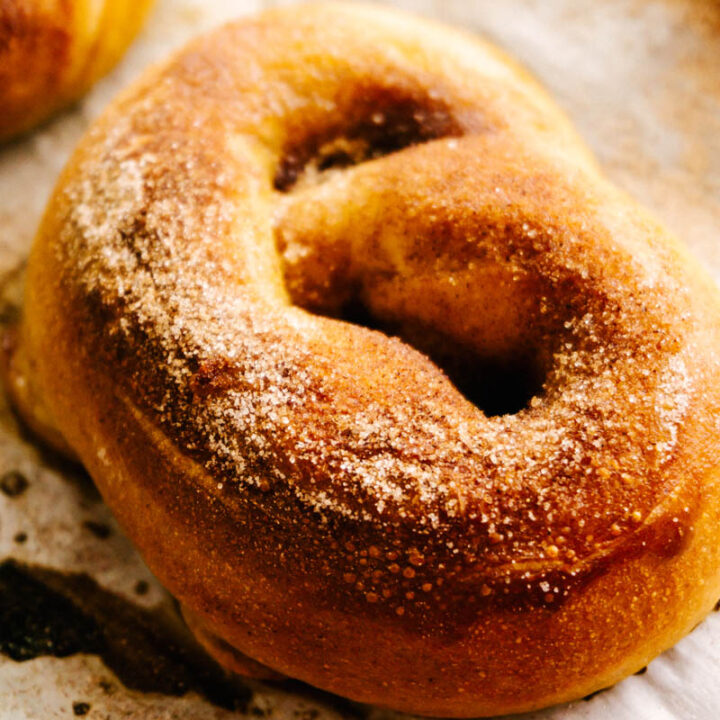 Soft Pretzels
Additional Time:
45 minutes
Total Time:
1 hour
10 minutes
No need to head to your local mall to grab some soft pretzels, because these will satisfy that salty, warm, pretzel craving you're having at least once a week...or is that just me?
Ingredients
Pretzel Dough
1 ½ C (12 oz) warm water
1 ⅛ tsp instant dry yeast
2 T light brown sugar
1 C (4.25 oz) bread flour
3 C (13.5 oz) all-purpose flour
1 ½ tsp salt
Soda Solution
4 C warm water
¼ C (2 oz) light brown sugar
¼ C (2.3 oz) baking soda
Egg Wash
Topping
1 T melted butter
Kosher Salt
Cinnamon and sugar (2 T cinnamon, ½ C white sugar)
Instructions
Make Pretzel Dough
Add water, yeast, brown sugar, bread flour, and all-purpose flour to the bowl of a stand mixer. Using a dough hook, mix ingredients until combined and dough pulls away from the side of the bowl.
Place dough into a lightly oiled bowl. Cover bowl with a damp cloth and set in a warm place to rise for 30 minutes.
Line two cookie sheets with parchment paper and set aside.
Rolling and Shaping Pretzels
Once dough has risen, gently punch down the dough to eliminate gas bubbles and distribute moisture. Then, dump dough onto a clean surface. If the dough is too sticky, add a small amount of flour to your work surface.
Cut the dough in half. Then cut each half in half, and then in half again. You will have 8 chunks of dough from each half of your dough, for a total of 16 chunks of dough. The best way to cut the dough is by using a pizza cutter.
Using the heels and palms of your hands, roll each portion of dough into just over a foot (13-14 inch) long rope.
To create the iconic pretzel shape, put your strand of dough into a horseshoe shape, then twist the top two strands around each other. Take the ends of those strands and flip them down and pinch them against the bottom of the pretzel.
Place formed pretzels on parchment paper-lined cookie sheets.
Boil Dough in Soda Solution
In a large saucepan or pot, dissolve together water and brown sugar. Then boil the mixture.
Once boiling, add baking soda. It will bubble aggressively.
Place 2-4 shaped pretzels at a time into boiling water for 20 seconds. Gently remove and let water drip off, then place on parchment paper. It is easiest to use a slotted spatula.
Egg Wash and Adding Salt
Whisk together 1 egg and 1 T water. With a small basting brush or your finger, very lightly brush the tops of the pretzels with egg wash.
If using salt, sprinkle salt on each pretzel before baking. If using cinnamon-sugar, it will be added after baking.
Let rise for 15 minutes on parchment paper.
Bake and Brush
Preheat oven to 450*F.
After the pretzels have risen, bake in oven for 10 minutes, or until golden brown.
Once out of the oven, brush pretzels with melted butter. If using cinnamon-sugar, sprinkle onto pretzels after brushing with melted butter.
Eat warm!
Notes
If you don't have bread flour, just use 4 cups of all-purpose flour.
Use a small amount of egg wash on each pretzel. Too much makes scrambled eggs on your pretzel.