These buttery Overnight Bundt Pan Potato Rolls are baked in a bundt pan and make for a great centerpiece. Make them ahead of time for company and don't forget to serve with your favorite jam.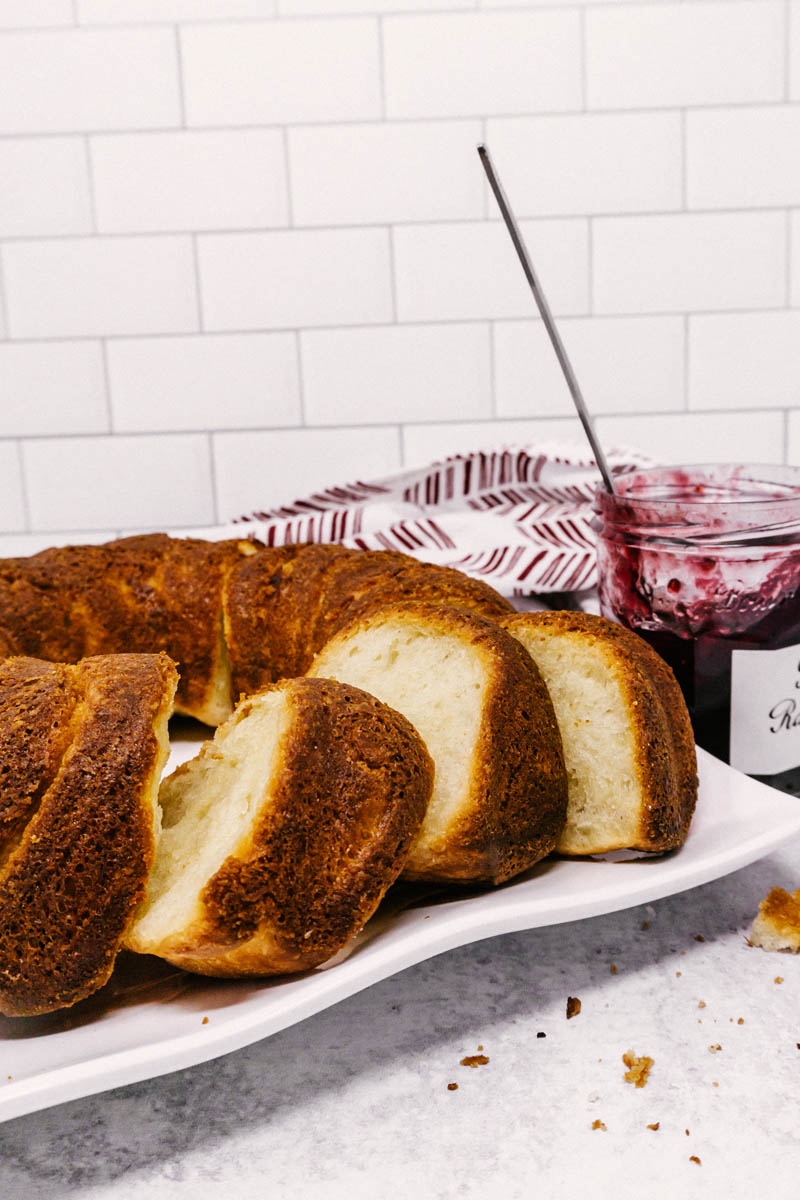 Growing up with five brothers and two sisters, my mother baked a lot. She made bread almost daily during my elementary years. I remember I used to lick the melted butter off all the warm loaves while no one was looking. I'm sure that was germ-free bread right? You'll want to do the same thing with these bundt pan potato rolls!
It's kind of funny. I didn't think I was doing anything wrong, I just wanted the butter and thought it would go to waste if it dripped off the warm bread. But with the number of mouths to feed, nothing lasted long. Surprisingly, it wasn't until after I married my husband that I learned about these rolls. My mother would have loved these buttery Overnight Bundt Pan Potato Rolls during those years for how easy they are to prepare in advance.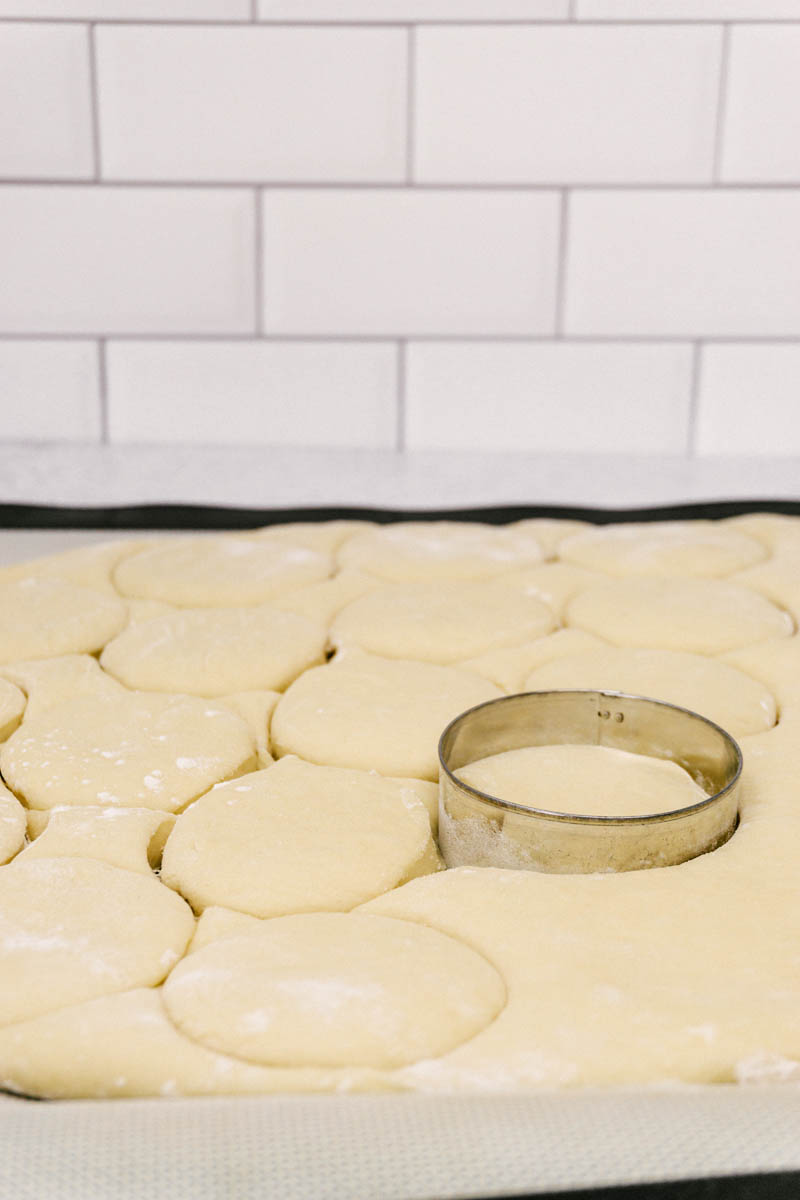 Buttery Delicious Bundt Pan Potato Rolls
My mother-in-law passed this recipe down to me. She often makes these rolls for special holidays and Sunday dinner. They can be made ahead and are a great time saver that doubles as a bread showstopper. And the smell, wow the smell! We all wait for them with eager anticipation as they are the last things to go in the oven before dinner. The smell was amazing and the golden plate of "tear off your own roll" golden buttery rolls is a family favorite.
We love to eat these Overnight Bundt Pan Potato Rolls with homemade freezer strawberry jam. I think my husband goes through half a jar himself when we eat these warm rolls. Although it's our favorite way to enjoy them, you certainly don't need jam or extra butter. They are great alone.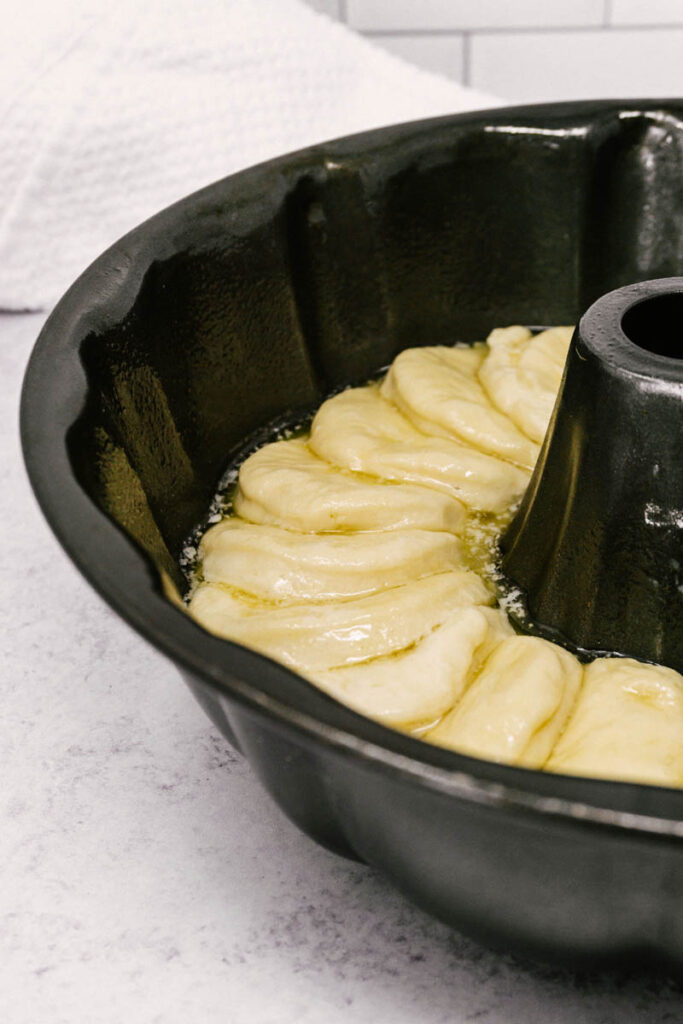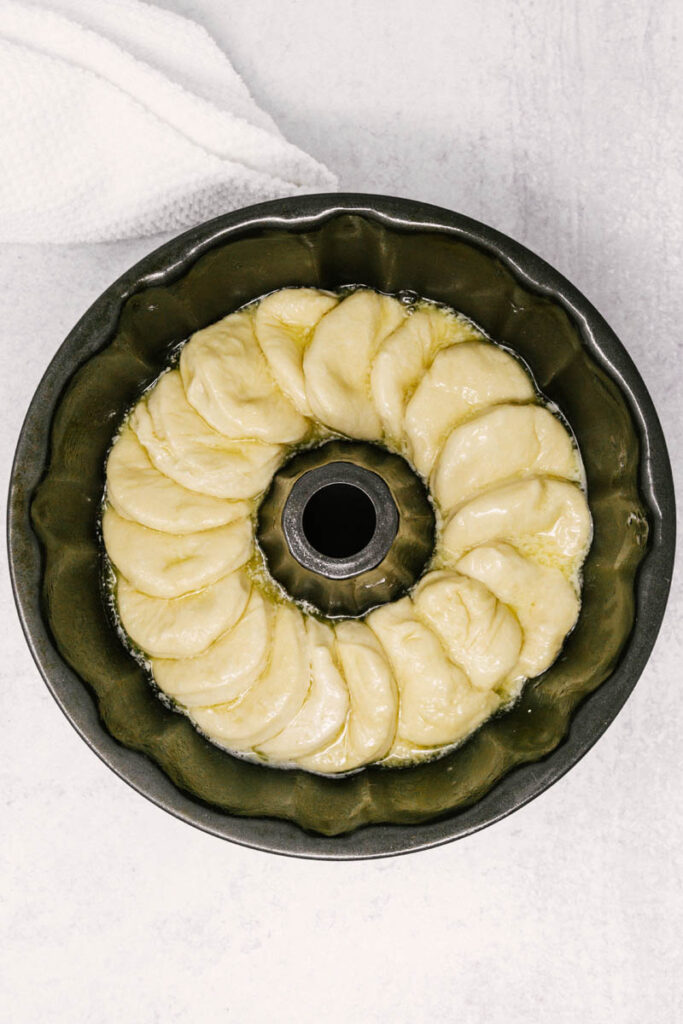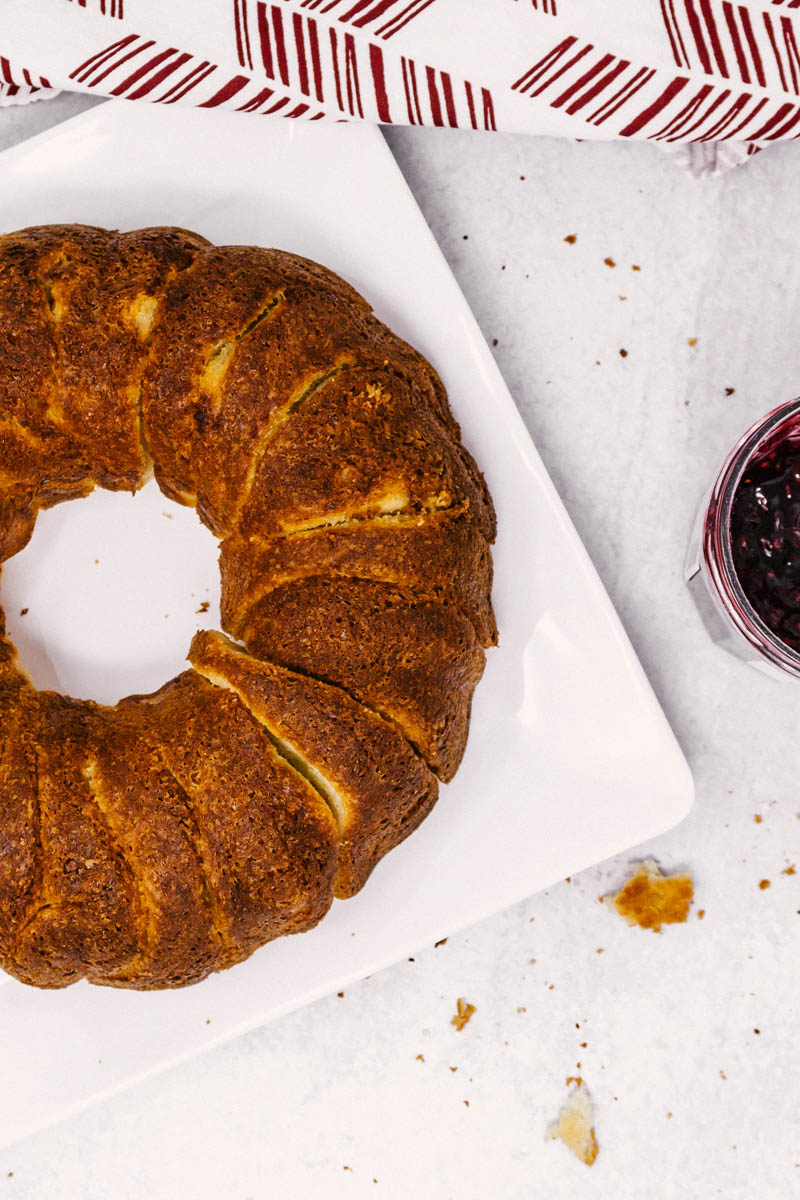 A Company Favorite
My favorite part of these Overnight Bundt Pan Potato Rolls is that they can be made in advance. As the dough sits, it develops a deeper flavor. With the extra melted butter the rolls are dipped into, the edges bake up into a crisp, heavenly bite.
If you have company for a few days, you can bake up one pan today for rolls to serve with a salad for lunch. Keep the second pan in the fridge to bake up for dinner a few days later.
If I had to compare these to any other recipe, it would be a homemade, buttery croissant roll. While those take A LOT of careful planning, these Overnight Bundt Pan Potato Rolls compare in buttery, rich flavor with an added bonus of being a lot less work and they actually use less butter. It's a win-win recipe.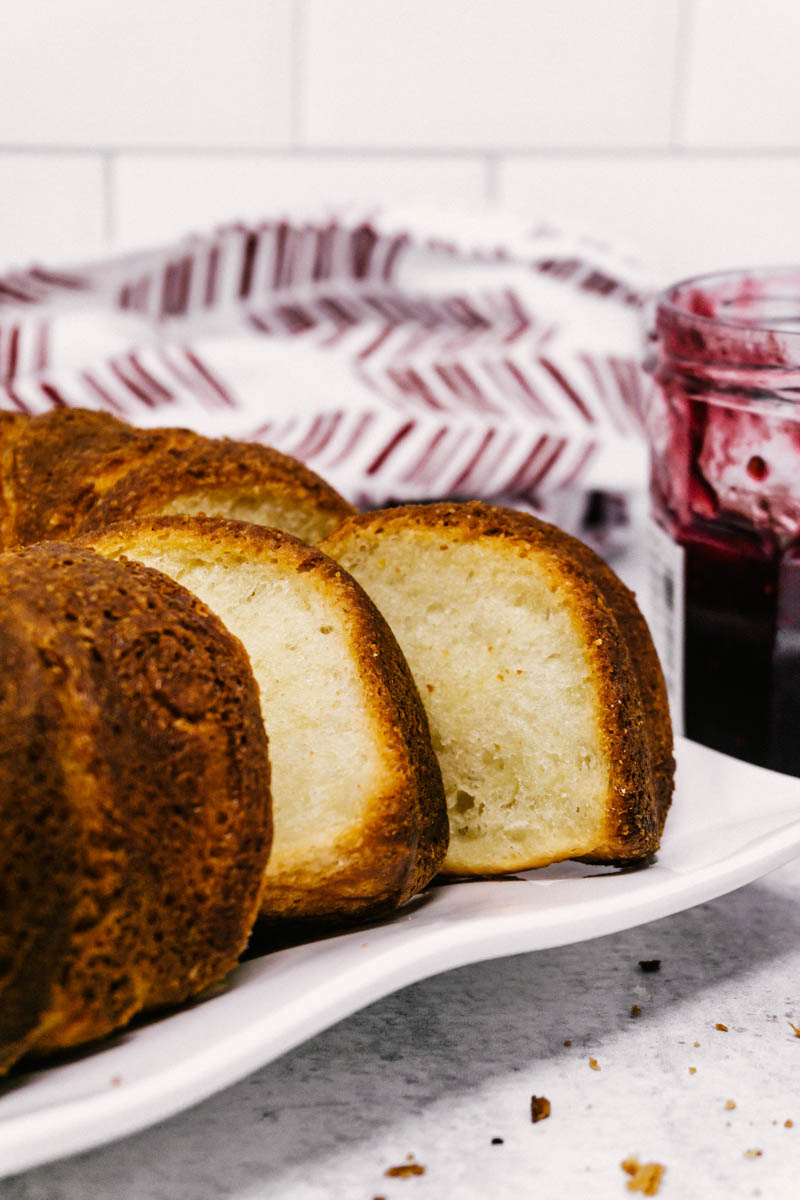 Don't Own More Than One Bundt Pan?
If you only have one bundt pan, you can use an angel food cake pan to keep the general shape of the rolls. You will need to wrap the bottom in foil to keep the butter from leaking out. When I have used an angel food cake pan with the foil, the rolls don't brown as quickly. They need a few extra minutes in the oven to achieve that golden, crispy, buttery edge.
The other option is to use a 9×13 pan for the other half of the batch and just make them into Parkerhouse style rolls. They will still bake up with that yummy butter coating.
Enjoy these and let me know what you think in the comments. Don't forget to leave a review, too!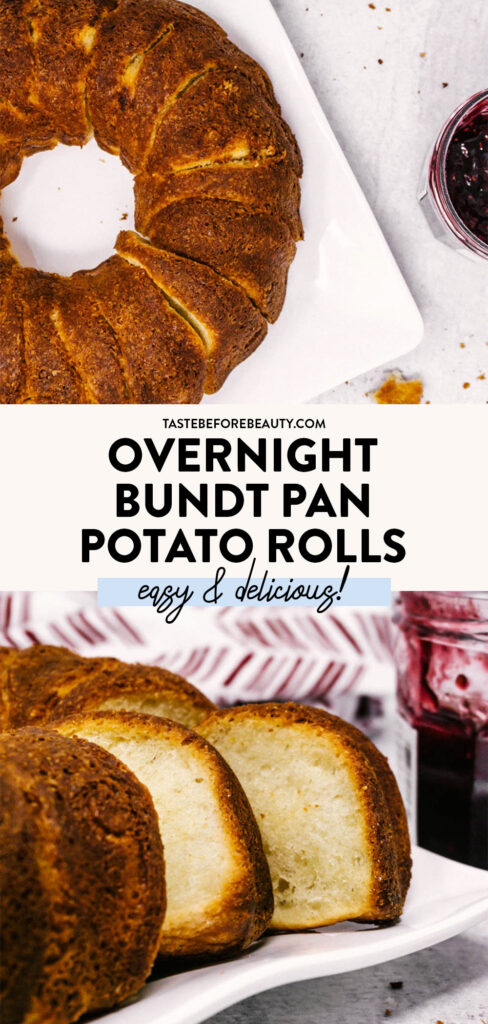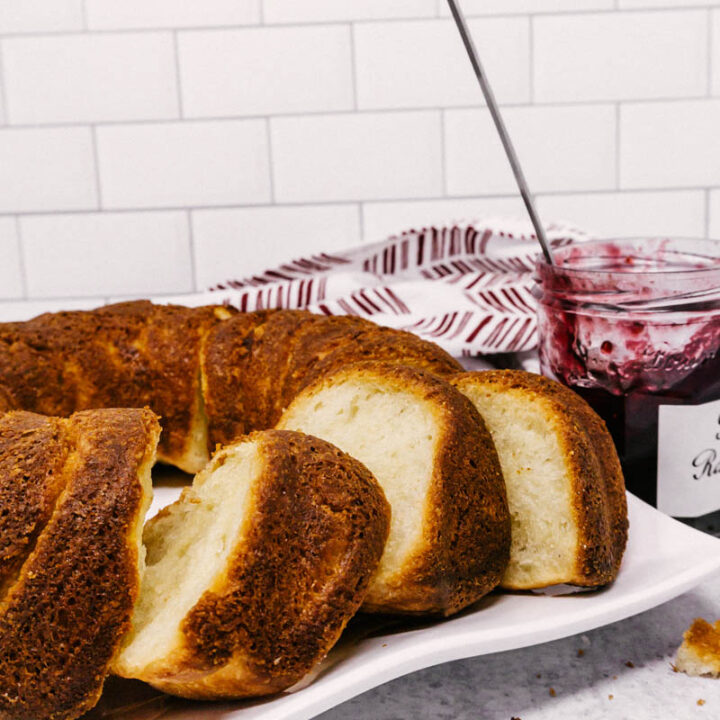 Overnight Bundt Pan Potato Rolls
Additional Time:
3 hours
15 minutes
Total Time:
4 hours
5 minutes
These buttery Overnight Bundt Pan Potato Rolls are baked in a bundt pan and make for a great centerpiece. Make them ahead of time for company and don't forget to serve with your favorite jam.
Ingredients
½ C (1.4 oz) potato flakes (unseasoned dried instant potatoes)
2 C (16 oz) warm water (120-130*F)
4 ½ tsp instant active dry yeast
1 T salt
½ C (3.5 oz) sugar
2 large eggs
½ C (4 oz) salted butter, melted
6 ½ C (28 oz) all-purpose flour
¾ C (6 oz) salted butter, melted (to dip dough in before baking)
Instructions
You will need 2 bundt cake pans, or 1 bundt pan, and a 9x13 casserole dish.
Warm water to 120-130*F.
Add melted butter to water, salt, sugar, and potato flakes. Stir.
Add flour, yeast, and eggs.
Mix in stand mixer until all combined. Knead for 8 minutes.
Let dough rest 15 minutes.
Dump bowl of dough onto a lightly floured surface. Roll dough out to ½ inch thick.
Using a 2 ½ inch biscuit cutter, cut the dough into circles.
Dip circles in melted butter and line up vertically in bundt pans. There should be approximately 18 rolls per pan.
Cover Bundt pans with plastic wrap and refrigerate for at least two hours or up to three days.
Before baking, take the rolls out of the fridge and let them come to room temperature for an hour or until doubled in size.
Preheat oven to 375*F. Bake rolls 20-25 minutes or until tops are very golden.
Invert pan onto a serving plate to serve. Rolls should be served "bottom-side" up. Let everyone serve themselves, peeling off a warm roll as desired.
Notes
This makes a big batch of rolls, but when we made one batch it was never enough. You can freeze the leftovers and reheat for another meal as needed or deliver a pretty plate of bundt pan rolls to the neighbors.