Packed with bananas, Greek yogurt, whole wheat, and way less sugar than traditional recipes, this banana bread begs to be eaten for breakfast.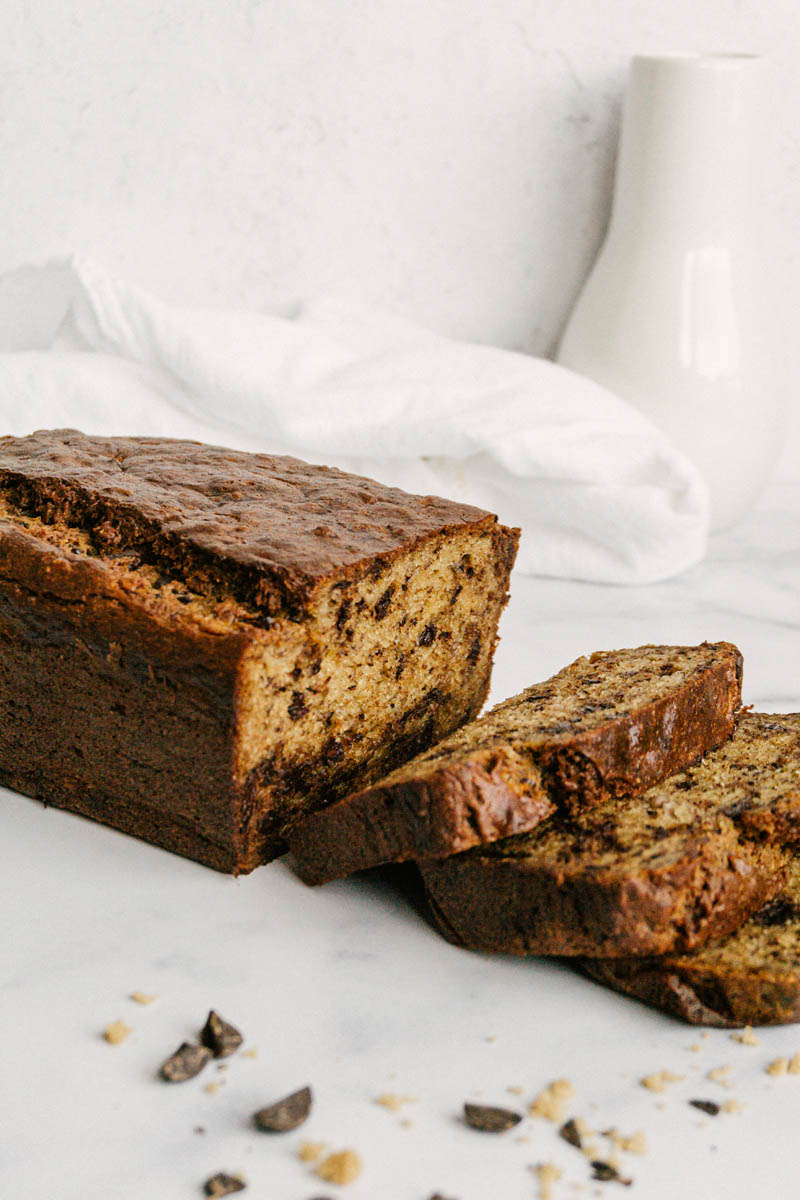 I've always loved banana bread. Childhood memories of my mom pulling banana bread from the oven hold fragrant, warm feelings of home. Now that I have a child of my own, I wanted to give her those same warm banana bread memories, but a bit more wholesome than the practically-cake version of my childhood.
Banana Stockpiling Tips
The chances you have four leftover bananas lying around waiting to be used is probably slim. (Unless your kids have recently given up bananas even though they've been eating 3 lbs a week for the past six months. It happens). I rarely have that many.
To work around this problem, I throw any extra bananas into the freezer until I've got enough saved to make banana bread. They turn brown and look a little scary but taste just as good when baked. Plus, they're easier to mash after they've been frozen and thawed. I just cut the top of the banana off and squeeze it out of the peel. Almost no mashing required!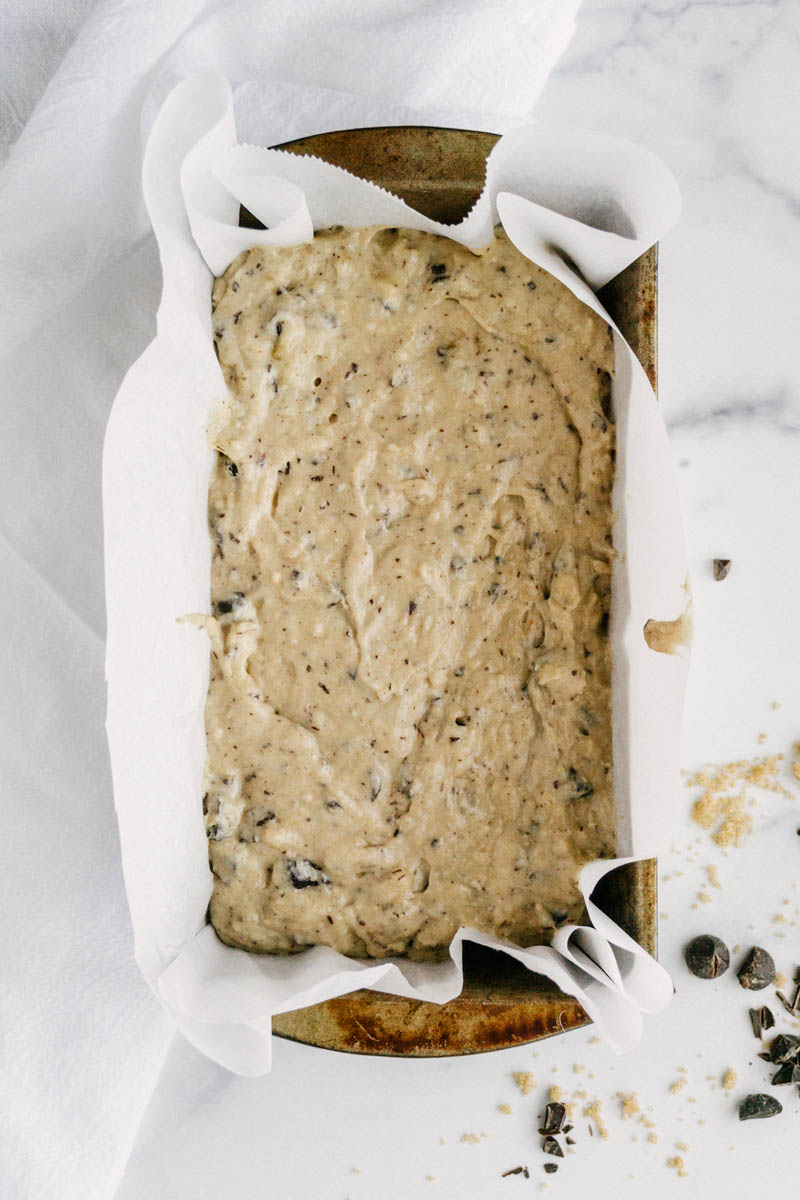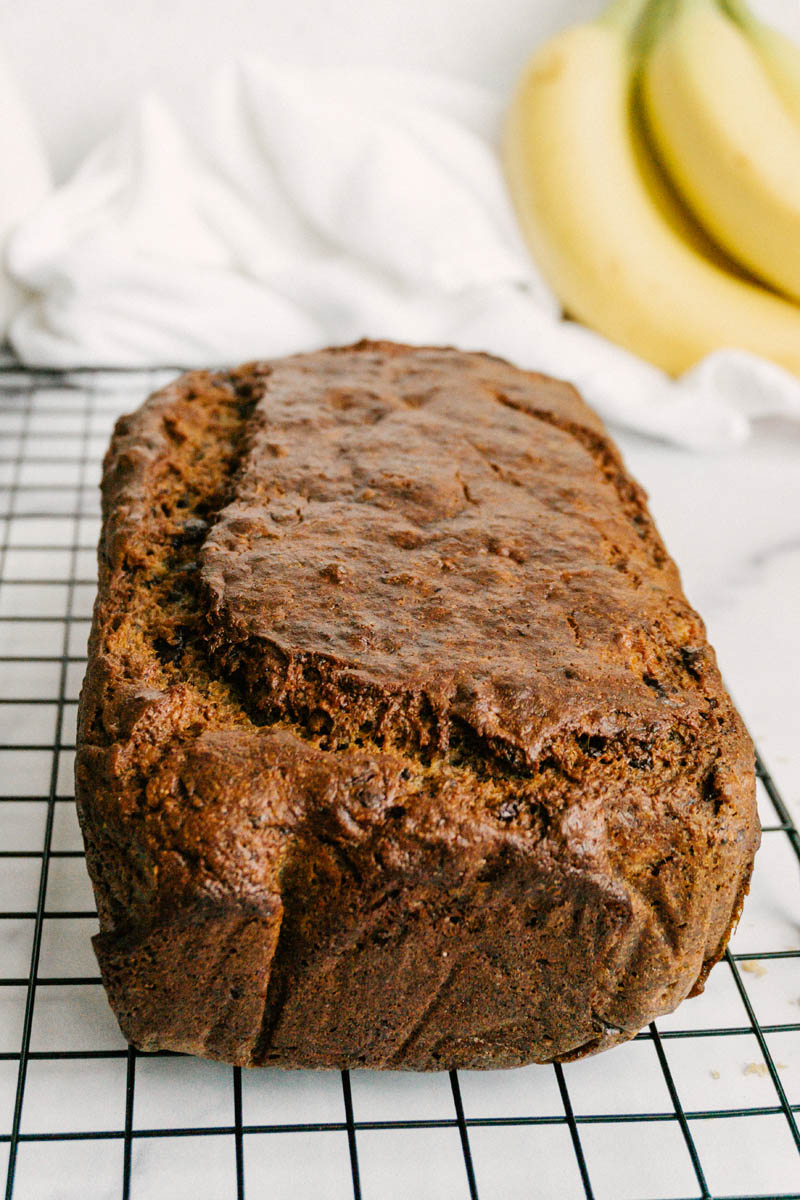 Recipe Tips
I love adding whole wheat flour to baked goods. King Arthur Flour carries a White Whole Wheat flour that is perfect for baking. It adds whole grains without the coarse, heavy texture that traditional whole wheat gives. It works perfectly in this recipe to keep the light banana bread texture. If you want a whole wheat loaf that works great for sandwiches and toast, check out our Wheat Oat Seed Bread.
This Healthy Chocolate Chip Banana Bread has half the amount of sugar that most traditional recipes call for. Using whole milk Greek yogurt gives the bread enough moisture that you'll never even notice it has less sugar.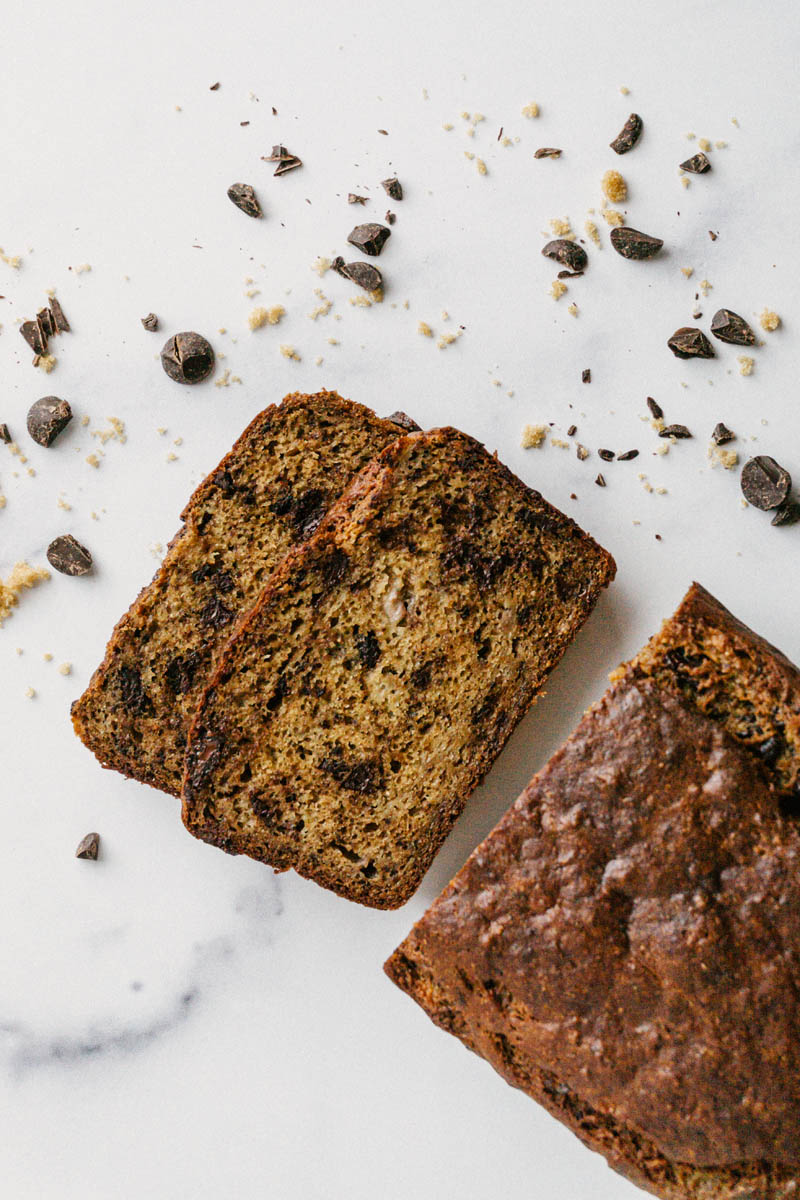 Chocolate Makes Everything Better
Chocolate and peanut butter are a match made in heaven (try them together in these Pennsylvania Tango Cookies). Banana and chocolate are close runners-up though. I love to use Ghirardelli Bittersweet 60% Cacao Baking Chips in this banana bread. Leave them whole if you like big chunks of chocolate throughout. I chop the dark chocolate chips roughly for smaller pieces of dark chocolate. You could also use mini chocolate chips.
I'm dying to know what you think of this. Can you tell it's healthy banana bread or are you as in love with the moist, delicious banana flavor and the burst of dark chocolate chips throughout as I am? Let me know in the comments!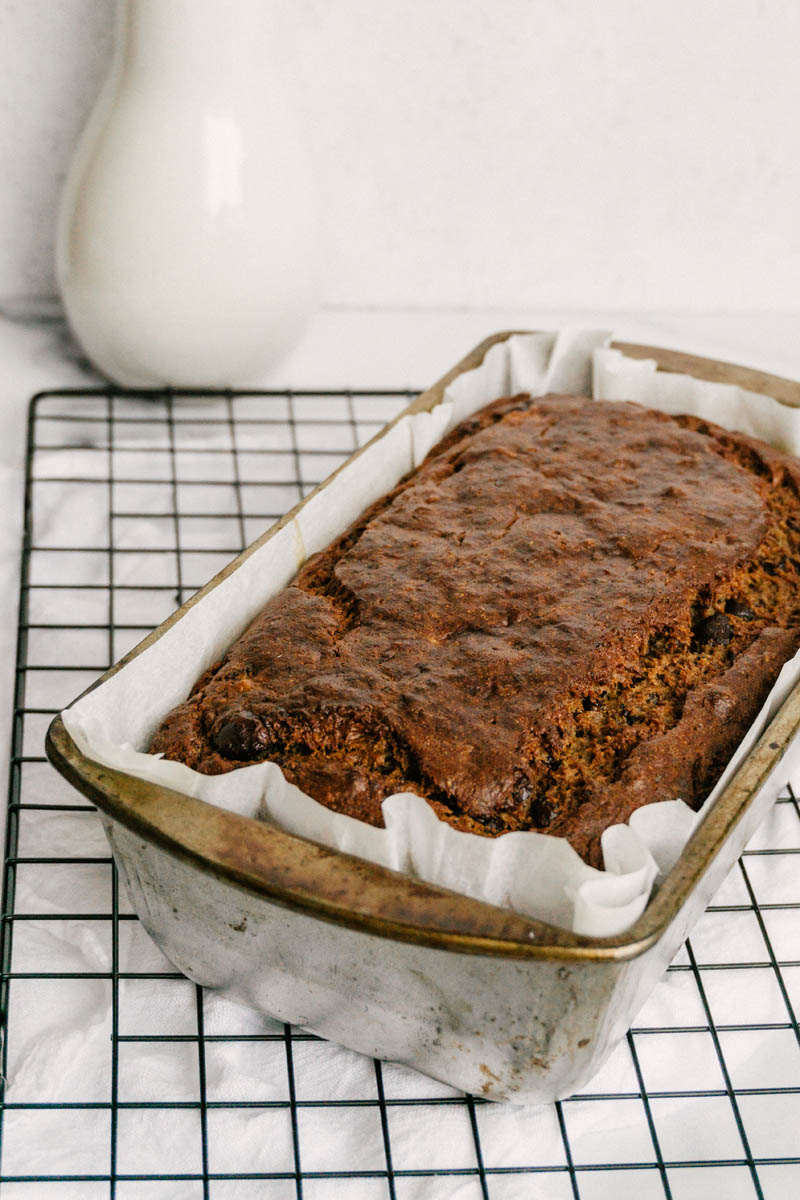 Some of the Products I Love to Use When Making the Healthy Chocolate Chip Banana Bread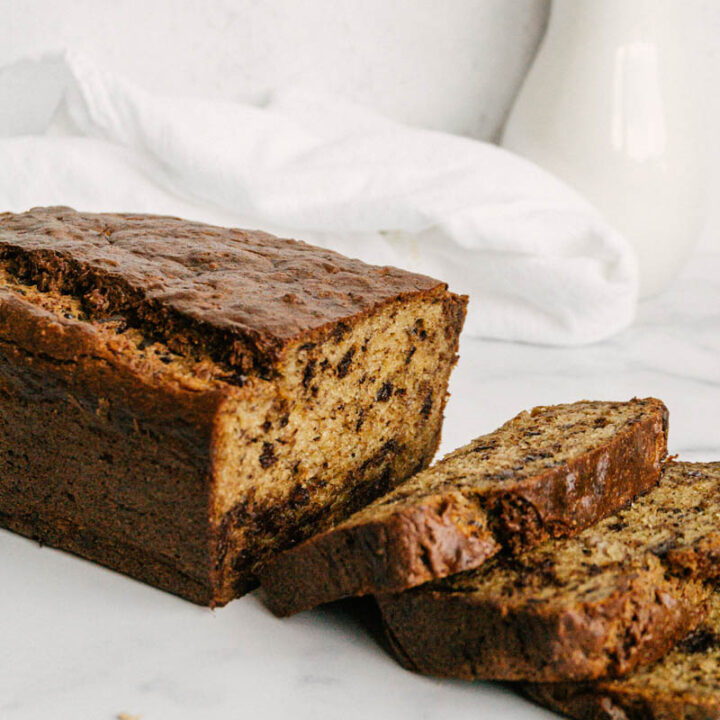 Healthy Chocolate Chip Banana Bread
Cook Time:
1 hour
25 minutes
Additional Time:
5 minutes
Total Time:
1 hour
45 minutes
Packed with bananas, Greek yogurt, whole wheat, and way less sugar than traditional recipes, this banana bread begs to be eaten for breakfast.
Ingredients
4 medium bananas
6 T (3 oz) salted butter, melted and cooled
⅔ C (6 oz) whole milk plain Greek yogurt
½ C (4 oz) light brown sugar
2 large eggs
2 tsp vanilla
1 C (4.5 oz) all-purpose flour
¾ C (4 oz) white whole wheat flour
1 ½ tsp baking soda
½ tsp salt
1 C (6 oz) dark chocolate chips
Instructions
Preheat oven to 350*F. Line a 9x5" loaf pan with parchment paper. Cut off excess paper.
In a large mixing bowl, mash bananas with a fork. It's okay if some lumps remain. Add melted butter, Greek yogurt, brown sugar, eggs, and vanilla. Stir to combine.
In a separate bowl, whisk together all-purpose flour, white whole wheat flour, baking soda, and salt.
Add dry ingredients to banana mixture. Stir gently to combine. Add dark chocolate chips and mix until evenly distributed.
Pour into prepared loaf pan. Bake for 60-90 minutes, or until internal temperature reaches 200-205*F. If the top starts to brown too much, cover with foil. Let rest in the pan for 5-10 minutes before turning out.
Notes
Freeze ripe bananas until ready to use. It saves mashing time and guarantees you'll have enough bananas around.
I usually cover with foil at around 45 minutes.
Pick Your Favorite Pin and Save It for Later!