A wholesome whole wheat bread filled with oats and five different types of seeds. The perfect base for a sandwich, toast, or on its own!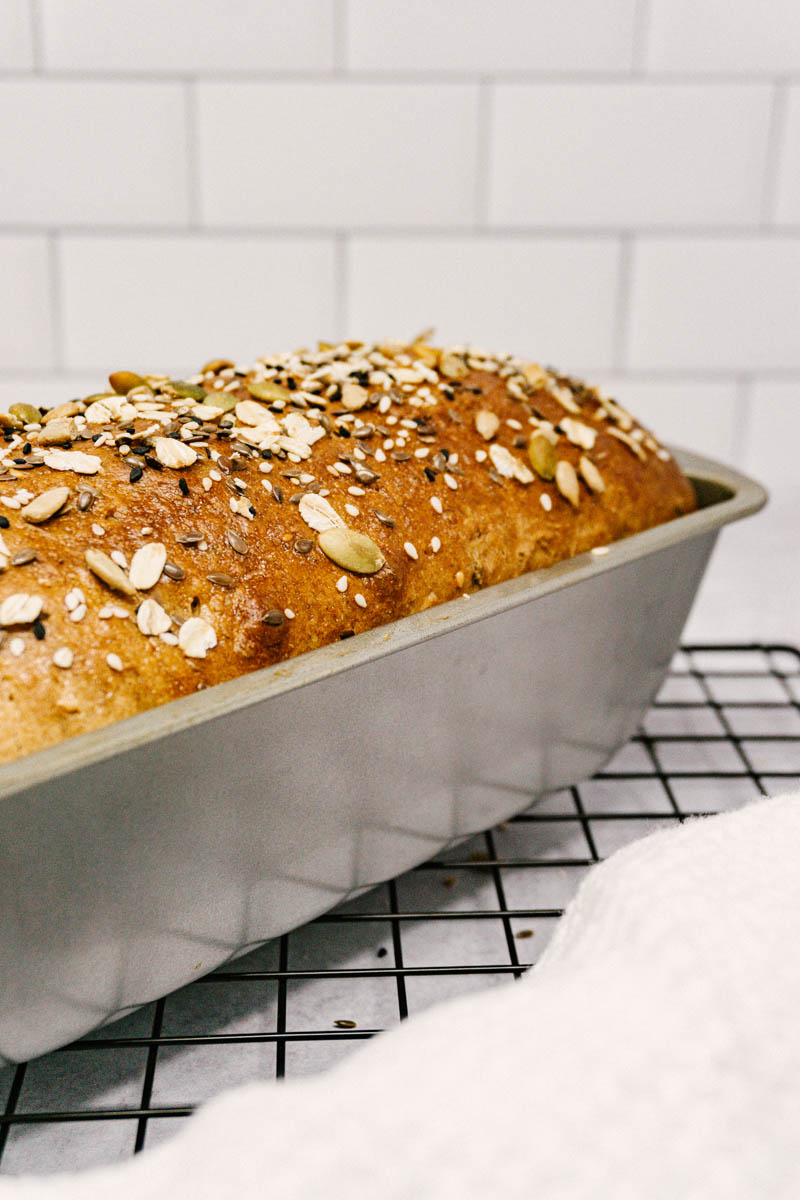 Happy New Year! We made it through 2020. This morning, my husband went for a 13.5-mile run, just for fun. He's crazy, but I'm also proud of how hard he has worked this last year to strengthen his body and reach this goal.
The Perfect Loaf, No Actual Running Required
While my husband is out running endless miles, I stay in the kitchen running a more metaphorical type of marathon, creating delicious recipes. Part of the reason I have spent so much time running "baking marathons", developing the perfect Chocolate Chip Cookie, making a melt in your mouth pie crust, and achieving the perfect, silky smooth Chocolate Mousse is for my children. I sacrificed time, effort, and many ingredients to be able to give them a recipe box full of tested recipes so, instead of wasting time and ingredients on bad recipes, they could run their own personal marathons of life.
While some people only eat to survive, many of us also eat for enjoyment. We have done the work of running around the kitchen, testing recipes, and tweaking them until they are just right. This Wheat Oat Seed Bread is a delicious bread you can make yourself and feel proud of. Knead with a stand mixer or by hand to give it that extra bit of love.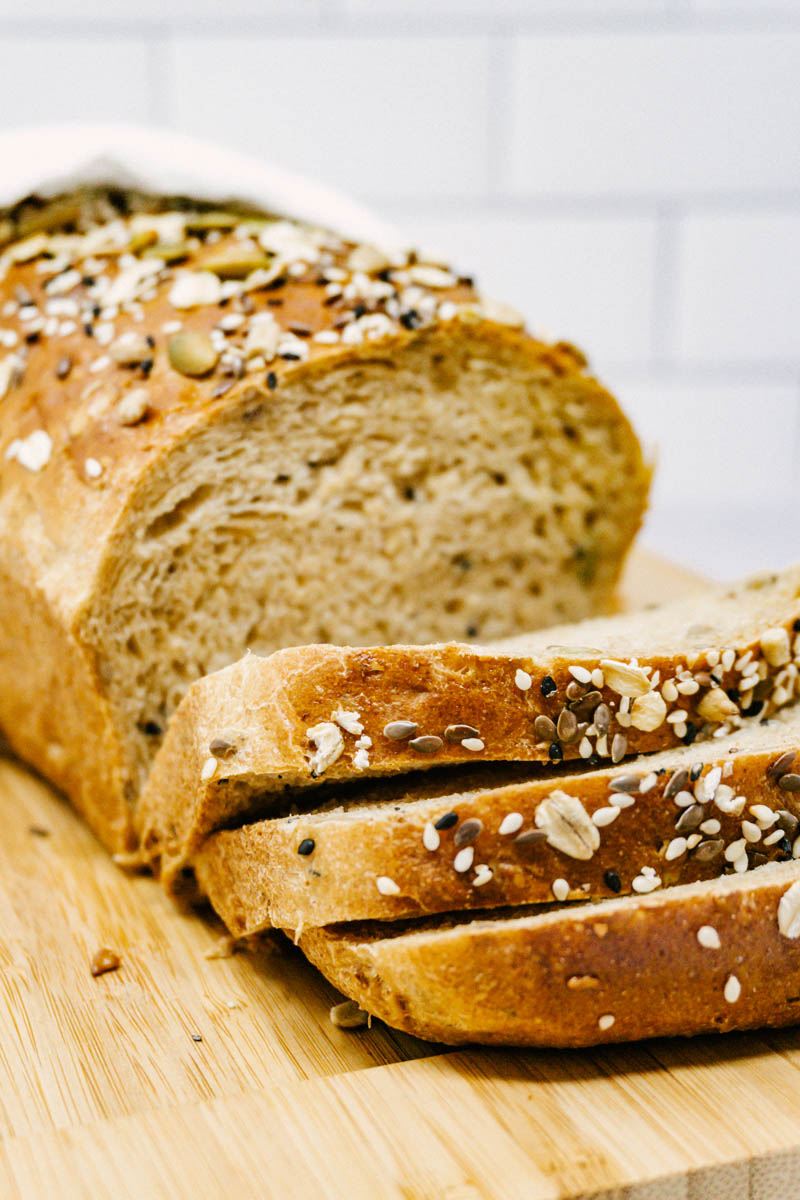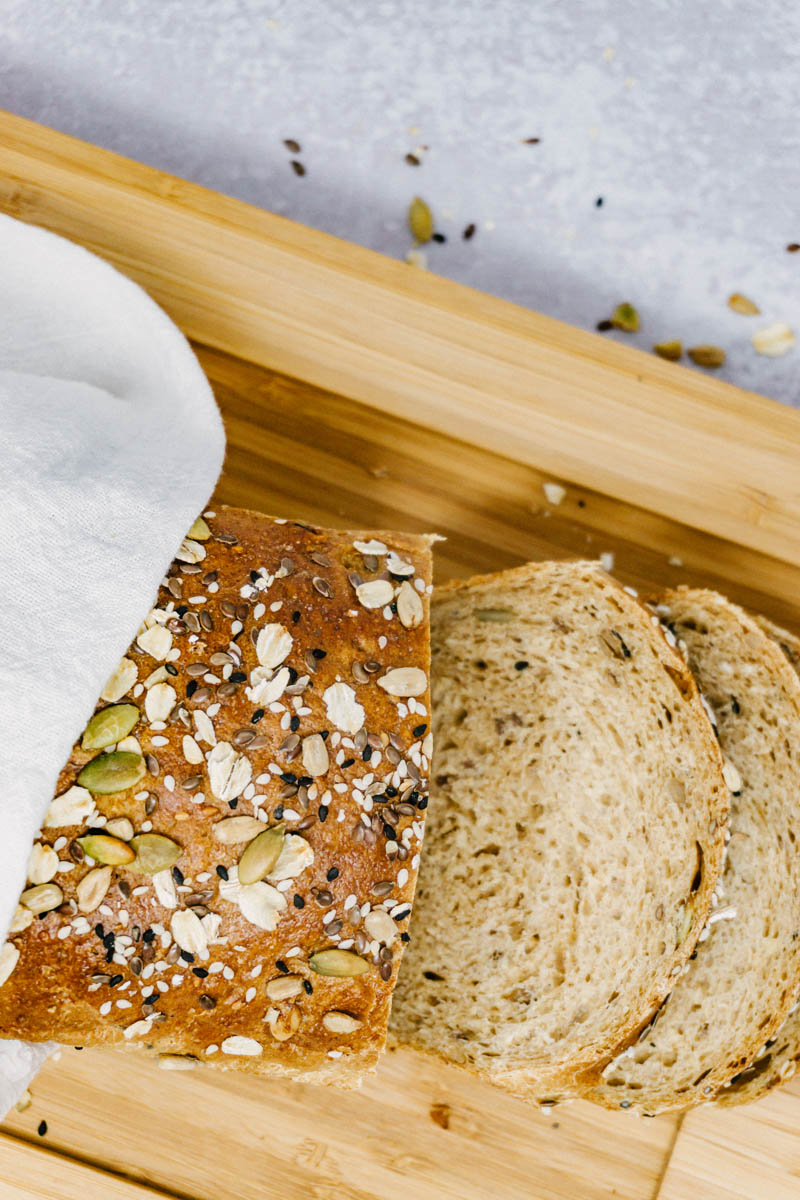 About the Ingredients
I like to grind my own wheat. It is fun for me and saves money in the long run. If you don't own a wheat grinder, store-bought wheat is an excellent option. My favorite brand is King Arthur flour. They recently started carrying a White Whole Grain wheat flour that is softer than Red Winter wheat. I love to combine the two kinds of whole wheat in baked goods to get the best of both worlds: a soft texture and the goodness and staying power of whole grains.
Adding a variety of seeds to this Wheat Oat Seed Bread adds not only texture and flavor but a variety of nutrients you can feel good about. I choose to use roasted and salted sunflower seeds and pepitas, but you can use unsalted if you prefer. Additionally, the ratio of seeds to bread dough is the perfect amount to pack this bread with flavor without affecting the rise.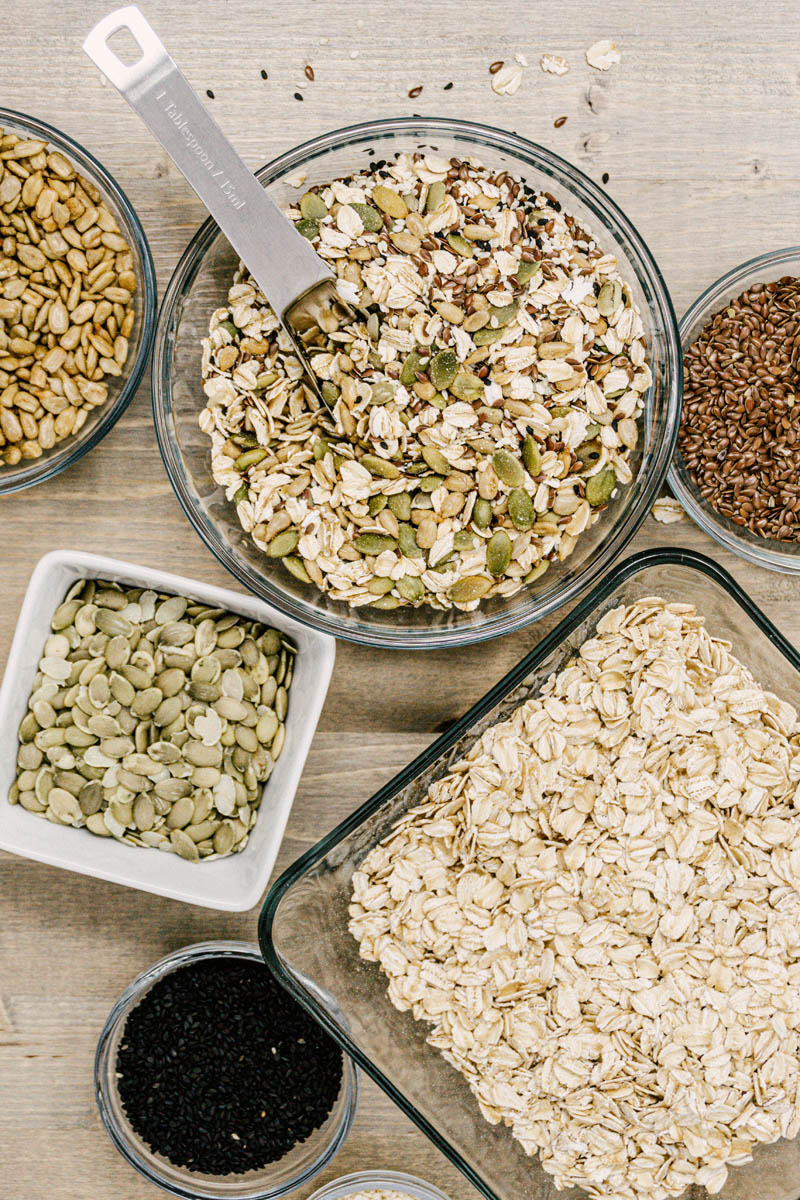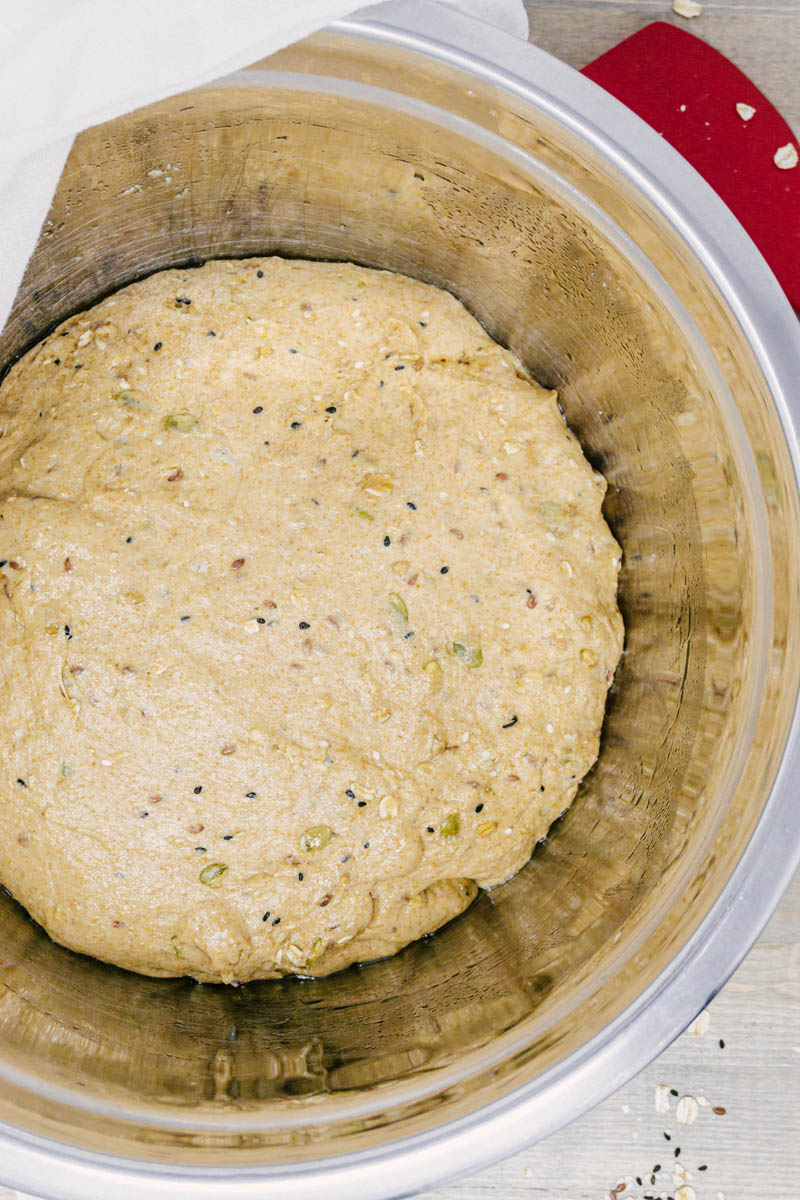 The Perfect Pan Size
You would think that finding the perfect sized loaf pan would be straightforward, but honestly, it's a bit complicated. Many pans make such a big loaf that a slice of bread from it won't fit in the toaster. My favorite loaf pans are from the Dollar Store. They're cheap, conduct heat well, and release food cleanly. I use an 8 ½ x 4 ½ pan for this Wheat Oat Seed Bread to make three loaves. If you use 9 x 5 loaf pans or larger, make only two loaves.
I hope you enjoy this wholesome, flavorful, filling Wheat Oat Seed Bread and that it is the perfect healthy and delicious start to your new year!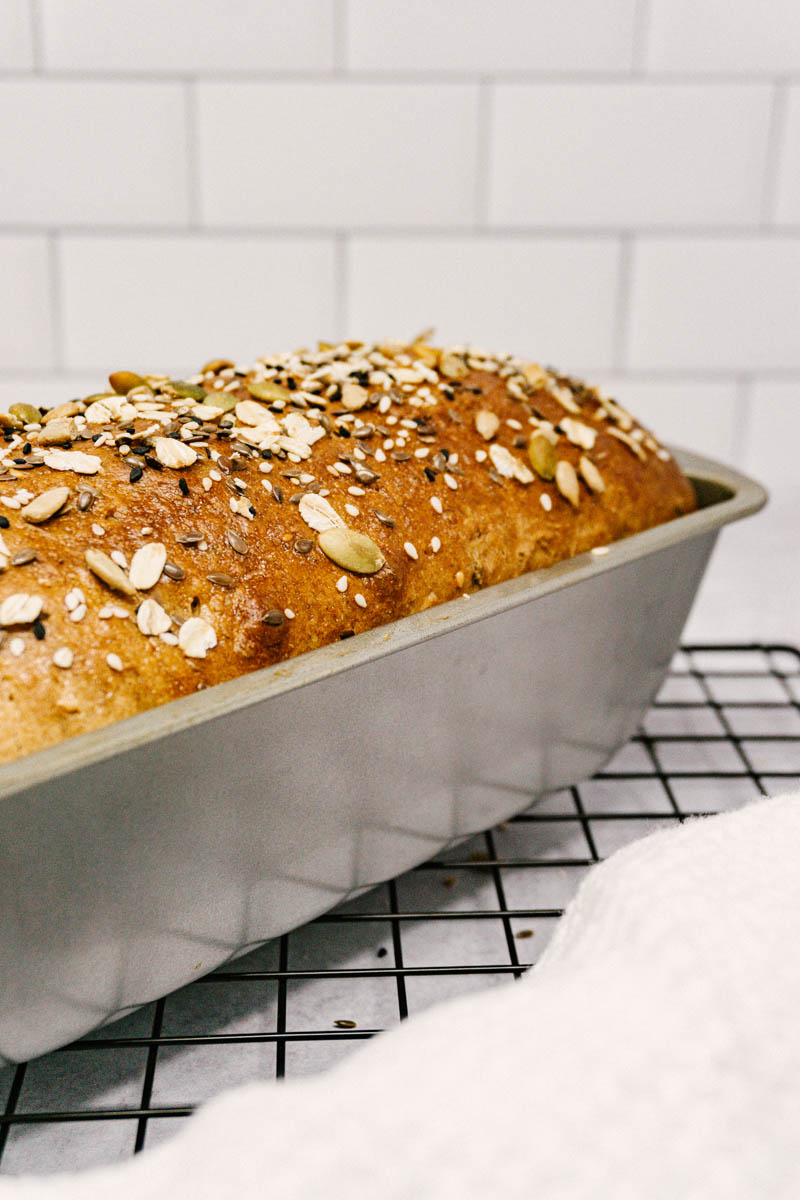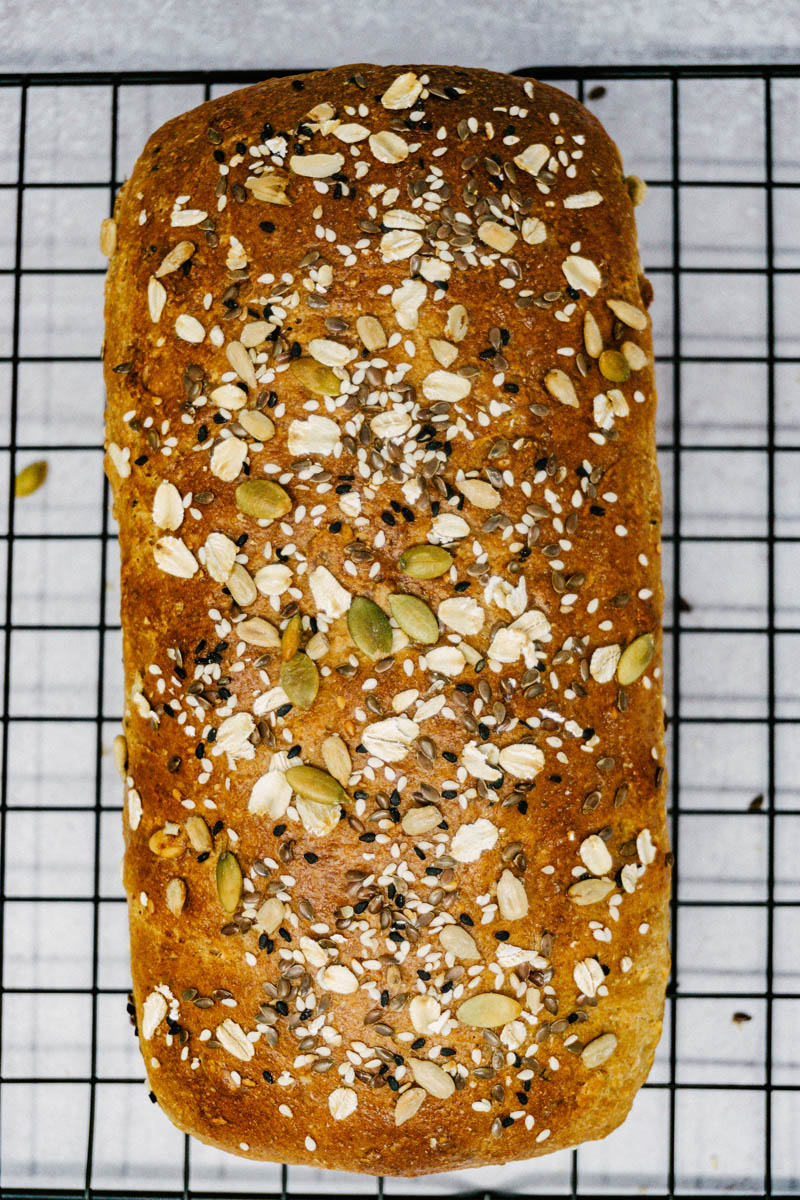 Some of the Products I Love to Use When Making the Wheat Oat Seed Bread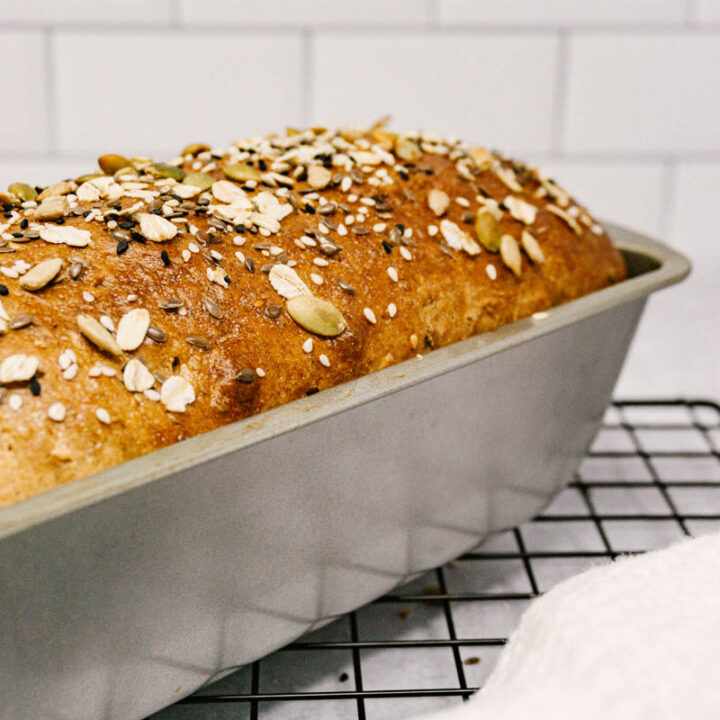 Wheat Oat Seed Bread
Yield:
3 8 ½ x 4 ½ loaves
Additional Time:
1 hour
20 minutes
Total Time:
2 hours
20 minutes
A wholesome whole wheat bread filled with oats and five different types of seeds. The perfect base for a sandwich, toast, or on its own!
Ingredients
Seed Mixture
½ C (2 oz) whole grain rolled oats
3 T (1 oz) flax seeds
1 T (0.2 oz) black sesame seeds
¼ C (1 oz) roasted salted pepitas
¼ C (1.2 oz) roasted salted sunflower seeds
2 T (0.5 oz) white sesame seeds
Wheat Dough
2 ¾ C (22 oz) very warm water (120-130*F)
½ C (4 oz) brown sugar
2 T (1.3 oz) molasses
½ C (4.2 oz) olive or vegetable oil
2 ¼ C (10 oz) all-purpose flour
1 ⅞ C (10 oz) white whole wheat flour
1 ⅞ c (10 oz) whole wheat flour
½ C (1.8 oz) whole grain rolled oats
1 T vital wheat gluten
1 T salt
2 T + ¼ tsp instant active yeast
1 C (5 oz) seed mixture
1 egg white + 1 tsp water (brush over loaves before baking)
Instructions
Make Seed Mixture.
Add seed mixture ingredients to a small bowl. Stir to combine evenly. Divide into two portions: 5 oz (about a cup) and 1 oz (3 T).
Make Bread Dough.
Heat water to 120-130*F.
In bowl of a stand mixer, add white whole wheat flour, whole wheat flour, all-purpose flour, oats, vital wheat gluten, salt, and instant active yeast. Pour in 1 C (5 oz) of seed mixture.
Add warm water, oil, brown sugar, and molasses.
Mix until combined then knead in a stand mixer for 7-9 minutes.
Place the kneaded dough into a large bowl greased with a bit of olive or vegetable oil. Cover dough with a damp cloth and set in a warm place to rise for 40 minutes.
Using olive or vegetable oil, grease three 8 ½ x 4 ½ loaf pans.
Divide dough into three equal portions and shape into loaves. Place into greased loaf pans.
Cover loaves with a damp cloth and let rise 30 minutes.
Preheat oven to 350*F.
Before baking, mix 1 egg white with 1 tsp water and gently brush over loaves. Sprinkle each loaf with 1 T of remaining seed mixture.
Bake loaves for 30 minutes or until done. Let cool before slicing.
Notes
If using 9x5 loaf pans, this recipe will only make 2 loaves of bread.
Pick Your Favorite Pin and Save It for Later!