These Oatmeal Crumble Cookies are easy, buttery oat cookies with delicious crisp! With a delicious, deep caramel flavor and irresistible crunch, they won't last long.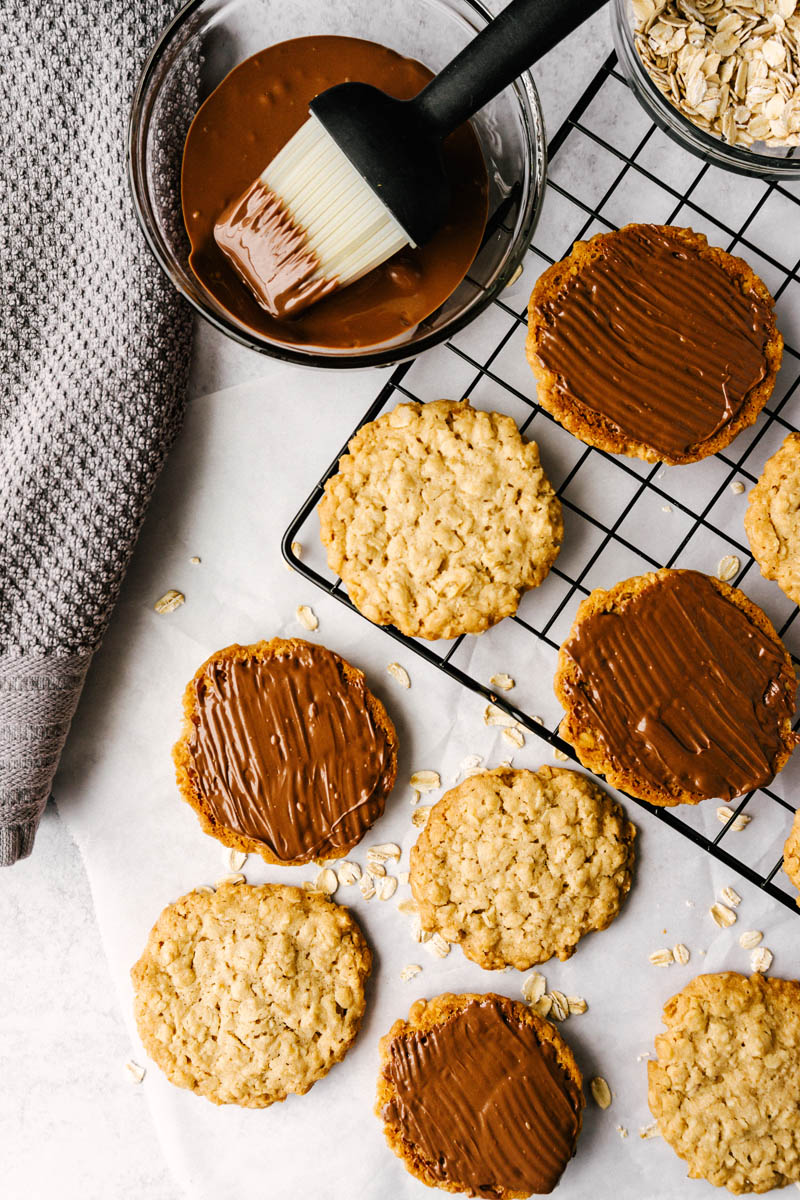 Need an Oatmeal Crumble Cookie?
I think about creating cookies – a lot. One night, I had a dream that a friend really needed a crumbly oatmeal cookie. I woke up laughing and determined to make it that day, so I started researching and testing.
It just so happens that Kailey (part of the Taste Before Beauty team) married a man with a mother from the UK. They have been introducing me to some favorite English foods, like Hobnobs which are popular cookies in the UK. These cookies are a copycat of Hobnobs.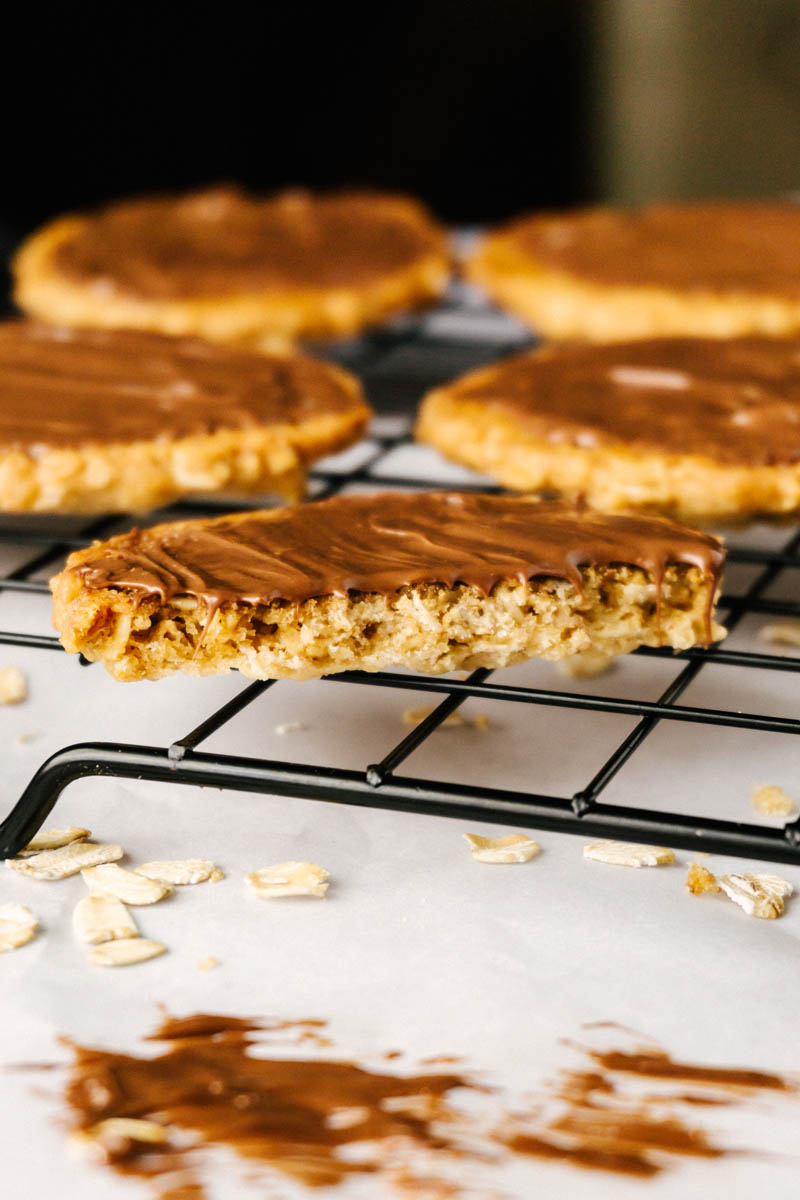 Irish and English
I first stumbled upon the idea for these Oatmeal Crumble Cookies when I was researching cookies for St. Patrick's Day. I discovered that Hobnobs are also popular in Ireland, and that milk chocolate is their chocolate of preference.
My family history has a lot of heritage in the UK, with just a bit of Irish. These Oatmeal Crumble Cookies are a nod to my ancestors who came before me, as well as my cousin who will only eat crumbly crisp cookies. It is an American version of a Hobnob and a nod to the Irish who prefer milk chocolate on their biscuits.
These cookies are so good that they will last two weeks on the counter – and taste even better then! Now, that's a good cookie!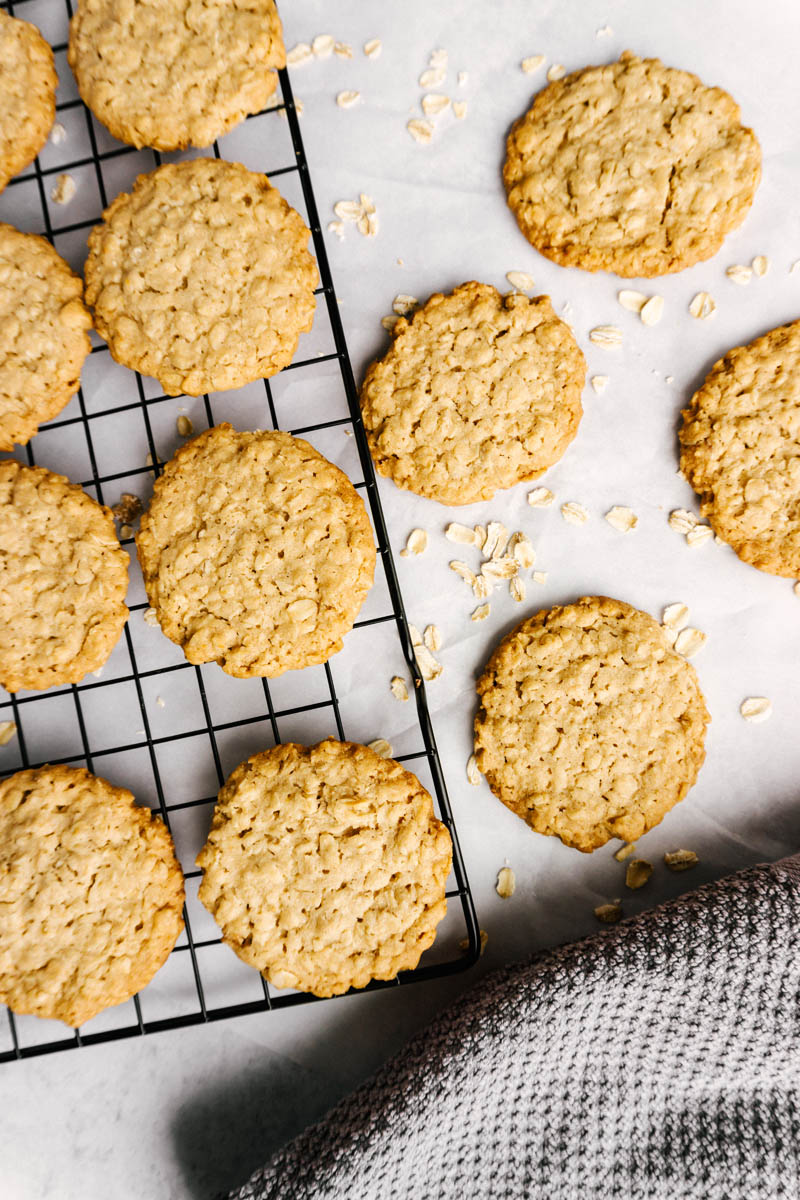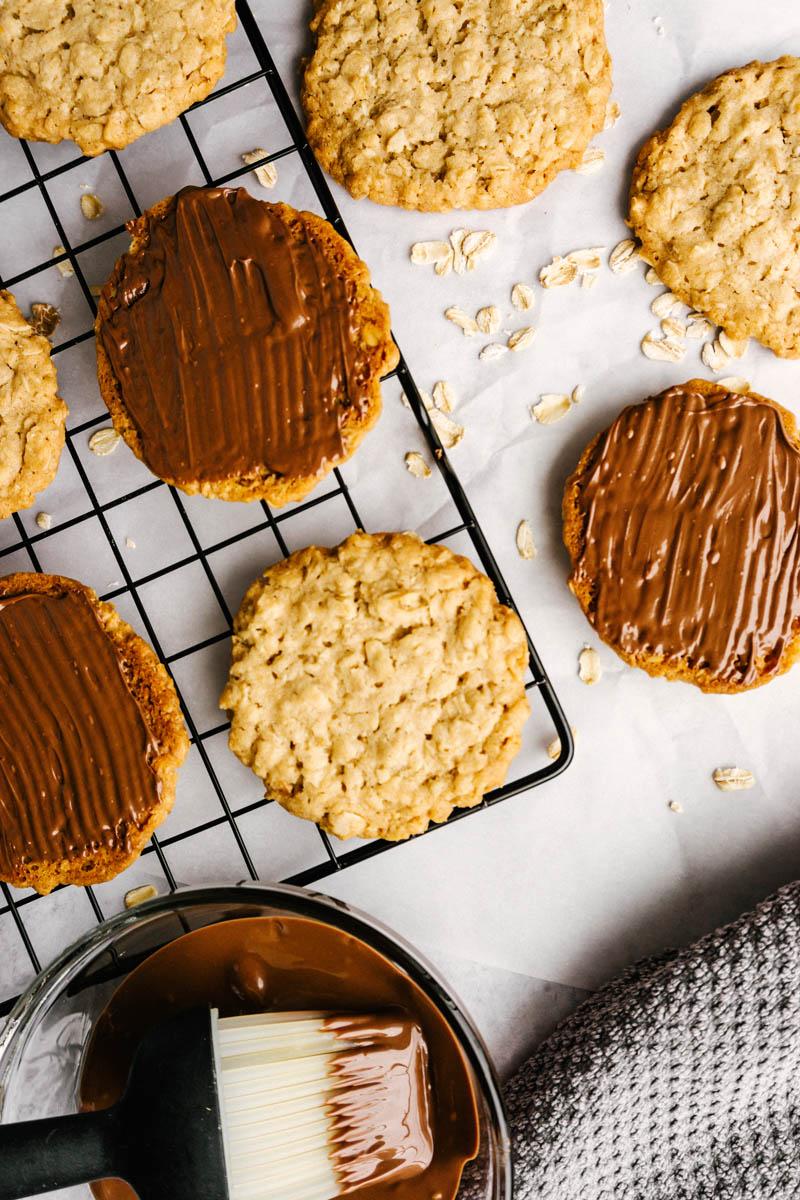 Some of My Favorite Ingredients
Golden Syrup – contributes great flavor and helps bind the cookie ingredients. It will be found near the corn syrup and molasses section. I like the King Syrup brand. It has a tiny bit of molasses and contributes a deeper caramel flavor to the cookies.
Brown Sugar – more of that caramel flavor to make a great cookie.
White Sugar – helps the cookie spread and contributes crisp factor.
Butter – Flavor boost and crispness.
Oatmeal – so you think you are eating a healthy food. Also contributes to that delicious crumble texture.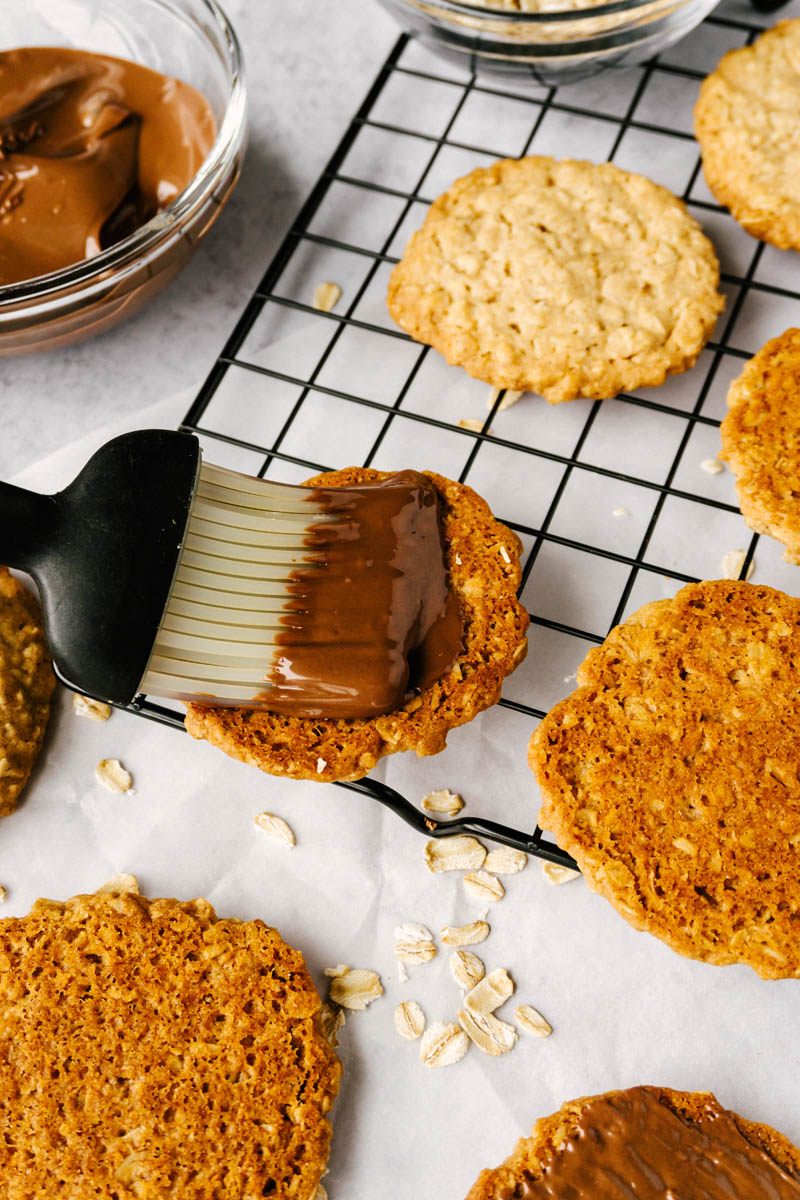 Recipe Tips
Don't be afraid to bake these until they are very golden. You read the bake time right. They need that time to crisp up and develop the crunchy texture that is key to these Oatmeal Crumble Cookies.
When adding the milk chocolate, I use a pastry brush and paint in straight strokes across the back of the cookie.
Bake up a batch of these delicious Oatmeal Crumble Cookies and then enjoy them straight off the counter, or dunked in a mug of your favorite herbal tea or hot chocolate!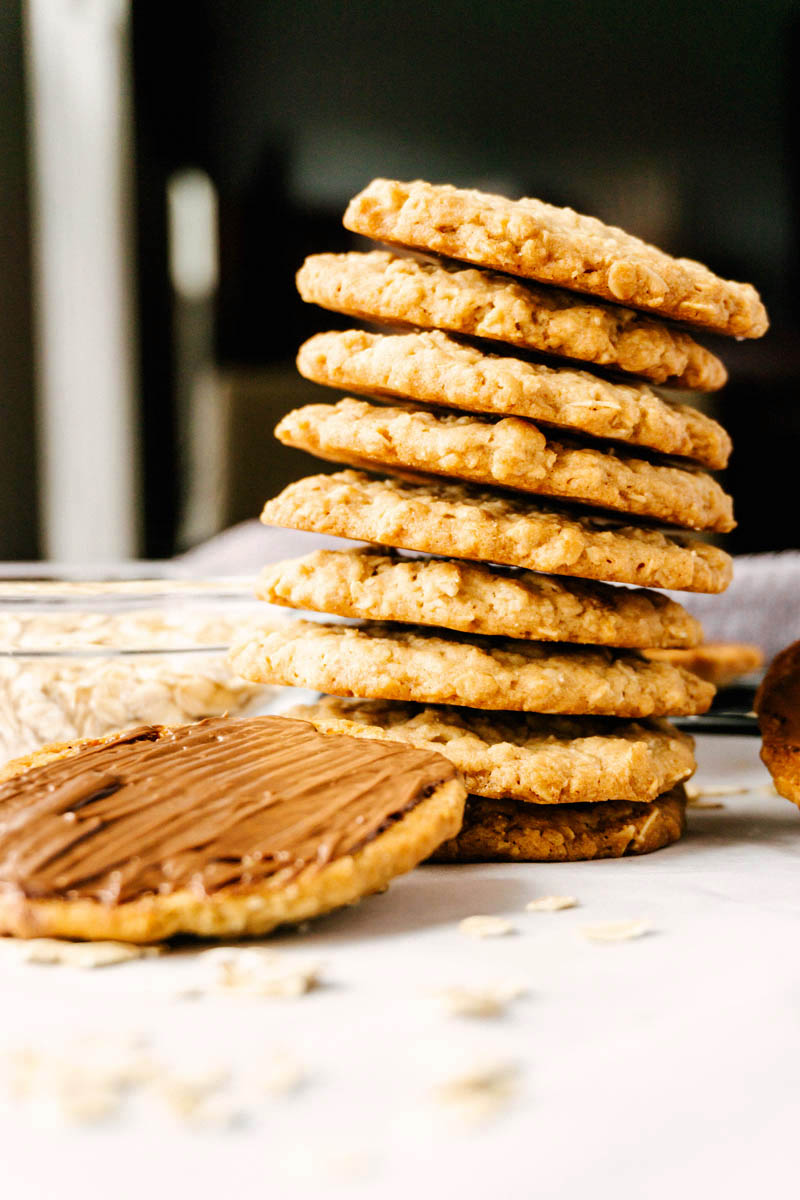 Looking for more delicious Oatmeal-based recipes? Try these: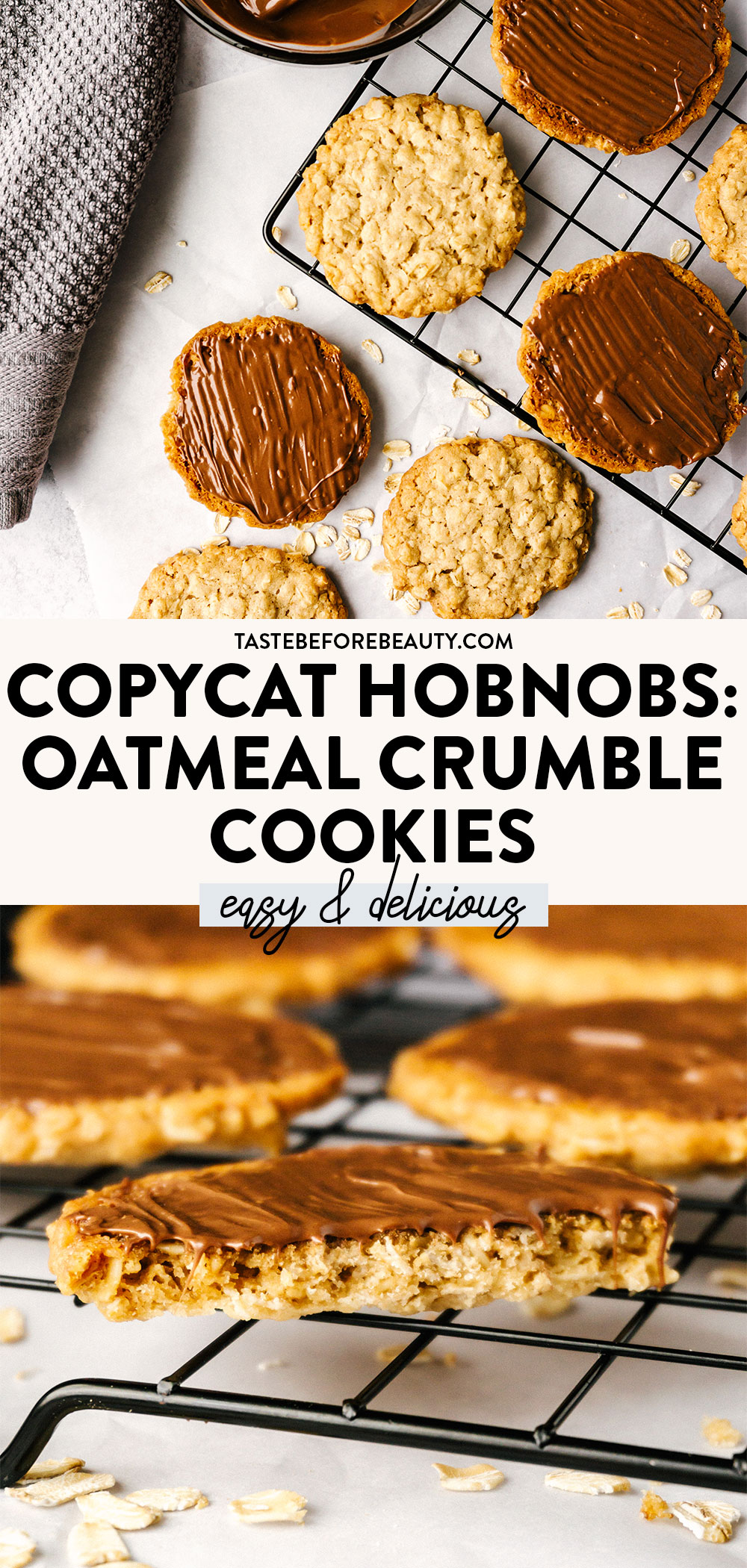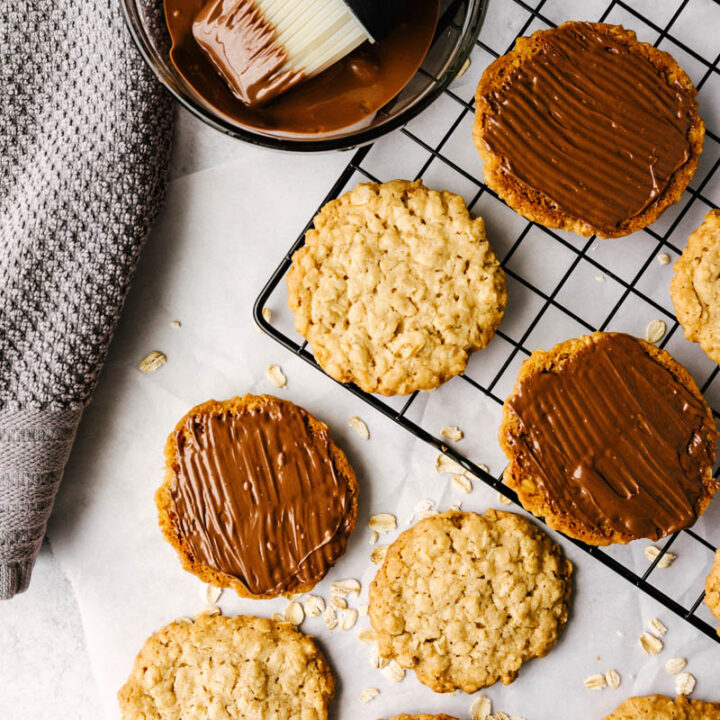 Oatmeal Crumble Cookies (Copycat Hobnobs)
Total Time:
1 hour
26 minutes
These Oatmeal Crumble Cookies are easy, buttery oat cookies with delicious crisp! With a delicious, deep caramel flavor and irresistible crunch, they won't last long.
Ingredients
½ C (4 oz) salted butter
⅓ C + 1 t (3 oz) brown sugar
2 T + 1 tsp (1 oz) white sugar
1 tsp vanilla
1 T King syrup (golden)
1 tsp vanilla
¼ tsp salt
1 C (4.5 oz) self-rising flour
1 C + 2 T (4 oz) rolled oats
1 C (6 oz) milk chocolate chips, for topping (optional)
Instructions
Preheat oven to 350*F.
Line a cookie sheet with parchment paper.
Cream butter and sugars together for 2 minutes.
Add vanilla and golden syrup. Scrape bowl and mix.
Add salt, flour, and oats all at once and mix until combined.
Drop onto cookie sheets with #40 (1 ¾ T) cookie dough scoop. Press down with fingers to ¼ inch thick.
Bake at 350*F for 16 minutes till very golden brown.
Let cookies cool.
Melt milk chocolate chips in the microwave.
With a pastry brush, brush the chocolate on the bottom of the cookie and let cool until set.
Notes
Golden syrup is key to a really nice flavor.
I use Hudson Cream Brand Self Rising Flour.