Super simple, super tasty, and a super easy way to get into heaven… I mean taste heaven! Serve this Angel Food Cake with whipped cream and berries for a heavenly light dessert.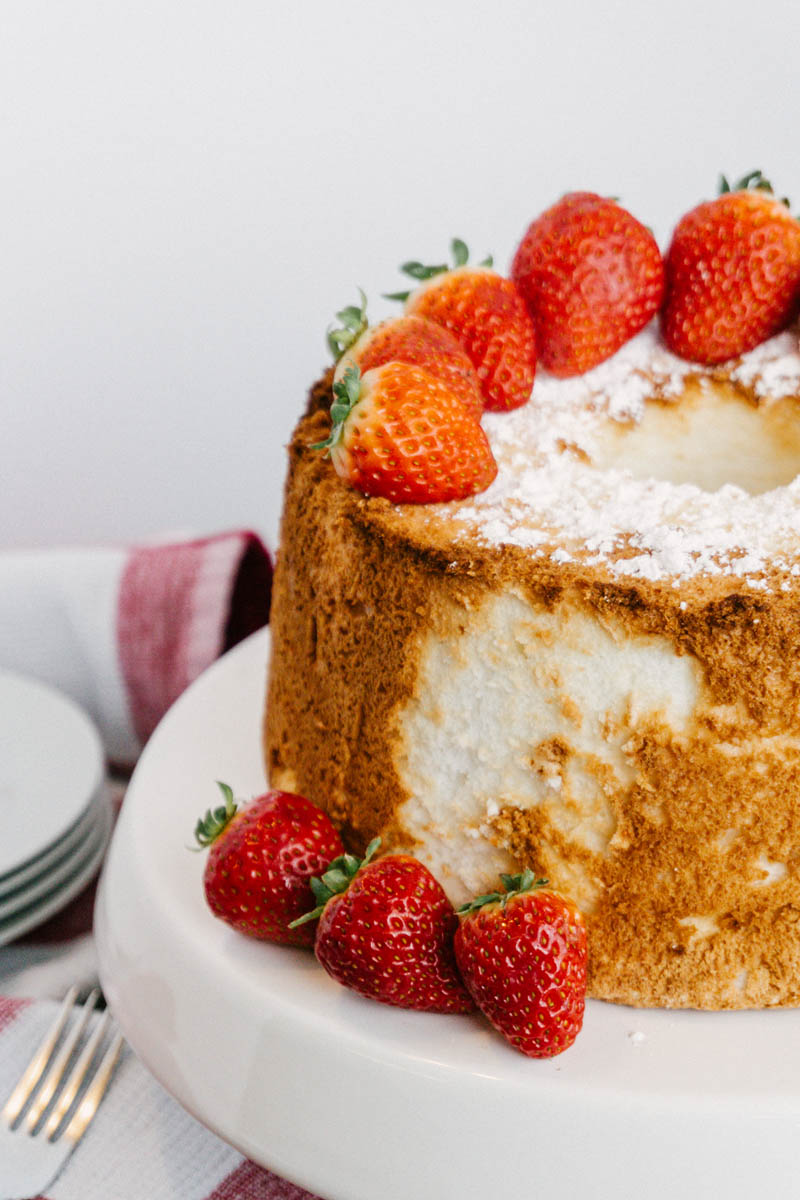 Light and airy: Not only do I hope to be that way as an angel, but I love a dessert that grants me that pleasure as well. I enjoy eating desserts that aren't too heavy or rich, and that satisfy my sweet tooth without being overindulgent (Try our Rocky Road Fudge if you're looking for something a bit richer.)
This Angel Food Cake is a soft, sweet, and light cake with a side of toppings you enjoy most! I love berries and cream, so adding these to my slice of cake is a piece of heaven.
Recipe From an Angel
This recipe comes from my great-grandma, who is now an angel, so the name is perfectly fitting. Her secret to this recipe was using Softasilk Cake Flour It made her Angel Food Cake delicate and perfect every time.
If you're wondering what to do with the 12 egg yolks you have leftover from this recipe, we suggest using them to make a batch or two of our #1 Chocolate Chip Cookies.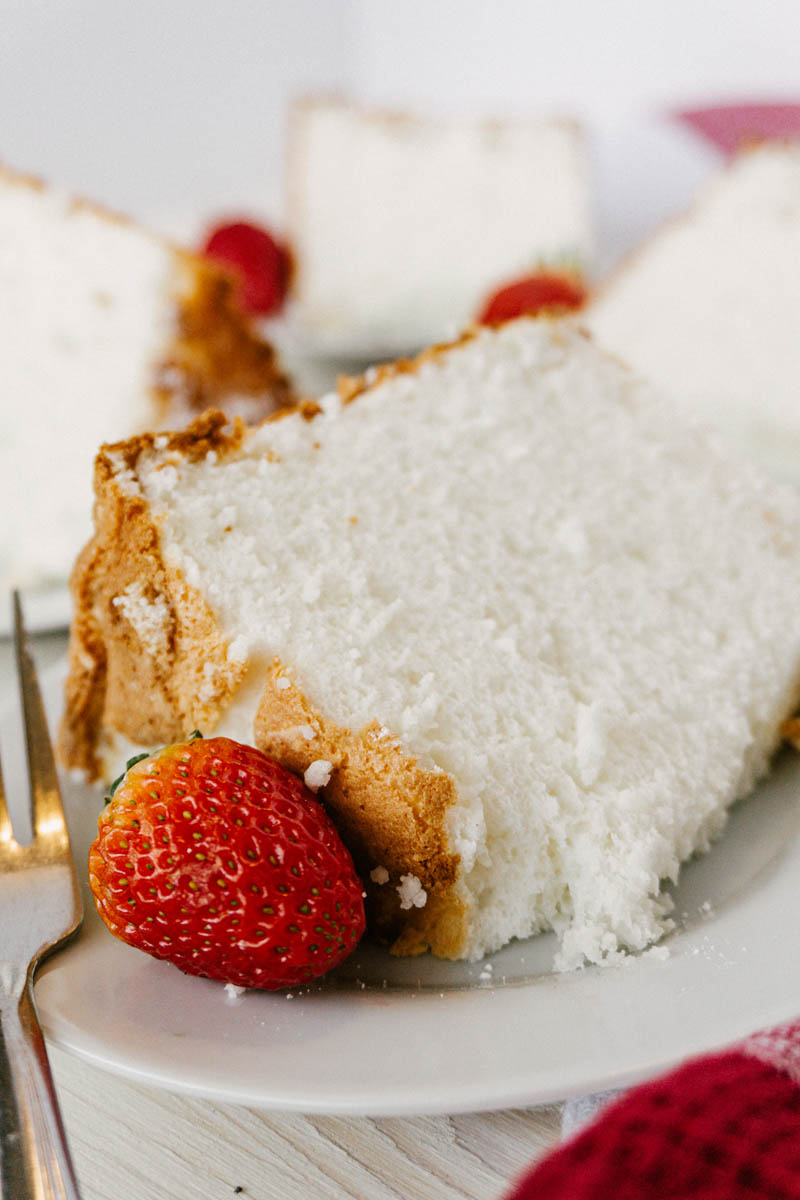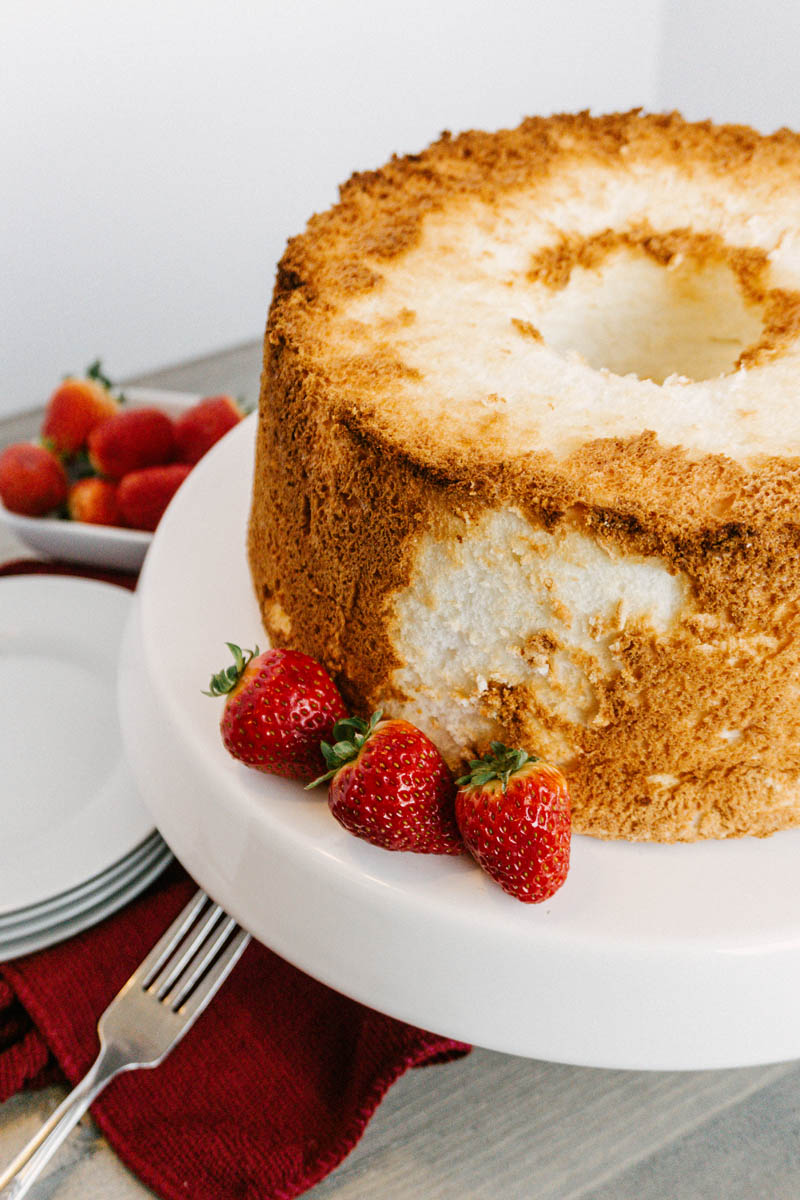 Important Instructions
Pay close attention to the instructions when you make this. Make sure your angel food cake pan is completely free of oil and grease before you pour the batter in. Additionally, if you don't cool the cake upside down, it may collapse and be flat and sad.
This cake stores well. Cool completely then cover with plastic wrap. It will last at room temperature for a few days, refrigerated for up to one week, or can be frozen for up to 4-6 months. You can almost hear the hallelujah chorus every time you open the freezer!
I hope you take some time to think of an angel in your life as you are making this simple, light, and airy Angel Food Cake!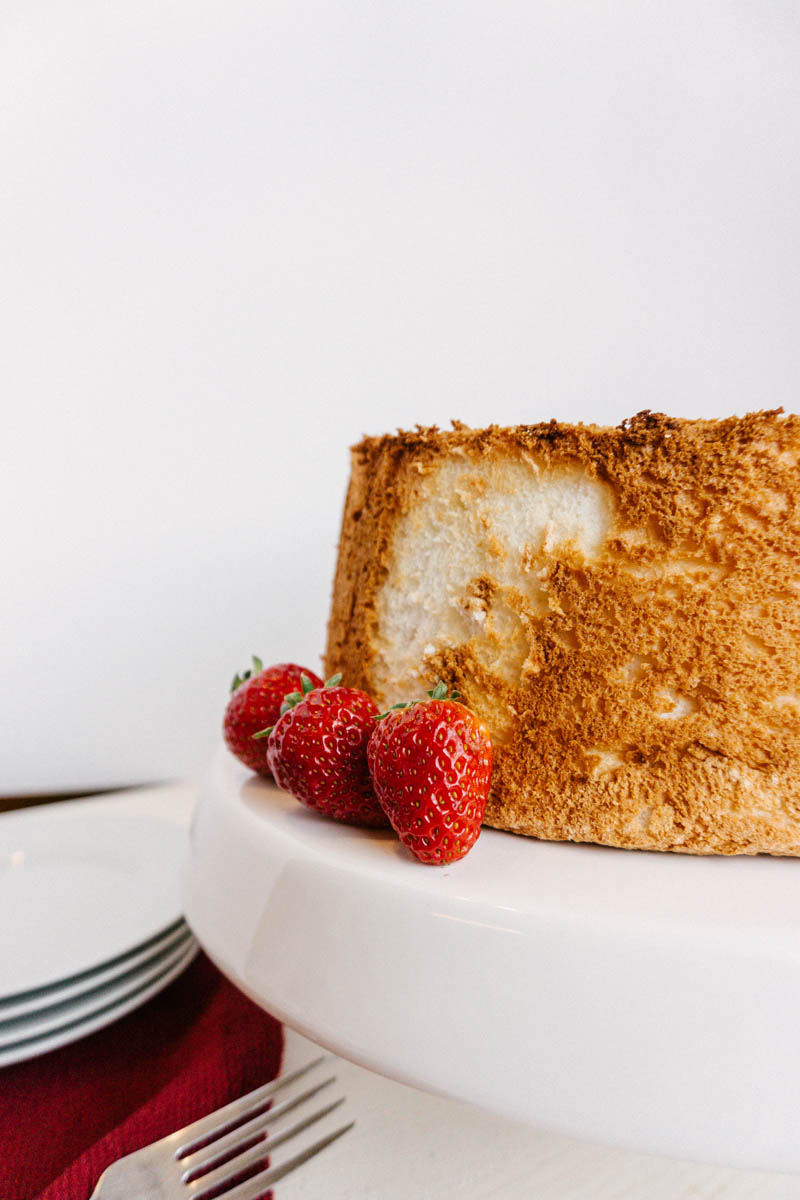 Some of the Products I Love to Use When Making the Angel Food Cake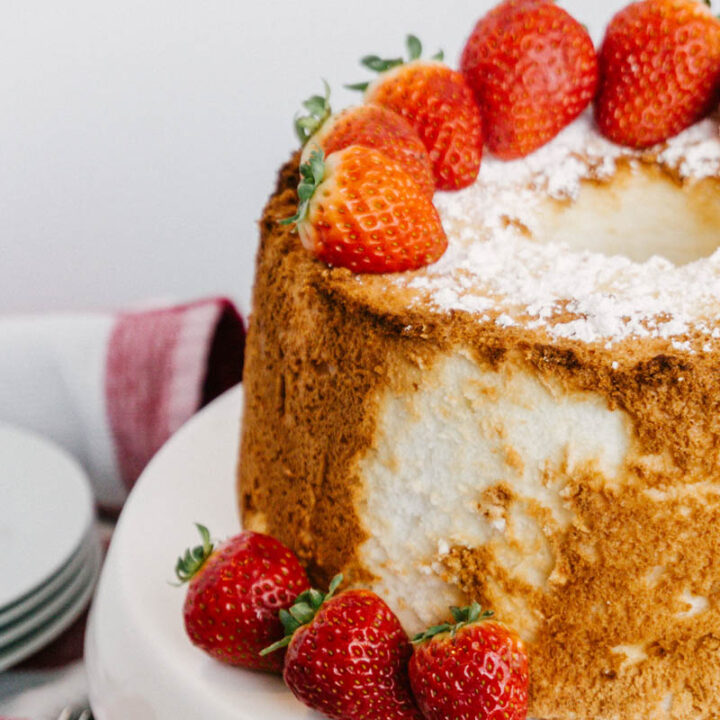 Angel Food Cake
Total Time:
1 hour
45 minutes
Super simple, super tasty, and a super easy way to get into heaven… I mean taste heaven! Serve with whipped cream and berries for a heavenly light dessert.
Ingredients
1 C (5 oz) Softasilk cake flour
1 ½ C (6.7 oz) powdered sugar
12 egg whites
1 ½ tsp cream of tartar
¼ tsp salt
1 C (7 oz) white sugar
Instructions
Preheat oven to 375*F. Place oven rack in middle/low position of oven.
In a small bowl sift together Softasilk cake flour and powdered sugar.
In a stand mixer or a large bowl if using a hand mixer, whip 12 egg whites, cream of tartar, and salt together until soft peaks form. This will take 4-5 minutes.
After peaks have formed, add white sugar and mix slowly for a minute.
Using a spatula, gently fold the sifted Softasilk cake flour and powdered sugar into the egg white mixture until combined, being careful not to knock the air out.
Pour batter into angel food cake pan/tube pan. Do NOT grease the pan. Run a small knife through the batter in the pan to get rid of air pockets, and smooth out the batter on top with your spatula.
Bake for 30-35 minutes. The top should be golden brown and spring back when touched. Invert pan onto a cooling rack and let cool completely in the pan for about 45 minutes to an hour. This gives the egg whites more time to stretch and expand and w
After the cake has cooled, run a sharp knife around the edges of the pan and turn out onto preferred serving dish.
Cut cake into slices with a sharp, serrated knife. Best if served with lots of cream, berries, chocolate sauce, etc.
Notes
Never grease the angel food cake pan. The cake needs to be able to stick to the sides of the pan so it can rise to be a tall and fluffy cake. 
You cannot use a bundt pan in place of an angel food cake/tube pan. The batter needs to stick to the sides to rise properly and would be nearly impossible to remove from a bundt pan.
Pick Your Favorite Pin and Save It for Later!