This Monkey Bread uses frozen Rhodes Dinner Rolls to keep it simple and easy. Covered in a gooey, sticky, irresistible cinnamon sugar sauce, you'll want to make enough to share…or not share.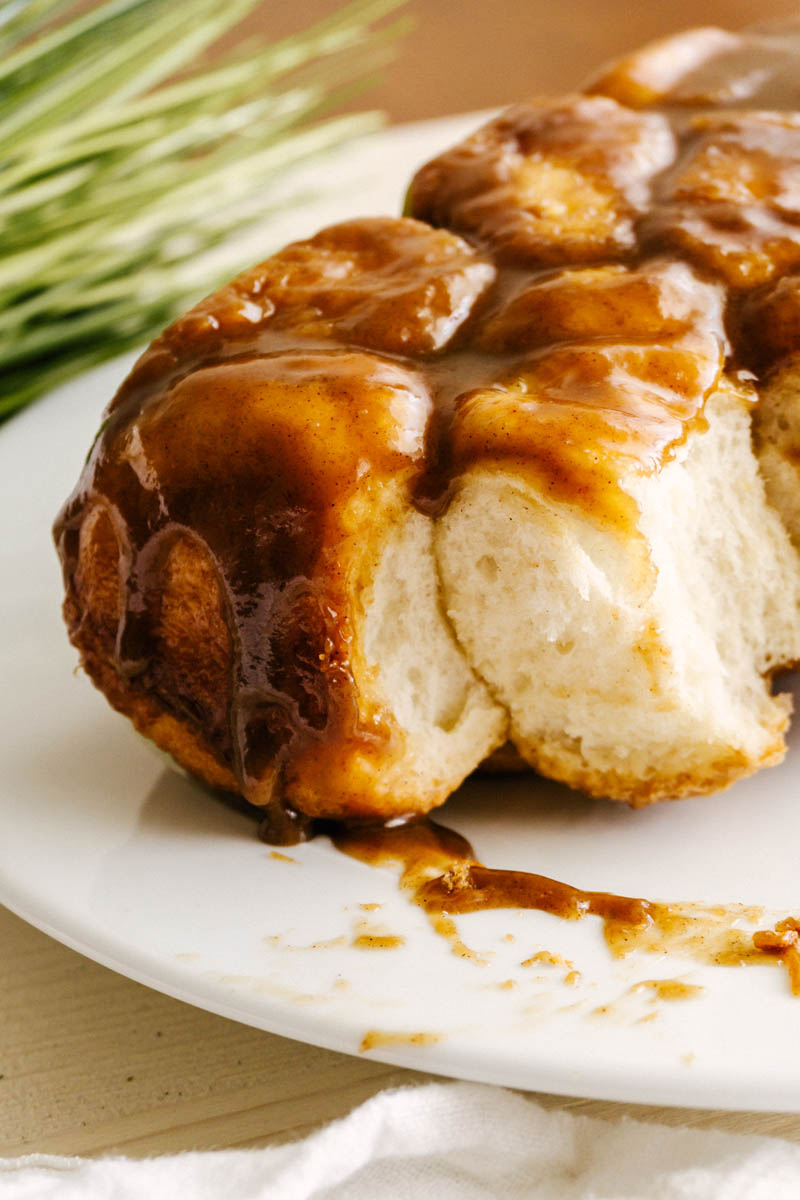 SO EASY!
Many people make monkey bread dough from scratch, but we have found that Rhode's frozen Dinner Rolls are so much faster and work just as well, providing a soft bread that tastes incredible with our cinnamon sauce poured all over it!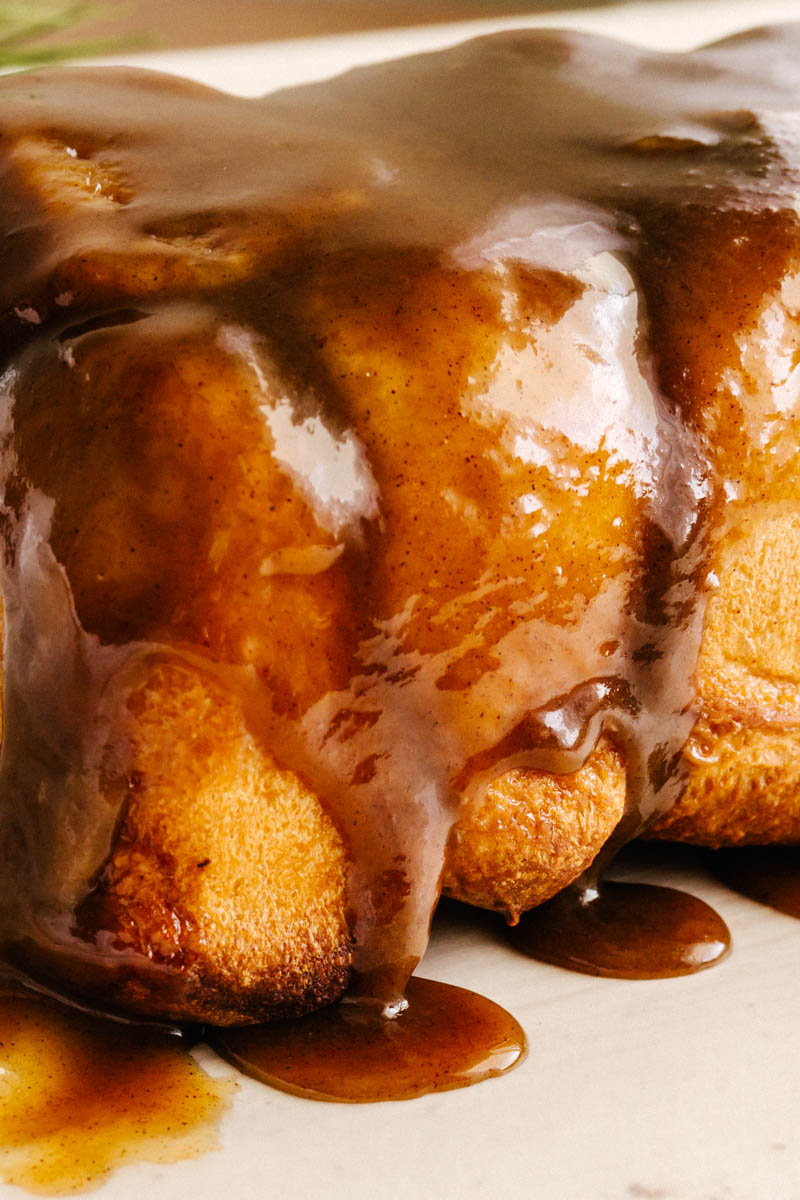 Double the Trouble
This recipe was originally made in our cookie shop, and we made four monkey bread loaves at a time. We cut the recipe in half here so you didn't have too much monkey bread jumping on your bed! But if you would like more than two loaves of monkey bread, double everything in this recipe, dividing the rolls into four loaf pans. Cooking time remains the same.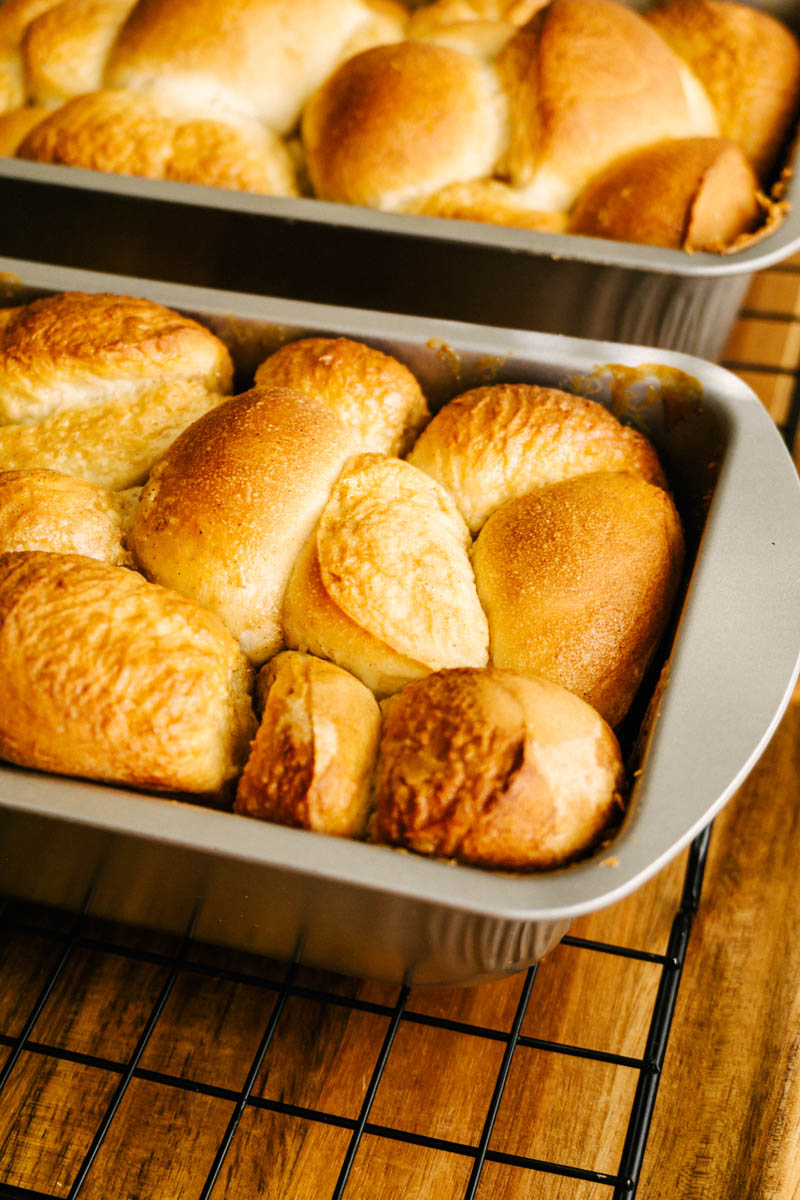 Microwave or Stovetop?
The cinnamon sugar sauce is sweet and sticky and what monkey bread is all about. You can either microwave the mixture in a bowl or simmer it on the stovetop. I use the microwave because it is more convenient. Either way, it only needs to be cooked for a few minutes until the mixture is runny, smooth, and the sugar is fully dissolved.
Tip! If you want the cinnamon sugar sauce marbled throughout your monkey bread make sure it finds itself between the layers of dough balls in your loaf pans.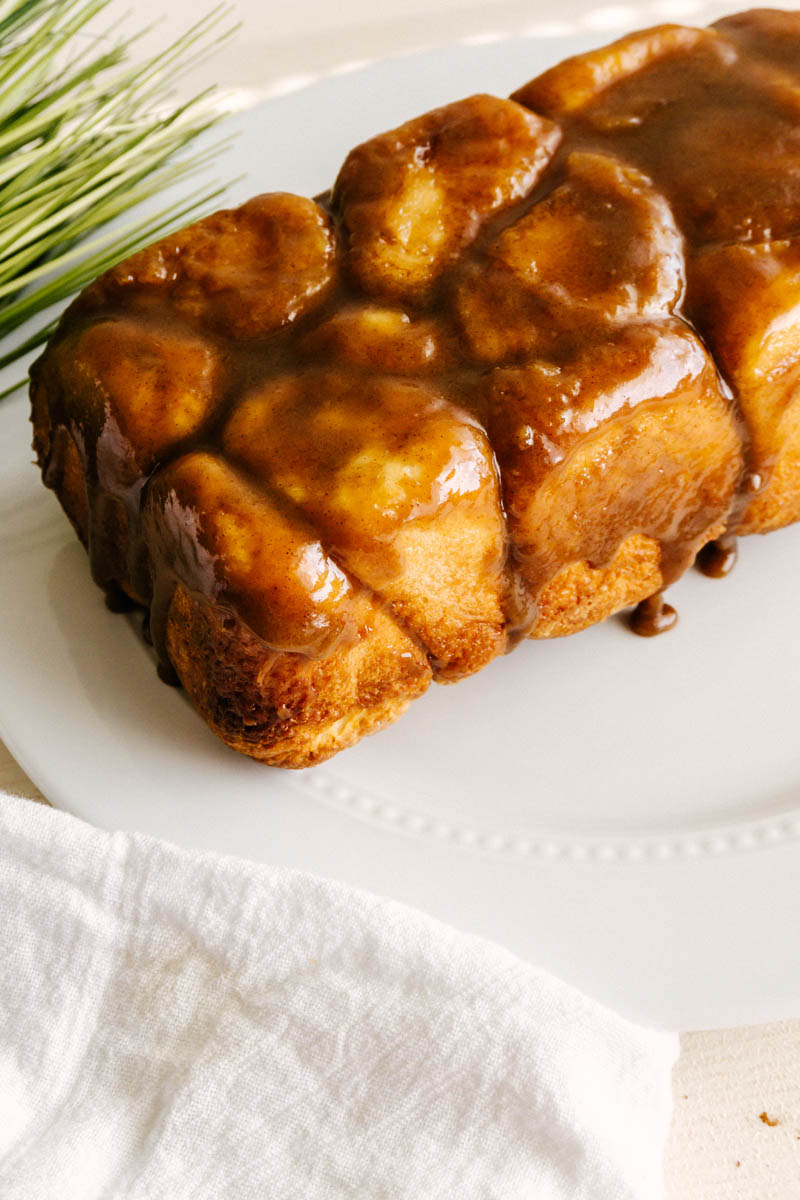 Leftover Frozen Rhode's Rolls
Because this recipe only calls for 18 rolls and there are typically 36 rolls in a Rhode's Roll bag, I simply put the bag with the unused rolls back in the freezer for another time when I want to make more monkey bread or to pull out when I want rolls with my dinner. They are great either way!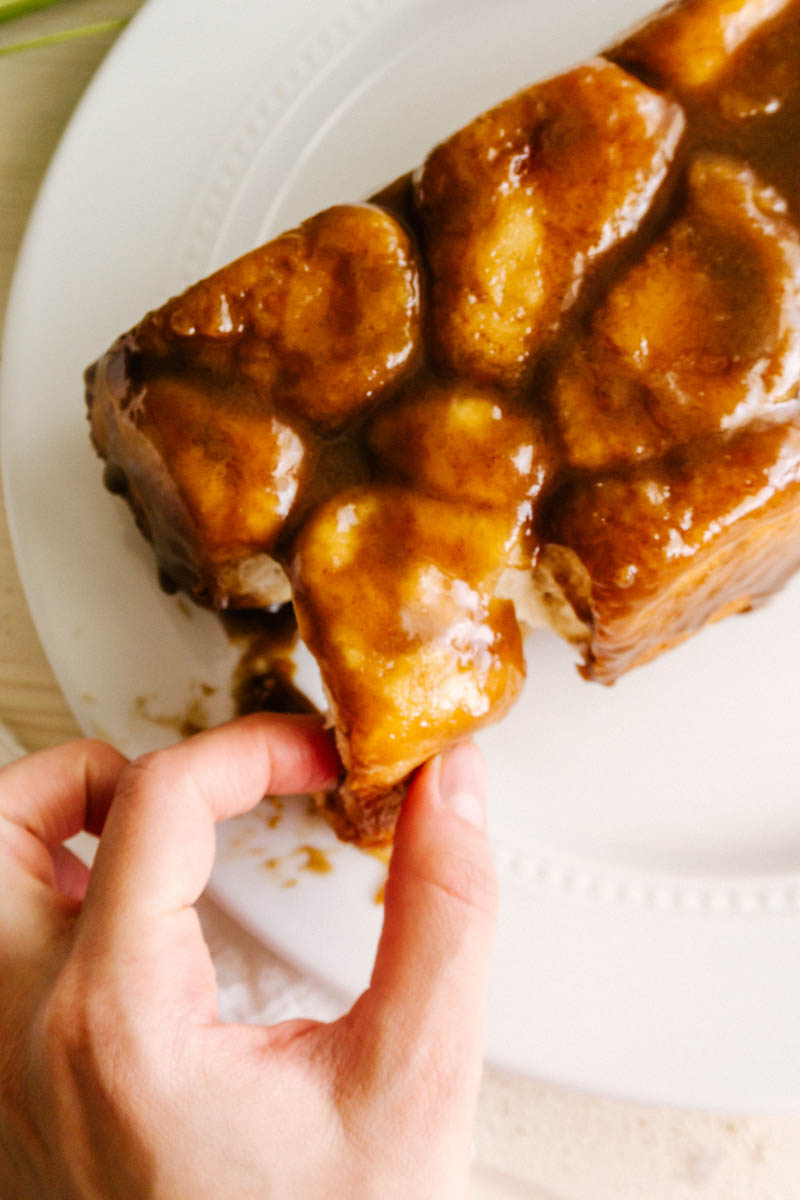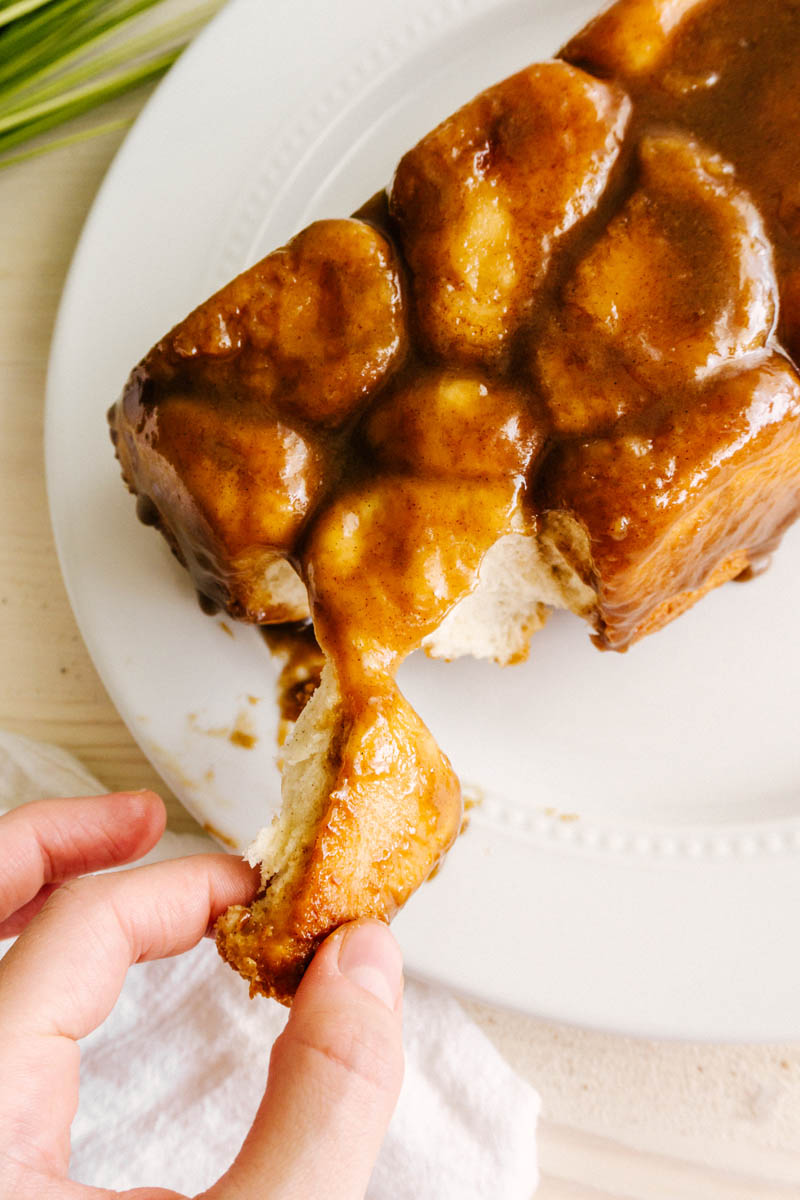 Easy Monkey Bread Recipe Ingredients
Rhode's Rolls – make this recipe super simple and quick, and bring a soft and sweet flavor to this monkey bread. No need to take the time to make a homemade bread dough. 
Brown Sugar – adds sweetness and depth of flavor. 
Cinnamon – brings that warm, spice flavor that makes it so you can't get enough of this Monkey Bread!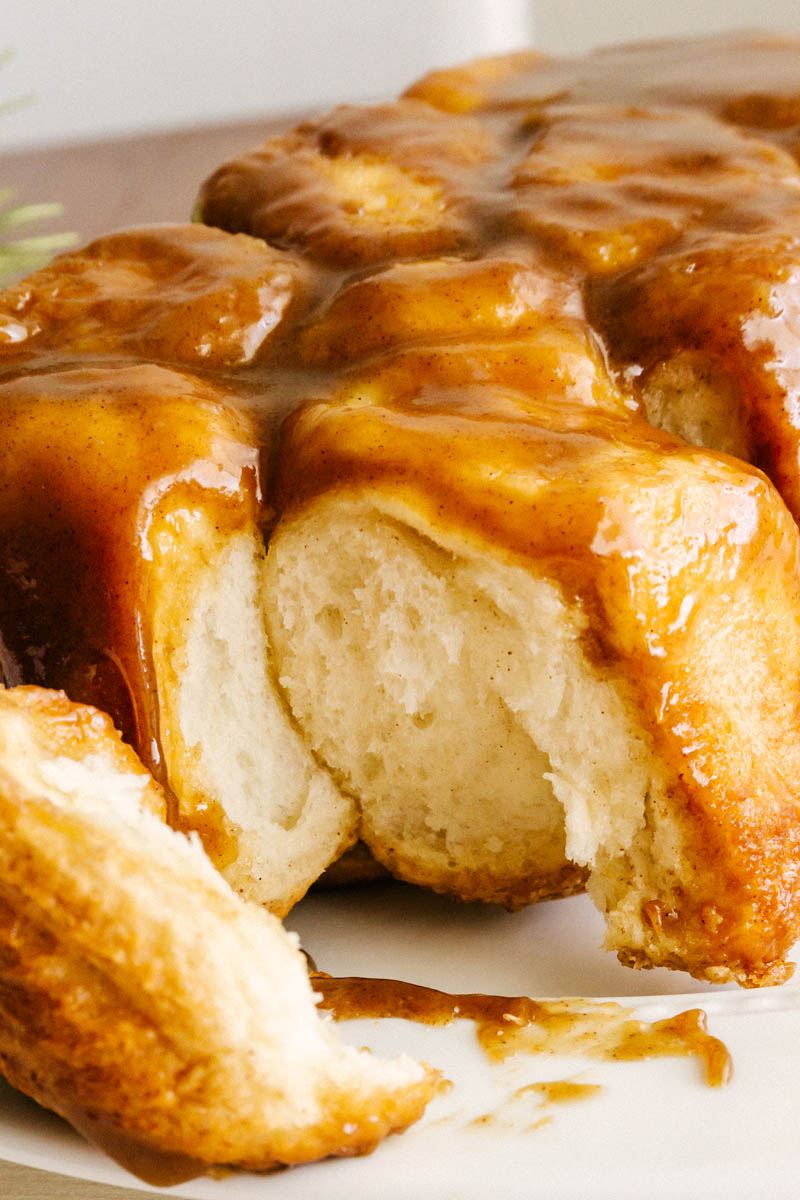 Easy Monkey Bread Assembly Tips
Pull out the frozen Rhodes Dinner Rolls from the freezer to start out, because it is almost impossible to cut them in half, or in quarters (depending on how big you want your monkey bread pieces to be), if they are frozen solid. It takes about 30 minutes for them to soften enough to cut.
Make the cinnamon sugar sauce in the microwave or on the stovetop. Either way, heat it up until the mixture is smooth and glossy and has no undissolved sugar granules.
Grease the pans and pour ⅓ C of sauce into the bottom of each pan, place cut dough balls into the pan, and top with ⅓ C more sauce.
Bake for 20-25 minutes and then flip loaf pan upside down onto a plate and enjoy this warm Monkey Bread with all your loved ones.
"No more monkey bread jumping on the bed!" because one fell off and popped into your mouth– hehe. Monkey bread is great gift-giving bread, so besides yourself…obviously, who are you going to give this to?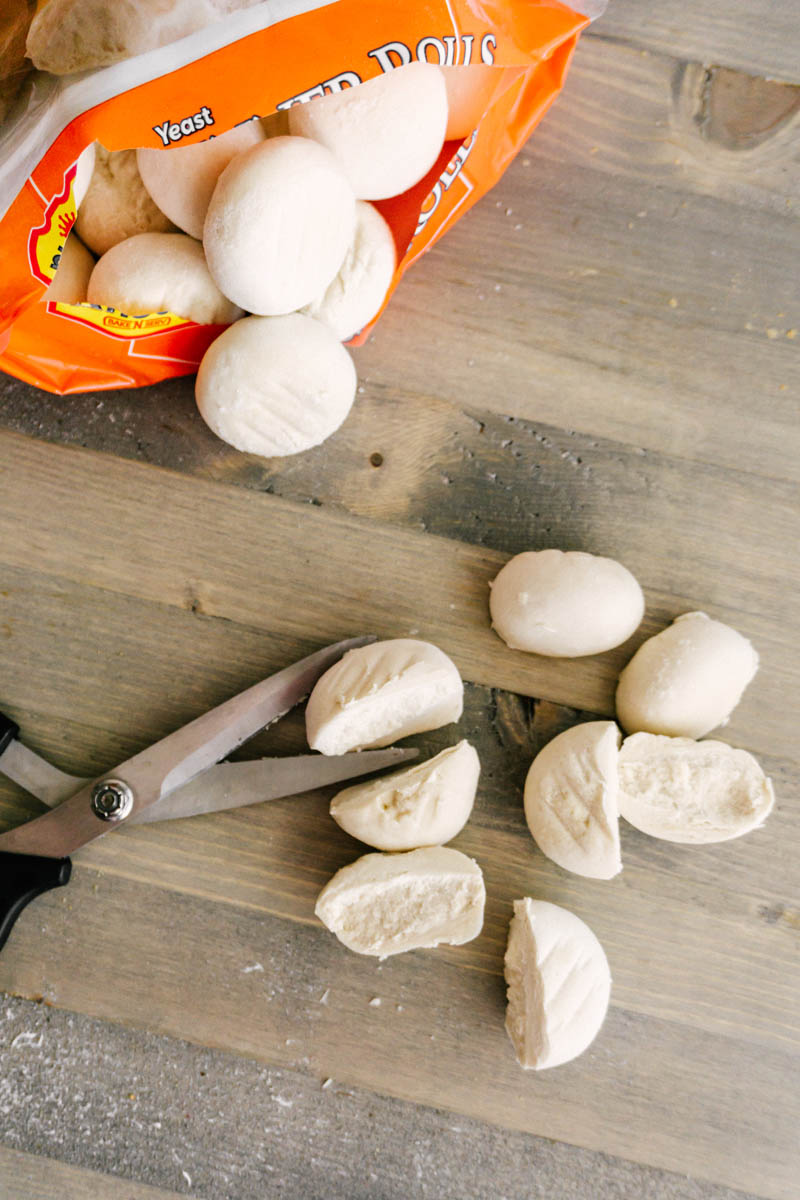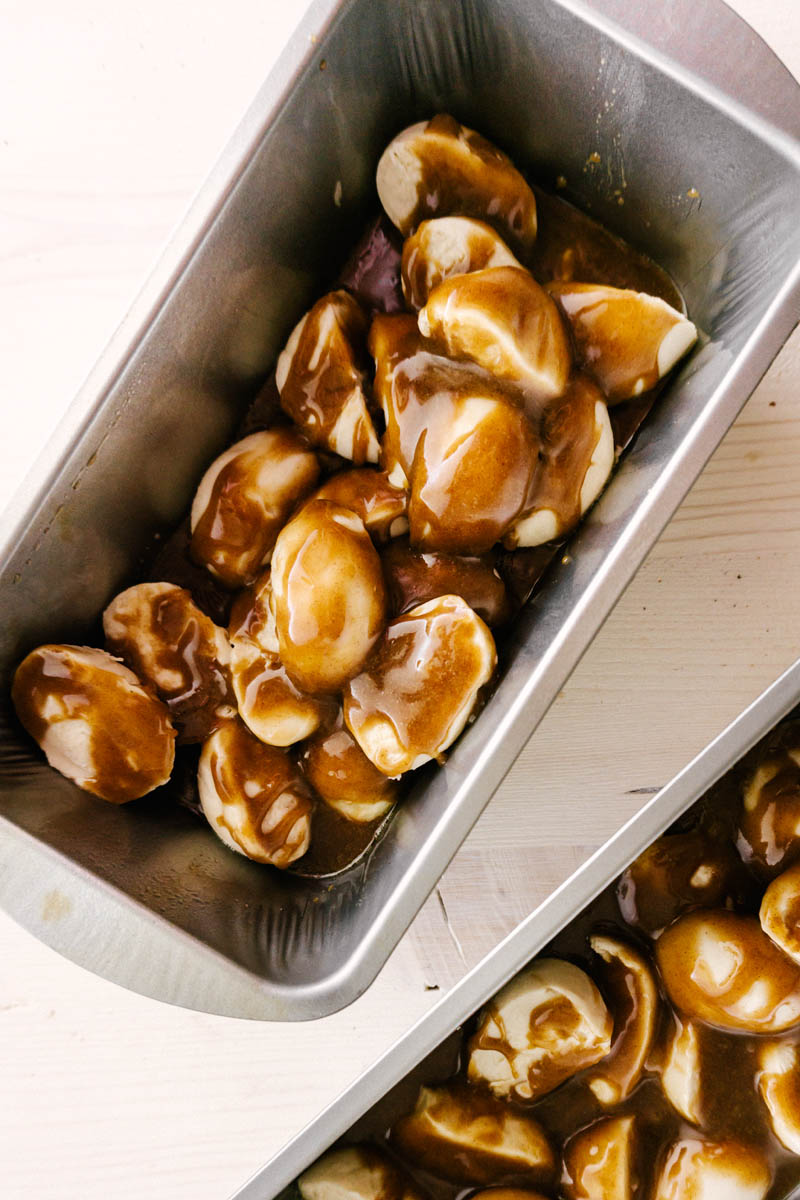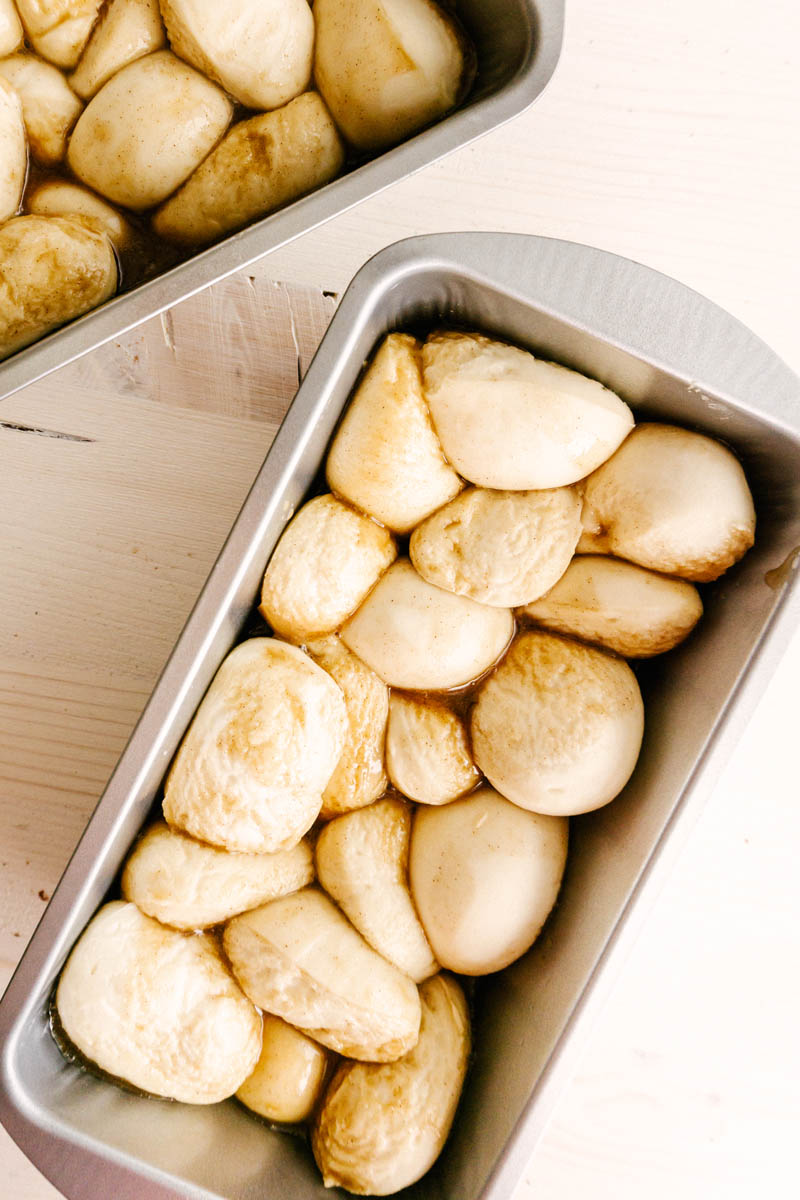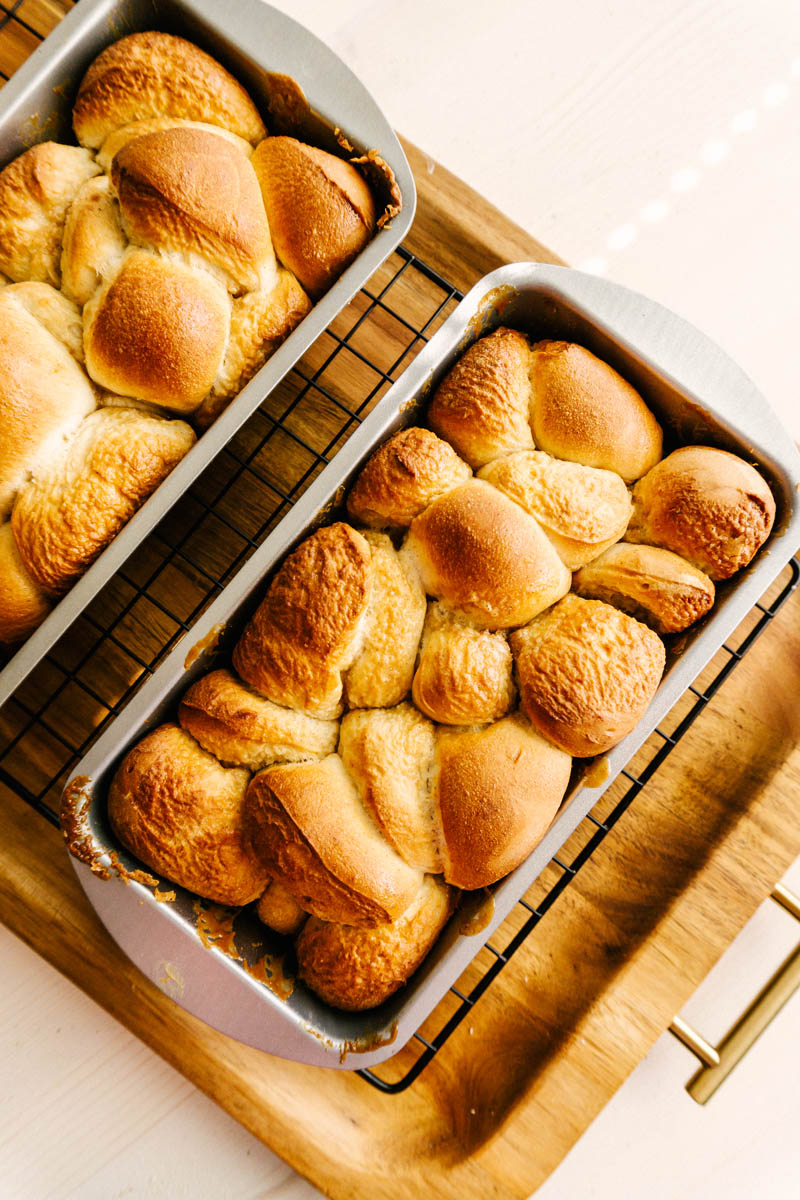 Looking for more delicious sweet bread recipes? Try these: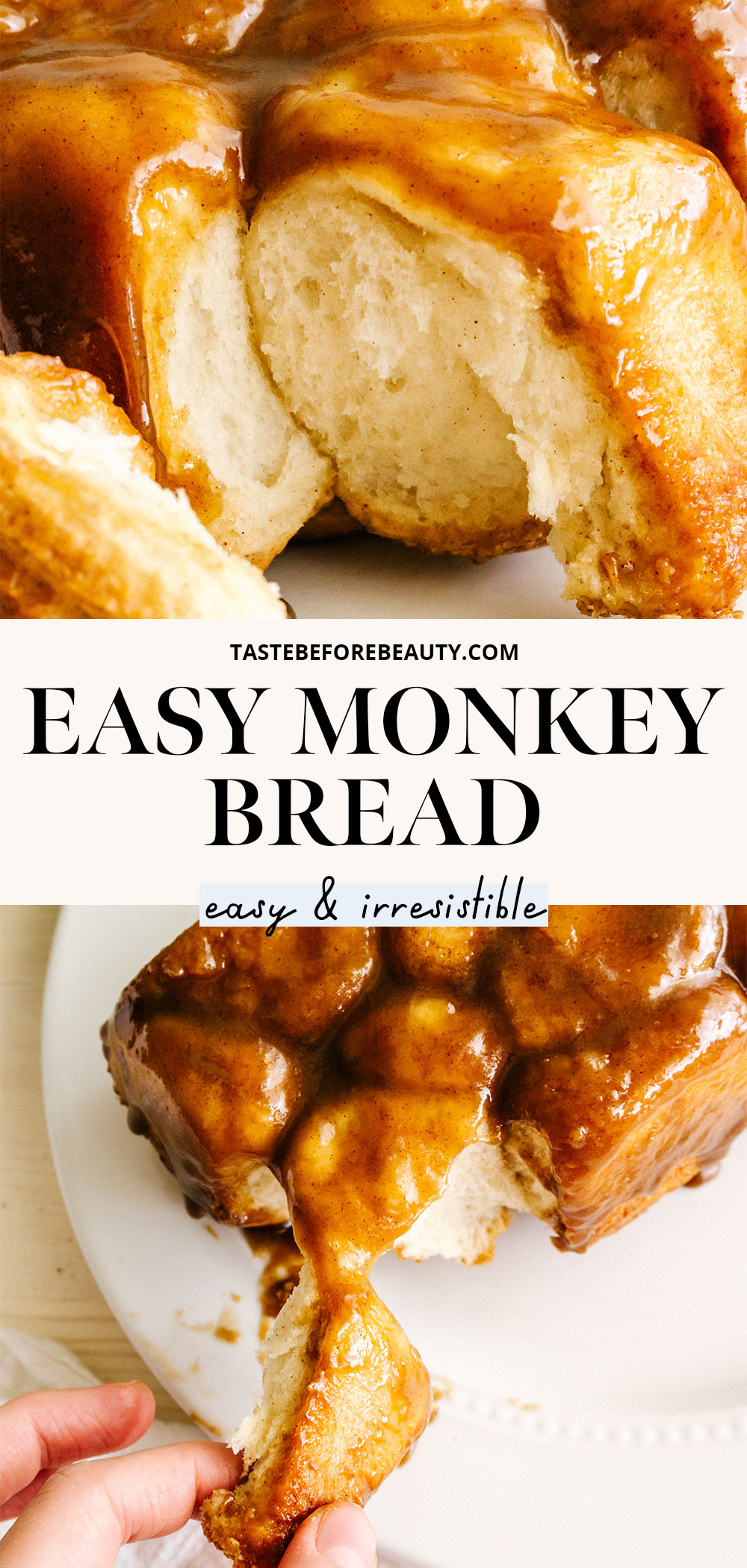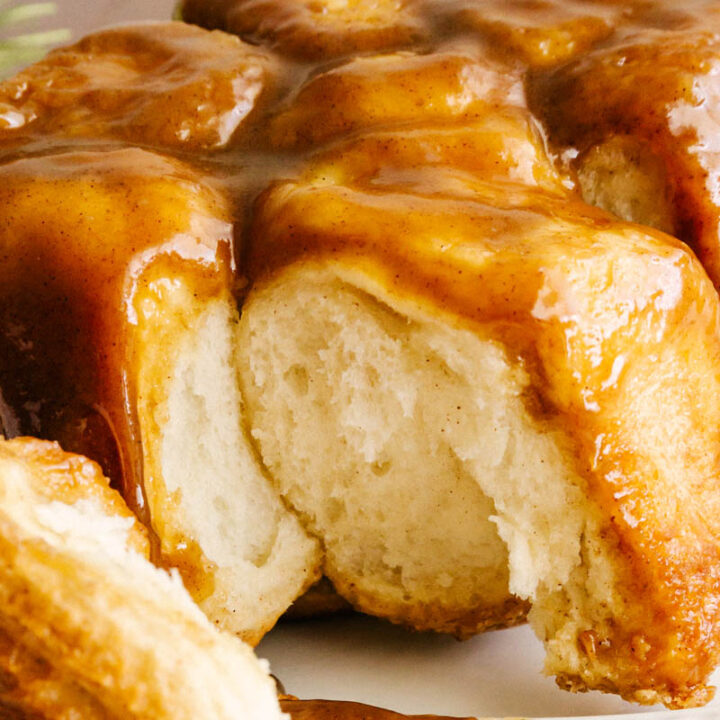 Easy Monkey Bread
Total Time:
1 hour
30 minutes
This Monkey Bread uses frozen Rhodes Dinner Rolls to keep it simple and easy. Covered in a gooey, sticky, irresistible cinnamon sugar sauce, you'll want to make enough to share...or not share.
Ingredients
Bread Dough
18 Frozen Rhodes Dinner Rolls
Cinnamon Sugar Sauce
½ C heavy whipping cream
1 C (8 oz) brown sugar
1 tsp cinnamon
Instructions
Cut Rhodes Rolls in half
Remove Rhodes Rolls from freezer and let thaw for about 30 minutes. Cut 18 rolls in half with scissors, making a total of 36 halves. Set aside.
Make Cinnamon Sugar Sauce
In a saucepan or microwaveable bowl, mix together heavy whipping cream, brown sugar, and cinnamon. Microwave for 2-3 minutes, or simmer and stir, until mixture becomes smooth and glossy. Set aside.
Assemble.
Grease two loaf pans with oil.
Pour ⅓ C cinnamon sugar sauce into bottom of each loaf pan. Then place 18 Rhodes Roll halves into each pan. Drizzle ⅓ C cinnamon sugar sauce on top of both pans.
Let rise in warm area for 45 minutes to an hour, or until dough doubles in size. (see picture)
Preheat oven to 350*F.
After dough has doubled in size, bake for 20-25 minutes, or until top of the monkey bread is a golden color.
Flip loaf pan upside down onto plate and enjoy warm!
Notes
If you want smaller pieces of bread to pull off, cut the Rhodes Rolls into quarters instead of halves, and place 36 in each pan.