These chewy chocolate cherry cookies are delightfully chocolatey. Tart cherries and crunchy turbinado sugar combine to make the perfect cookie.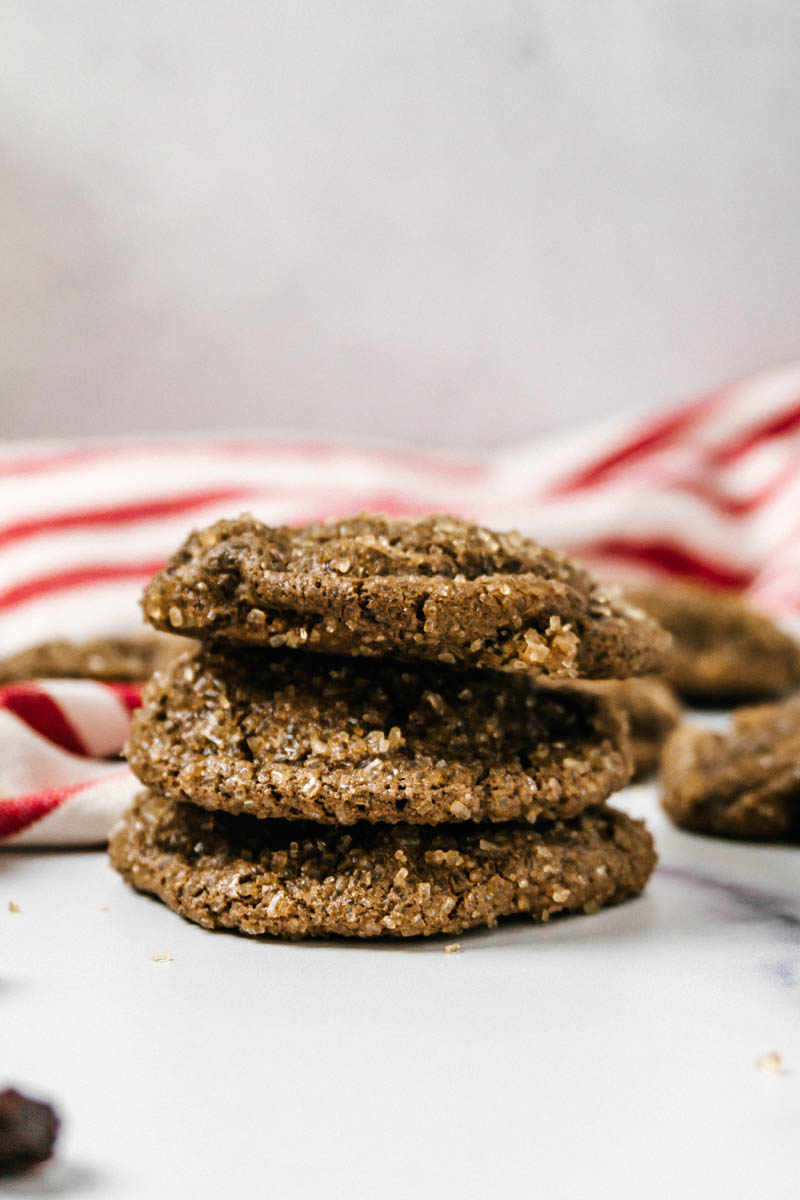 The Inspiration Behind these Dark Chocolate Cherry Cookies
These cookies were inspired by a cookie I made over the holidays. It was a ginger cookie with chocolate and cherries in it. There were many great things about that cookie but it just didn't check all the boxes for me.
So, I added the things I loved from the test cookie – chocolate, dried cherries, and the turbinado sugar coating – to one of my favorite cookies. The Double Chocolate Chip Cookie is the perfect canvas for so many delicious combinations. Chocolate and cherries come together perfectly in the chocolatey dough.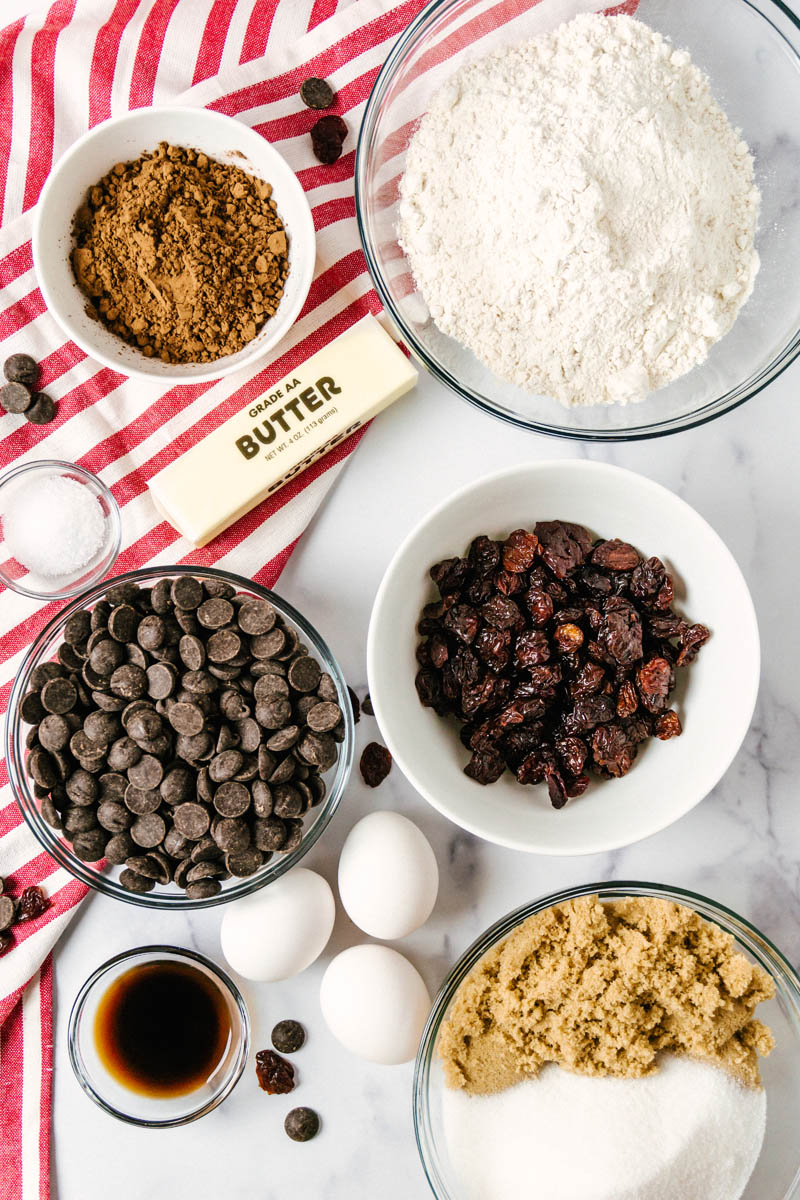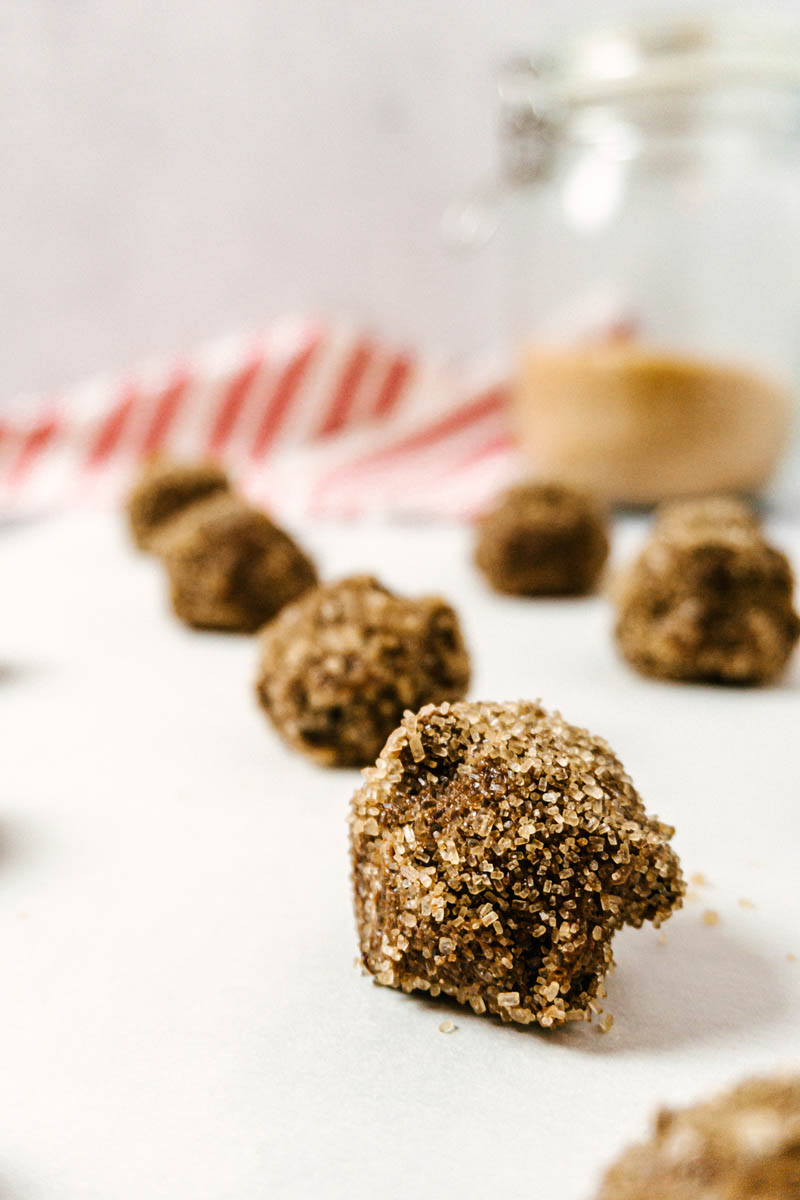 My Favorite Recipe Ingredients
Salted Butter – salted butter builds a good cookie flavor from the bottom up
Cocoa Powder – use natural non-Dutch processed cocoa. I use Hershey's 100% Natural Unsweetened Cocoa Powder.
Salt – adding enough salt balances the flavors in these cookies, bringing out the richness of the dark chocolate and the tartness of the dried cherries.
Dark Chocolate – pairs perfectly with the cherries for a luxurious taste. I use Ghirardelli 60% Dark chocolate chips, which are more disc-shaped for sheets of dark chocolate throughout the cookie.
Dried Cherries – add tartness to the cookie to balance the sweetness.
Turbinado Sugar – rolling the cookies in this coarse sugar adds an irresistible crunch and beautiful sparkle.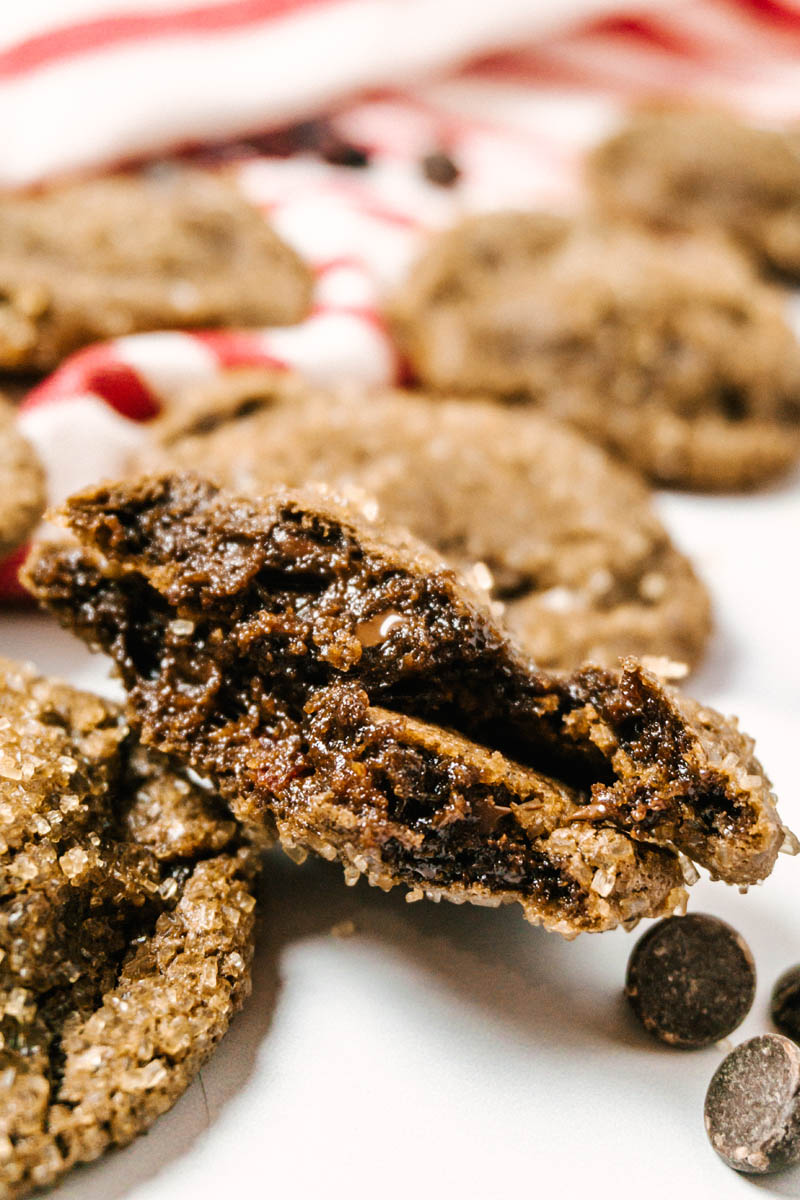 Tips for Baking Dark Chocolate Cherry Cookies
How do I know when the cookies are done?
The cookies will start to crack on top and will develop a matte appearance. Once the shiny, raw dough look disappears, the cookies are done. Be careful not to overbake them though, or the cookies will be dry. 
What makes these cookies so flavorful?
Lots of cocoa powder makes the dough chocolatey. Lots of dark chocolate and dried cherries are added to the dough next. Salted butter and the right amount of salt dial up these flavors to perfection. 
What can I substitute for dried cherries?
I have used dried cranberries in place of dried cherries. Any other dried fruit would probably work. I do not recommend fresh or frozen fruit because of the amount of moisture they would add to the dough.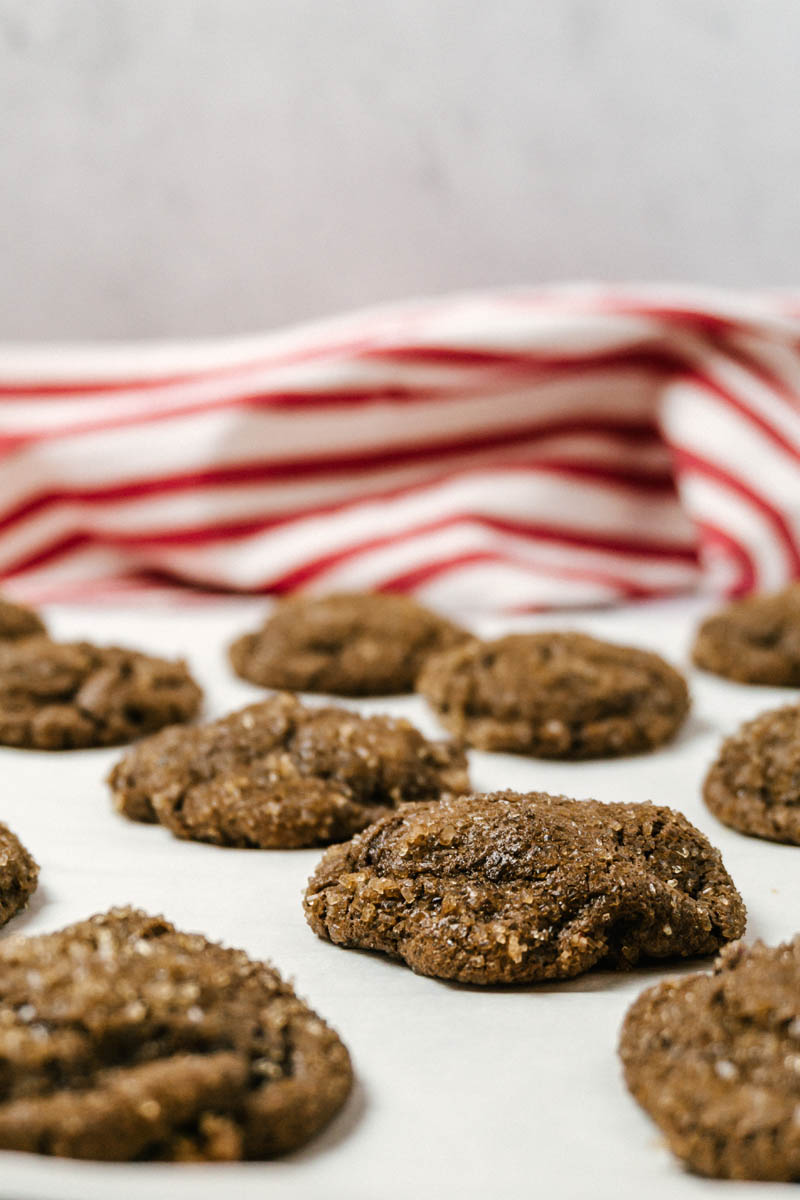 Looking for more delicious chocolate recipes? Try these: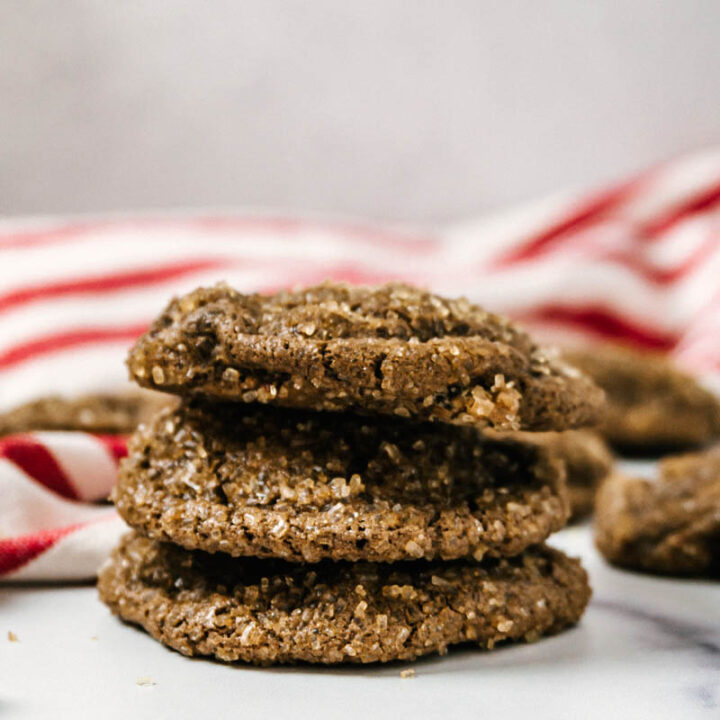 Chewy Dark Chocolate Cherry Cookies
Additional Time:
30 minutes
Total Time:
1 hour
3 minutes
These chewy chocolate cherry cookies are delightfully chocolatey. Tart cherries and crunchy turbinado sugar combine to make the perfect cookie.
Ingredients
½ C (4 oz) salted butter
½ C (3.4 oz) shortening
1 C (8 oz) light brown sugar
1 C (7 oz) white sugar
½ C (1.8 oz) natural cocoa powder
3 large eggs
2 tsp vanilla
1 tsp salt
2 tsp baking soda
2 ½ C (11.3 oz) all-purpose flour
2 C (12 oz) dark chocolate wafers or chips
1 C (6 oz) dried cherries, roughly chopped
Turbinado sugar, for rolling
Instructions
Preheat the oven to 350*. Line baking sheets with parchment paper and set aside.
Using a sharp knife, chop the cherries (see note).
In a large mixing bowl, cream the butter, shortening, granulated and brown sugars, plus the cocoa.
Add the eggs one at a time, and vanilla and mix to combine, scraping the bowl as necessary.
All at once, add the flour, baking soda, salt, chocolate, and chopped cherries to the mixing bowl. Mix until just combined.
Pour some turbinado sugar into a separate small bowl. Use a #40 cookie dough scoop to scoop balls of cookie dough. Drop them into the turbinado sugar and roll the dough until coated in sugar. Place dough balls onto the parchment-lined baking sheets.
Bake at 350*F for 8 minutes, or until cookies crack and are no longer shiny on top. Let cool on the counter.
Store in an airtight container. These cookies last for 3-4 days at room temperature or up to three months in the freezer.
Notes
I prefer smaller pieces of cherry spread throughout the cookie, so I chop my cherries finely. If you prefer larger pieces of dried cherry, chop them less or leave them whole.
Chocolate wafers will give sheets of chocolate throughout the cookie, instead of small pockets like chocolate chips do. I use Ghirardelli dark chocolate chips which are flatter than normal chips.