Do you have a brownie in cookie form? You do now! The brown sugar, chocolate chips, and cocoa in this Double Chocolate Chip Cookie snuggle up to your taste buds with the pleasing chew of a brownie.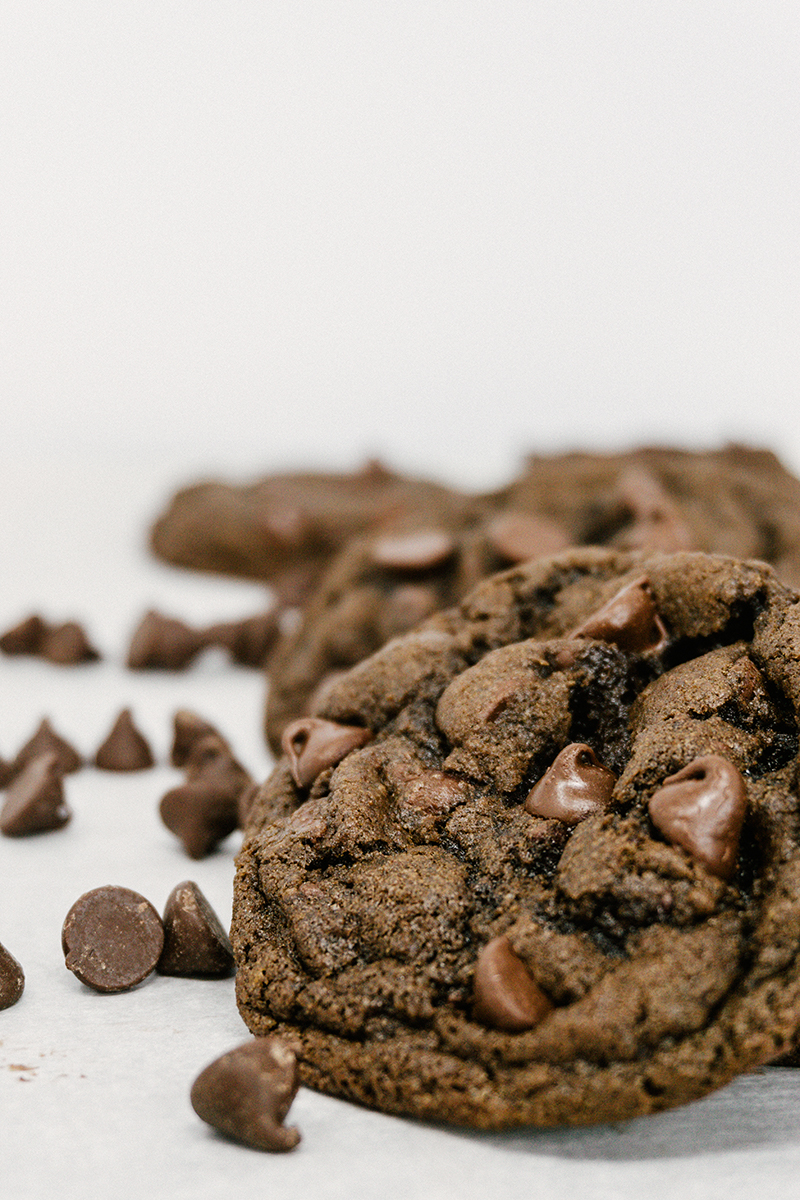 The Start of the Double Chocolate Chip Cookie
A chocolate chocolate chip cookie – I wanted one. In fact, I needed one. Not the fudgy, super chocolatey Chocolate Crackle Cookie, I already had that. No, this needed to be a chocolate chip cookie, but with a chocolate dough. It needed enough chocolate to give it the right flavor without overwhelming the taste buds once the chocolate chips were added. With this idea in mind, I poured over endless recipes, searching for the secret formula.
As I read recipes and compiled information, I realized I was looking for a chewy brownie in cookie form. If you look up the definition of brownie online, it says, "A small square of a rich chocolate cookie." I'm not sure who wrote that because who can eat just "one small square" of brownie! Anyway, I digress. I wondered how I could get the flavor of a brownie without the spread of a brownie. As I thought about it, I realized I didn't need to reinvent the wheel, I just needed to make it turn. My baking chemistry skills lit up and I was like a mad scientist in the kitchen.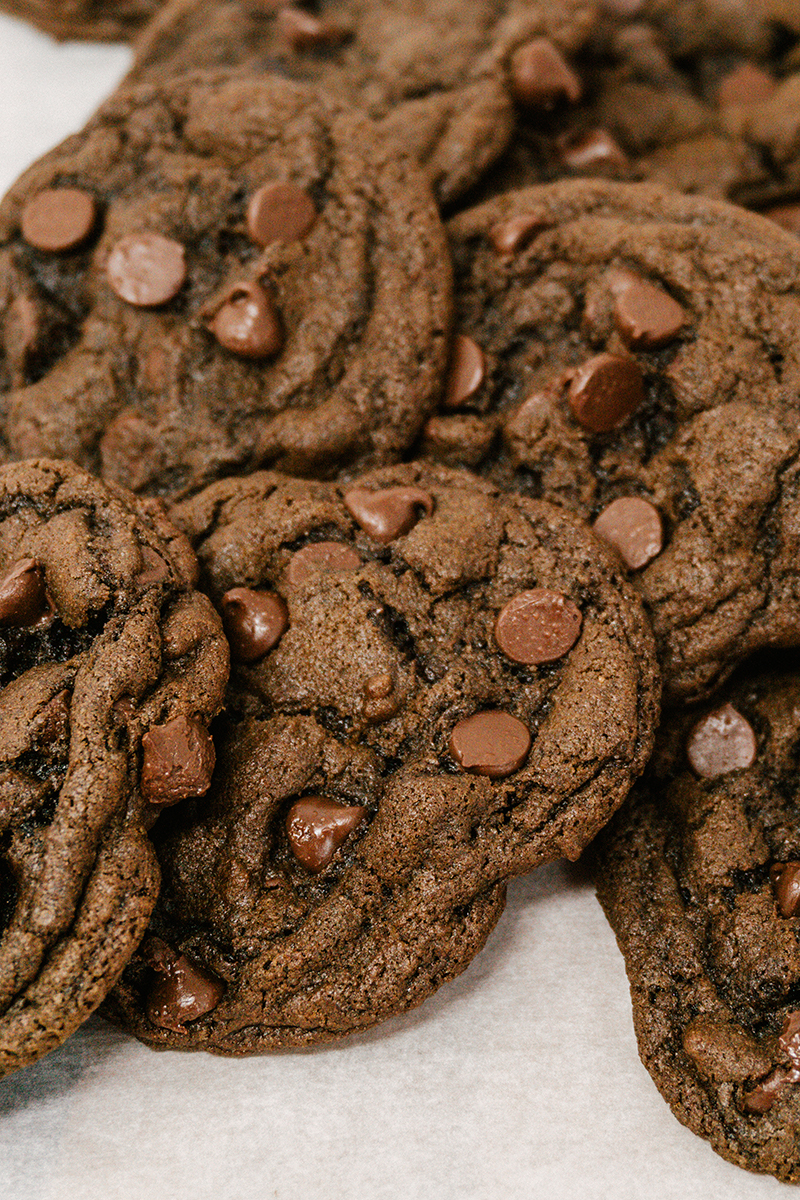 The Best Taste
Brownies traditionally use oil, which wouldn't work here. I knew a different type of fat would help with the consistency. I decided to use a mix of butter, for richness and flavor, and shortening, for softness and moisture. Brownies also contain a high proportion of egg, which helps with the chewiness and gives it lasting moisture. I added an extra egg to my dough and voila! A masterpiece was well underway.
For a long time, I also added two teaspoons of light corn syrup for even more chew. I found that in the humidity here in Pennsylvania, I haven't needed it. If you live in a dry climate, you may consider adding it to these cookies. It certainly won't hurt them. For sweetness, I used brown sugar, which adds a depth of flavor not found in white sugar and, as an added bonus, adds some extra moisture and desirable brownie texture. Finally, I chose imitation vanilla. It helps round out the chocolate and butter flavors without taking over.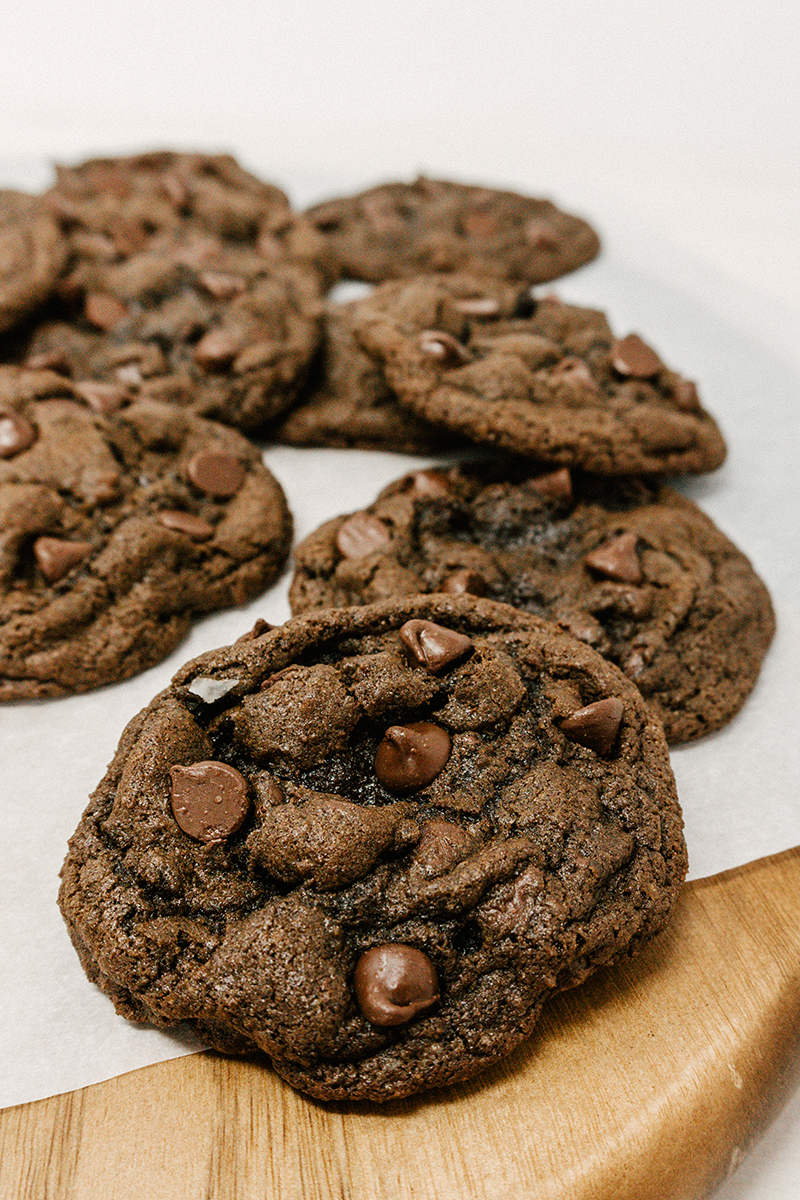 I remember watching this recipe bake for the first time. When it came out of the oven, I was giddy, like a teenage girl talking to her crush! I couldn't wait to try one. I burnt half of my fingers trying to sneak a taste before they cooled. They were incredible. I tried another once they had cooled. Quite excited, I couldn't wait to share them with my husband when he got home from work. I saved a couple and stored them on the counter overnight. They stayed chewy and moist. I tried freezing them and then thawing them and it only increased their greatness! They became even more soft and chewy. This really is a wonderful cookie.
So, I hope you get "brownie" feels from this cookie, and that you enjoy it's creation as much as I did. Bake some up when you've got some time then freeze the leftovers for later. Throw one in your lunch bag, or put on the counter to thaw on a Saturday afternoon when you need a quick chocolate treat after the yard work. Let us know what you think of the Double Chocolate Chip Cookie in the comments. Enjoy!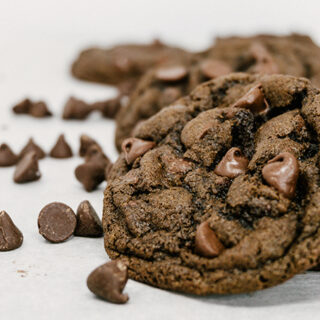 Double Chocolate Chip Cookie
Do you have a brownie in cookie form? You do now! The brown sugar, chocolate chips, and cocoa in this recipe snuggle up to your taste buds with the pleasing chew of a brownie.
Ingredients
½ C (4 oz) salted butter
½ C (3.4 oz) shortening
1 C (8 oz) light brown sugar
1 C (7 oz) white sugar
½ C (1.8 oz) cocoa
3 large eggs
2 tsp vanilla
2 tsp light corn syrup
1 tsp salt
2 tsp baking soda
2 ½ C (11.3 oz) all-purpose flour
2 C (12 oz) semi-sweet chocolate chips, divided
Instructions
Preheat oven to 350*F.
Cream fats, sugar, and cocoa. Add eggs, vanilla, and corn syrup. Mix well. Add the dry ingredients plus 1 ½ C (9 oz) chocolate chips, setting aside the other ½ C (3 oz) for topping. Mix until all is combined.
Using a #30 (2 ½ T) cookie dough scoop, place portioned dough a few inches apart on a parchment-lined cookie sheet. Top with 4-5 chocolate chips. Bake for 7-8 minutes or until the edges look set and the top no longer looks wet. The cookie will set up as it cools. If the cookie looks a bit red toned or is dry, it is overbaked.
Cool completely before storing. These cookies store well in the fridge for a week in a plastic zip-top bag/container or freeze up to 3 months.