A Tango takes two. It takes romance and drama. Chocolate and peanut butter dance and swirl together in perfect balance in this cookie.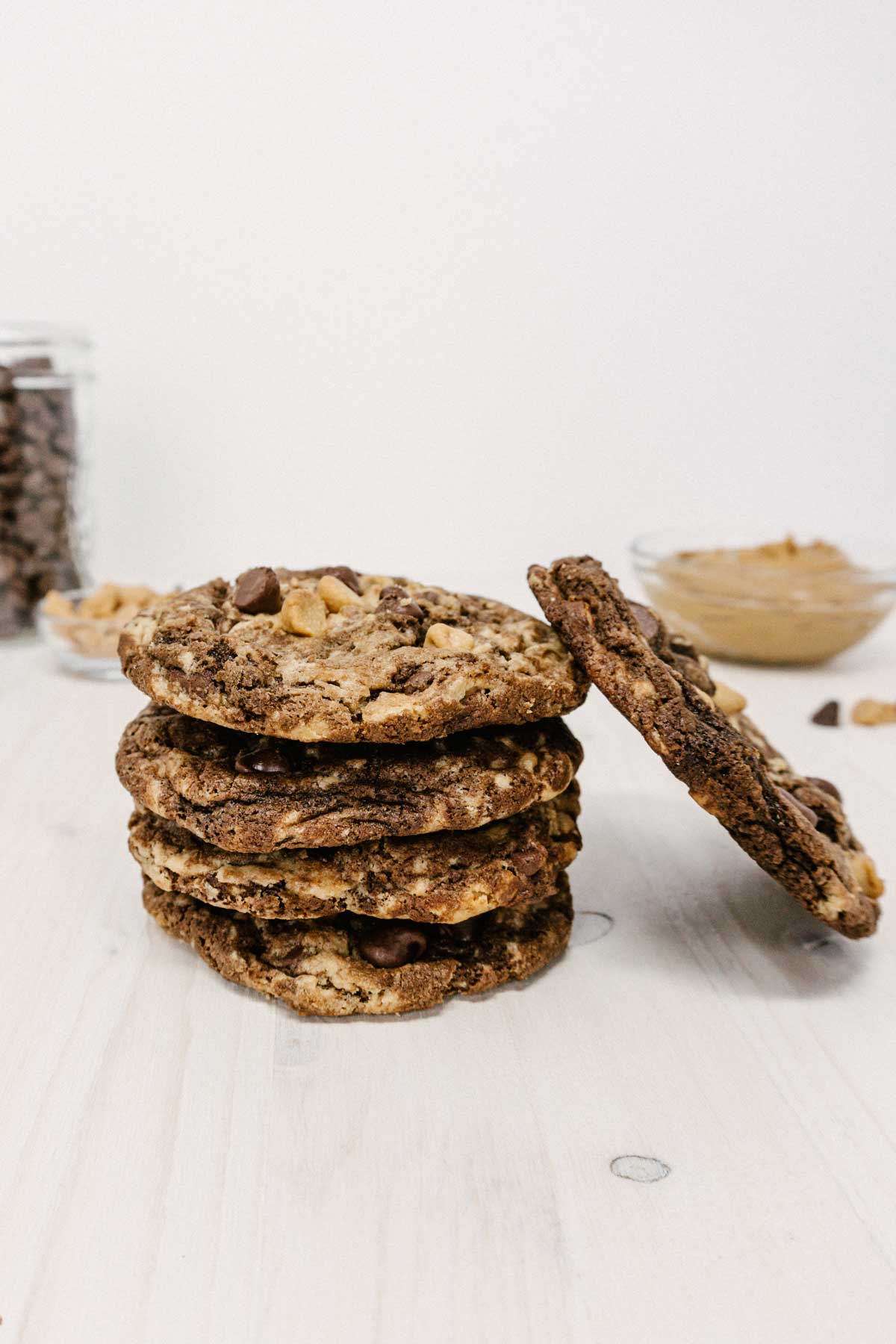 Chocolate in Pennsylvania
Pennsylvania is home to quite a few chocolate companies. The famous Reese's Peanut Butter Cup was created in 1928 in Pennsylvania. To this day, the locals love peanut butter and chocolate treats. The Pennsylvania Tango recipe was created in our home kitchen in central Pennsylvania, with just the right balance of chocolate and peanut butter.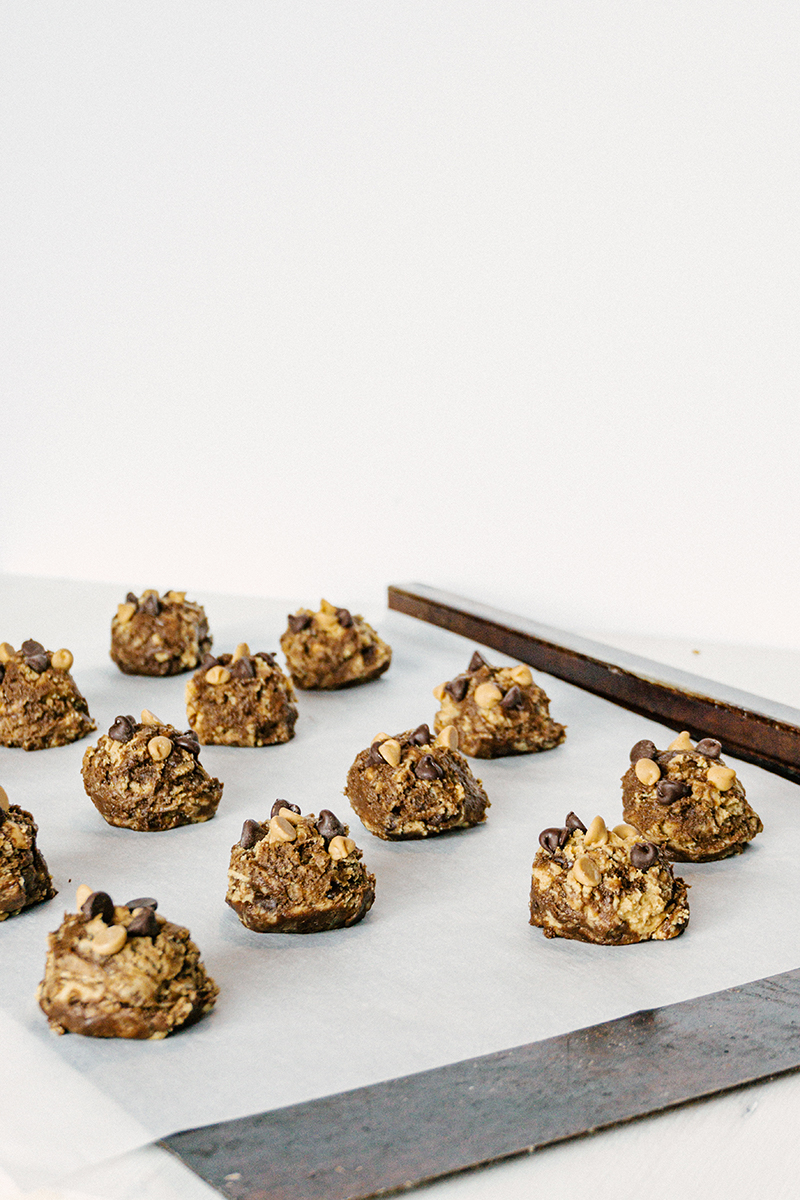 The Perfect Balance of Peanut Butter and Chocolate in the Pennsylvania Tango Cookie
The chocolate part of the cookie is from my Double Chocolate Chip Cookie that was created to taste more like a brownie in cookie form. Chocolate is a strong flavor, so the peanut butter flavor needed to be robust enough to balance the chocolate. I decided to make a peanut butter ball mixture that is mostly peanut butter and then used that to marble into the cookie. I added peanut butter chips and it was just right. The flavors both have their say on the taste buds.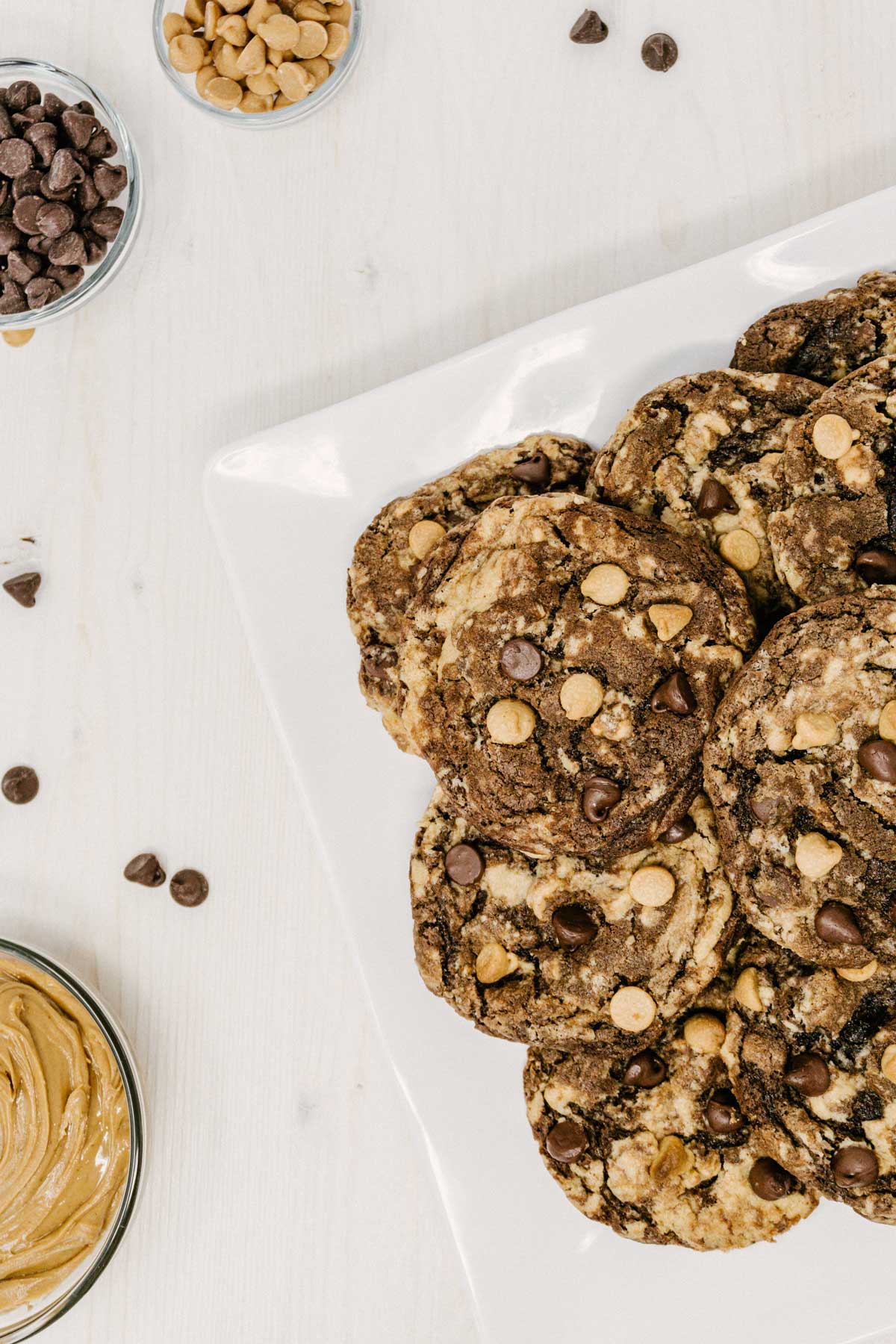 The child part of you will enjoy playing in the dough briefly. It's a pretty cookie with its marbling and smells so fragrant when pulled out of the oven. This makes a big batch. Your counter will be covered in cookies, but that is on purpose. It's great to share, freeze for later, or display on a church or school bake sale refreshment table, plus have some left for yourself. I consider this one of my happiest recipes.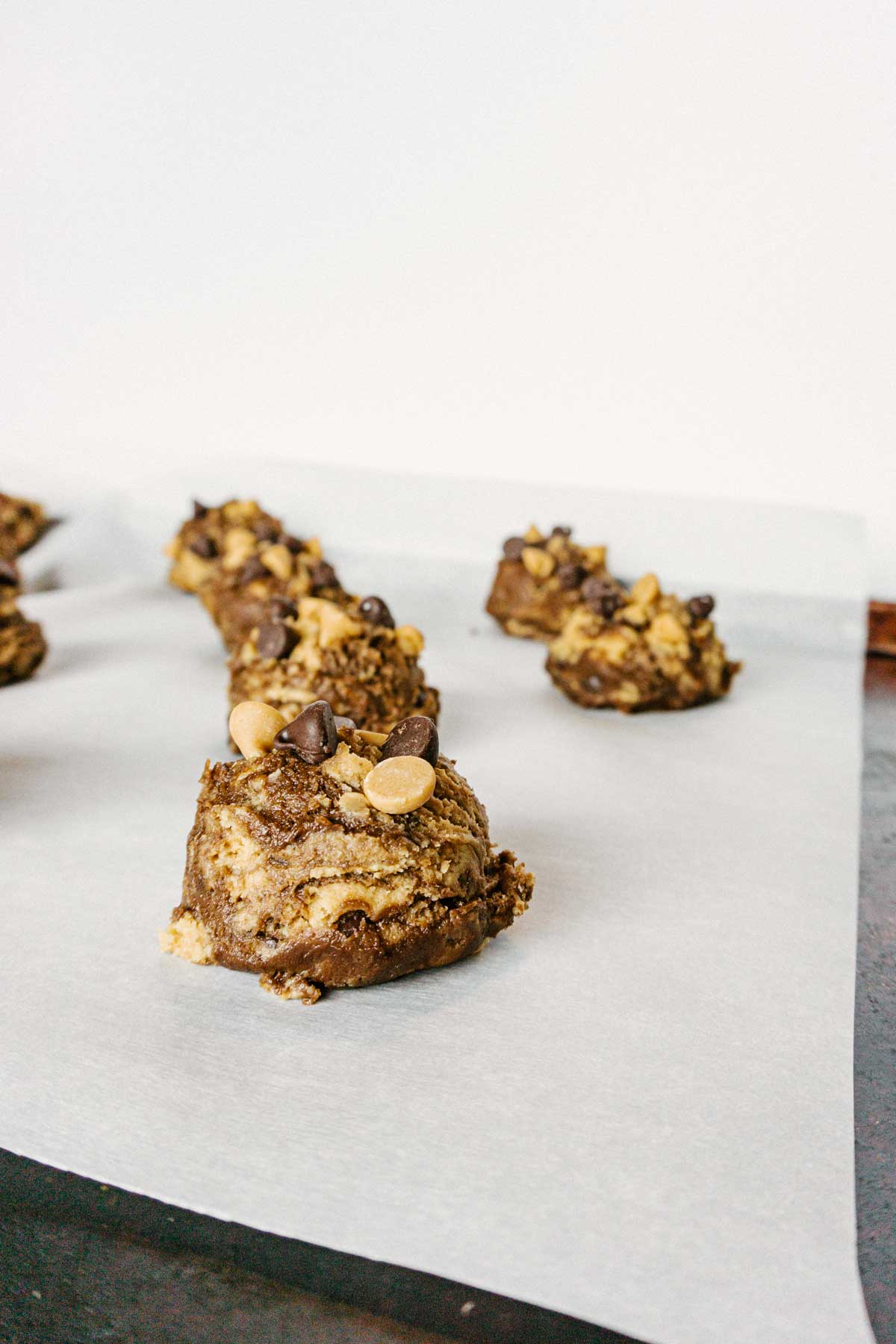 Products I Love to Use When Making the Pennsylvania Tango Cookie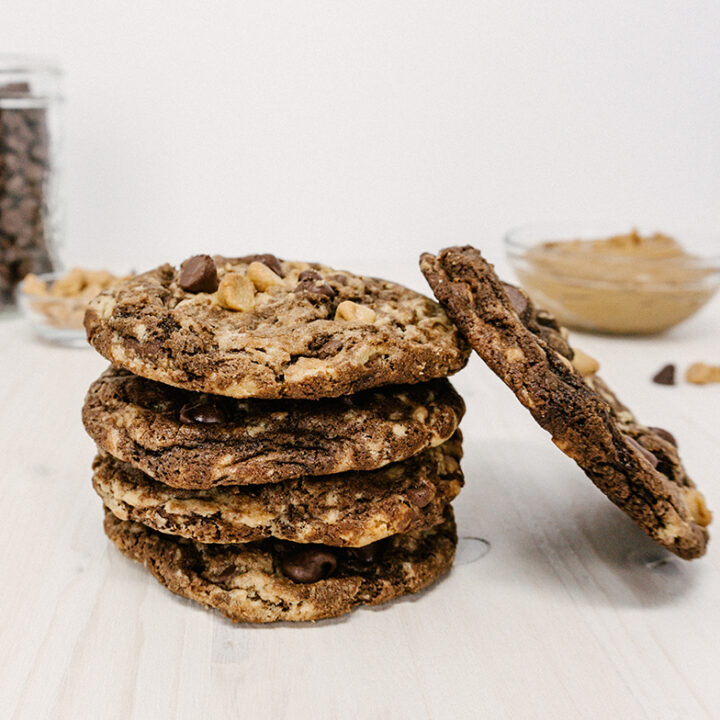 Pennsylvania Tango Cookie
A Tango takes two. It takes romance and drama. Chocolate and peanut butter dance and swirl together in perfect balance in this cookie.
Ingredients
Peanut Butter Balls
1 stick (4 oz) margarine
2 ¾ C (12.4 oz) powdered sugar
2 C (22 oz) creamy peanut butter
Chocolate Cookie Dough
½ C (4 oz) salted butter
½ C (3.4 oz) shortening
1 C (8 oz) light brown sugar
1 C (7 oz) white sugar
½ C (1.8 oz) cocoa
3 large eggs
2 tsp vanilla
1 tsp salt
2 tsp baking soda
2 ½ C (11.3 oz) all-purpose flour
2 C (12 oz) semi-sweet chocolate chips, divided
2 C (12 oz) peanut butter chips, divided
Instructions
Preheat oven to 375*F.
Make the Peanut Butter Ball dough.
Mix margarine, powdered sugar, and peanut butter together until smooth. Set aside.
Make the Chocolate Cookie dough.
Cream sugars, fats, and cocoa. Add eggs and vanilla. Mix well. Add dry ingredients and mix. Add chocolate chips and peanut butter chips, reserving ⅔ C (4 oz) of each for topping.
Make the marbled Tango dough.
Spread chocolate cookie dough to 1 ½ inch thick layer on a large piece of parchment paper taped to the counter. Spread drops of peanut butter dough 1 ½ inches thick over the top of the chocolate dough. Mix dough together with hands formed like claws, and use a twisting motion until it is marbled. Don't overmix or you may lose the marbling effect.
Using a #30 cookie dough scoop, scoop cookies directly from dough mixture. Place dough balls 3 inches apart onto parchment paper. Top with a few reserved chocolate and peanut butter chips. Bake 8-9 minutes.
Notes
Use margarine for the peanut butter dough. Butter doesn't taste as good in this particular recipe. 
Make sure to use stick margarine. Tub margarine is watered down to improve spreadability and will not work. 
Make the peanut butter dough first and set aside, then the chocolate dough. No need to wash the mixer bowl between. 
Don't overbake these. The chocolate dough sets up well when it cools. They are done when the peanut butter chips on top start to lightly brown and the cookie looks just set.