Walnut, three types of melty chocolate chips, and your patiently waiting self. You "walnut" regret making these perfect, buttery chocolate chip cookies.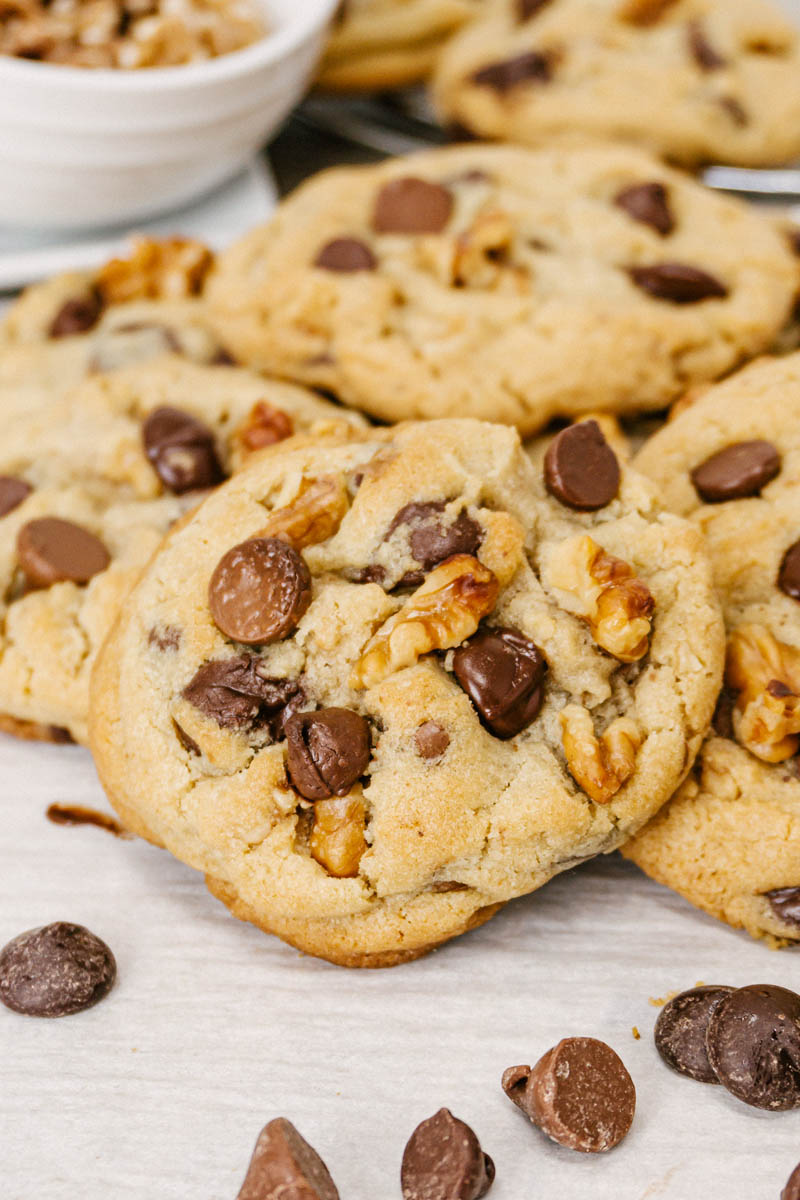 I wanted a really great chocolate chip walnut cookie recipe. I started with my #1 Chocolate Chip Cookie recipe, made some minor adjustments, and knew I was headed in the right direction. With three types of melty chocolate chips and toasted walnuts, how can you go wrong?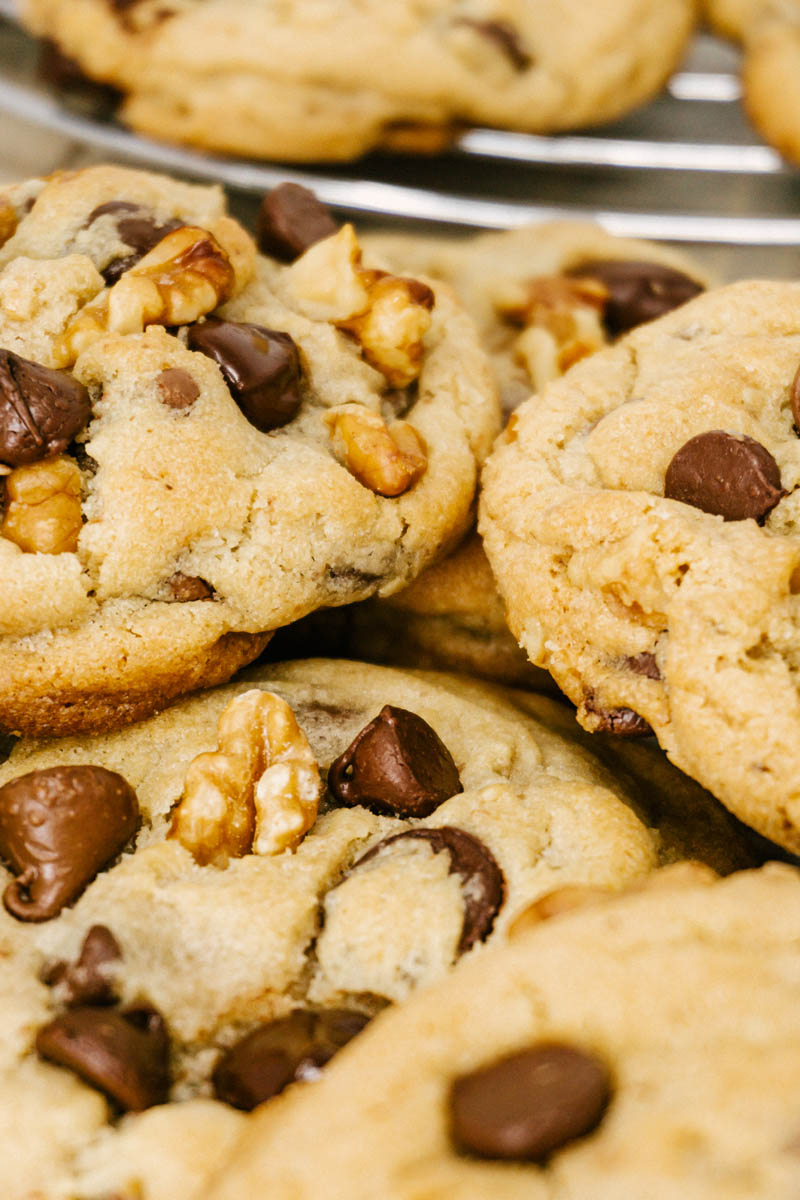 Triple Chocolate Chip Walnut Cookie In a Nutshell
Toasting the walnuts adds a wonderful depth of flavor to these delicious cookies. The toasted walnuts will be a bit crisp when they cool and it adds a delightful texture. It also dials up the walnut flavor to a toasty, nutty bite of magic.
When you "roughly chop" the walnuts after toasting, I like to leave them in fairly large chunks. You want big pieces of walnut throughout so their flavor and crispy toasted texture can shine. Plus, larger pieces of walnut look so tempting when you use them to top the cookie before baking.
Topping each cookie with some extra chocolate chips and walnuts before baking gives you a window into what is inside the cookie. It makes the cookie look more decadent and gives it a professional quality look. It is especially helpful if you take these to a buffet, bake sale, or church gathering. Everyone can see exactly what types of chocolate and nuts are inside the cookie and, trust me, will be more likely to pick up one (or two) to try. All that will be left are crumbs!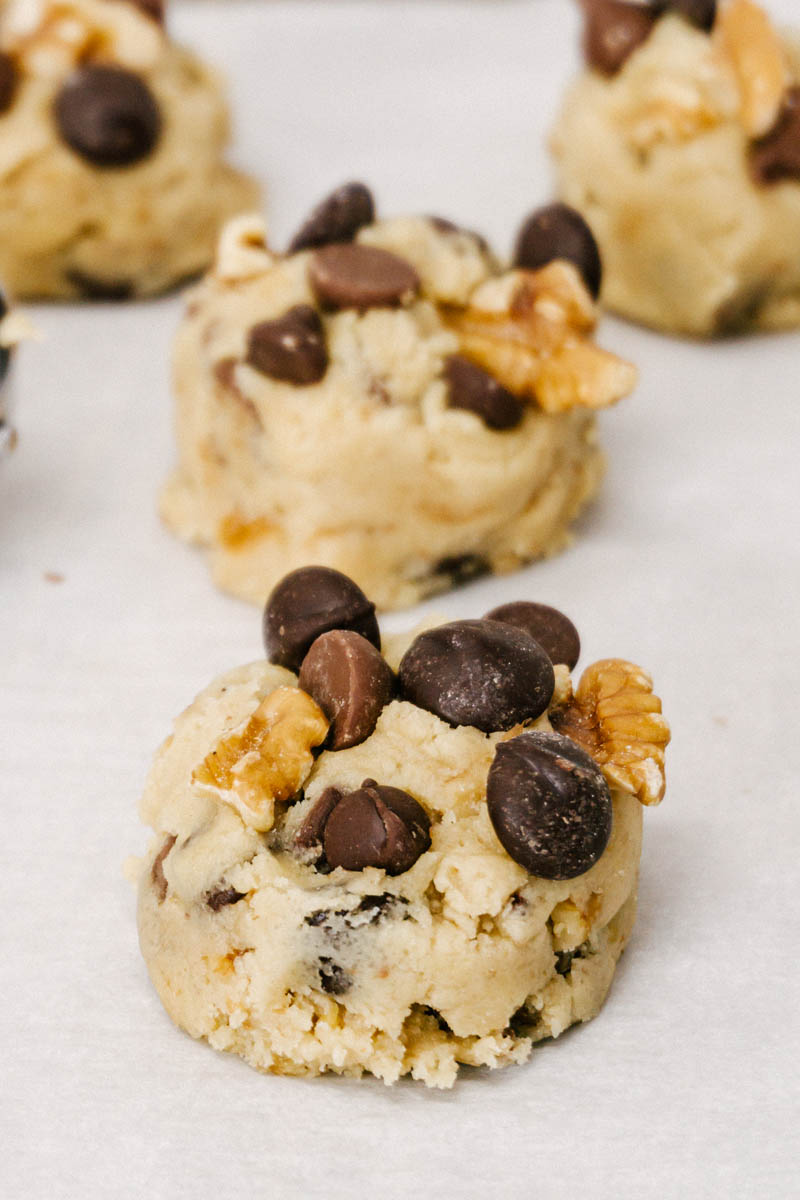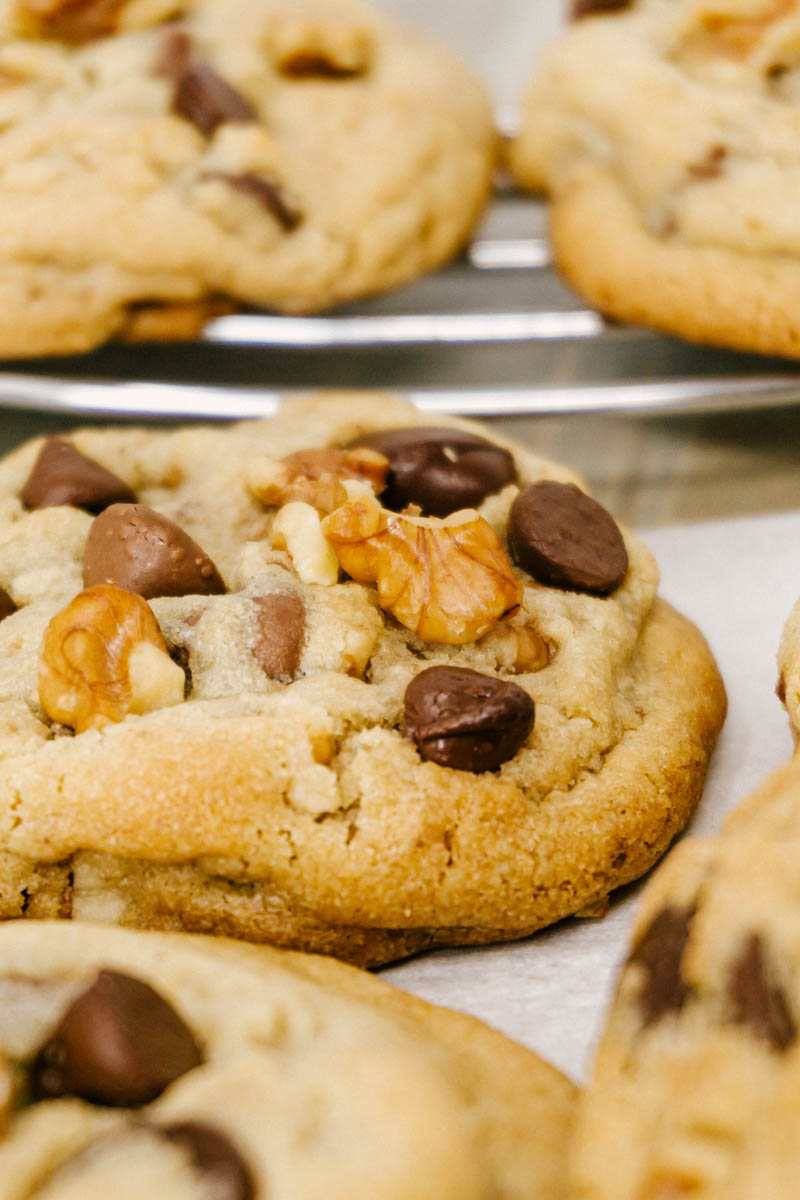 Recipe Tips
This Triple Chocolate Chip Walnut Cookie recipe makes a big batch of cookies. It contains 1 ½ lbs of chocolate and 2 ½ cups of walnuts. If you have a sturdy stand mixer, I recommend using that. If you don't, use a hand mixer to cream the butter, shortening, and sugar, but you'll probably need to use your hands or a big wooden spoon to finish mixing the flour, chocolate, and walnuts in. (Don't own a stand mixer? It's one of the most worthwhile kitchen investments. I recommend this one.)
These cookies are extra loaded with chocolate chips and walnuts so they don't spread as far in the oven as other cookies. Be careful not to overbake them. The edges should be just lightly golden and the interior will be moist, buttery, and packed full of deliciousness.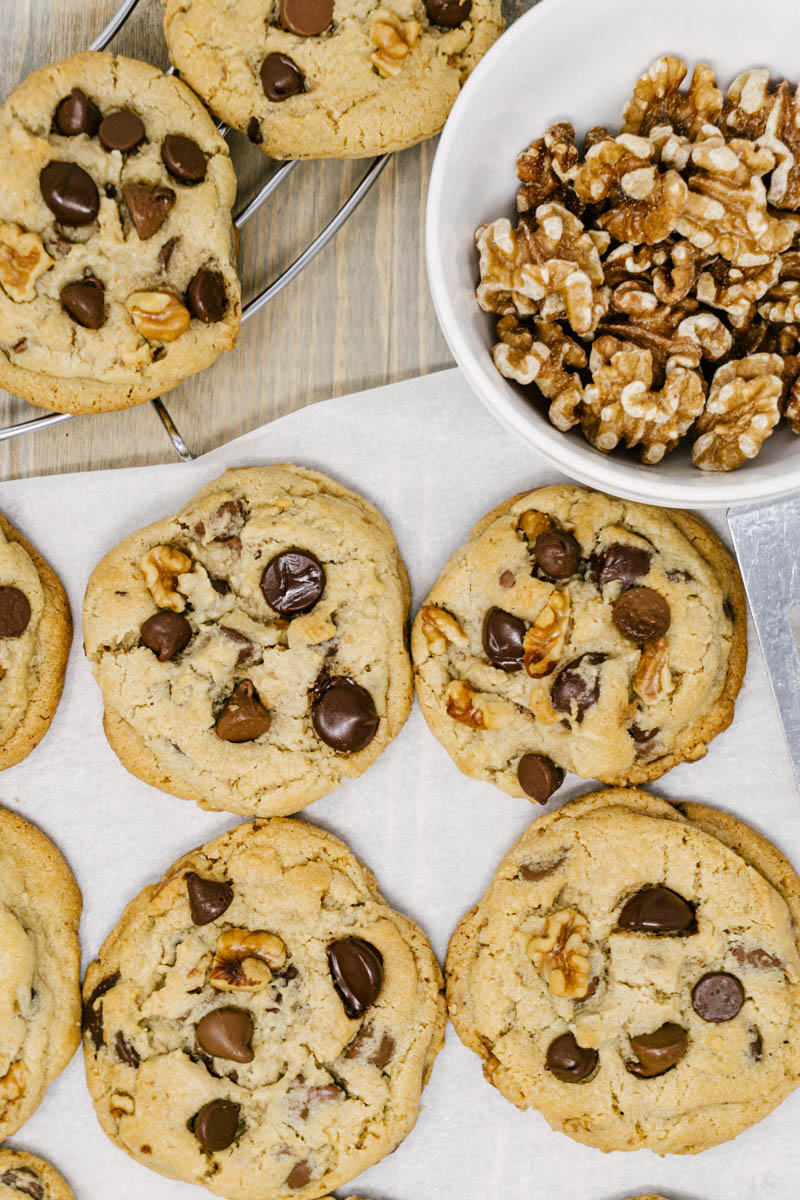 Nuts for Nuts
One more tip before I leave with you with the most delicious recipe: I buy most nuts (walnuts, almonds, pecans, etc.) in bulk. I used to have trouble using the whole bag before they would go rancid, due to the high fat content in nuts. Storing them in the freezer is the perfect way to extend any nut's shelf-life.
If you are nuts for chocolate and walnuts, try our Fudge Walnut Brownies. They are fudgy, perfectly balanced, and full of walnuts and chocolate.
Leave a comment or a review and let us know what you think of these Triple Chocolate Chip Walnut cookies. Pin this recipe on Pinterest or share on Instagram, too, if you're feeling extra nuts!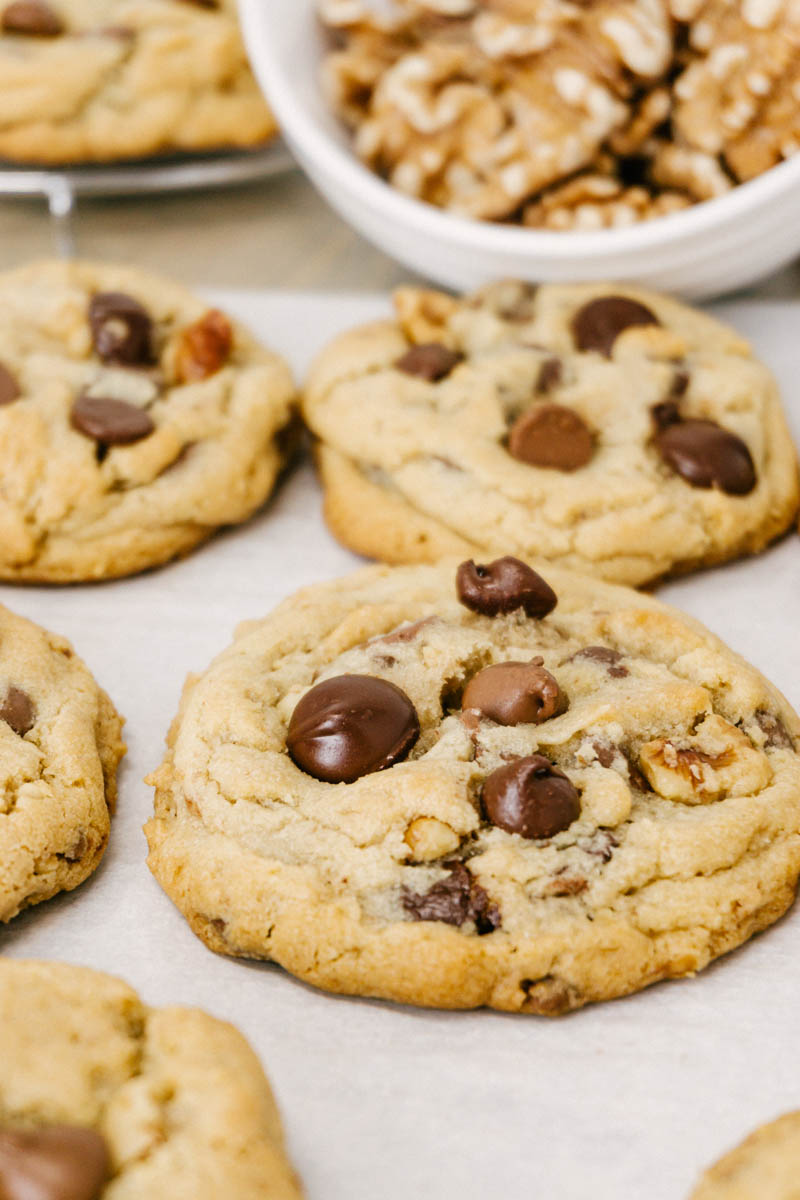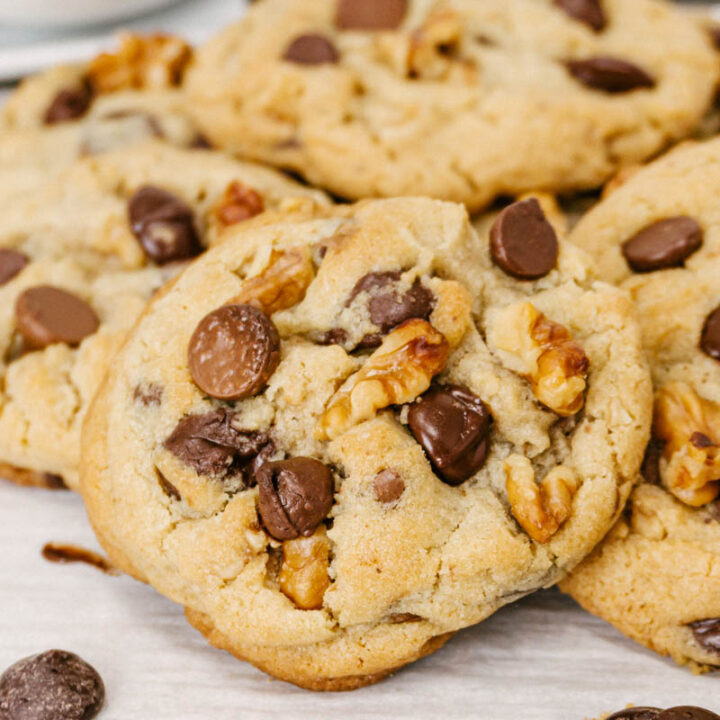 Triple Chocolate Chip Walnut Cookie
Additional Time:
30 minutes
Walnut, three types of melty chocolate chips, and your patiently waiting self. You walnut regret making these perfect, buttery chocolate chip cookies.
Ingredients
1 C (8 oz) salted butter
½ C (3.4 oz) shortening
1 C (7 oz) white sugar
1 C (8 oz) light brown sugar
2 large eggs + 1 egg yolk
1 T vanilla
1 tsp baking powder
2 tsp baking soda
1 ½ tsp salt
4 C (18 oz) all-purpose flour
1 ½ C (9 oz) semi-sweet chocolate chips, divided
1 ½ C (9 oz) milk chocolate chips, divided
1 C (6 oz) bittersweet chocolate chips, divided
2 ½ C (9 oz) shelled walnuts, lightly toasted, divided
Instructions
Preheat oven to 375*F. Line baking sheets with parchment paper.
Toast walnuts on a cookie sheet in the oven for 5-6 minutes. Let cool, then roughly chop. Set aside.
In the bowl of a stand mixer, cream butter, shortening, and sugars. Add eggs and vanilla. Mix well.
Add the dry ingredients. Add chocolate chips and walnuts to the dough, setting aside ⅓ C (2 oz) of each type of chocolate chip and ½ C (2 oz) of walnuts for topping. Mix until combined.
Using a #30 (2 ½ T) cookie dough scoop, place dough a few inches apart on a parchment-lined cookie sheet. Top dough with 4-5 reserved chocolate chips and a few pieces of walnut. Bake for 7-9 minutes or until the edges are lightly browned.
Cool completely before storing. Store in an airtight container. Will stay fresh in the fridge for one week, and up to 3 months in the freezer.