This is my favorite chocolate shortbread of all time! Crisp and light shortbread with a beautiful dark and white chocolate coating.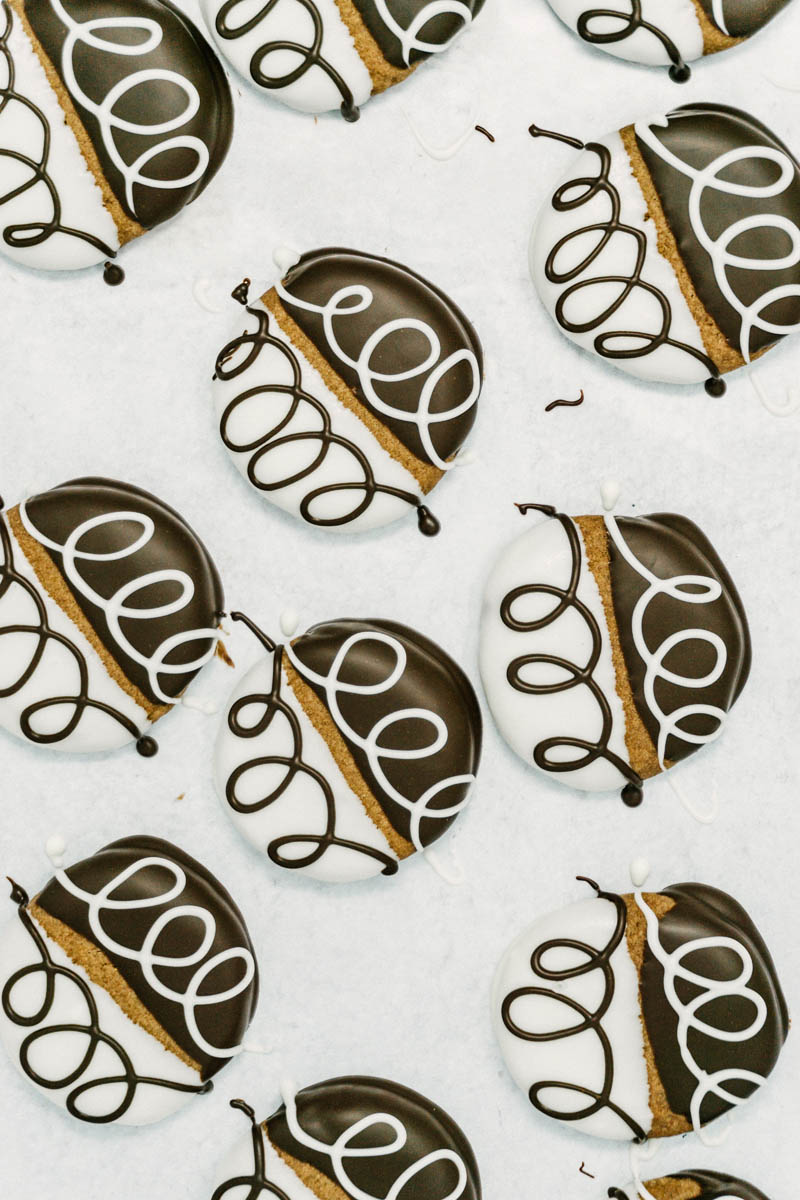 This is my favorite chocolate shortbread of all time. It is beautifully crisp and delicious. It was inspired by a chocolate shortbread recipe I found in a library cookbook 20 years ago. My children were in their library class and I was indulging in recipe studying during my few moments alone. I bookmarked a recipe to try later at home.
The original recipe had a lovely texture. I adjusted it to have more chocolate flavor so it would complement the chocolate coating better. It was perfection. I added it to my "I Must Never Lose This Recipe" file.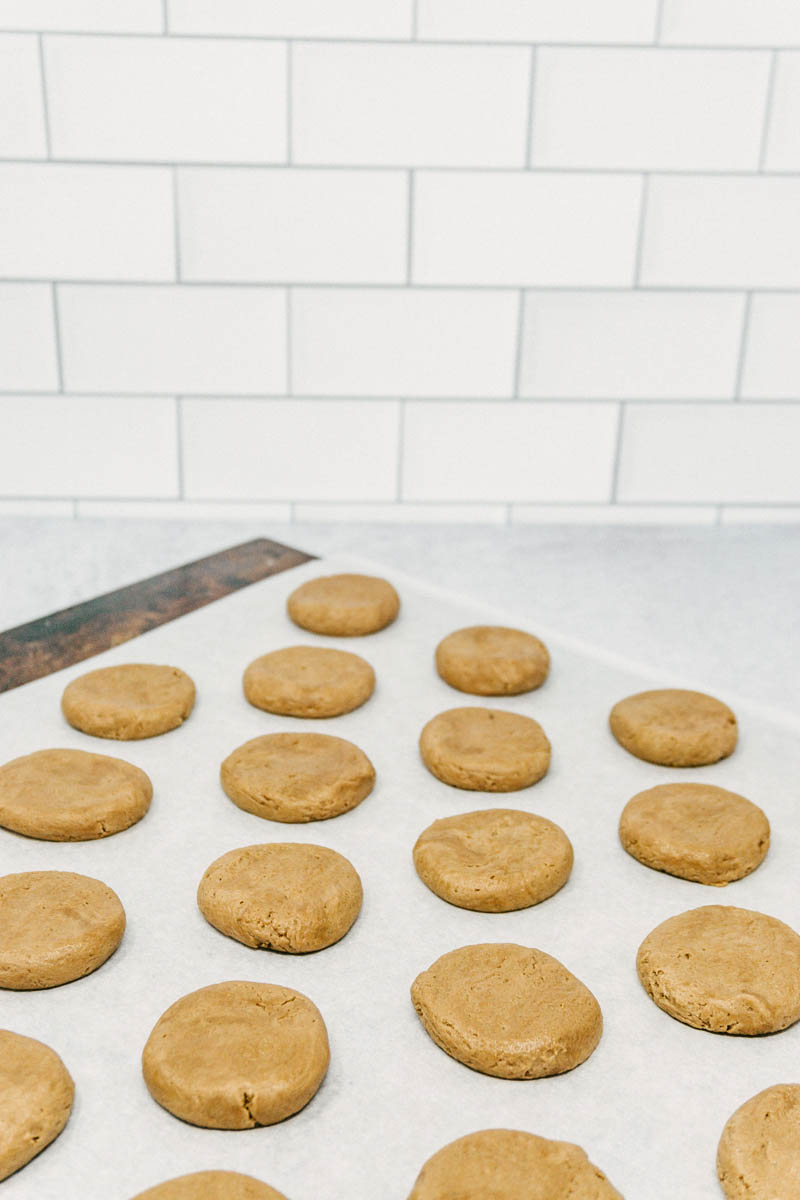 The chocolate for dipping this cookie does require tempering. Now, before you let that scare you, let me give you a few tips and shortcuts. First, King Arthur Baking Company does a great job of breaking down the basics of tempering chocolate. You can read that here. I use the method called seeding, where you heat chocolate up to a certain temperature, then add unmelted chocolate to cool it down and encourage proper crystal formation.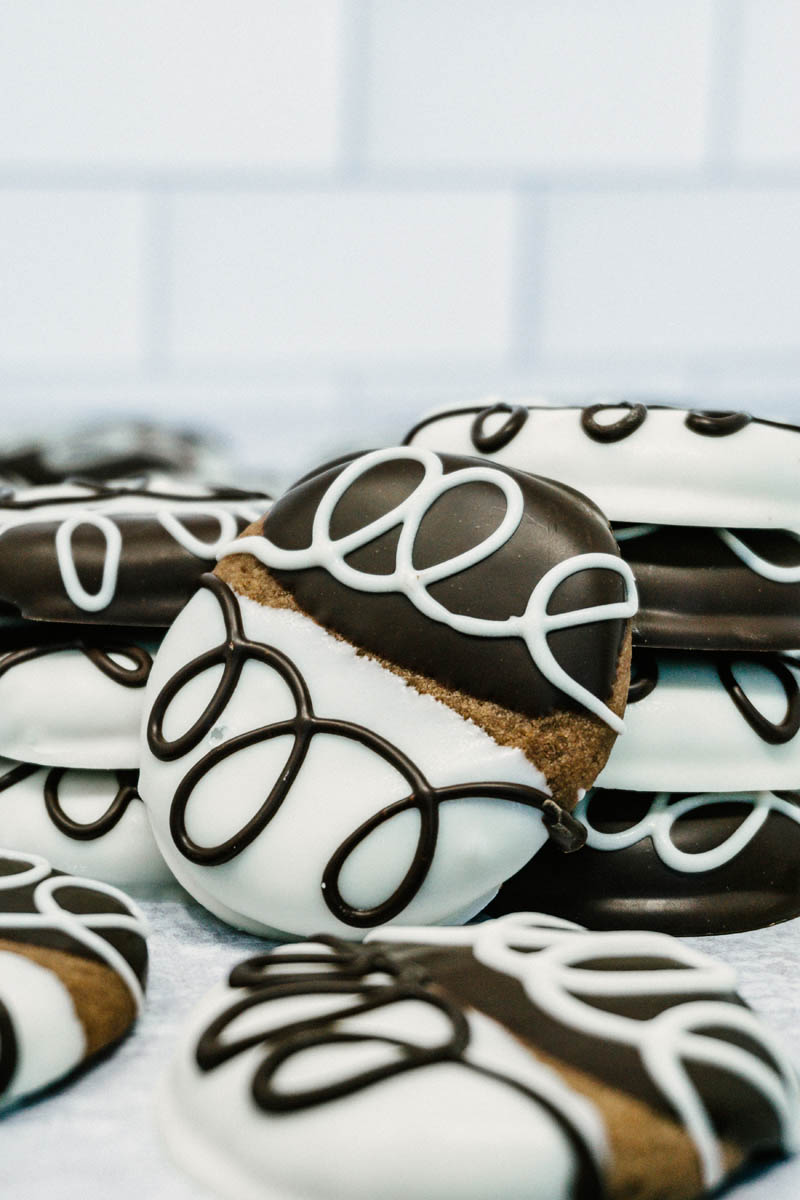 I usually use white chocolate wafers which contain no cocoa butter and therefore don't require tempering. The taste is not what you would get from high quality white chocolate, but it saves a lot of time and effort. I use Hershey's Special Dark chocolate which does require tempering. In the cookie shop days, we dipped so many things in chocolate that I invested in a chocolate tempering machine. It is a big investment and one I wouldn't make lightly, but should you find yourself frequently tempering chocolate, it might be worth considering.
I don't recommend using chocolate chips to dip this cookie. It will be too thick to dip and a waste of effort. If you don't want to have to temper chocolate, you can buy craft chocolate coating. Most craft stores carry it. The dark chocolate won't taste as good, but it will save you the effort of tempering.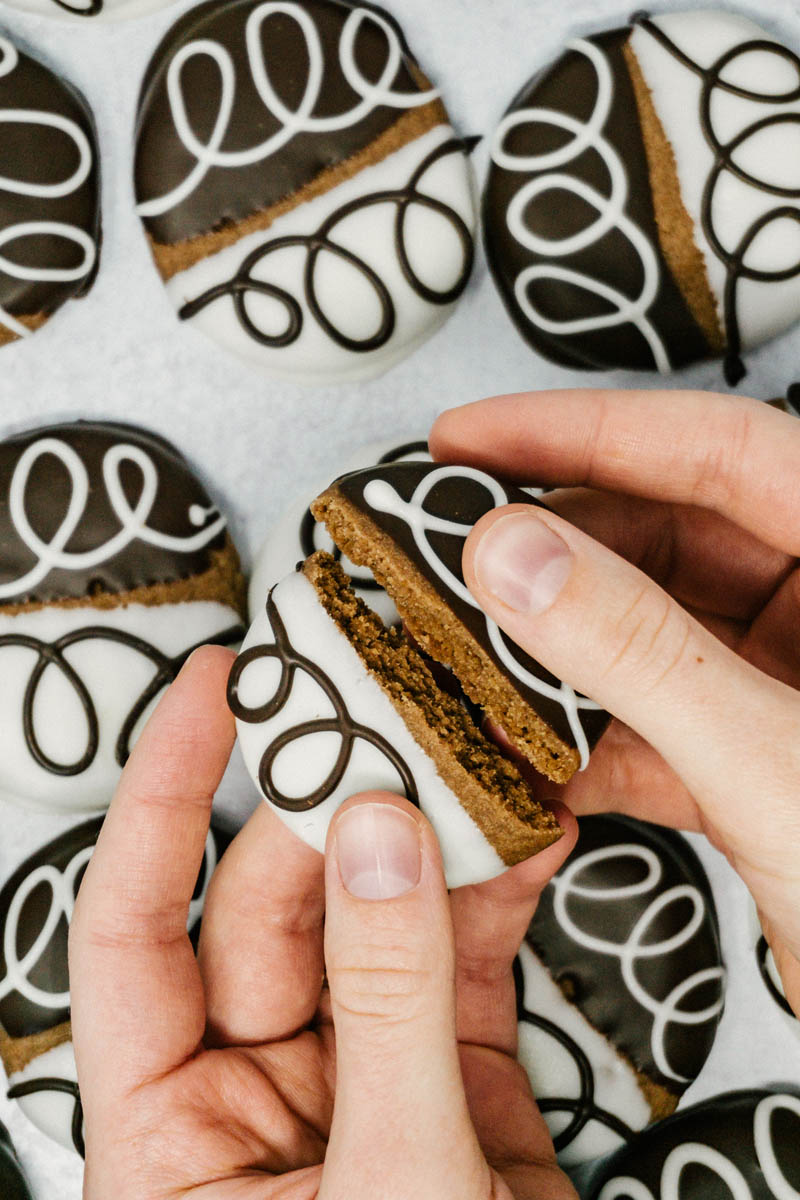 This cookie looks incredible on any tray or in any treat bag and tastes like a chocolate dream come true. It is a year-round favorite for adults and children alike. This batch makes a lot of cookies, which are great for gift giving. They'll win you friends left and right.
Happy baking! Try not to let the chocolate tempering stress you out. Even if the chocolate doesn't get properly tempered and has gray streaks in the finished product, everyone will be more impressed by how delicious these are and that you homebaked and hand-dipped a chocolate shortbread cookie!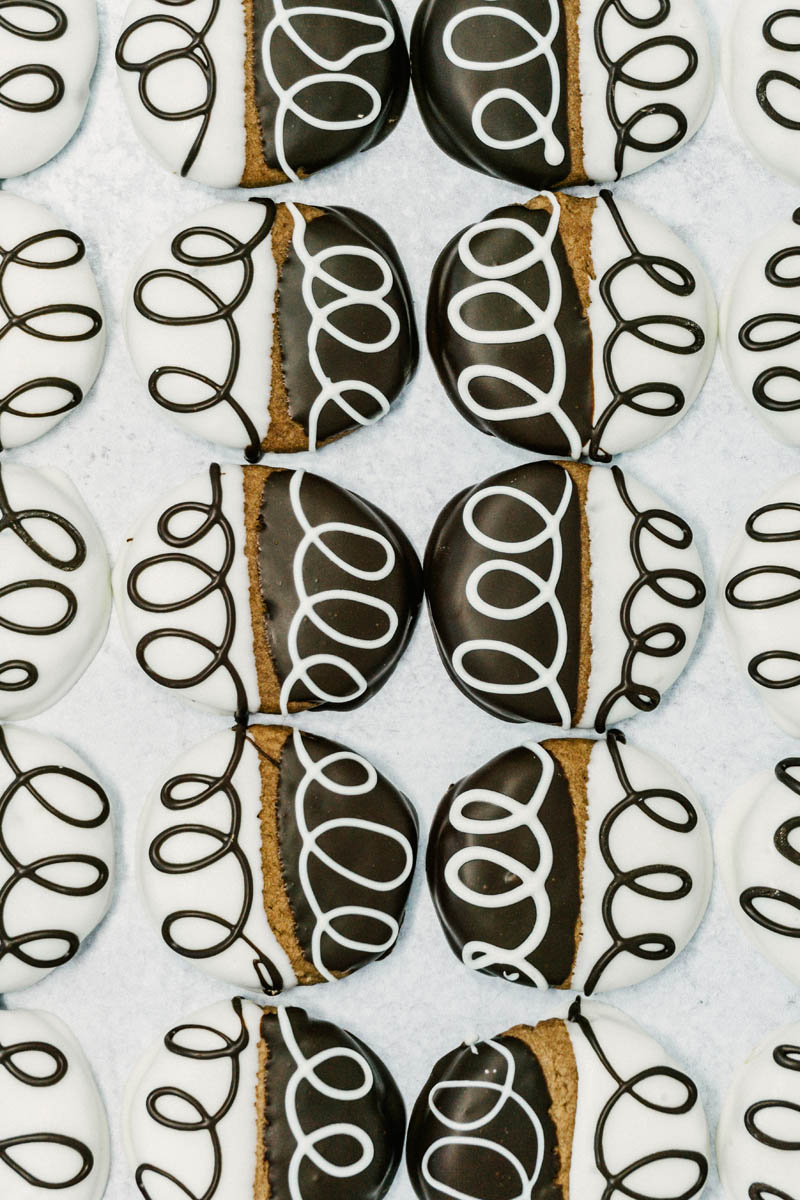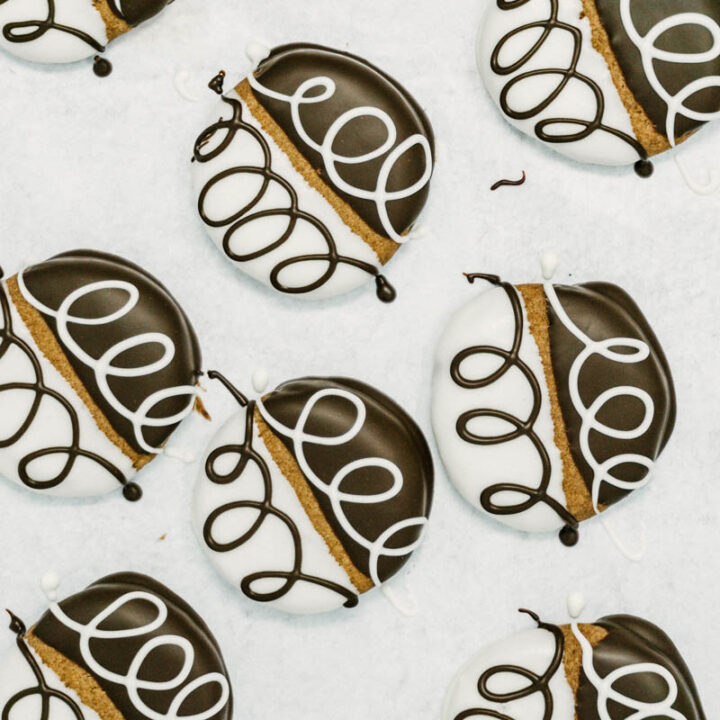 Black & White Chocolate Shortbread Cookie
Additional Time:
45 minutes
Total Time:
1 hour
48 minutes
This is my favorite chocolate shortbread of all time! Crisp and light shortbread with a beautiful dark and white chocolate coating.
Ingredients
Chocolate Shortbread Cookie
1 ½ C (12 oz) salted butter, softened
½ C (3 oz) semi-sweet chocolate chips, melted
1 tsp vanilla
½ C (2.2 oz) powdered sugar
1 T cocoa
⅛ tsp salt
3 C (13.5 oz) all-purpose flour
Black & White Chocolate Coating
16 oz white chocolate wafers
16 oz dark chocolate bar or wafers
Instructions
Make Shortbread Cookies.
Preheat oven to 325*F. Line cookie sheets with parchment paper.
Beat butter till very light and fluffy.
Pour melted semi-sweet chocolate chips into butter and mix quickly to combine. Scrape the bowl and add vanilla. Mix.
Add cocoa, powdered sugar, and salt. Beat for two minutes till very light (do not skip).
Add flour and mix to combine, scraping bowl as necessary.
Using a #40 (1 ¾ T) cookie dough scoop, scoop dough balls. Roll dough between palms to create a smooth round ball. Press gently on parchment paper to ½ inch thickness.
Bake at 325*F for 15-18 minutes. Cool completely.
Temper Chocolate and Dip Cookies.
Melt white chocolate. Dip half of cookie into white chocolate. Place on wax paper to cool.
Temper dark chocolate. Dip other half of cookie into dark chocolate. Place on wax paper to cool.
Use remaining white and dark chocolate to drizzle top of cookies.
Store in an airtight container for up to two weeks.
Notes
You will need to temper the dark chocolate or buy dark chocolate coating from a craft store that does not need tempering. I use Wilbur Bronze Medal Semi-Sweet or Hershey's Special Dark chocolate bars.