These Banana Toffee Chocolate Chip Cookies are an unexpected delight. You may not think toffee would love being nestled into banana chocolate chip dough. Try it, you'll love it.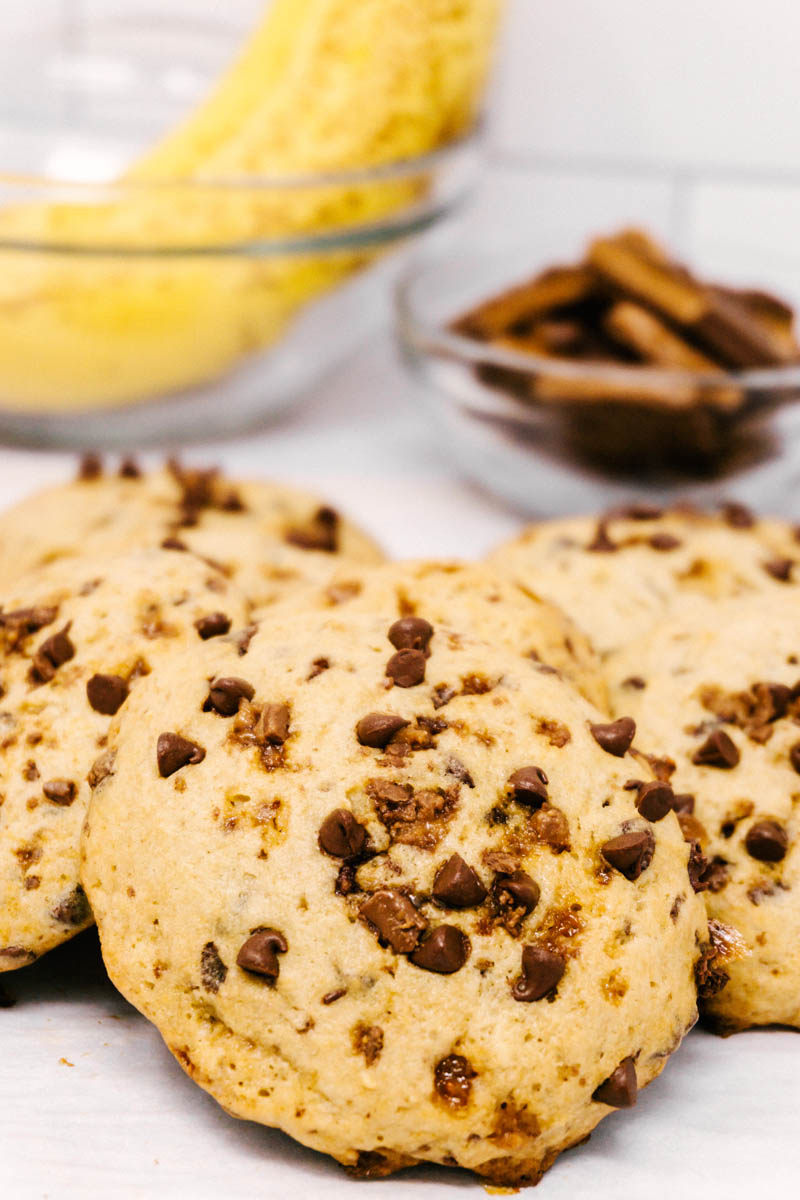 Good Friends Help Us Try New Good Things – Like Cookies!
How did this recipe come to be? I made a new friend and she was happy to find out I created cookie recipes from scratch. She asked if I could make a banana, toffee, chocolate chip cookie when we were running the cookie shop. I hadn't tried. So I did. This was the happy result!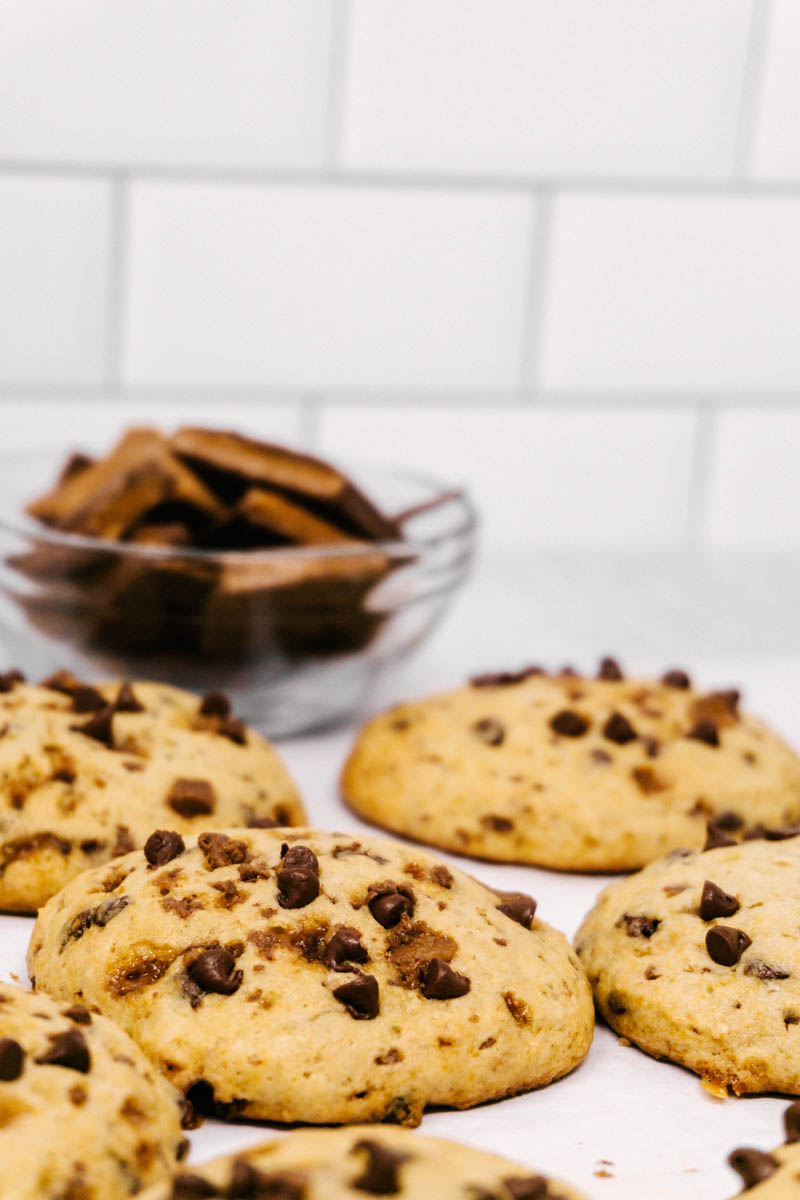 Old and Newly Ripe Bananas
I wanted the cookie to be a lighter color, so I made sure I didn't use a very old squishy banana. I use bananas that are just starting to develop a few brown spots. It makes for a nice light-colored cookie. I didn't need as much sugar because the banana adds the perfect amount of sweetness. And, you don't need a whole bunch of bananas, just 1 ½. That's a win-win.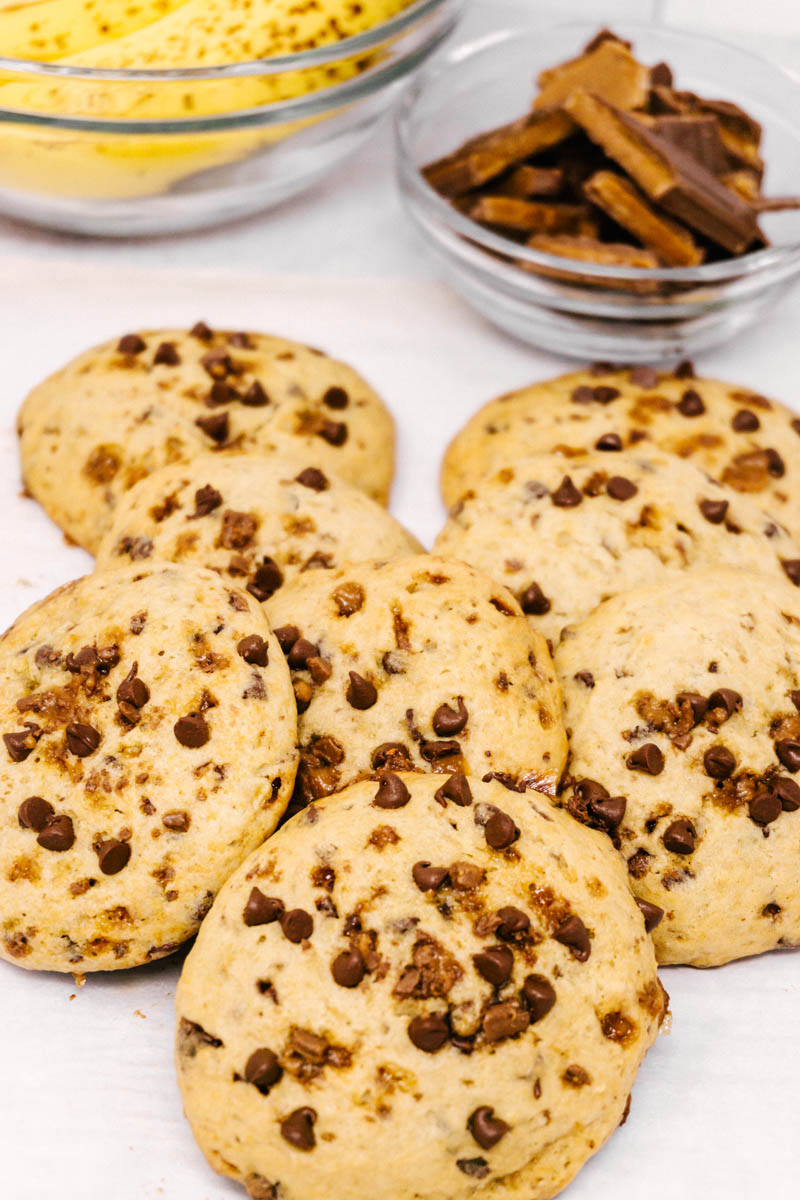 Even the Husband Agreed
Who knew toffee was so good with bananas! Chocolate and bananas are a known pairing, but I had never tried toffee and chocolate. I forgot how good these cookies are. When I made them for photos, it had been some time because I make… um, hundreds of cookies in a year. Sometimes it takes a while to get around to a recipe I want to remake. 
I kept sneaking back to the kitchen for another…and another. My husband came home from work and declared soundly that, "THIS is a good cookie!" I laughed. He's tried a few cookies and is a trusted judge of a cookie.
You don't have to be a banana lover to enjoy these. I'm not a banana lover and I love these banoffee cookies.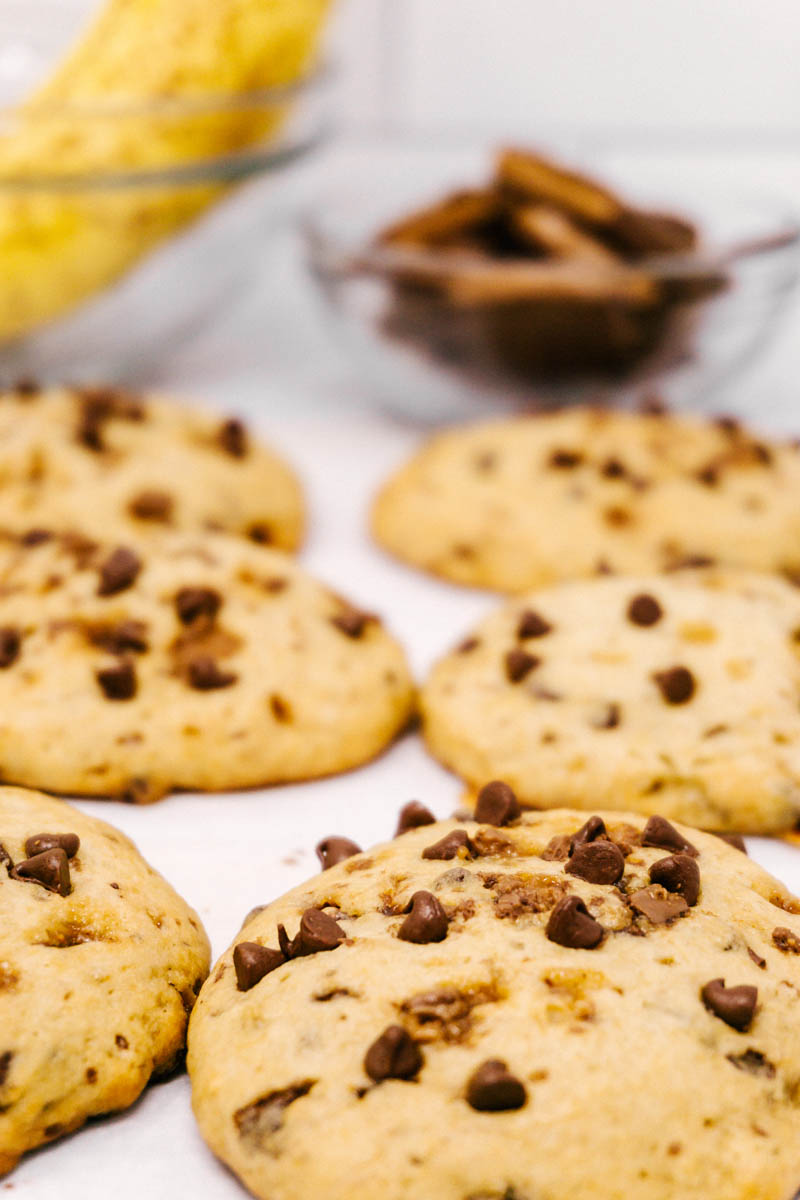 Banana Toffee Chocolate Chip Cookies Recipe Ingredients
Sour Cream – Adds the puff and brightness to a cookie that is loaded with rich things and keeps them soft.
Banana – A medium ripe banana is best, but any ripe banana will do.
Toffee – I usually use a chopped toffee bar for flavor and to save time. If you use plain toffee, throw in a few extra chocolate chips.
Mini Semi-Sweet Chocolate Chips – the sweet banana flavor and toffee bits would be totally overwhelmed by big chunks of chocolate. Use mini chocolate chips or chopped chocolate for the best experience in these Banana Toffee Chocolate Chip Cookies.
Prep Tips
Mashed Banana – Don't bother to pull out your mini food processor, just use a fork.
Breaking the Toffee Bar – I love using a hammer to break toffee into tiny bits. It saves time and mess that you'd make with a knife and cutting board. Just be sure to double bag your chocolate. I use my husband's workbench and have even been known to use the cement of the swept garage floor. Hammering is fun and makes quick work of it.
Skor Toffee Bars – Don't use toffee with almond bits. They are not sweet enough, nor do they have the right texture for these cookies. Make your own toffee or purchase Skor toffee bars. They help make a great banoffee cookie recipe!
Sour Cream – I have not tried plain yogurt, and I don't think I will. Sometimes plain yogurt has a bite to it that sour cream does not. It might be interchangeable in lots of recipes but this one is best with good ol' sour cream.
Topping – Adding a little sprinkle of mini chocolate chips and leftover toffee bits before baking shows off what's inside these Banana Toffee Chocolate Chip Cookies when they're done. It's a simple-looking cookie, and a touch of toppings adds major appeal.
Easy, yummy, different. Try these banana toffee cookies, I don't think you'll be disappointed.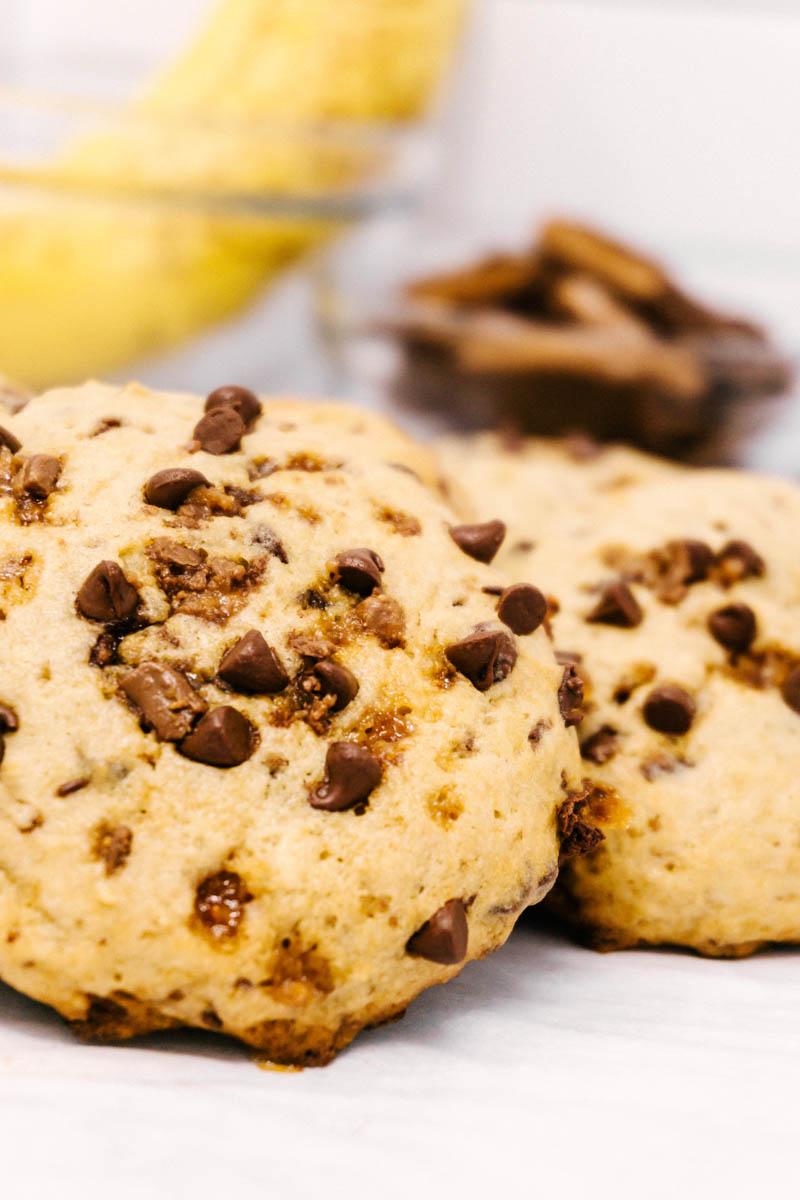 Looking for more delicious cookie recipes? Try these: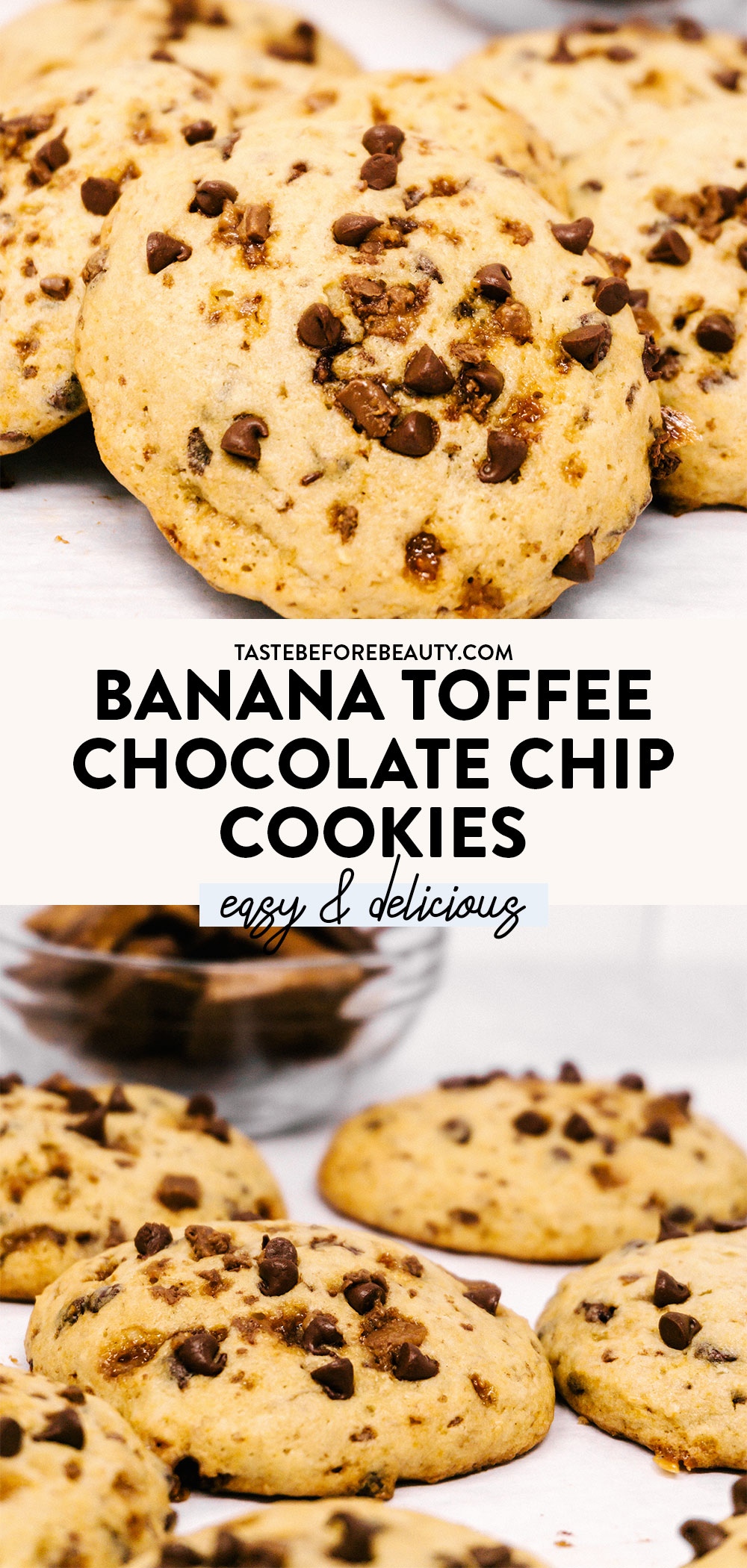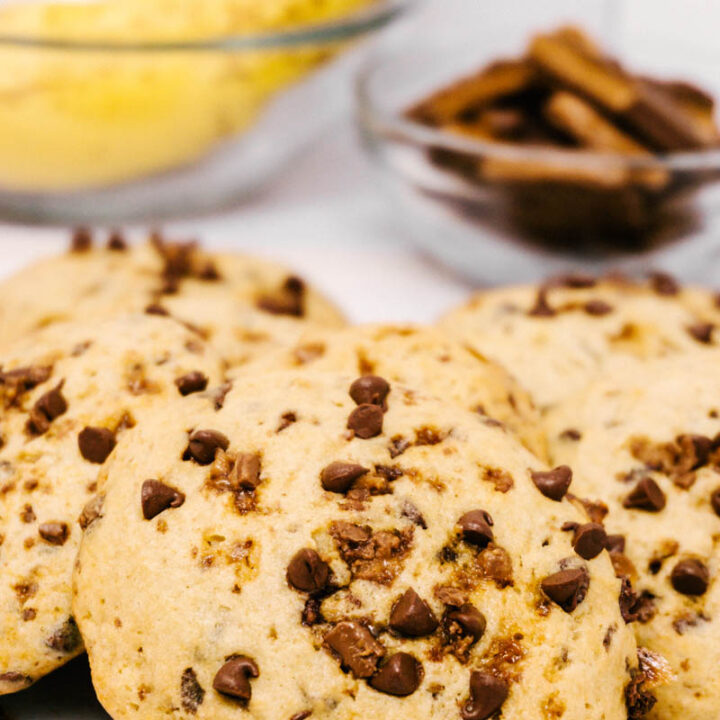 Banana Toffee Chocolate Chip Cookies
Total Time:
2 hours
30 minutes
These Banana Toffee Chocolate Chip Cookies are an unexpected delight. You may not think toffee would love being nestled into banana chocolate chip dough. Try it, you'll love it.
Ingredients
½ C (4 oz) salted butter
½ C (3.5 oz) white sugar
½ C - 1 T (3.5 oz) brown sugar
1 large egg
2 tsp vanilla
½ C (5 oz) sour cream
¾ C mashed banana (about 1 ½ medium bananas)
¼ tsp salt
½ tsp baking powder
¾ tsp baking soda
2 ¼ C (10.1 oz) all-purpose flour
½ C + 2 T (4 oz) mini semi-sweet chips, divided
½ C (4.2 oz or 3 (1.4 oz) bars) Skor candy bar, finely chopped, divided
Instructions
Preheat oven to 375* F. Line two cookie sheets with parchment paper.
Chop the candy bars finely, or put in a freezer gallon bag and hammer into bits. Set aside.
Mash the banana with a fork.
Mix the butter and sugars until combined.
Add eggs and vanilla. Scrape bowl.
Add sour cream and mashed banana and mix until combined.
Add the salt, baking powder, flour, ½ C mini semi-sweet chips, and ½ C of the toffee bits and mix.
Scrape bottom of bowl and mix again until all combined.
Using a #30 (2 ½ T) or #20 (¼ C) cookie dough scoop (depending on your preferred cookie size), place portioned dough a few inches apart on a parchment-lined cookie sheet.
Use the remaining 2 T mini semi-sweet chocolate chips and any remaining chopped toffee bits, to sprinkle on the top of each cookie before baking.
Bake 7-9 minutes for #30 size and 9-11 minutes for #20 size. Bake until the edges are lightly browned.
Cool completely before storing. If the entire batch isn't eaten right away, store in an airtight container for a couple days. These cookies store well in the fridge for a week in a plastic zip-top bag or freeze up to 3 months. To thaw, let thaw in their packaging.
Notes
Toffee without crushed almonds is best for this cookie. Toffee bits that contain nuts aren't as sweet. I often use my homemade toffee if I've got time, but Skor bars work in a pinch to save time. 
I prefer mini semi-sweet chips for this cookie. If you don't have any, chop your chocolate chips until they match the size of a mini chocolate chip.