Cranberries and oranges are perfect partners for this sweet, tender shortbread duet guaranteed to make your mouth sing!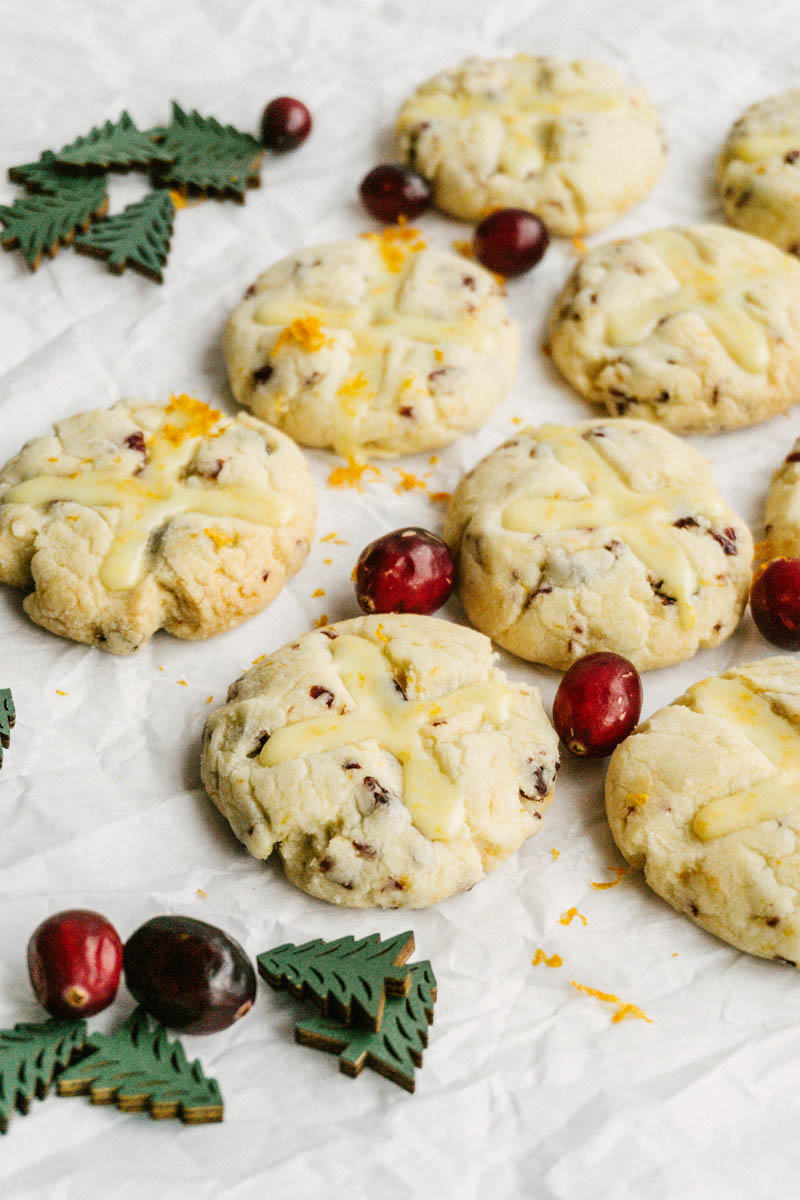 This Cranberry Orange Shortbread was created during the cookie shop days. At the time, I was keeping all of my recipes secret. So when the local news station asked to do a Christmas special interview, where I would get to showcase one of my cookie recipes, I scrambled to create a new cookie that I could share with the world (or our small community).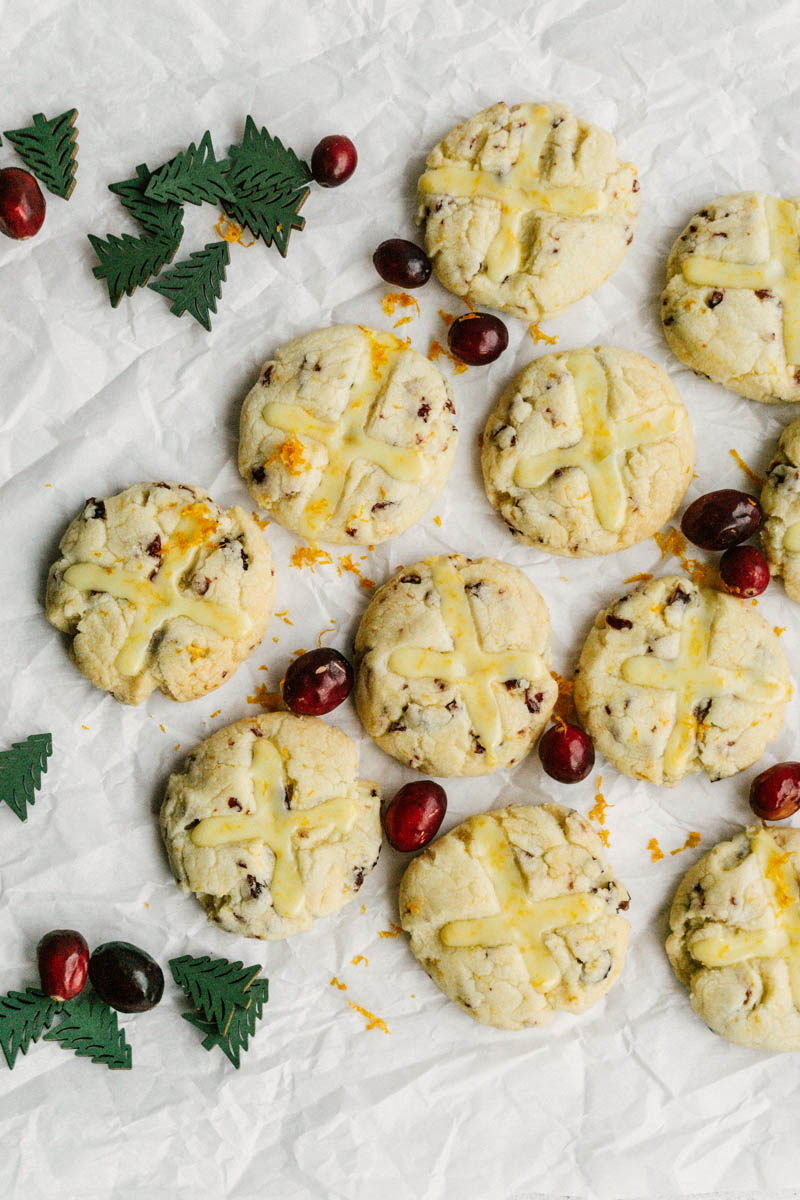 How This Shortbread Cookie Came to Be
Despite my non-stop baking for many years before, I had never attempted to create a Cranberry Orange Shortbread. At the suggestion of my floor manager who knew it was a popular seasonal flavor, I began creating a new recipe.
Well, it was terrible. No, not the cookie (although it was, admittedly, still a work in progress). The taping of the news segment went awful! I stumbled over my words on camera and felt totally out of my comfort zone.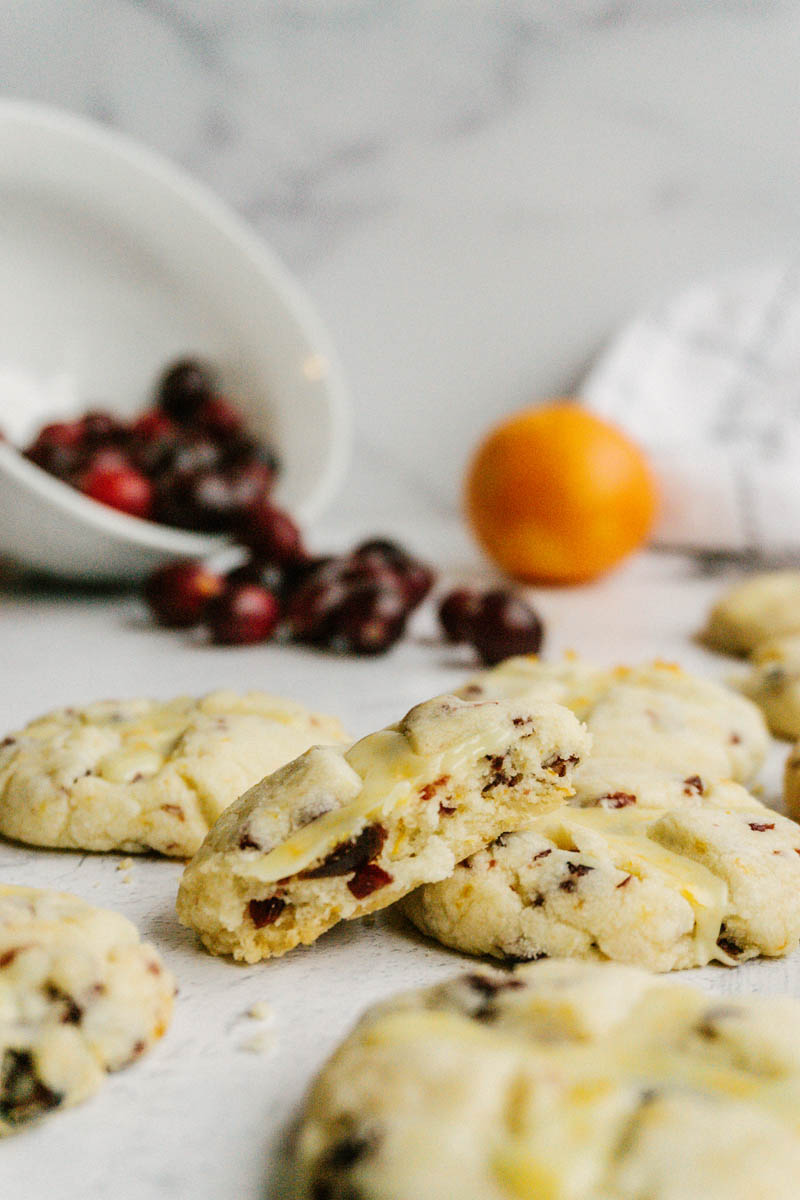 Completing the Work in Progress
I have adjusted this Cranberry Orange Shortbread recipe since that TV interview. It contains the perfect amount of zest to deliver a sweet orange flavor. Adding a bit of orange and almond extracts helps to bring out the orange without detracting from its bright citrus flavor, although you can leave them out and this cookie is still delicious.
The addition of the dried cranberries slightly changes the moisture content of this Cranberry Orange Shortbread. The melted white chocolate in the dough makes these slightly more forgiving. Just be careful when you bake them. If the cookies get browned, they might be crunchy and dry, instead of flavorful and crisp.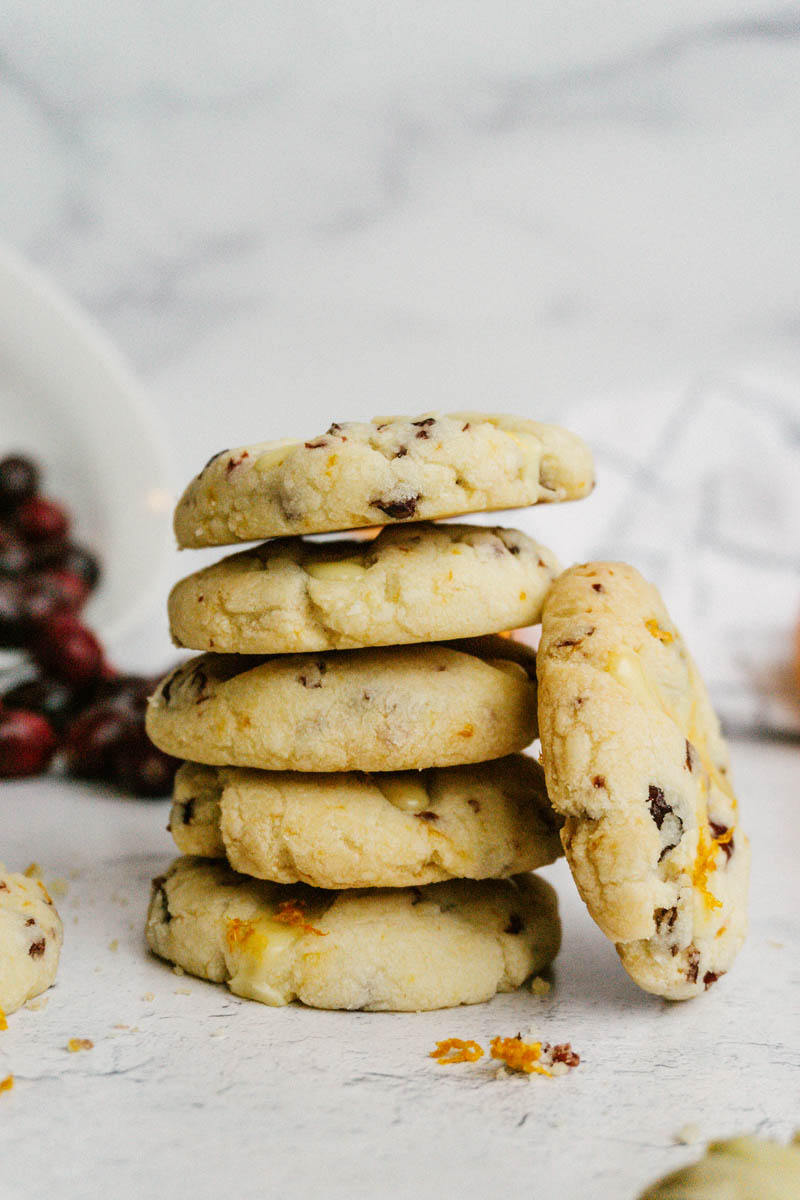 Making the Glazed Crosses on the Orange Cranberry Shortbread Cookies
To make these shortbread cookies stand out on a cookie tray, use a chopstick to create an "X" indentation on the top of the cookie. It looks a bit like a cute little hot cross bun and it makes the perfect channel for the sweet orange glaze to fill.
Rest assured this Cranberry Orange Shortbread Cookie is no longer a work in progress. It is a complete joy to eat. Let us know what you think. Enjoy!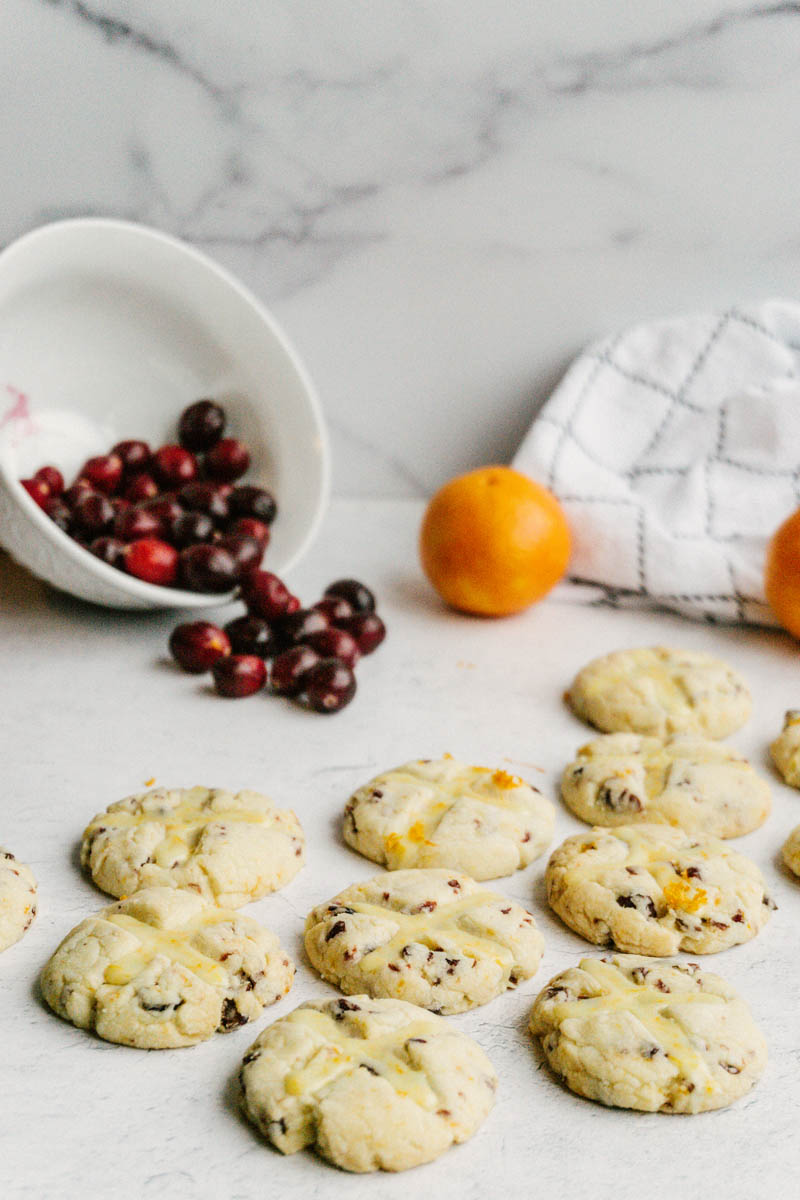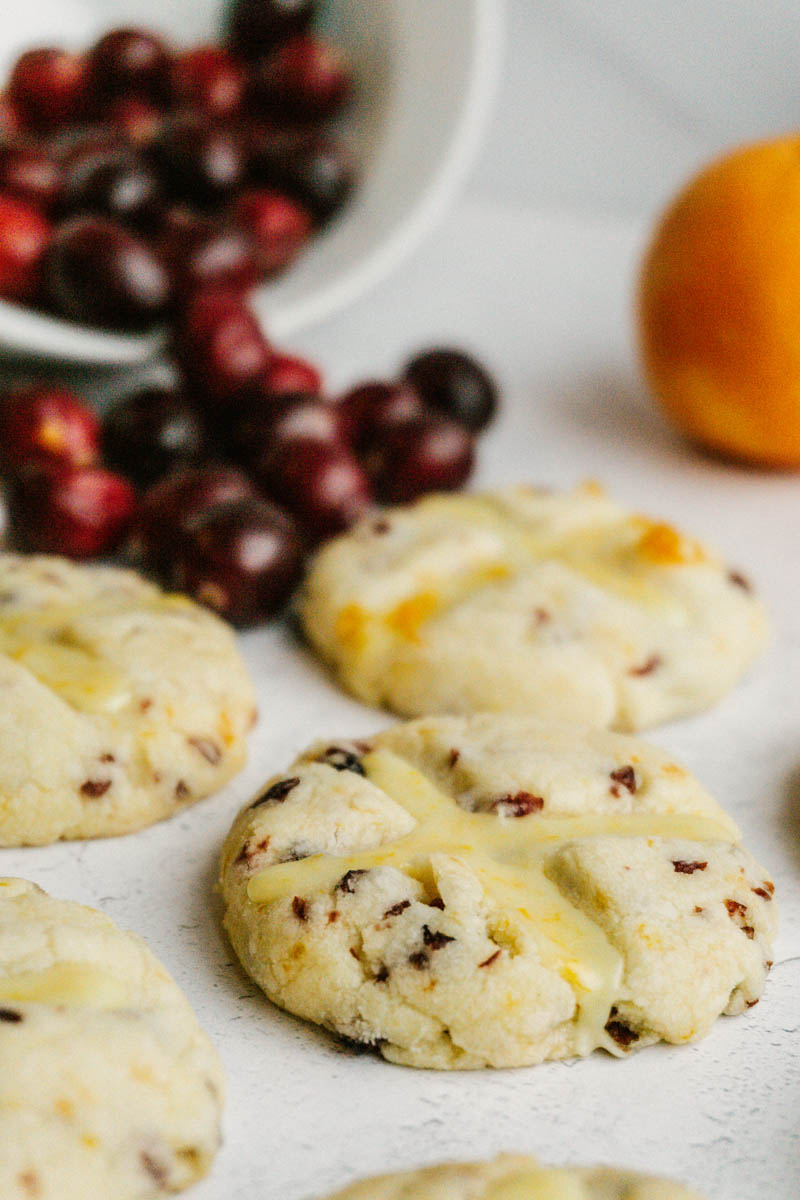 Products I Love to Use When Making the Cranberry Orange Shortbread Cookies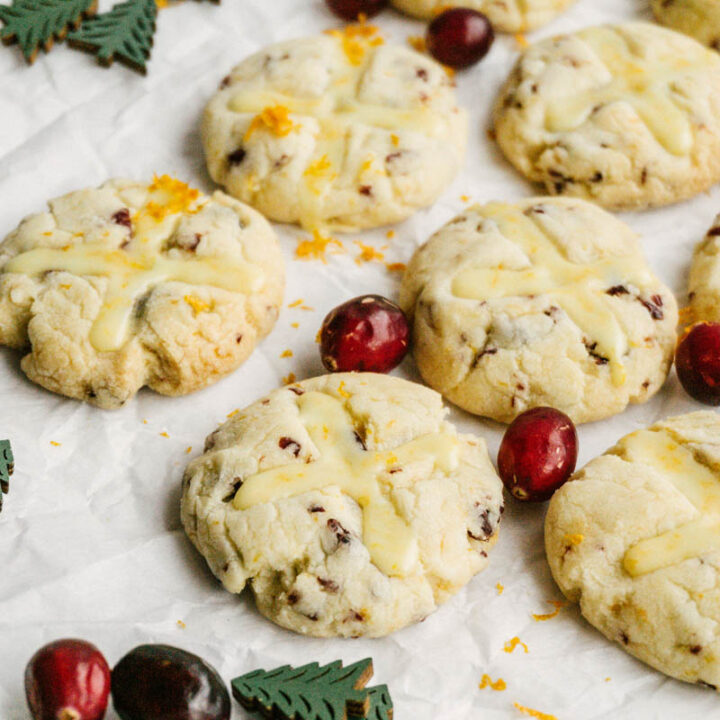 Cranberry Orange Shortbread Cookie
Additional Time:
35 minutes
Total Time:
1 hour
10 minutes
Cranberries and oranges are perfect partners for this sweet, tender shortbread duet guaranteed to make your mouth sing!
Ingredients
Cranberry Orange Shortbread Cookie
1 C (8 oz) salted butter, room temperature
⅓ C (2 oz) white chocolate chips, melted
½ tsp vanilla
½ tsp orange extract (optional)
½ tsp almond extract (optional)
⅓ C (2 oz) dried sweetened cranberries, finely chopped
2 T orange zest (from 1 large orange)
⅓ C (1.5 oz) powdered sugar
2 C + 2 T (9.6 oz) all-purpose flour
Sweet Orange Glaze
½ C + 2 T ( 2.75 oz) powdered sugar
1 T orange juice
1 T Orange zest (from ½ large orange)
Instructions
Make the Cranberry Orange Shortbread Cookies.
Chop the cranberries finely and set aside.
Zest 1 ½ large oranges and set aside.
Preheat the oven to 325*F. Line 2 cookie sheets with parchment paper.
Cream the butter until very light. The butter will turn a pale yellow.
Melt white chocolate chips carefully in the microwave, making sure to stir every 30 seconds until smooth.
Pour melted white chocolate chips into butter and mix quickly to combine.
Add powdered sugar. Beat on medium to high speed for 3 minutes until very light and fluffy.
Add vanilla, almond, and orange extract. Mix.
Add flour, chopped cranberries, and 2 T orange zest. Mix until combined.
Using a #40 (1 ½ T) cookie dough scoop, shape dough into 24 round balls. Place on parchment paper about an inch apart and press each dough ball down with the palm of your hand to ¾ inch thick.
Using a chopstick or skewer make an "X" shaped indentation in the rolled, pressed dough ball.
Bake at 325*F for 15 minutes. Let cool.
Make glaze & drizzle cookies.
Combine powdered sugar, orange juice, and 1 T zest. Stir to combine.
Drizzle glaze in the "X" indentation of the cookie.
Let glaze set before storing cookies in an airtight container between sheets of wax paper to prevent sticking.
Notes
Don't be tempted to let these cookies brown. They will be extra crunchy instead of tender.
Pick Your Favorite Pin and Save It for Later!