Chocolate peanut butter eggs always hit the spot. These Dark Chocolate Peanut Butter Eggs are our homemade, so-much-better version. With creamy peanut butter inside and a smooth dark chocolate coating, you'll love every melt-in-your-mouth bite!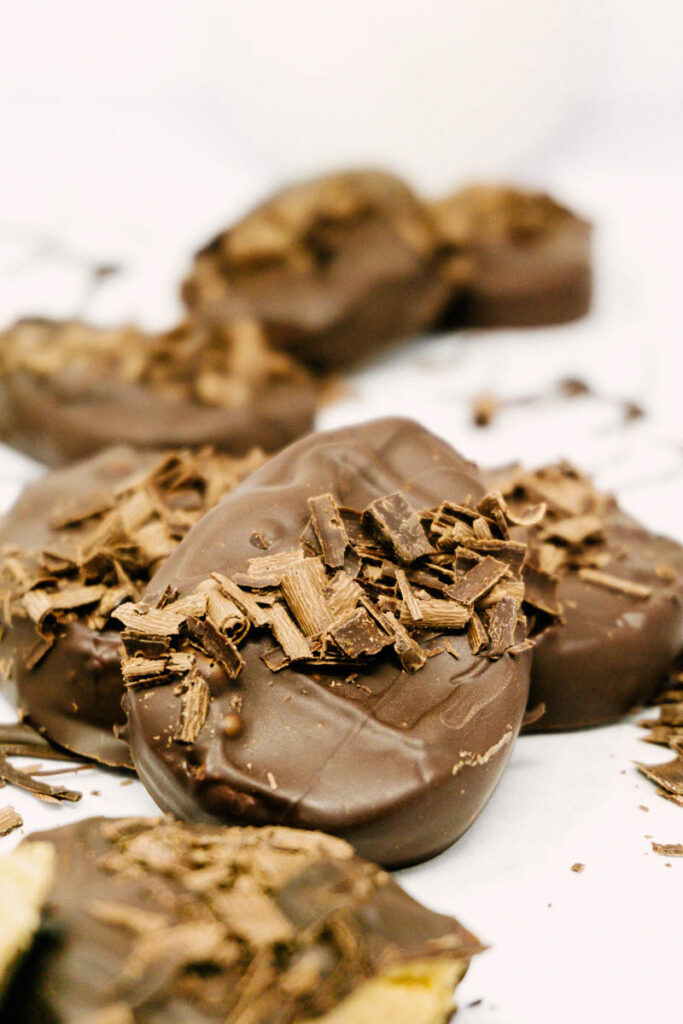 One of the best parts of every holiday is the limited edition Reese's Peanut Butter-shaped cups. These are a little like those but a lot better. The peanut butter filling in these Dark Chocolate Peanut Butter Eggs is creamy and smooth and the chocolate is the perfect bittersweet compliment. With no wrappers to hide as evidence, you can eat a whole batch yourself and no one will ever know!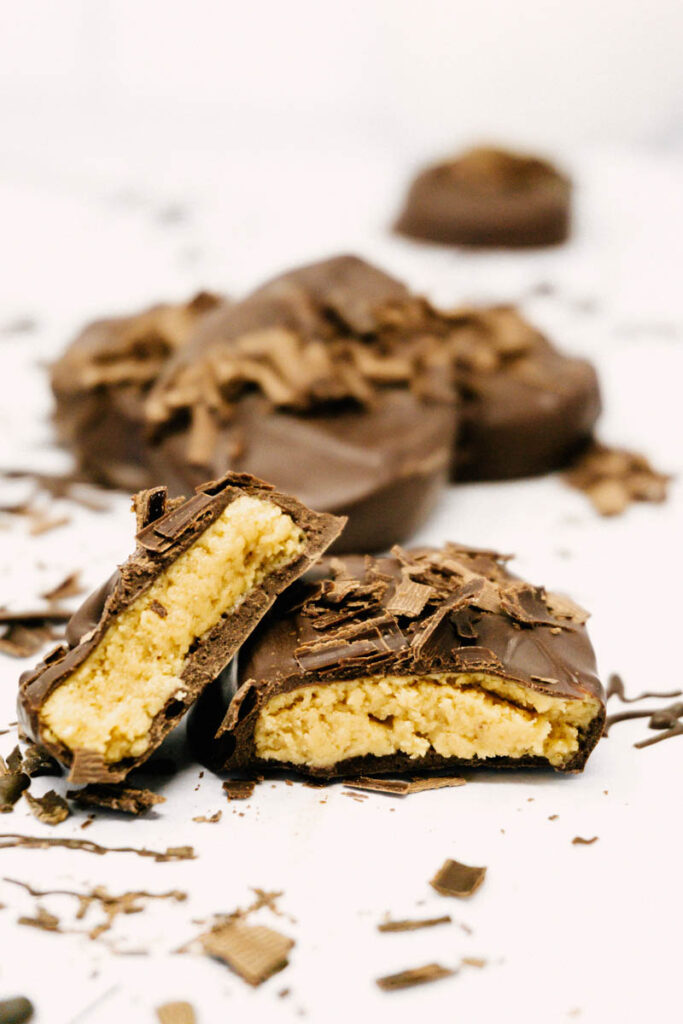 Multi-Use Peanut Butter Ball Magic
Whew – these Dark Chocolate Peanut Butter Eggs took me hours to get right. Don't laugh. I love my peanut butter ball mix. We use it to top Peanut Butter Chocolate Rice Crispy treats, to blend into my Pennsylvania Tango cookie, on top of Peanut Butter Brownies, and other ways that I'm excited to share with you in the future.
This peanut butter ball mixture is one I just can't stop sneaking tastes of. It's a multi-use magical mix! You'll see what I mean once you make it.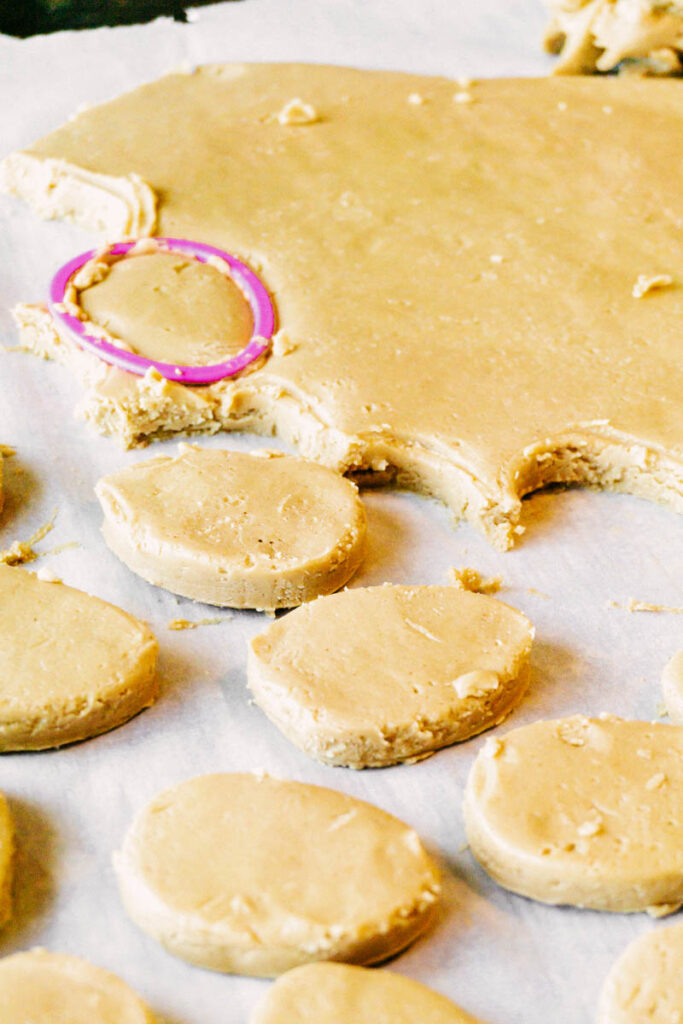 Tempering the Dark Chocolate
Chocolate is made with cocoa butter. To get that shiny, hard coating, it needs to be tempered. Tempering chocolate can be a scary endeavor if you've never tried it before. With a little practice and a good digital food thermometer, you'll be a pro in no time.
I use dark chocolate for these Dark Chocolate Peanut Butter Eggs. To temper dark chocolate, melt it until it reaches 100-110*F. Then, add unmelted chocolate and stir to melt until the chocolate reaches 84-91*F. As long as you keep it in this range while dipping the peanut butter eggs, it will create a beautiful, shiny coating.

If you just can't bear the thought of tempering chocolate, you can buy chocolate coating wafers (usually from a craft store). It doesn't need tempering to create the chocolate shell, but it won't taste as good.
Don't be tempted to try milk chocolate. These Dark Chocolate Peanut Butter Eggs are definitely meant to be made with dark chocolate. Chocolate flavors are no more interchangeable in a recipe than using almond instead of vanilla extract. It really does matter.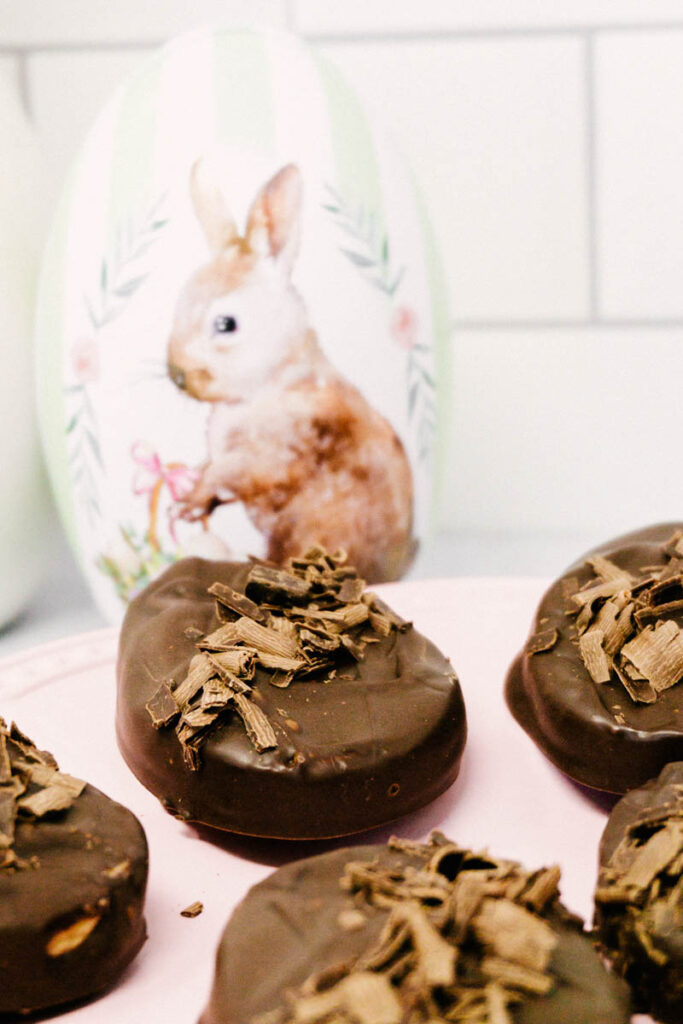 Taste AND Beauty
In the cookie shop, I would roll out peanut butter ball mix and layer it on top of mini semi-sweet chocolate chips (I give my blessing to use semi-sweet chocolate if you don't want to temper dark chocolate). Then I would top it with more mini chocolate chips and cut it in a seasonal shape. Wrapped up cute, these flew off the shelves.
I thought I would do the same for this website but the photos were terrible. After hours of frustration and tears, multiple FaceTime calls to Kailey who lives 1,800 miles away, and some input from Kenzie, I was back to the drawing board.
Peanut butter balls, squares, or mini shapes are great for serving purposes. I know our motto is Taste Before Beauty, but we eat with our eyes too. I was on a mission to create something that would look as delicious as these Dark Chocolate Peanut Butter Eggs taste. I like dipping chocolates, but I had never dipped these amazing peanut butter balls in chocolate.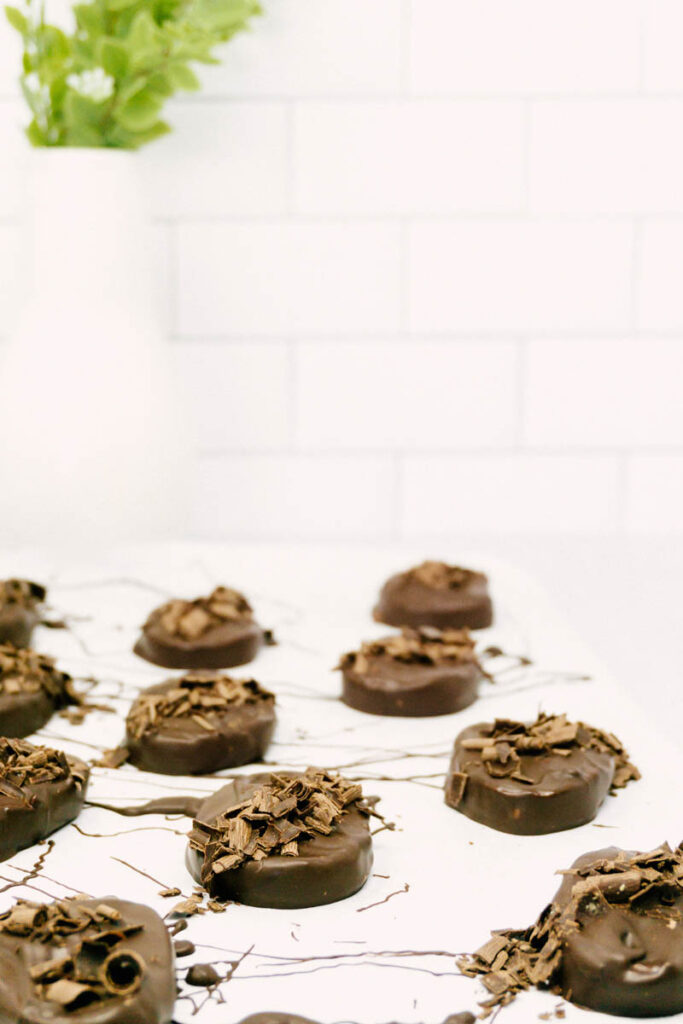 Ingredient Tips
Because I had just had foot surgery, my sweet husband ran to the store for me to pick up a pound of Hershey's Special Dark Chocolate bars. It's my favorite to use for tempering and dipping because it's easy to find, isn't expensive, and tastes good.
I prefer to use margarine in this recipe. It beats in smoothly and imparts a better flavor. Like I have shared before don't hate margarine. It can be very useful. In my opinion, I think Blue Bonnet Margarine is still on the market because it's useful in the baking world. Of course, you can use butter, just use softened salted butter.
When you make these, keep in mind that the peanut butter mix will be a little soft. The soft peanut butter mix ensures that it is super creamy on the tongue. I found the greatest success in keeping it chilled until right before I cut and dip it. Using a small cookie cutter will make it easier to dip the eggs in chocolate.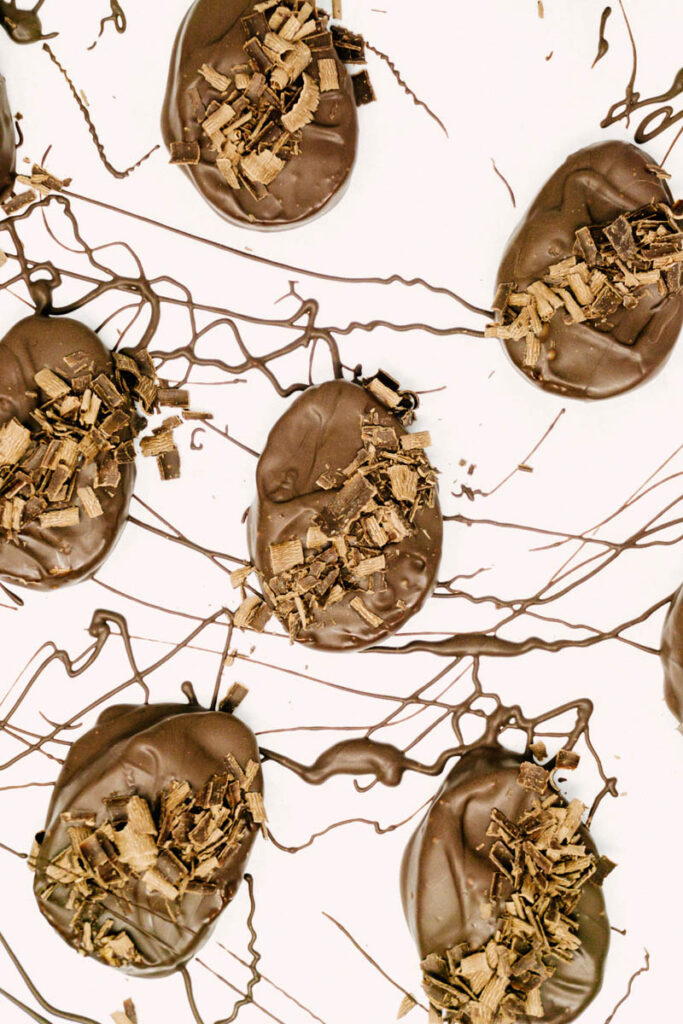 Making It Pretty
While I was tempering the chocolate I was wondering how I could make these pretty and felt some easy inspiration. Days are too short for fancy sometimes, and truthfully, I am more of a baking flavor artist. Taking the time to make food look extra fancy isn't something I want to do so piping fine filigree onto these peanut butter eggs was out of the question.
It dawned on me that I could shave some chocolate and use that as a decoration on the egg. With one hand I dipped the peanut butter egg, and with the other hand added some shaved chocolate. It was just right and they are DELICIOUS!
Show us the photos of how your Dark Chocolate Peanut Butter Eggs turn out. You can tag us on Facebook, Instagram, or Pinterest @tastebeforebeauty. Leave a review below, too, if you can!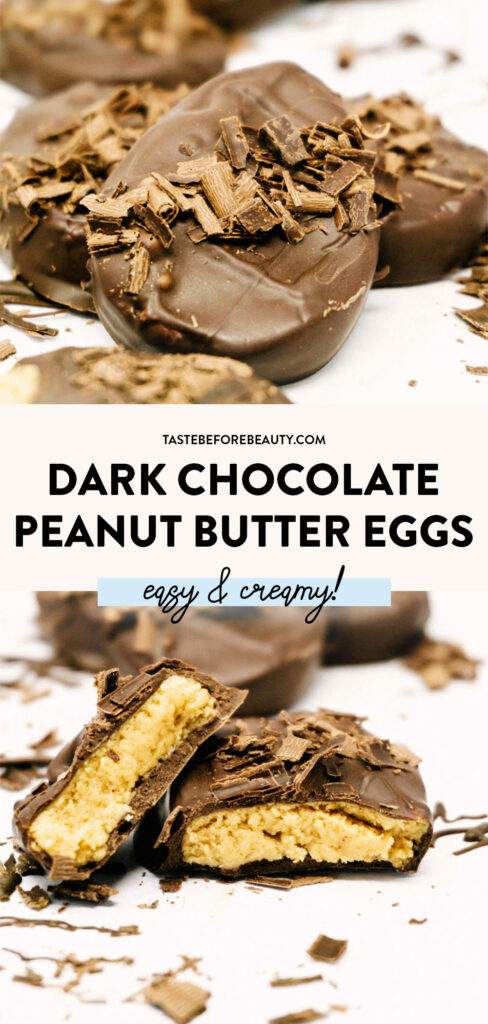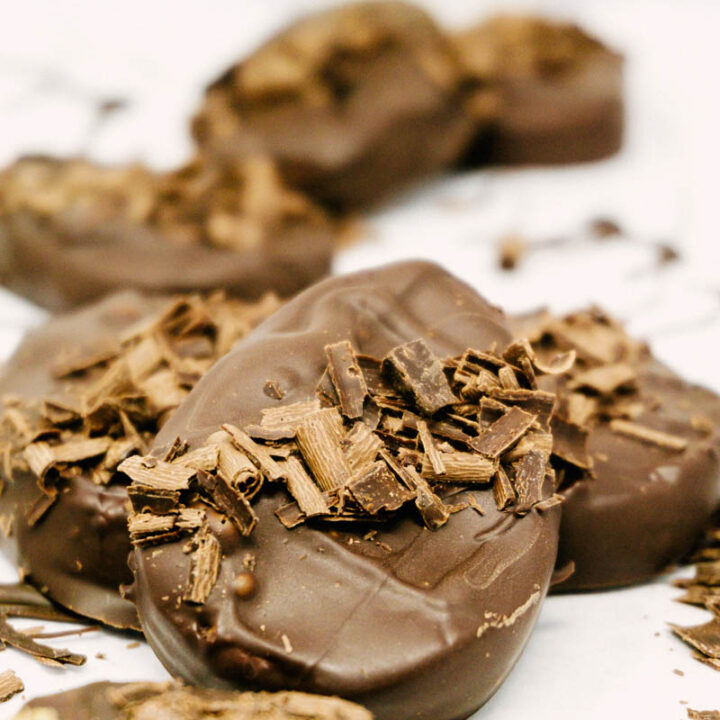 Dark Chocolate Peanut Butter Eggs
Total Time:
1 hour
30 minutes
Chocolate peanut butter eggs always hit the spot. These Dark Chocolate Peanut Butter Eggs are our homemade, so-much-better version. With creamy peanut butter inside and a smooth dark chocolate coating, you'll love every melt-in-your-mouth bite!
Ingredients
¼ C (2 oz or ½ stick) margarine or butter
1 ¼ + 2 T (6.2 oz) powdered sugar
1 C (11 oz) creamy peanut butter
1 lb dark chocolate bar or dark chocolate coating
Instructions
Mix the margarine, powdered sugar, and peanut butter with a mixer until smooth.
On a piece of parchment paper on a cookie sheet, place the peanut butter mix. Place a piece of wax paper on top. Roll out the peanut butter to a ¼ inch layer. Refrigerate to firm up before cutting into shapes.
Using a carrot peeler, shave 3 oz (¼ C) of the chocolate bar into shavings. Set aside for decorating.
Chop ⅓ of the remaining chocolate and set aside. Break or chop the rest of the chocolate bar into small pieces and put in a medium-size microwave-safe bowl. Melt carefully in the microwave, stirring occasionally until melted to 100-110*F. Add the reserved, unmelted chocolate and stir into the melted chocolate bar until all is melted and the temperature has cooled and reaches 84-91*F. Keep at 84-91*F while dipping.
Cut the peanut butter eggs with a small egg-shaped cookie cutter. Use a thin spatula or fingers to lift the peanut butter egg and place in melted chocolate. Flip to coat fully in chocolate. Carefully place upside down on additional wax paper. Immediately add a few chocolate shavings with clean hand. Set aside until chocolate is set. Repeat for each egg.
Notes
If you don't want to temper chocolate, you can purchase dark chocolate bark or dark chocolate coating that is pre-tempered. You can also skip dipping the eggs and use mini chocolate chips. Before spreading the peanut butter mixture on the parchment paper, spread a layer of mini chocolate chips. Roll the peanut butter mixture out over top. Top with more mini chocolate chips. Cut into 1-inch squares to serve.