I'm not trying to be dramatic, but if you like peanut butter, chocolate, and crispy chewiness, this may be one of the best things you've ever eaten.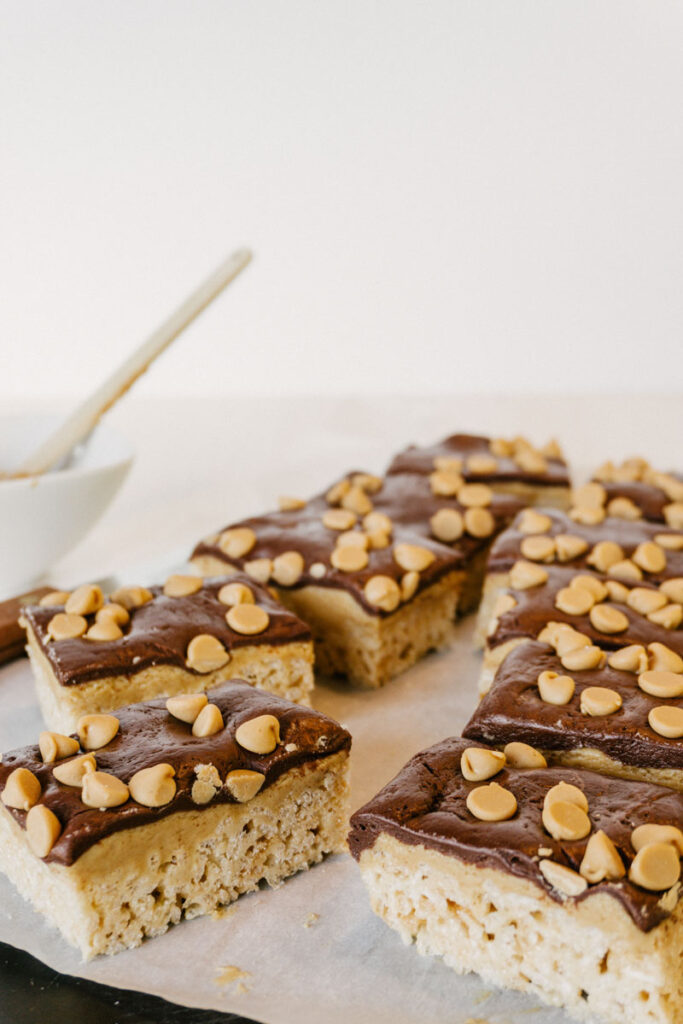 I live in Central Pennsylvania and have for 24 years. Pennsylvania is home to multiple chocolate companies. The famous Reese's Peanut Butter Cup was created in 1928 in Pennsylvania. As I mentioned in my Pennsylvania Tango cookie recipe to this day, the locals love peanut butter and chocolate treats. This particular recipe was created in our home kitchen in central Pennsylvania, with that love of chocolate and peanut butter in mind. In fact, this recipe was somewhat of an accident. I had an idea to combine peanut butter and chocolate, plus a lonely pan of crispy rice bars, and the next thing you know, greatness was born.
Do you remember that old, vintage '80s commercial for Reese's Peanut Butter Cups? There is a guy with the chocolate bar and a girl with an open jar of peanut butter, just randomly walking down the street ('cause we all do that right?). They bump into each other and he says "Hey! You got peanut butter on my chocolate!" Then she says, "Hey! You got chocolate in my peanut butter!" Together they say "Delicious!" This Peanut Butter Chocolate Crispy Bar is a combination of chocolate and a lot of peanut butter and it is DEFINITELY delicious!
I haven't had a single person try these and not instantly love them. In the cookie shop, people pre-ordered a dozen at a time and we could never keep the basket on the shelf stocked. My husband's coworkers request these, our friends beg for them, and my family members fight over who gets the last one. It is a best seller and crowd favorite. It also has a great shelf-life and ships beautifully to loved ones far away who are in need of some home-baked love.
If I had to tell you one thing about this recipe, it would be that it is absolutely worth the effort and you should go make these right now. Let us know what you think of them in the comments!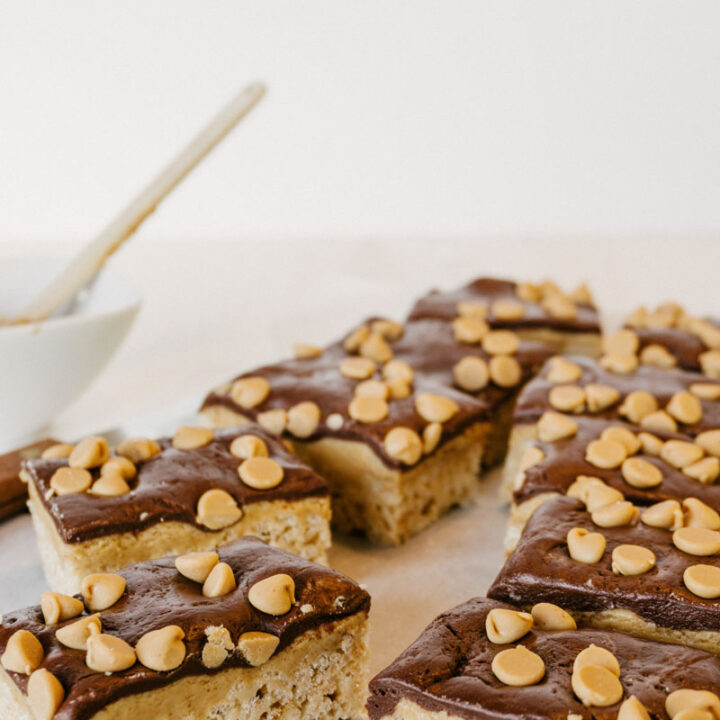 Peanut Butter Chocolate Crispy Rice Treats
Chocolate and peanut butter make everything better, and crispy rice bars are no exception! With a salty smooth peanut butter layer and a semi-sweet chocolate top, these are a mouthful of heaven.
Ingredients
Crispy Rice Bars
1 C (8 oz) salted butter
2 C (16 oz) light brown sugar
1 scant C (11 oz) light corn syrup
5 C (10 oz) mini marshmallows
15 C (18 oz) crisp rice cereal
Peanut Butter Layer
¾ C (6 oz) margarine (not butter)
4 C + 2 T (18.6 oz) powdered sugar
3 ½ C (33 oz) peanut butter
Chocolate Layer
3 C (18 oz) semi-sweet chocolate chips
3 T heavy cream
6 ½ C (12 oz) mini marshmallows
10 oz bag of peanut butter baking chips
Instructions
Make the Crispy Rice Bars.
Prepare two pans (see note) by lining with parchment paper. Pour cereal into two big bowls or one 16 quart stockpot for mixing later.
In a large saucepan, melt butter, brown sugar, and corn syrup together and bring to a boil. Stir constantly. Remove from heat and add mini marshmallows. Stir until melted and combined. Pour over cereal and stir to coat. Press into pans using plastic gloved hands or a rubber spatula until they are equal thickness in each pan.
Make the Peanut Butter Layer.
Make the peanut butter layer by mixing the margarine, powdered sugar, and peanut butter with a mixer until smooth. Press over both pans equally. Lay a piece of wax paper over the peanut butter mixture and run hands over the top to create a smooth finish to the layer.
Make the Chocolate Layer.
Make the chocolate layer by melting the chocolate, marshmallows, and cream together in the microwave (watch carefully) and then mixing until combined. Do not overheat. Melt just enough to combine ingredients. The texture will be similar to play-dough. Drop balls of chocolate onto the peanut butter layer and spread to the edges with plastic gloved hands.
Immediately sprinkle peanut butter chips over the chocolate layer and press in lightly.
Let cool and cut to serve. Wrap in plastic wrap and place in an air-tight container to store. These last up to two weeks if stored in the refrigerator.
Notes
We recommend using one 11x15 pan and one 10x10 or 9x13 pan to press the bars into.
Do not substitute butter for the margarine. Be sure to use stick margarine, not the kind that comes in a tub. Margarine has a different moisture content than butter that works best with peanut butter and amplifies the peanut buttery flavor. I prefer Blue Bonnet Brand.
Use plastic gloves while spreading the chocolate and peanut butter layers to help keep it from sticking to your hands.