Go big or go home! This big cookie is a copycat of the original '90s chocolate chip cookie offered at Hardee's, and is enjoyed best with a friend and a tall glass of milk. If you're looking for that delicious '90s cookie nostalgia, you've found it!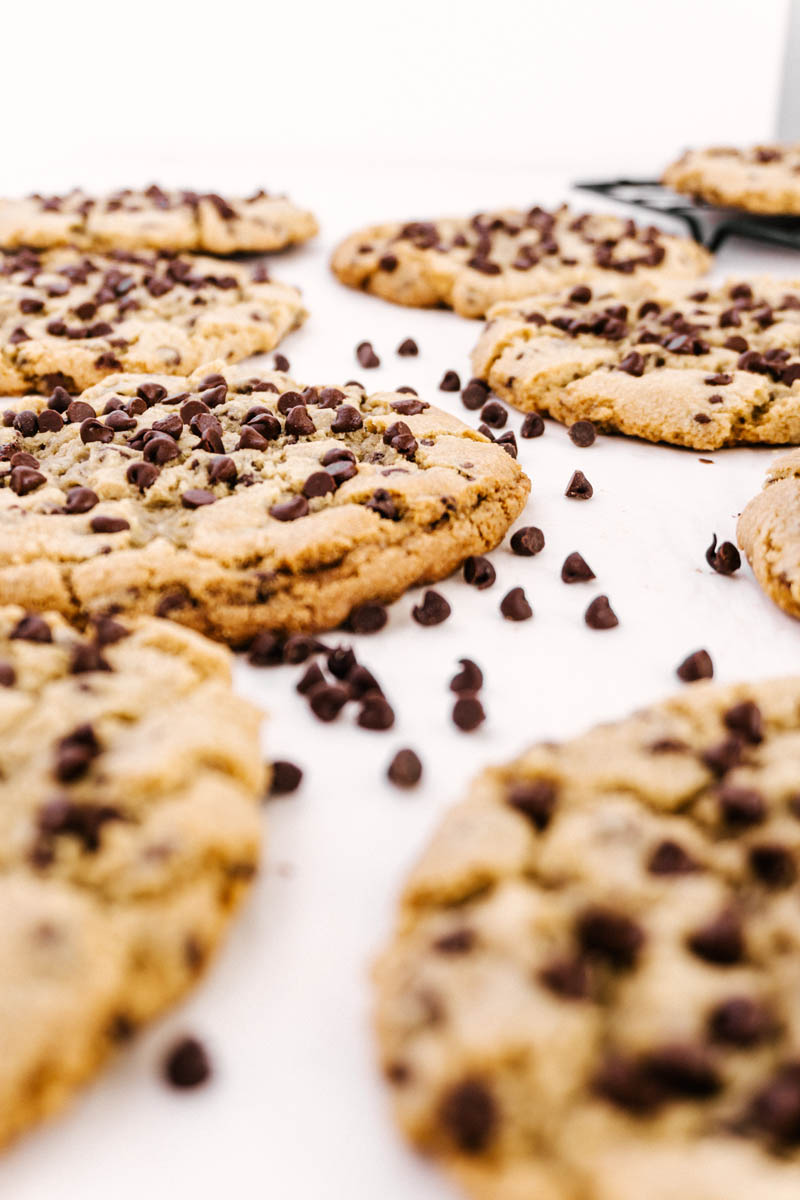 Way Back When
Way back in 1993, my mom, Missy was a newlywed. To help pay the bills, she worked at the local Hardee's fast-food restaurant. She is one of the hardest workers I know, so I don't doubt she put in long hours working at Hardee's.
Being on your feet all day can be exhausting, but mom mentioned she was always able to grab a fresh chocolate chip cookie during her much-needed lunch breaks. She said the cookie always seemed to hit the spot, so she tried to recreate it years later!
This Copycat Hardee's Chocolate Chip Cookie is the result of her testing. The original Hardees cookie baked up much darker than your average cookie, which is why this recipe has lots of brown sugar and dark brown sugar.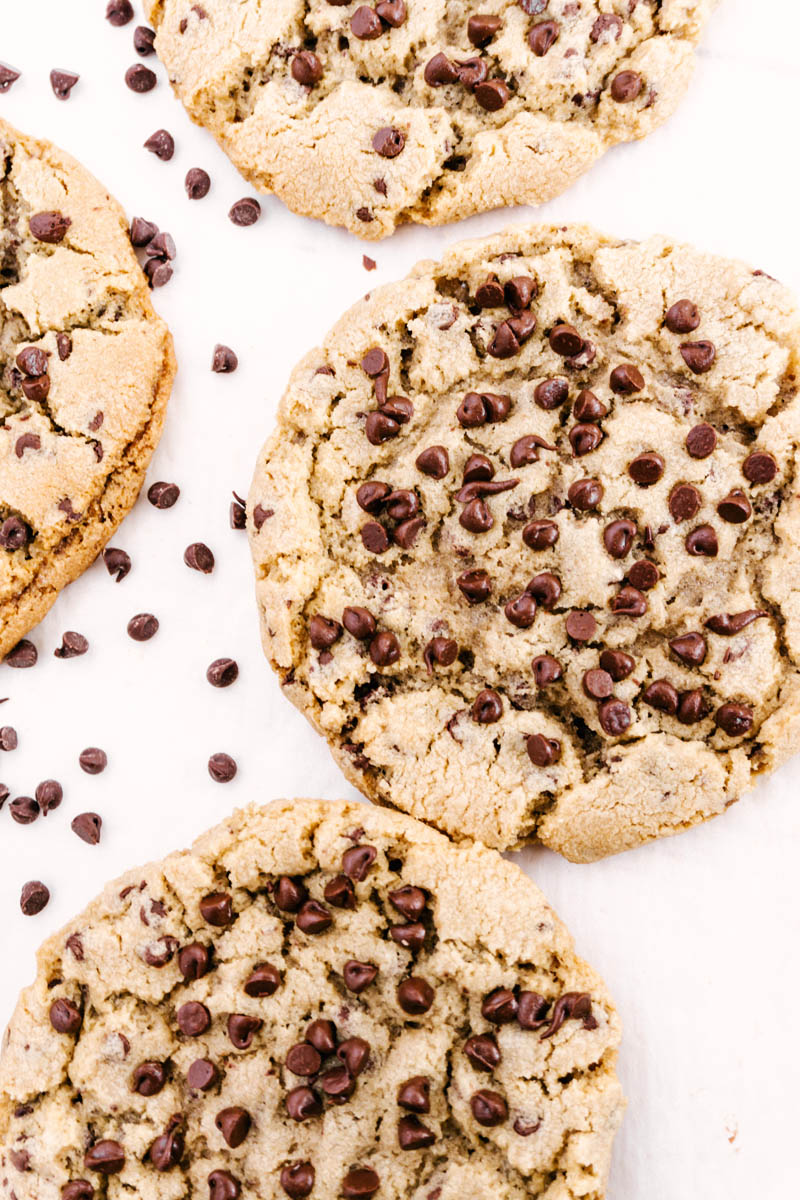 Copycat Hardee's Chocolate Chip Cookies: Big and Beautiful
These cookies can be made with any size cookie dough scoop you would like. The original '90s Hardee's Chocolate Chip Cookie was quite large, so I made it with the biggest scoop I had in my kitchen. A #20 cookie dough scoop is about 3 tablespoons of dough. To be honest, I made them even bigger by heaping the dough onto the scoop each time! I was even tempted to go bigger, but maybe next time!
No matter what size you make these, make sure to adjust the baking time accordingly. A #30 cookie dough scoop size (standard size) will need about 8 minutes. Keep your eye on when the cookies start to lightly brown on the edges.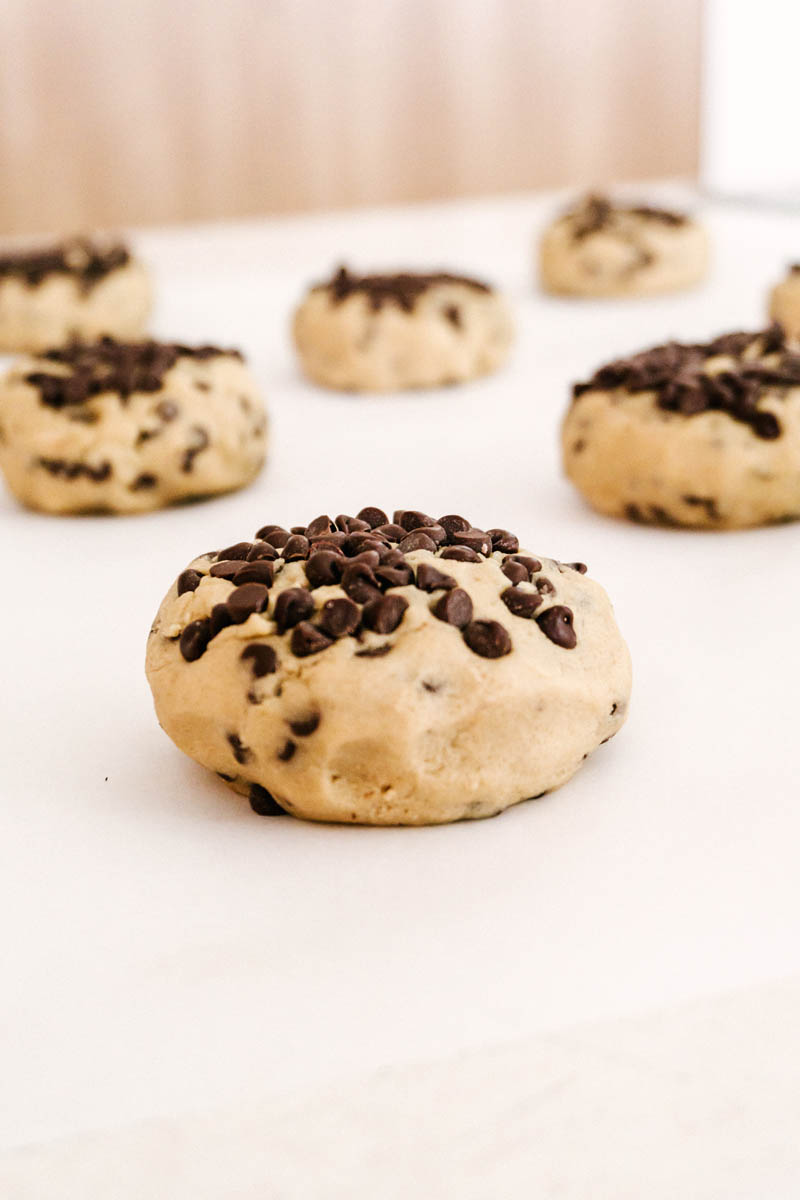 Topping the Dough Balls
After mixing the dough, scoop it into balls. Since mini chocolate chips are being used, I find it easiest to take each ball of dough and press it gently into the chocolate chips. Then, flip it over and place it on the cookie sheet. That way you are not trying to put a bunch of tiny chocolate chips on top of a giant dough ball. It makes it fast and easy and they all stick to the dough instead of fall off onto your parchment paper.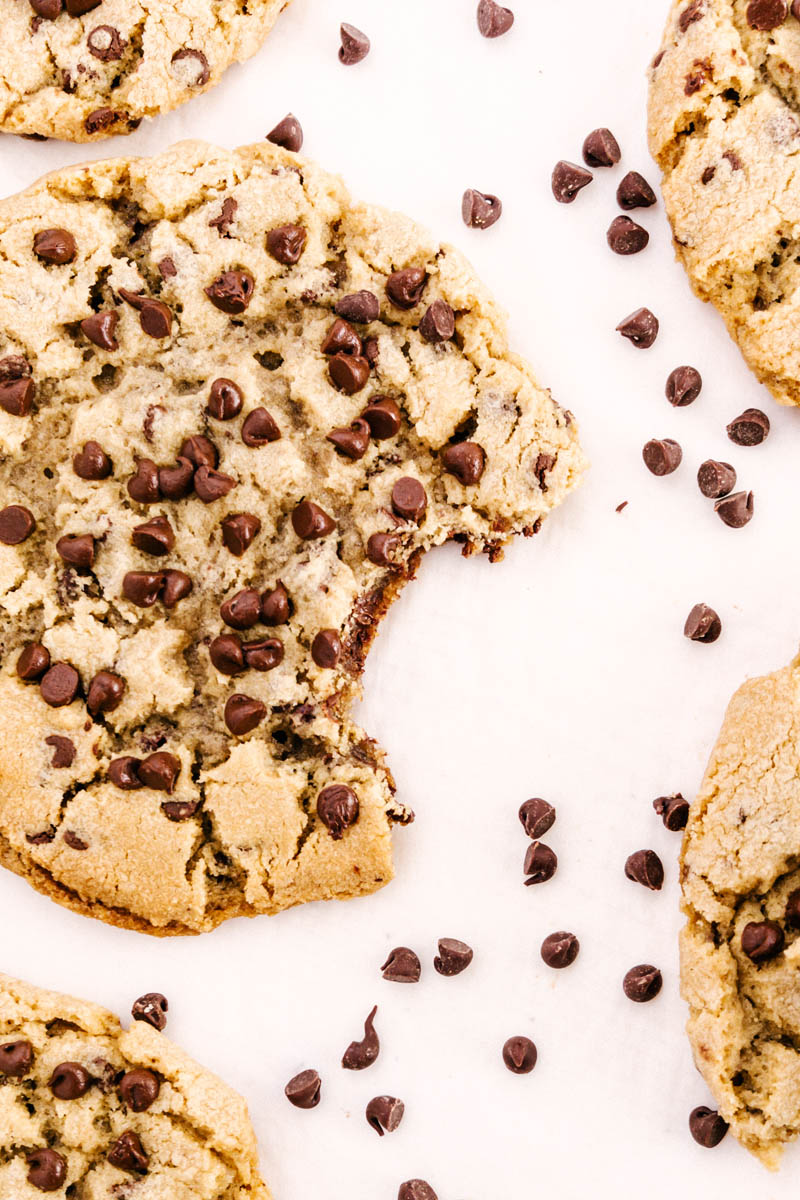 Overdone But Still Perfect
The first time I made these cookies I over-baked them by a few minutes and they were a little crunchy. However, to my surprise, my husband's family loved them because they were the perfect milk dipping cookie! So if you want a little extra crunch leave them in the oven for an extra 2-3 minutes, and be sure to enjoy them with a tall glass of milk!
Whatever size you make these, they are guaranteed to be delicious. Packed full of brown sugar and irresistible mini chocolate chips, every mouthful is a delight. When you try these, please leave a comment and a review!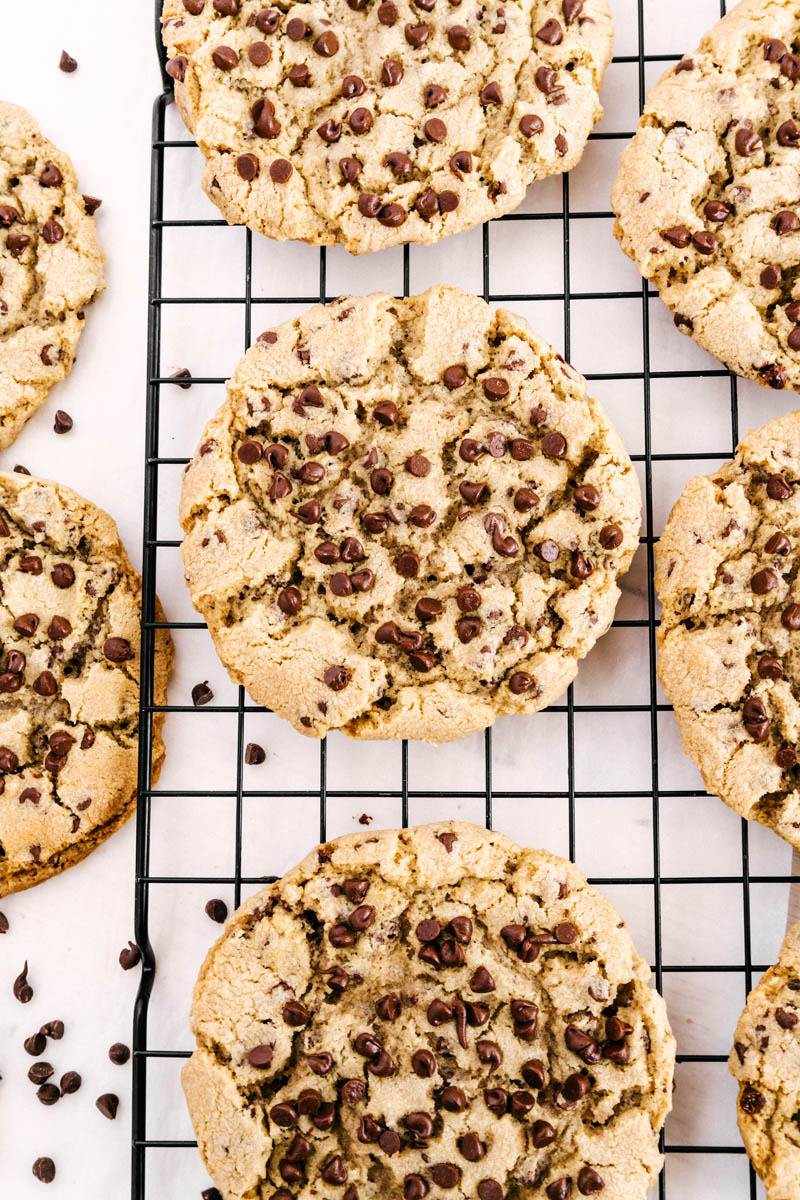 Looking for more delicious cookie recipes? Try these: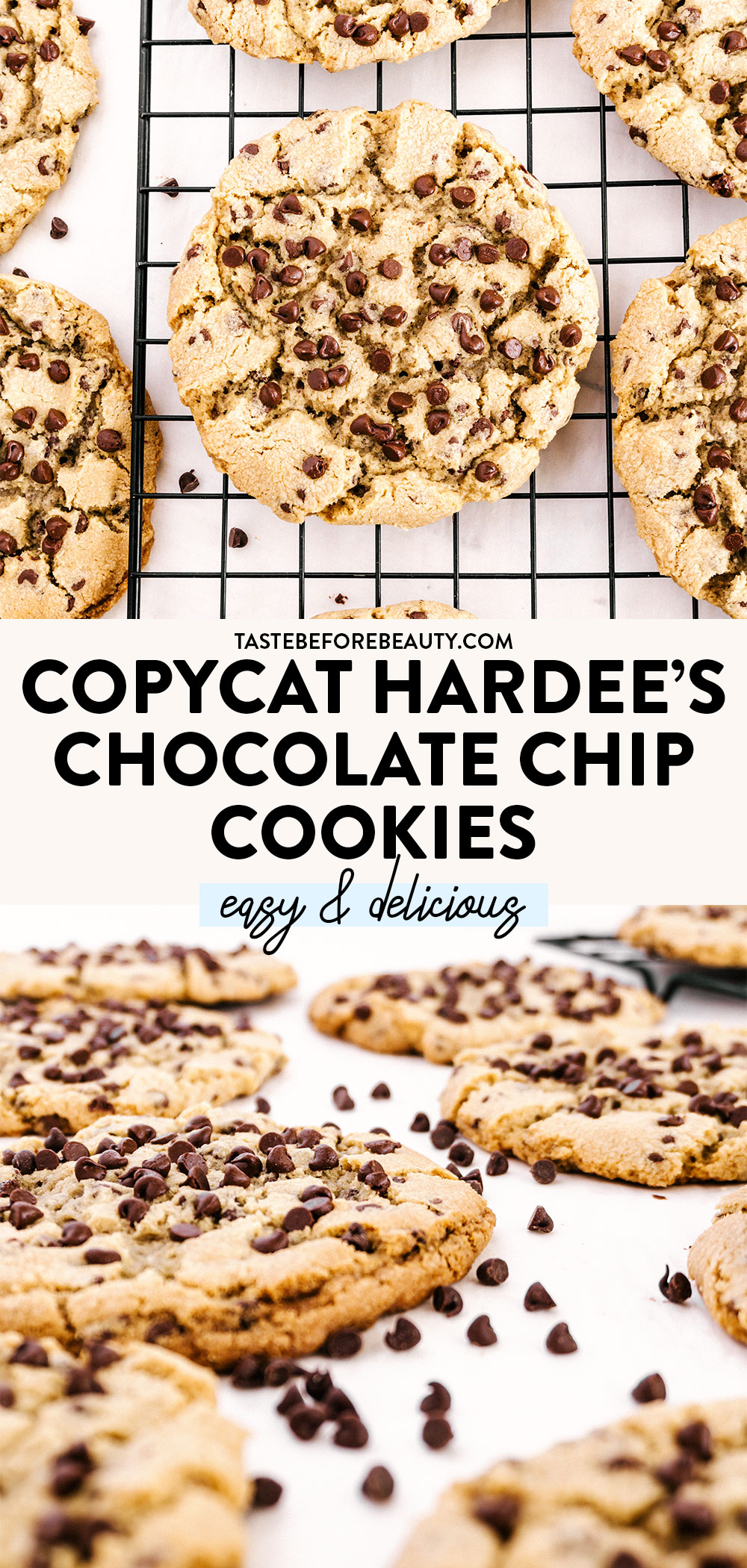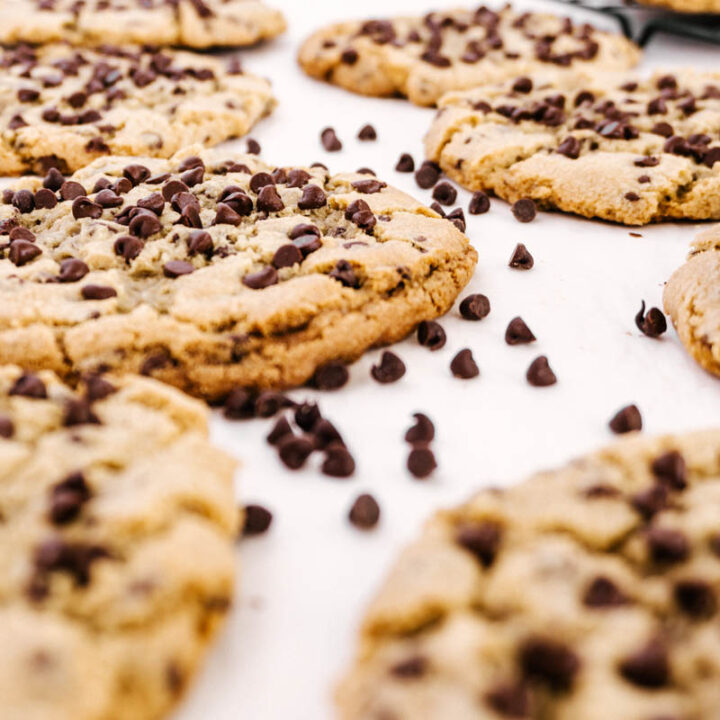 Copycat Hardee's Chocolate Chip Cookie
Additional Time:
40 minutes
Go big or go home! This big cookie is a copycat of the original chocolate chip cookie offered at Hardee's, and is enjoyed best with a friend and a tall glass of milk!
Ingredients
1 C (8 oz) salted butter
½ C (4 oz) dark brown sugar
1 C (8 oz) light brown sugar
¼ C (1.75 oz) white sugar
1 large egg
1 tsp vanilla
1 tsp baking soda
¾ tsp salt
2 ½ C (11.25 oz) all-purpose flour
2 C (12 oz) mini semi-sweet chocolate chips, reserve ⅓ C (2 oz) for topping
Instructions
Preheat oven to 350*F. Line cookie sheets with parchment paper.
In a mixing bowl, cream together butter and sugars. Add egg and vanilla. Mix well. Add baking soda, salt, flour, and mini chocolate chips. Mix until fully combined.
Using a #20 (3 T) cookie scoop, place dough a few inches apart on a parchment-lined cookie sheet. Top with mini chocolate chips then flatten dough balls slightly with the palm of your hand.
Bake for 10 minutes or until the edges are lightly browned.
Cool completely before storing. Store in an airtight container. These cookies store well in the fridge for a week or in the freezer for up to 3 months.