This frosted sugar cookie is my personal weakness. A simple, flavorful sugar cookie pairs with a rich, buttery vanilla frosting for the perfect marriage.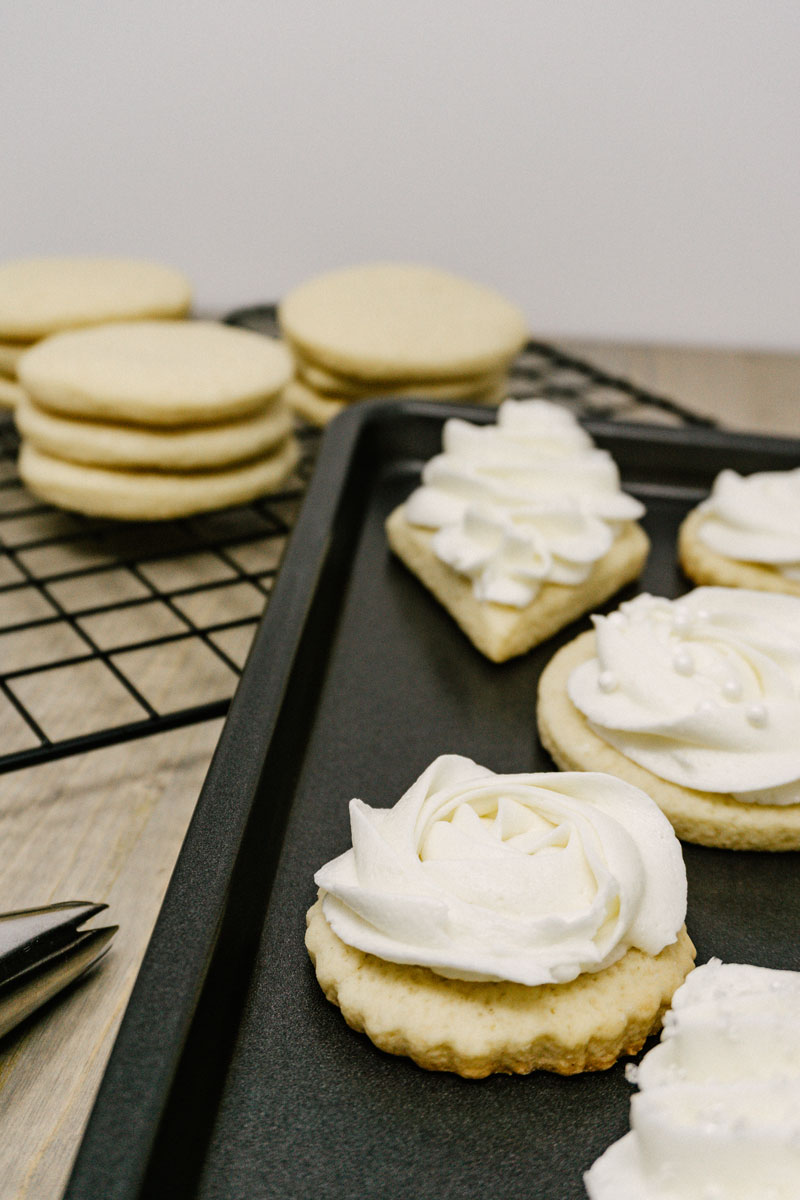 The Perfect Frosted Sugar Cookie Flavor
The first time I made frosted sugar cookies from the ol' family cookbook, they weren't as flavorful as I remembered. I knew I needed to fix this problem. With big sugar cookie flavor in mind, I began recipe testing. 
I really feel that a good sugar cookie needs to be just sliiiightly salty to stand up to the sweet, generous amount of buttercream on top. I used salted butter, plus a bit of extra salt to achieve this salty base. I also used margarine, in addition to the butter, as it gives a softness that butter alone just can't achieve. Do be sure to use stick margarine though. The spreadable tub kind is too watered down to be used for baking.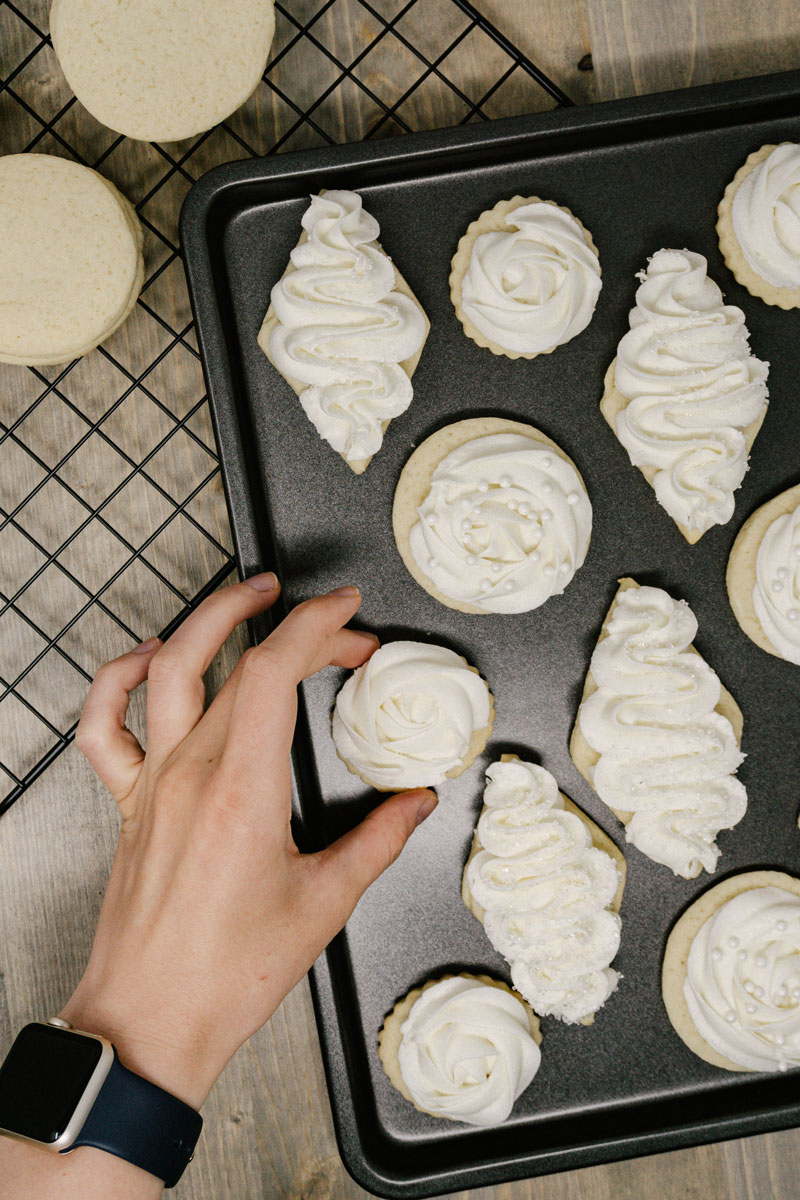 Frosted Sugar Cookie Baking Tips
This frosted sugar cookie dough will be soft and doesn't take much arm strength to roll out. Make sure you use enough flour on your work surface to keep the dough from sticking. Try dipping your cookie cutters in flour too. It will guarantee a clean cut. When you make these, try not to roll the dough more than about three times. It starts to pick up too much flour, resulting in a dry, tough cookie. 
For decoration, I've noticed that pretty sprinkles tend to bleed their color into the buttercream after about 12 hours. For that reason, I generally stick to colored sugars. While I do believe that treats can be ugly and still taste delicious, this was an easy swap for me to make that resulted in lasting beauty.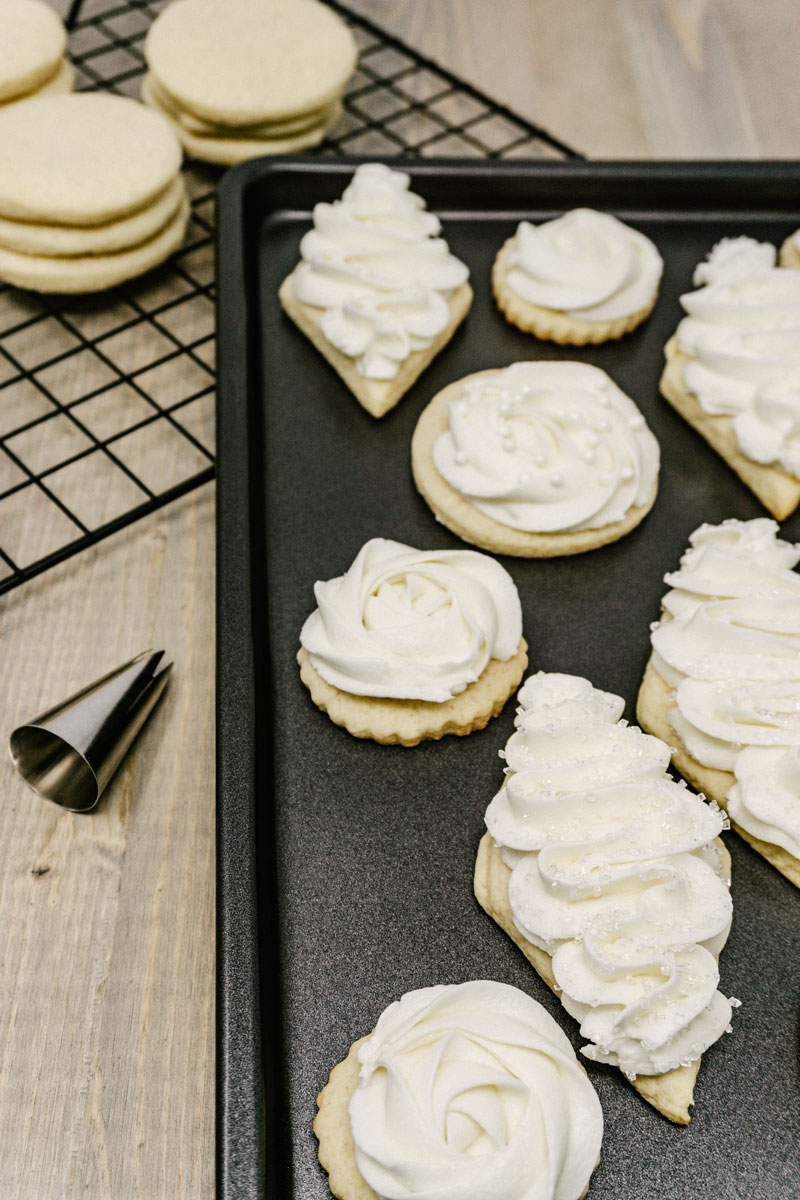 Simple and Delicious
You'll notice this is one of the few sugar cookie doughs out there that doesn't require refrigeration. It's just not my thing. I'm impatient when it comes to baking. When I want a cookie, I want to make it, bake it, and eat it.
These frosted sugar cookies are simple, soft, and so delicious. I love to make them year-round. They warm my kitchen and the hearts of those who eat them. Let me know what you think in the comments!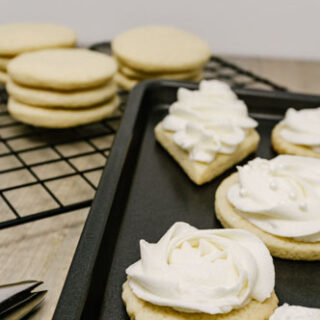 Frosted Sugar Cookie
This cookie is my personal weakness. A simple, flavorful sugar cookie pairs with a rich, buttery vanilla frosting for the perfect marriage.
Ingredients
Sugar Cookies
1 stick (4 oz) margarine
1 stick (4 oz) salted butter
1 C (7 oz) white sugar
1 large egg
1 ½ tsp vanilla
2 tsp baking powder
½ tsp salt
3 ½ C (15.7 oz) all-purpose flour
⅓ C (2.6 oz) milk
Additional flour for rolling out
Vanilla Buttercream Frosting
4 sticks (16 oz) salted butter, softened
7 C (32 oz) powdered sugar
2 tsp vanilla 
4-7 T milk
Instructions
Make the sugar cookies.
Preheat oven to 350*F. Prepare cookie sheets by lining with parchment paper.
Mix margarine, butter, and sugar. Whip until light. Add egg and vanilla and mix well. Add dry ingredients and milk all at once. Mix well. Dough will be very soft.
Prepare a surface for rolling out by dusting with flour. Using a rolling pin, roll dough out to ⅛ inch thick. Dip cookie cutters into flour and cut dough into shapes. Use a metal spatula to transfer cut dough to parchment-lined cookie sheet. Bake cookies 5-7 minutes, or until edges are barely golden. Let cool.
Make the buttercream frosting.
Beat butter until smooth. Add powdered sugar and beat until very dry and the mixture pulls together, like dry playdough. Scrape bowl. Add vanilla and 4-7 T of milk. Beat until light and creamy. If it is too thick, add more milk a little at a time.
Frost cookies with a thick layer of buttercream, once they have cooled completely. You can use a knife or a piping bag with a large star tip. Add sprinkles while the frosting is soft.
Notes
While rolling and cutting dough, do not reroll more than three times. The dough will pick up too much flour and the cookies will be tough. 
Tip: Colored sugar won't bleed color into the frosting like sprinkles, and they add a nice texture. Use colored sugars instead of sprinkles if not serving within 12 hours.