A decadent twist on an old favorite, the chocolate cream puff is just as versatile as the classic Cream Puff. Fill with our Best Easy Chocolate Mousse and drizzle with chocolate glaze, then watch them disappear!
The Chocolate Cream Puffs Beginning
One day, I was making cream puffs, filling them with chocolate mousse and dipping the tops in chocolate glaze, which IS yummy, but I thought, "Why haven't I made a chocolate Pâte à Choux before?!"
I started testing and I found recipes that made a very mild chocolate puff in both flavor and color. I wanted a dessert that spoke for itself – that said, "Hey, chocolate cream puff over here, want one?" After some trial and error, I found that Dutch-processed cocoa, or cocoa processed with alkali, gave the rich chocolate flavor and color I desired. I like Hershey's Special Dark Cocoa because it is easy to find in most local grocery stores.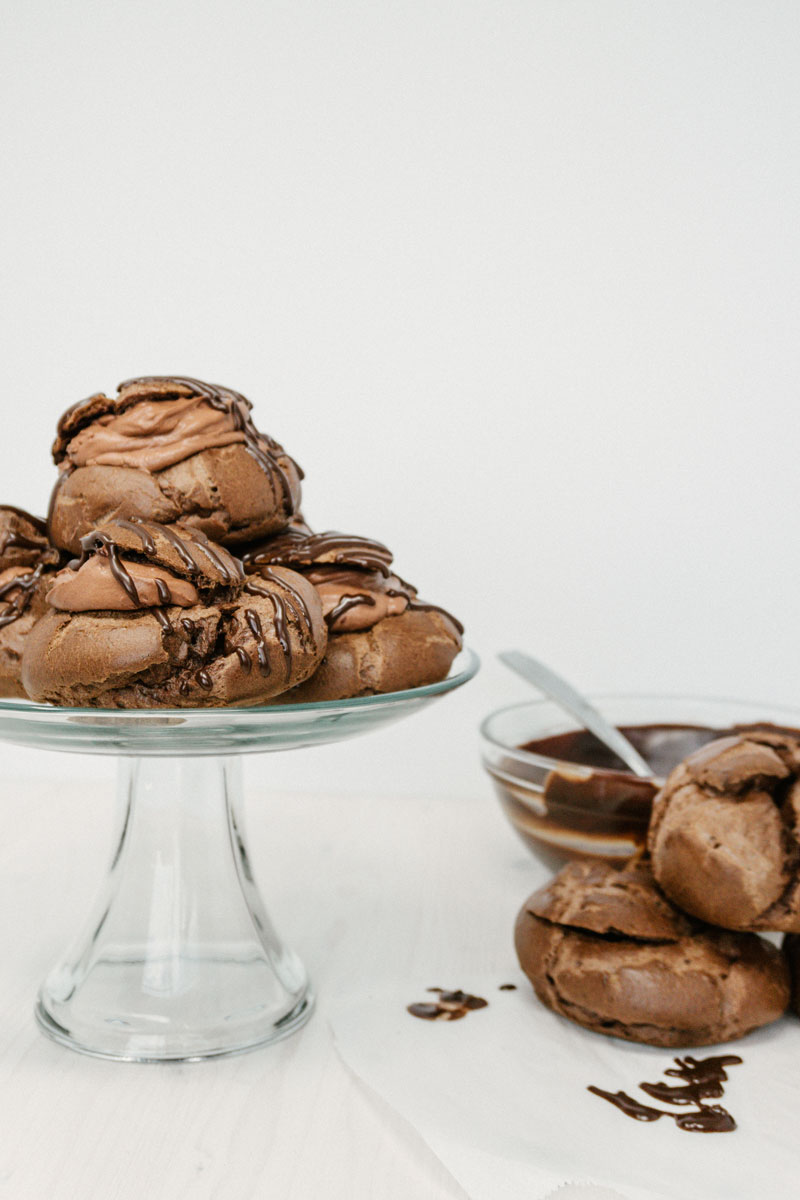 After the cocoa amount and flavor were refined and baking was complete, the taste testing and optional fillings were explored. The finished product is beautiful and looks great on a serving tray. Sometimes, I pair it with its vanilla puff counterpart for a dramatic contrasting effect. It is a showstopper for guests who are accustomed to the little round cream puffs from the freezer section and experienced bakers alike.
Cream puffs are so much easier than you might think. With little effort comes an incredible, professional-looking result. The great thing about a cream puff is if you accidentally underbake it and it collapses, it's an easy fix. Simply split it in half and load it with cream. Suddenly the height returns and it tastes just as delicious. Don't be afraid if this is your first time trying to make cream puffs. It is gratifying and easier than it looks.Let us know how your experience went in the comments!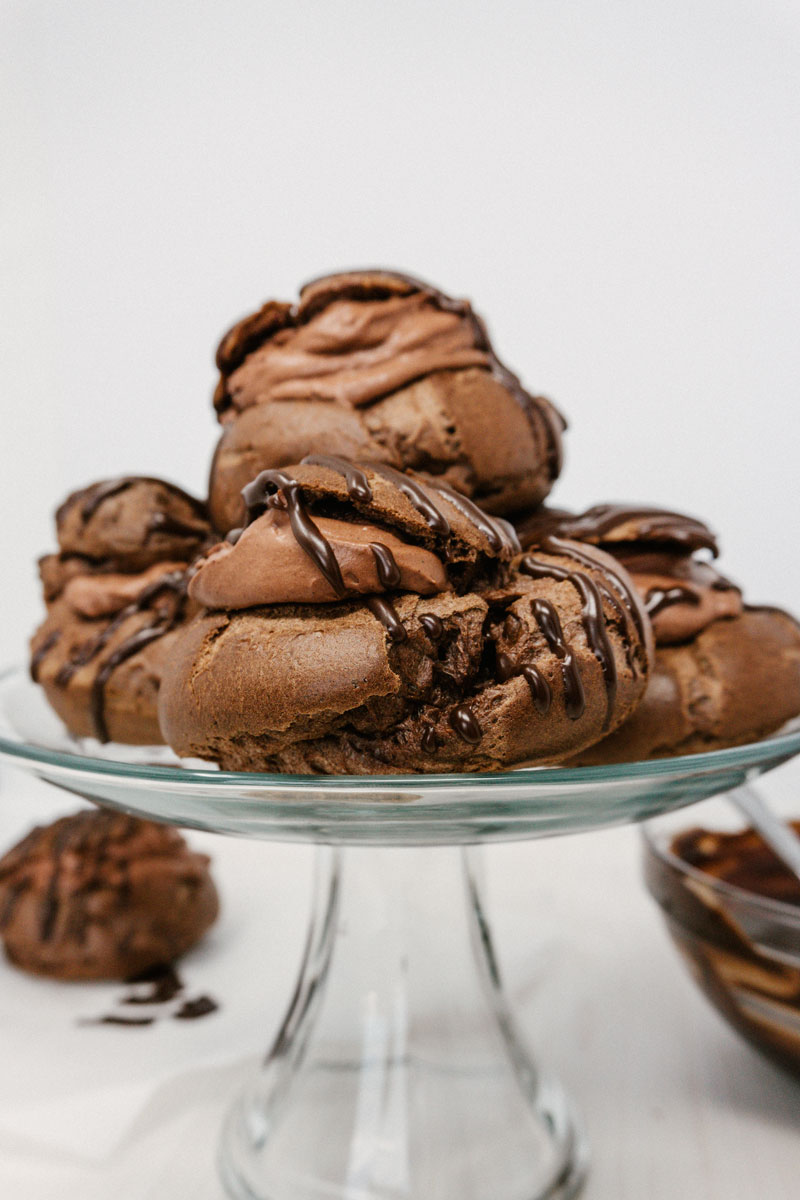 Ingredients Needed for the Chocolate Cream Puffs
Salted Butter
White Sugar
All-Purpose Flour
Dutch-processed Cocoa
Salt
Vanilla
4 Large Eggs + 1 Egg White
Heavy Cream
Powdered Sugar
Chocolate Cream Puffs with Best Easy Chocolate Mousse
Yield:
10-12 large cream puffs
Ingredients
Chocolate Pastry
1 C (8 oz) water
½ C (4 oz) salted butter (no substitutions)
2 T (0.8 oz) white sugar
¾ C (3.5 oz) all-purpose flour
3 T (0.6 oz) Dutch-processed cocoa
¼ tsp salt
½ tsp vanilla
4 large eggs + 1 egg white
Best Easy Chocolate Mousse
1 ½ C (12 oz) heavy cream
¼ C (1 oz) Dutch-processed cocoa
⅓ C + 1 T (1.25 oz) powdered sugar
3 T (1.5 oz) sugar
½ tsp vanilla
1 Batch of Easy Chocolate Glaze
Linked above in the description and in the instructions..
Instructions
Make the Chocolate Pastry
Preheat oven to 400*F.
In a medium saucepan, bring water, butter, and sugar to a boil. Add flour, cocoa, and salt to boiling mixture and stir until it forms a thick paste. Remove from heat. Let stand for five minutes. Add vanilla, then eggs, one at a time, mixing with a hand mixer between each egg until combined.
Using a #20 cookie dough scoop (about ¼ C), drop scoops of dough onto parchment paper-lined cookie sheet. Bake for 35 minutes or until puffs sound hollow when the bottom is tapped on. Let cool completely.
To serve: split puffs open and fill with desired filling, or the Chocolate Mousse. Drizzle with Chocolate Glaze or dust with powdered sugar, if desired, before serving.
Pour cream into a medium-sized bowl.
Add vanilla. Sift cocoa and sugars into the cream.
With a hand or stand mixer, whip until stiff peaks form.
Pipe or spoon immediately into each chocolate cream puff. If not using right away, put the mousse in the fridge.
Make the Chocolate Glaze (If wanting to add a drizzle)
Click here for the recipe instructions.
Notes
Place cream puffs in the oven immediately after portioning dough on parchment paper-lined cookie sheet for optimum height. 
Check the bottoms to make sure they don't burn. If the puffs aren't done yet, turn the oven off and let them rest in the hot oven to finish baking. 
If you would like smaller puffs use:
A #30 cookie dough scoop for medium-sized puffs. Bake 20-25 minutes.
A #40 cookie dough scoop for small puffs. Bake 15-20 minutes.