This Pâte à Choux is simple to make and extremely versatile. We love it filled with Cream Cheese Whipped Cream or Easy Chocolate Mousse.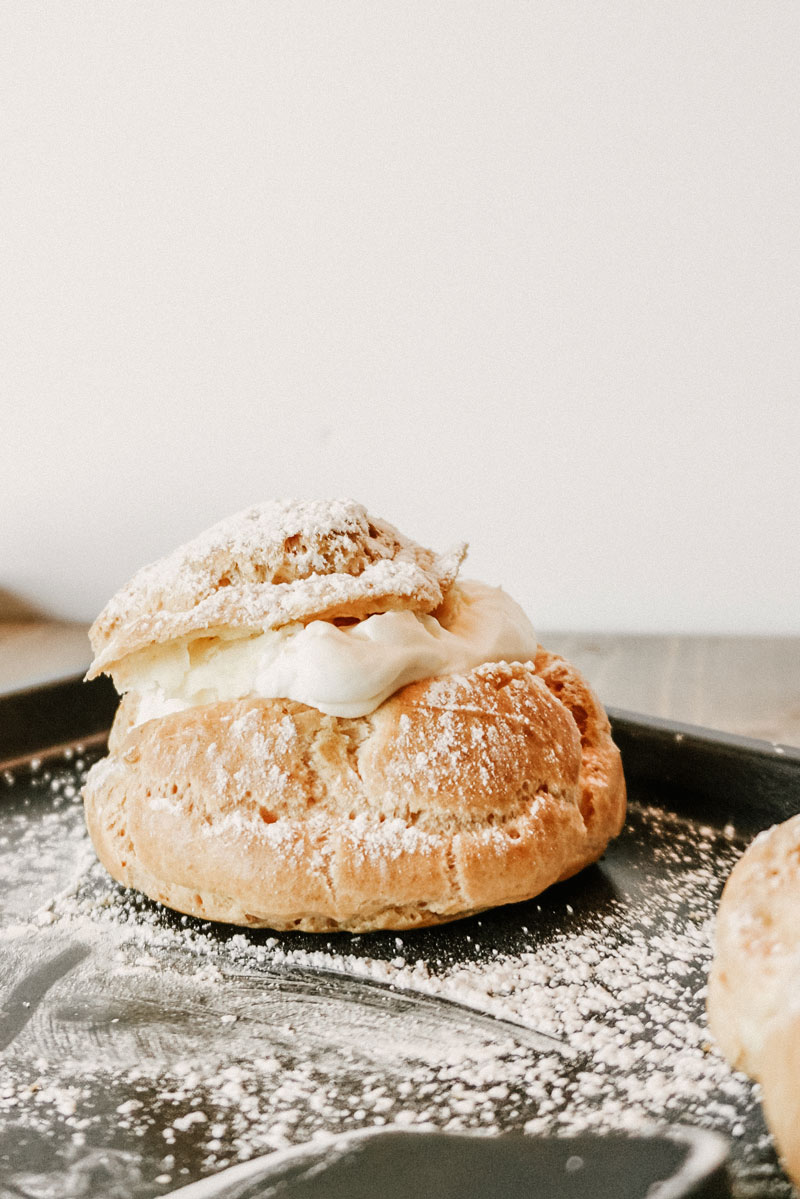 Cream puffs are tricky until you know that the addition of the extra egg white will make your life easier and almost guarantee success. With this recipe, you don't need to poke a hole in the puff when it's done to let steam out. The puffs bake up nice and dry on the inside (unless you pull it out of the oven too early). Egg whites help add crispness to baked products. I've found that it's helpful to decrease the amount of egg white in cookies to help keep the moisture in. A cream puff benefits from the crispy factor and doesn't need extra moisture because it will have a filling. Just save the extra egg yolk. You will need it to make chocolate chip cookies tomorrow (wink).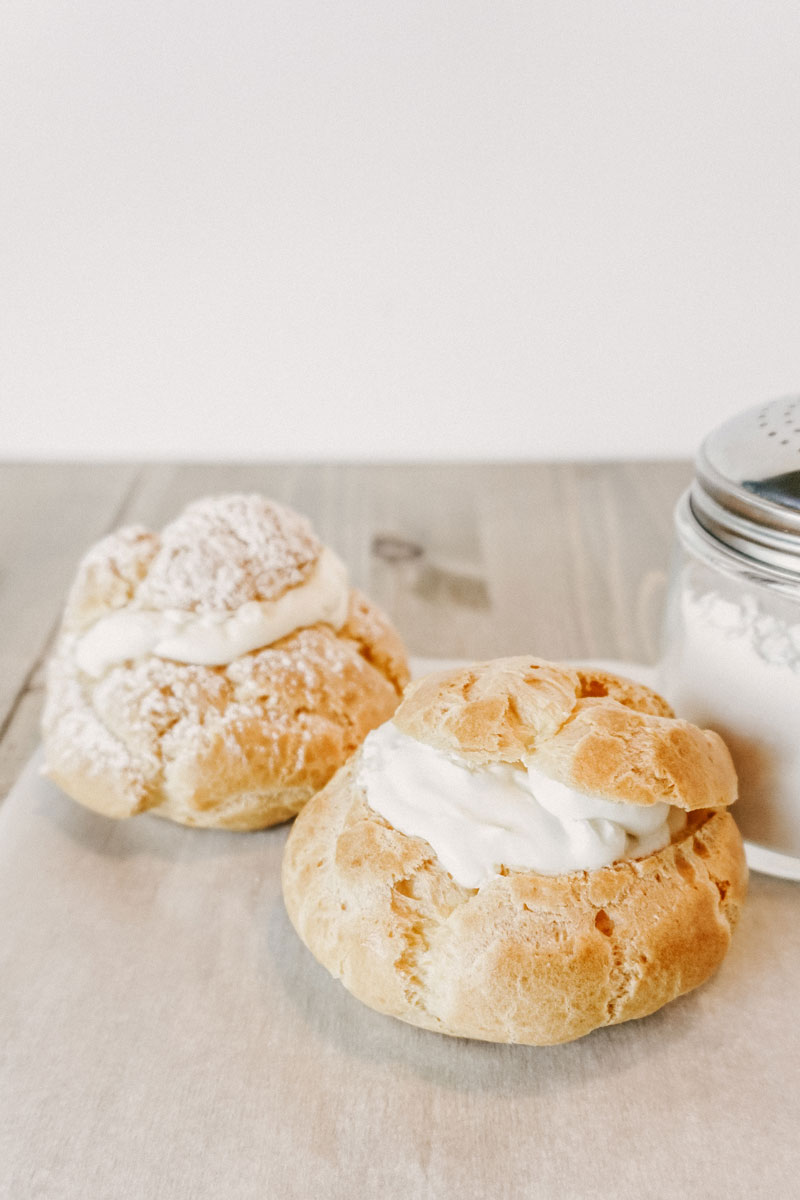 I will never get tired of making these cream puffs and exploring the possibilities of delicious fillings. My favorites are Stabilized Cream Cheese Whipped Cream with a shiny chocolate glaze and Easy Chocolate Mousse with a dusting of powdered sugar. A few on my list to try are a lemon curd with vanilla cream and a few raspberries, or a dulce de leche cream filling with a salted caramel drizzle, and perhaps a lime cream with a drizzle of blackberry sauce. For a Christmas event, I piped it into a wreath shape and filled it with orange zest cream, and topped with sliced almonds.
Let's not get stuck on sweet fillings though. I would also love to explore savory fillings like chicken salad or scrambled eggs and bacon. Now that I've got your creative engine warmed up, let us know your ideas in the comments and tag us in your creations on Instagram.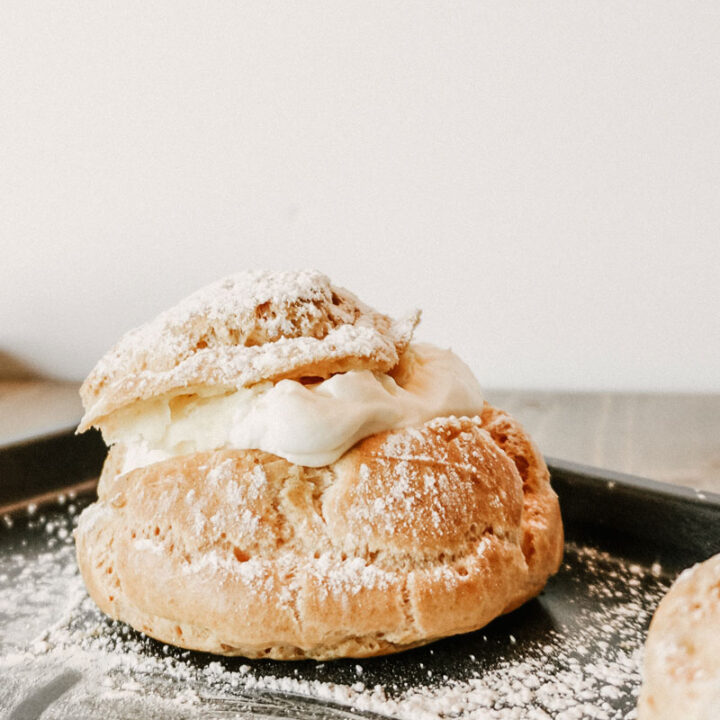 Cream Puffs
This Pâte à Choux is simple to make and extremely versatile. We love it filled with Cream Cheese Whipped Cream or Easy Chocolate Mousse.
Ingredients
1 C (8 oz) water
½ C (4 oz) salted butter (no substitutions)
1 C (4.5 oz) all-purpose flour
¼ tsp salt
4 large eggs + 1 egg white
Instructions
Preheat oven to 400*F. Line baking sheet with parchment paper.
Bring water and butter to a boil in a saucepan. Add flour and salt and stir until a thick paste forms. Remove from heat. Let stand for five minutes. Add eggs, one at a time, and stir until completely combined.
Drop by ¼ C (#20 cookie dough scoop) for large puffs. Bake for 35 minutes or until medium golden brown. Let cool completely before filling.
To serve: split puffs open and fill with desired filling. Dust with powdered sugar immediately before serving.
Notes
If you would like smaller puffs use:
A #30 cookie dough scoop for medium-sized puffs. Bake 20-25 minutes.
A #40 cookie dough scoop for small puffs. Bake 15-20 minutes.
Place cream puffs in the oven immediately after portioning dough for optimum height. 
If the puffs are underbaked, they may fall flat.